Where to Stay in Vietnam !!! JW Marriott Phu Quoc Emerald Bay Resort & Spa
(This visit was a complimentary stay provided by JW Marriott.)
The Lowdown
Hotel Name: JW Marriott Phu Quoc Emerald Bay Resort & Spa
Location: Phu Quoc, Vietnam (please refer to the map below for details)
Accommodation Type: Hotel Resort
Published Price Per Night: Rooms starting at $279 USD per night
Accessibility: By car
Last Visit: May 2018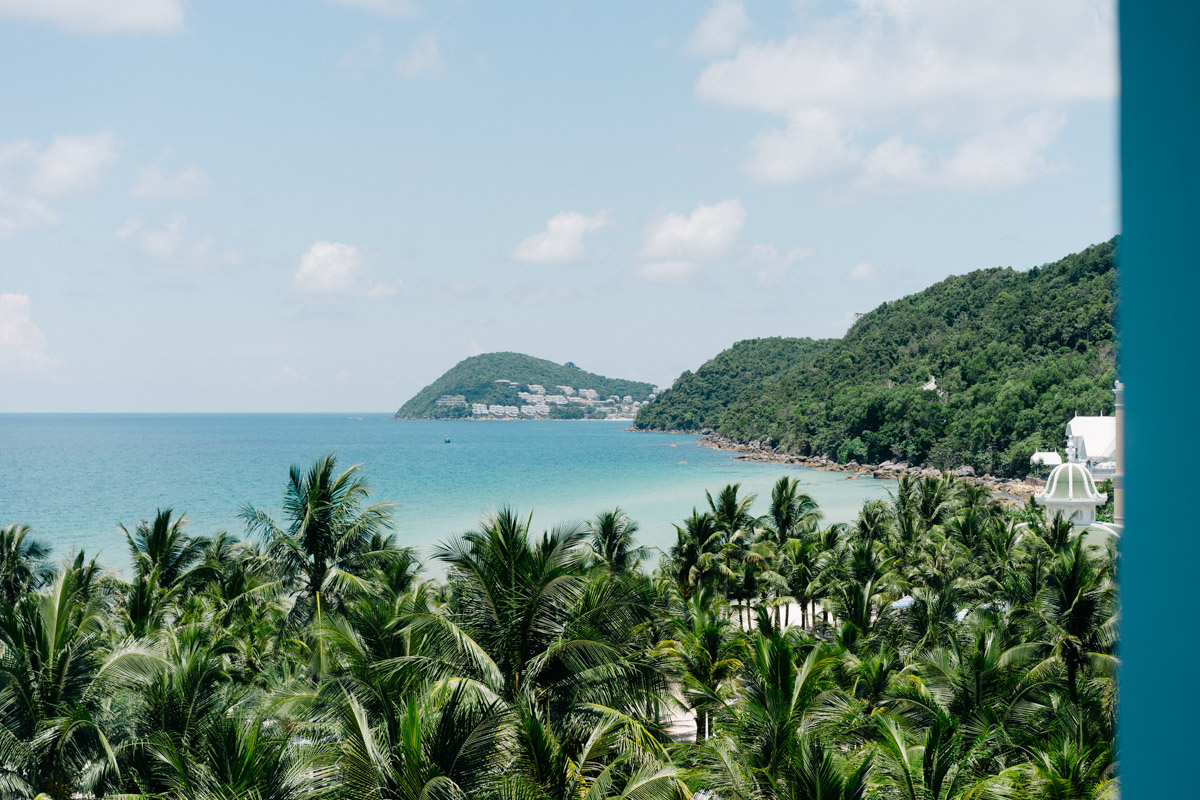 JW Marriott Phú Quốc Emerald Bay Resort & Spa
Located on one of the most beautiful islands in Vietnam is the JW Marriott Phú Quốc Emerald Bay Resort & Spa. Phú Quốc is Vietnam's best-kept secret, just off the coast of Cambodia in the Gulf of Thailand. Home to Phú Quốc National Park and known for its gorgeous white-sand beaches and clear waters, Phú Quốc is a destination you need to pin on your map. Speaking of beaches, the JW Marriott Phú Quốc just so happens to be positioned on the best private beach on the island called Khem Beach. The pristine beach's name is derived from the Vietnamese word for ice cream, "Khem." The sand is soft, white, and meticulously well-kept, cleaned every day.
The JW Marriott's architecture and design are stunning as well. Designed by famed Architect Bill Bensley, the property was once a French university dating back to the 1890s that was then converted into a hotel. Inspired by the university's heritage, Bill Bensley designed the hotel with an academic theme in mind which is how the hotel's alias, "Lamarck University Campus," came to fruition. Each building is named after different faculties such as the "Department of Zoology" and "Department of Astronomy." Some of the JW Marriott's facilities also follow this theme including the bar and lounge called the "Department of Chemistry," the fitness center which mimics a school gymnasium, the running track that wraps around a miniature football field equipped with bleachers and a scoreboard. The hotel even has "mascots" called Ridgebacks, a dog native to the island.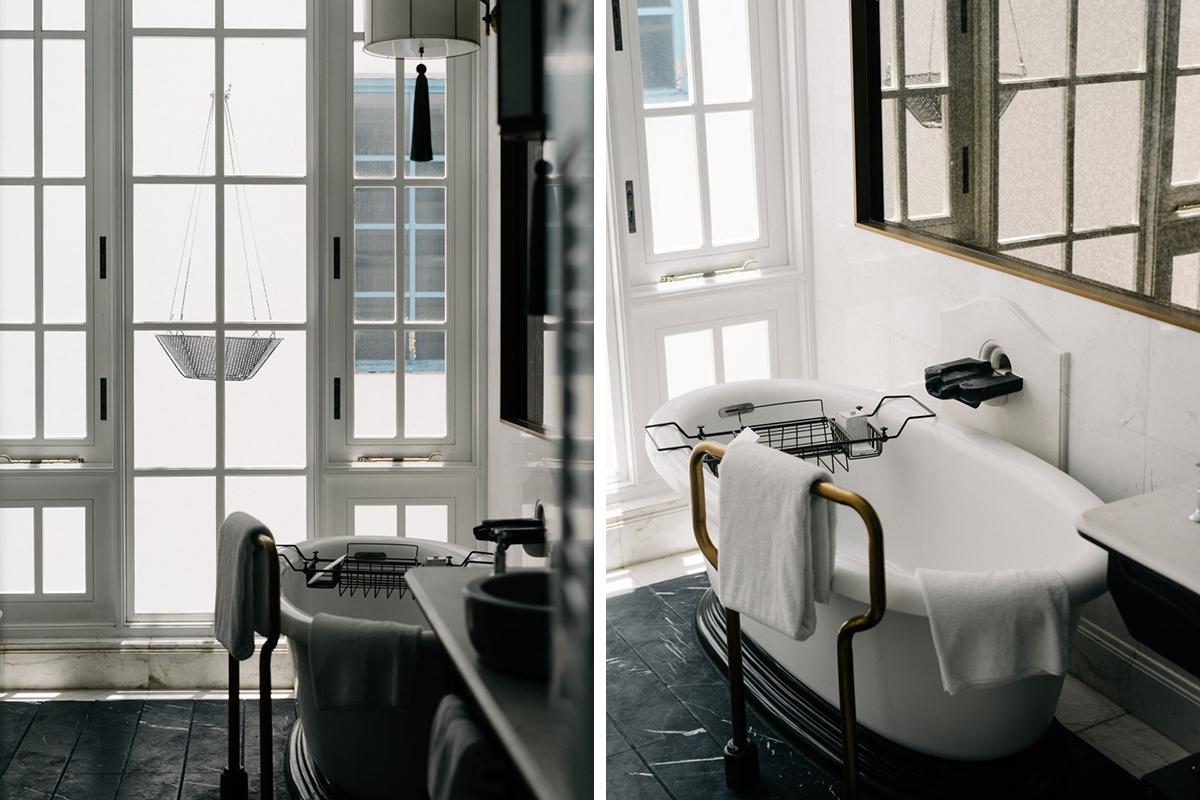 Rooms & Suites
Featuring 234 rooms and suites, The JW Marriott Phú Quốc is perfect for large groups and weddings. There are 9 different rooms to choose from including standard guest rooms, suites, villas, and house/residence. We stayed in the contemporary chic Emerald Bay View room with floor to ceiling windows and a balcony overlooking the property's pools along with the incredible Khem Beach. The 54 sqm room was furnished with two plush double beds, 1.5 bathrooms, marble bathroom, an oversized bathtub, rain shower, double vanities, Aromatherapy Associates bathroom amenities, a Nespresso machine, complimentary high-speed internet, flat screen TV and more.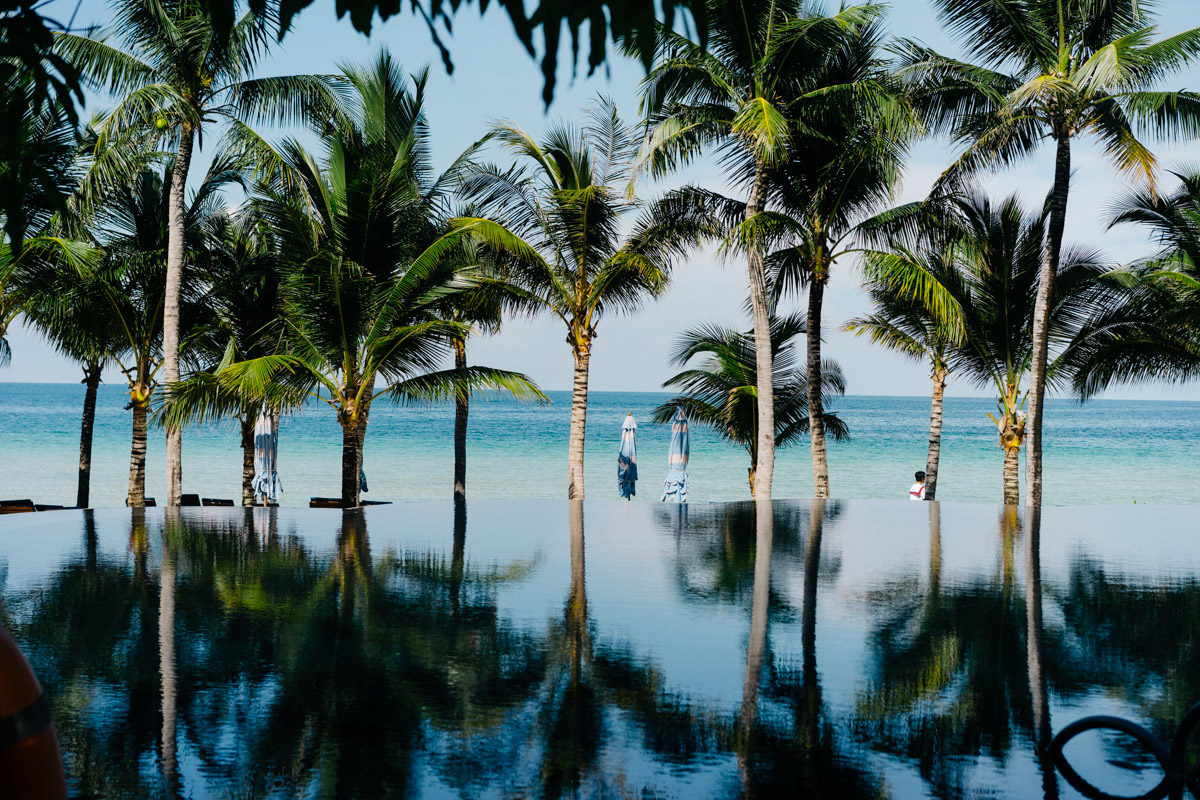 Amenities / Services
The resort has every amenity you could possibly think of including 3 pools, a whirlpool, gym, restaurants, and a spa. There is an abundance of activities to keep you entertained or relaxed including kayaking, bike rentals, boating, snorkeling, sauna, a kids club, and more. The "Lamarck University Campus" also has a daily class schedule filled with fun learning experiences such as biking to the local bee farm, hiking to the pagoda, cooking or baking classes, mixology lessons, visiting the famous pepper farms or fish factory, morning yoga sessions, lantern making, and more. The resort is also home to the Chanterelle Spa by JW, offering massages, body treatments, facials, hair & scalp treatments, manicures, pedicures, plunge pools, and more.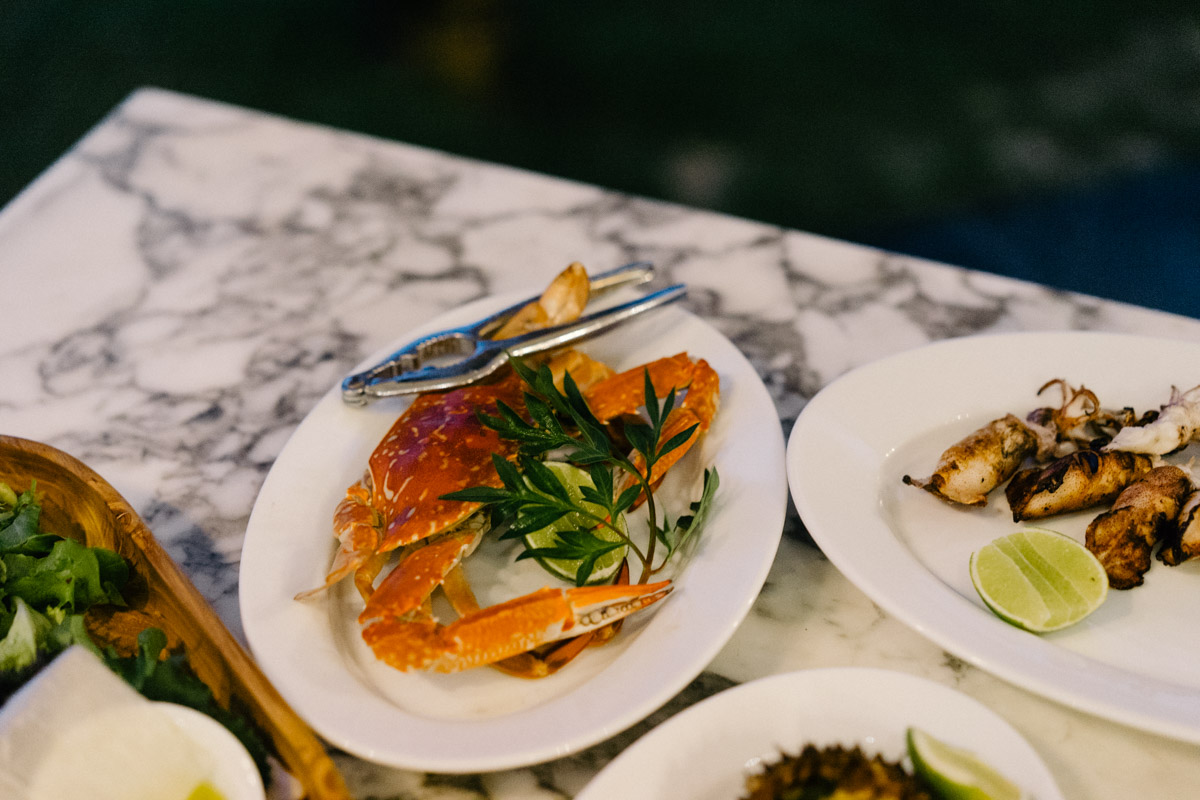 Food
The JW Marriott Phú Quốc has a plenty of food options with three main restaurants, a café/deli, and bar on the property. Offering all-day dining, Tempus Fugit is where the breakfast buffet is served. If you're a late riser, they're also open for lunch and dinner. Enjoy international flavors ranging from French, Chinese, Japanese, Vietnamese, and more. The dinner menu is very comprehensive, but I recommend trying the Hokkaido scallops with caviar, Vietnamese-style slipper lobster, and the beef tenderloin imported from France.
You can enjoy lunch or dinner with a view at the Red Rum, known for their signature burger and grilled local seafood. The fresh local flower crab, squid, and herring served with rice paper and fresh herbs were my favorites.
The Pink Pearl offers a fine dining experience set in a beachfront mansion. Unfortunately, the Pink Pearl was closed for renovations during my visit. For a light snack, French & Co. serves up refreshing drinks including Vietnamese coffee along with a wide selection of French pastries. The Department of Chemistry Bar is another spot to grab drinks, hand-crafted by resident "chemists."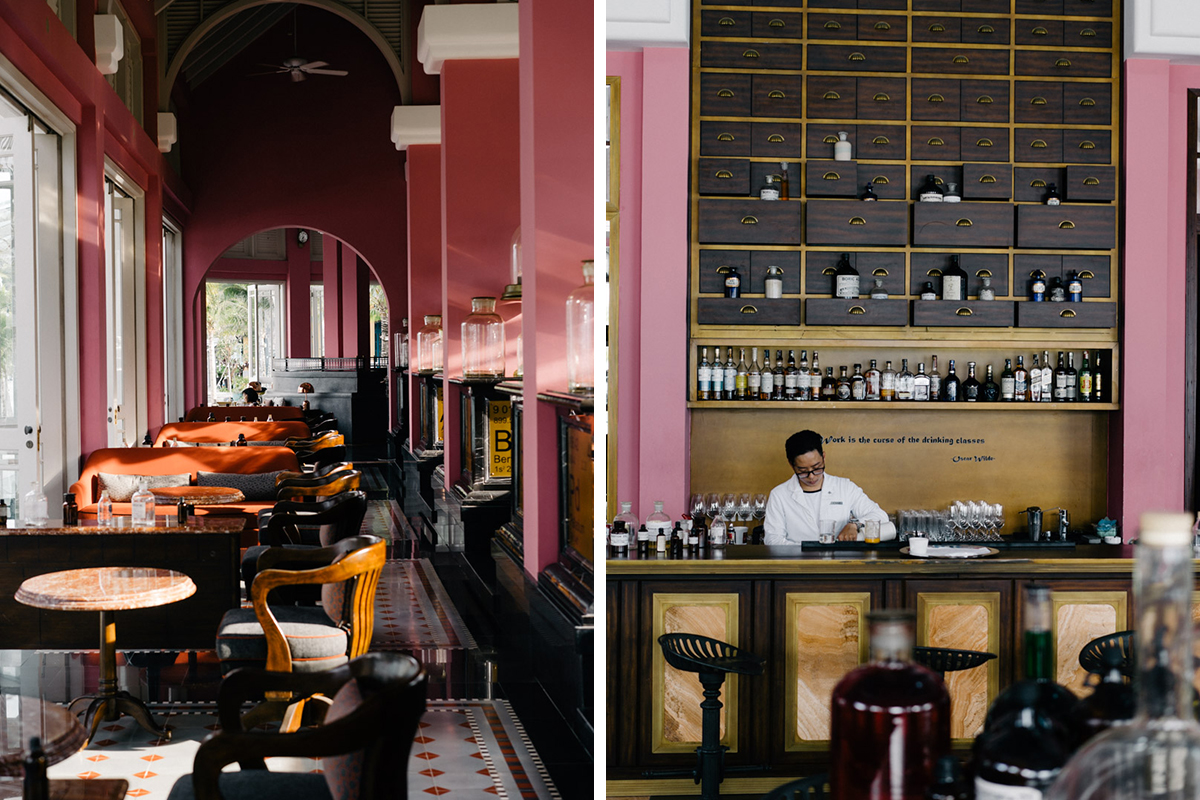 Activities in the Area
Phú Quốc National Park: This national park takes up over 50% of the island. You can either walk along the park trails or ride through the park on a motorbike.
Pepper Farms: Visit one of Phú Quốc's many pepper farms. Take home some organic black, white, or red peppercorn along with sauces, salts, and more.
Fish Sauce Factory: Phú Quốc is also known to have the best fish sauce in Vietnam, and quite possibly the world. Check out the local fish sauce factory and bring a bottle or a case home!
Phú Quốc Night Market: The night market is a bit far from the hotel and it's nothing too special compared to other night markets in South East Asia. If you're planning on visiting the city, then worth walking through. The Night Market has an abundance of food stalls including seafood restaurants, local street food vendors, clothing stalls, souvenir shops, and more. Try the rolled ice cream and some local fruit!
Bai Khem Phu Quoc District An Thoi Town, tỉnh Kiên Giang, Vietnam
p: +84 297 3779 999
w: www.marriott.com
Asian, Dessert, Dinner, Lunch, Vietnamese