Where to Stay in Marrakech !!! Dar El Sadaka
0
The Lowdown
Hotel Name: Dar El Sadaka
Location: Marrakech, Morocco (please refer to the map below for details)
Accommodation Type: Private Villa
Published Price Per Night: €3400 per night for entire villa, minimum 3 night stay, for up to 20 guests.
Accessibility: By car
Last Visit: December 2017

Ratings (out of 5)
Location: 5
Convenience: 4
Amenities: 5
Cleanliness: 5
Rooms: 5
Service: 5
Value: 4
Crayscale !!!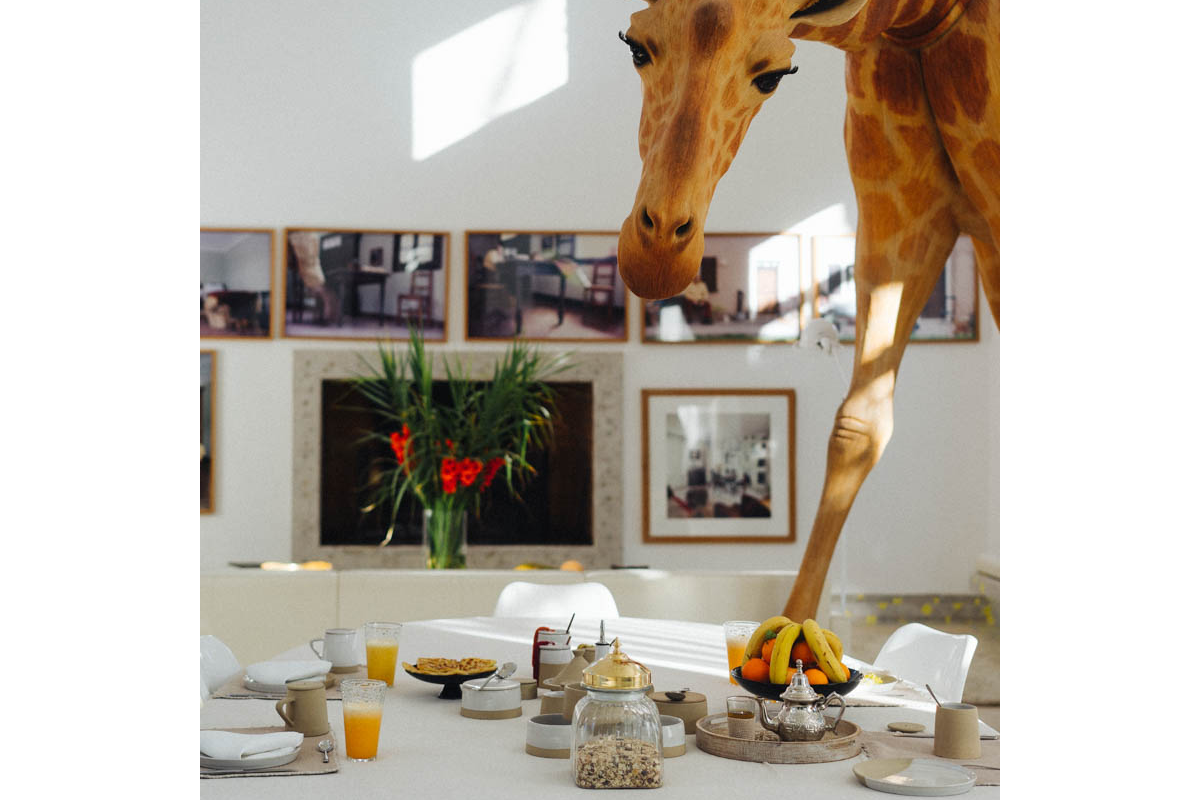 Dar El Sadaka
Spread across 25 acres in the heart of the Palmeraie of Marrakech is where you'll find the enchanting Dar El Sadaka. This gated private villa is one-of-a-kind and could easily serve as a museum or art gallery. The Dar El Sadaka is the brainchild of French visual artist Jean-François Fourtou and interior designer Philippe Forrestier. Jean-François is famed for his incredible sculptures of animals, specifically giraffes, orangutans, dogs, insects, and more. Most of Jean-François's work is displayed at the Dar El Sadaka including a replica version of his grandfather's house that has "Fallen from the Sky." Philippe's vision is to find a balance between harmony and astonishment by integrating Fourtou's work throughout the villa. He's achieved this by giving each of the suites a theme centered around one of Jean-François's masterpieces.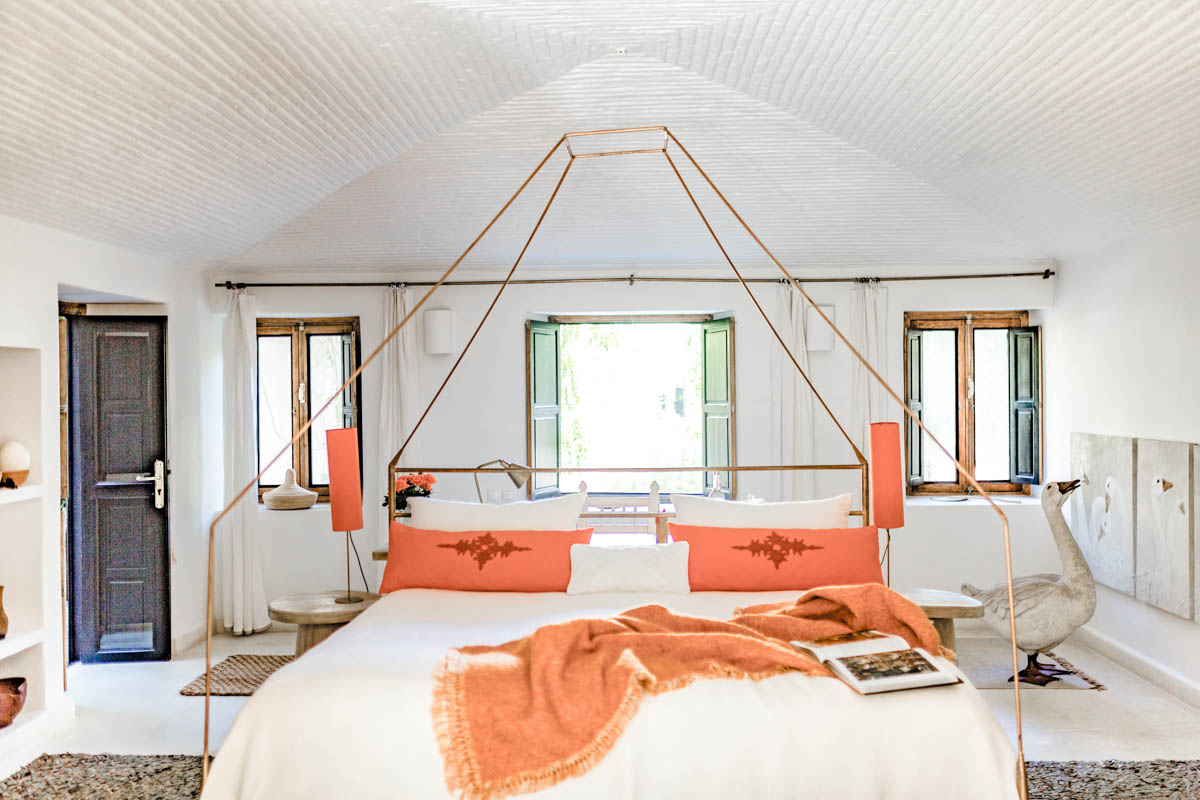 Rooms & Suites
There are a total of seven rooms and two smaller en-suite bedrooms at the Dar El Sadaka. Each suite highlights one of Jean-François's sculptures. They're named after various animals: Dog, Donkey, Geese, Tortoise, Giraffe, Camel, Snail, Bee, and Ant. The color palettes, floor plans, furniture, linens, and decor is unique to each room. The rooms even have their own scents! I got to stay in one of my favorite rooms, the Giraffe Suite, the only second-floor suite which overlooks an olive grove and has an outdoor freestanding bathtub! Another room that stood out to me was The Geese Suit, an all-white room with touches of orange linens and brass furniture. The suite also has a gorgeous plunge bath for two.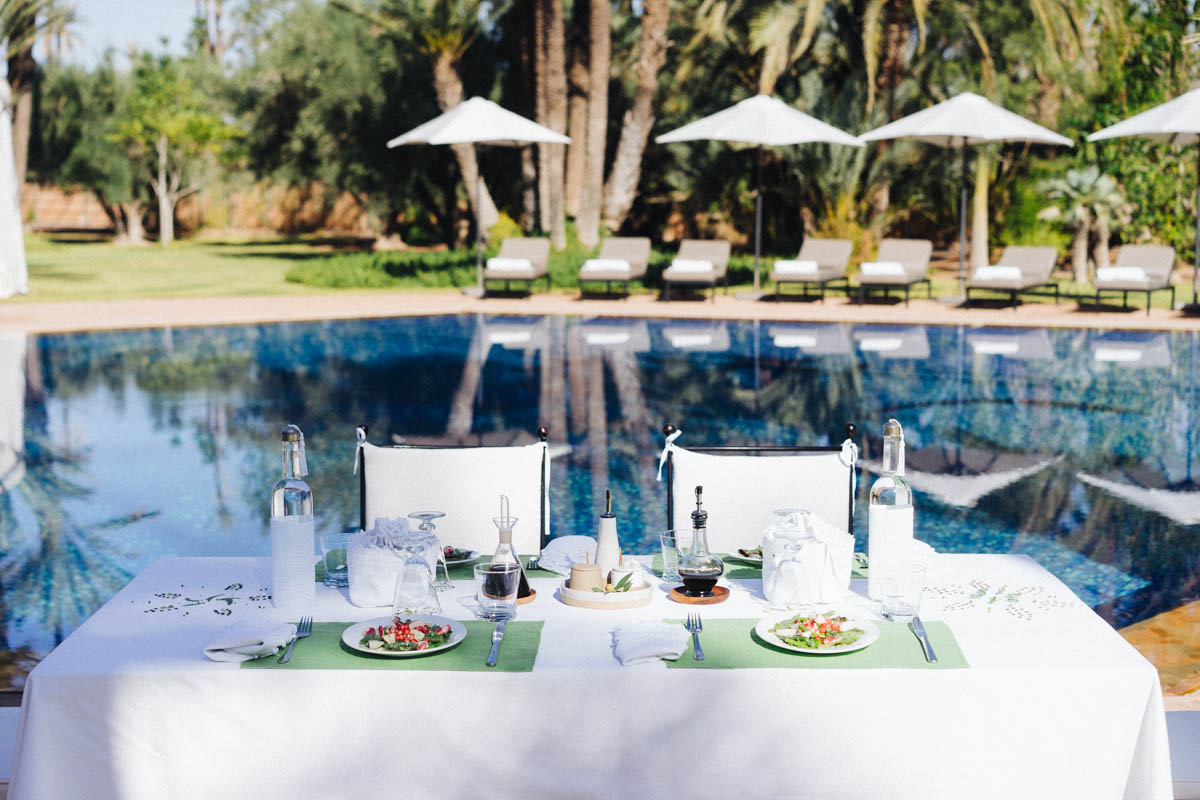 Amenities / Services
Incredible rooms aside, the Dar El Sadaka has an abundance of amenities as well, including a large pool, outdoor daybeds, fitness room, private running track, traditional hammam, spa treatment rooms, yoga studio, tennis court, ping-pong table, and French bowls court. You have to spend some time in the house that has literally "Fallen from the Sky," where everything is upside down. The "Giant's House" is astonishing as well, inspired by a room in Fourtou's childhood home. The house contains three sizes of the same room, miniature (about the size of a dollhouse), small (made specifically for Jean-François's daughter), and jumbo (as seen in photos above).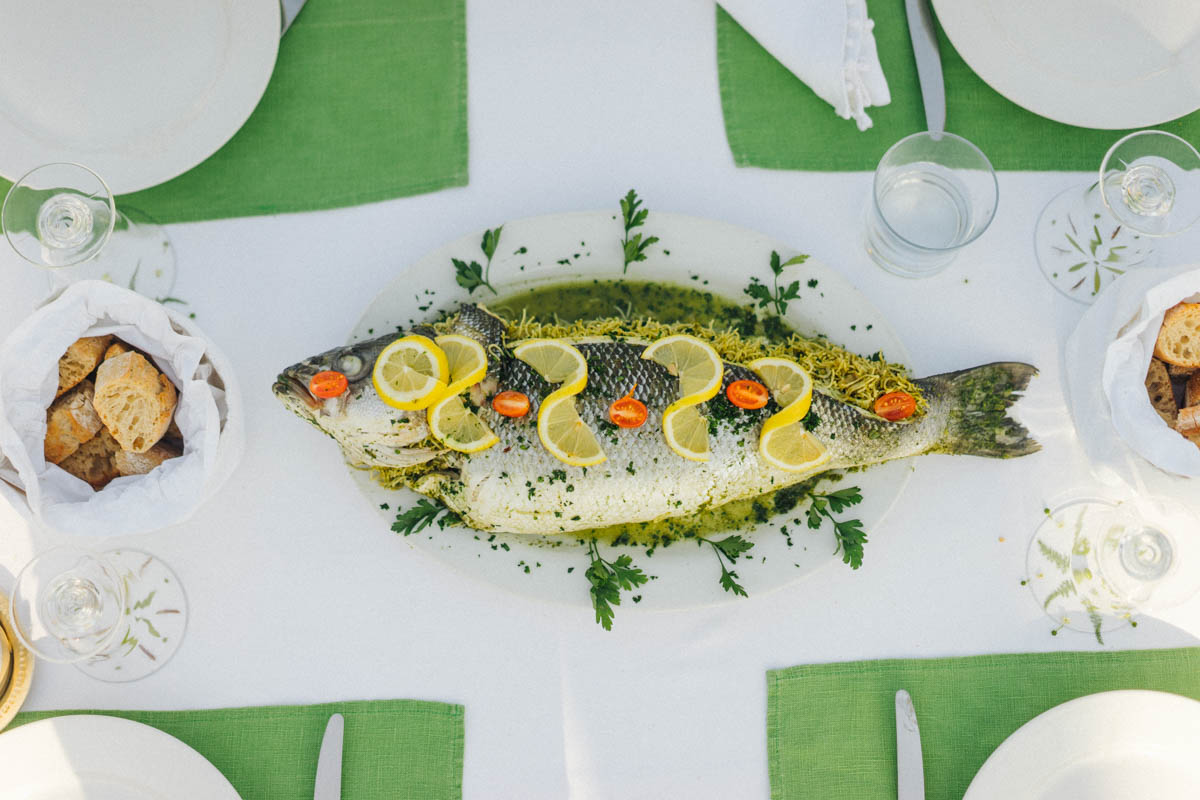 Food
The food at Dar El Sadaka is very special, all made in-house by Chef Madame Hasna and her team. On premise, you can get breakfast, lunch, and dinner, and the menu changes daily, using seasonal ingredients and fresh organic produce from gardens. The kitchen even makes their very own cold pressed extra virgin olive oil, home-made jams, and honey from their very own beehives. Seafood, meat, and poultry are sourced from trusted fishermen and independent local butchers. Every meal was delicious, but the most memorable meal was lunch by the pool. Chef Madame Hasna prepared a fresh salad made with vegetables from the garden and a whole fish stuffed with pesto vermicelli topped with slices of lemon and cherry tomatoes. The fish was incredible, perfectly cooked and full of flavor.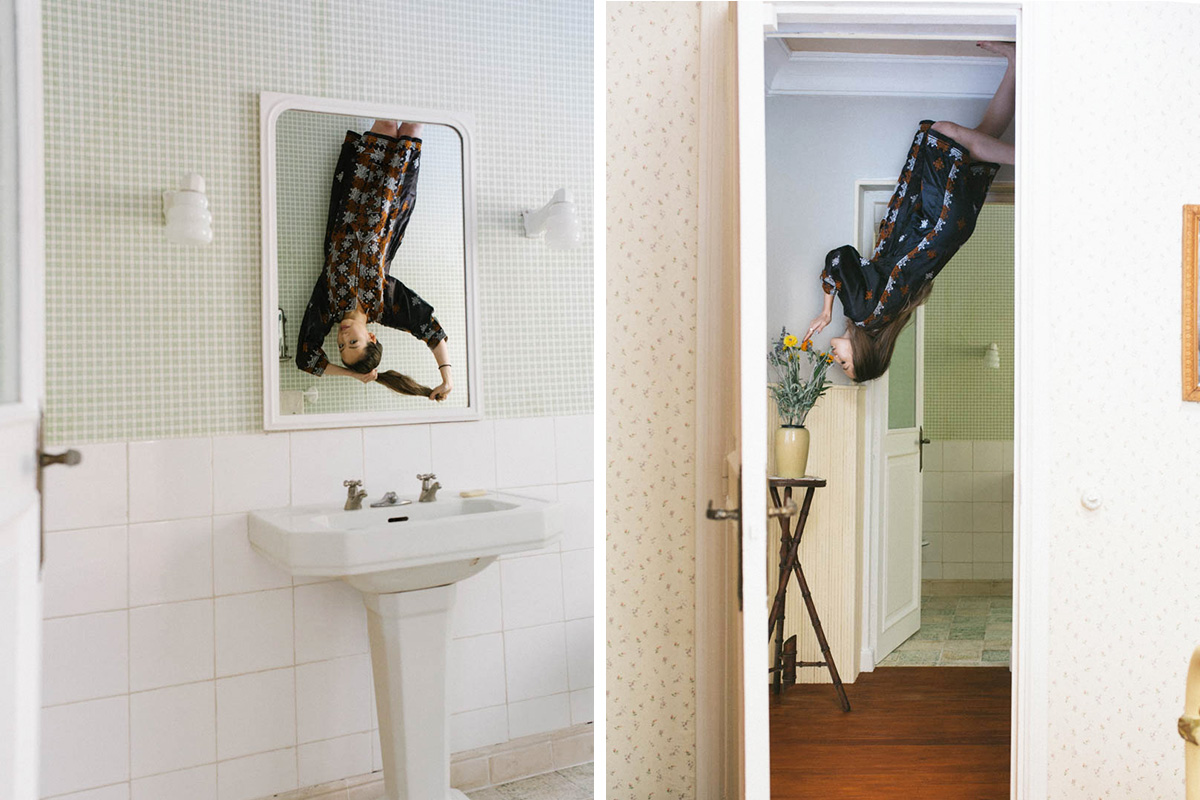 Activities in the Area
You won't want to leave Dar El Sadaka during your stay, but if you must, here are some spots to check out:
Jardin Majorelle: The Jardin Majorelle is one of Marrakech's most popular destinations consisting of gardens of cacti, palm trees, and bamboo. There are also fountains, a water lily pool, the Berber museum, Yves Saint Laurent Memoria, and more. French painter Jacques Majorelle dedicated forty years to create this garden, starting in 1886.
Marrakech Souk/Jemaa el-Fnaa: The Souk is an absolute must! You can spend hours here looking for the perfect rugs, blankets, shoes, plateware, silverware, spices and more.
Le Spa Royal Mansour: There are a plethora of spas in Marrakech, but Le Spa Royal Mansour is one of the prettiest ones that I have ever seen. The lobby is insanely gorgeous made all white marble everything. The spa treatments are luxurious, using only premium products. I had the signature facial treatment which only used Sisley Paris products.
The overall stay at Dar El Sadaka was something I won't forget. There aren't many opportunities to explore such a well-rounded place that has such a considered experience, from the landscape to the food, and the architecture.
N8, Rue de Bab Aylan, Marrakech, Morocco
w: darelsadaka.com
African, Marrakech, Morocco, Moroccan