The Lowdown
Restaurant Name: Okonomiyaki Honjin
Cuisine: Japanese Okonomiyaki, Takoyaki, and Teppanyaki
Average Price per Person: ¥790 to ¥2,000 JPY or $8 to $20 USD
Location: Shinjuku, Tokyo (please refer to the map below for details)
Recommendations: Cheese Okonomiyaki and Takoyaki

Ratings (out of 5)
Taste: 3.5
Creativity/Authenticity: 5
Atmosphere: 4
Service: 3.5
Bang for Buck: 4
Crayscale !!!

If you're looking for a fun and intimate spot in Tokyo to get your eat on, hit up Okonomiyaki Honjin in Shinjuku. I have to thank my homegirl Kimmi for taking us to this spot when we visited her last week! This spot is a okonomiyaki and takoyaki restaurant where you're given the chance to get your DIY cooking skills on.
Okonomiyaki is essentially a Japanese savory pancake which contains different ingredients such as pork, beef, chicken, seafood kimchi, and cheese mixed into the batter topped with Japanese mayo, furikake (seaweed), takoyaki sauce and bonito flakes. Takoyaki has a similar batter and is cooked to form the shape of a ball normally filled with small pieces of octopus also topped with mayo, takoyaki sauce and bonito flakes. 

Okonomiyaki Hojin is filled with tables with built-in teppanyaki grills along with takoyaki irons. I've been to okonomiyaki restaurants in Japan before which also have teppanyaki grills, but this was my first time seeing the built-in takoyaki irons! We were a little intimated at first since none of us really had any prior okonomiyaki or takoyaki making skills, but it's easier than you think. We were able to cook up some mean pancakes and tasty balls in no time. Here's how we did!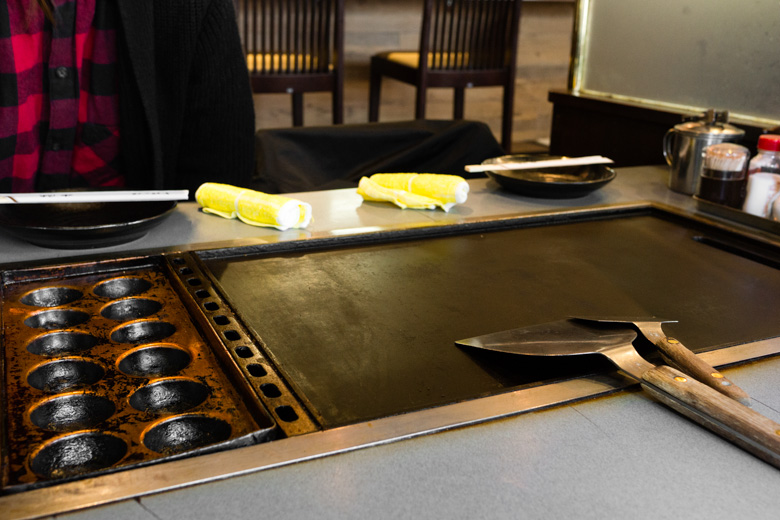 Takoyaki station on the left and okonomiyaki grill on the right !!!
Condiments and essentials: oil for the grill, takoyaki sauce, Japanese mayo, furikake, bonito flakes, salt and pepper.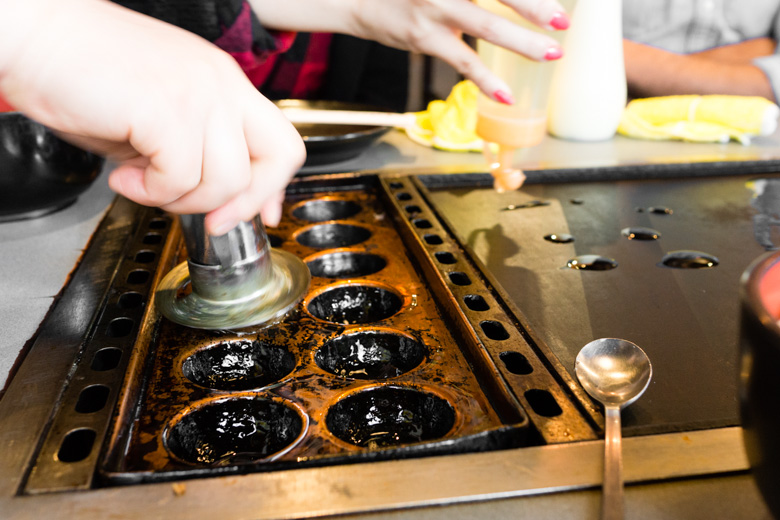 Heating and oiling up the two cooking surfaces.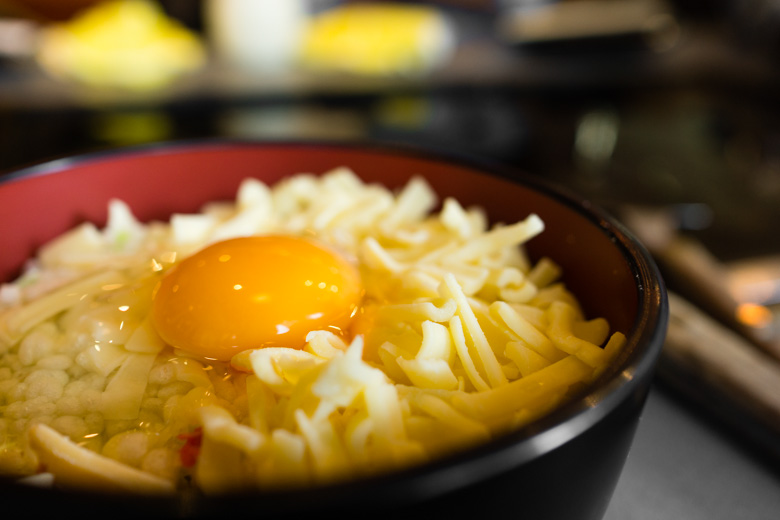 Cheese Okonomiyaki (¥790 JPY or $8.50 USD). The okonomiyaki is served as pictured above with all the ingredients in the bowl.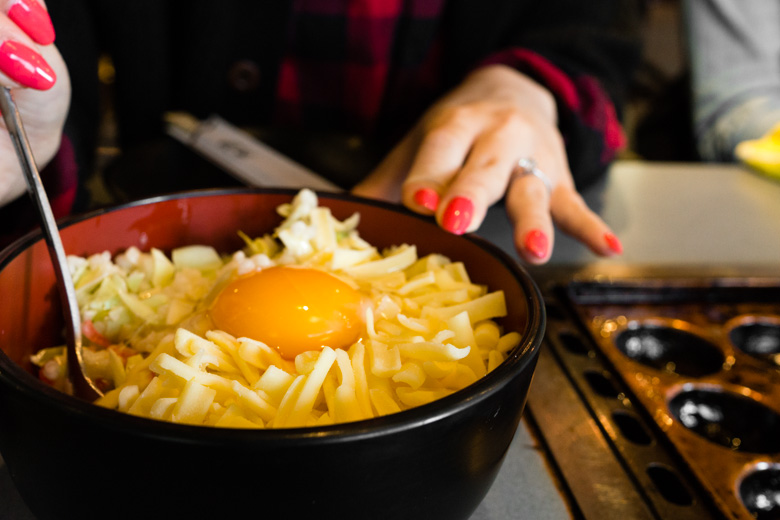 Alls you have to do is mix that ish up…
… and lay it out on the hot surface. Spread and flatten out the mixture to form a pancake about a centimeter thick by using one of the metal spatulas. The okonomiyaki cooks pretty quickly so make sure you keep an eye on it. Flip it with the metal spatula once the bottom is cooked and develops a nice golden brown crust.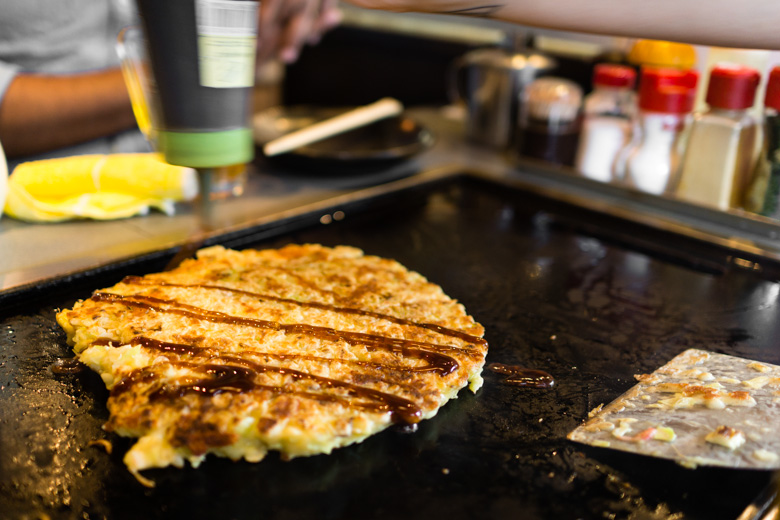 When both sides are cooked and look like the picture above, you can start adding the condiments. Start by squirting some of that takoyaki sauce all up on that okonomiyaki.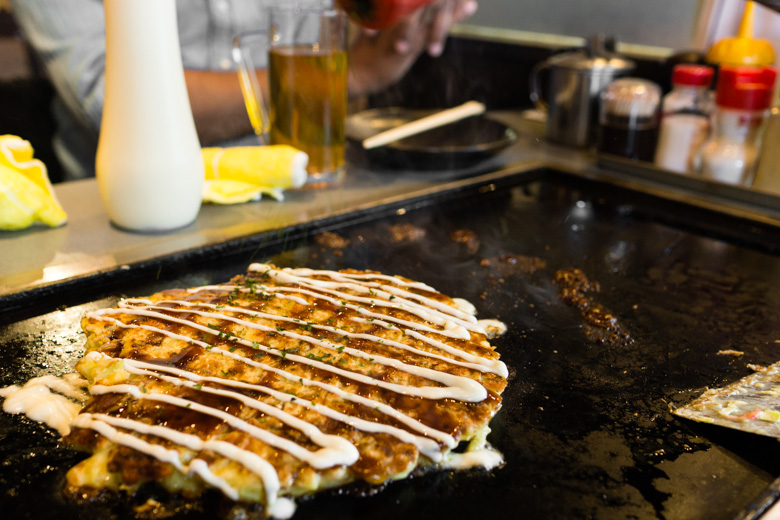 Next, make it rain mayonaise all over that ish.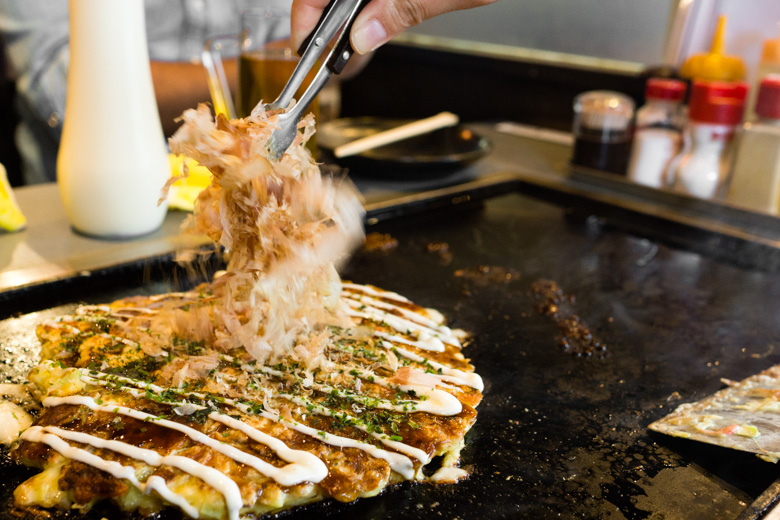 Finish it off by sprinkling furikake and loads of bonito.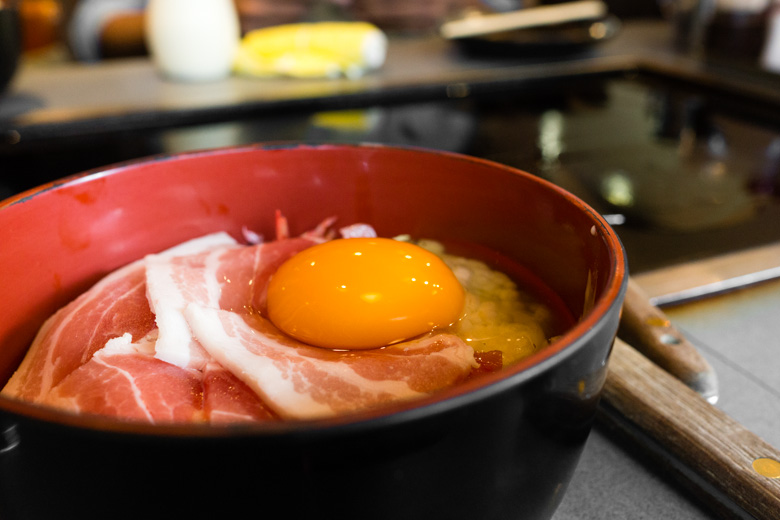 Pork Okonomiyaki (¥790 JPY or $8.50 USD).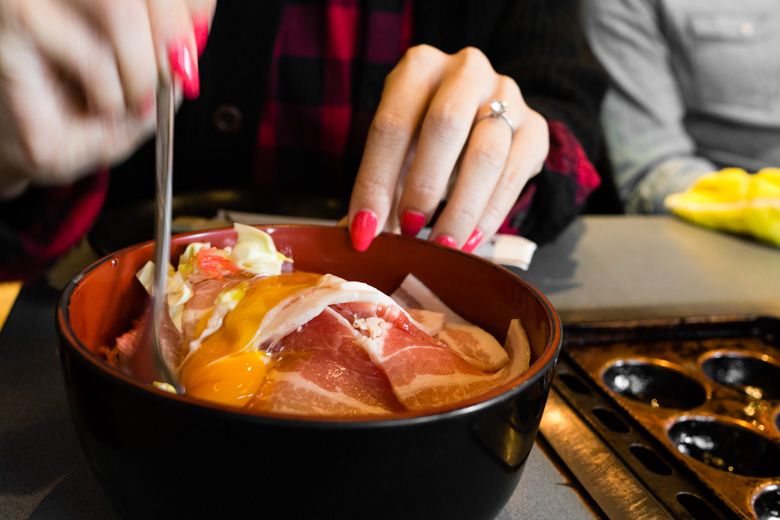 Onto the next one.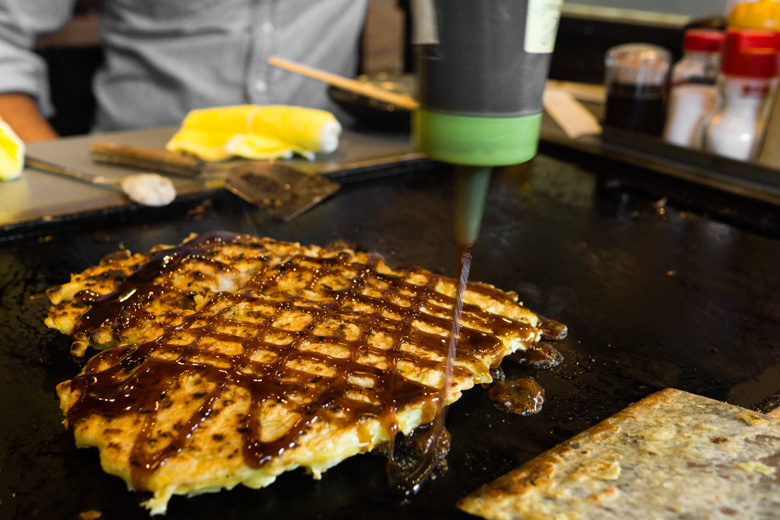 We decided to have a little fun with it and make the second one into the shape of a heart.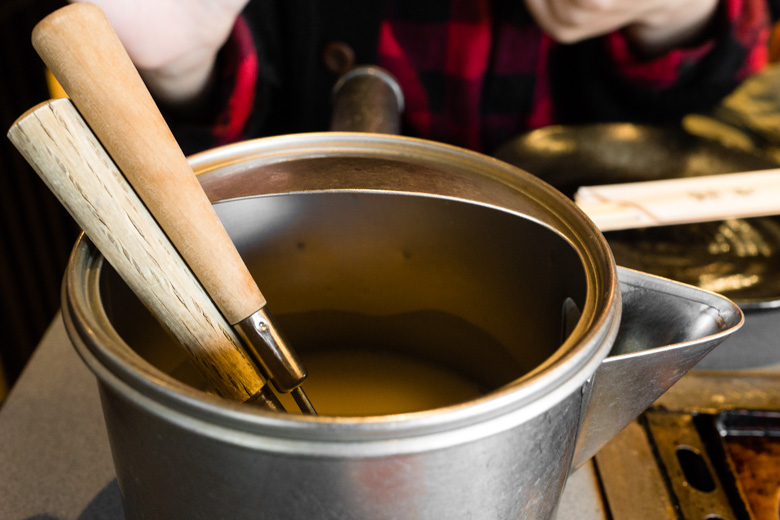 Takoyaki (¥530 JPY or $5.75 USD). The takoyaki is slightly trickier to make but still super simple.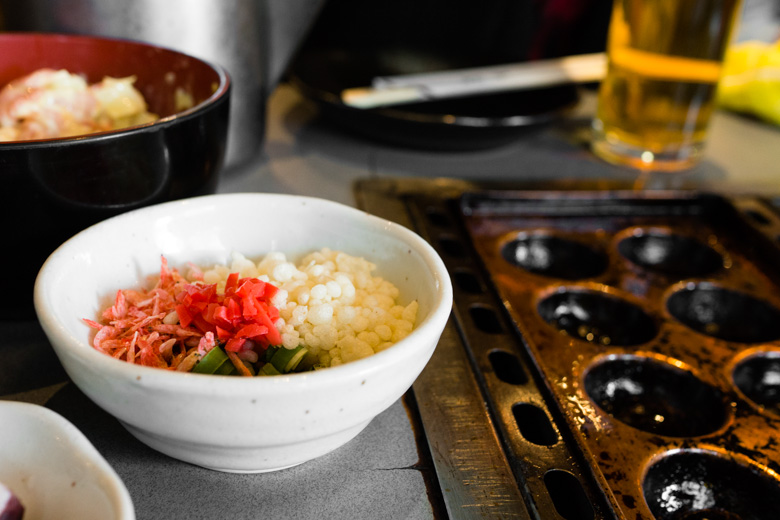 Takoyaki ingredients: dried shrimp, fried tempura batter, scallions and red pepper.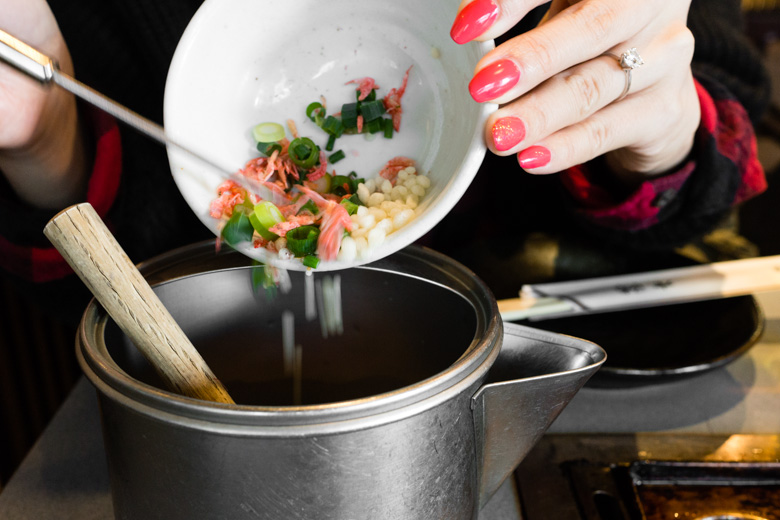 I'm pretty sure we effed up on this step and added the dried shrimp, fried tempura batter, scallions and red pepper into the batter. I think the takoyaki would have turned out better if we had added this after pouring the batter into the takoyaki molds. Anywho…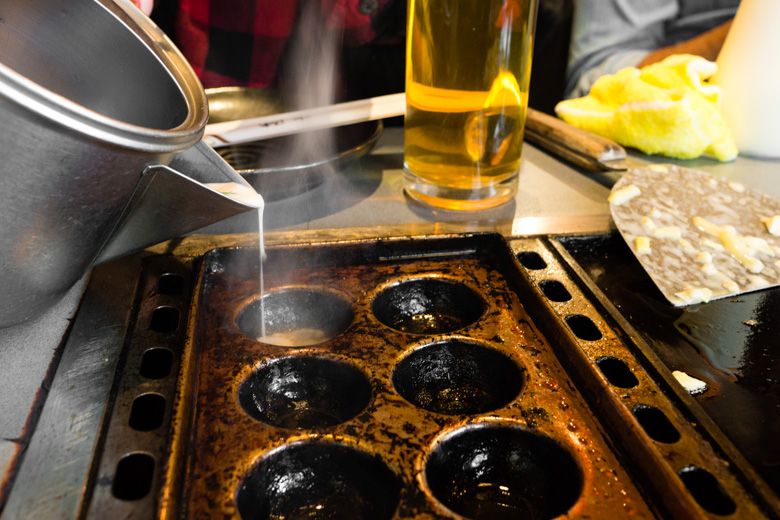 Slowly pour the batter into each individual takoyaki mold to the rim.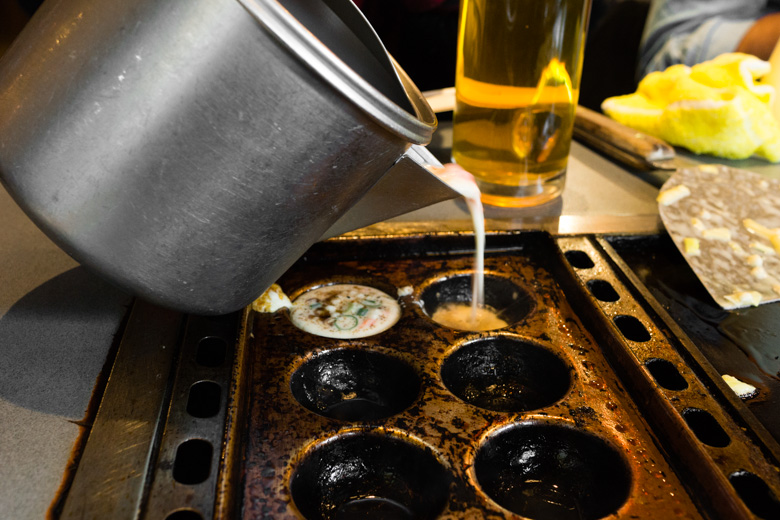 Don't worry too much if the batter overflows a little bit.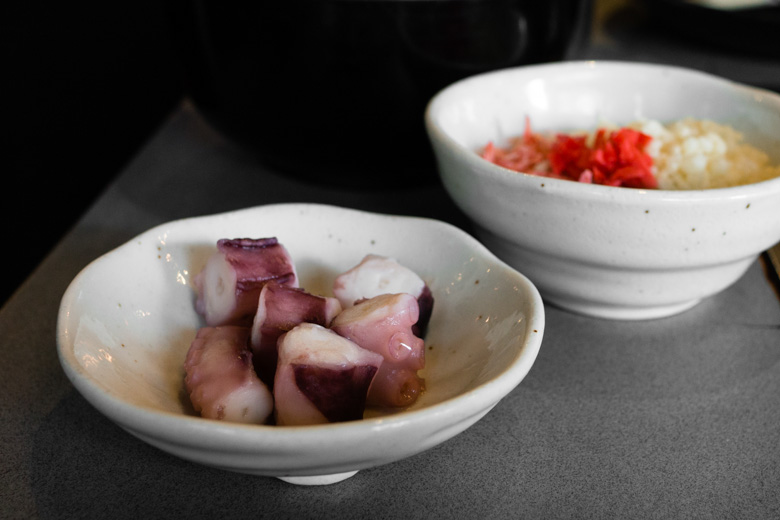 Add a chunk of octopus to each while the batter is still raw.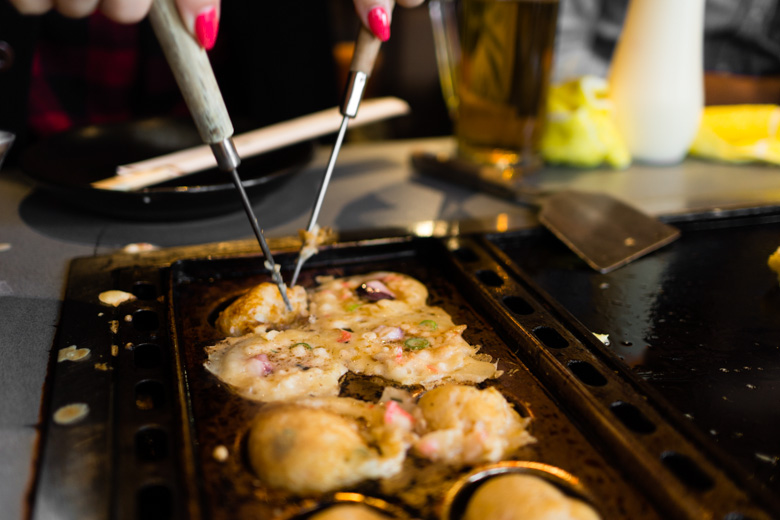 Once the takoyaki is cooked through, use the metal skewers to rotate the takoyaki so that they form into balls.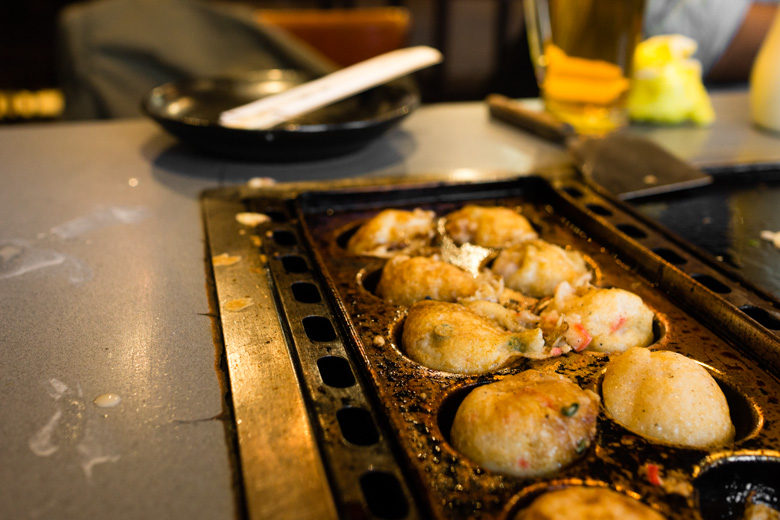 They should look sorta like this when they're done. Hopefully yours turn out better than ours! To serve, remove the takoyaki from the molds, drizzle with Japanese mayonnaise and takoyaki sauce. Sprinkle bonito flakes and furikake and stuff these dericious balls in your mouth.

View Larger Map
7-8F Komatsu Bldg, 1-17-2 Kabukicho, Shinjuku-ku, Tokyo
t: 03-3200-9714
Asian, Dinner, Dinner, Japanese, Lunch, Tokyo, Japan, What's Cookin?