Tokyo Cray !!! Where to Eat in Tokyo !!!
One question I continuously get asked is, "what's your favorite food destination?" I'm obsessed with Japanese food (but aren't we all), so my answer is always Tokyo. I try to go to Japan at least once a year and thankfully it's always a relatively close plane ride.
There's so much to see, so much to do, and so much to eat! The food in Tokyo is next level. The Japanese are extremely meticulous, have a high attention to detail, and are essentially perfectionists in everything that they do. I have a massive list of restaurants to check out in Tokyo and I've barely made a dent. This list is a work in progress of places that I've actually eaten at. Everything is sorted by category with my favorites from the top to bottom. I will be adding to it as I slowly eat my way through Tokyo trip-by-trip, but here's a start.
If you have any recommendations that aren't on the list, please feel free to add them to the comments section!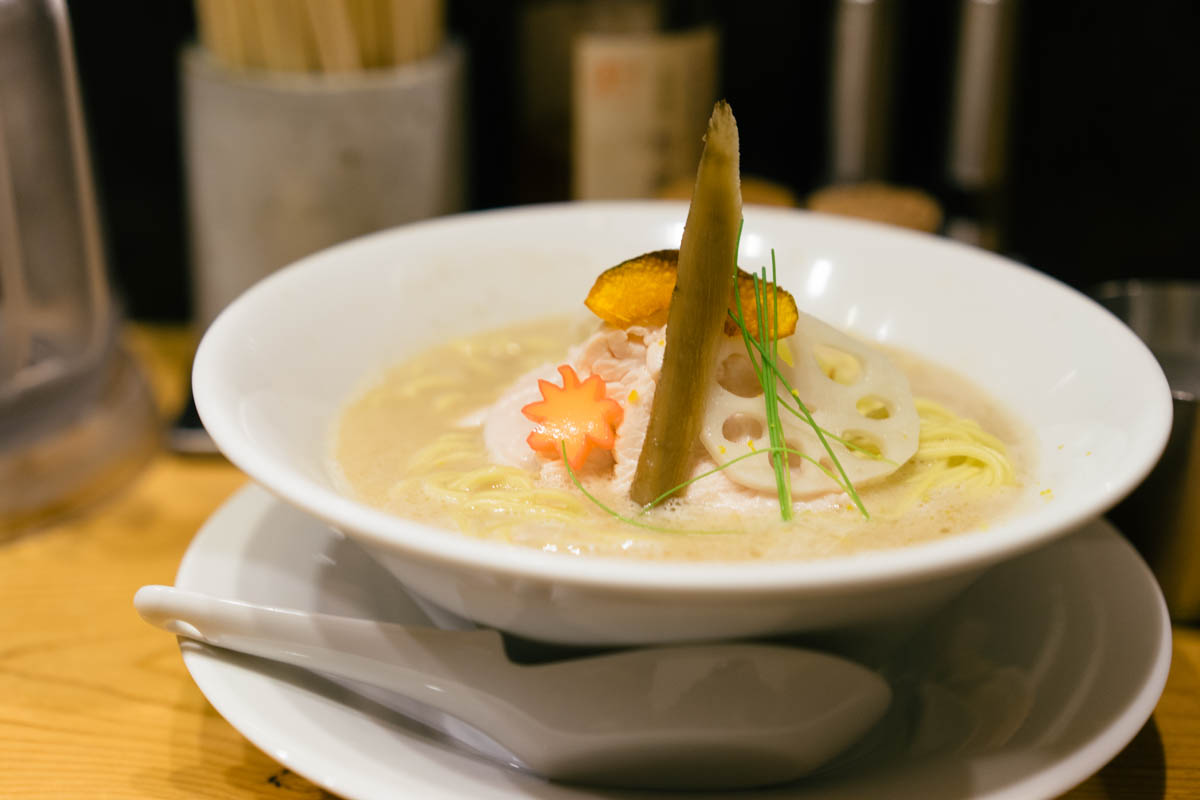 Ramen
Ginza Kagari: Kagari is currently my FAVORITE ramen spot in Tokyo serving tsukemen (dipping ramen) and their signature tori paitan "soba," which essentially translates into CREAMY AF chicken ramen. Kagari refers to their noodles as "soba" because they use chūka soba, which just means Chinese noodles. The tsukemen is served with a dried sardines and soy sauce broth and it's packed with umami goodness. I'm all about the chicken ramen though – the chicken broth is packed with flavor, rich and velvety. I actually finished every last drop of the broth. The noodles are topped with lightly cooked slices of tender chicken and a medley of vegetables. Even the vegetables are to die for. I've never had chicken ramen this f*cking delicious.
Japa 〒104-0061 Tōkyō-to, Chūō-ku, 中央区Ginza, 4 Chome−4−1, 銀座Aビル
p: +81 3-3535-7565
Afuri Ramen 六本木交差点: Afuri has multiple locations in Tokyo including Ebisu, Harajuku, Roppongi and more. Afuri offers a lighter citrusy version of ramen – yuzu ramen! You can choose between shio (salt) or shoyu (soy sauce) and regular style ramen or tsukemen. Each bowl is accompanied by half of a soft-boiled egg, slices of flame grilled pork, and fragrant yuzu peels. The yuzu broth is everything, packed with umami flavors made with chicken, fish, and konbu (kelp). The best part is, Afuri is open until 5 am!
Japan, 〒106-0032 Tokyo, Minato, Roppongi, 4 Chome−9, 六本木4丁目9−4, UFビル41F
p: +81 3-3408-8088
Click here for all locations
Nagi Ramen 凪 ゴールデン: Nagi is located in the narrow streets of Shinjuku's Golden Gai and known for its tokusei niboshi ramen. The broth is extremely flavorful, made with dried baby sardines. It's super potent, served with thick, chewy noodles. This used to be one of my favorite ramen spots, but I went back a couple of months ago and it wasn't as good as it used to be.
Japan, 〒160-0021 Tokyo, Shinjuku, Kabukicho, 1 Chome−9−6
Tsukumo 九十九とんこつラーメン: Full disclosure – I was pretty incoherent by the time I got here so my judgment may have been off. We were looking for a late night ramen spot and found Tsukumo on Foursquare. The first picture I saw was a huge bowl of ramen topped with a huge mountain of freshly grated Parmesan cheese! They literally place the bowl under a giant electric cheese grater and let it rain with Parmesan!
Japan, フジキカイ広尾ビル 36, 1 Chome-13-1 Hiroo, Shibuya, Tokyo 150-0012
+81 3-5466-9566
Rokurinsha 六厘舎: Located in Tokyo Station, Rokurinsha is also known for its tsukemen served with a tonkotsu broth, roasted pork slices, fish cake, fermented bamboo, seaweed, niboshi, dried baby sardines, dried smoked mackerel flakes and dried smoked bonito flakes.
Japan, 〒100-0005 Tokyo, 千代田区Marunouchi, 1−9−1 東京駅一番街 B1 東京ラーメンストリート内
p: +81 3-3286-0166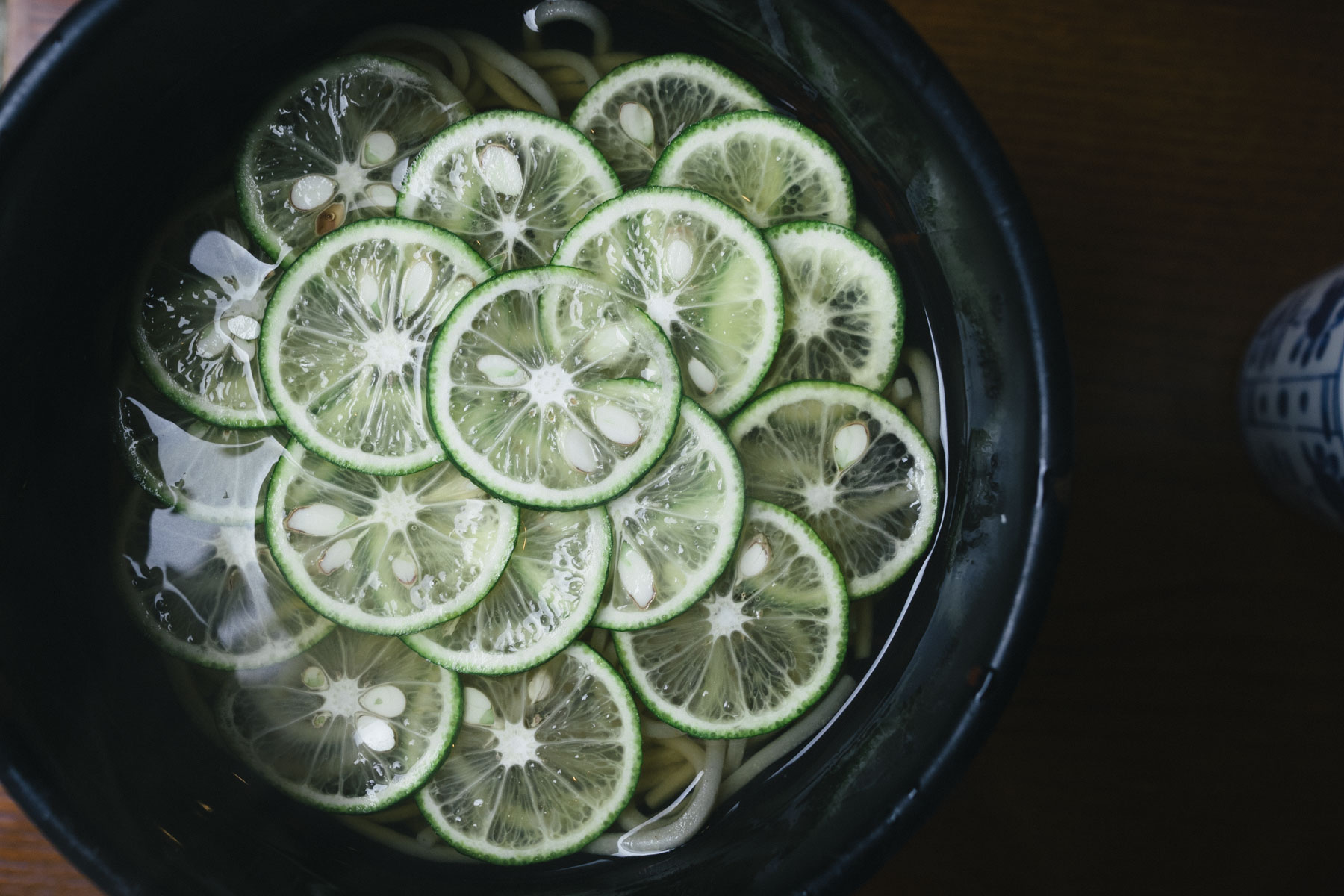 Udon & Soba
Dosanjin 東京土山人
: Dosanjin is my all-time favorite soba restaurant in Tokyo! The sudachi soba is unreal, served in a hot refreshing and citrusy broth topped with meticulously sliced slivers of sudachi. SOBALICIOUS!
Japan, 〒153-0042 Tokyo, Meguro, Aobadai, 3 Chome−19−8 B1
Shin Udon 慎: Shin's handmade udon is amazing! You have to try Shin's signature carbonara-inspired udon served warm with a raw egg, parmesan cheese, butter, pepper, and a massive slice of BACON TEMPURA. YASSS BACON TEMPURA! This was AMAZING. The sauce with the egg and parmesan cheese was crack – rich, buttery and creamy AF, with hints of black pepper, reminiscent of an Italian cacio e pepe. The bacon needs no explanation really – hello it's fried bacon! UDON EVEN KNOW!
Japan, 〒151-0053 Tokyo, 渋谷区Yoyogi, 2 Chome−20番16号 相馬ビル
+81 3-6276-7816
山長饂飩: I don't think this place has an English name, but it's pretty easy to find. I tried a few udon dishes from the menu, and I highly recommend ordering the cold udon. Their UDON is soy delicious – made with a creamy soy milk broth, bonito flakes and ume (plum).
Japan, 〒 150-0013 Tokyo, Ebisu Shibuya-ku, 1 Chome-1-5
p: + 81 3-3443-1701
Shodai: CURRY UDON TOPPED WITH FLUFFY AF WHIPPED POTATOES! 💯 This spot has an unusual pairing of udon with a huge mountain of whipped potatoes. The potatoes are whipped until it becomes an airy mashed potato foam while the springy udon is coated in sweet yet spicy Japanese curry.
Japan, 〒150-0022 Tōkyō-to, Shibuya-ku, Ebisuminami, 1 Chome−1−10
p: +81-3-3714-7733
Kaoriya 板蕎麦 香り家: Kaoriya is located in Tokyo's Ebisu district and has an authentic rustic vibe. The menu is very simple – you can choose between hot, cold or dipping soba noodles. They also give you a choice of either thick or thin buckwheat noodles. Toppings include the usual suspects such as duck, chicken, pork, tempura, and more. If you order the cold or dipping options, the handmade soba is served on a huge rectangular wooden tray, perfectly cooked and chewy. I love this place, but I still prefer Dosanjin's soba.
Japan, 〒 150-0013 Tokyo, Shibuya, Ebisu 4-3-10 Century Park 1F
p: +81 3-3449-8498
Menki Yashima: Apparently this is a favorite amongst a lot of fashion heads who come here for udon and tempura. The spot is unassuming, and inside there's a ton of memorabilia and posters. Come here and order the udon with the bits of fried batter and their variations of seafood tempura.
Japan, 〒151-0063 Tokyo, Shibuya, Tomigaya, 1 Chome−45−13
Bakuzambou 驀仙坊: This spot is more traditional than the other udon and soba restaurants listed above. The menu is very simple and minimal, offering just a few options of either hot or cold soba. There may not be as many of the bells and whistles, but the soba is delicious with a light, flavorful broth.
Japan, 153-0042 Tokyo, Aobadai, Meguro-ku, 1 Chome-22-5
+81 3-3792-8823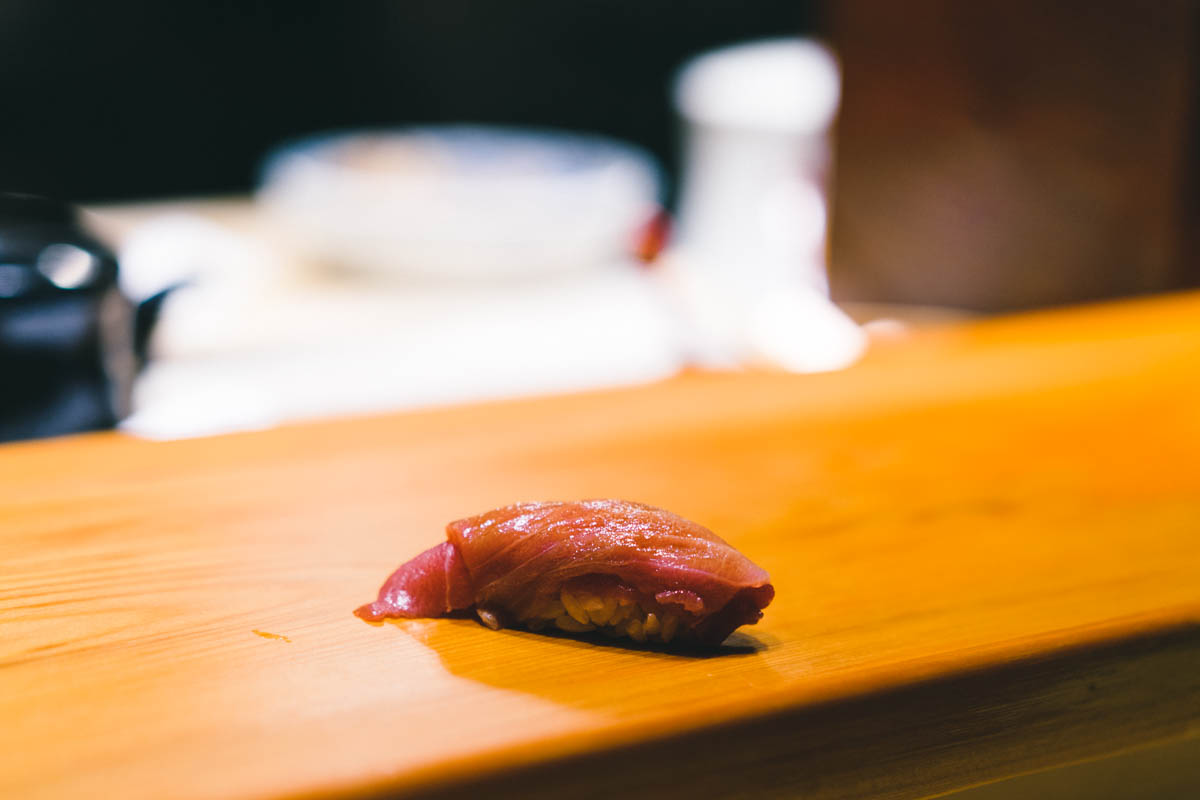 Sushi
Sushi Shin: This spot is one of my favorites in Tokyo RN. You may need to ask your hotel to help you make reservations. One of the best parts of Sushi Shin is Shin's approach to rice. The red vinegar-infused rice has an interesting and bold flavor which differentiates Shin from other spots. He was one of the first to start using a higher acidic red vinegar in his rice and a lot of sushi restaurants have followed suit since. It's also a bit more low-key and has a better bang for buck despite the one Michelin Star rating. The omakase is the only way to go with one tasty AF castella tamago to cap off the meal!
Japan, 〒106-0031 Tokyo, Minato, Nishiazabu, 4 Chome−18−20
p: +81-3-5485-0031
Tsukiji Fish Market: You don't always need to go to a high-end sushi restaurant for high-quality fish. Tsukiji is a bit of a trek, and it's slated to relocate, but even then it has a good balance of experience, quality, and price. Come here for the delicious sushi and sashimi, tamago-yaki, huge chirashi don bowls, fresh sea urchin, seared scallops topped sea urchin, strawberry custard mochi, and more.
Japan, 〒104-0045 Tokyo, Chuo, Tsukiji, 5 Chome−2−1
Standing Sushi Bar: If you're looking for your fill of sushi in Shibuya alongside that stand-up experience, try the Standing Sushi Bar. Here, a small three-sided bar allows you to get up close and personal with the chefs as your nigiri is placed on a banana leaf. It's not the best quality of sushi, but it's cheap, convenient, and this place is definitely English friendly.
Japan, 〒150-0042 Tokyo, Shibuya, 宇田川町25−6
p: +81 3-5728-5451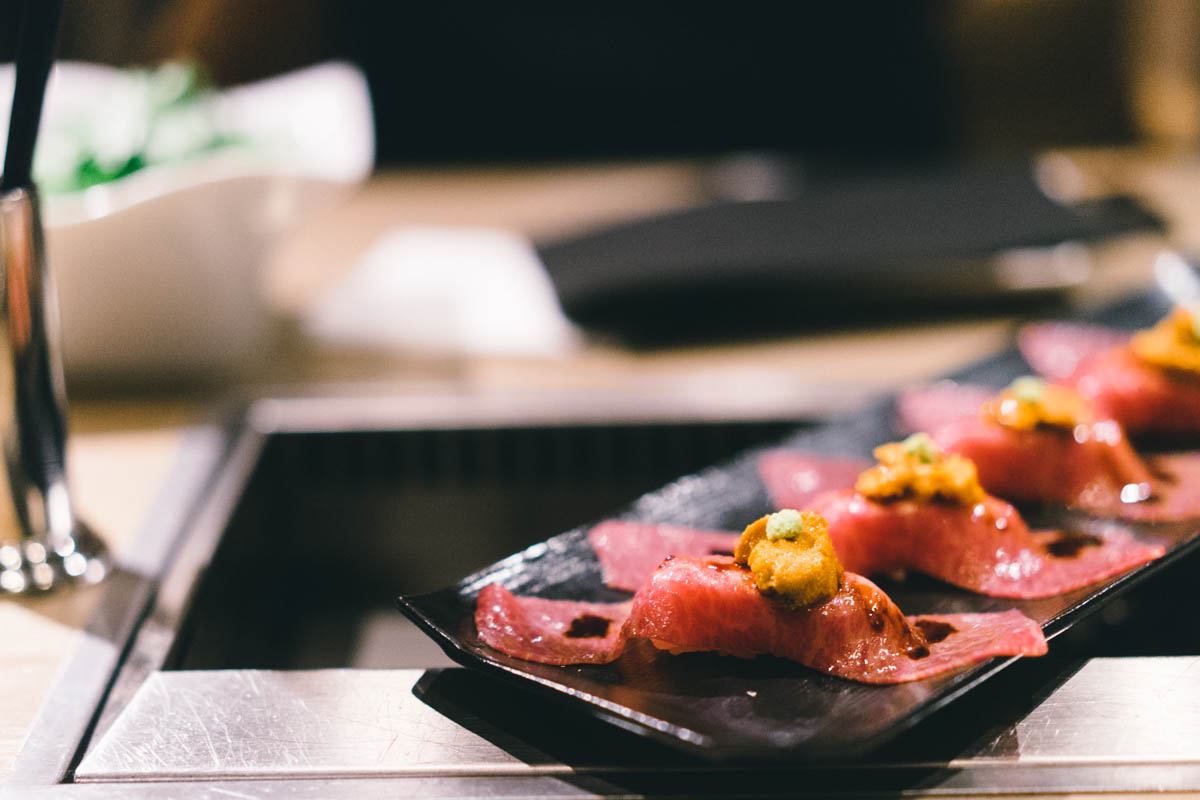 Beef
Shima: this steak house is 🔥. More often than not, eating high-quality beef in Japan follows a more traditional teppanyaki or shabu shabu approach. This is often the case because of the high-fat content of high-quality beef which doesn't lend itself to open-fire cooking methods. But at Shima, the beef is spit-roasted to ensure that there aren't excessive flare-ups. The restaurant owner spent several years in Europe and offers a distinct Japanese-European slant to his food.
Japan, 〒103-0027 Tokyo, Chuo, Nihonbashi, 3−5−12 日本橋MMビル
p: +81 3-3271-7889
Nikugatou 焼肉赤身にくがとう: This is an amazing yakiniku spot that uses legit charcoal barbecues. The restaurant sources premium A5 Japanese beef and also serves small sharing dishes. Everything on the menu is amazing, but my favorites were the marbled rib eye and the "sukiyaki" beef which is dipped in a beaten raw egg yolk.
Japan, 103-0012 Tokyo, Chuo, Nihonbashihoridomecho, 1 Chome-6-7
p: + 81 3-3668-2910
Ushigoro 焼肉うしごろ: Ushigoro is an amazing yakiniku restaurant in Minato. It's a fancier yakiniku place that serves premium Japanese A5 beef. The restaurant not only serves "Wagyu-Marbled" beef, but it also offers leaner cuts along with Wagyu sashimi. From the yakiniku section, I would highly recommend trying Usigoro's most popular "Kiwami tongue," the "Harami" thick-sliced Diaphragm, any of the Misuji wagyu beef cuts, the sweetbread with truffle butter, and the "Zabuton Sukiyaki" chuck flap served with an egg yolk and rice. My favorite raw beef dish was the beef sushi topped with uni – so good!
Japan, 〒106-0031 Tokyo, Minato, Nishiazabu, 2 Chome−24−14 Barbizon73 1階
p: +81 3-3406-4129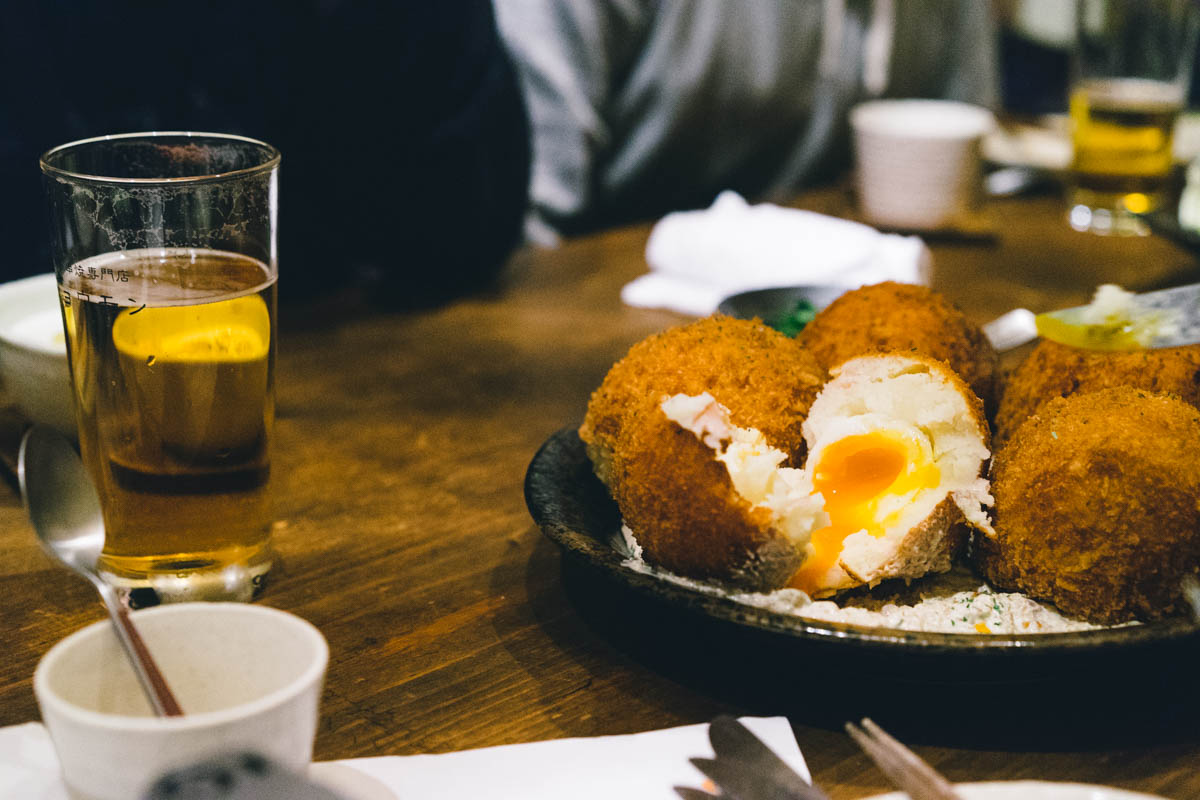 Izakaya
Jomon: Make sure you have a reservation before you go here – it's always packed! Jomon is one of my favorite izakaya joints that specializes in yakitori and robatayaki. If you're lucky enough to sit near the front of the restaurant, you can see all the skewers on deck along with the yakitori action. Some of my favorites include the huge soft-boiled egg croquette, bacon-wrapped everything, the avocado, and naturally the simple yet delicious skewers.
Japan, 〒106-0032 Tokyo, 港区Roppongi, 5 Chome−9−17 藤森ビル
p: +81 3-3405-2585
Kaikaya: This spot is somewhat of a dependable favorite amongst a lot of fashion people from across the world. The sticker collection outside is impressive. Overall, it's about good vibes and good food, especially after a day of shopping around Shibuya. The tuna ribs, hamachi carpaccio, and sakura ice cream are amazing!
Japan, 〒150-0044 Tokyo, Shibuya, Maruyamacho, 23−7
p: +81 3-3770-0878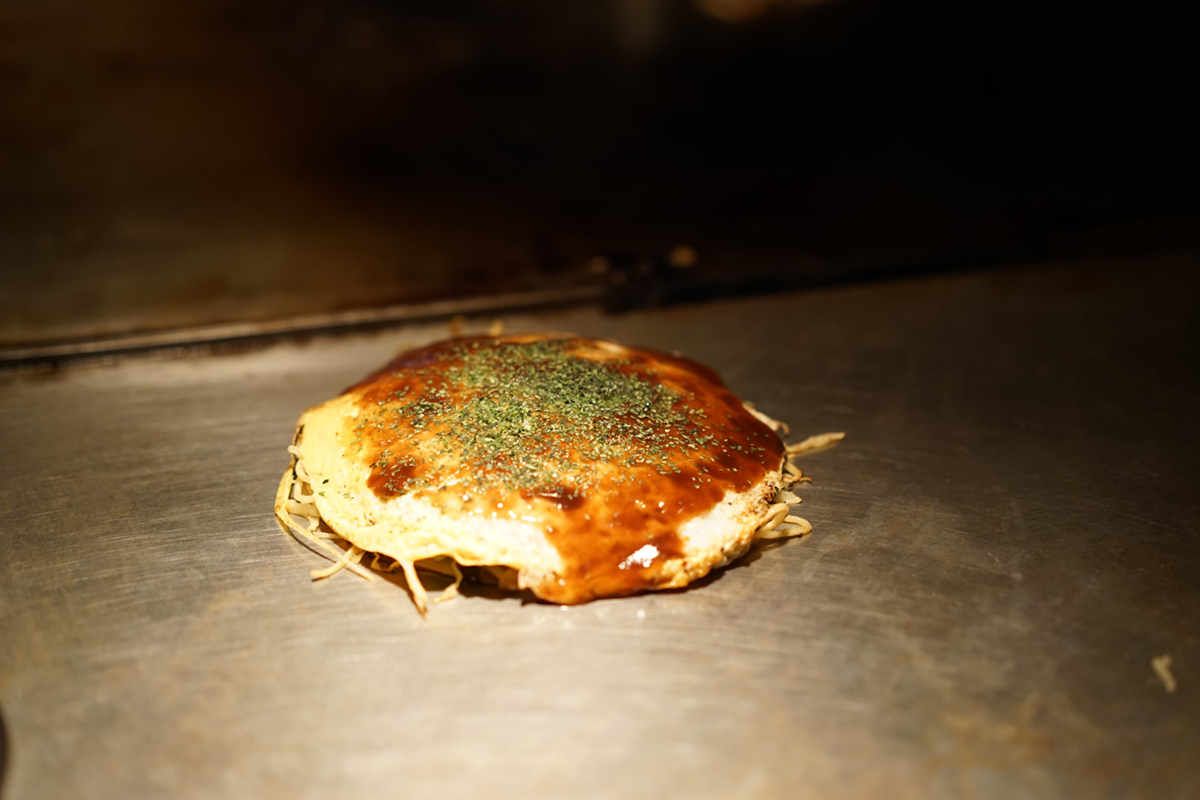 Okonomiyaki
Imari いまり: This okonomiyaki spot is next level! There's no English menu which meant you have to just point at whatever you want. They have a bunch of different "pancakes" to choose from. You have to order the cheese! I actually have no idea what it's called, but it's essentially grilled cheese which is then formed into a roll leaving you with a crunchy crust filled with melted cheese in the center. They have other combos such as spring onion and pork, bacon and egg, and one with yakisoba. The last thing to try is their fresh tomato served with salt – sounds basic, but the tomatoes are unreal.
Japan, Tokyo, Shibuya, Ebisunishi, 2 Chome−311
p: +81 3-6455-0993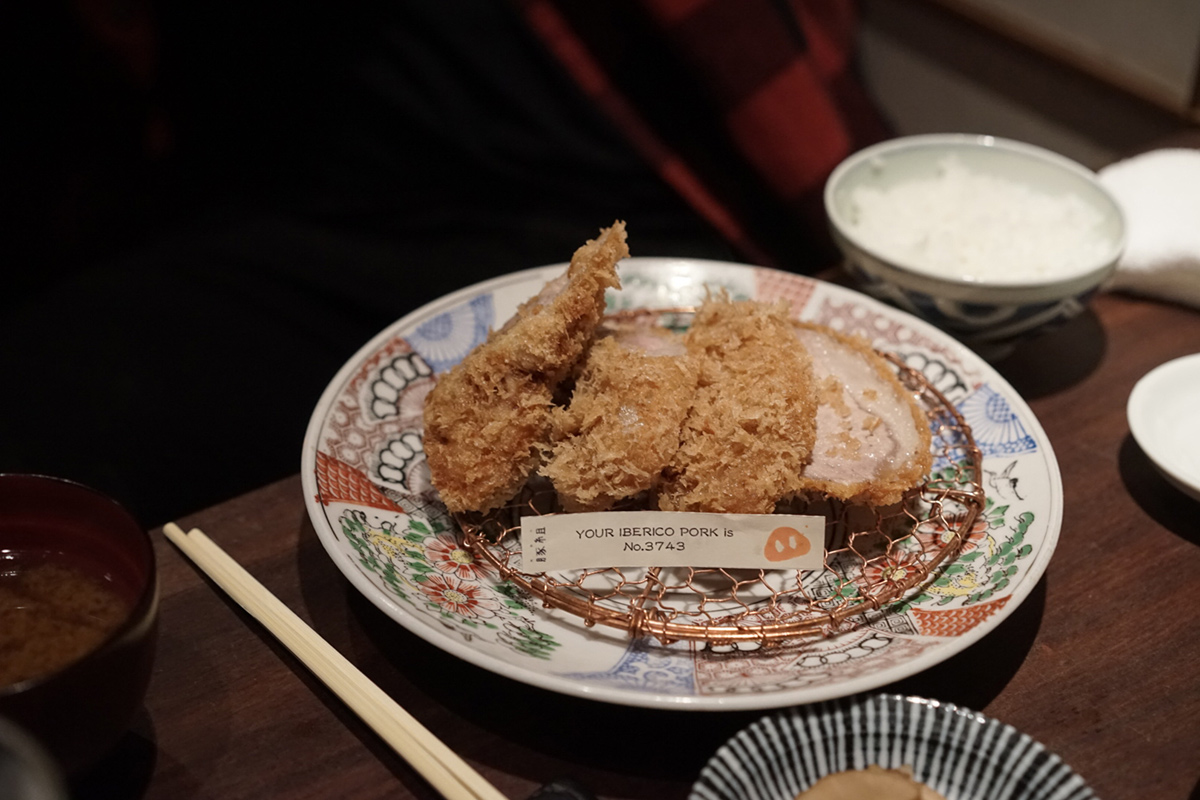 Tonkatsu
Butagumi Tonkatsu 豚組: Butagumi is unique because the menu is sorted by the richness and fattiness of the pork tonkatsu. It ranges from different offerings from across Japan and Spain including Kagoshima, Hokkaido, Matsuzaka, Okinawa, and Iberico pork. It's soooooo crispy, juicy, and tender. Be sure to make a reservation! After dinner, you can check out the Library Lounge across the street – their fruit cocktails are amazing (see below).
Japan, 〒106-0031 Tōkyō-to, Minato-ku, Nishiazabu, 2 Chome−24−9
p: +81 3-5466-6775
MAiSEN まい泉 : It's arguably the most popular tonkatsu spot in Tokyo with multiple locations. MAiSEN's katsu sando, fried pork cutlet sandwiches, are to die for, available at department store grocery stores around the city. We usually go to the Omotesando location, a two-story restaurant that has a constant line. You can get sandwiches, katsudon, or just regular tonkatsu and you can either dine-in or takeout. Like many tonkatsu spots, it has many of the same approaches with multiple cuts of meat and unlimited cabbage and rice.
Japan, 〒150-0001 Tokyo, 渋谷区Jingumae, 4 Chome−8−5
p: +81 120-428-485
とんかつ山家: This spot is really local and it's a bit more reasonably priced, located in Ueno. You can get a mix of proteins ranging from pork, shrimp, oyster, and more. It's a bit out of the way but stop in after shopping around the area for kitchen and homewars. If you're looking for a good Japanese knife, check out Kamata Hakensha.
Japan, 〒110-0005 Tokyo, Taito, Ueno, 6 Chome−2−6
p: +81 3-5812-8076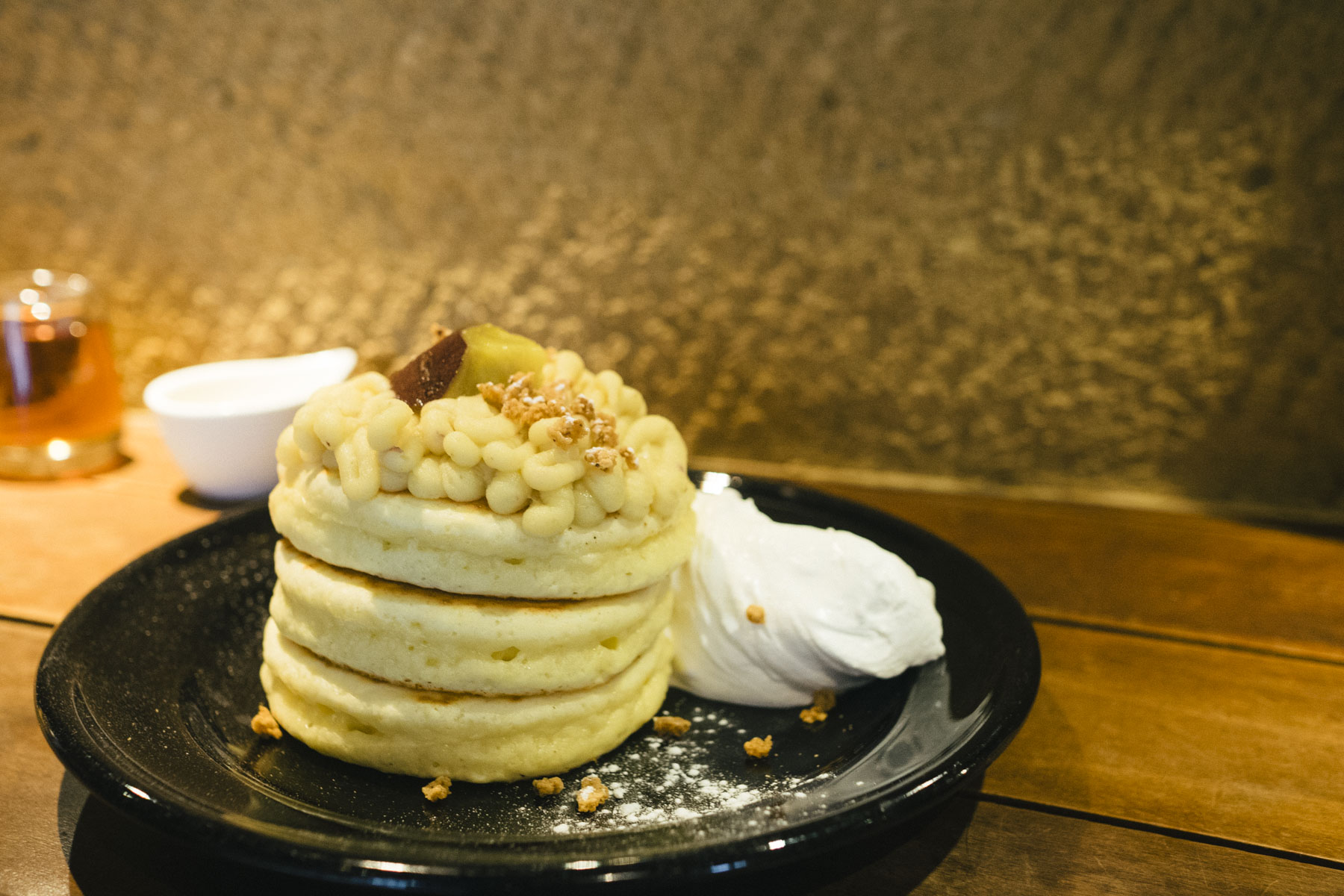 Breakfast & Brunch
Ivy Place in Daikanyama: This spot is relatively chill but it's right next to the super popular book store, T-Site. Honestly, don't look any further than the pancakes, they could very likely be the fluffiest pancakes you've ever had.
Japan, 〒150-0033 Tokyo, Shibuya, Sarugakucho, 16−15
p: +81 3-6415-3232
24/7 Coffee Roaster: OK I take it back – 24/7 Coffee Roaster's pancakes are pretty amazing too. The coffee is decent also.
Japan, 〒150-0041 Tokyo, Shibuya, 神南1丁目19-8 渋谷区勤労福祉会館内 1F
p: +81 3-6455-0920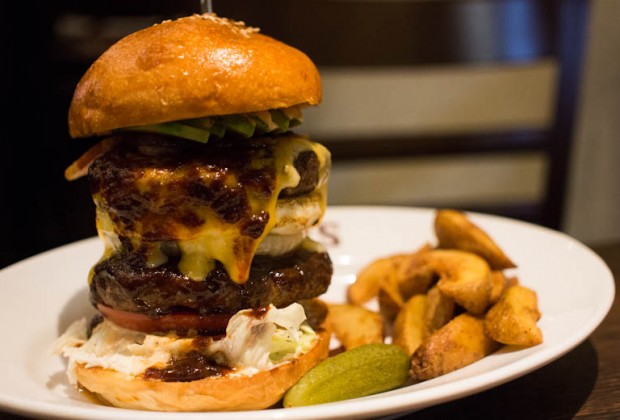 Burgers & Pizza
Blacows: They're known for their Wagyu burgers which are pretty darn tasty. They have a really big "Big Blacows" burger which is visually impressive but really hard to eat. There's a Blacows at the Tokyu Foodshow in Shibuya as well, but it's take-out only.
Japan, 〒150-0021 Tokyo, 渋谷区Ebisunishi, 2 Chome−11−9
p: +81 3-3477-2914
Golden Brown Burger: This is another decent burger spot located close to a lot of shopping spots in Omotesando. It's a bit less complex than Blacows but still worth trying if you're in the area.
Japan, 〒153-0043 Tokyo, 目黒区Higashiyama, 2−3−1 青木ビル
p: +81 3-6661-8560
LaTRIPLETTA ラ トリプレッタ: The pizza here is amazing and reminds of the pizza I had in Italy. The crust here is sooooo on point – thin yet springy with a nice saltiness to it. LaTRIPLETTA's pizzas are simple with classics such as the Margherita, Parmigiana and Romana. You can also get something a little more adventurous such as the Mexico with tomato sauce, garlic, mushrooms, onions, shishito, dried salami, and cheese. I really liked the Bismark with mozzarella, ham, mushrooms, and a soft-boiled egg.
Japan, 〒142-0062 Tokyo, Shinagawa, Koyama, 3 Chome−13−12
p: +81 3-6451-3537
Pizza Slice: This spot is a legit spot for NYC-style pizza. You'll come away satisfied with their reasonably-priced cheese slice, but there are a few other options including meatball, pepperoni, and anchovies.
Japan, 〒150-0033 Tokyo, Shibuya, Sarugakucho, 1−3
p: +81 3-5428-5166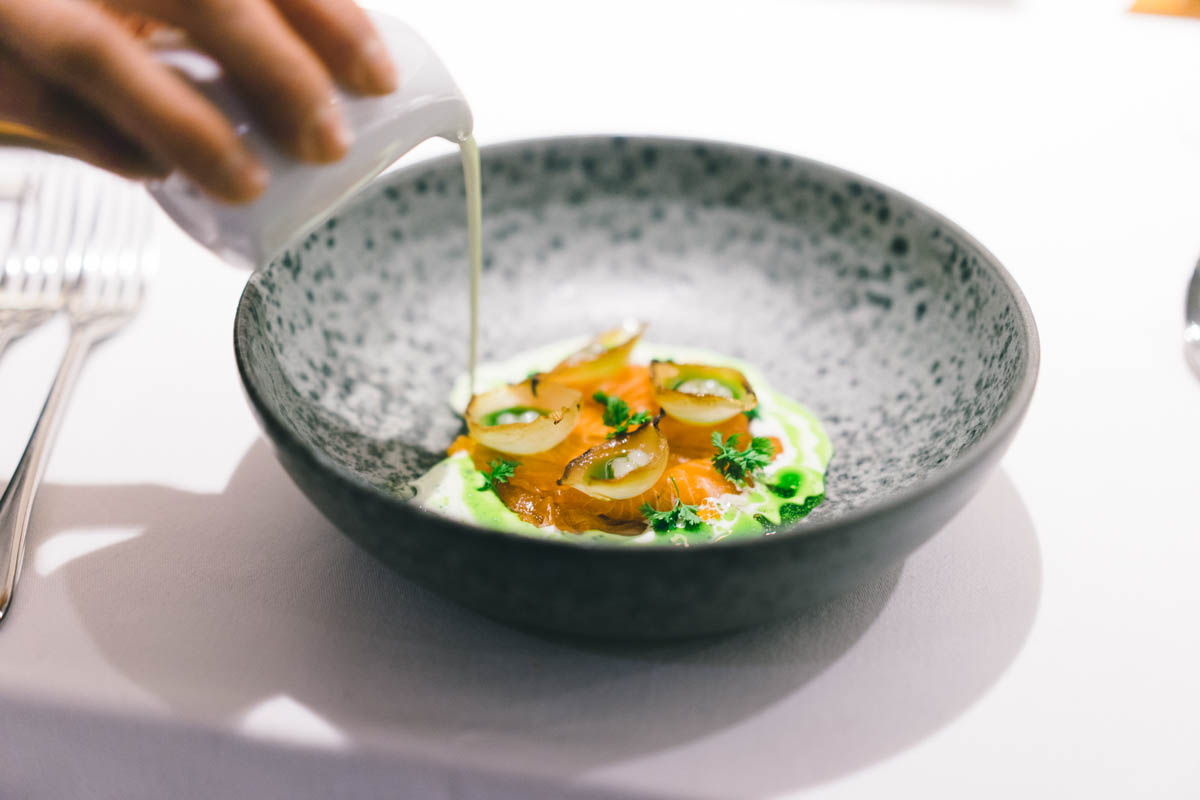 Fine Dining
Sublime: This is a one Michelin Star spot that's a bit out of the way that represents a mix of Japanese and French inspirations. It was opened by a chef who had previously spent time at Astrans in Paris and Restaurant AOC in Copenhagen. The set menu is an ever-evolving 12-course menu.
Japan, 〒105-0004 Tokyo, Minato, Shinbashi, 5−7−7 ロイジェント新橋
p: +81 3-3578-8831
Tapas Molecular Bar: I haven't been to very many fine dining restaurants in Tokyo just because I love the local Japanese spots and I'm really bad at planning or making reservations. I really enjoyed Tapas Molecular Bar though, located on the 38th floor overlooking surreal views of Tokyo's gorgeous skyline. The 18-course menu was insane, full of creative, and innovative dishes with fascinating textures, flavors, and cooking techniques. Every dish was a work of art.
2-1-1 Nihonbashi Muromachi, Chuo-ku, Tokyo, JP-13 103-8328, Japan
p: +81 3-3270-8188
Pastry & Dessert
かき氷カフェバーyelo@六本木: If you're looking for decent Kakigōri, hit up this spot. There are a ton of better places, but I tend to go to Tokyo a lot in the winter so I never end up eating kakigori. Yelo has a lot of different flavors on tap like green tea, purple yam, strawberry, and more.
Japan, 〒106-0032 Tōkyō-to, Minato-ku, Roppongi, 5 Chome−2 六本木5-2-11
p: +81 3-3423-2121
Tokyu Foodshow: Come here for snacks and pastries! This spot is the basement of Shibuya station and they have a lot of traditional Japanese confectionaries like doriyaki, cakes, and custards. There's even a grocery store with savory snacks as well.
Japan, 〒150-0002 Tokyo, Shibuya, 2−24−1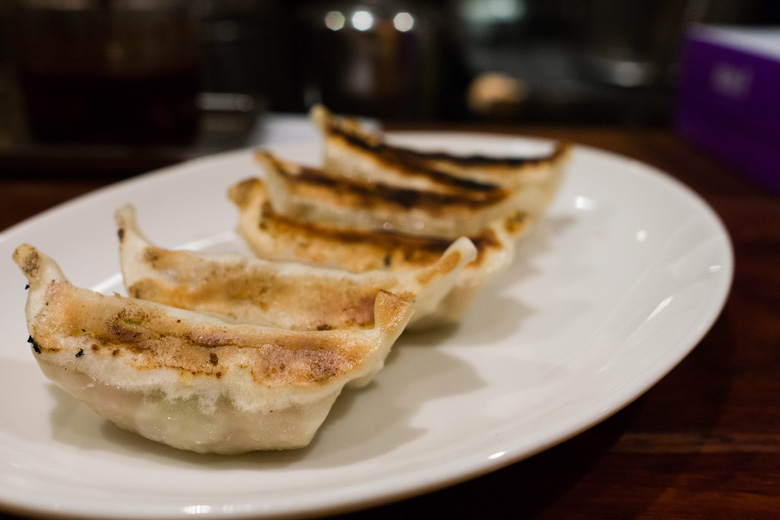 Other
Curry Up: This spot was founded by A Bathing Ape and HUMANMADE's NIGO. It's actually pretty decent for Japanese curry with a pretty strong kick, It's been awhile since I've been here, but from what I've heard it's still very good.
Japan, 〒150-0001 Tokyo, Shibuya, 神宮前2丁目35-9
p: +81 3-5775-5446
Sembikiya: This is a luxury fruit store, but the sorbet and ice cream is really good! Japanese fruits are amazing too, so if you want to try some of the best, this is the spot.
Japan, 〒103-0022 Tokyo, Chuo, Nihonbashimuromachi, 2 Chome−1
p: +81 3-3241-1630
Harajuku Gyoza Lou: If you're walking around Harajuku, stop in here for a snack. I wouldn't eat dinner here but something to tide you over. They only do gyozas, either boiled or pan-fried. I prefer the pan-fried ones due to the crispy texture.
Japan, 〒150-0001 Tokyo, 渋谷区Jingumae, 6−2−4
p: +81 3-3406-4743
Tokyo Banana: this isn't a restaurant or a store, but this is the best souvenir ever! It's essentially a twinkie filled with banana custard. You can get it at both Haneda and Narita airports or at major train stations.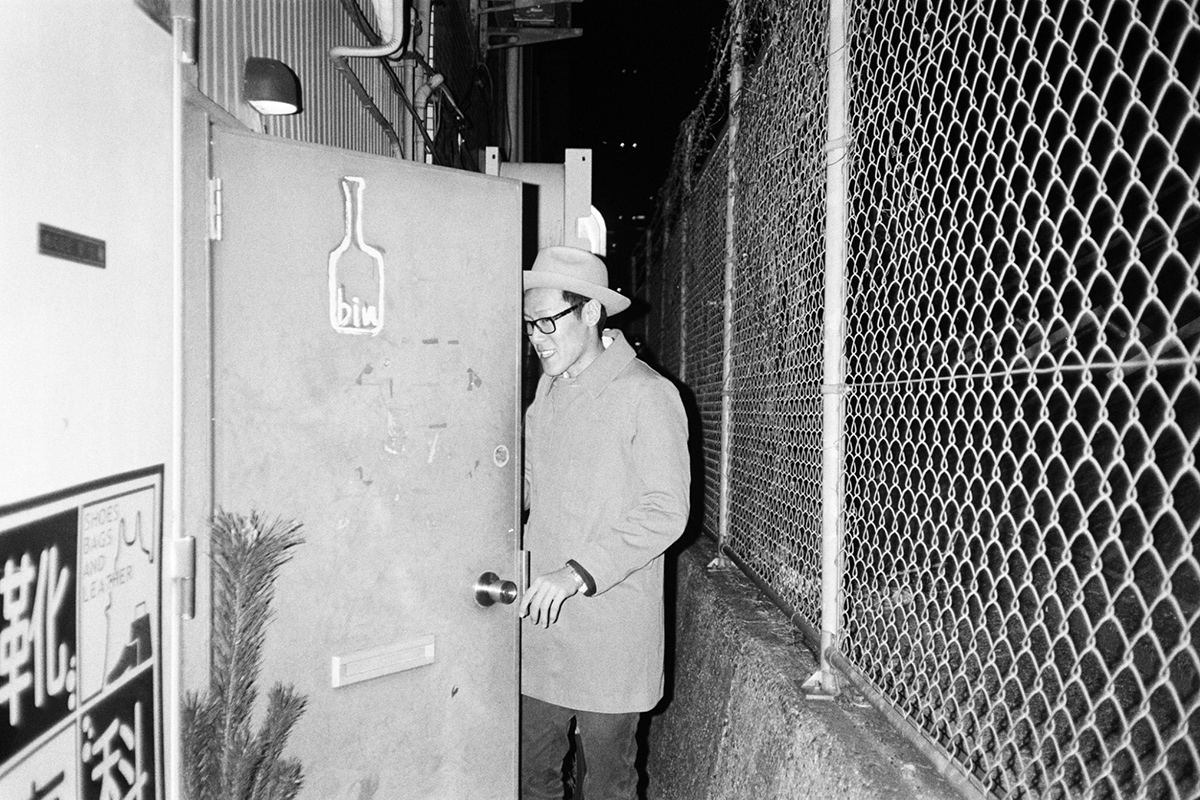 Drinks
JBS 渋谷: This spot used to be a bit more lowkey, but it's blown up massively. It's often filled with foreigners (which is a category we fall into), and it's hard to get a comfortable spot. It's known for its extensive collection of records.
Japan, 〒150-0043 Tokyo, Shibuya, 道玄坂1丁目17−10 第2宝ビル2F
Bar Martha: When it comes to phones and pictures, this place has no chill. It has a strict policy against both but come here to actually connect with friends over records, and whisky. Sometimes they might turn you away.
〒150-0013 Tokyo, 渋谷区Ebisu, 1 Chome−22−23
Bar Bin: This is another super mellow bar that features an interesting and narrow set of staircases that enter a loft-type vibe. They make their own fruit-infused liqueurs. It's hard to find though.
〒150-0021 Tokyo, Shibuya, Ebisunishi, 1 Chome−1−2
Library Lounge THESE テーゼ: I'm a sucker for Japanese fruits, so I love this place. They make fresh fruit cocktails. They bring you a huge platter of fruits – you choose what fruits you want and what type of liquor you want.
Japan, 〒106-0031 Tokyo, Minato, Nishiazabu, 2−15−12 カルテットビル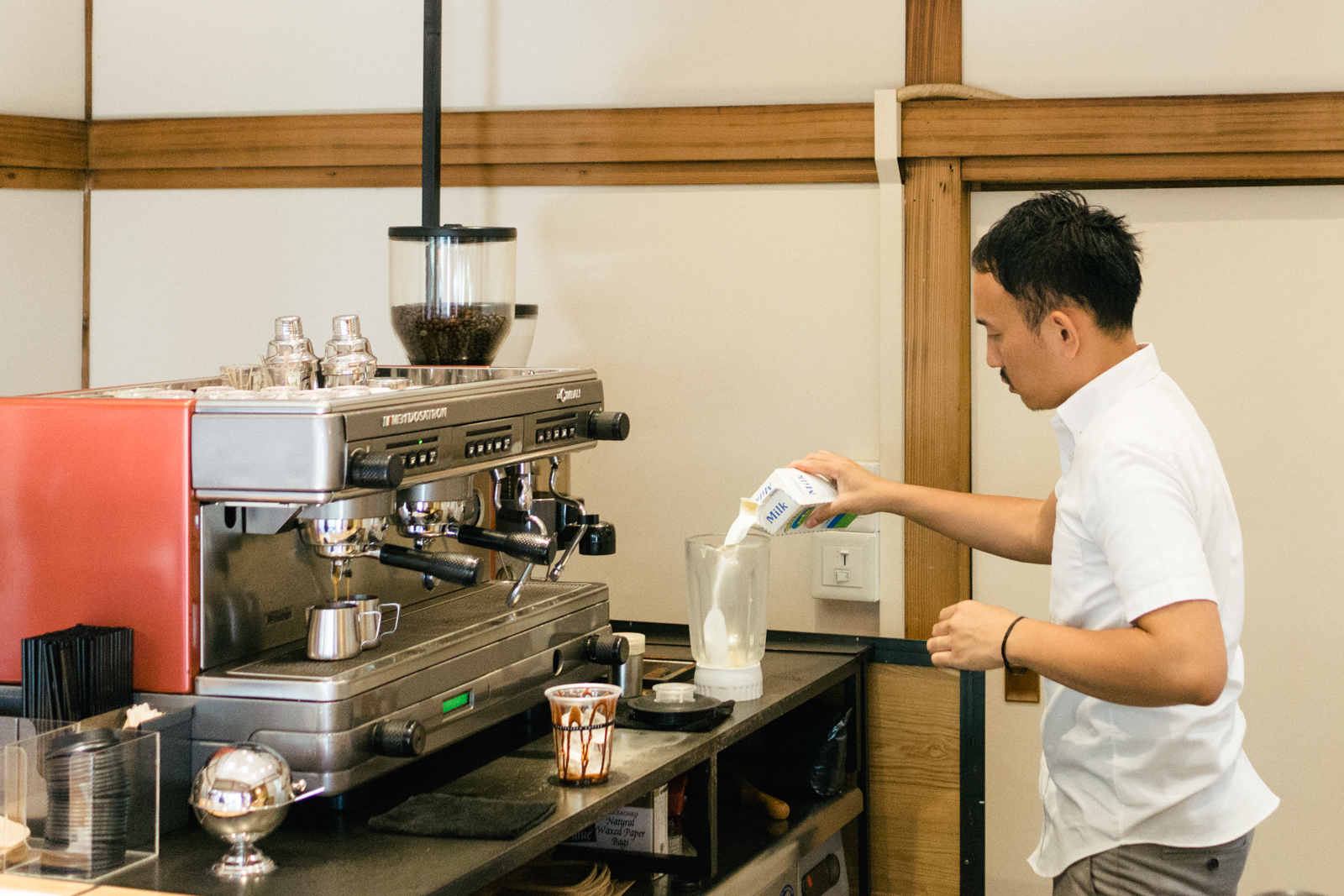 Last but not least, Coffee
Toranomon Koffee (the new location of what was once Omotesando Koffee)
〒105-6302 Tokyo, 港区Toranomon, 1−23−3
Onibus Coffee in Nakameguro
〒153-0051 Tokyo, 目黒区Kamimeguro, 2−14−1
Be A Good Neighbor in Sendagaya, Skytree, and Roppongi
Blue Bottle in Shinjuku, Kiyosumi, Nakameguro, Roppongi, Shinagawa, and Aoyama
The Roastery By Nozy Coffee in Harajuku
〒150-0001 Tokyo, Shibuya, 神宮前5−17−13
Sidewalk Stand in Nakameguro
〒153-0042 Tokyo, 目黒区Aobadai, 1 Chome−23−14 斎藤ビル
Cafe Kitsune in Aoyama
〒107-0062 Tokyo, 港区Minamiaoyama, 3 Chome−17−1
Saturdays in Daikanyama
Japan, Tokyo, Meguro, Aobadai, 1 Chome−5−2
Deus Ex Machina in Sendagaya
〒150-0001 Tokyo, Shibuya, Jingumae, 3 Chome−29−5
The Workers coffee / bar in Nakameguro
〒153-0042 Tokyo, Meguro, 青葉台3丁目18ー3 THE Works 1F
Sarutahiko Coffee in Ebisu
〒150-0013 Tokyo, 渋谷区Ebisu, 1 Chome−6−6
Urth Caffé
〒150-0033 Tokyo, 渋谷区Sarugakucho, 8−9 NTT渋谷ビル
American, Asian, Brunch, Coffee, Dessert, Dinner, French, Hong Kong, Italian, Japanese, Korean, Lunch, Tokyo, Japan, Tokyo, Japan