Tokyo Cray !!! Shin Udon 慎 in Shinjuku
The Lowdown
Restaurant Name: Shin Udon 慎
Cuisine: Japanese
Average Price per Person: ¥900 to ¥1500 JPY or $8 to $13 USD
Location: Tokyo, Japan (see map below for details)
Recommendations: Cold Udon and Carbonara Udon (pictured below0

Ratings (out of 5)
Taste: 5
Creativity/Authenticity: 5
Atmosphere: 4.5
Service: 4.5
Bang for Buck: 4.5

Crayscale !!!
When it comes to Japanese noodles, ramen gets all the glory, but I'm more of an udon type of girl. Don't get it twisted, I love a good bowl of ramen, but there's just something about the thick chewy al dente noodles that I just can't get enough of. There are a handful of legit udon spots, but one of my favorites is Shin Udon (慎) in Shinjuku.
Located in a tiny shop walking distance from Shinjuku station is where you'll find Shin. The restaurant is cozy, with a couple of small tables and a bar table with only 6 seats. The shop opened back in 2011 and has made headlines and is considered one of the best udon restaurants in Tokyo.
Owned and operated by chef Shinji Narahara, everything at Shin is made-to-order. If you peep through the windows from the front of the entrance, you can actually see the udon being made from scratch. You'll see the dough being rolled out using a massive rolling pin, then fed through a machine that spits out perfectly cut strands of udon noodles. The noodles are then freshly cooked in boiling water then placed in an ice bath which stops the noodles from over cooking.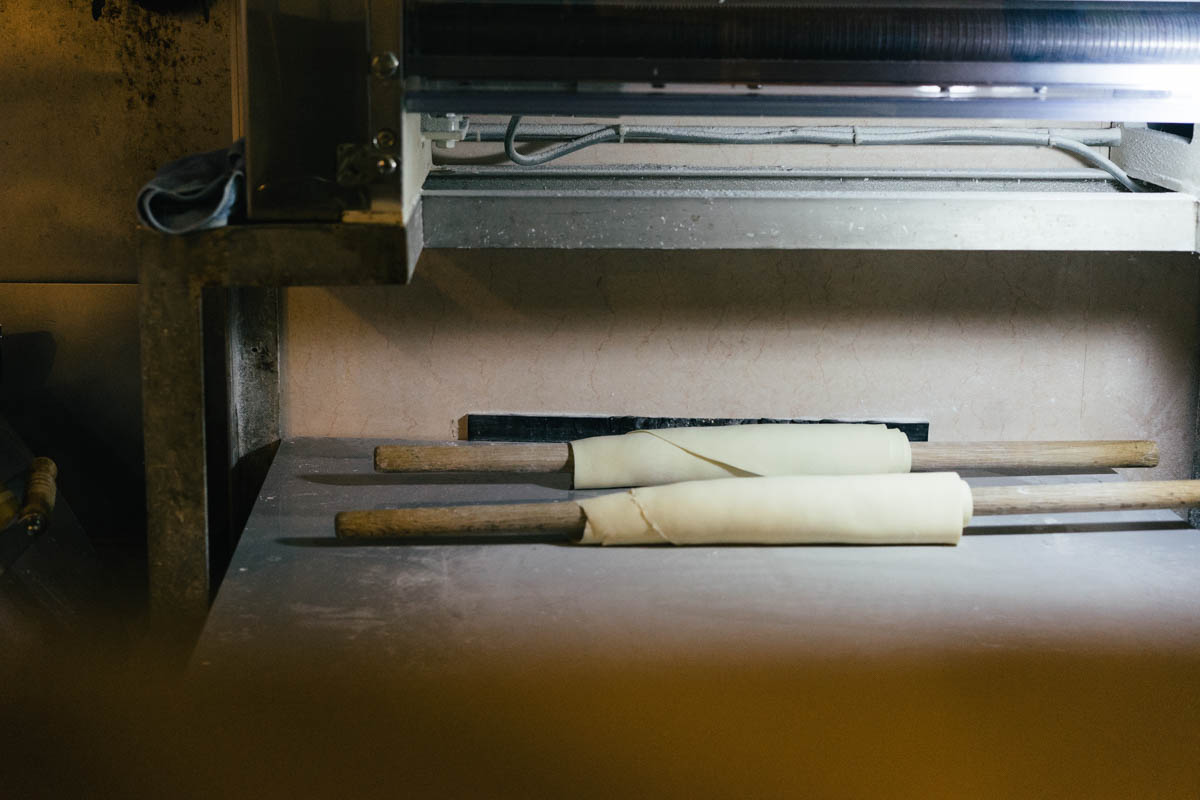 The menu consists of both traditional and innovative udon dishes, separated by hot and cold options. You can choose from a variety of accompaniments including tempura, beef, cod roe, egg, tofu and more. If you'd like to try something a little more adventurous, order something off the "Recommended Menu," which includes Shin's most popular dishes.
Since this was our first time at Shin, we wanted to cover our bases by ordering both a hot and cold udon, both exclusive to Shin. For the cold option, we ordered a cold udon with a soft-boiled egg tempura and sliced pork. The texture of the cold udon was perfect, cooked al dente with a nice chewy bite to it. The tempura egg was bomb, crispy on the outside with a gooey golden egg yolk. The pork was tender and extremely flavorful.
For the hot option, we went for the signature carbonara-inspired udon served warm with a raw egg, parmesan cheese, butter, pepper, and a massive slice of BACON TEMPURA. YASSS BACON TEMPURA! This was AMAZING. The sauce with the egg and parmesan cheese was crack – rich, buttery and creamy AF, with hints of black pepper, reminiscent of an Italian cacio e pepe. The bacon needs no explanation really – hello it's fried bacon! UDON EVEN KNOW!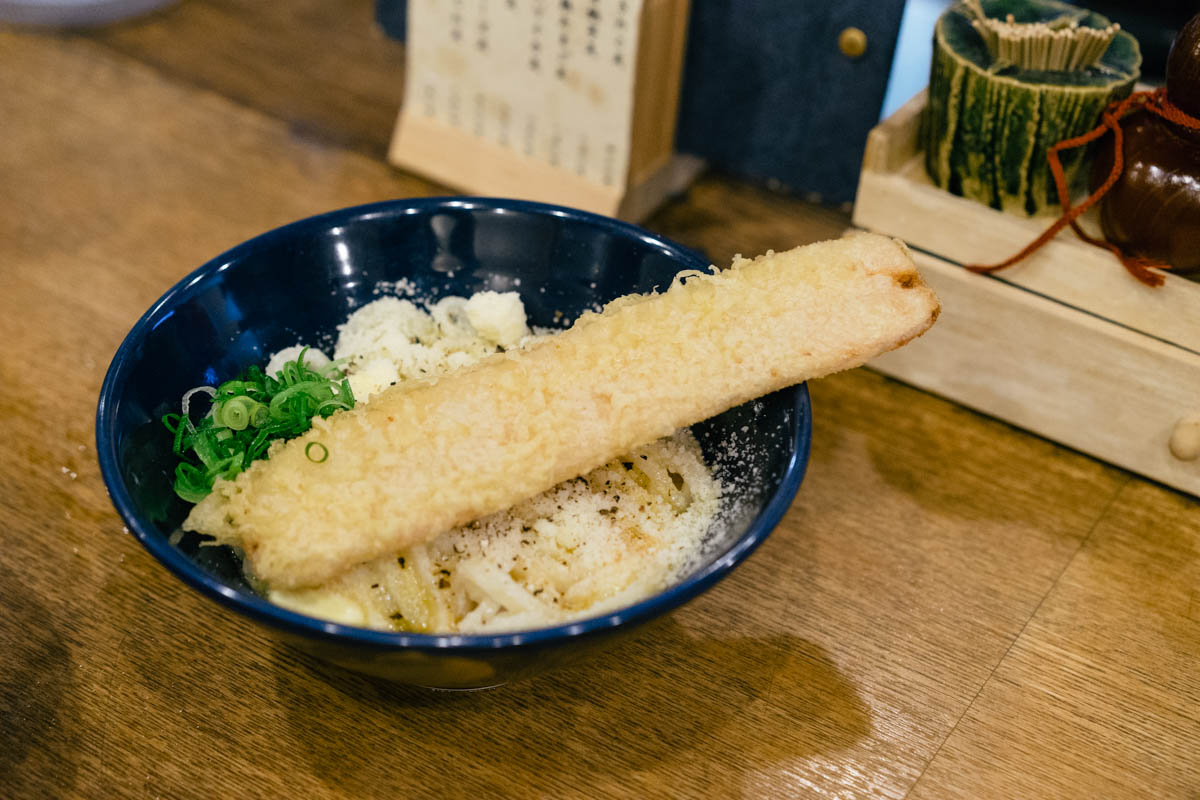 Udon noodles + raw egg + butter + pepper + bacon tempura (¥1200 or $10.50 USD).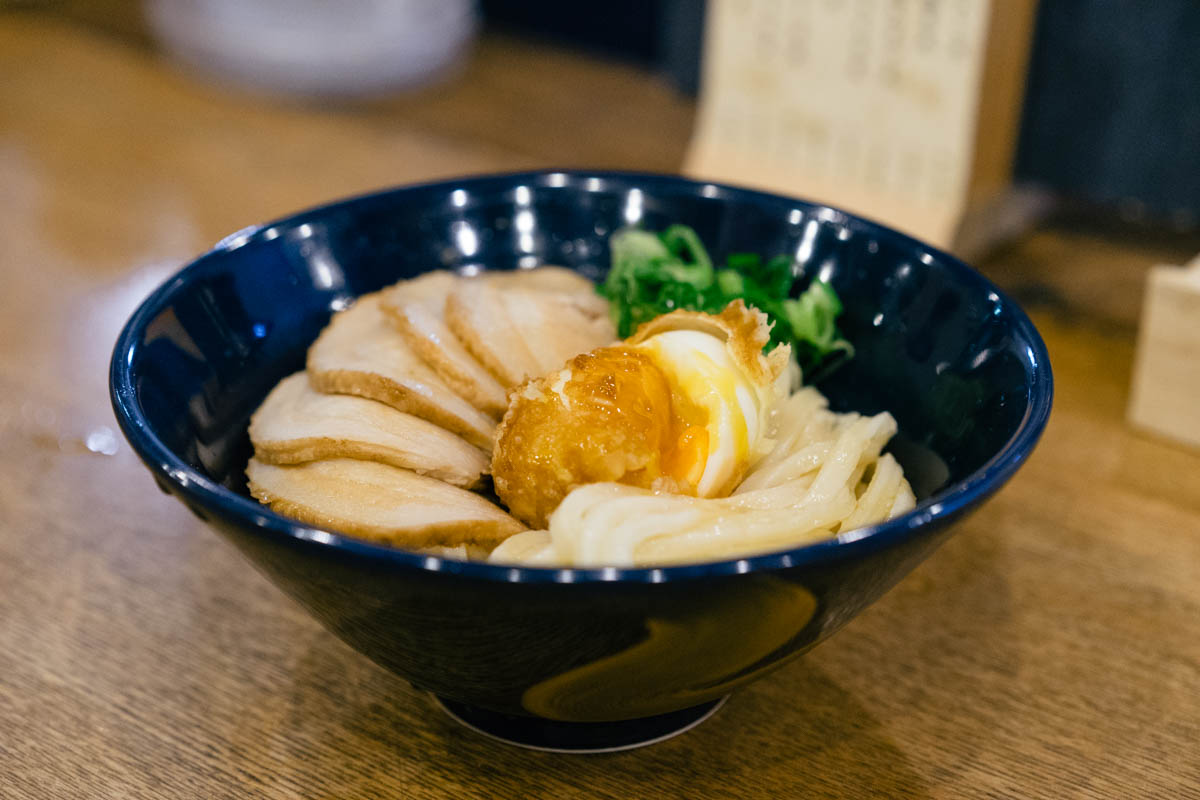 Cold udon with soy sauce + soft boiled egg tempura + pork (¥1200 or $10.50 USD).

Japan, 〒151-0053 Tokyo, 渋谷区Yoyogi, 2 Chome−20番16号 相馬ビル
w: udonshin.com
p: +81 3-6276-7816
Asian, Japanese, Tokyo, Japan