The Winning Weiner: NYC's Please Don't Tell Pop Up at MO Bar Hong Kong
From January 5th to 30th, New York City's secret/not so secret, Please Don't Tell (PDT), hijacks the MO Bar in Hong Kong. Just to give you a quick 411, PDT is one of the few speakeasy joints in New York that still maintains the OG 1920s policy of underground secrecy. Hidden in a hot dog joint in Manhattan's Lower East Side, the entrance to PDT is disguised as an old school telephone booth inside Crif Dogs. Reservations are required (normally weeks in advance), but if you want to test your luck, enter the phone booth, hit the pound key and leave your name on the waiting list.
In recent years, the PDT x Crif Dog duo has teamed up with celebrity chefs, such as David Chang and Wylie Dufresne, to create limited specialty cocktails and hot dogs. The Landmark Mandarin Oriental wanted to recreate that experience, building an exact replica of PDT inside the MO Bar and hired an all-star team of chefs and mixologists. Behind the bar, you'll have the chance to meet and taste 12 limited cocktails crafted by the New York PDT team, Jim Meehan, Jeff Bell and Nick Brown.
The experience wouldn't be complete without hot dogs, all proceeds of hot dog sales will go to charity. Four chefs have also been invited to whip out their weiners including The Landmark Mandarin Oriental's Chef Richard Ekkebus, Yardbird's Chef Matt Abergel, Jowett Yu of Ho Lee Fook, and Alvin Leung from the three Michelin-starred BO Innovation. Three Crif Dog originals will also be featured along with the four exclusive chef-created gourmet hot dogs.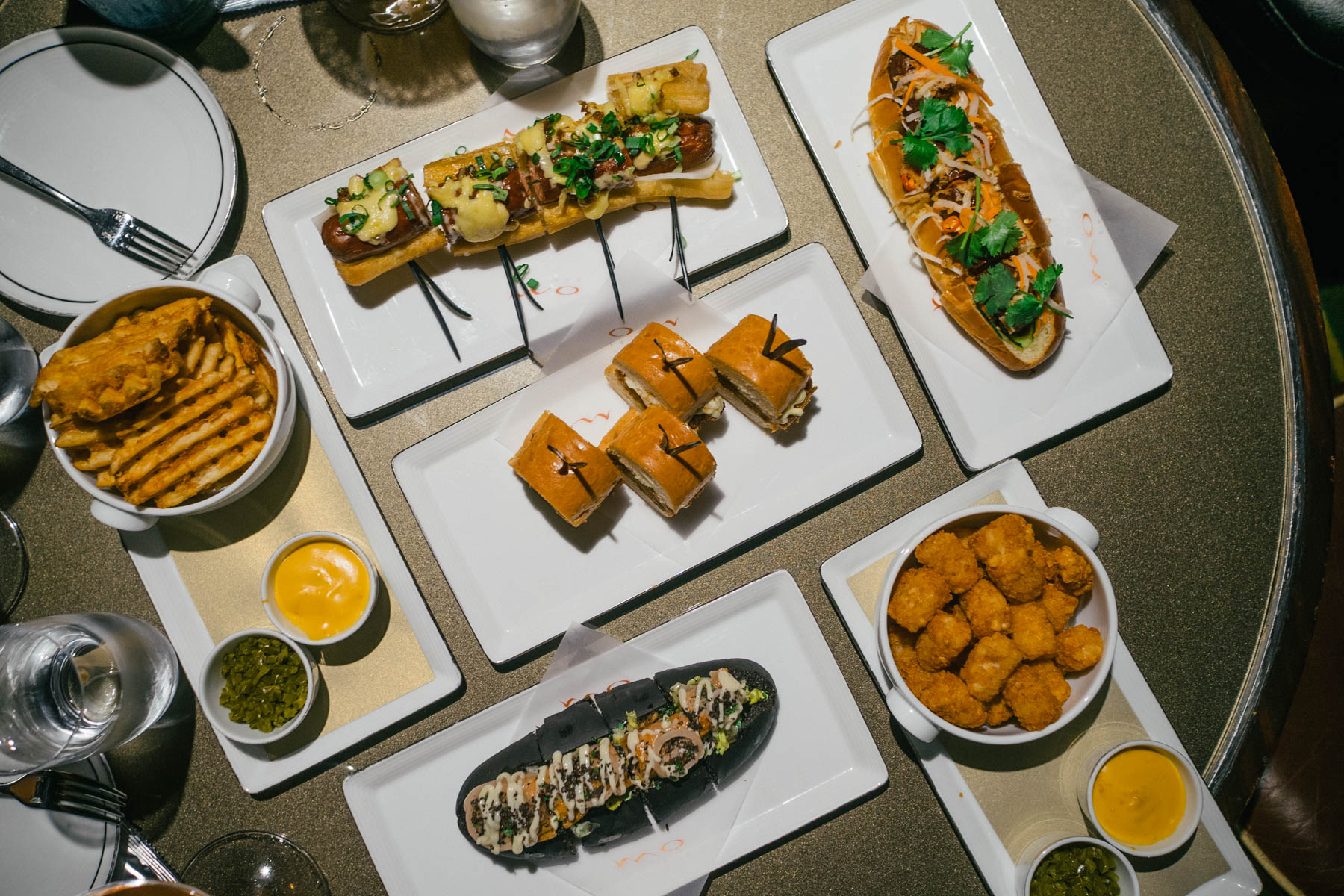 Here's how the sausage fest went!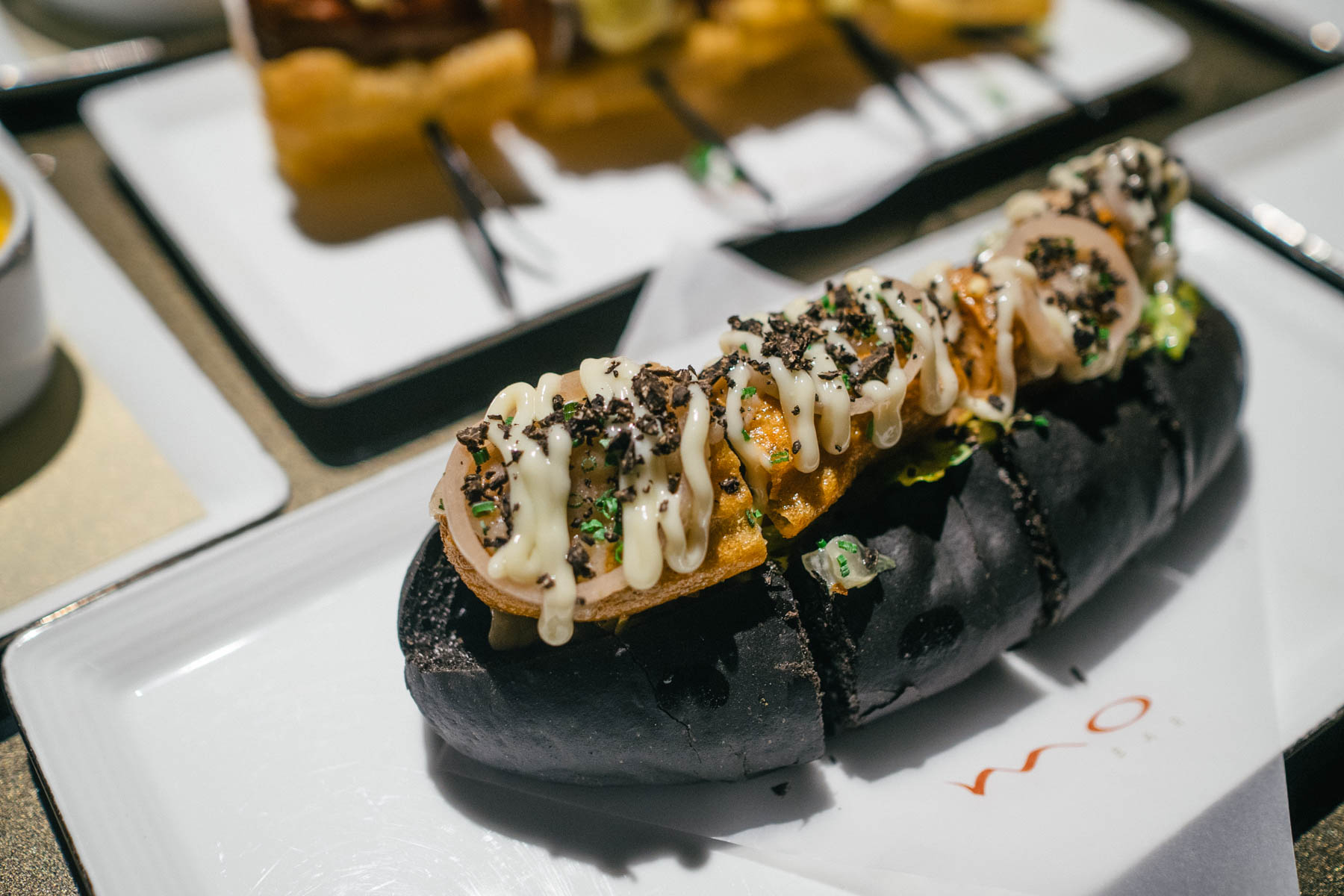 The "Frenchie" by Chef Richard Ekkebus ($188 HKD or $24 USD). This was money. The bougie AF "Frenchie" is made of a deep-fried jumbo chicken Crif Dog topped with onions, smoked bacon, melted Ossau-Iraty cheese and black winter truffles. I know what you're thinking, this sounds like some hood rich type of ish, but it worked and now I'm never eating hot dogs without truffles…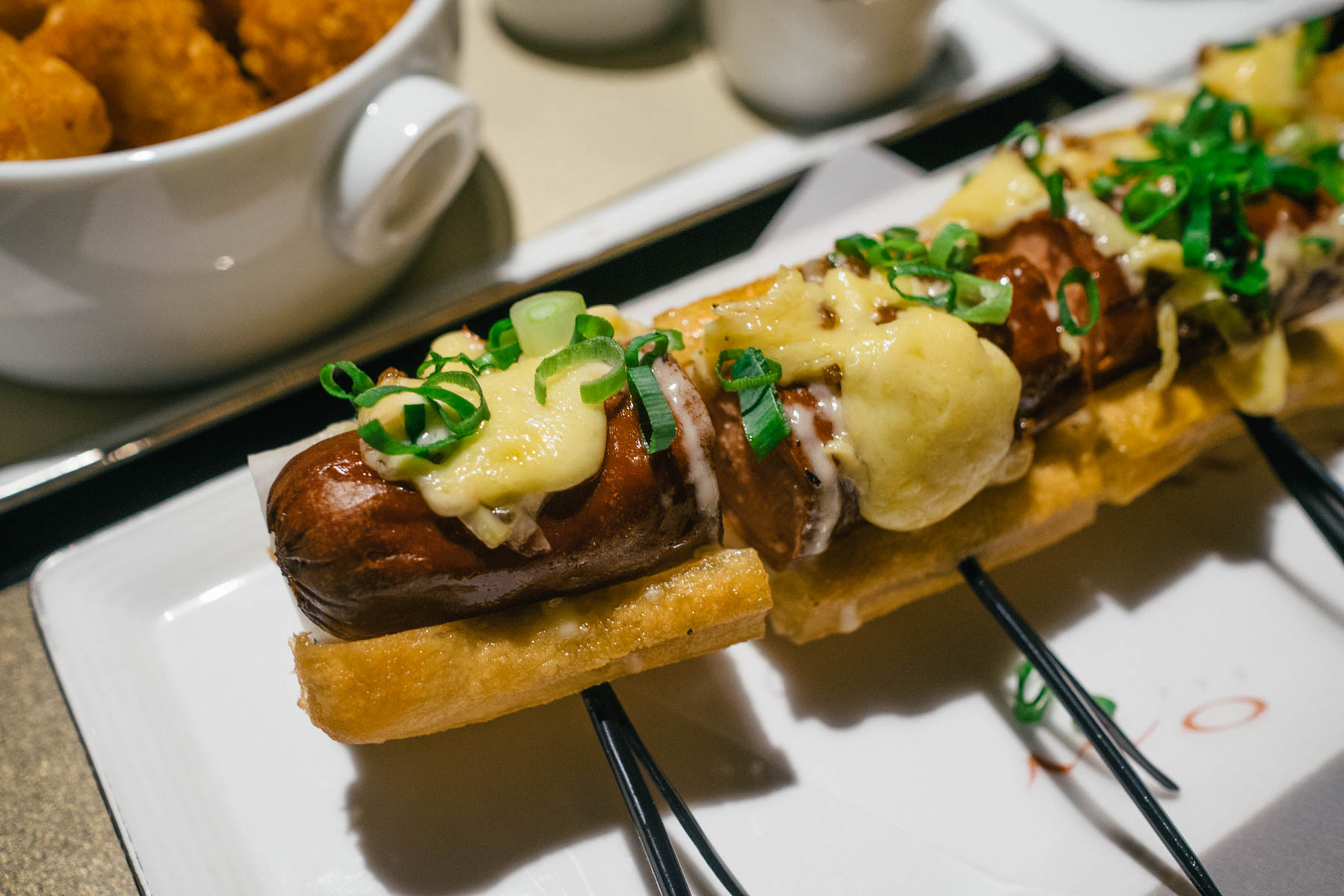 Chef Alvin Leung's "Demon Dog" ($118 HKD or $15 USD). The Demon Dog was next level, Chef Alvin Leung replaced the hot dog bun with Youtiao which are crispy Chinese fried dough sticks !!! He sliced the dough sticks vertically then placed a grilled pork Crif Dog in the center along with Szechuan pork chili, melted gouda, pickled radish and lime mayonnaise. Not gonna lie, this probably would have been way better if we didn't spend about 15 minutes taking pictures of the hot dogs. By the time we put this one in our mouths, the Youtiao had gotten slightly soggy and lost its crispiness.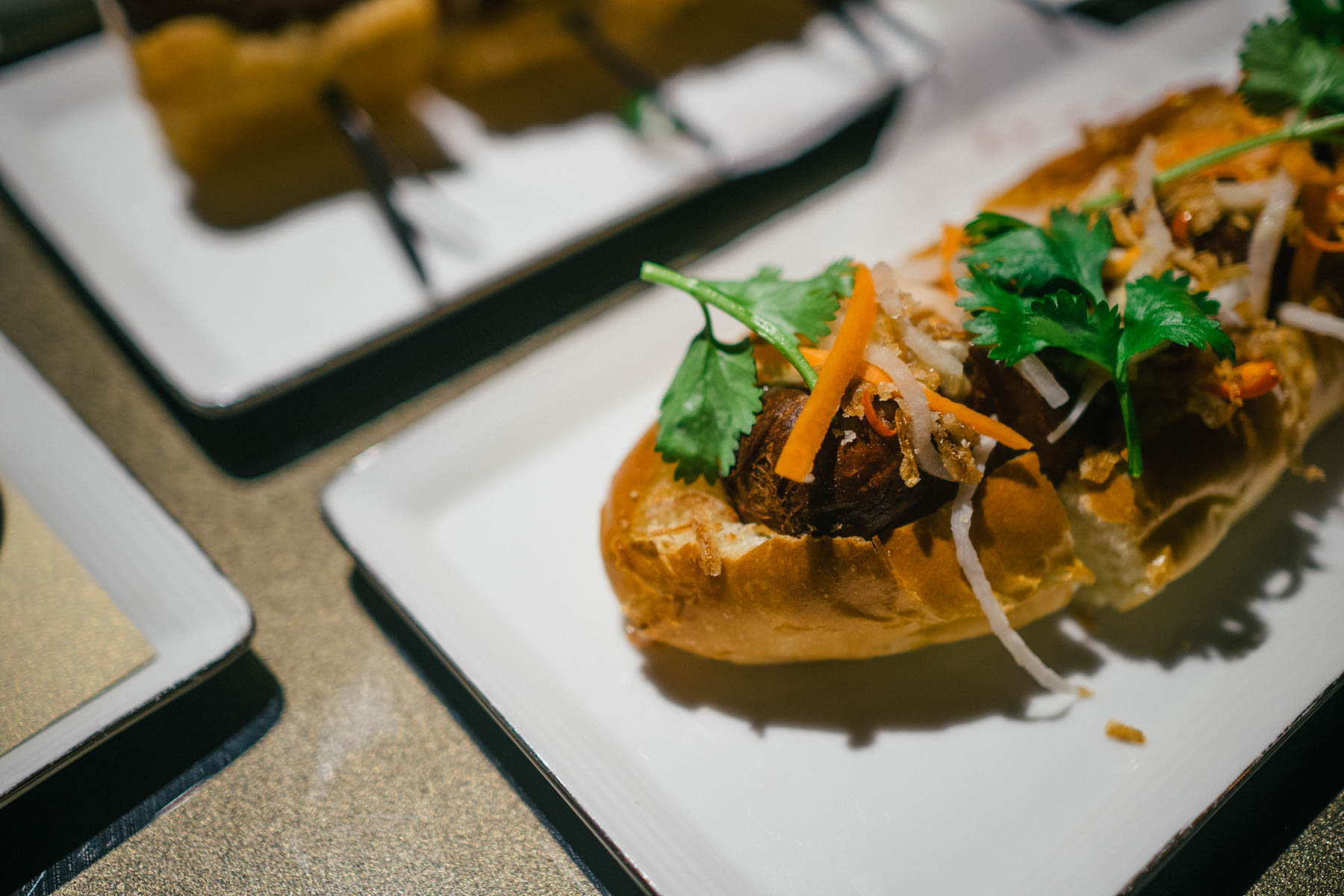 The "Banh Mi Trap Dog" by Chef Jowett Yu ($118 HKD or $15 USD). HO LEE FOOK this was good. The Banh Mi Trap Dog is made with a grilled beef crif dog topped with pickles, cucumber, creamy chicken liver pate, sriracha mayonnaise, coriander, fried shallots and chopped chili. This was definitely the WEINER.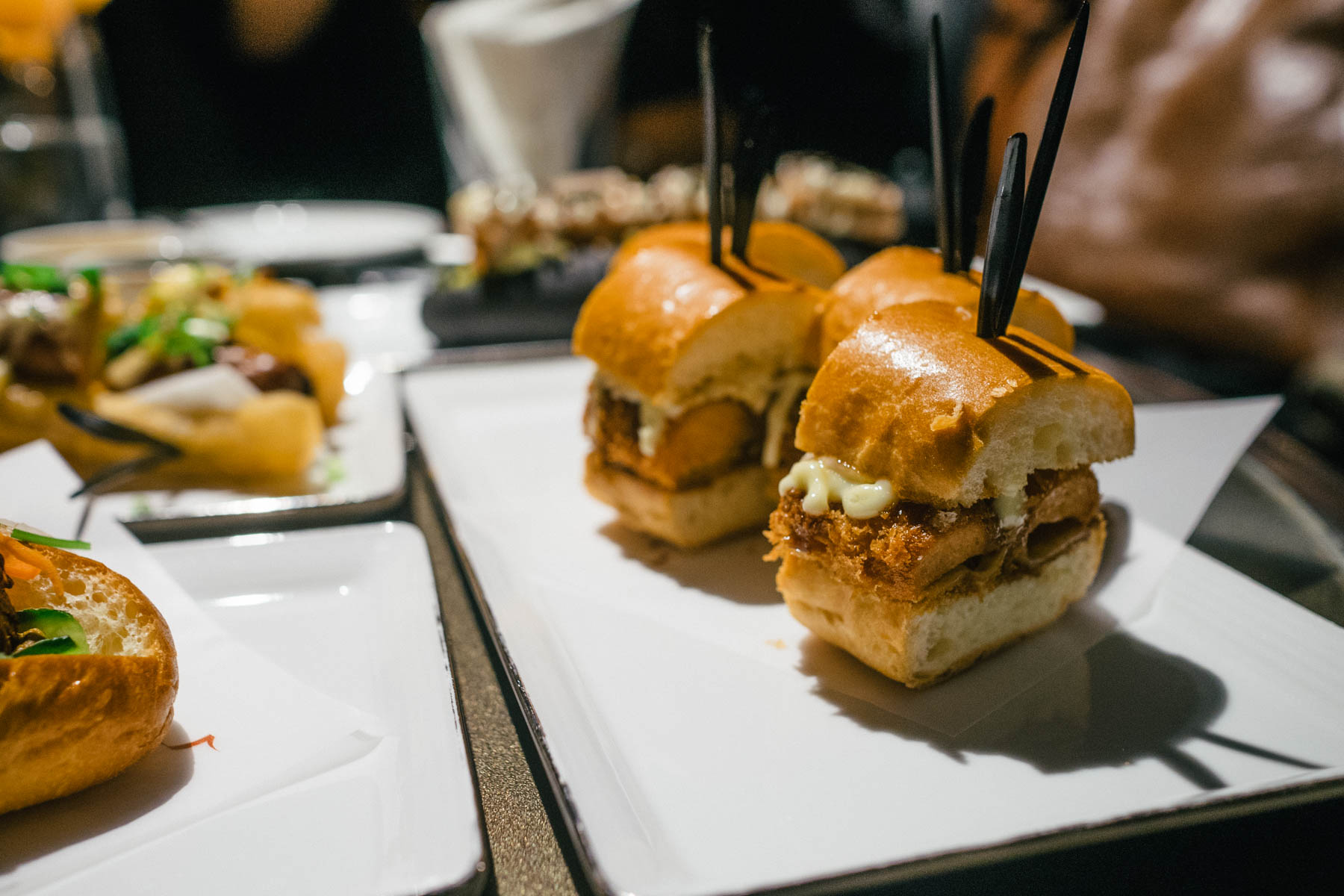 Matt Abergel's "Yardbird Hotdog" ($118 or $15 USD). Inspired by the Yardbird Katsu Sando, the Yardbird Hotdog consists of a butterflied, fresh panko breaded and deep-fried jumbo chicken Crif Dog finished with Japanese mayonnaise and tonkatsu sauce. I'm a sucker for the Katsu Sando, so much so that I coincidently ate it earlier that day at Sunday's Grocery (KFC style off the secret menu).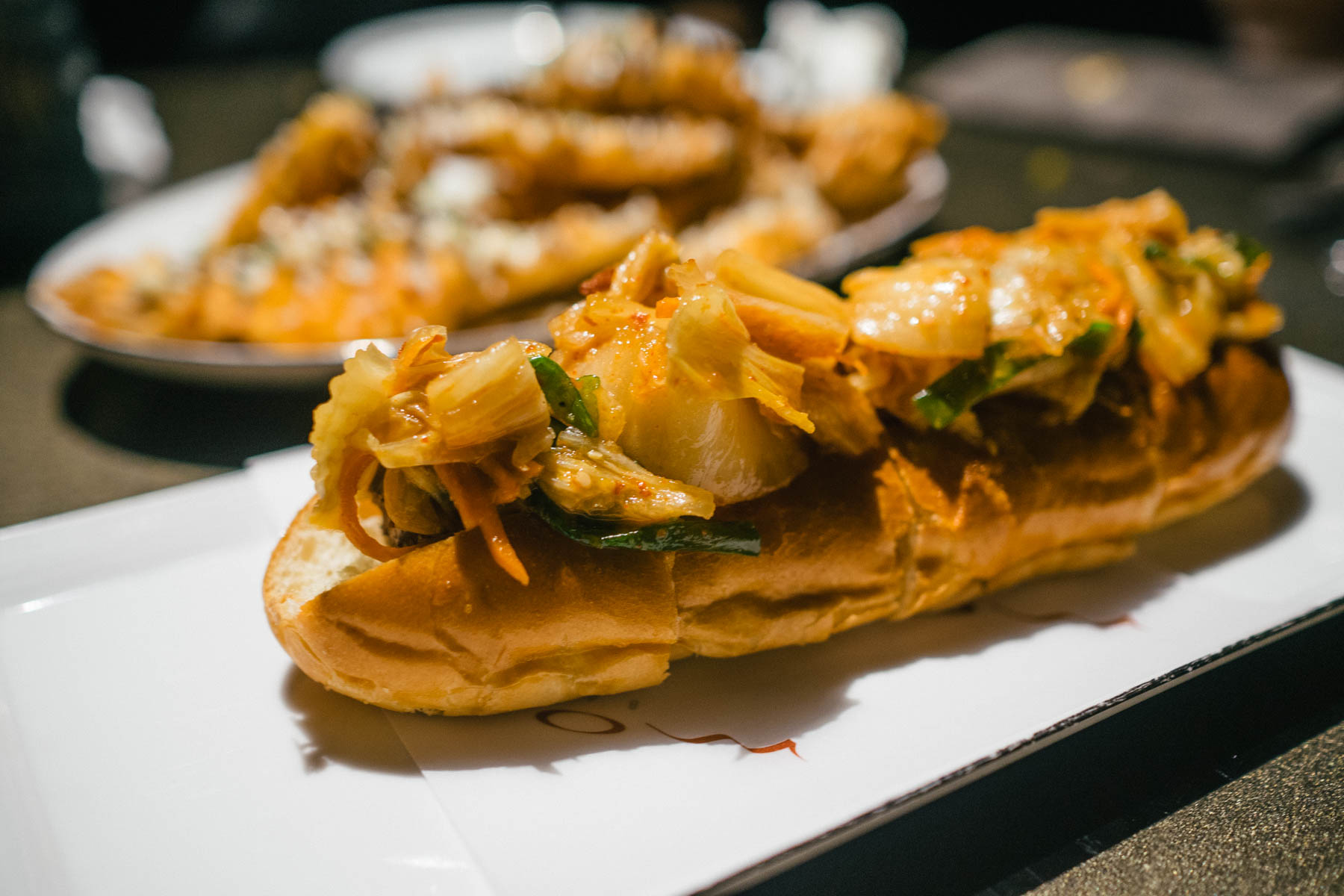 Kimchi Dog ($118 or $15 USD). The Kimchi dog is a Criff Dog special made with a bacon-wrapped deep-fried beef Crif Dog topped with kimchi. The kimchi was bomb, but the bacon wrapped hot dog was just a little too salty for me.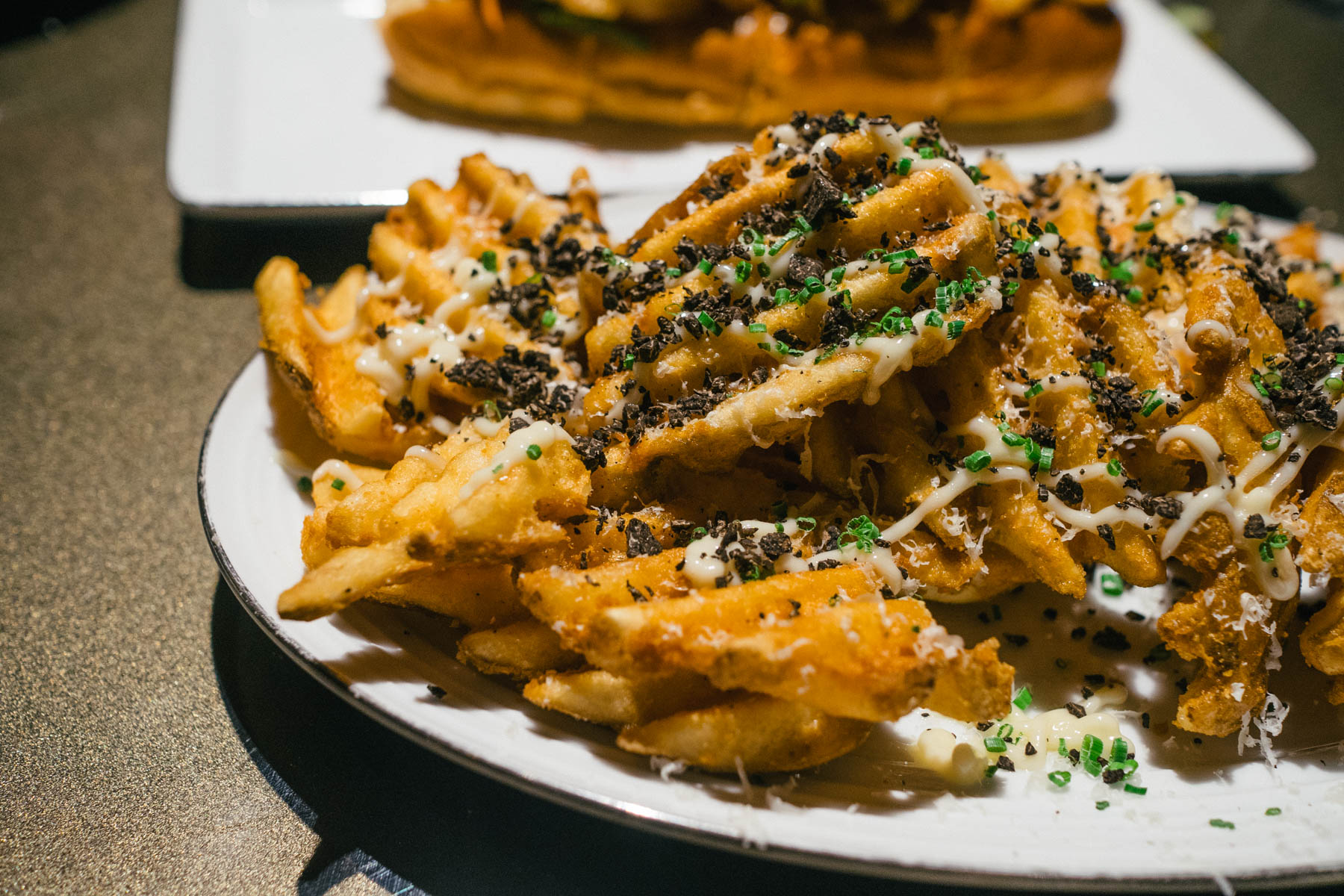 Waffle french fries with Parmesan Reggiano & Black winter truffles ($118 or $15 USD). YAASSSSSSS more black truffles!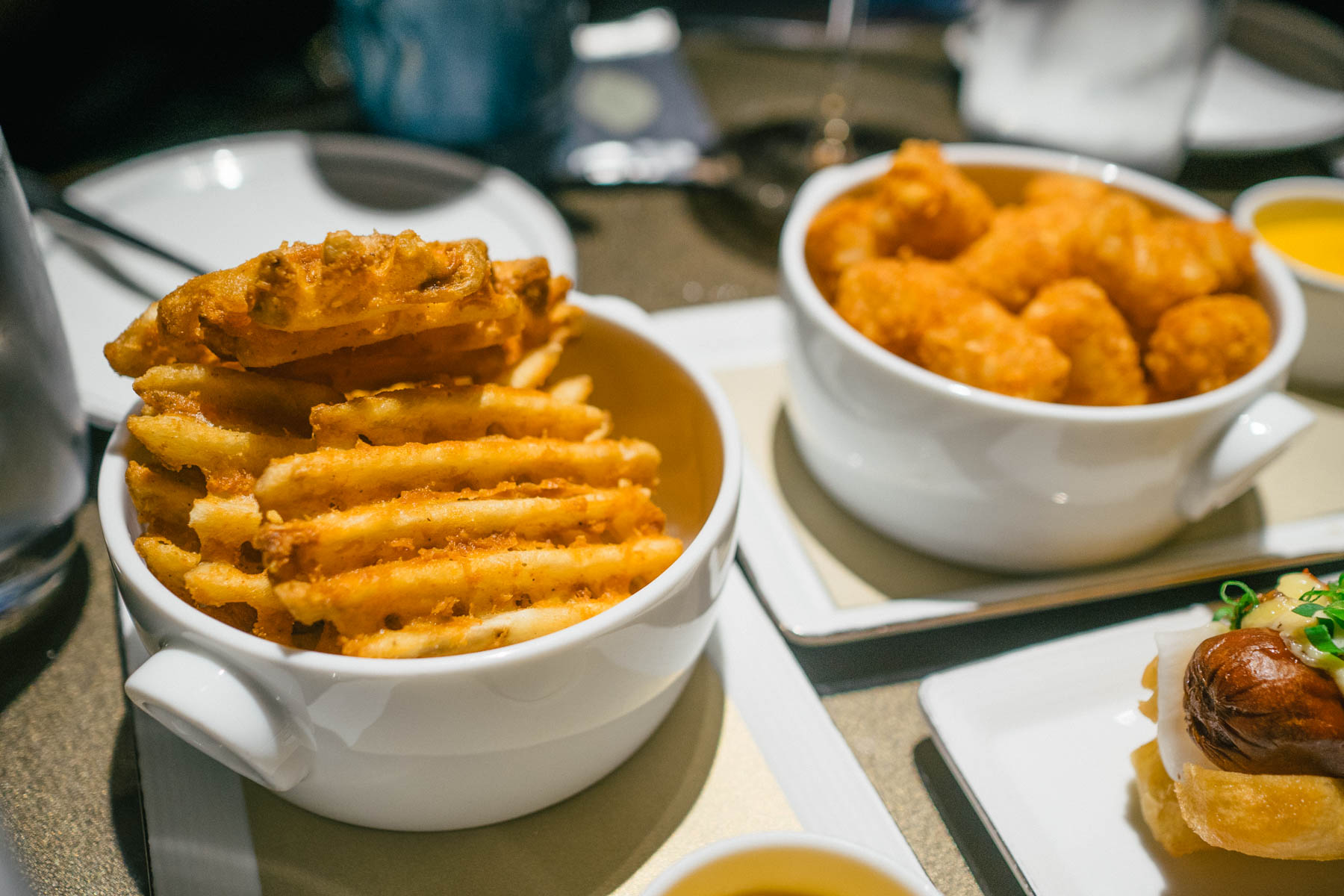 Waffle french fries with cheese and pickled jalapenos ($88 HKD or $11.30 USD). This was the basic b*tch version of the waffle french fries.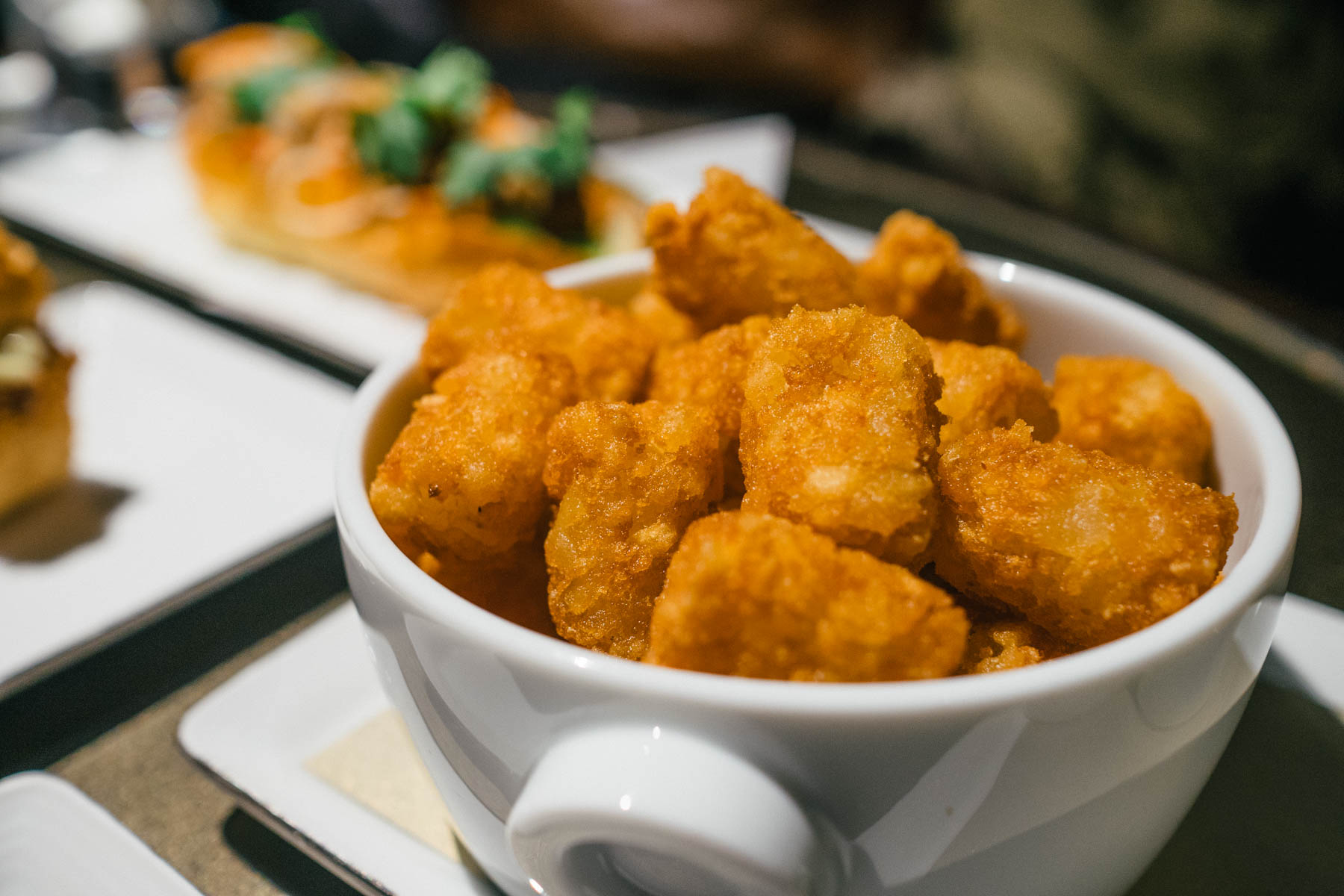 Pot tater tots with cheese and jalapenos ($88 HKD or $11.30 USD). The tater tots were off the hook. I kind of had major FOMO for not ordering the ballin' TATER TOTS with CAVIAR though. It was only $1,588 HKD or $200 USD. #GOALS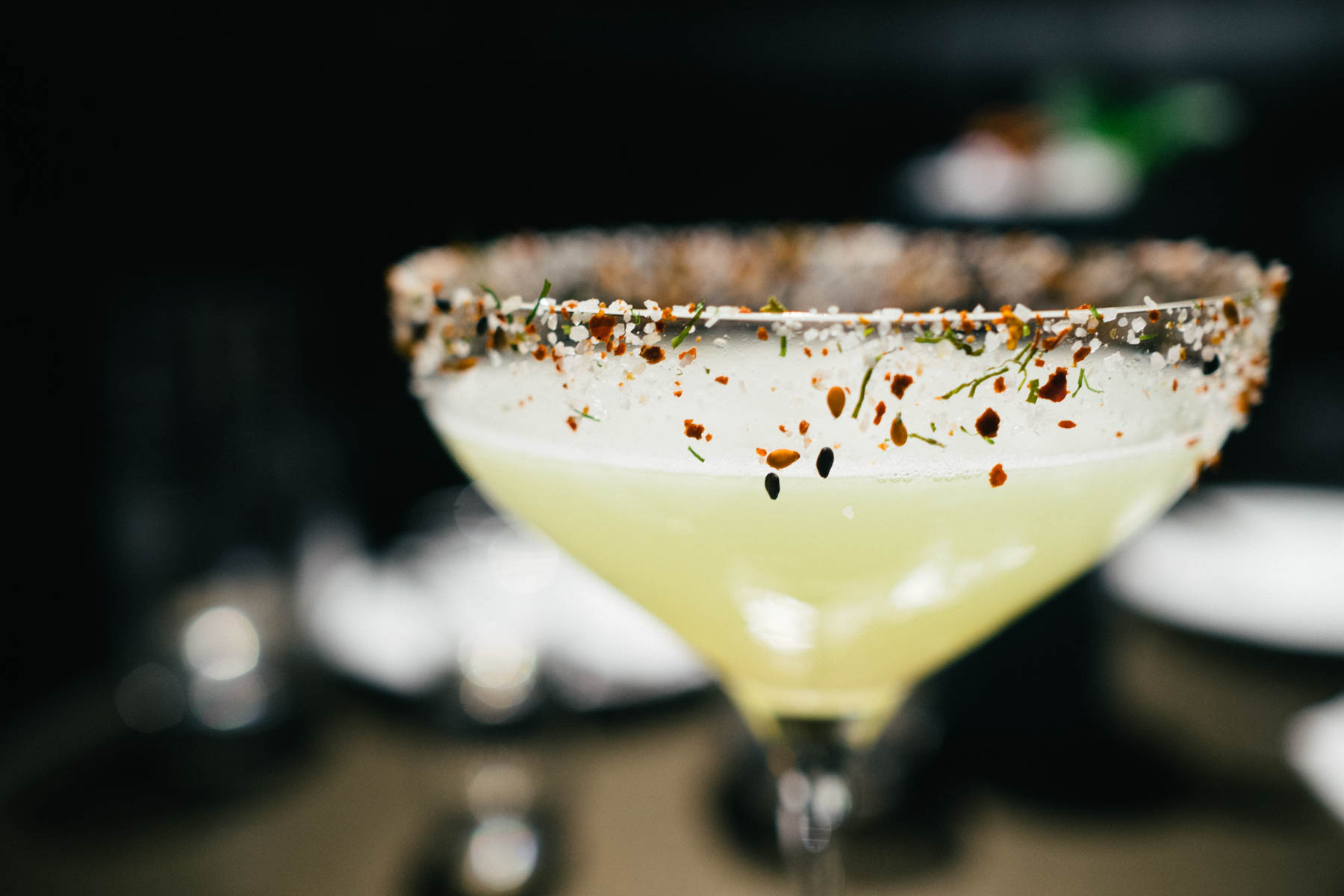 Togarashi & Tonic – Don Julio Bianco Tequila, Jack Rudy Tonic Syrup, Celery Juice, Lime Juice and Cilantro Leaves rimmed with togarashi and kosher salt ($118 HKD or $15 USD). This was my FAV. I actually hate celery, but I loved this drink. It was refreshing, simple yet complex and so well balanced. Perfect rim job too kekeke…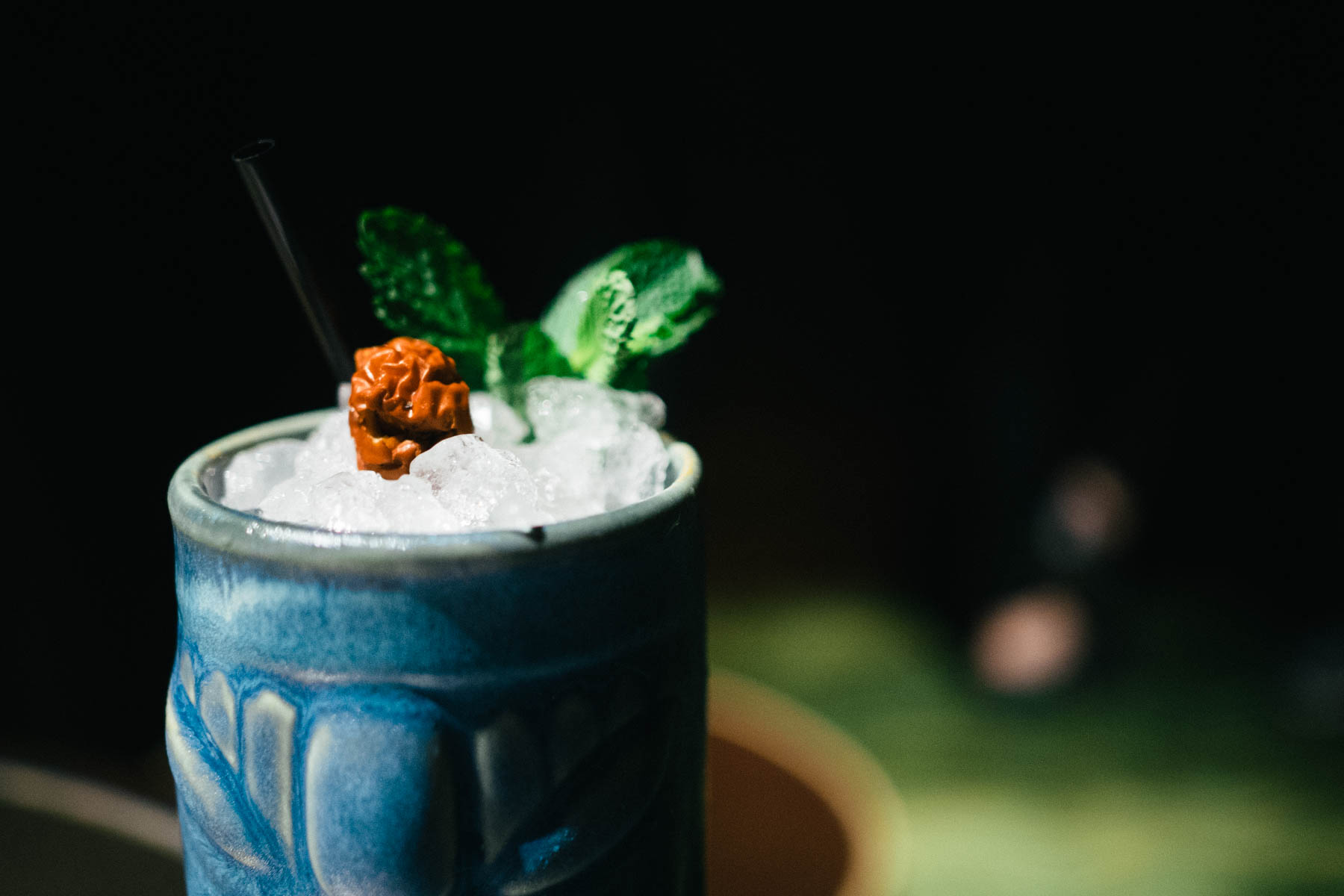 Coffee Date – Zacapa 23 Rum, Cold Brew Coffee, Lustau East India Sherry, Passion Fruit Puree, Red Date Syrup and Heavy Cream ($118 HKD or $15 USD). This was the runner-up. Who woulda thought that the red date syrup x coffee would be a thing.

15 Queen's Road Central, Hong Kong
w: Mandarin Orientalmandarinoriental.com
p: +852 2132 0077
American, Asian, Chinese, Dinner, European, French, Hong Kong, Hong Kong, Japanese, Lunch, Vietnamese