The Lowdown
Restaurant Name: Hong Kong McDonalds
Cuisine: Western/American Fast Food
Average Price per Person: $3 to $10 USD
Location: Times Square, Causeway Bay (no map provided as there are McDonalds everywhere across Hong Kong)
Recommendations: Zesty Tomato Shake Shake Fries

Ratings (out of 5)
Taste: 4.5
Creativity/Authenticity: 4.5
Atmosphere: 3.5
Service: 2
Bang for Buck: 5

Crayscale !!!
You know what they say: "When the going gets tough, the tough get going to McDonalds."
I've been in this very ironic life phase right now where I've been organizing my lifestyle to be inclusive of a regimented gym/workout routine throughout the week. This, of course is to get in shape and be healthier. Yet, I have also been trying to get a better grasp on my own fiscal responsibilities and personal finances. Naturally, for the latter, the first step it to cut back spending — hence, McDonalds. Which is, ironically enough, counterproductive to the first goal. And then an added variable is that the job as The Fast Food Gourmand calls for trips such as McDonalds visits — it's all about the content, right?
While McDonalds certainly does not need any introduction, it is worth noting that in Hong Kong, my perception is that McDonalds is significantly more "premium" when compared and contrasted with the likes of… well… the American chain. It's just better in Hong Kong. Regardless of the repercussions and sociological values to be debated from George Ritzer's theorized "McDonaldization of Society," it is amazing that McDonalds has been able to find broad sweeping acceptability in so many countries and nation states — in particular, I think that Asia is a prime example of the chain's successes abroad. One such initiative that the fast food chain has developed specifically within the Hong Kong market has been the experimentation with Shake Shake Fries – one of its many regional menu additions targeted to a specific country.
If you don't know, now you know… (Rest in Peace, Biggie Smalls).
Offered in small square packets, the "Shake Shake" packs are essentially flavored seasonings that are meant to serve as an accompanying condiment to the already wildly unhealthy (yet so delicious) McDonalds French Fries. Patrons of the Golden Arches are allowed to purchase a small Shake Shake packet with their French fries. To get the full experience you will need one Shake Shake packet, a large paper bag that is provided and, of course, the French fries. Simply sprinkle in the seasoning, drop in the French fries and shake the bag.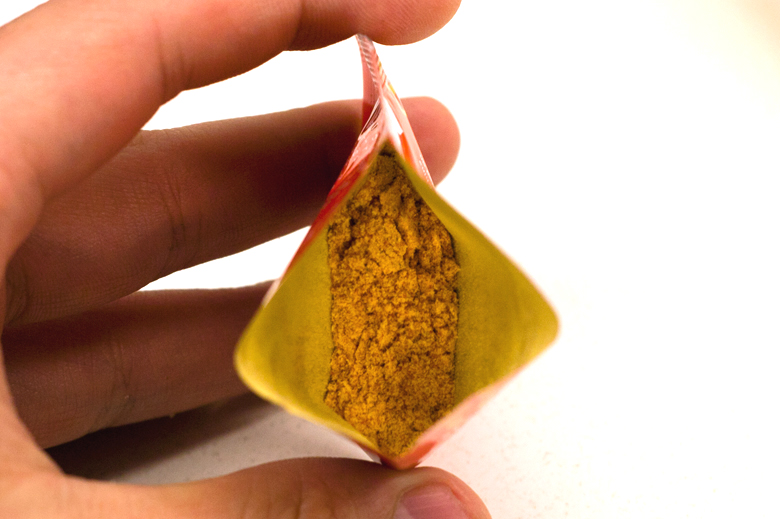 Shake Shake fries arrive at Hong Kong Mcdonalds locations for a limited time and they rotate flavors; once the flavor rotation is done, it's done. On to the next one. The current flavor of Shake Shake comes in a bold red packet and is branded as "Zesty Tomato Shake Shake."
I'm not the biggest tomato fan.
When I first heard about the Zesty Tomato Shake Shake, my wild imagination was immediately drawn to an image of some suitcase-laden, Louis Vuitton-loving, O.G. Mainland Chinese tourist furiously dousing his Hong Kong McDonalds French Fries in a jug of V8 juice — or something just ridiculous like that. It was as if I had totally glazed over the fact that tomato is one of the single-most common condiments paired with French fries, albeit it is branded as "ketchup," which in my opinion conveniently guises the reality that I'm eating tomato paste. But, on the other hand, to be fair, I typically avoid using ketchup, save for a few random occasions.
Nonetheless, after my dumbass I realized that tomato was really not an outlandish thing to pair with French Fries at all, I saddled up my 5D and went to McDonalds. My first experience was certainly a good one as I found out that after 9:00PM (I was there at around 11:00PM) large French fries are buy one, get one free. As I situated myself in the corner with my double order of fries and Shake Shake, I quickly realized that although they had duplicated my
French fry order, a second Shake Shake packet was nowhere in sight. A significant oversight on the part of the McDonalds cashier. I decided not to get another packet, as I wanted to enjoy some fries sans Shake Shake seasoning anyways; but it would've been nice to know they were mindful of the second batch of fries. Small, but worth noting.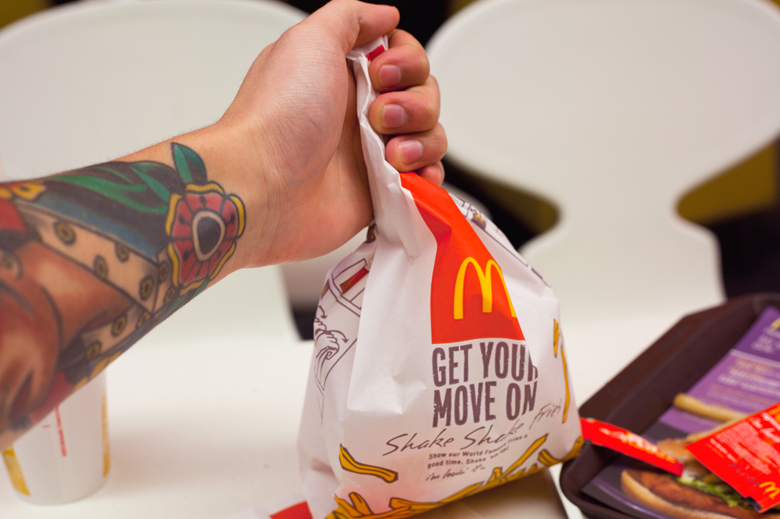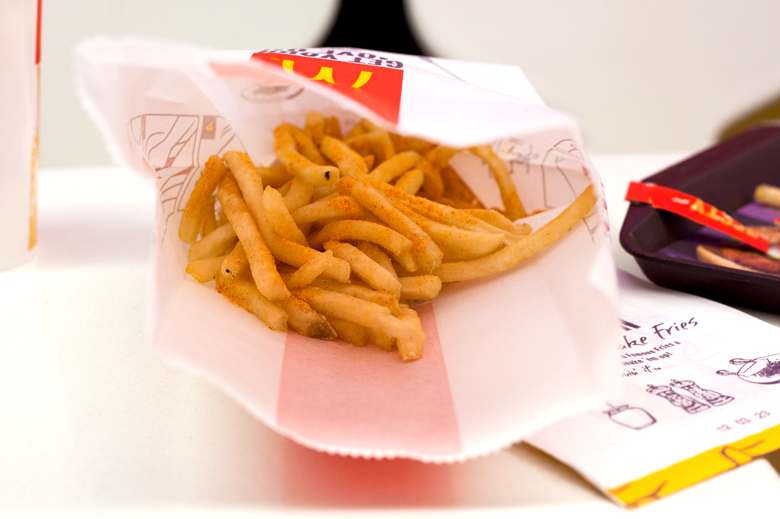 For a large fry, I would say that the Zesty Tomato packet is a little on the scarce side. I think the amount of seasoning would be just perfect for a medium-size fry, but it is just slightly lacking for a large French fry. But, then again, I don't know why in the world I ordered a large French fry in the first place, given I'm on a health kick and all. Nonetheless, given the slightly undersized packet of Zesty Tomato seasoning, I would recommend emptying one half of the packet into the provided Shake Shake bag along with one half of the French fries and shaking first. Then, upon sufficient shakeage of the first portion, continue on to empty the second half of the packet and French fries into said bag and shake the rest. The reason behind this method is that it will provide a more even coat of seasoning to each and every French fry.
The Zesty Tomato seasoning provides a surprisingly pleasant and refreshingly invigorating amalgam of flavors to the large-fry dining experience. At the risk of being melodramatic, my initial skepticism leading into the first bite was quickly trumped by a polarized and almost transcendental influx of rejuvenating flavors; quickly removing the often heavy-set feeling that the greasy French fries can tend to leave you with. Notes of garden herbs combined with hints of vibrant spices give nod to an almost "organic" style dish more commonly found in farmer's markets or niche locavore cafes, albeit unlike you'd find French fries in any of those contexts.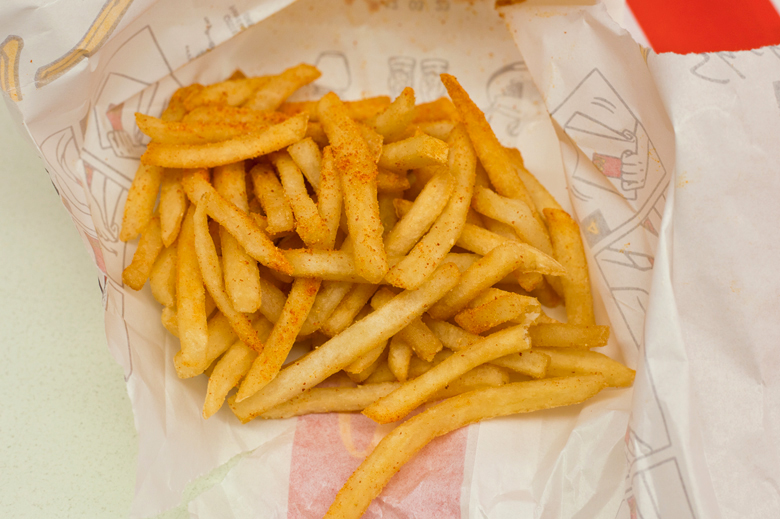 All-in-all, the experience was a very positive one. Something that you certainly cannot fault Hong Kong McDonalds for is for delivering consistency. You always know what to expect. Yet in the midst of this, they were able to successfully implement the new Zesty Tomato Shake Shake. It was a somewhat of an experimental flavor that they added to the menu, but resulted in a surprisingly satisfactory taste for a tomato-hater like myself. Without being overly tomato-esque, "Zesty Tomato Shake Shake" provides something that both a tomato-lover as well as a traditionally non-tomato person can enjoy. I can't wait for what Shake Shake flavor is next.
Nicole's Note: The previous Shake Shake Cheese Fries were approximately 10 times better.
American, Fast Food Gourmand, Hong Kong, North American