That Dessert CRAY !!! Best Pastries of 2015 !!!
If you've been following along, I posted a list of some of the best savory dishes that entered my mouths in 2015 a few days ago. It's only natural that I finish with DESSERT. Here are 15 pastries that I can't stop thinking about from 2015.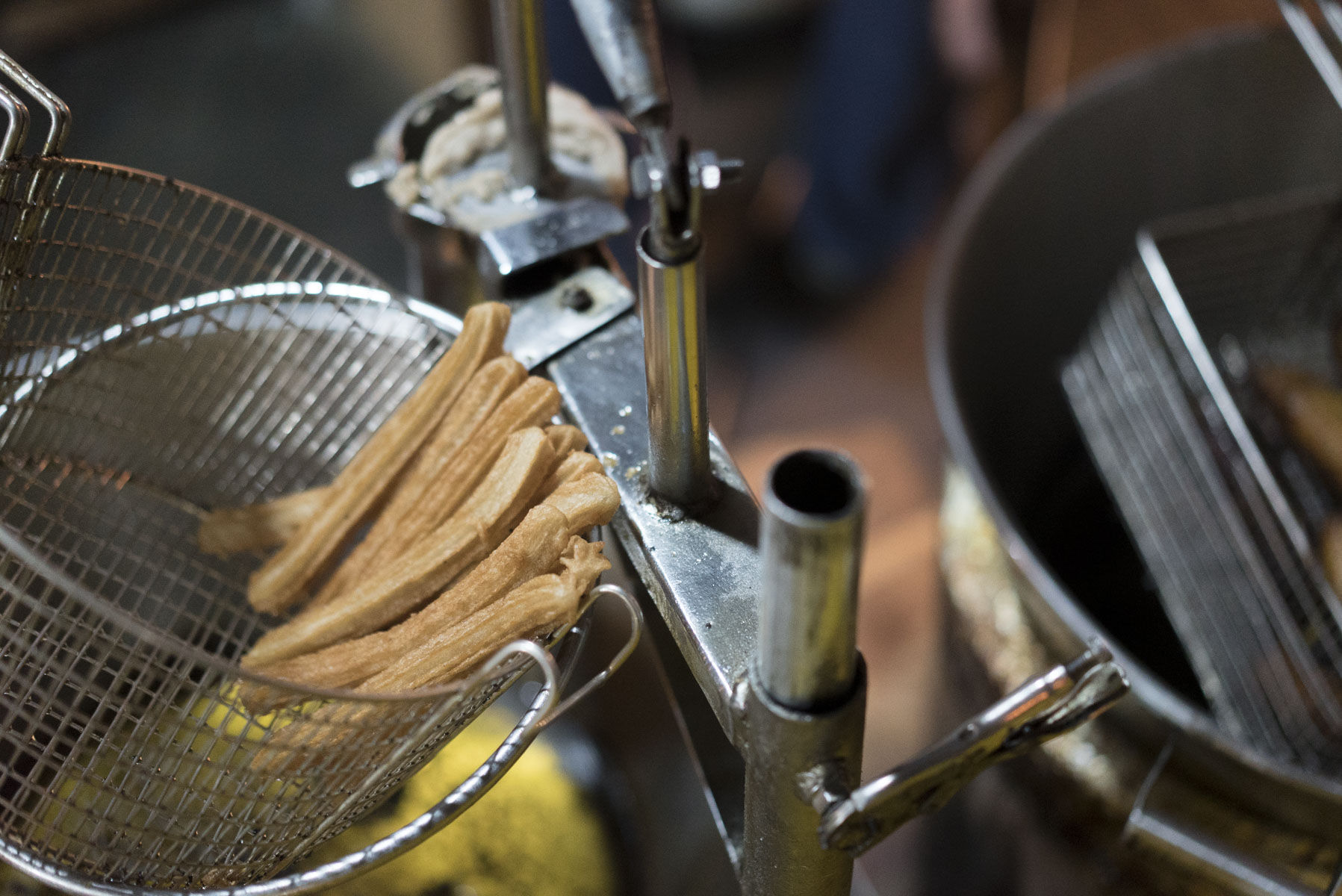 15) Churro Goddess, Los Angeles
I'm a sucker for churros. Just before the new year, our homies took us to grab late night tacos at Taco Dollar. This spot is a taco truck parked in Inglewood that literally sell tacos on the cheap (not quite a buck). In the parking lot right next to the taco truck is where you'll find some of the best churros EVER. Churro Goddess sells four churros for a dollar! These churros were unreal, light and airy on the inside and crisp on the outside, dusted with the perfect ratio of cinnamon and sugar.
Between 104th & Lennox on Inglewood Blvd, Inglewood, CA 90304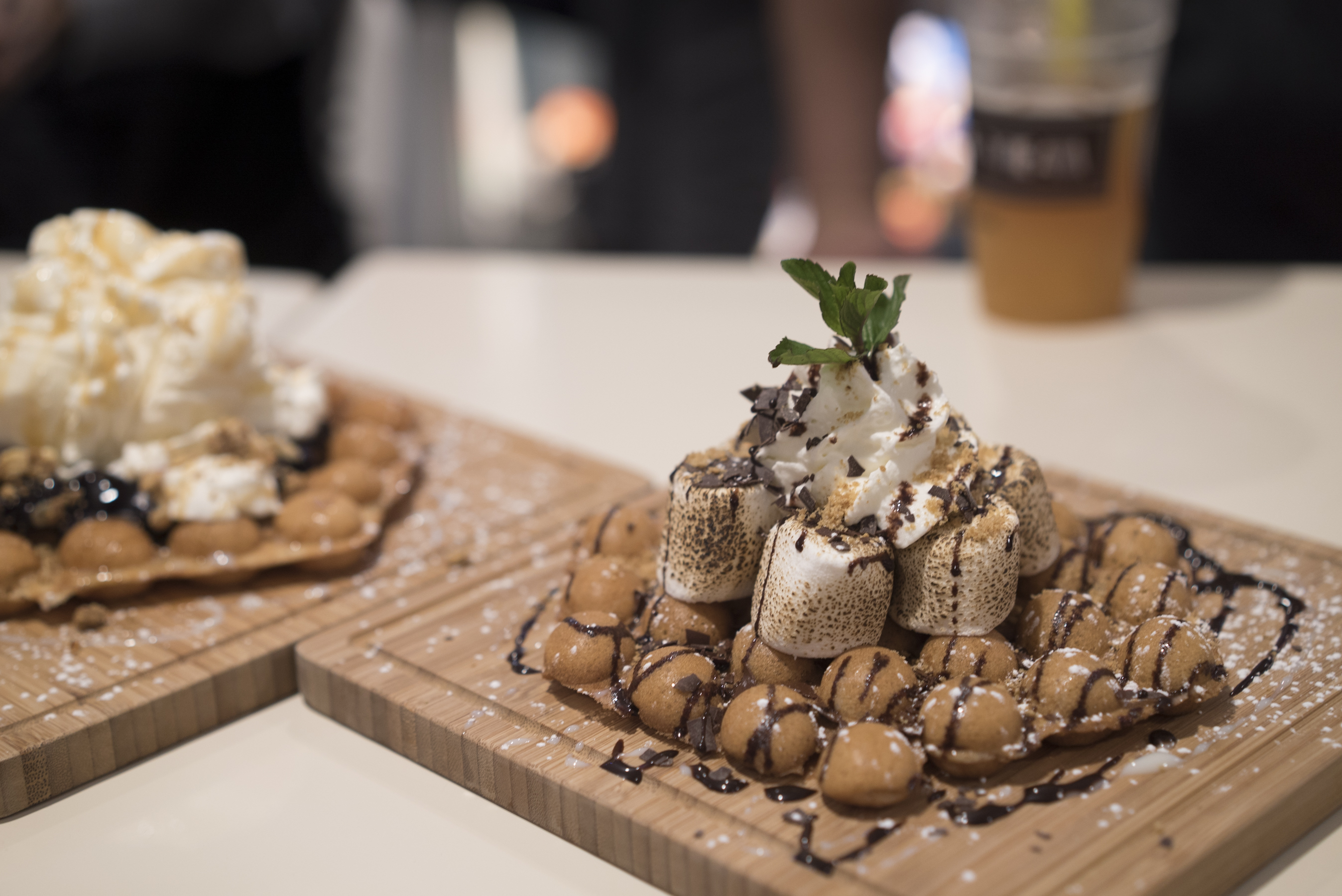 14) The Bubble Tea Shop, Vancouver
I have a major soft spot for egg waffles. Nothing beats Hong Kong's OG egg waffles, but The Bubble Tea Shop's in Hongcouver comes pretty damn close. The Bubble Tea Shop takes egg waffles to a whole 'nother level, taking the Hong Kong street food fav and turning it into a delectable sweet treat. S'mores, brûléed banana, cookies n' cream, banana Nutella and Rocky Road are just a few of the options. The s'mores waffles was dope made with a cinnamon flavored egg waffle batter, topped with toasted marshmallows, chocolate sauce and whipped cream.
4651 No 3 Rd #105, Richmond, BC V6X 2C4, Canada
p:+1.604.285.8833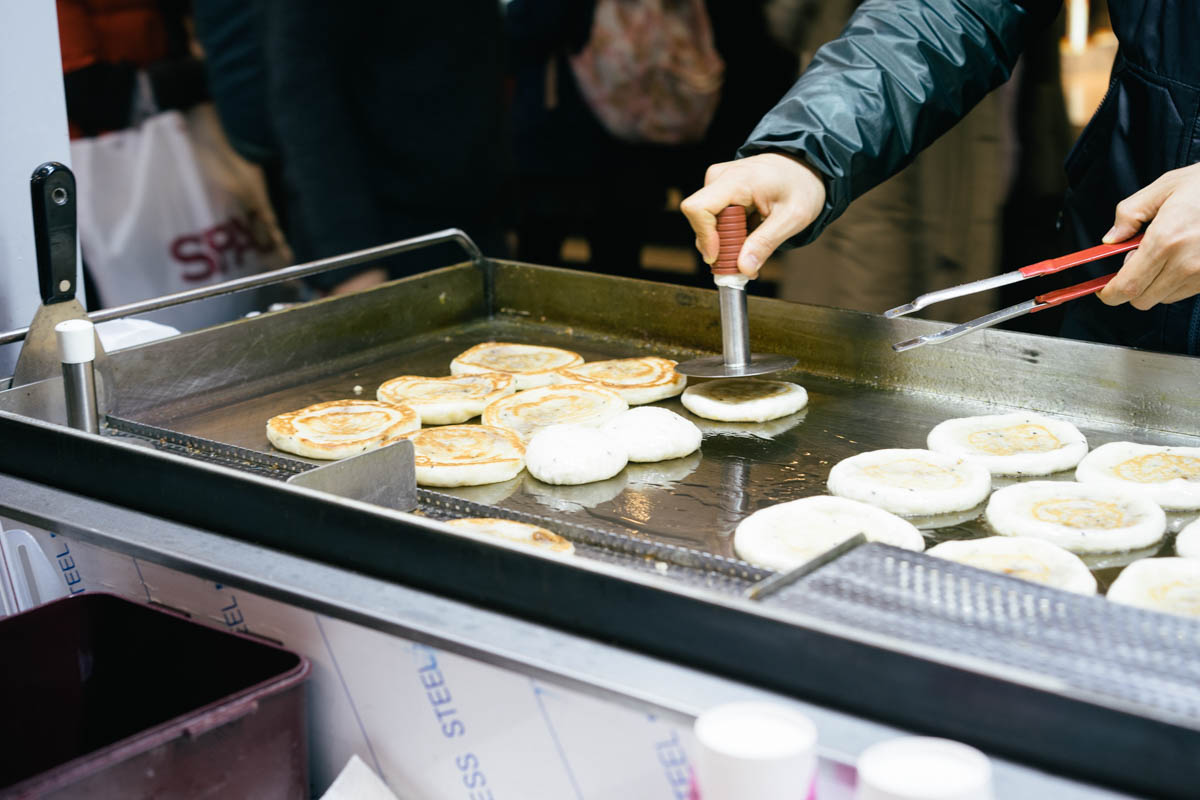 13) Myeongdong, Seoul
Hoeddok is one of the best things that entered my mouth in Seoul. It's a popular Korean snack shaped like a pancake stuffed with brown sugar, peanuts, honey and cinnamon. It has a chewy texture similar to mochi with a familiar sweet cinnamon filling. Hoeddok is considered street food, made to order on a hot griddle. I can't remember exactly what street we had this, but it was somewhere in the thick of Myeongdong.
Myeongdong 2-ga, Jung-gu, Seoul
서울특별시 중구 명동2가
*This isn't the exact address.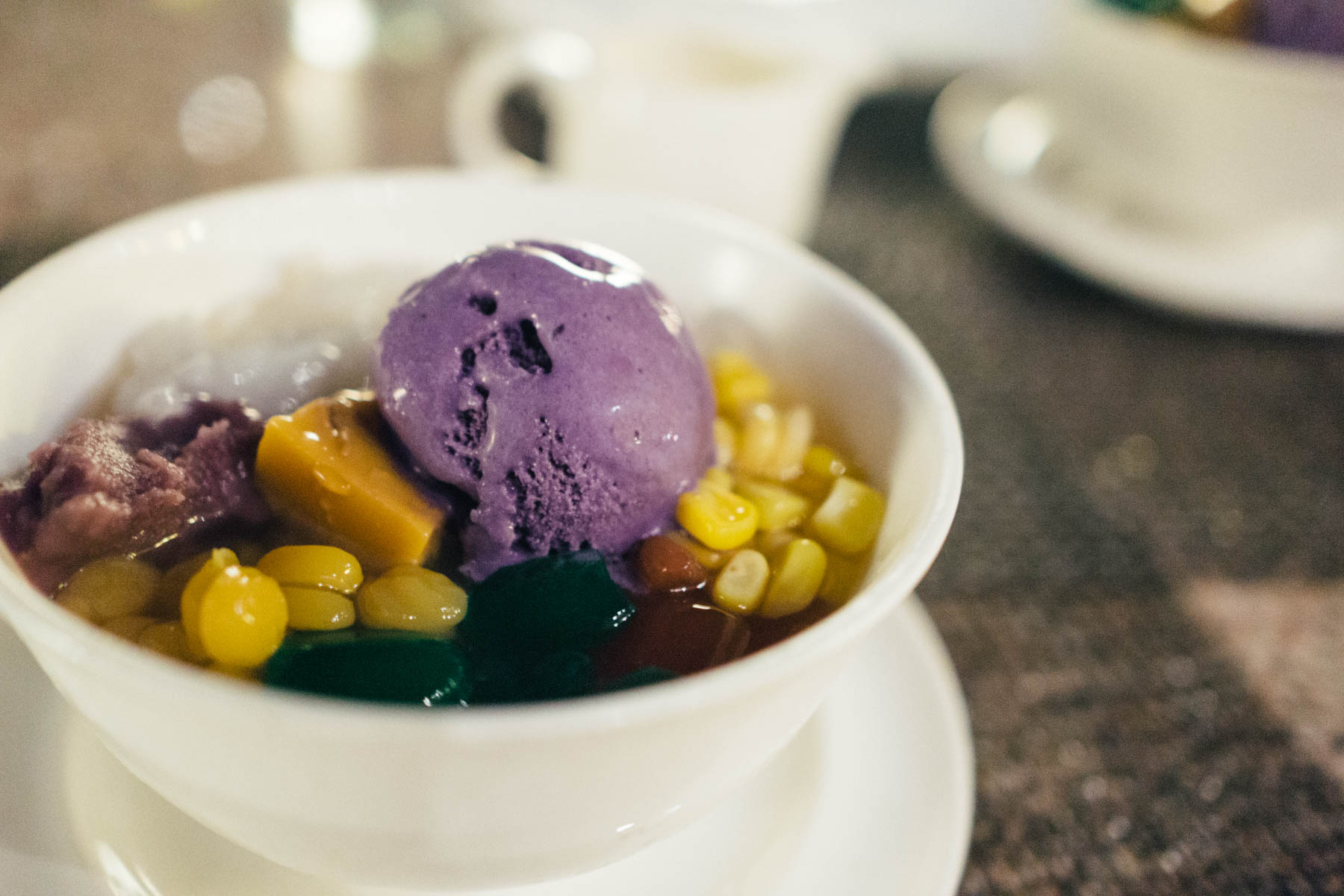 12) Shangri-La's Boracay Resort & Spa, Boracay
Halo-halo directly translates to "mix-mix" in Filipino, a shaved ice dessert. I've only ever had halo-halo at friends' houses and was dying to eat the dessert in the Philipines. I had really bad luck and for some reason and the dessert happened to be sold out at every place I went to. I wish I could say that I had the best halo-halo at some local joint in some random hole in the wall, but I had it instead it was from the Shangri-La Resort in Boracay. I ain't mad though, it was delicious made with shaved ice, evaporated milk, fresh mango, coconut, plantains, jackfruit, nata de coco, ube, chickpeas, corn, sugar palm fruit, pinipig, leche flan AND ube ice cream.
Barangay Yapak, Boracay Island, Malay Aklan, 5608 Aklan, Philippines
+63 36 288 4988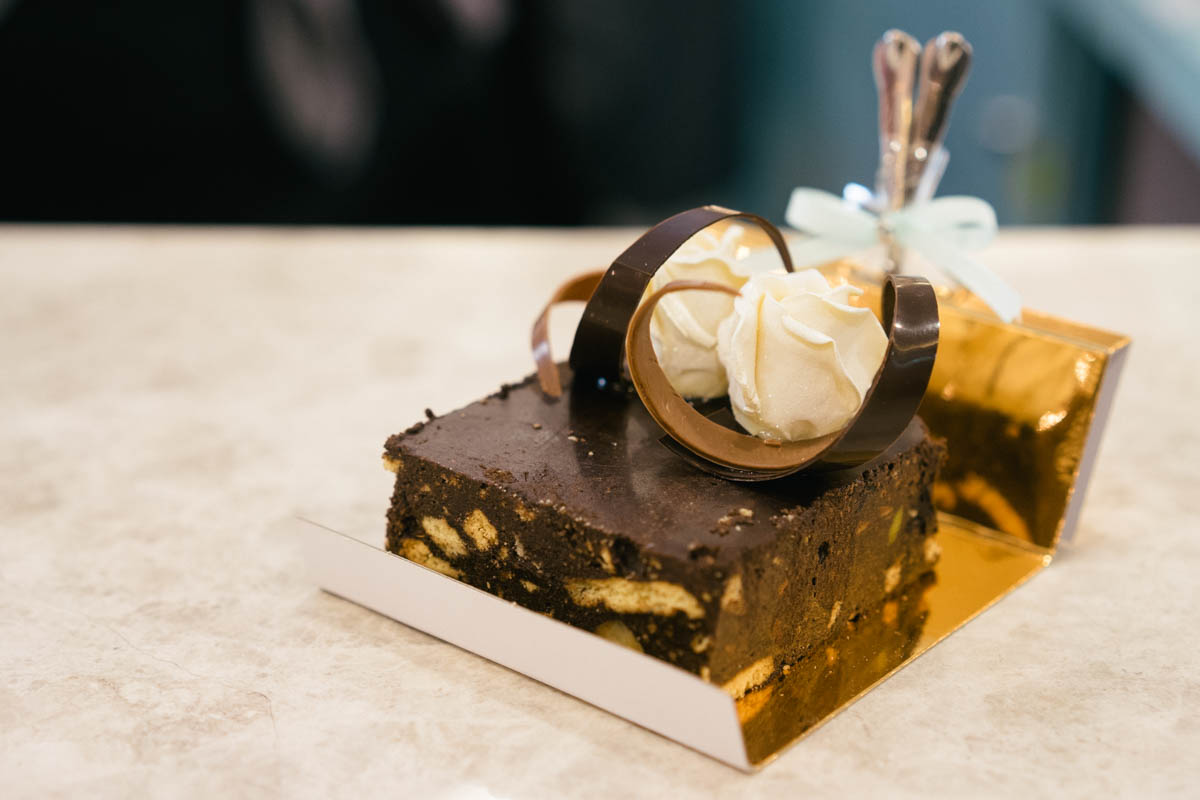 11) The Royal Touch by Carolyn Robb, Hong Kong
Flying in from England, The Royal Touch opens its first shop in Hong Kong. The Royal Touch is kind of a big deal in England, founded by the former Chef of the Royal Family, Carolyn Robb, and remains one of their favorites. The Royal Touch offers a selection of traditional English pastries, gorgeous cupcakes along with Prince William and Harry's favorite, Chocolate Biscuit Cake. This cake was to die for – rich and moist with bits of crunchy buttery biscuits. Definitely fit for royalty.
Harbour City, 3-27 Canton Rd, Tsim Sha Tsui, Hong Kong
p: +852.3188.8086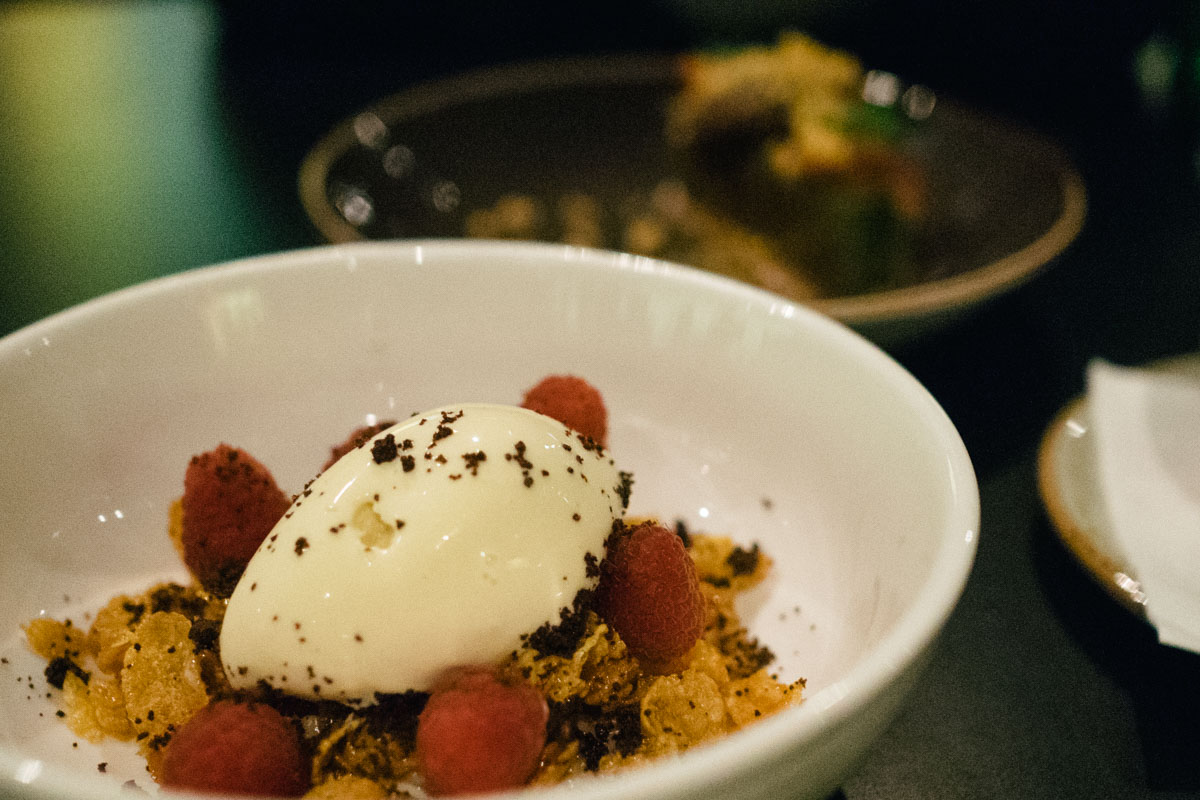 10) Ho Lee Fook, Hong Kong
Ho Lee Fook is a new school Chinese restaurant inspired by old school Hong Kong cha chaan tengs (tea cafes) and New York's late-night Chinatown hangouts from the 60's. Chef Jowett Yu takes classic Chinese favorites flipped into unconventional and innovative dishes. Ho Lee Fook's philosophy being, "committed to honoring the dynamic Chinese community we live in by taking a fresh approach to the traditional foods we crave." I'm a Horlick wh*re, so the Breakfast 2.0 dessert left a lasting impression made with Horlick ice cream, corn flakes honey joys, oats, dried longan and cocoa coffee crumbs.
1 Elgin Street, Central, Hong Kong
p: +852.2810.0860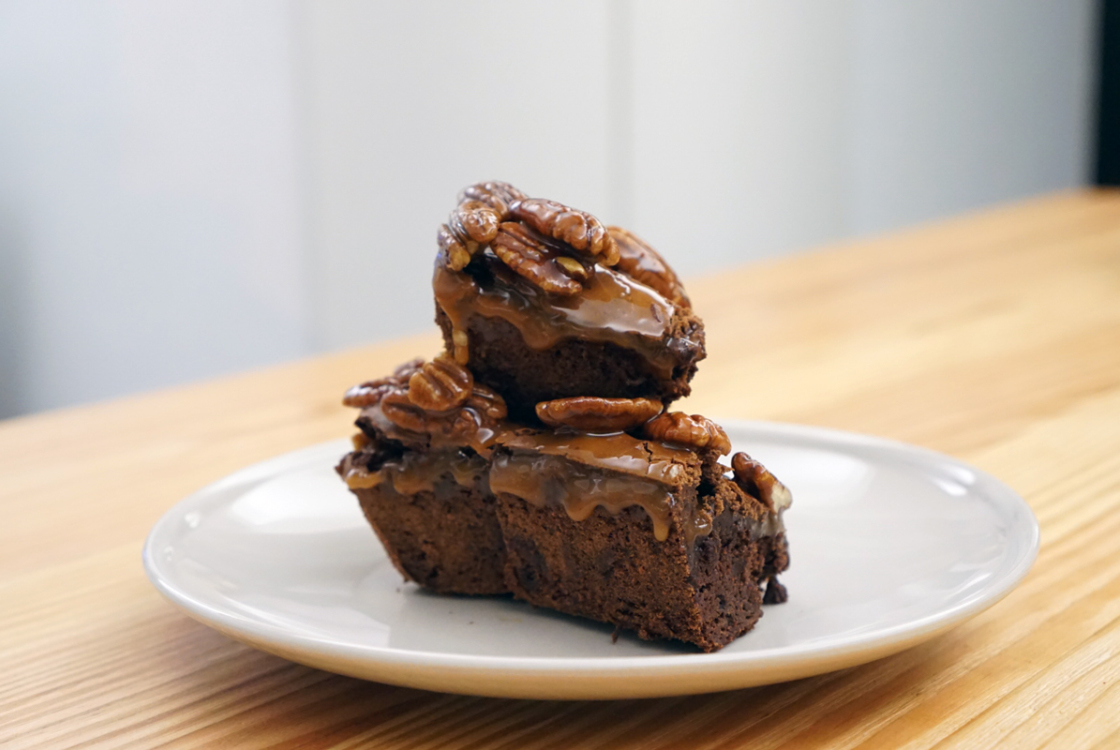 9) Coconut Pecan Caramel Fudge Brownies by Tracy Wei
I'm not even exaggerating when I'm telling you that this coconut pecan caramel fudge brownie was quite possibly the best brownie I've ever eaten. Home made by my homegirl Tracy Wei, these brownies were ridiculous, moist on the inside surrounded by a crispy crust drenched in a sticky caramel fudge sauce topped with whole pecans.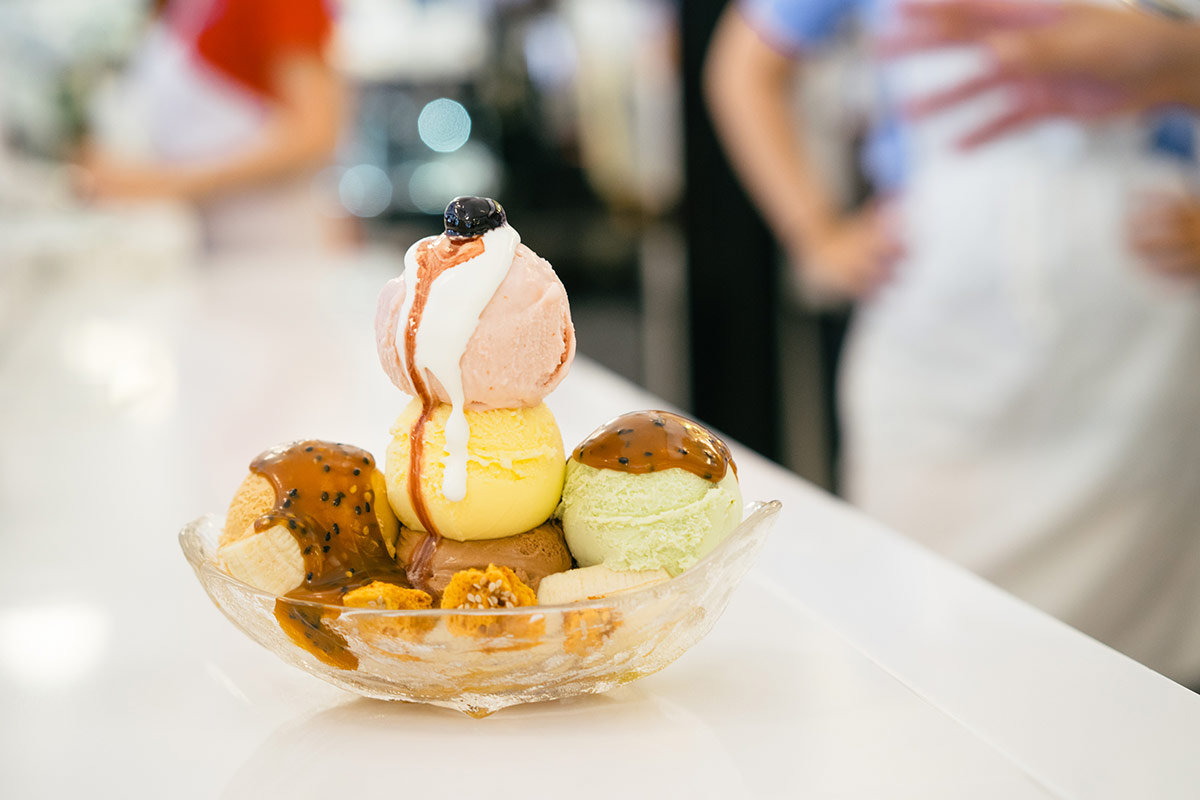 8) Morgenstern's Finest Ice Cream, New York City
Morgenstern's Finest Ice Cream has made the list yet again. The penchant for quality is notable from the first lick and the specialty sundaes cost a pretty penny. This time around, we had the chance to get down and dirty with the $20 USD King Kong Banana Split, as featured on Aziz Ansari's Master of None. Five glorious scoops of ice cream (yours or the dealer's choice), is ever so delicately covered in sesame caramel, pineapple, and of course, a banana.
2 Rivington St, New York, NY 10002, United States
p: +1.212.209.7684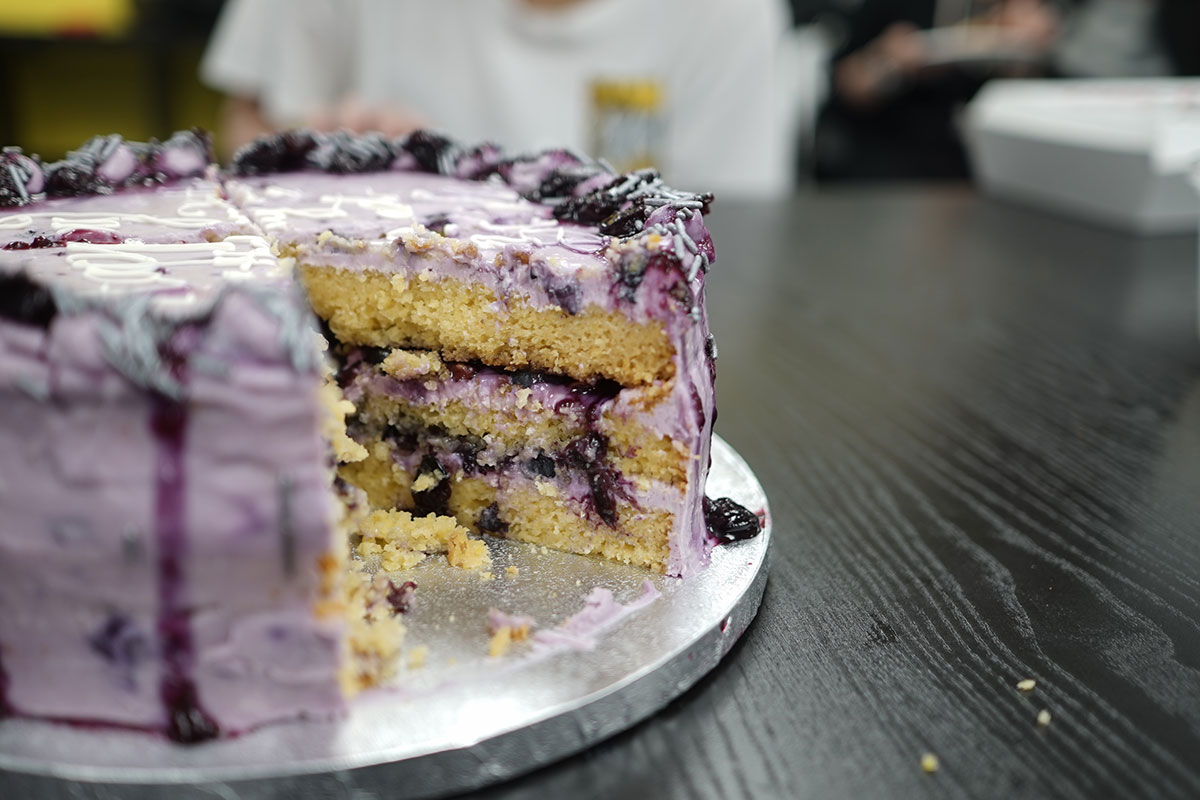 7) My Birthday Cake by Tracy Wei
Pastry Chef Tracy Wei not only made dope AF brownies, but she also made me the best custom birthday cake ever. Tracy and Eugene conspired to create my birthday cake using some of my favorite things. Tracy made me a 1 of 1 cornbread cake with blueberry corn compote and blueberry cream cheese !!! This cake was crack – incredibly moist, unique and the most memorable birthday cake to date!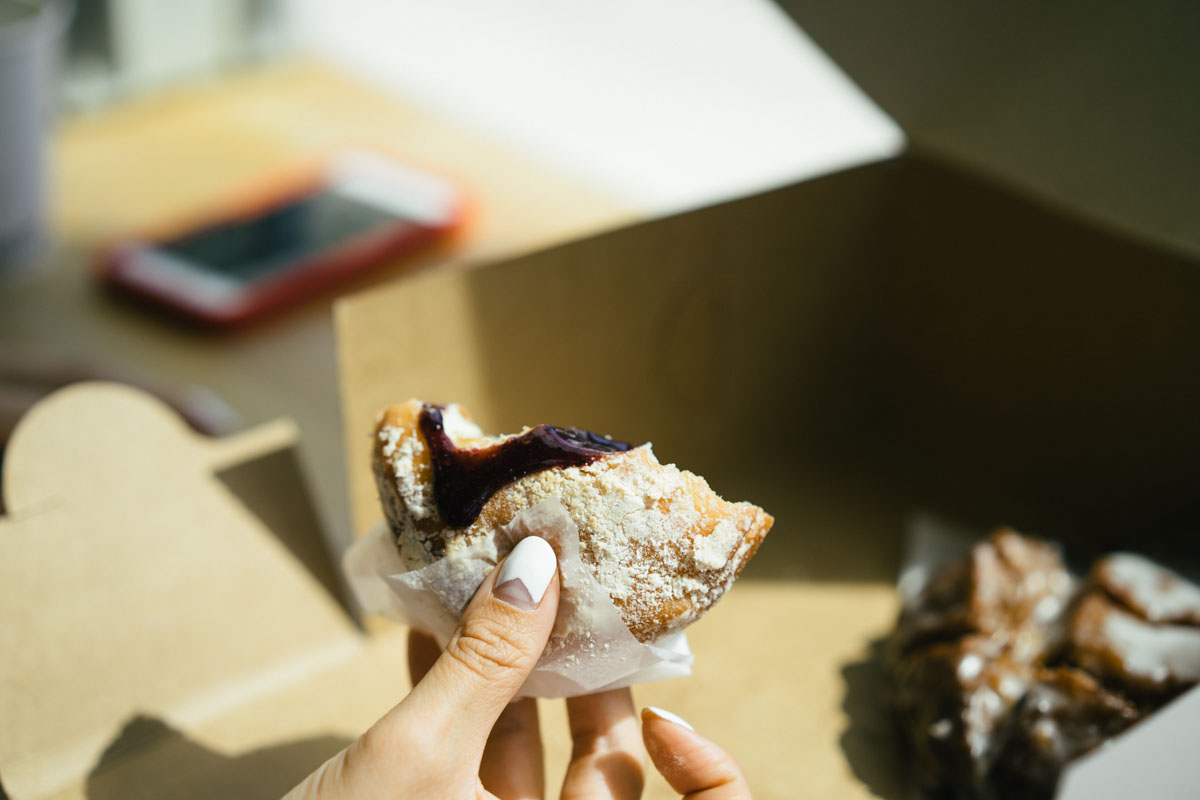 6) Blue Star Donuts, Portland
Blue Star's Donuts is the bombest donut shop ever. Their donuts are made from a classic brioche recipe originating from the south of France. Blue Star's philosophy is quality over quantity, whipping up fresh donuts from scratch every day. The dough itself takes nearly 18 hours to make using a sustainable bread flour, cage-free eggs, whole hormone-free milk and European-style butter. The donuts are fried in rice oil and are then finished with either glazes or fillings made fresh throughout the day. I don't even like donuts, but Blue Star's spicy Marion berry jam stuffed peanut butter powdered donut was a game changer.
1237 Southwest Washington Street, Portland, OR 97205, United States
p: +1.503.265.8410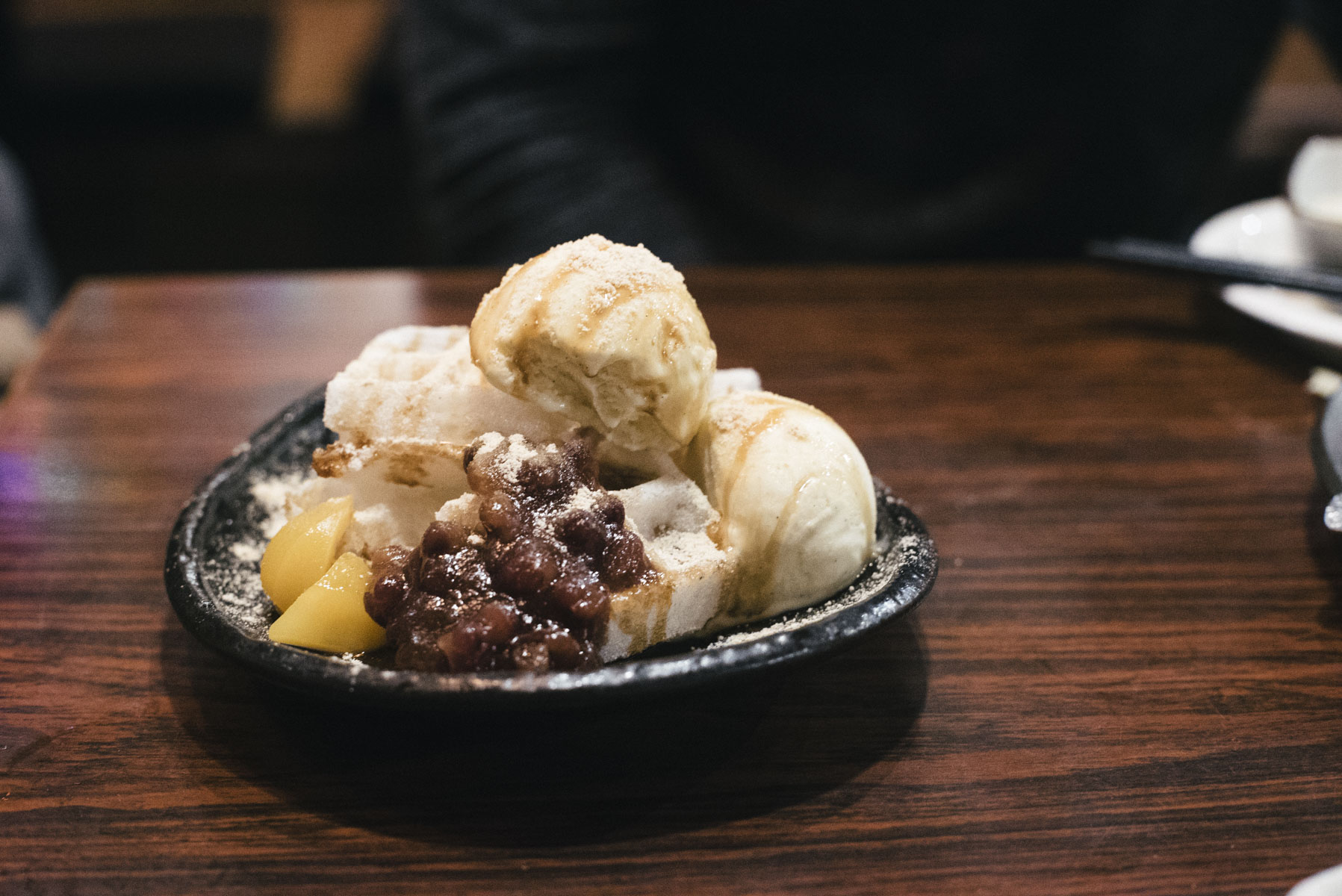 5) Maruhachi, Tokyo
Maruhachi is where I learned what a moffle was, a waffle made of mochi! This popular Japanese glutinous rice dessert is thrown onto a waffle iron and transformed into a crispy yet chewy moffle which is then accompanied by a variety of toppings. The one we had was paired with azuki bean, sweetened chestnuts, vanilla ice cream, and finished with a drizzle of Okinawa black sugar syrup.
2 Chome-10-12 Dogenzaka, Shibuya, Tokyo 150-0043, Japan
p:+81.3.3476.5739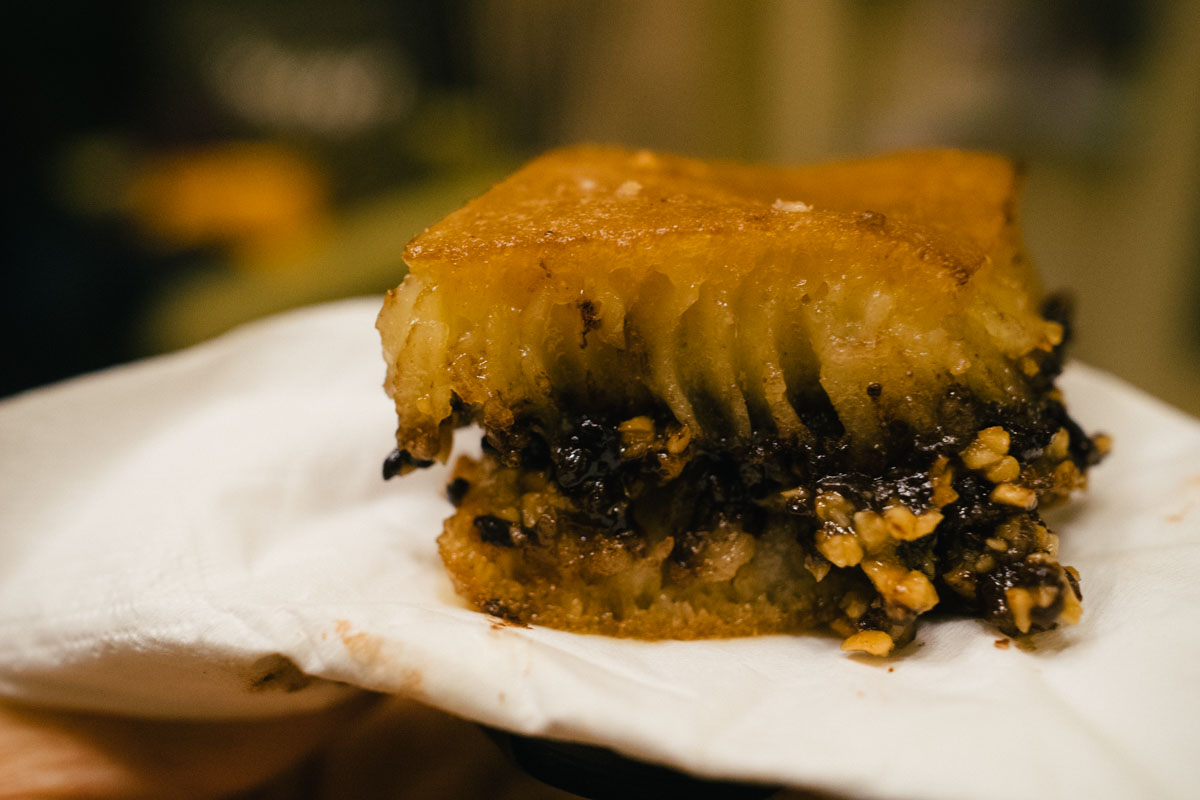 4) Martabak San Francisco, Bandung
Martabak was one of the highlihts of my recent trip to Indonesia. It is essentially a spongy pancake stuffed with chocolate and nuts smothered in melted butter !!! The CHEESE version is also TASTY AF! Martabak comes in a variety of flavors including beef, egg, TOBLERONE, RED VELVET, OREO and more! We lucked out and had some of the BEST MARTABAK in BANDUNG from San Francisco Bakery!
Jl. Burangrang No. 42 Bandung
p: 08170296999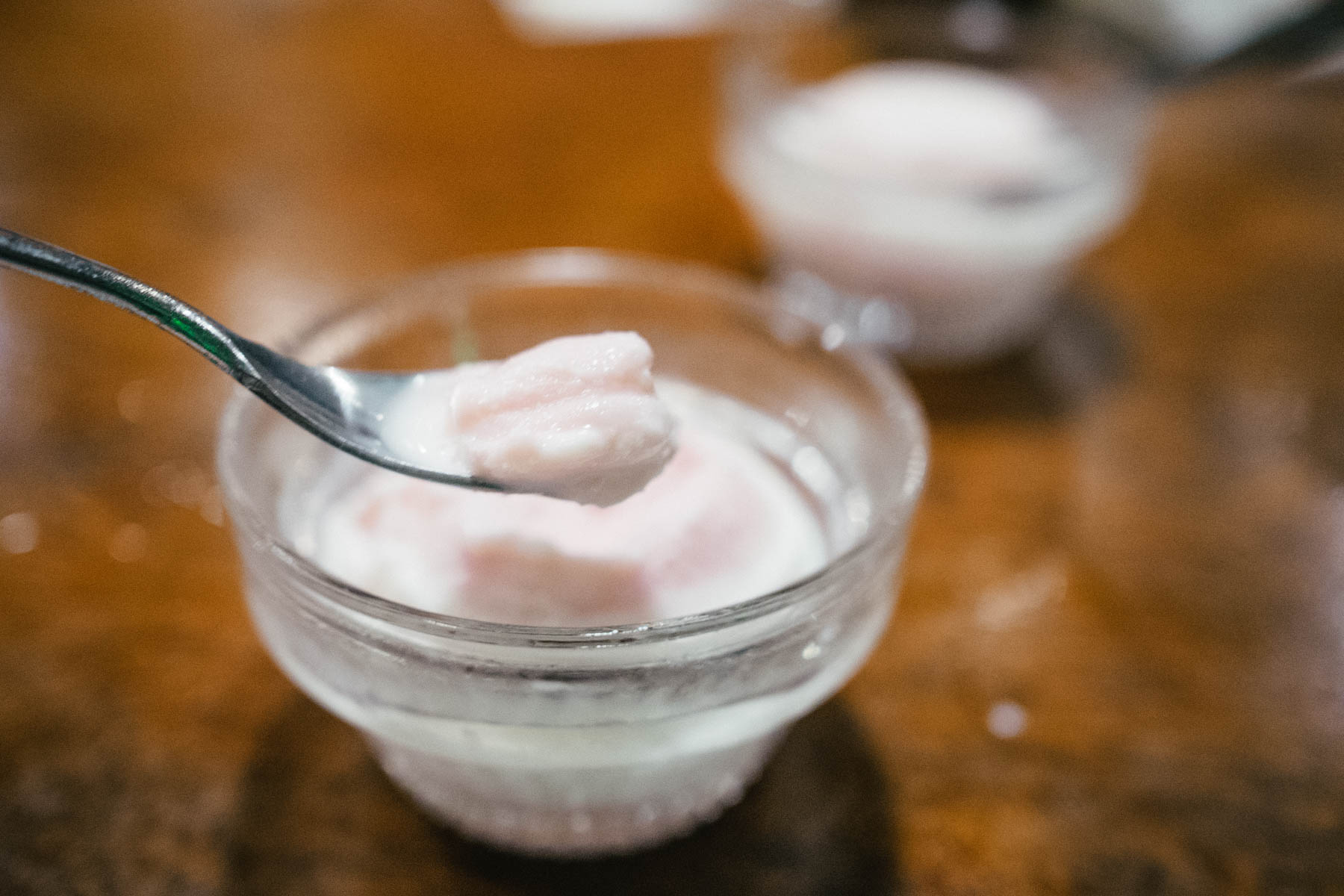 3) Kaikaya, Tokyo
Kaikaya is a cozy izakaya in Shibuya, Tokyo. The menu consists of a huge selection of traditional and unconventional seafood centric dishes. Kaikaya also gives you an omakase option. It's been years since the last time we visited Kaikaya, but I'm glad we went back. The meal was amazing and just as good as I remembered. This time, the meal ended with an incredible sakura ice cream. It was simple, creamy, and had a light floral flavor. So good!
23−7 Maruyamacho
Shibuya, Tokyo 150-0044, Japan
p: +03.3770.0878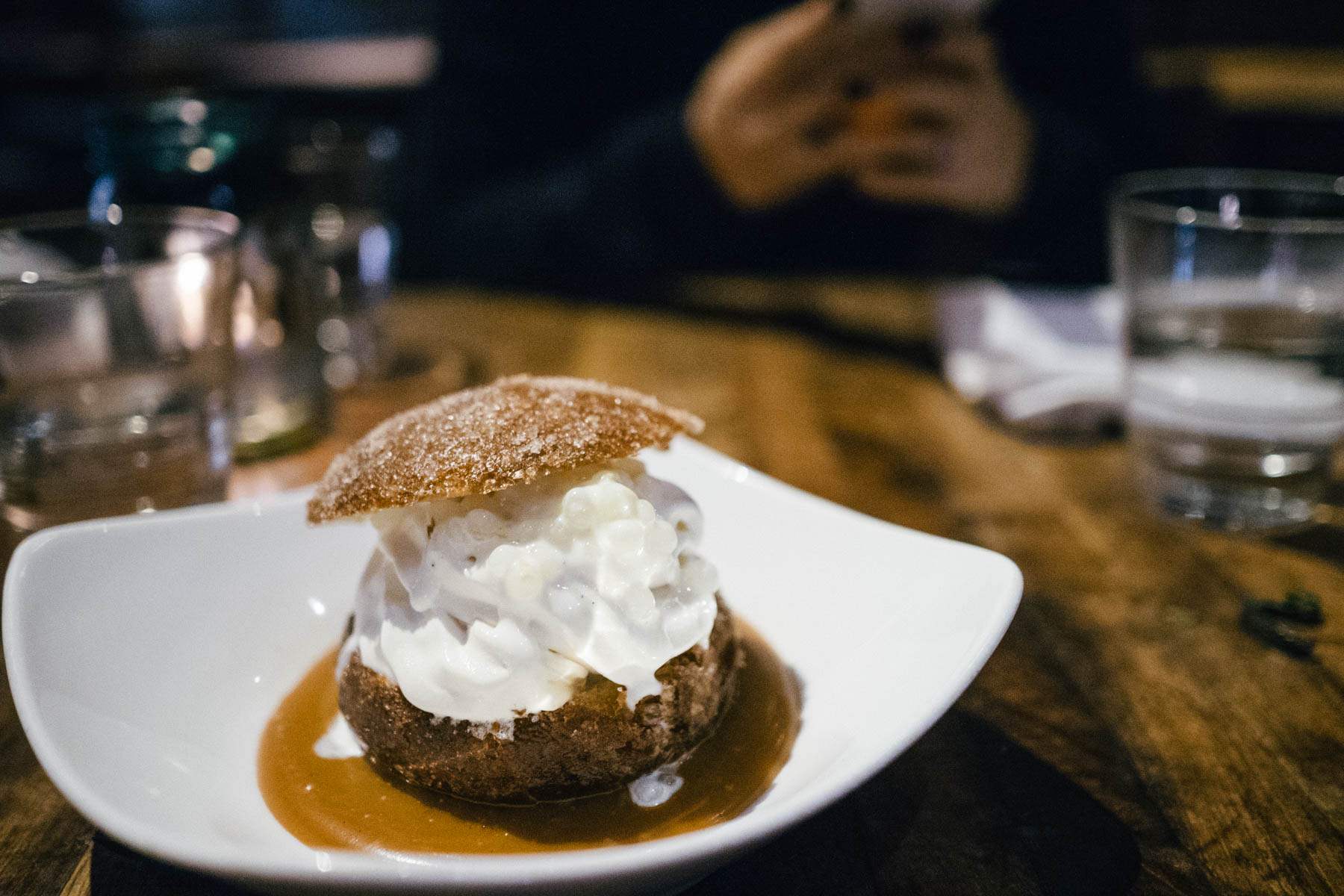 2) Manhattan Beach Post, Manhattan Beach
M.B. Post is one of the most bumpin' restaurants in South Bay winning awards for their soulful and delicious comfort food. M.B. Post's dessert is always on point. Last year, M.B. Posts's horchata soft serve with rice pudding, cinnamon caramel and a crispy churro was at the top of this list. This year, we had an incredible cinnamon sugar beignet ice cream sandwich stuffed with chai tea soft serve topped with tapioca and caramel sauce !!! I'm dying just thinking about it.
1142 Manhattan Ave, Manhattan Beach, CA 90266, United States
p: +1.310.545.5405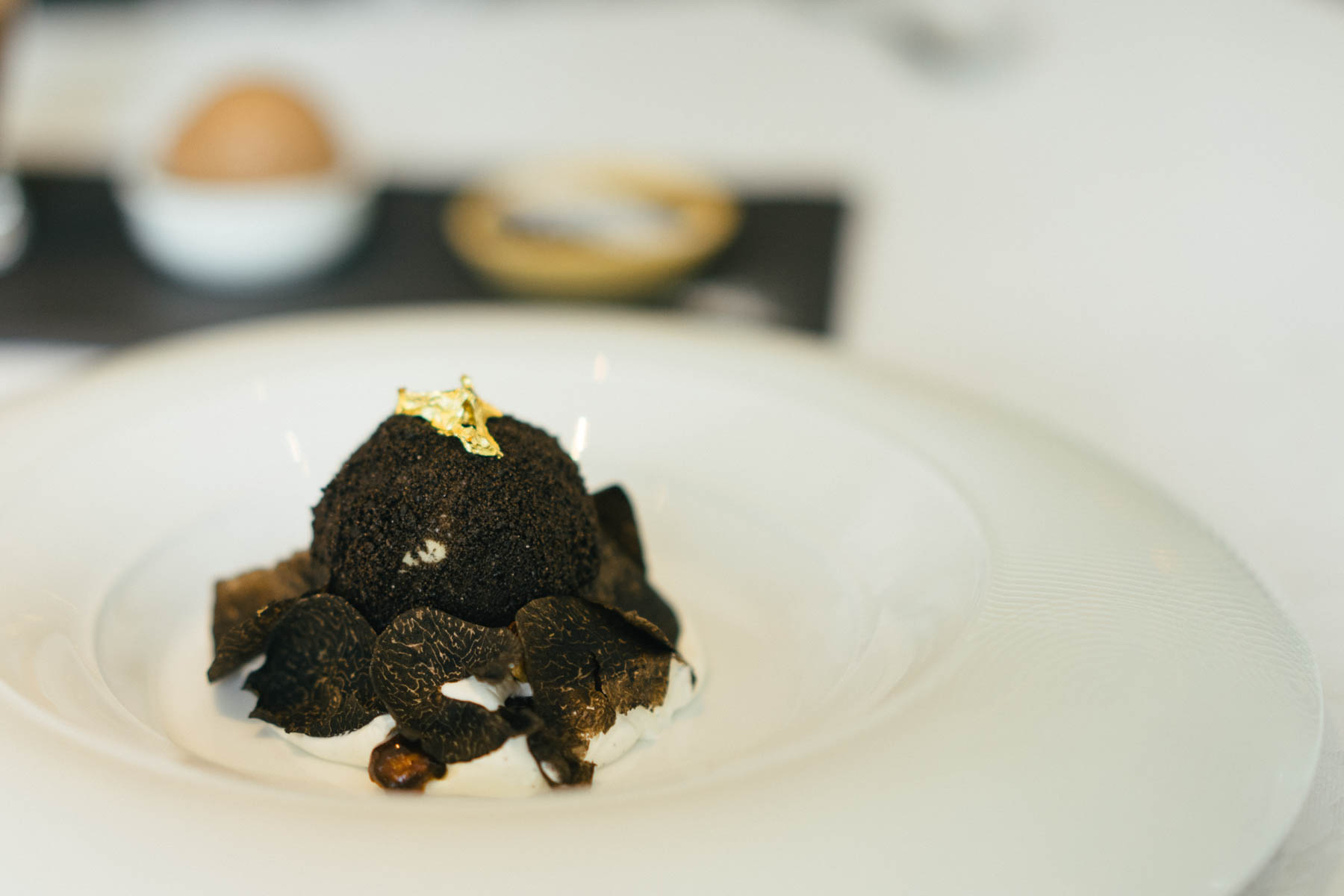 1) 8½ Otto e Mezzo Bombana, Hong Kong
8½ Otto e Mezzo Bombana is a three Michelin star Italian restaurant in Hong Kong and is one of Asia's 50 Best Restaurants ranked 8th. Run by chef Umberto Bombana, the restaurant combines local and Italian ingredients in a series of traditional dishes. The house made pastas are off the hook, but the dish that won me over was the black truffle ice cream !!! YASSSS BLACK TRUFFLE ALL UP IN MY ICE CREAM with chantilly cream, crispy hazelnuts, pistachios and gold flakes.
Shop 202, Landmark Alexandra, 18 Chater Road, Central, Hong Kong
p: +852.2537.8859
American, Asian, Bali, Indonesia, Balinese, Brunch, Canadian, Chinese, Dessert, Dessert, Dinner, English, European, French, Hong Kong, Hong Kong, Indonesian, Italian, Japanese, Korean, Los Angeles, USA, Lunch, Malaysian, Mexican, New York, USA, North American, Portland, USA, Seoul, South Korea, Singaporean, South American, Tokyo, Japan