Singapore Cray !!! POLLEN Restaurant in the Flower Dome at Garden's by the Bay
The Lowdown
Restaurant Name: Pollen
Cuisine: Mediterranean-inspired modern European cuisine
Average Price per Person: S$70 to 200 SGD or $55 to 160 USD
Location: Singapore (please refer to the map below for details)
Recommendations: Carpaccio of Hokkaido Scallops, Shaved Cured Foie Gras, Wagyu Beef Short Rib, JAAL and Rojak

Ratings (out of 5)
Taste: 4.5
Creativity/Authenticity: 4.5
Atmosphere: 5
Service: 4.5
Bang for Buck: 4

Crayscale !!!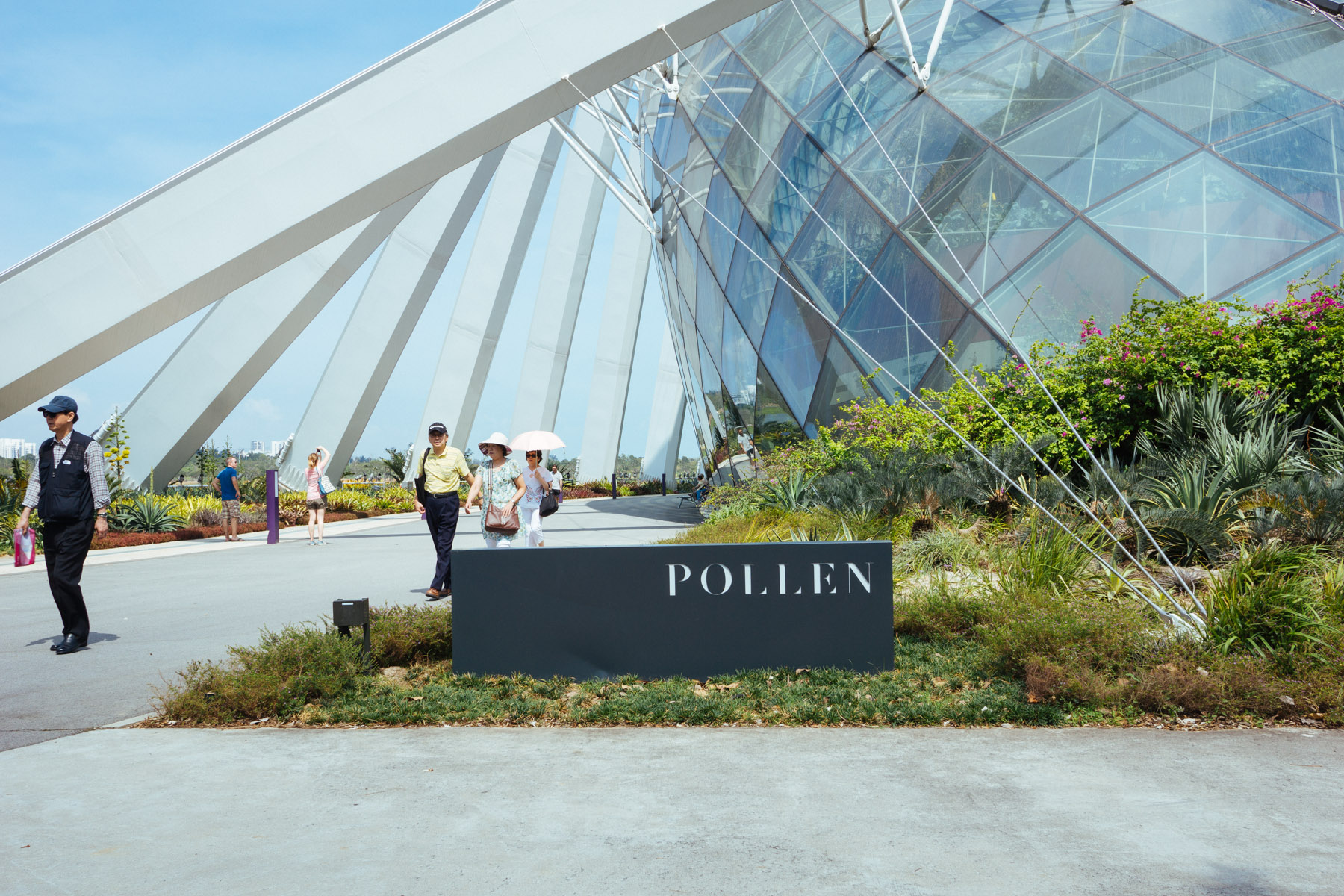 We were on our #worstbehavior in Singapore and pretty much ate all day, everyday. One of the most memorable meals we had was at Pollen, a two story restaurant located inside the Flower Dome at the Gardens by the Bay. Not to worry, it's nothing like dining in a greenhouse or anything like that. Temperatures within the dome are sub 20 degrees Celsius so it's actually a place to escape Singapore's heat and humidity. The climate is cool and dry with a collection of plants from deserts all over the world mostly from the Mediterranean. Not only is Pollen surrounded by the gorgeous gardens, it also sits along the marina facing the Singapore Flyer, Singapore's huge (and slow) ass Ferris wheel in the middle of the city.
Michelin Star Chef Jason Atherton, executive chef Colin Buchan and pastry chef Monica Kate take inspiration from their surroundings creating a Mediterranean-influenced modern European menu utilizing ingredients grown in the gardens. We hit up Pollen during lunch featuring a decently priced three course meal for S$55 SGD per person (approximately $45 USD). The lunch set looked dope, but we had our eyes on a few things, Hokkaido scallops and foie gras in particular, that weren't included in the set so ordered à la carte. The overall experience at Pollen was amazing. The food was absolutely unreal, ingredients were fresh, flavors were incredible, plates were gorgeous, and service was on point.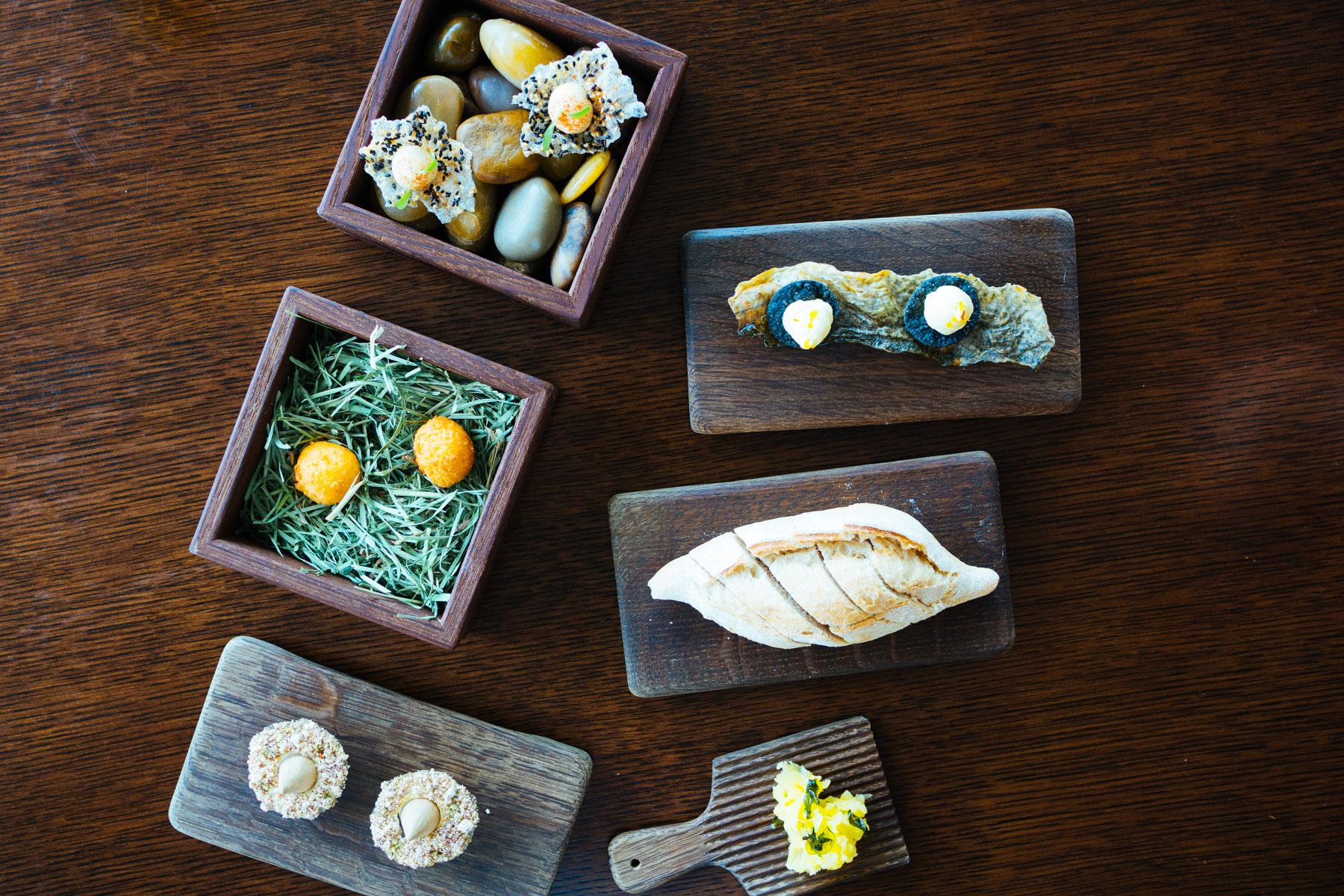 We started our meal with an intriguing collection of canapés!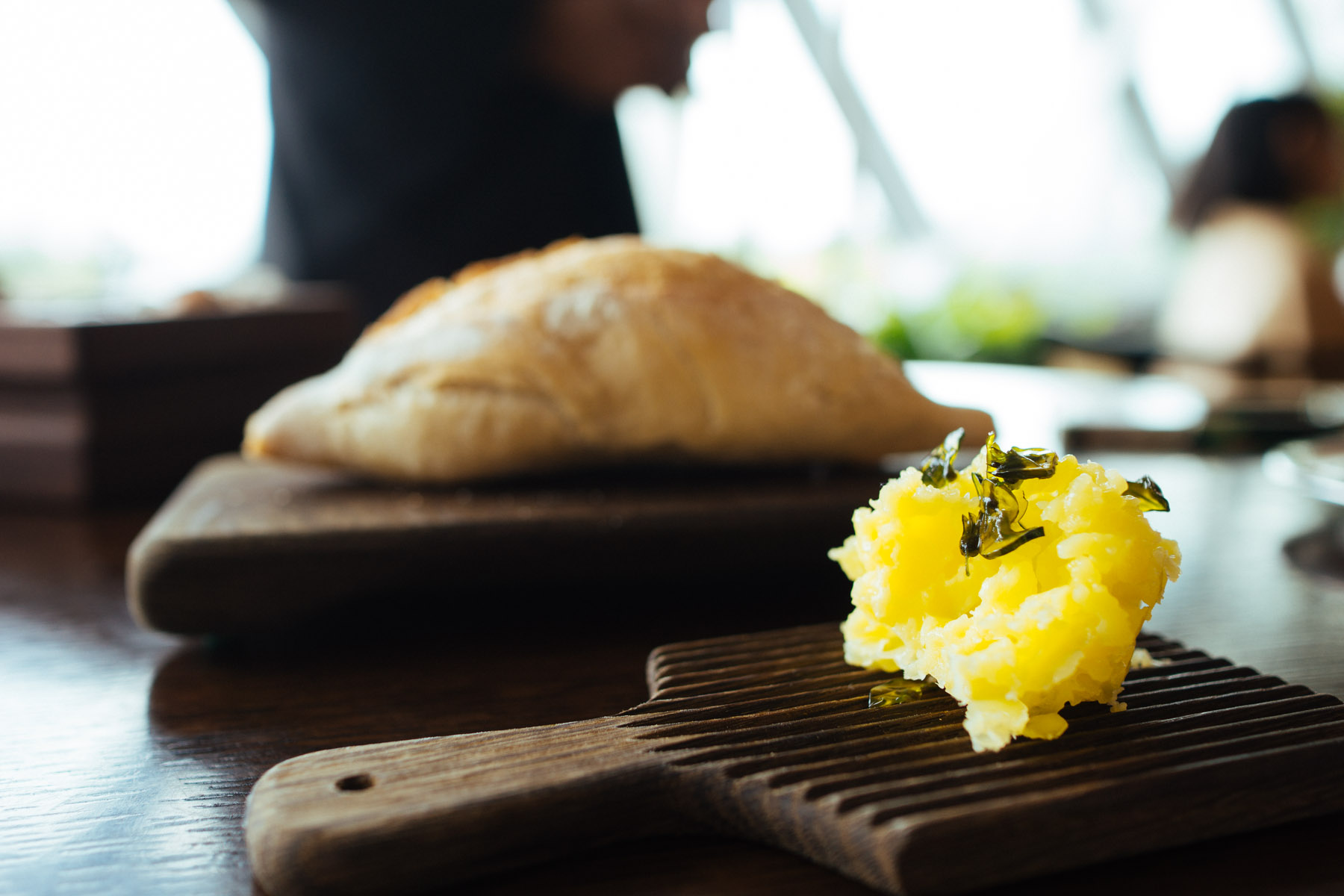 Sourdough with garlic infused butter. The freshly baked sour dough was moist with a crunchy crust. Loved the garlic-infused butter topped with seaweed.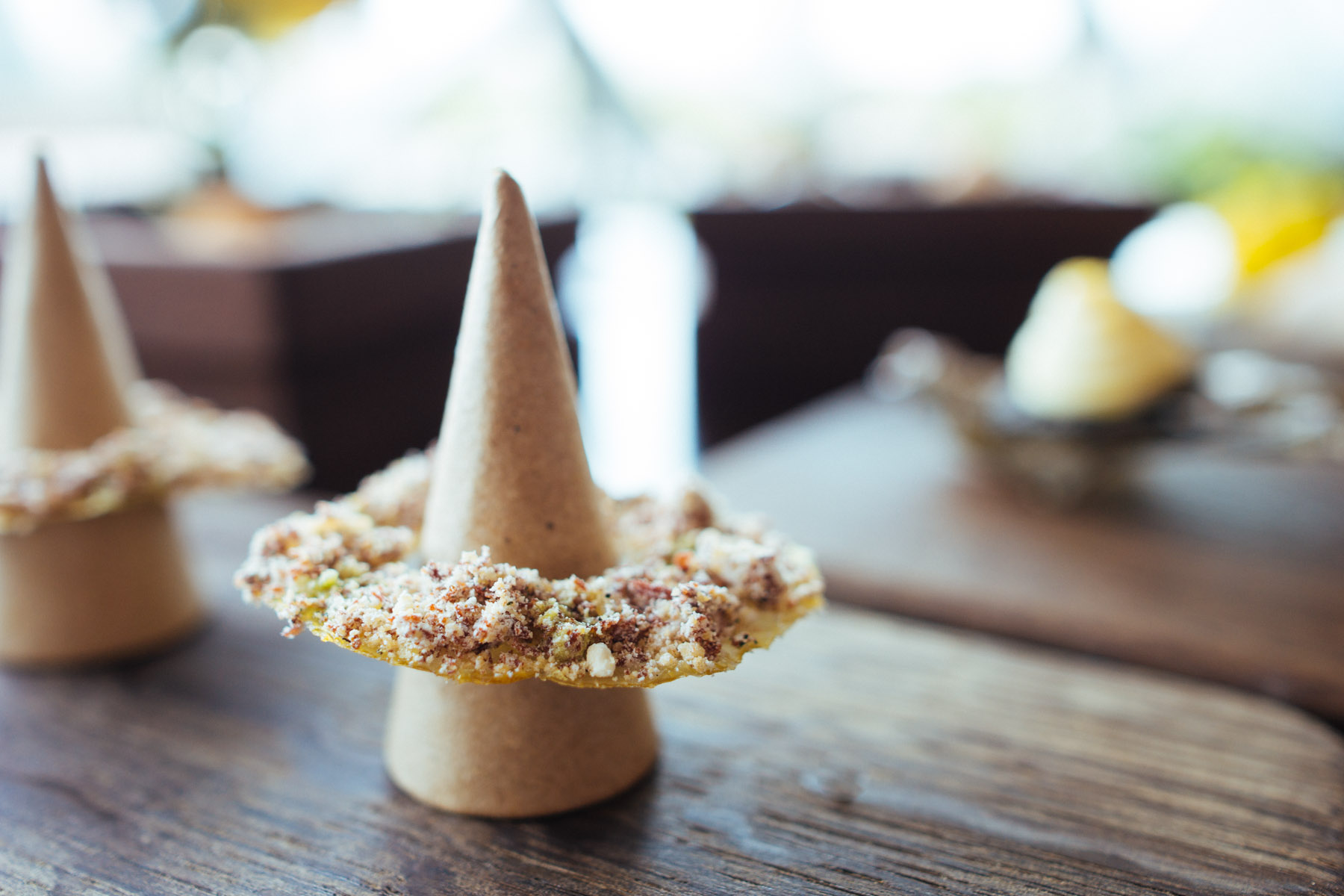 A play on "Hawaiian Pizza" made with thin slices of dehydrated pineapple.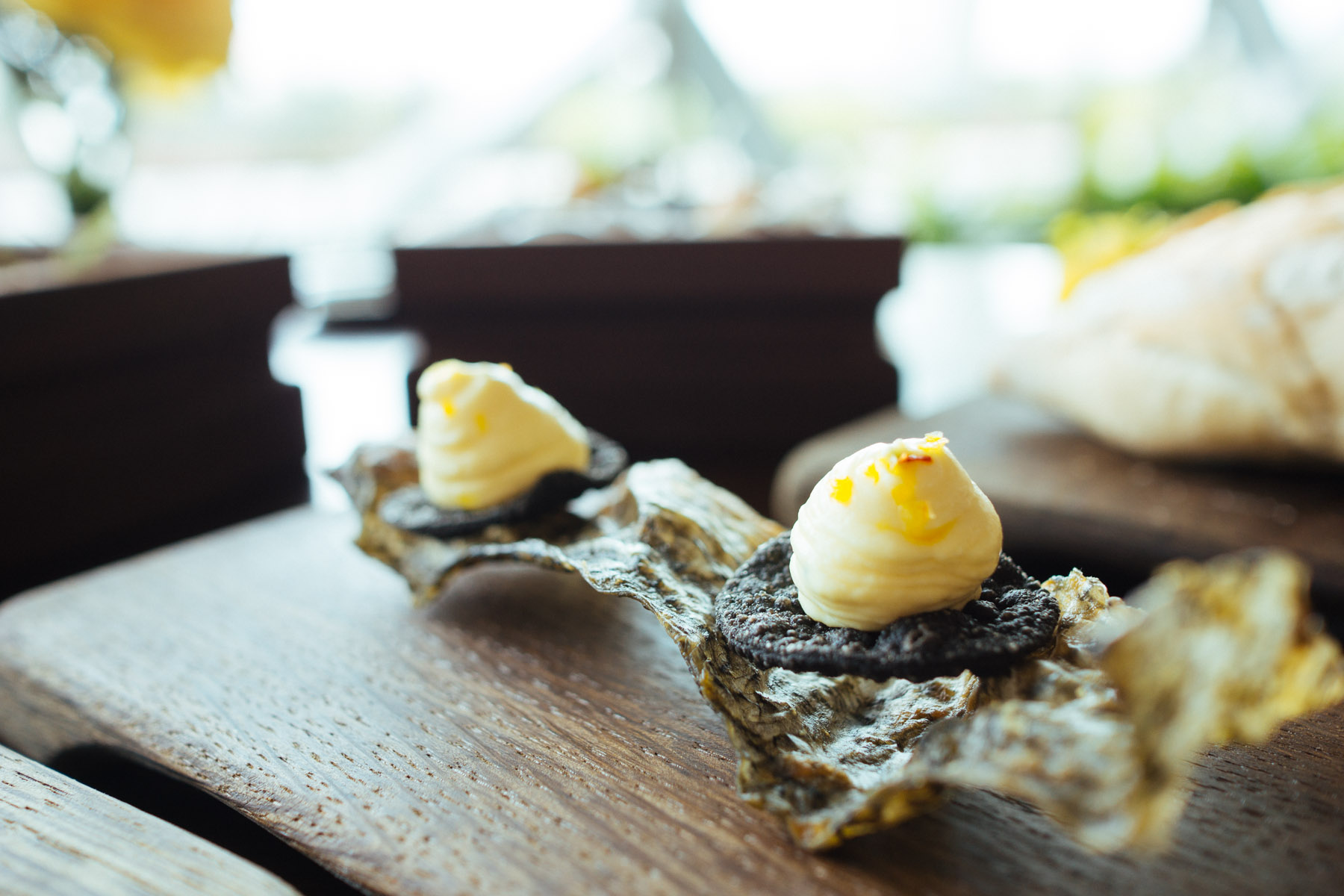 Dehydrated black squid ink pasta with cod brandade. The squid ink pasta chips had a nice crunch topped with a pleasantly salty velvety cod brandade.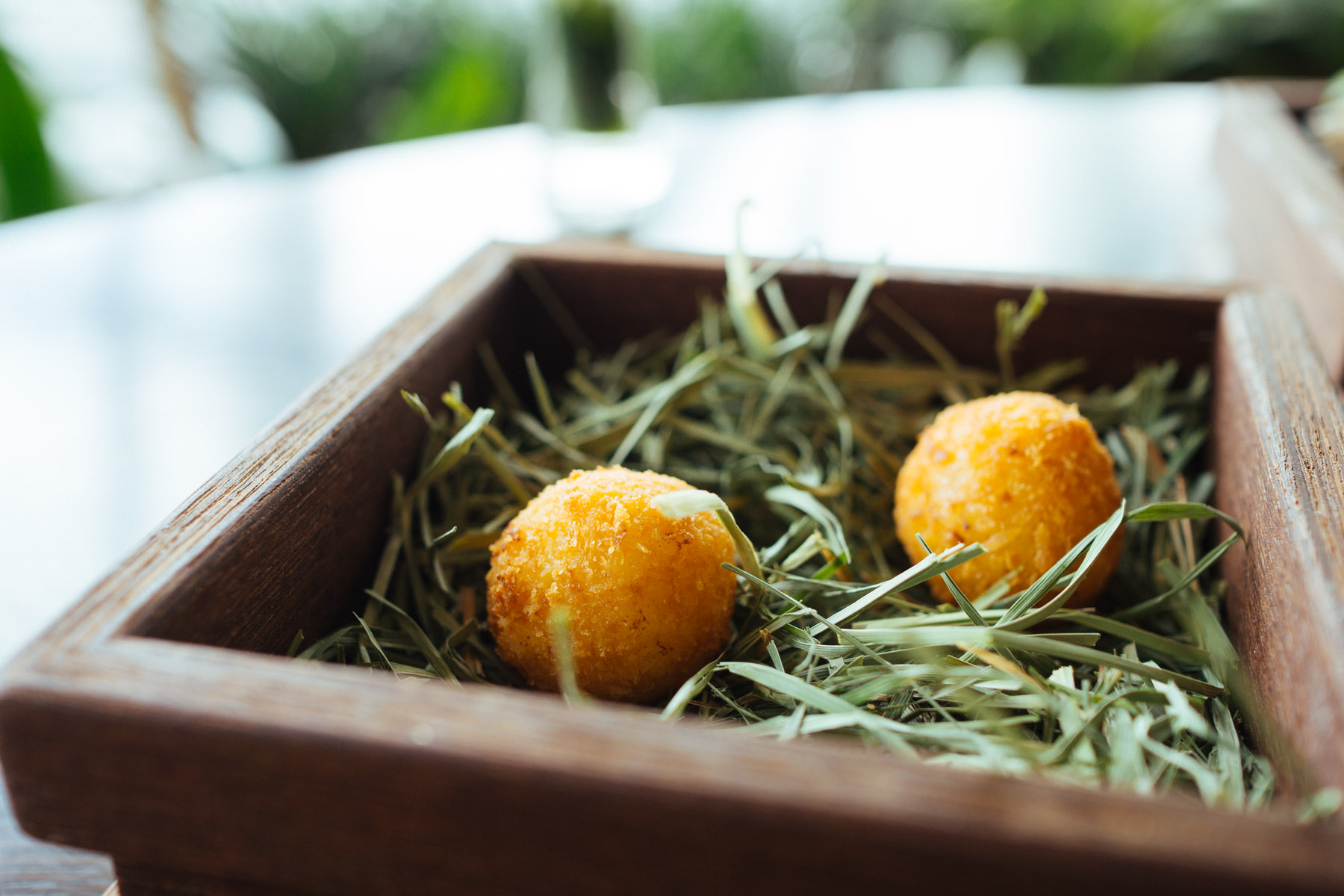 Arancini or deep fried risotto balls were amazeballs with a crunchy crust surrounding the cheesy risotto center.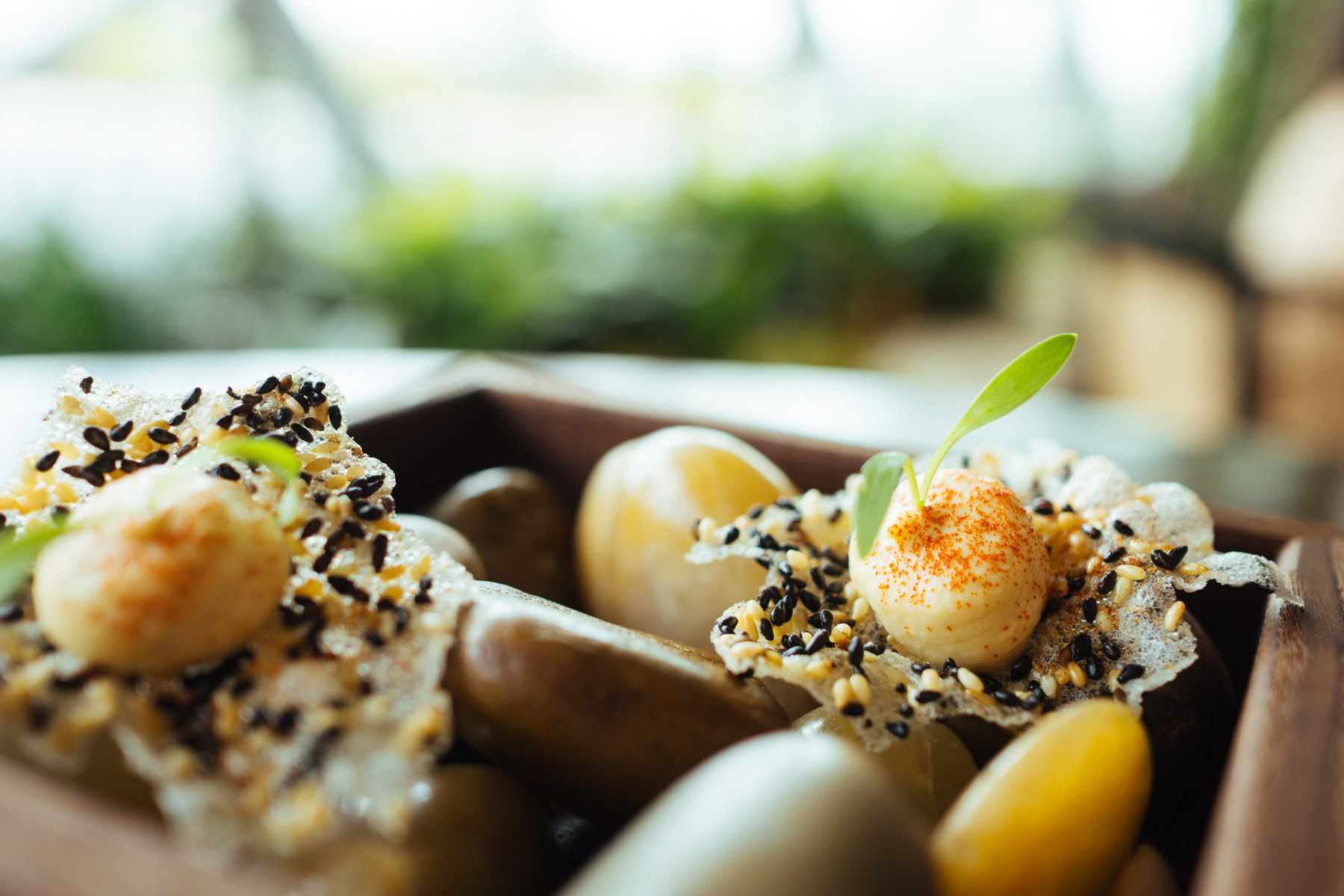 Black and white sesame chips with humus were super light and crispy.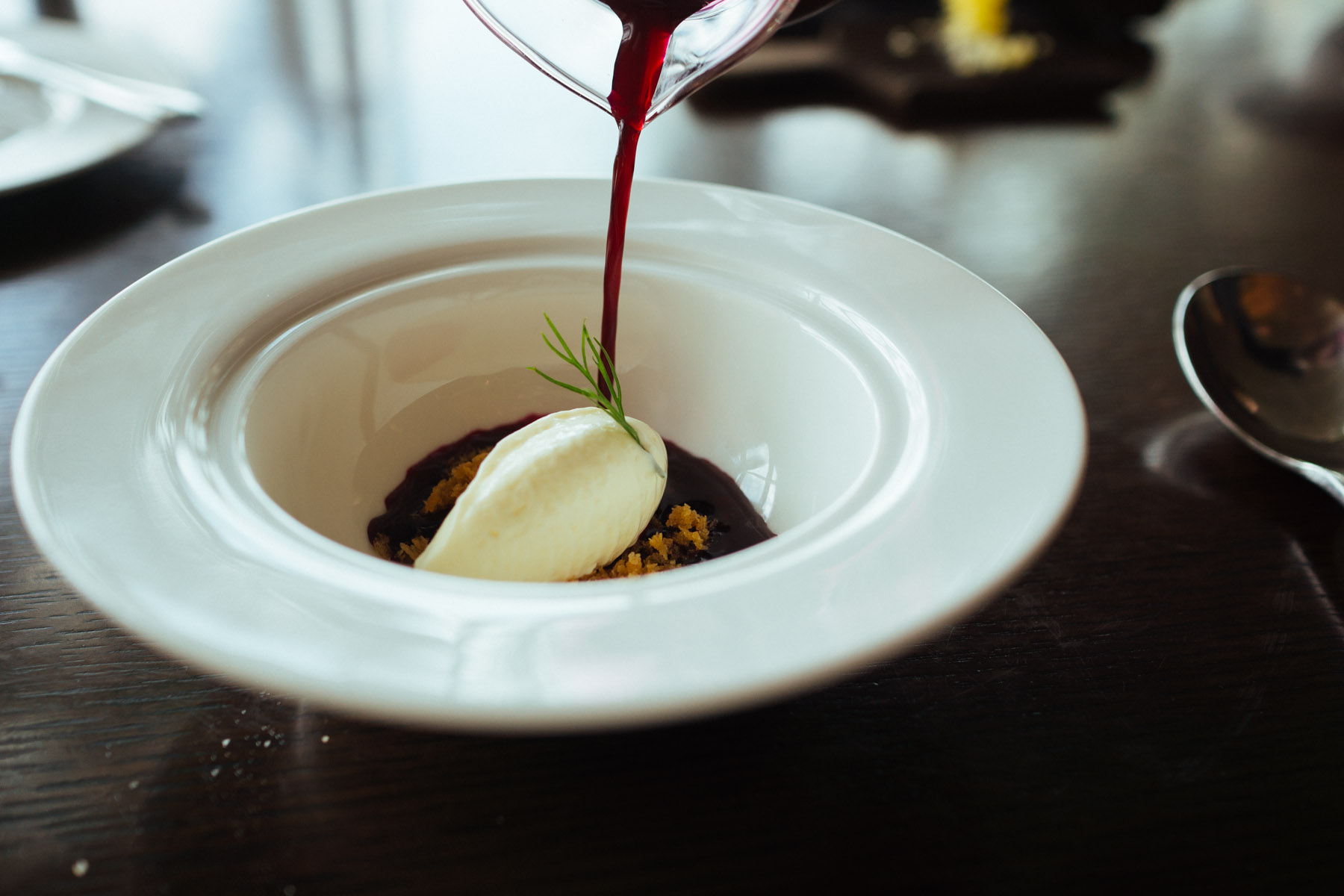 Amuse bouche of horseradish ice cream with beetroot juice. This was actually one of my favorite things we ate at Pollen. The horseradish ice cream was mad creamy with a nice kick and the addition of the sweet refreshing beetroot juice tied everything together. The dish also had tiny bits of crunchy breadcrumbs. Soooo good and we're sure worthy of Dwight Schrute's stamp of approval !!!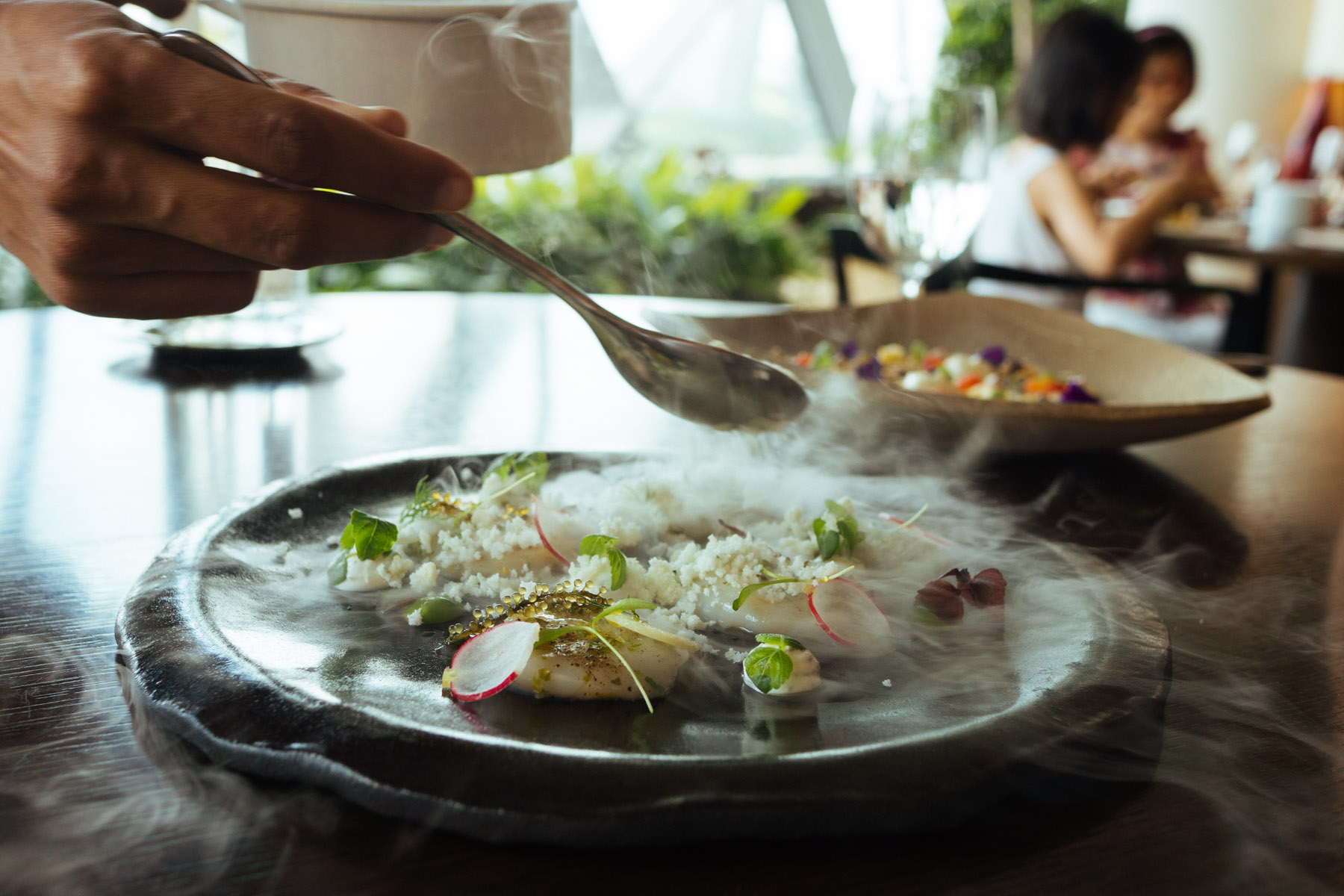 Carpaccio of Hokkaido scallops with guava, dill yogurt and seaweed oil finished with frozen apple and wasabi (S$38 SGD or $30 USD). The frozen apple and wasabi had a little liquid nitrogen in it to give it that smoky irie effect. The scallops were sweet, plump and extremely fresh. I loved the dill yogurt with the tender scallops and thin slices of crunchy radish.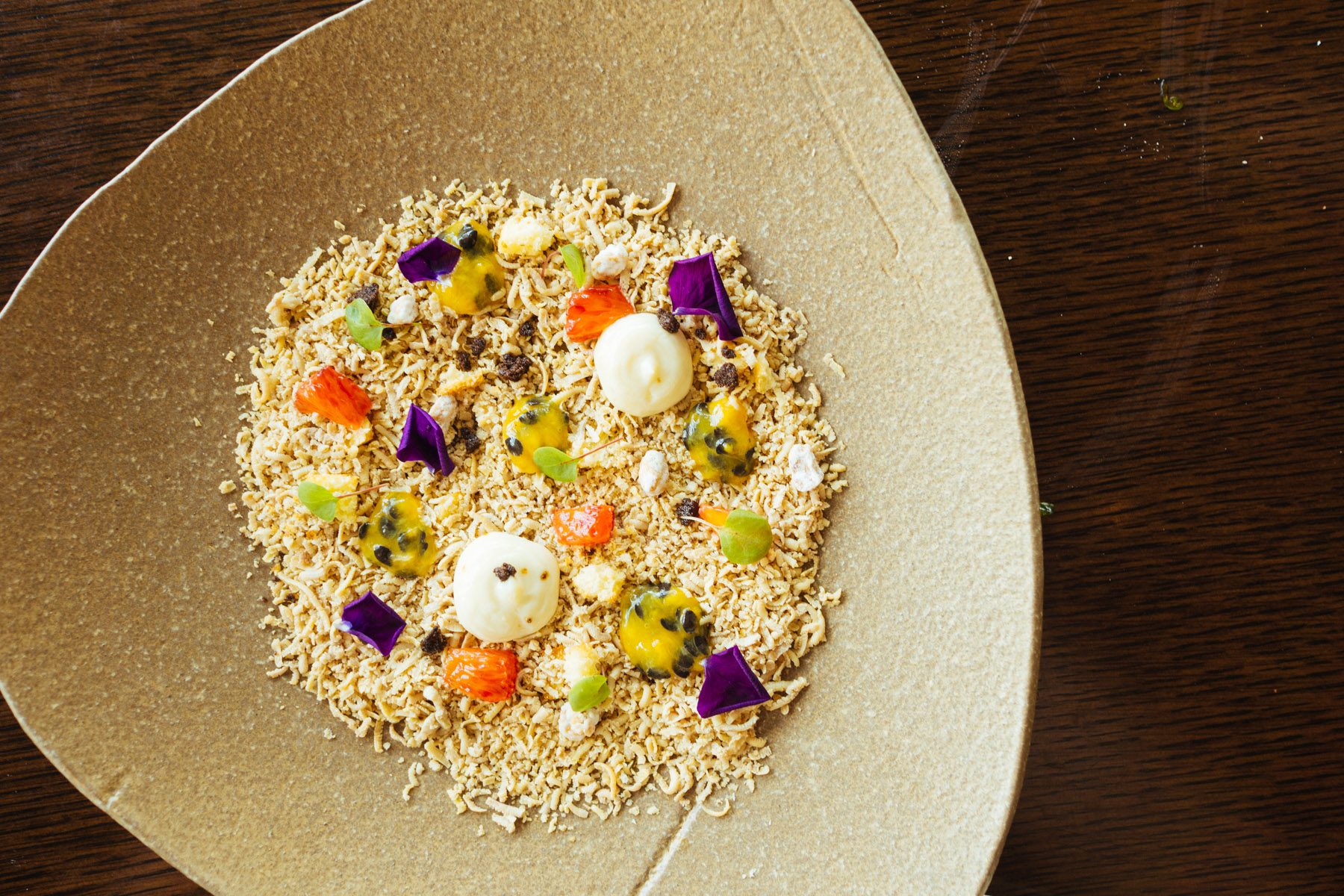 Another amazing dish we had was the shaved cured foie gras with smoked passion fruit, almonds, and muscovado (S$38 SGD or $30 USD)! The foie gras was rich and creamy with crunchy bits of sweet caramelized muscovado and almonds. The passion fruit and chunks or blood orange was also a nice touch balancing out the dish a bit.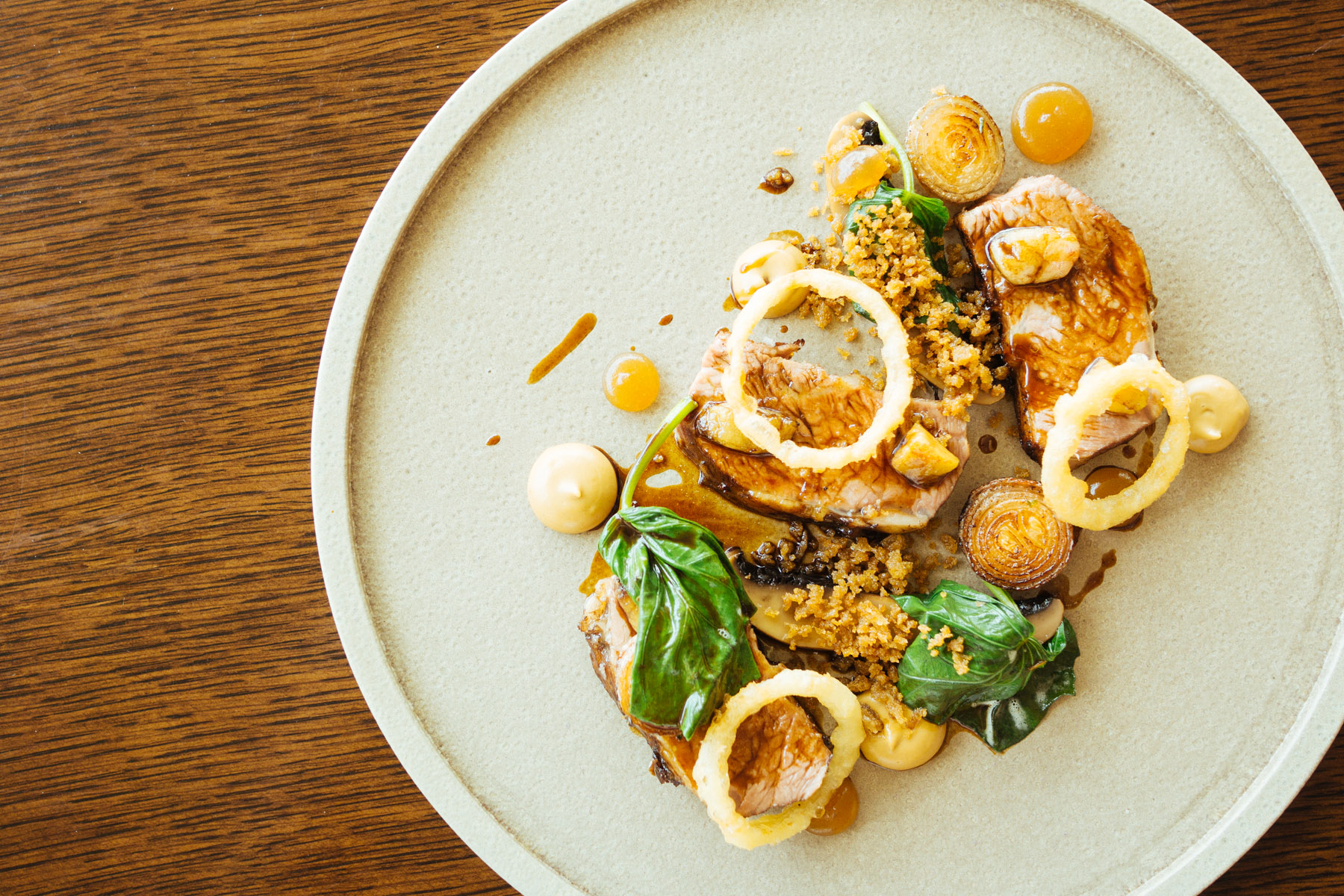 For our entrée, we shared the Wagyu beef short rib with confit Portobello mushrooms, smoked onions, bone marrow and timut pepper gel (S$68 SGD or $54 USD). The Wagyu beef was mad flavorful and succulent surrounded by perfect caramelized baby onions and mini crispy onion rings.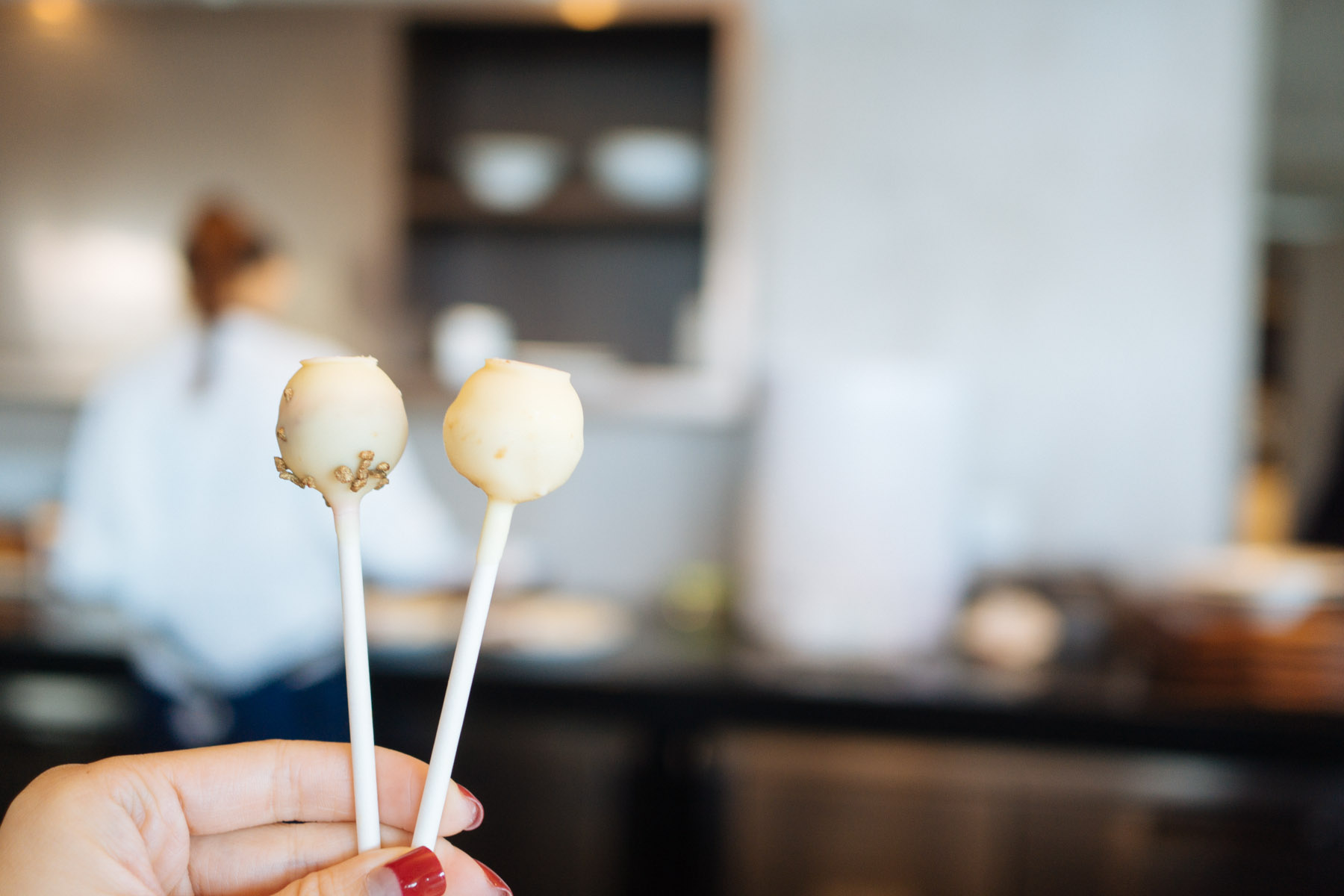 Next we moved over to the Dessert Bar where we met the lovely Pastry Chef Monica who greeted us with raspberry and yuzu cheesecake pops!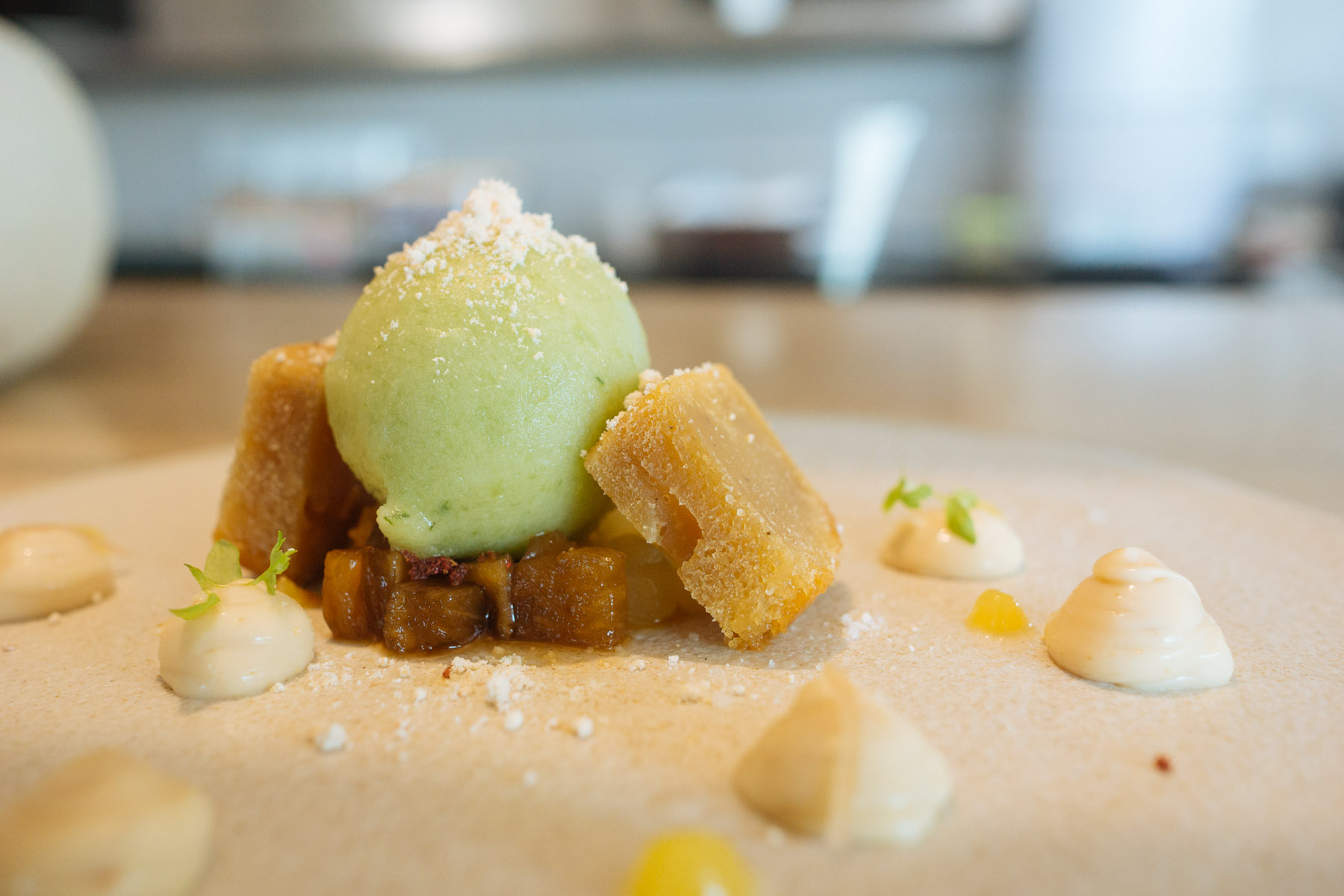 We ordered the Rojak (S$20 SGD or $16 USD) which is a sweet yet savory Malaysian, Singaporean and Indonesian fruit and vegetable dish served in a plethora of ways usually served at Hawker centers or on the street. Pollen's rendition of Rojak consisted of pineapple cake, cucumber sorbet, marinated cucumber, crunchy peanut cream, peanuts, and ginger flowers. The pineapple cake was moist and delicious on its own or combined with the rest of the components. The cucumber sorbet was extremely refreshing and the peanut cream was crunchy, nutty and hella addictive.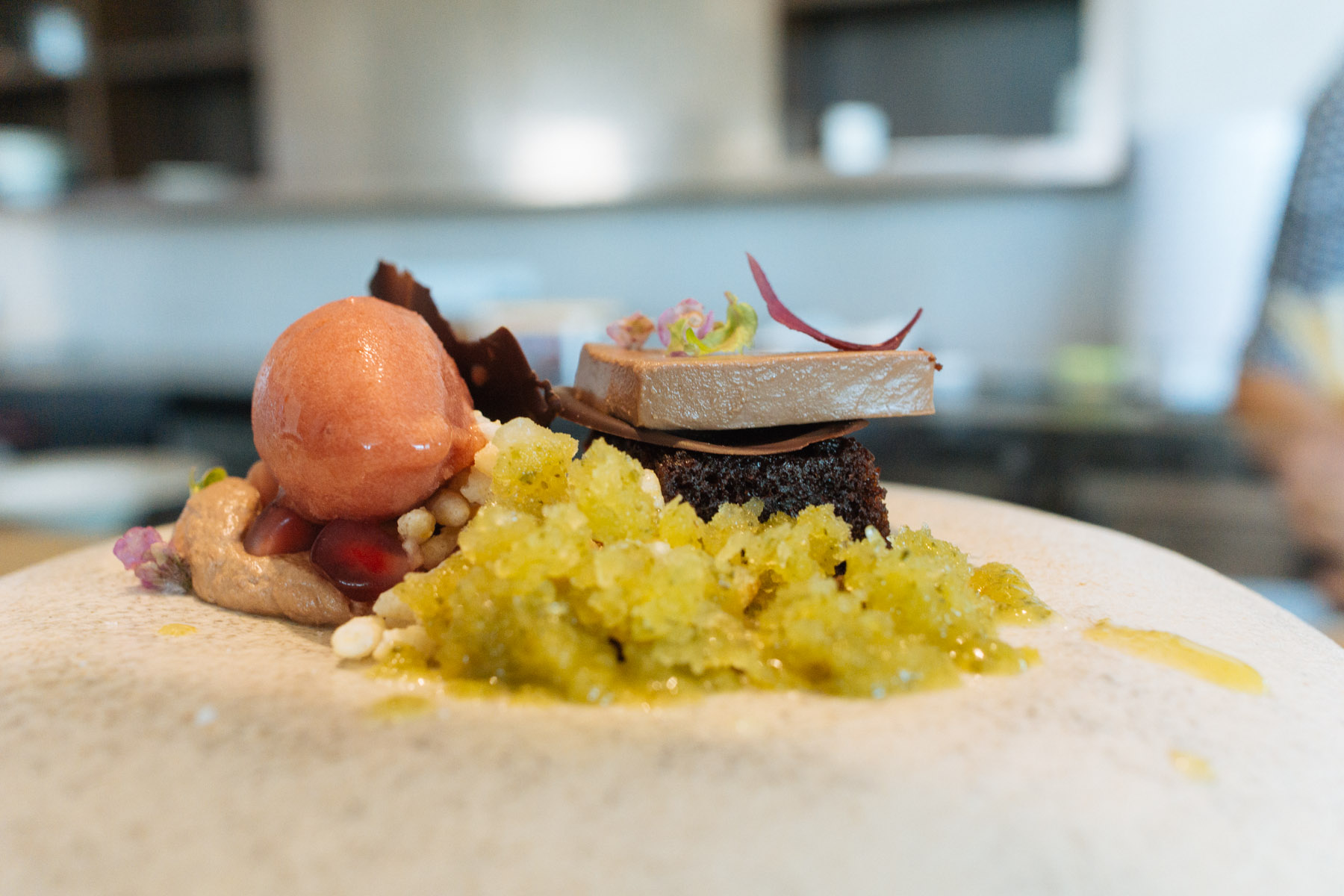 Pollen's signature dessert, JAAL, was up next (S$20 SGD or $16 USD), a combination of dark plum sorbet, Pollen's 76% chocolate, pomegranate, green and purple oba, and puffed rice. This was the perfect way to wrap up our meal. I loved the combination of the sour dark plum sorbet with the bittersweet chocolate along with bits of crispy puffed rice and hints of oba.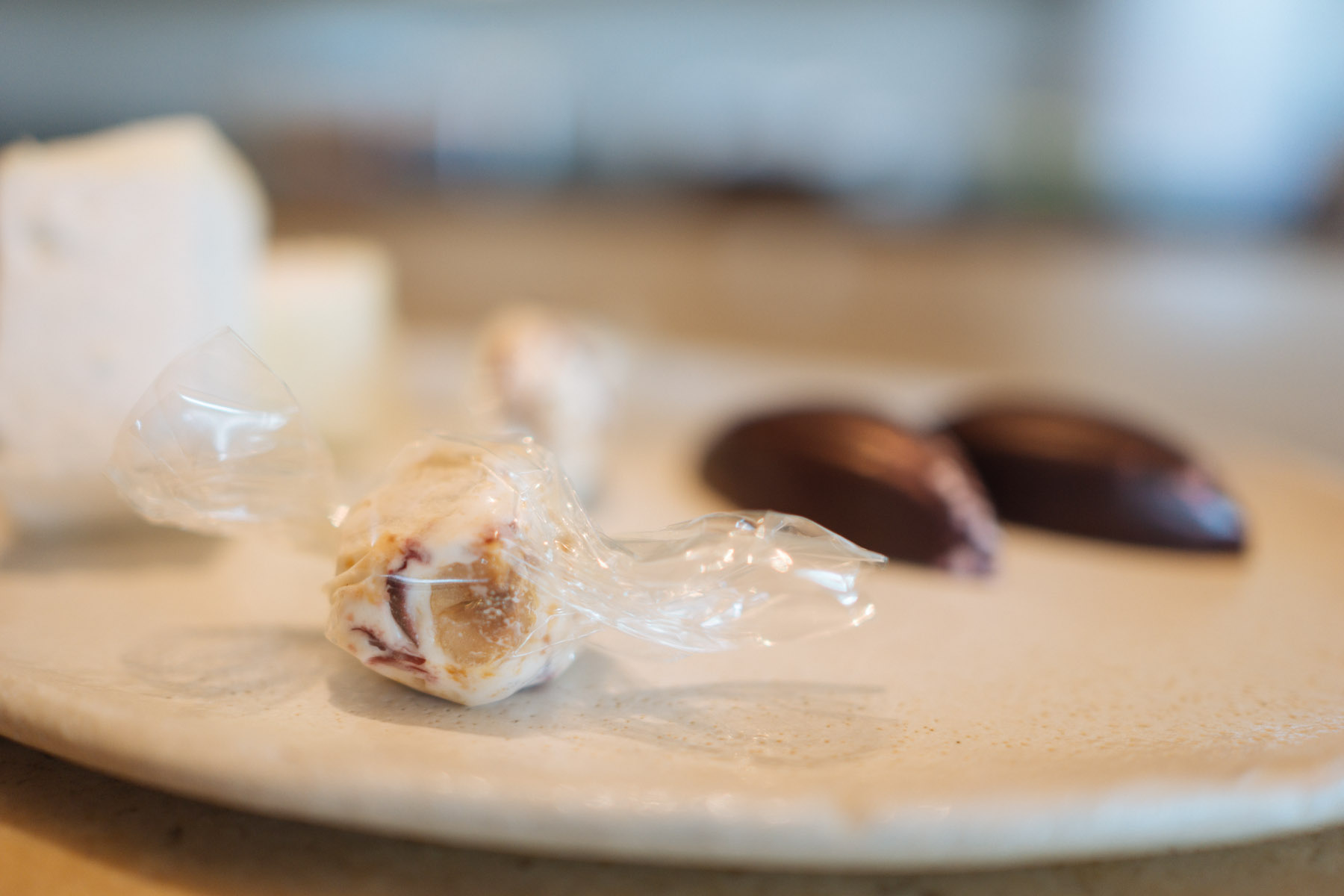 Petit Fours to finish – coconut marshmallows, mixed berry yogurt nougats, and more chocolate !!!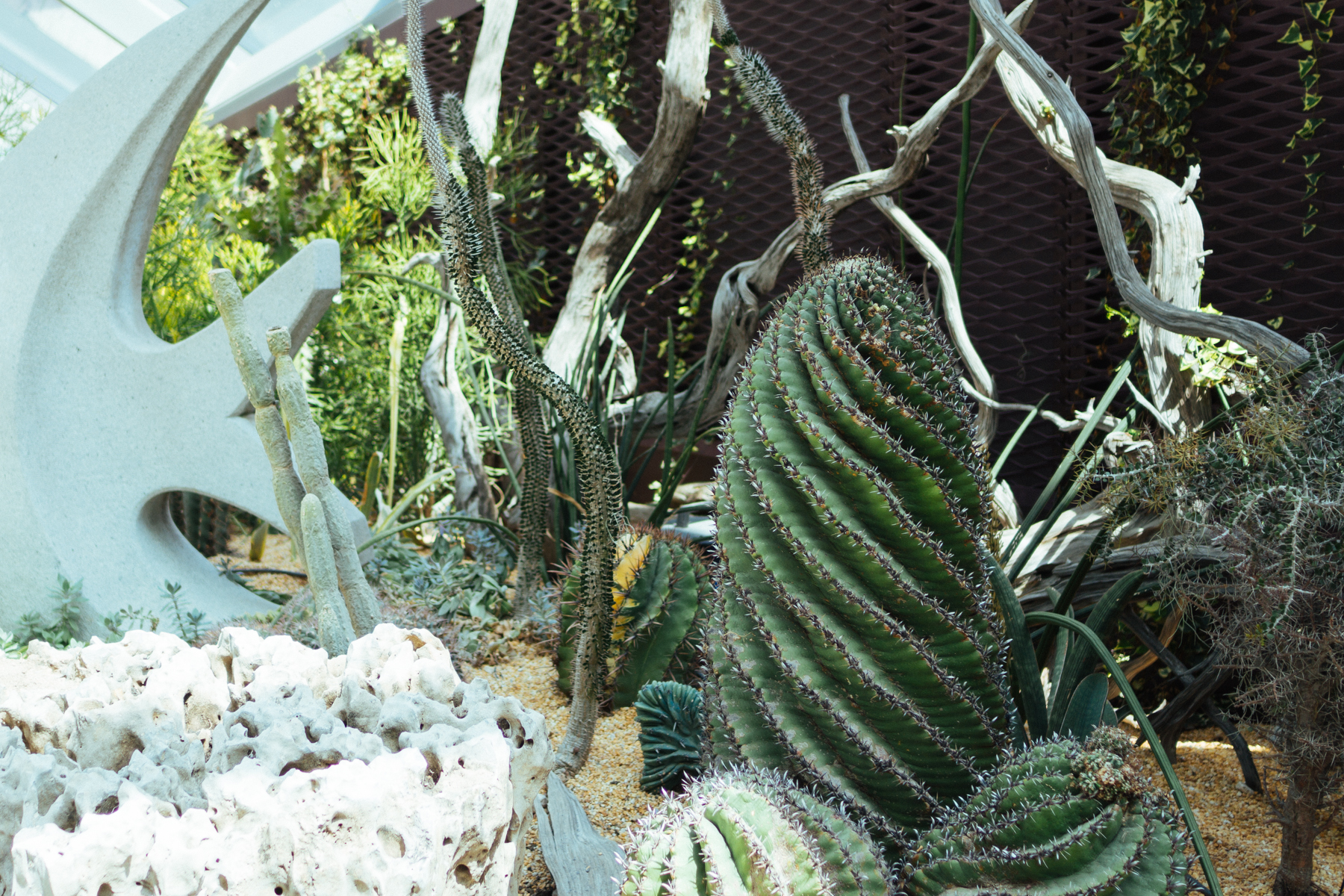 Remember to check out the gardens once you're done eating your meal! #plantporn.

View Larger Map
18 Marina Gardens Dr
Singapore 018953
p: +65 6557 2797
w: www.pollen.com.sg
Lunch: 12-2:30pm
Afternoon Tea: 3-5pm
Dinner: 6-10pm
Brunch, Dinner, European, Lunch, Mediterranean, Singapore