Seoul Food: Guide On What to Eat in South Korea
Seoul is a city that literally never sleeps. There's no point in getting up early, the city comes to life at night. South Koreans don't fux around when it comes to alcohol or food. Alcohol and food come hand-in-hand. Seoul is a place where you'll find yourself eating and drinking non-stop. The alcohol part is pretty straight forward, SOJU, aka Korean fire water. The food part can be a little tricky, so here's a little guide on Seoul-food. You can find most of this stuff is in the main shopping area in Myeongdong. I'm going to skip most of the basic stuff and assume you already know about kimchi, barbecue and whatever else your local Korean restaurant serves and dive into the real deal.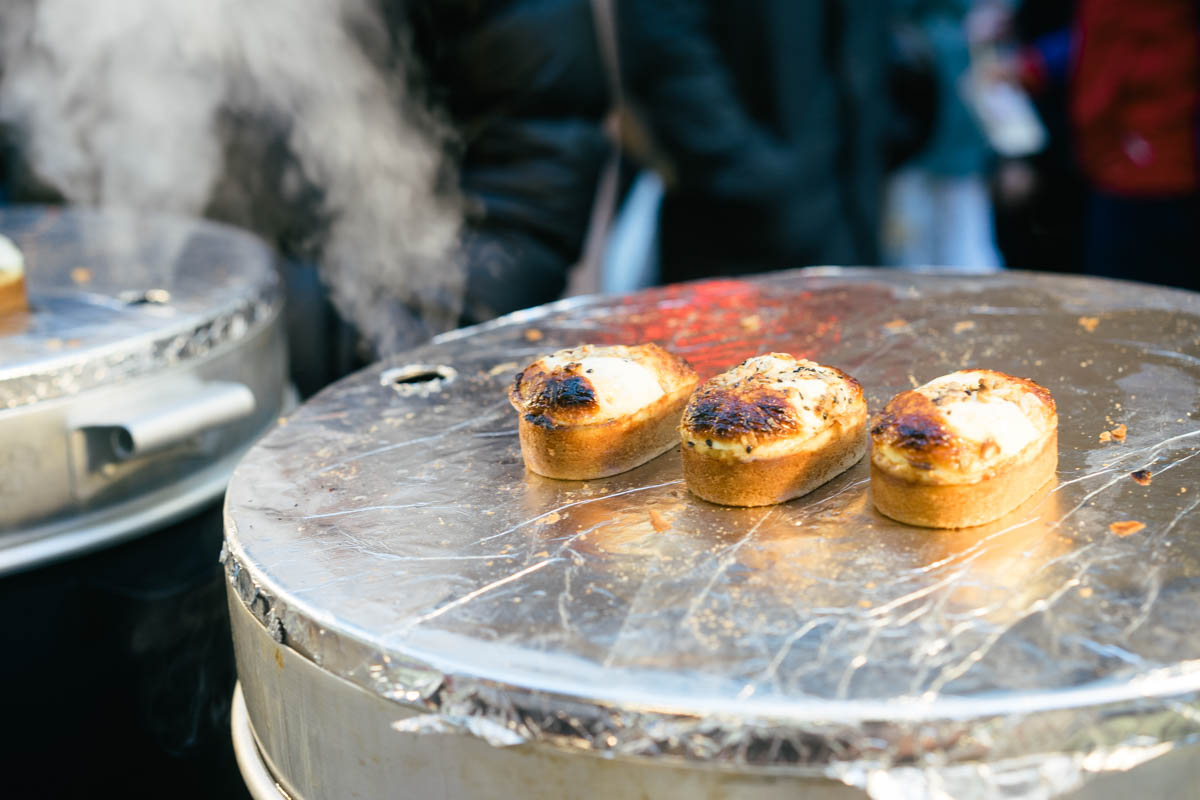 Gyeran Bbang 계란 빵
Gyeran Bbang or Gaeran Bbang translates to "Egg Bread." Gyeran Bbang are sweet steamed muffins topped with a soft cooked egg and sunflower seeds. It's an OG Korean street food commonly found in the winter. The best Gyeran Bbang are moist, not too sweet, topped made with soft cooked eggs and sprinkled with sunflower seeds. Avoid the Gyeran Bbang with hard-cooked eggs, they tend to be really dry and dense.
It should look like this!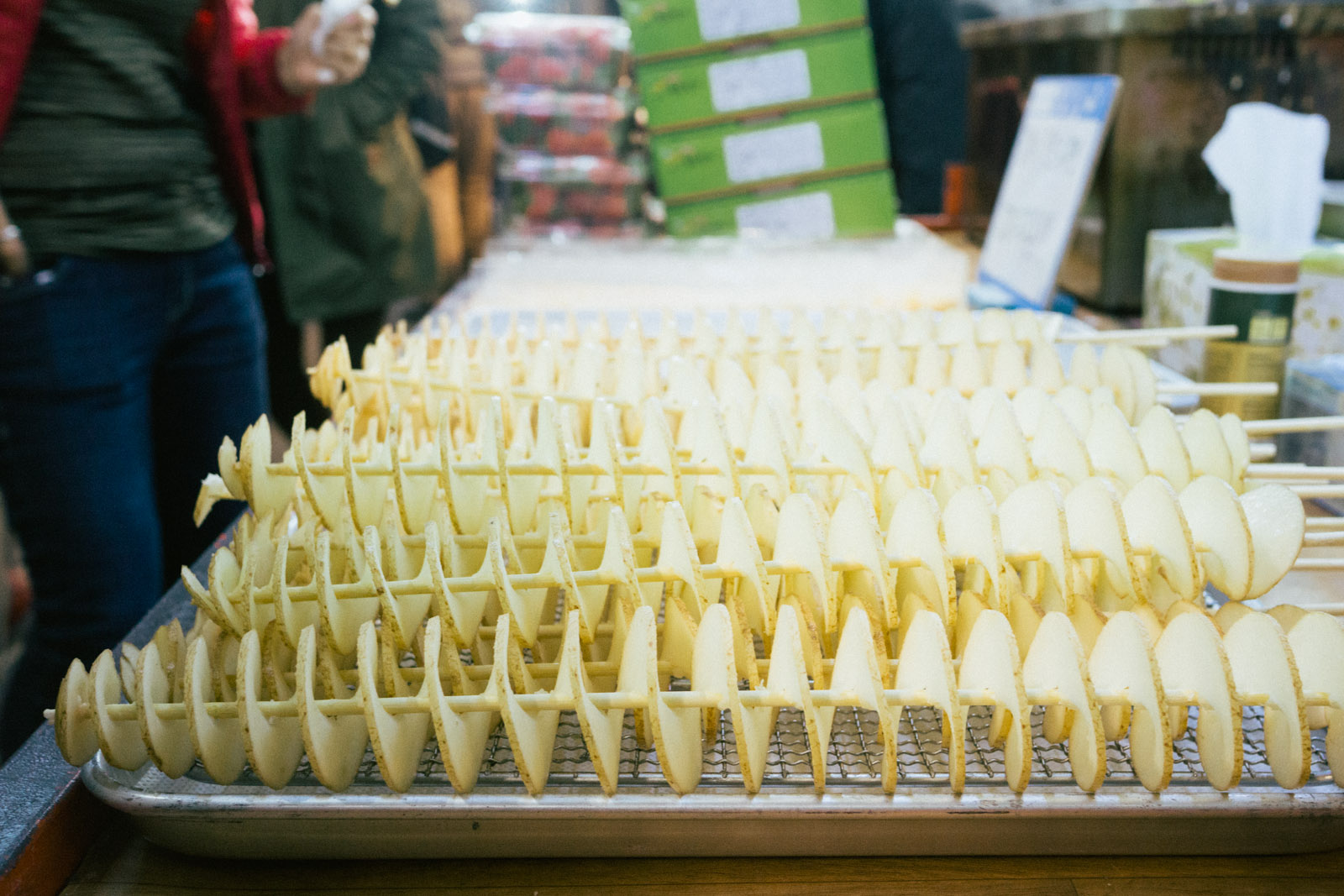 Tornado Potato
Tornado Potato is essentially a massive curly fry using an entire potato served on a stick. It tastes like a cross between French fries and potato chips. You can get different flavors, but my favorite is cheese. You can get ones wrapped around a thick, long,  juicy hot dog as well. Tornado Potato is a pretty common Asian street food snack and not really unique to Seoul, but it's mad tasty.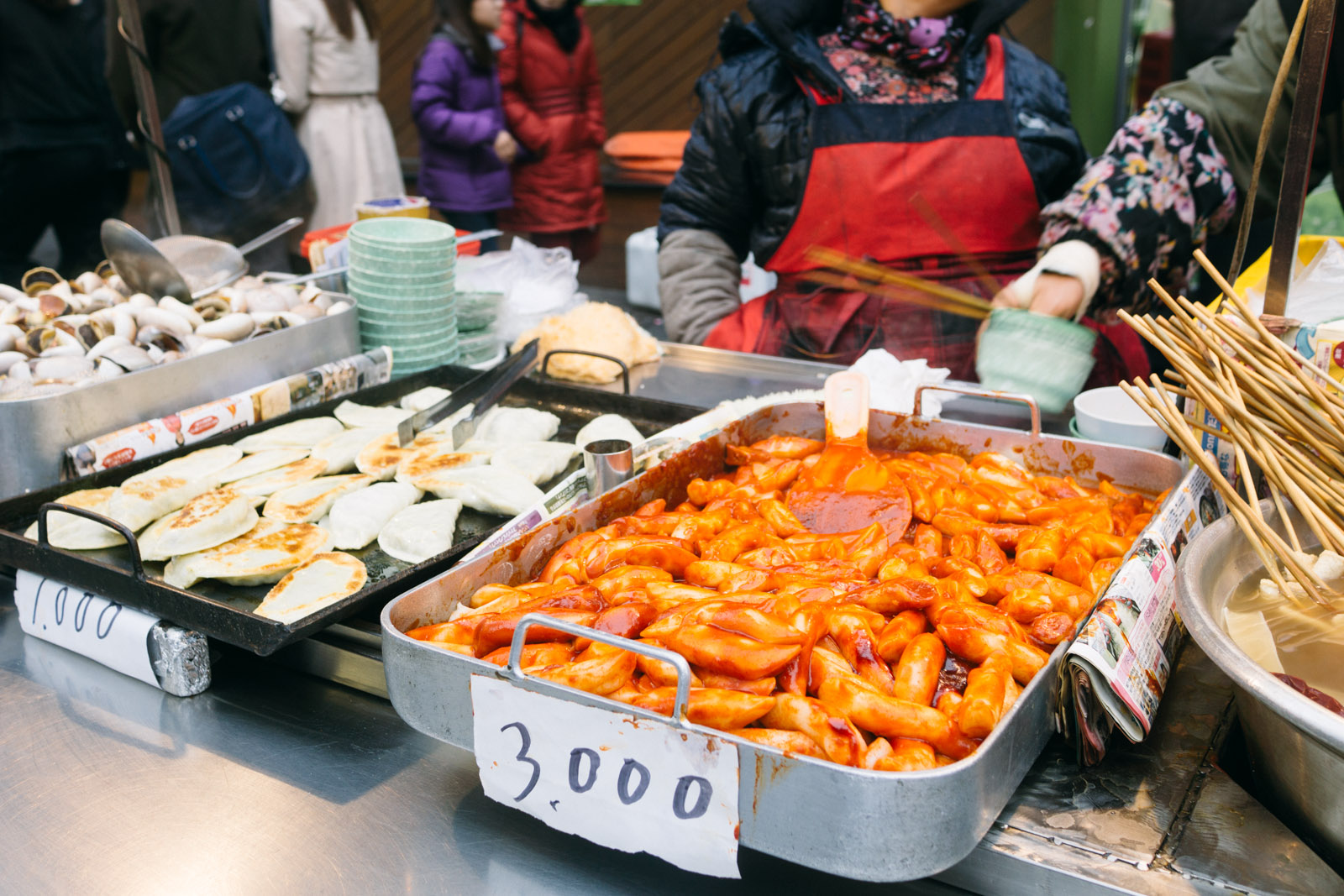 Tteokbokki 떡볶이
Tteokbokki is a Seoul street food staple. They're Korean rice cakes bathing in a sweet red chili sauce. Tteokbokki has a similar texture to mochi or gnocchi, it's chewy and doesn't have much flavor when eaten on its own which is why it's usually served slathered in some type of sauce. Tteokbokki is readily available and often prepared with sliced fish cakes.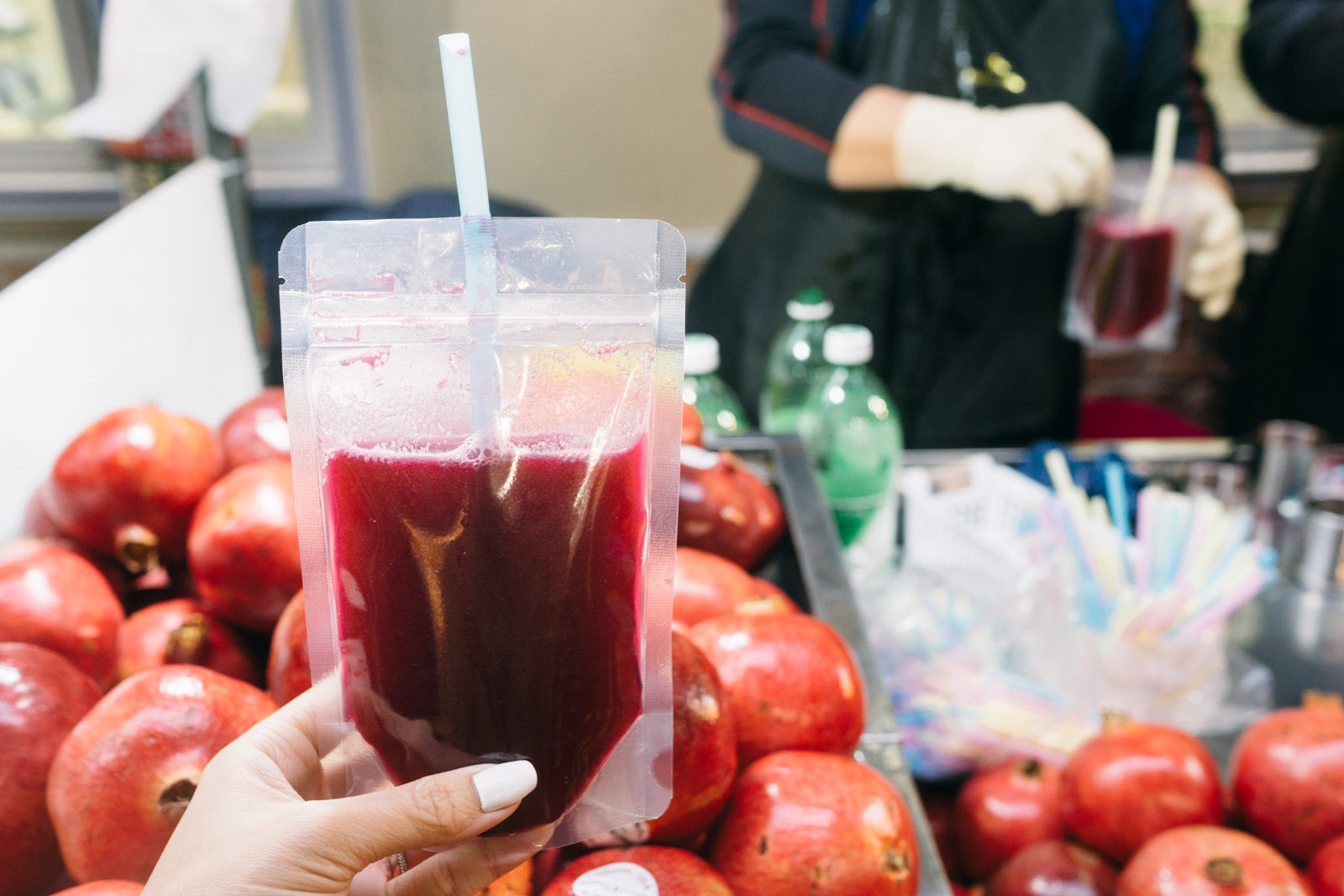 Pomegranate Juice
This stuff isn't cheap, but so good for you and tastes amazing. South Koreans love this ish, packed with vitamins, antioxidants, polyphenols and fiber. You can find freshly pressed pom juice served in bags on the street.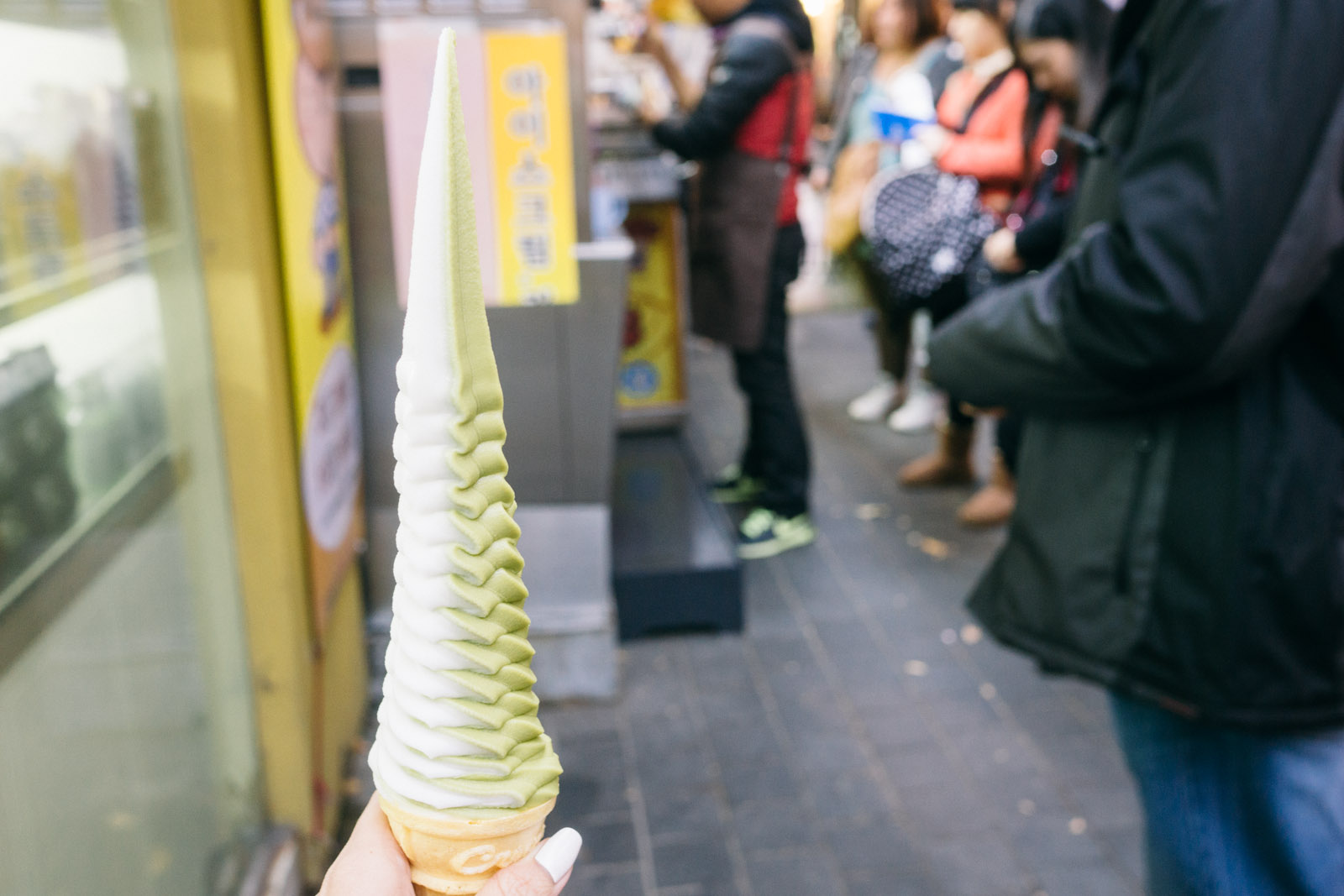 Foot-long Ice Cream
Not the official name, but they literally give you a foot-long worth of soft serve ice cream. Korean ice cream is super good, not too rich with a lighter, icier consistency. The melon flavor is my favorite, it tastes similar to Melona ice cream bars that you can find at 7-Eleven.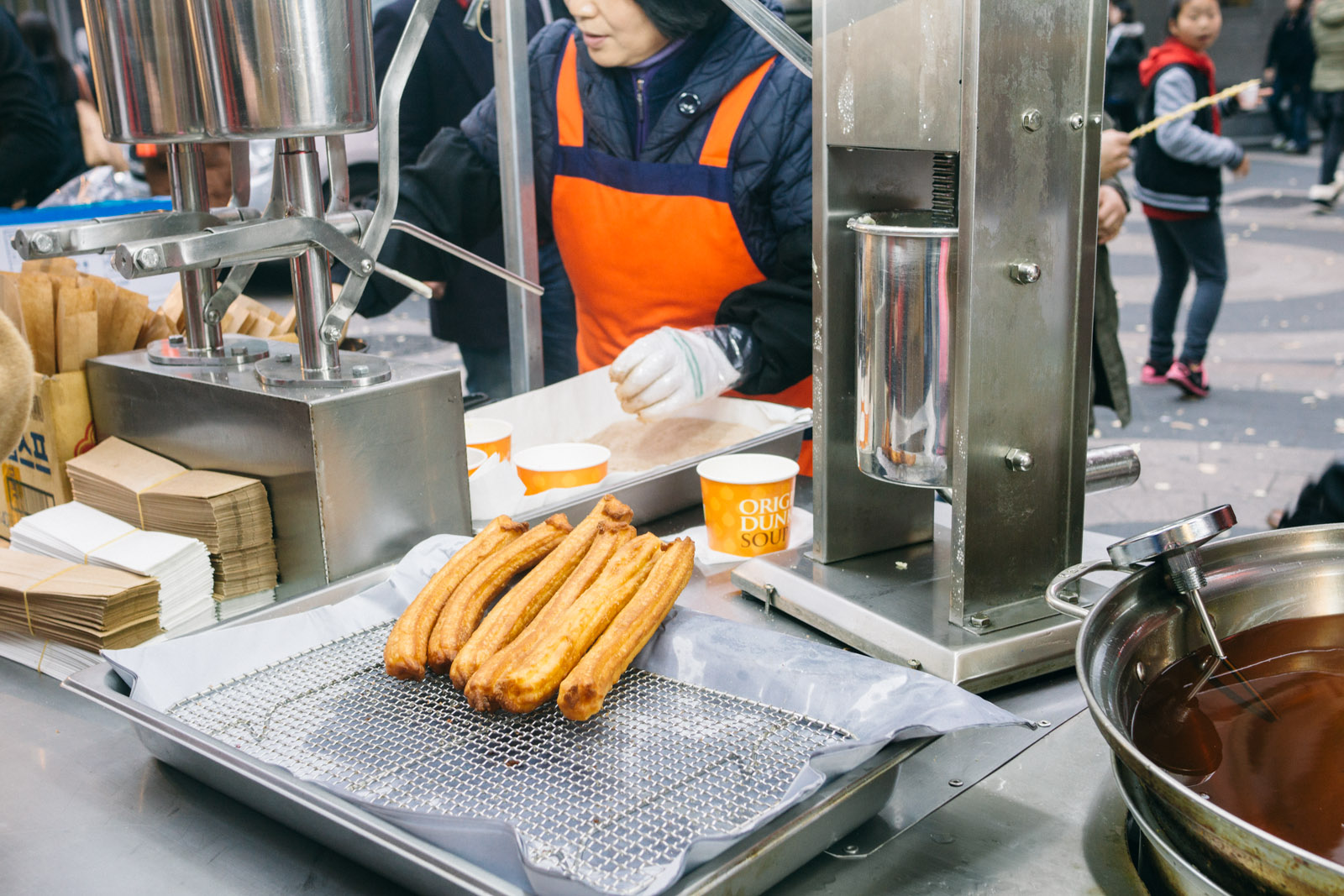 Churros
I have a major soft spot for churros. South Koreans have perfected churros, crunchy with a soft center dusted with sugar and loads of cinnamon.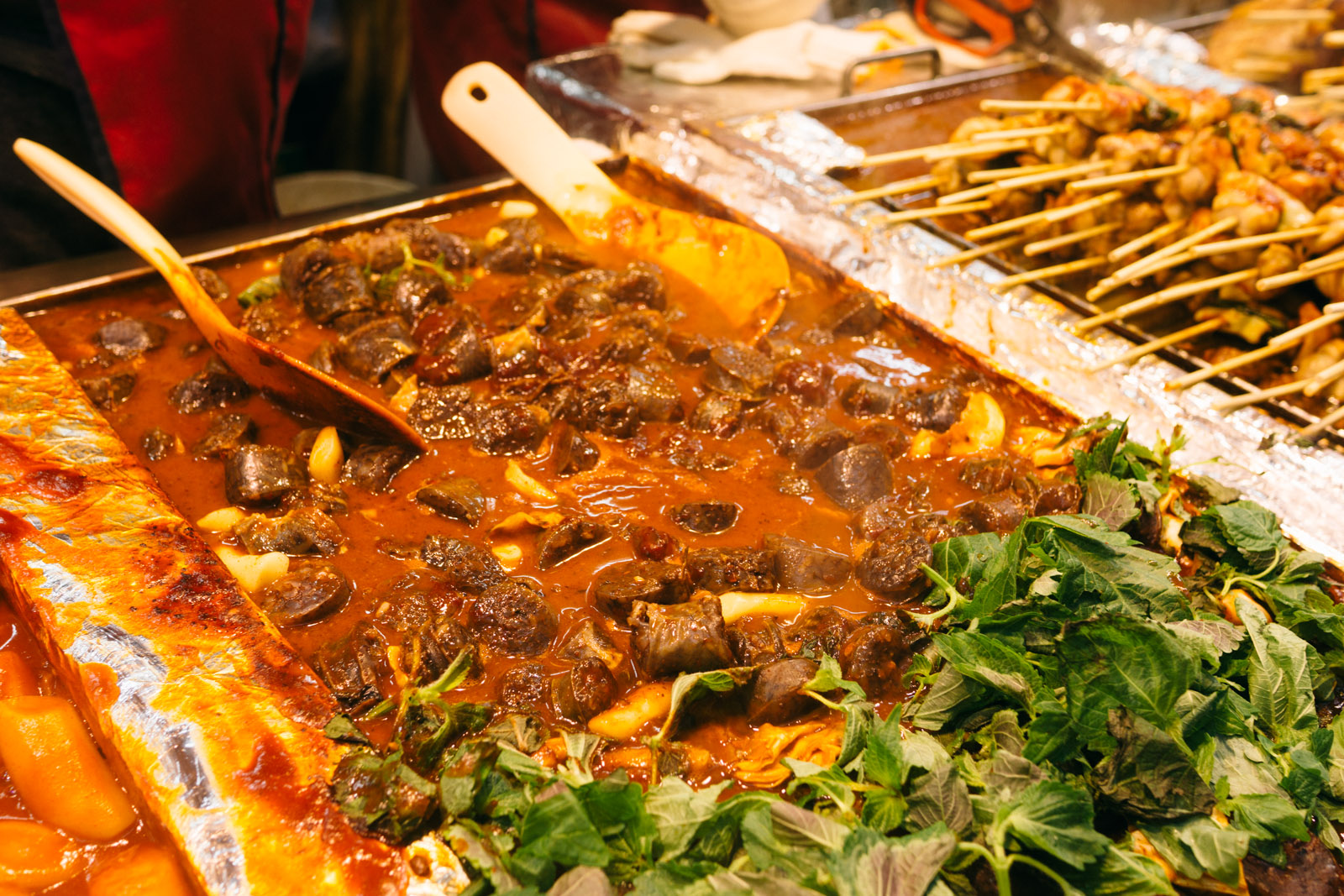 Sundae 순대
Not to be confused with ice cream sundaes. This is far from the American dessert that everyone loves. Sundae or Soondae is a type of Korean blood sausage made by boiling or steaming cow or pig's intestines stuffed with various ingredients. The most common stuffing is a mixture of pork blood and cellophane noodles. It's not too far from haggis or black pudding. Sundae is often served on its own or pictured above smothered in chili sauce.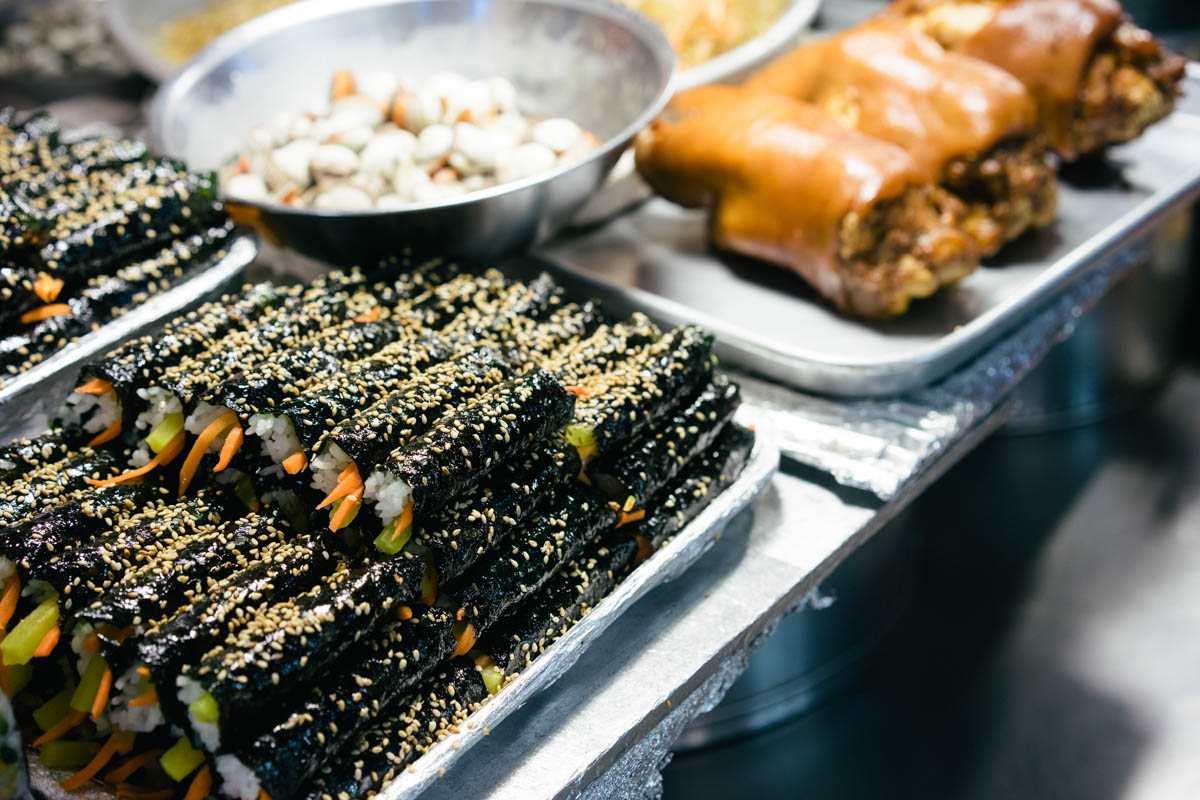 Gimbap 김밥
Gimbap, also spelled kimbap is essentially Korean sushi which was adopted from the Japanese futomaki during the Japanese rule of Korea. There are a ton of different variations, but the most basic Gimpab consists of rice, pickled vegetables and eggs wrapped in seaweed.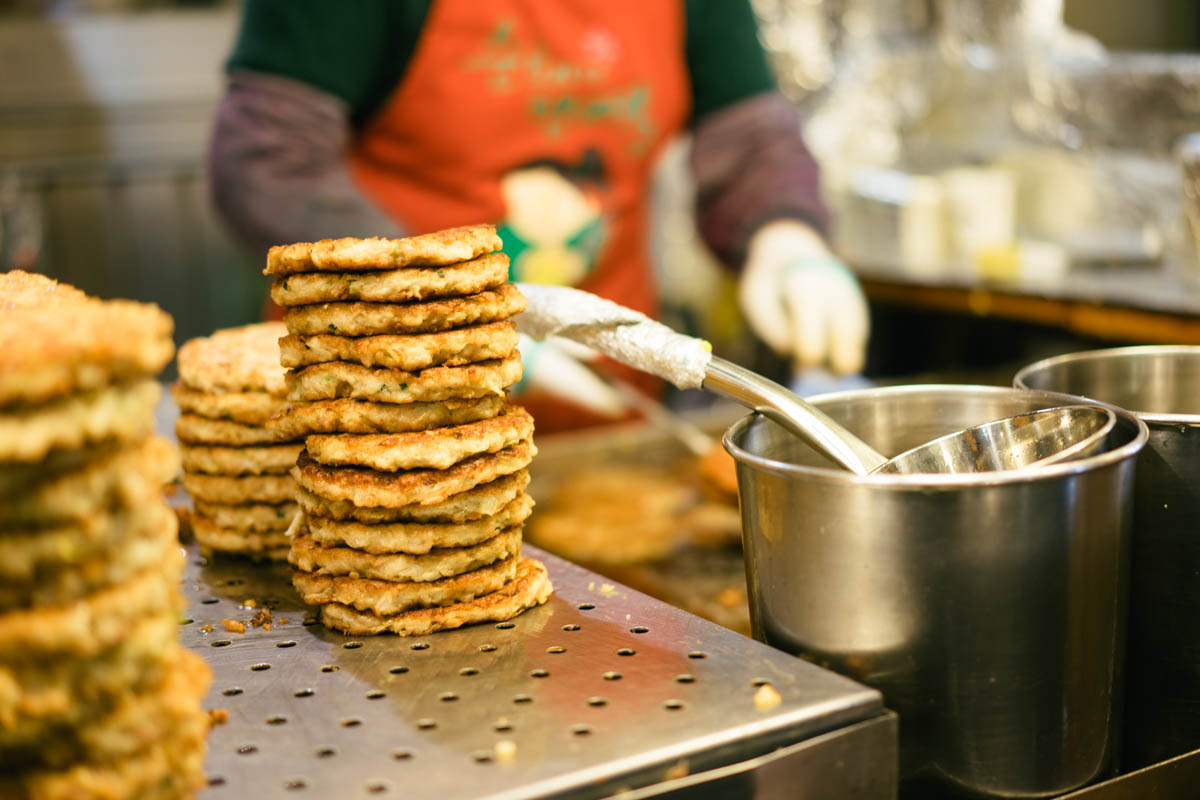 Bindaetteok 빈대떡
Bindaetteok is a Korean pancake made of ground mung beans, with green onions, kimchi, or peppers cooked in a frying pan. The best spot to find Bindaetteok is at Gwangjang market. This street has a plethora of street food, but it's the go-to spot for Bindaetteok.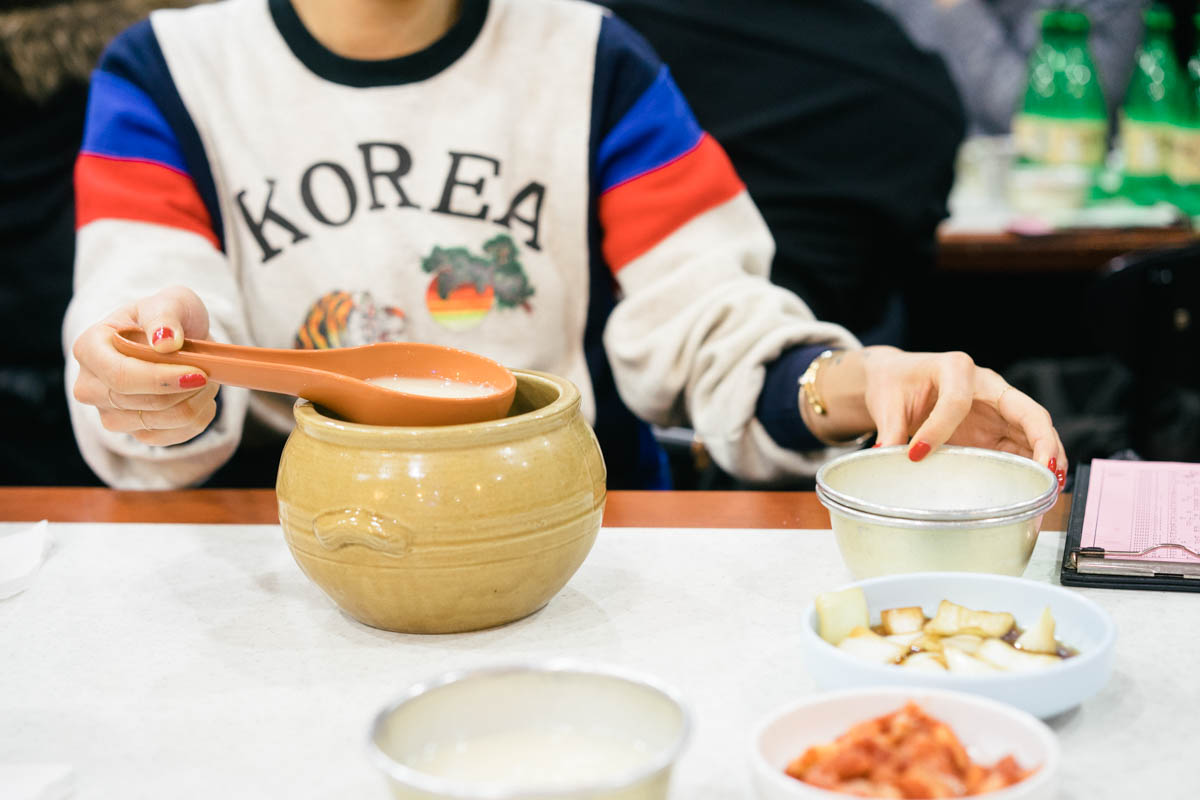 Makgeolli 막걸리
I'm all about the Makgeolli also known as makkoli. Soju is cheap and gets you from 0 to 100 real quick, but it tastes like rubbing alcohol. If you want something that actually tastes good and doesn't feel like you're drinking cleaning supplies, order Makgeolli. Makgeolli is made from rice or wheat mixed with nuruk, a Korean fermentation starter. It has a milky, off-white color and a natural sweetness. The good stuff is served like this, but you can get cheaper versions that come in bottles.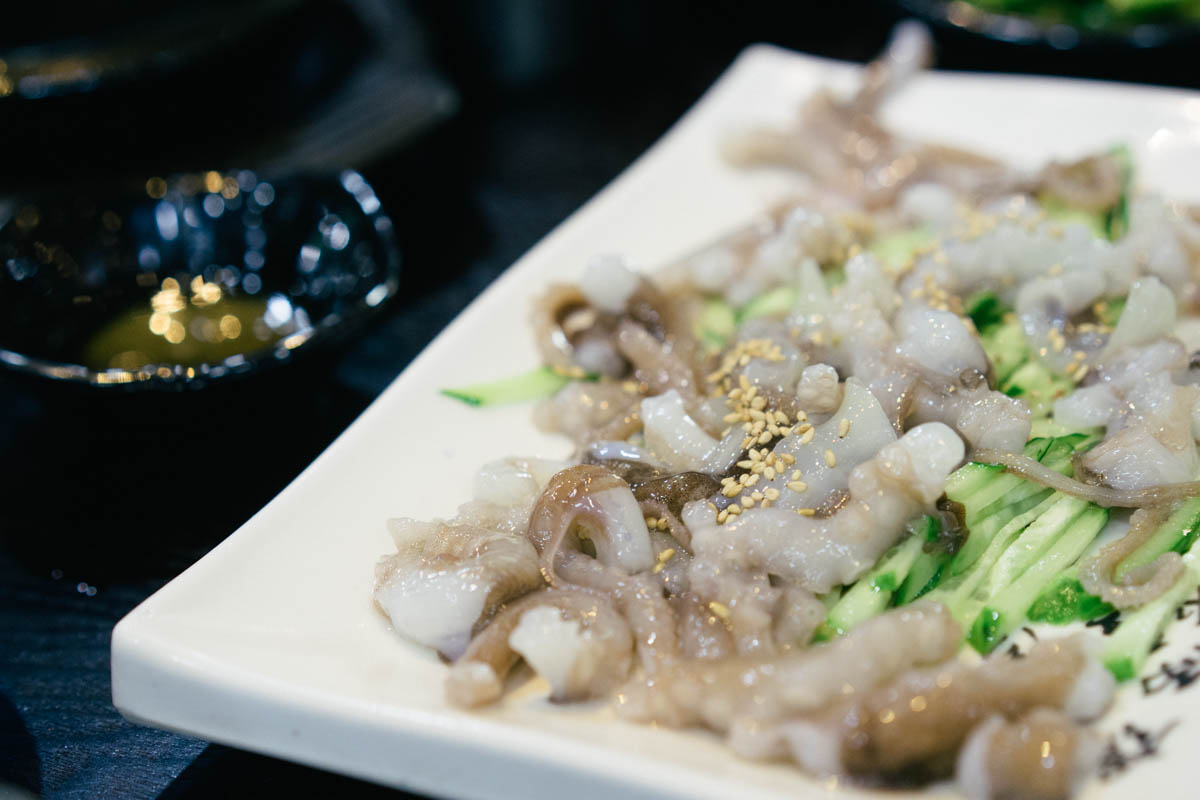 Live Octopus
I ate live octopus, nakji in Korean, in Seoul for the first time a couple months back. The octopus is usually cut into small pieces while it is still very much alive and served immediately seasoned with sesame seeds and sesame oil. The octopus is literally fresh to death, the tentacles squirm because the suction cups on the arm pieces are still active. It doesn't taste much different to fresh octopus, but make sure you chew since the suction cups can cling to your throat causing you to choke.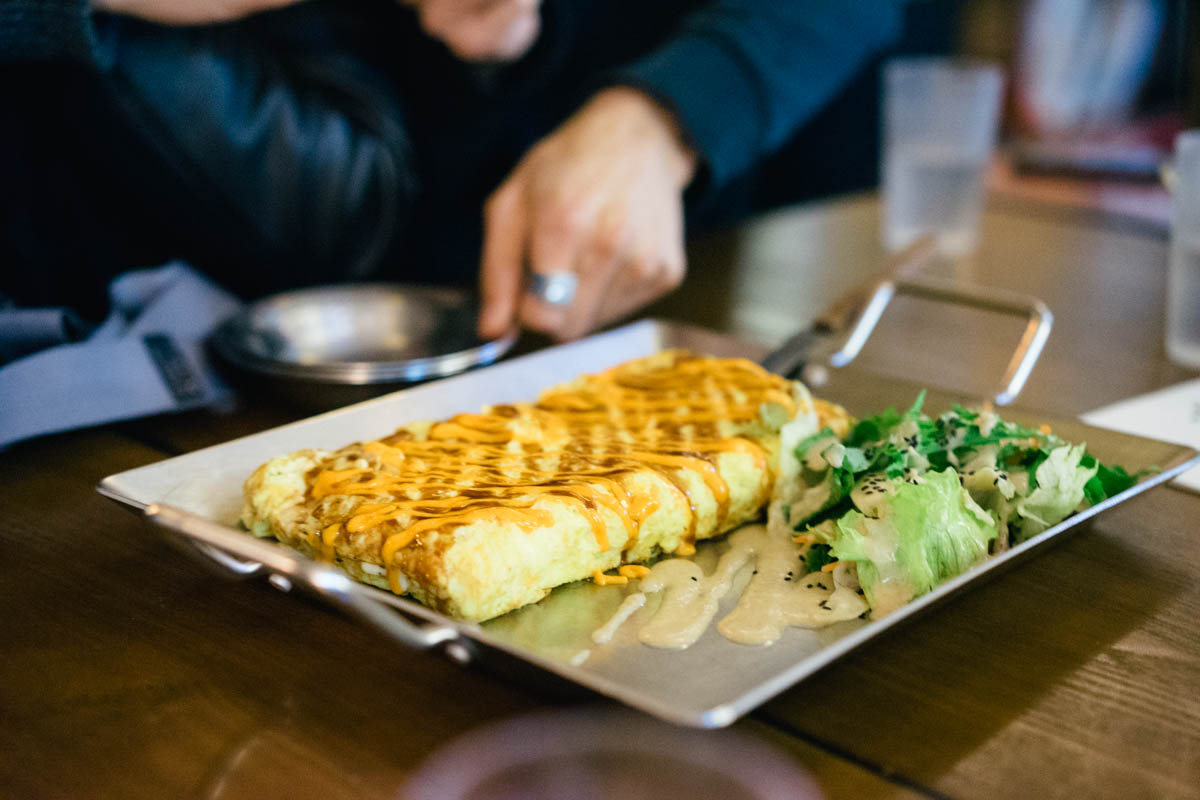 Cheese Omelette
I don't know what this is called in Korean, but it's essentially an omelette stuffed with cheese and finished with ketchup. It's the best when you've had a little too much soju and can be found at most bars.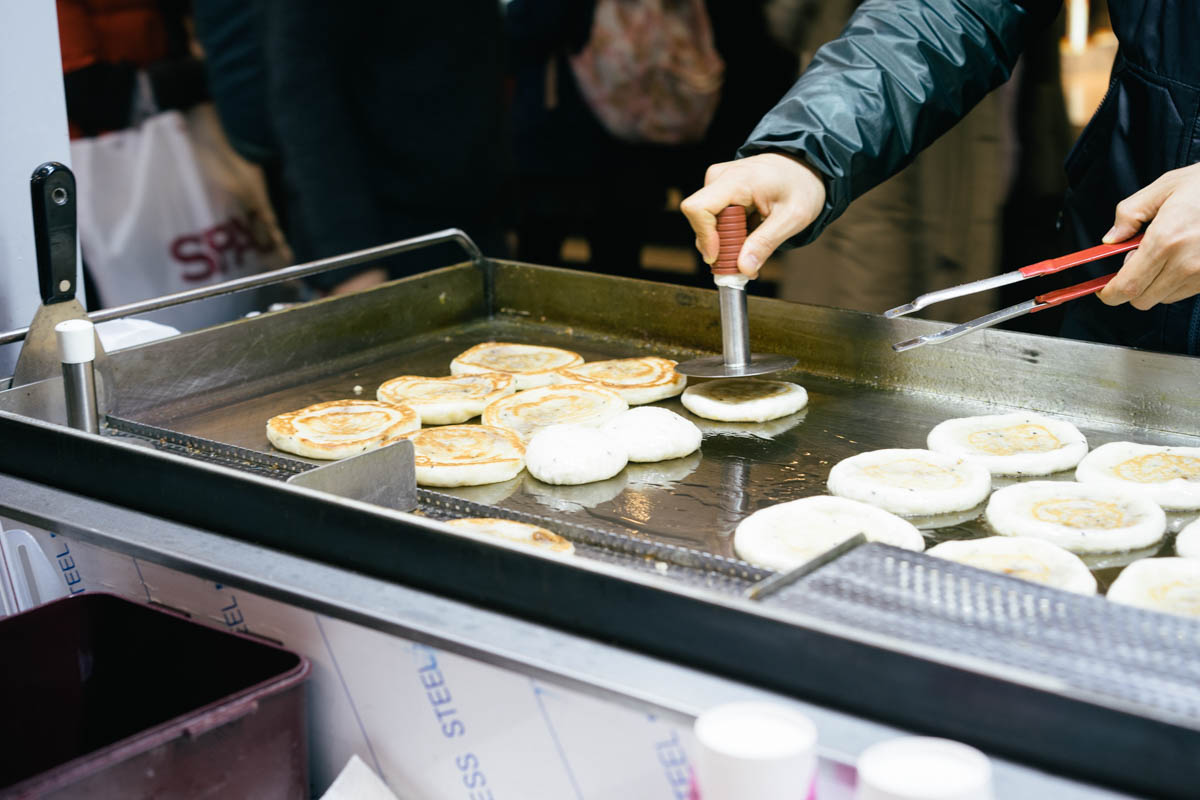 Hotteok
Hotteok is my favorite! Hotteok is a type of chewy Korean pancake filled with brown sugar, peanuts, honey and cinnamon. It's a type of streetfoot sold everywhere and is usually eaten during the winter.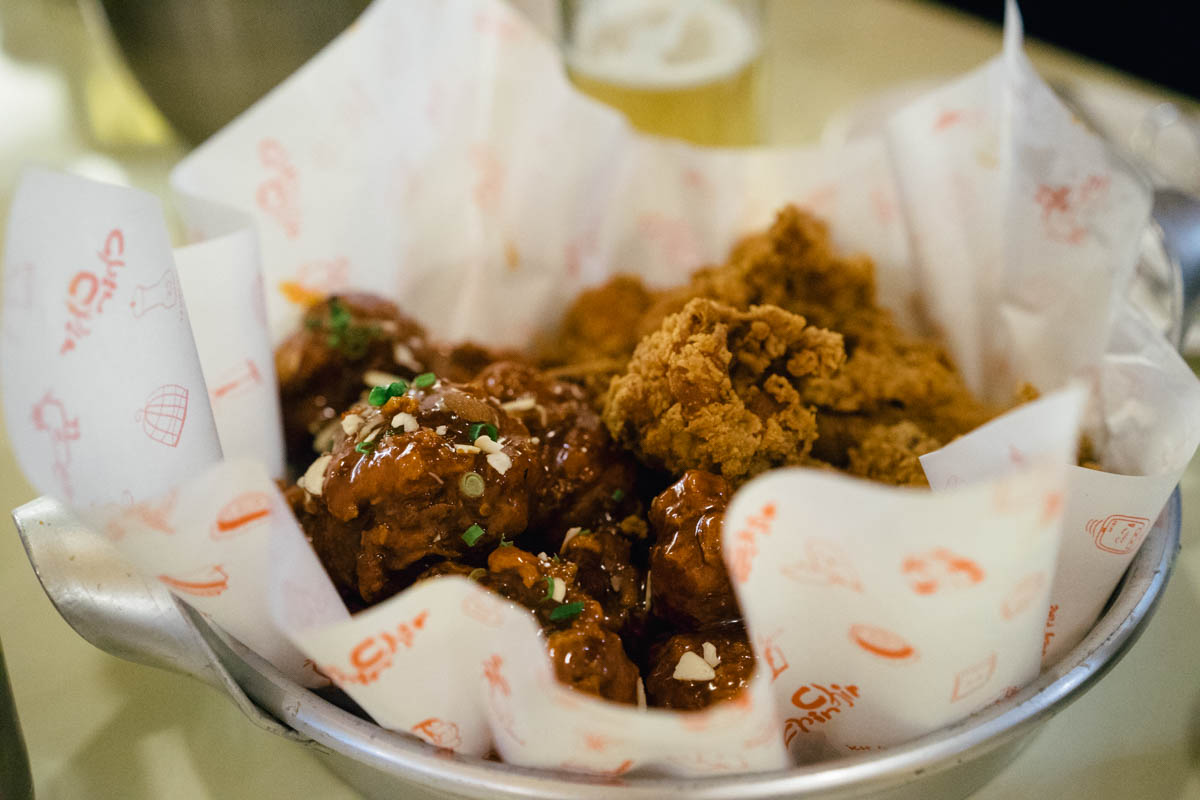 Korean Fried Chicken
A Seoul-food essential. You can find Korean fried chicken everywhere! There are also a ton of spots that deliver. Korean fried chicken is fried twice, resulting in a crunchier and less greasy skin.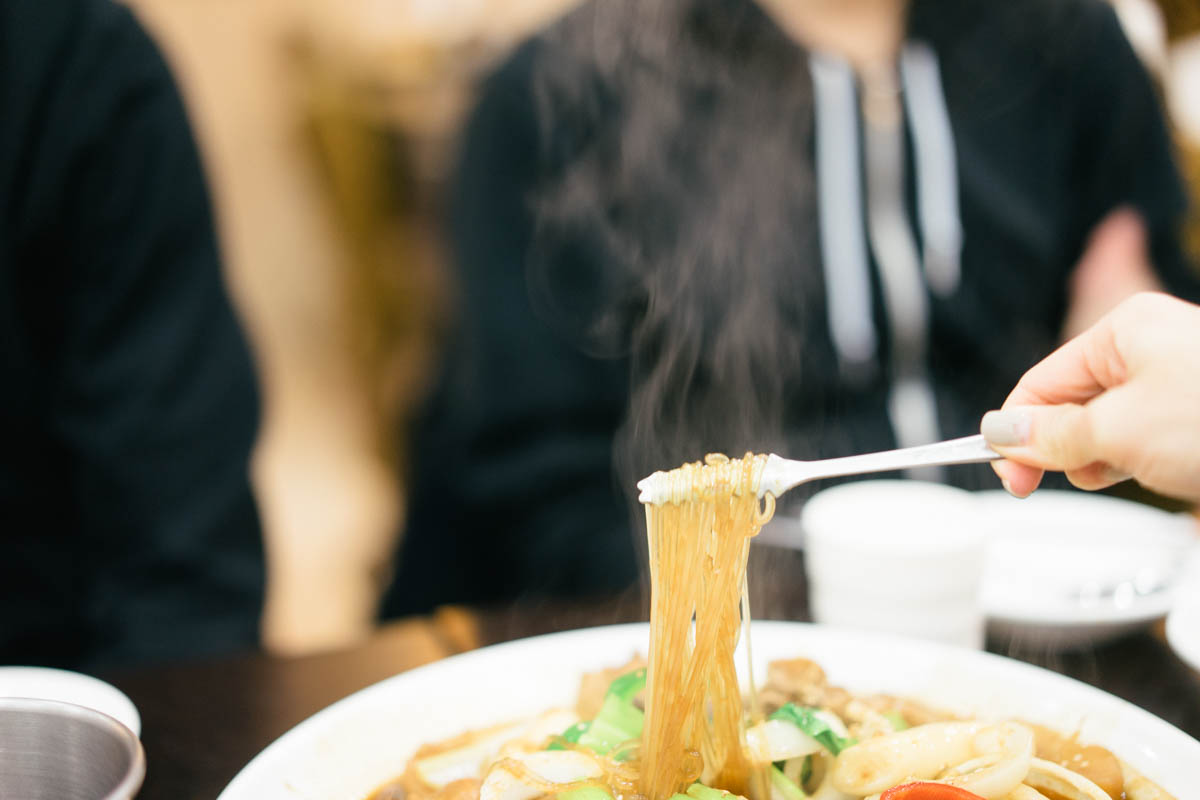 Andong jjimdak 안동찜닭
Andong Jjimdak is a braised spicy soy sauce chicken dish served with Korean glass noodles.The dish is made by boiling chicken, whole garlic, onions, ginger and a type of fresh green chili pepper called "Cheongyang gochu" in a pot. Vegetables and cellophane noodles are added when the chicken is nearly ready. The dish is packed with flavor and the chicken is super moist and tender.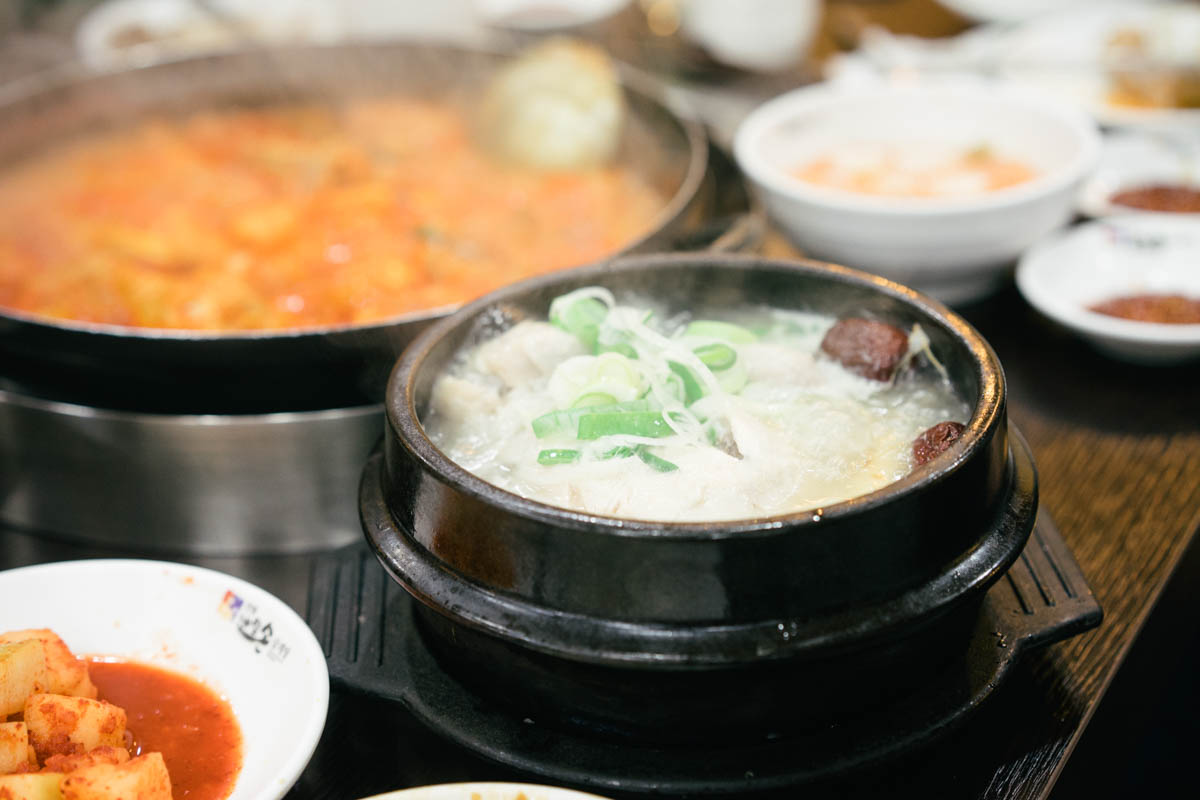 Samgyetang 삼계탕
Asians are all about that samgyetang, a Korean Ginseng chicken soup! The prep that goes into this soup is pretty CRAY involving a whole young chicken stuffed with glutinous rice and boiled in a broth consisting of Korean ginseng, jujube, ginko nuts, garlic, ginger and a variety of medicinal herbs and grains. Samgyetang is essentially the Korean version of chicken noodle soup, but on a whole 'nother level. It's said to have health benefits such as rejuvenation and detoxification of the body, boosting metabolism, improving digestive and respiratory system, anti-carcinogenic capabilities, stress reduction and can be beneficial to diabetics.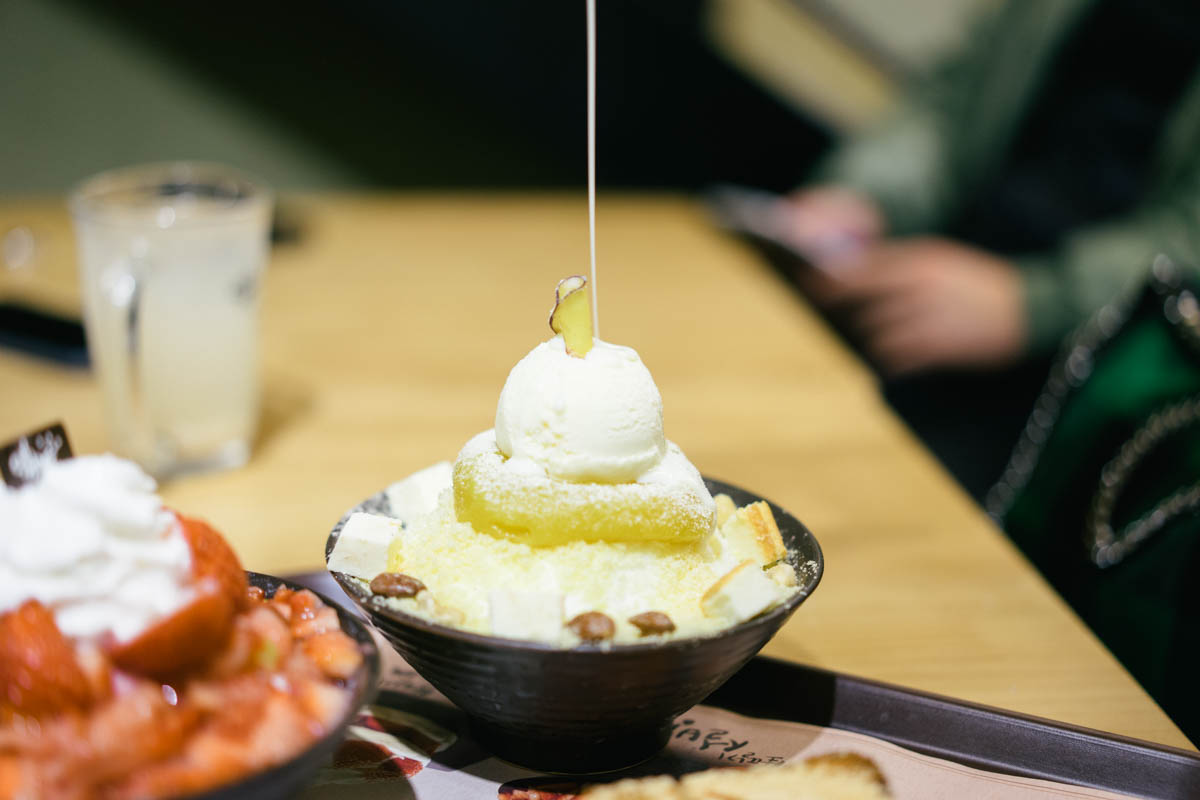 Bingsu 빙수
Another one of my FAVS is Bingsu, a Korean shaved ice dessert. Bigsu is traditional served with red bean paste, but has evolved with a ton of variations. The base is generally milky mountain of shaved ice topped with a plethora of different toppings including fresh fruit, condensed milk, whipped cream, ice cream, syrup and much more.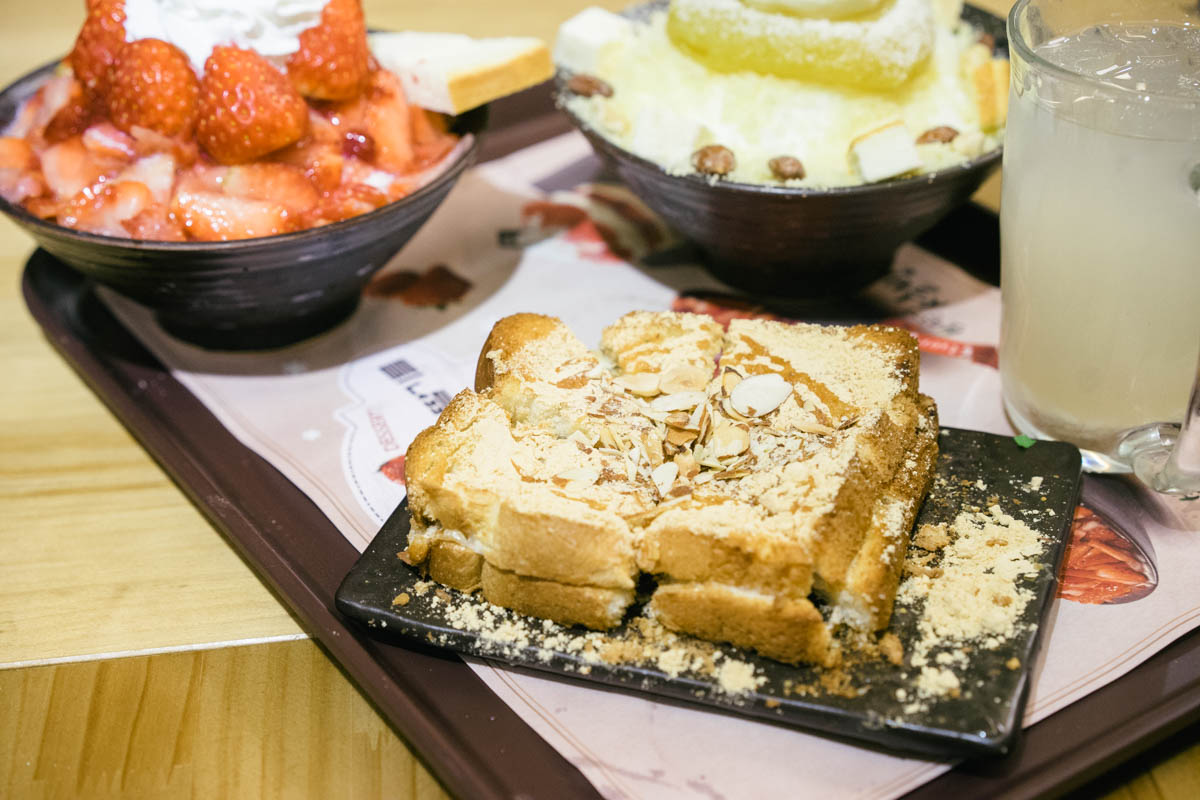 Injeolmi 인절미
Injeolmi is a type of Korean rice cake, made by steaming and pounding glutinous rice flour, which is shaped into small pieces and usually covered with steamed powdered dried beans or other ingredients. It's similar to mochi and can be found in different forms. I like it best sandwiched between toast.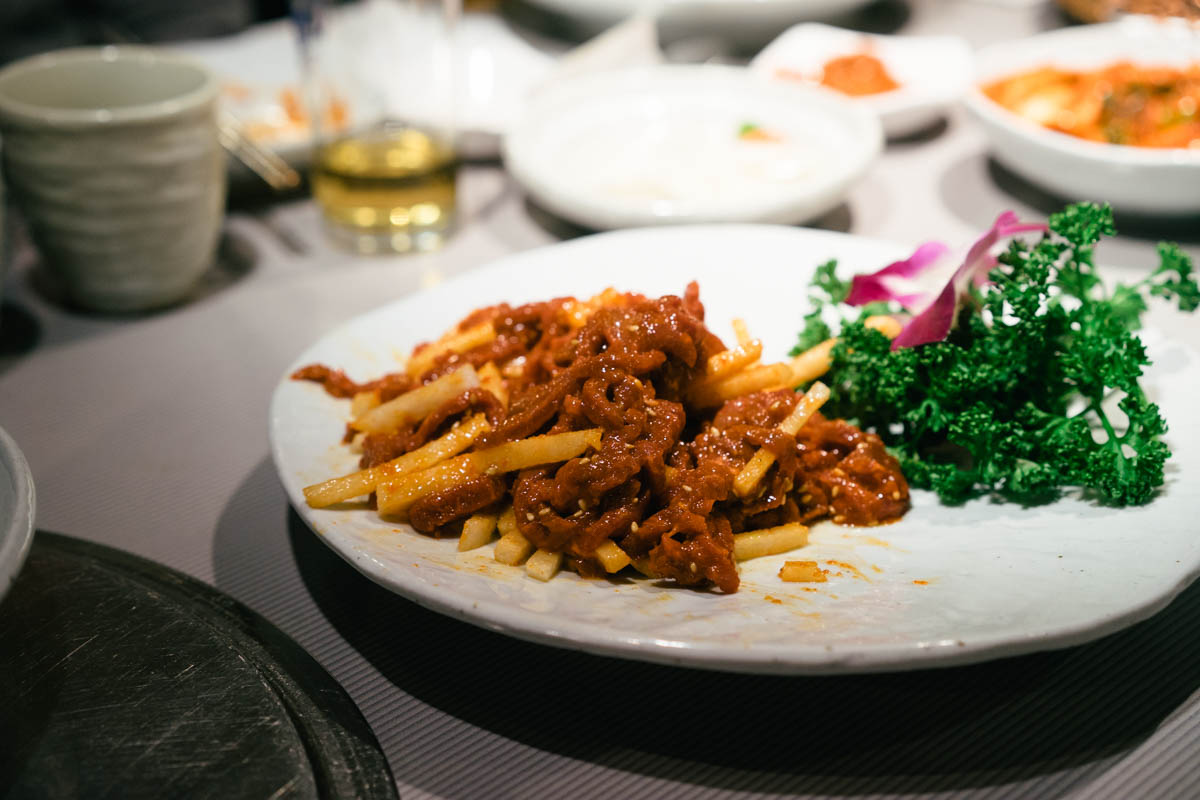 Yukhoe 육회
Yukhoe is essentially Korean style steak tartare made from raw beef seasoned with soy sauce, sugar, salt, sesame oil, spring onion, minced garlic, sesame seeds, black pepper and julienned Korean pear. A raw egg yolk is usually added, either on top of the dish or separately.
If you think I missed something important (or something I didn't get to eat and should try next time), please feel free to add to the list in the comments !!!
Asian, Dessert, Dinner, Korean, Lunch, Seoul, South Korea