The Lowdown
Restaurant Name: Seki Tei Japanese Restaurant 石亭居酒屋
Cuisine: Japanese
Average Price per Person: $400 to $600 HKD or $50 to $75 USD
Location: Tsim Sha Tsui, Hong Kong (please refer to the map below for details).
Recommendations: Fresh Sashimi (Scallops, Shrimp and Sea Urchin) and Grilled Mackerel.

Ratings (out of 5)
Taste: 4
Creativity/Authenticity: 4
Atmosphere: 3
Service: 3.5
Bang for Buck: 3
Crayscale !!!

Seki Tei has been high on my "To-Eat" list ever since Season of CSON EATS co-signed it as her favorite Japanese spot in Hong Kong! I finally had the chance to try it last week and it was pretty legit. Seki Tei is a tiny Japanese restaurant on Hart Avenue in Tsim Sha Tsui. You should make reservations here since seats are limited with less than 10 tables and a few sushi bar stools. I would recommend coming here with a total party of no more than 4 people. It's seriously that small.
The menu is comprised of mainly small starters, sushi & sashimi, robatayaki (barbecued and grilled skewers), and deep fried everything. We were a little overwhelmed by Seki Tei's menu at first so we hit up Season and asked her what's good. She suggested asking the waitress for their daily specials and what's fresh off the boat. The specials were all written in Chinese but being Chinese illiterates, the waitress offered to read it all out for us! She was super helpful and even showed us samples when we had no clue what she was talking about.
The waitress seemed pretty trustworthy, so we ordered the sea urchin, scallop and shrimp as suggested. We also ordered more some more items to fill us up from the barbecued and deep fried section. As expected, the food was mad good. The sashimi was hella fresh and that uni was effing unreal. The robatayaki was well seasoned and most of it cooked perfectly. The grilled mackerel was moist and effortlessly came apart from the bone. Thanks for the awesome recommendation SEASON – me love you long time.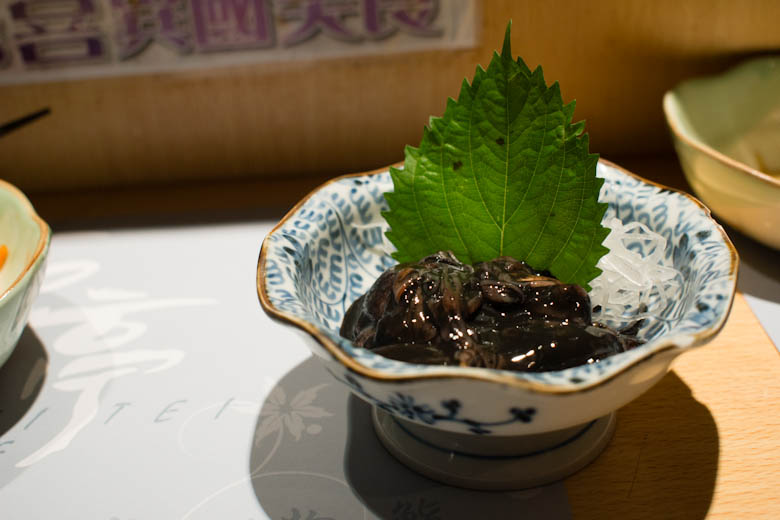 Pickled Japanese Squid ($98 HKD or $12.50 USD). Neither Eugene nor I have tried this style of squid so we decided to order it. This is essentially raw squid served cold in a squid ink sauce.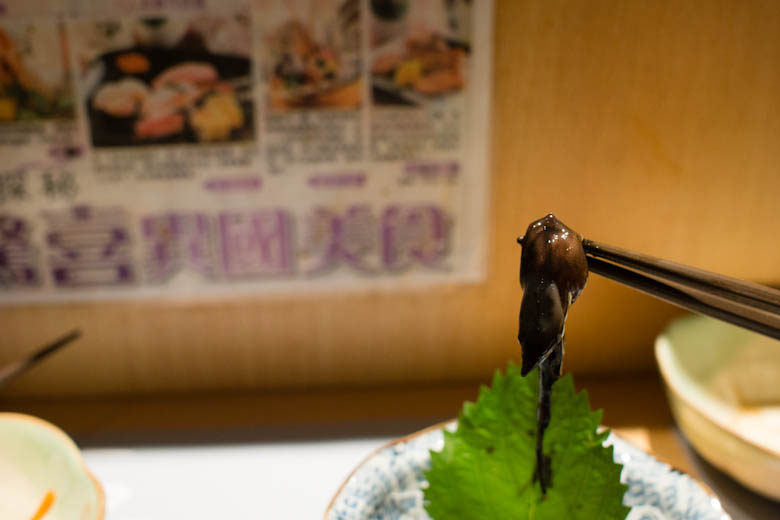 It looks hella weird and nasty but the squid has a pleasantly slimy and chewy texture coated with a chalky salty squid ink sauce. It was actually really good and probably better with rice to cut the saltiness a bit.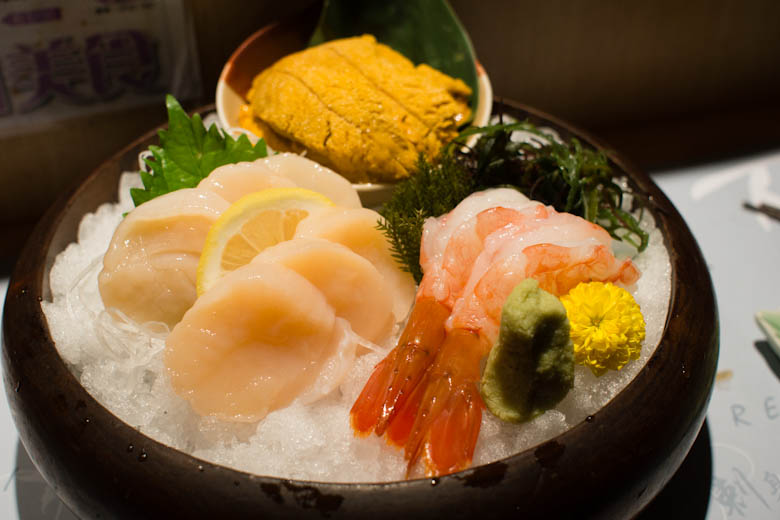 Sea Urchin or uni ($380HKD or $48 USD), Scallop or hotate-gai ($90 HKD or $11.50), and Botan Shrimp or botan-ebi ($98 HKD or $12.50 USD).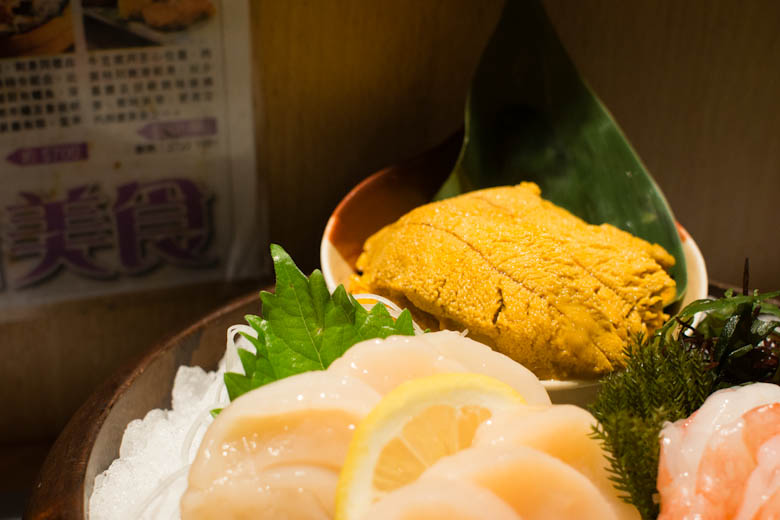 I can only stomach sea urchin if it's extremely fresh. One of my biggest sushi pet peeves is being served old rancid sea urchin. The taste reminds me of making out with someone with mad morning breath. This was not the case at Seki Tei! This sea urchin was perfect!
 It is a little pricey but they literally gave us a bowl of it! It tasted so effing good with the pairing of seaweed and rice – super simple but so so so satisfying.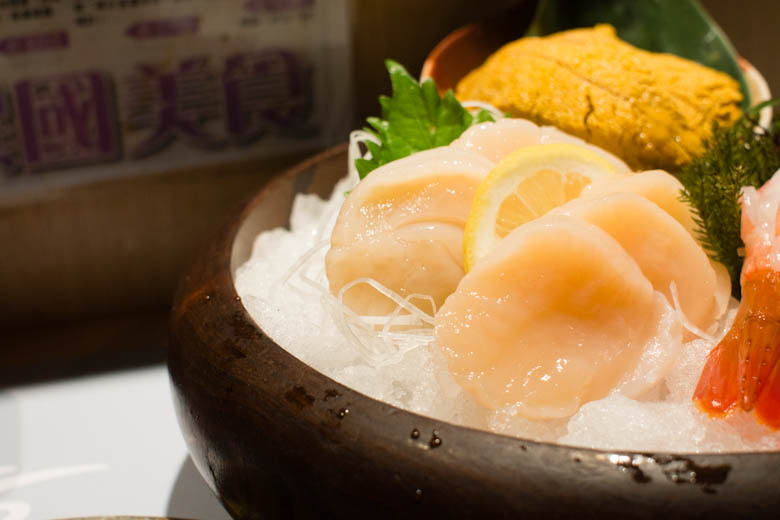 Both the scallops and botan shrimp were super fresh, sweet, and creamy.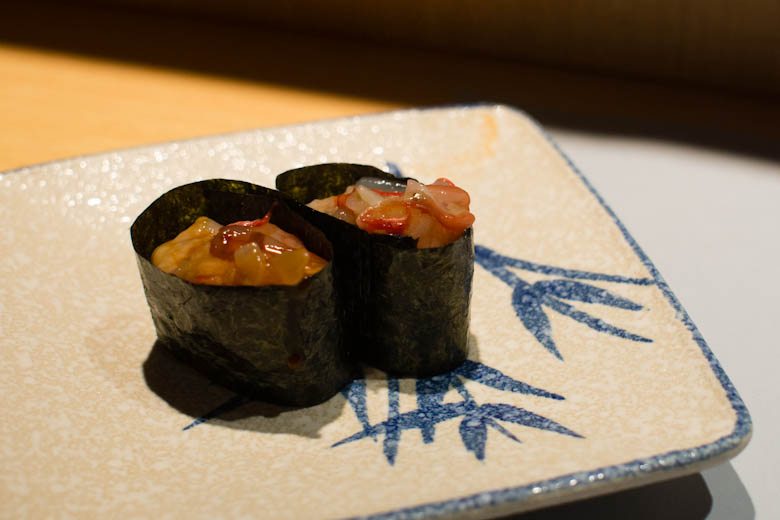 I loved that they didn't waste any of that delicious botan shrimp and used the heads of the botan shrimp. SOOOO good!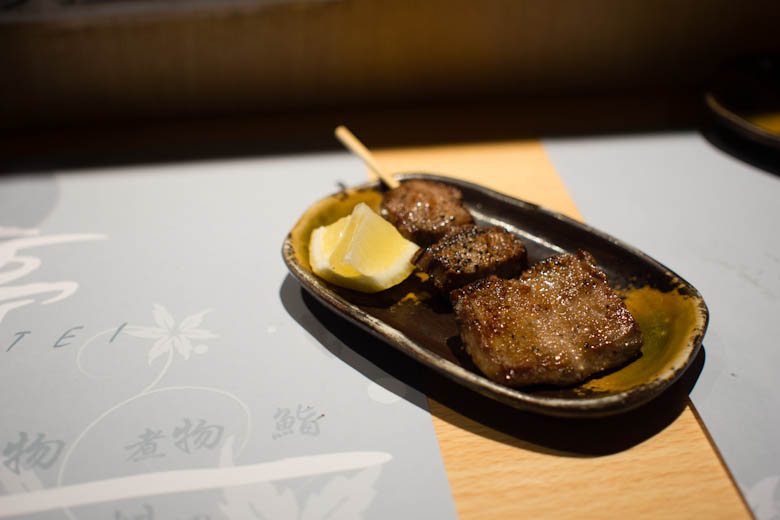 Ox Tongue ($25 HKD or $3.20 USD per skewer). The ox tongue was my favorite of the robatayaki.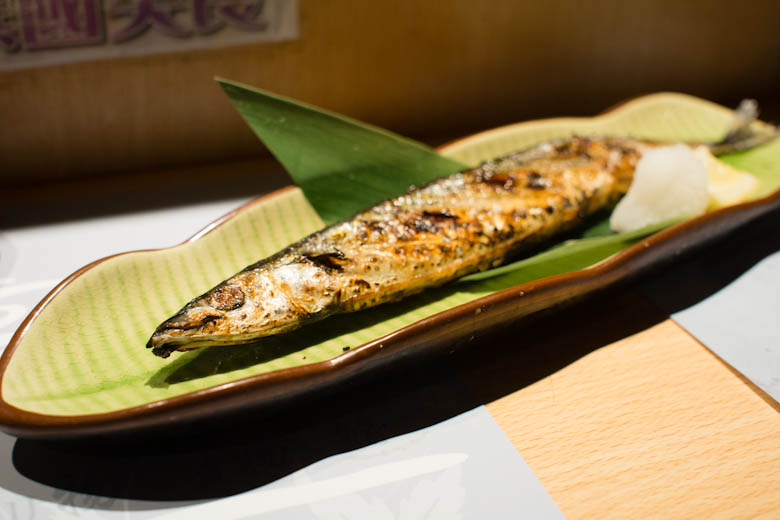 Grilled Mackerel ($48 HKD or $6.15 USD). The mackerel was deliciously moist and perfectly cooked.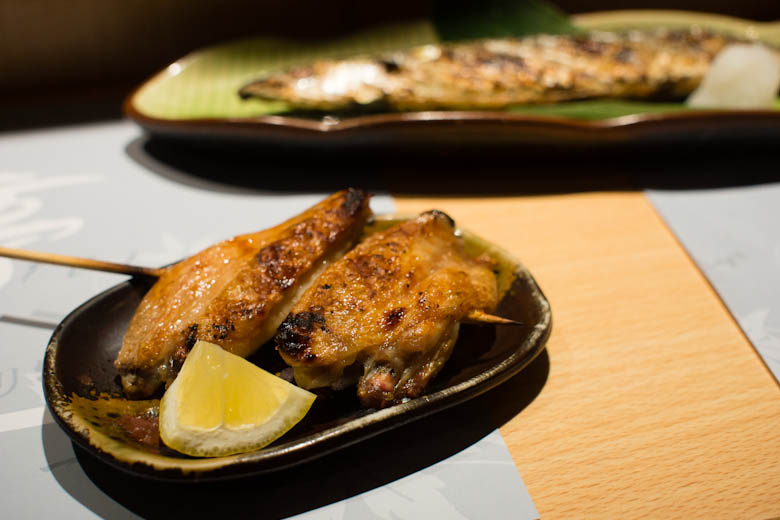 Chicken Wings ($22 HKD or $2.80 USD). The chicken wings weren't anything special. They were good, but I wouldn't recommend coming here to eat a whole lot of robatayaki. Save the room in your tummies for the good shiiiiit.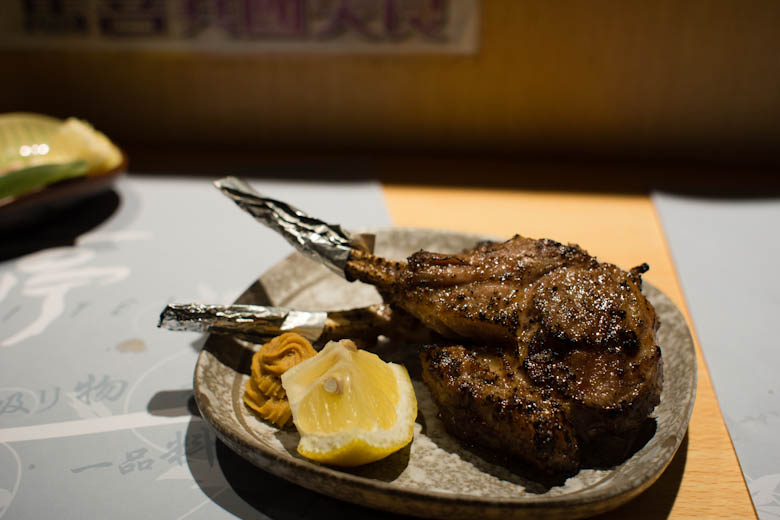 Grilled Lamb Chops ($68 HKD or $8.70 USD). The lamb chops were like the chicken, good but nothing spectacular and slightly under seasoned. The mustard definitely helped.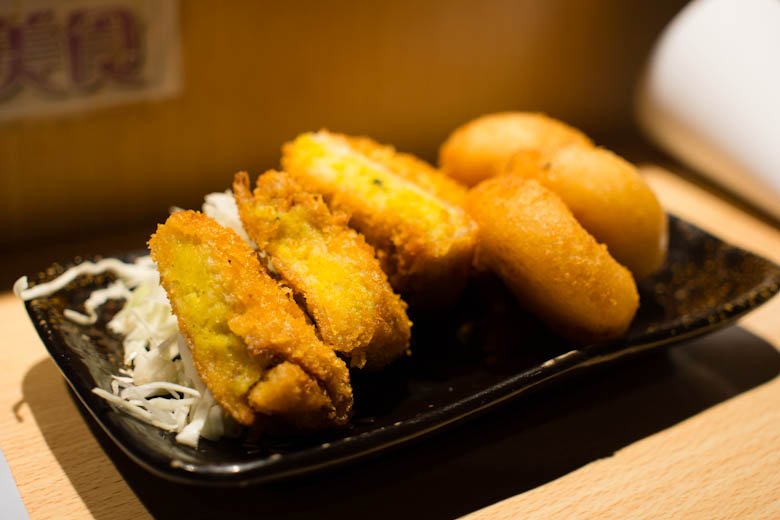 Deep Fried Pumpkin Cake ($58 HKD or $7.50 USD) and Deep Fried Cheese Stuffed Mochi ($48 HKD or 6.15$ USD). The portions for these were actually pretty big for 2 people. Luckily Eugene's a beast and was able to finish everything.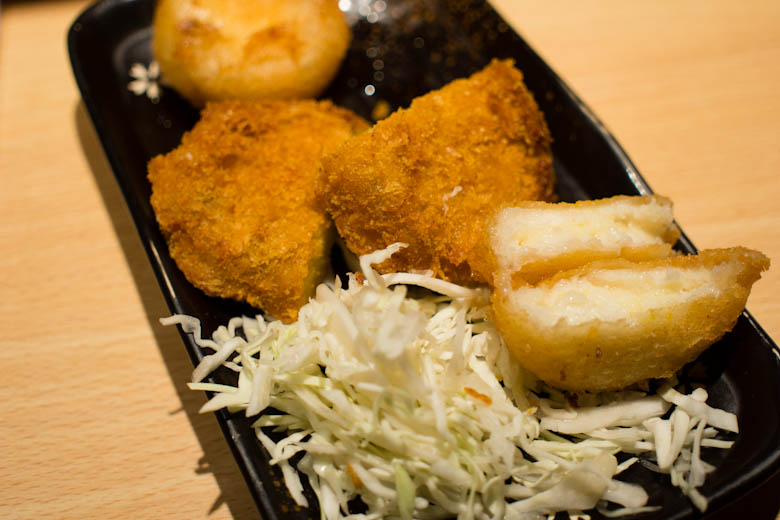 The pumpkin cake was sweet with a nice crispy outer layer. It was more like a vegetarian pumpkin croquette. The cheese mochi was preetttyyyy effing dericious but I could only manage to eat once piece because I was stuffed and it's pretty rich.
G/F, Shop 11C, Hart Avenue, Tsim Sha Tsui, Hong Kong
p: 852.2722.881
Asian, Dinner, Hong Kong, Japanese, Lunch