São Paulo Cray !!! Sotero Cozinha Original Bahian Restaurant
The Lowdown
Restaurant Name: Sotero Cozinha Original
Cuisine: Brazilian / Bahian
Average Price per Person: R$25 to $50 BRL or $9 to 18 USD
Location: São Paulo, Brazil
Recommendations: Acarajé, Moqueca, Bolinho de Estudante and Pudim de Leite

Ratings (out of 5)
Taste: 4
Creativity/Authenticity: 4.5
Atmosphere: 3.5
Service: 4
Bang for Buck: 4

Crayscale !!!
When people think of Brazilian food, barbecue is generally the first thing that comes to mind. Brazil has so much more to offer than just churrascaria. Being the fifth largest country in the world spread along the eastern coast of South America and lying on both sides of the equator, Brazil's geographic landscape is incredibly unique. The country's size makes Brazil extremely diverse in not only geography, topography and climate but also food. Brazil's geography and colonial history lead to each region developing its own culture and cuisine over the years.
Located in the Northeast region of Brazil, Bahia has developed a distinct cultural identity known for its Afro-Brazilian cuisine. Bahian cuisine was rooted from the slave trade that was prevalent in colonial-era of Brazil. Bahaian cuisine is essentially Portuguese and Brazilian food with a strong African influence. Unfortunately, we didn't get a chance to explore Bahia, but our good friends over at SneakersBR brought us to an amazing restaurant called Sotero Cozinha Original Bahian Restaurant which is where we had our first taste of Bahian food.
The menu consists of common Brazilian and Portuguese items such as bolinho de bacalhau which are deep fried salt cod fish sticks, a popular Brazilian sundried meat dish known as carne de sol,  and deep fried pastry ravioli with various types of fillings called pastels. Classic Bahian foods are also offered including acarajé and moquecas e ensopados which I'll explain in a minute.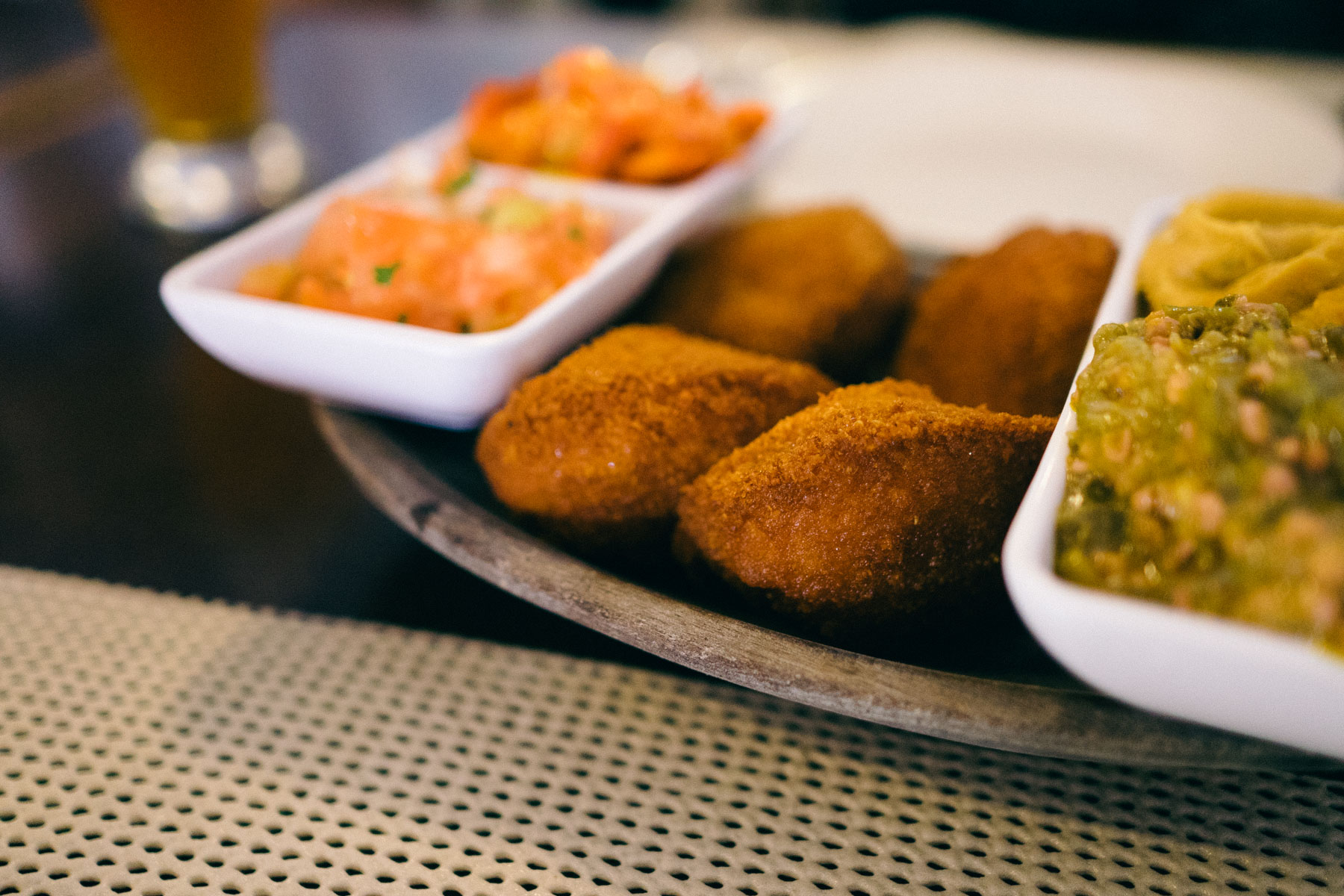 Acarajé (R$12 or $4.45 USD) is a dish that is commonly found in Nigeria made from peeled black-eyed peas which is then mashed, formed into a ball, then fried in dendê oil (palm oil). It is served split in half then stuffed with various ingredients including camarão (small sundried shrimp), pimenta (hot pepper sauce), vatapá (a paste made of sundried shrimp, peanuts, cashews, coconut milk, and palm oil, caruru (okra stew), diced tomatoes, and onions.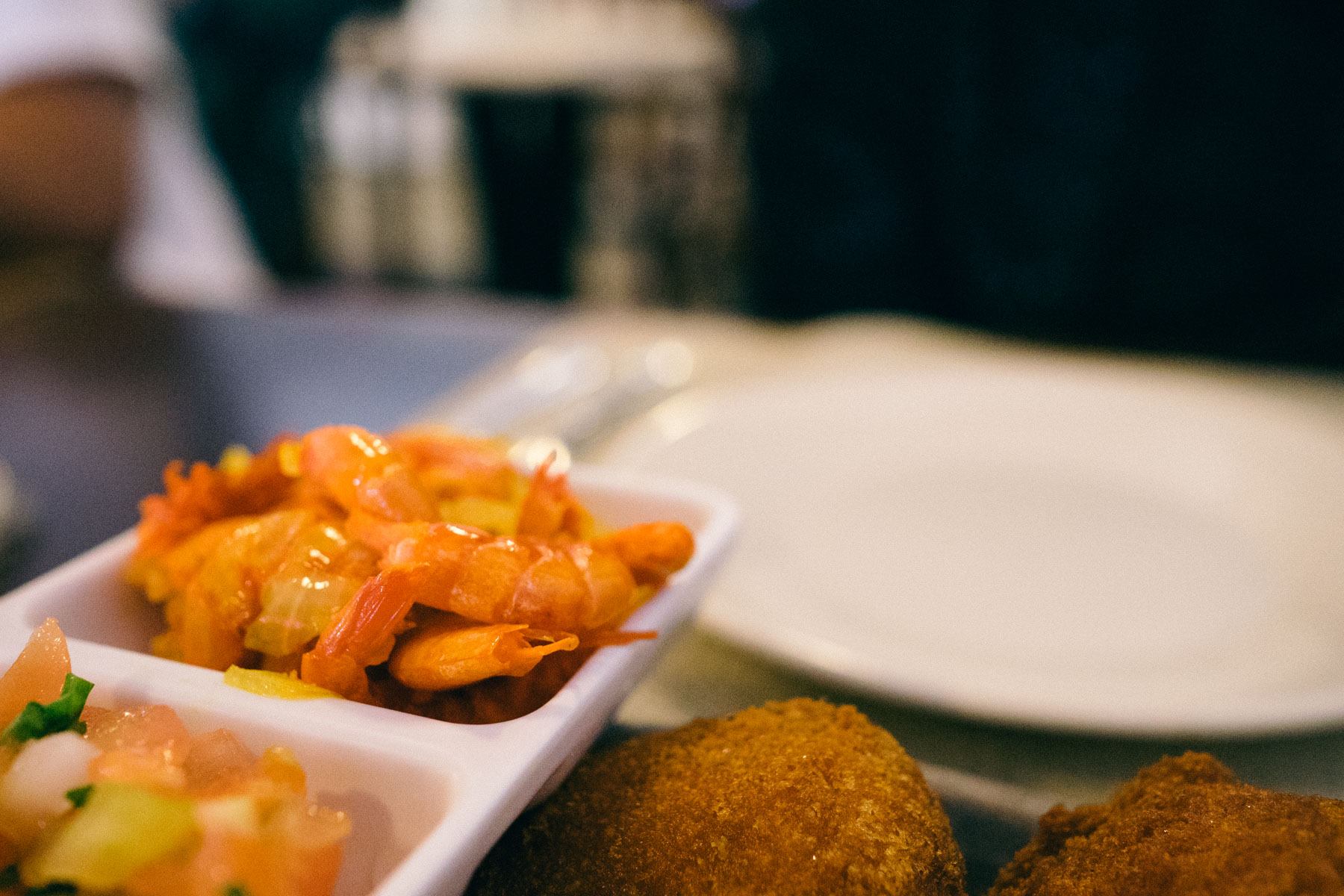 This is the camarão or small sundried shrimp.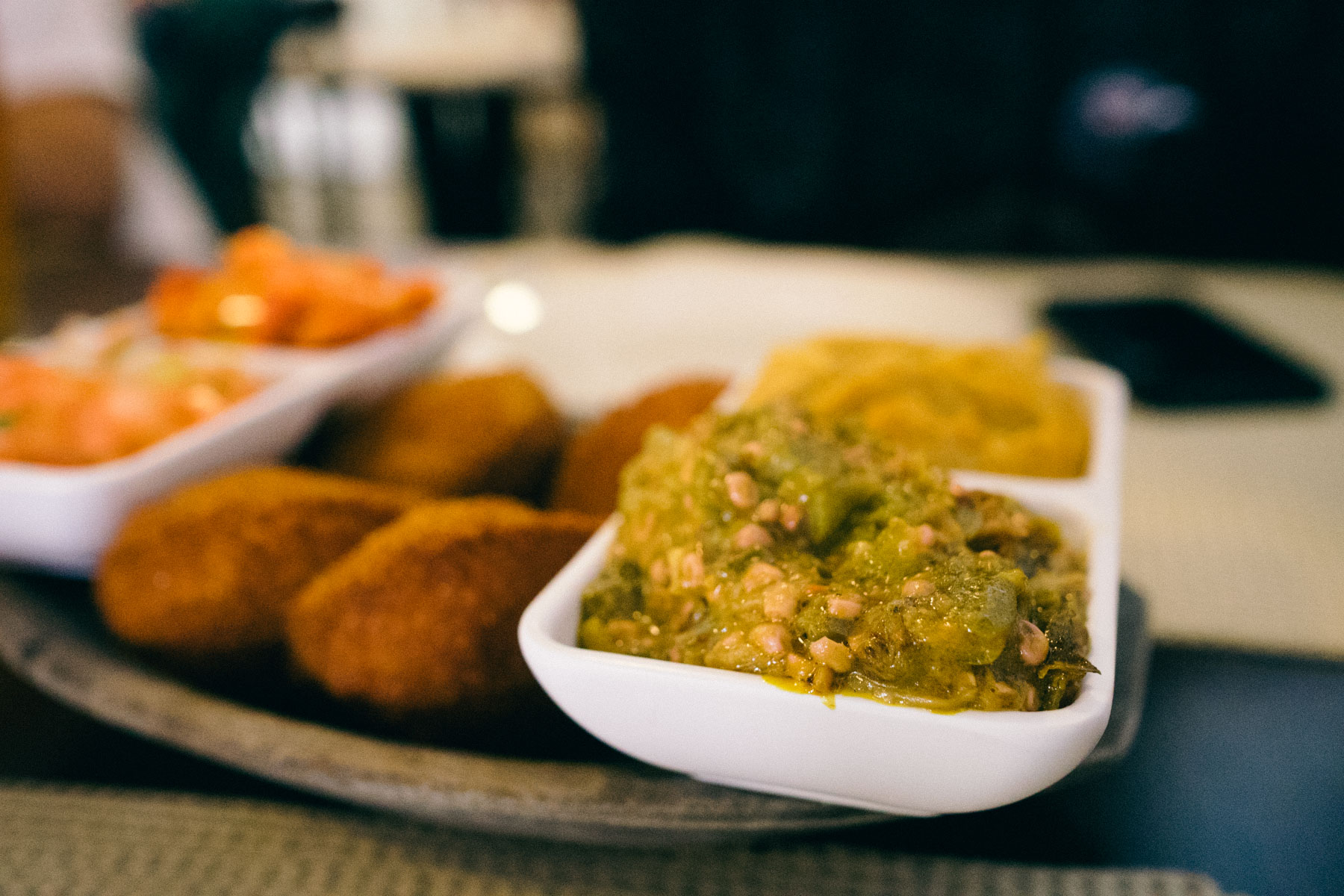 This is the caruru made from okra, onion, shrimp, palm oil, and toasted nuts commonly found as a condiment in Bahia.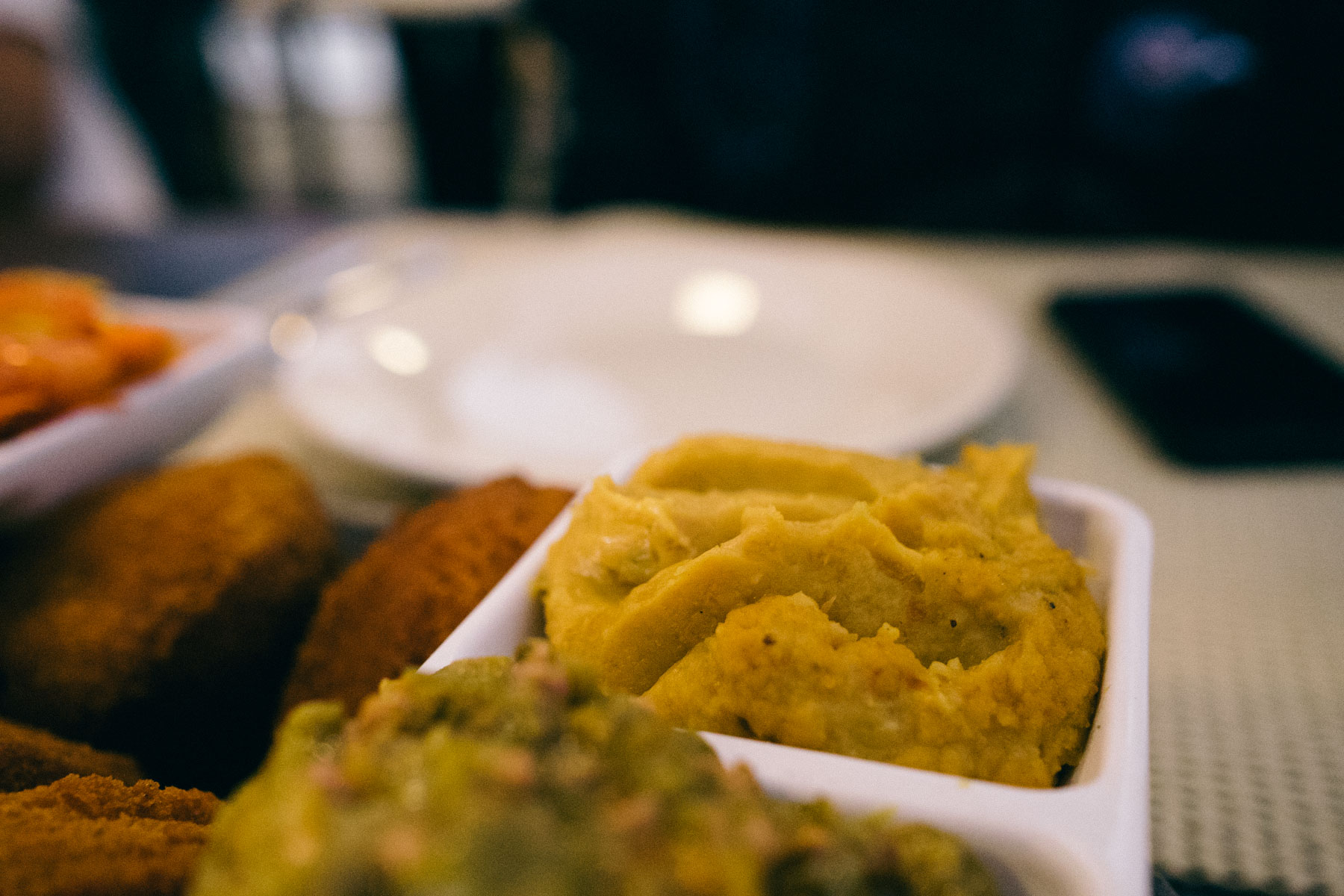 This is the vatapá, a paste made of sundried shrimp, peanuts, cashews, coconut milk, and palm oil.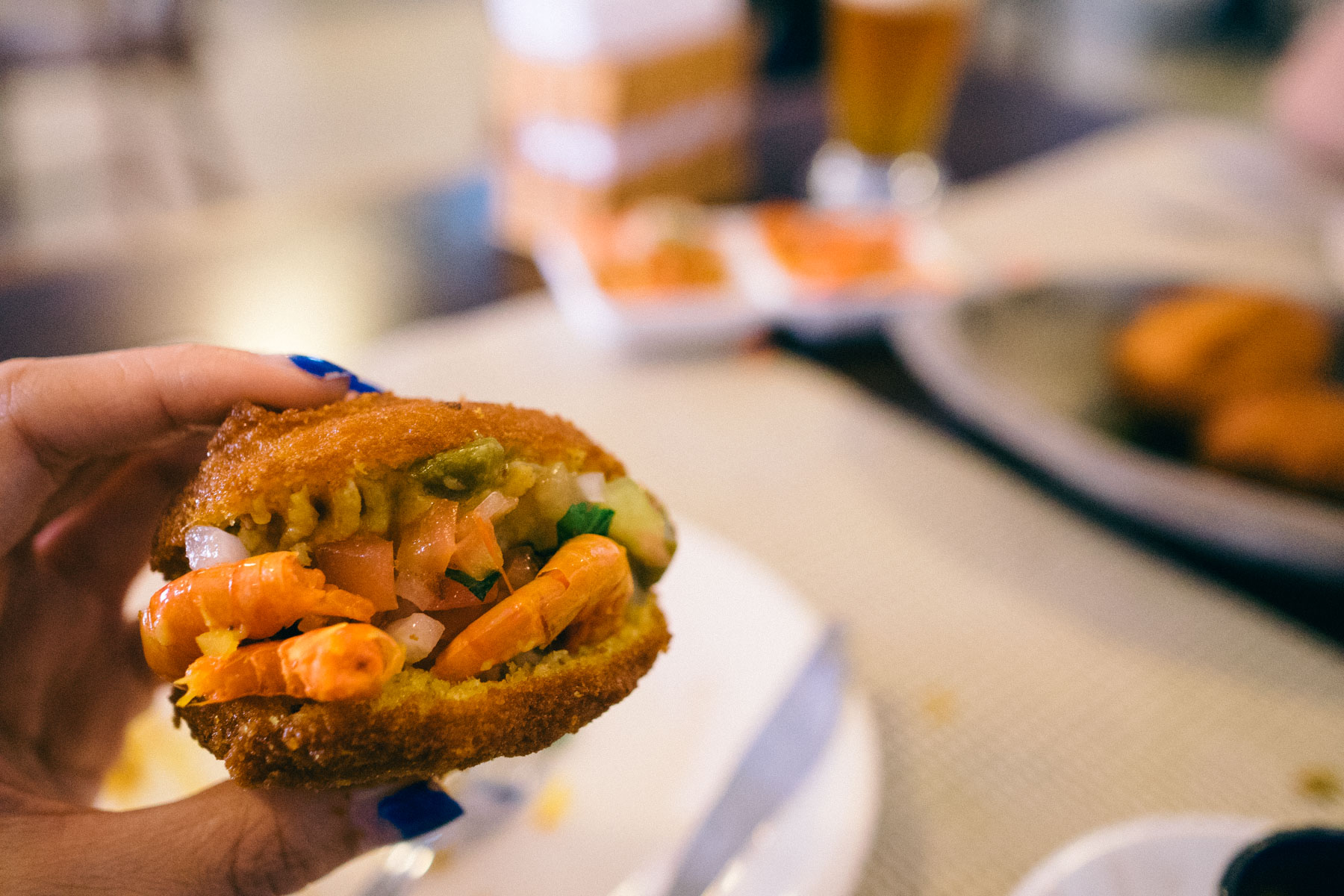 Stuff all of that in the deep fried bean fritter and you have yourself a Bahian Acarajé!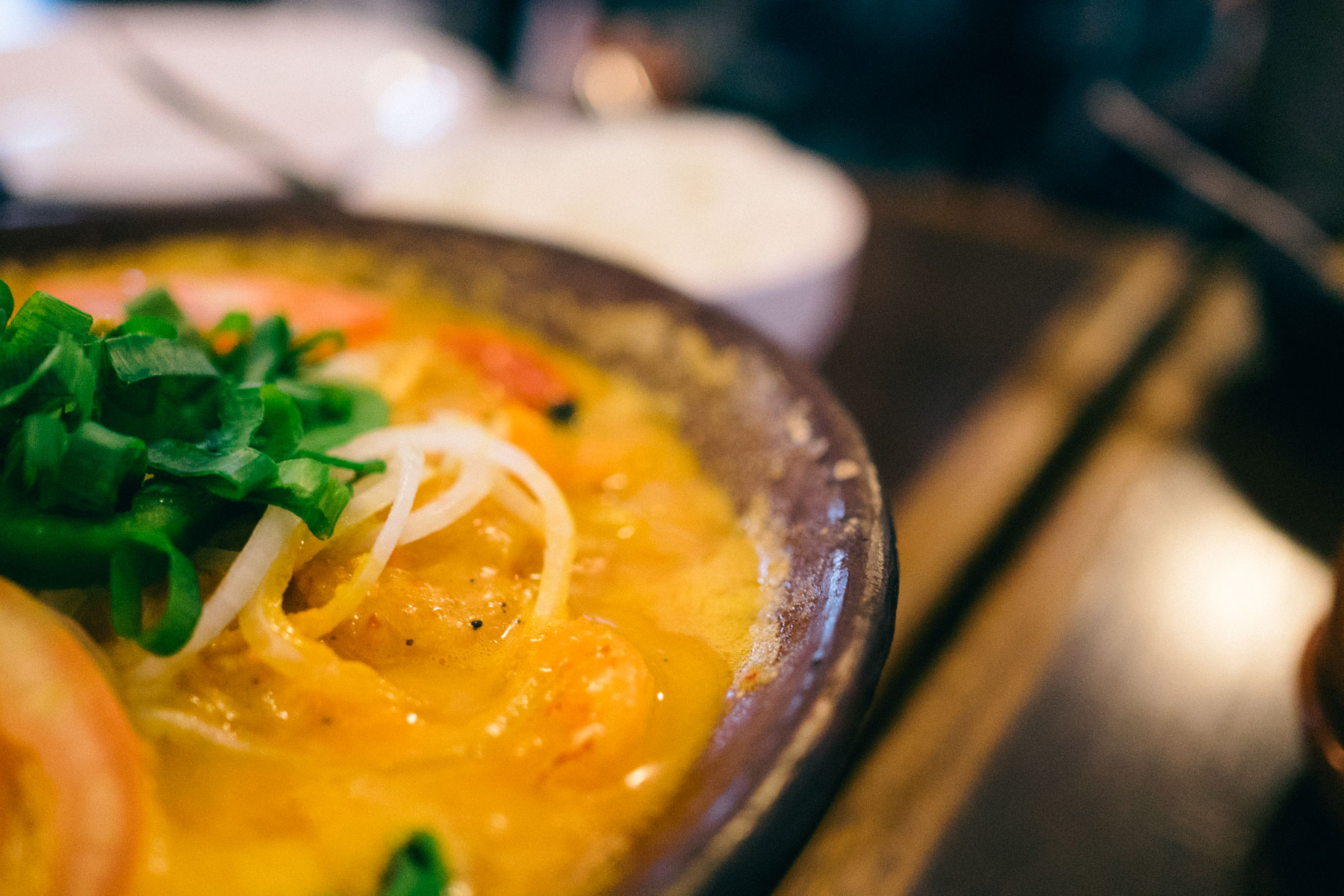 Moqueca (R$75.90 or $28.16 USD) is another one of Bahia's most popular dishes. It's a seafood stew made with coconut, garlic, onion, parsley, pepper, tomato paste, and dendê oil. These ingredients are all sautéed over a low flame and served with rice cooked in coconut milk. It's incredibly creamy and packed with flavor.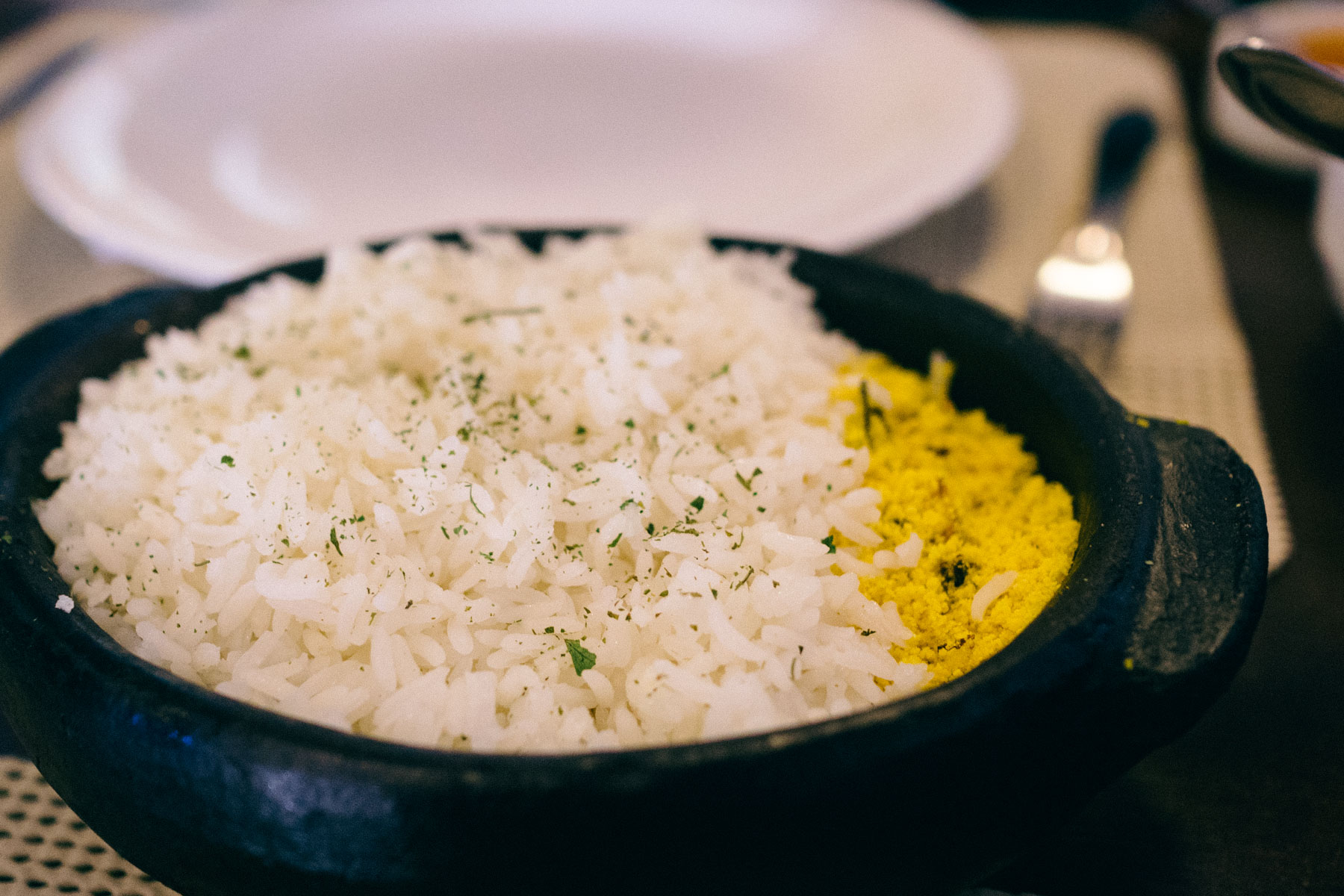 The moqueca is served with rice and farofa, a Braizlian staple made with toasted manioc flour.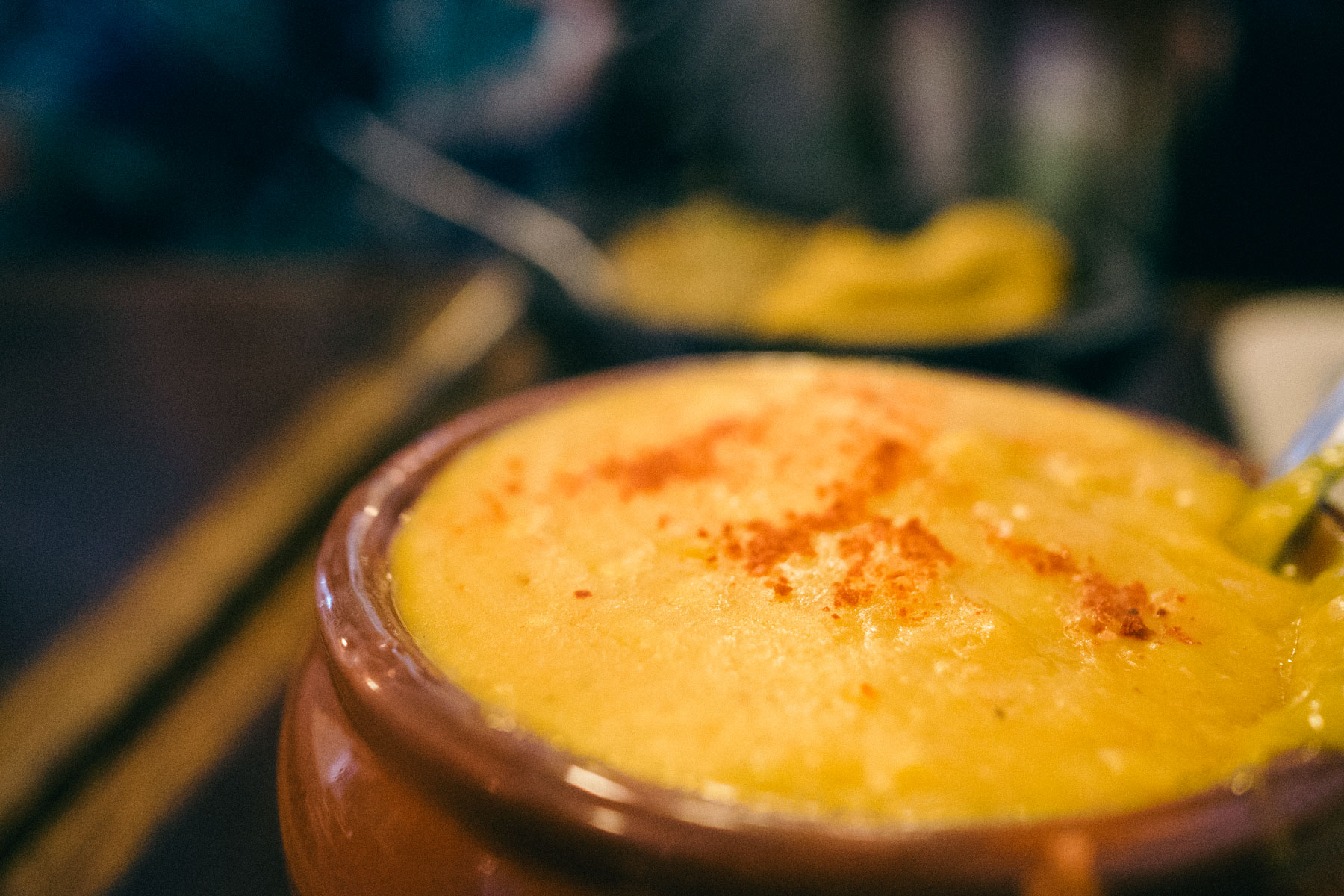 Traditionally, moqueca is accompanied by a Brazilian fish gravy called pirão. It's a paste made with yuca root flour and the gravy from the stew.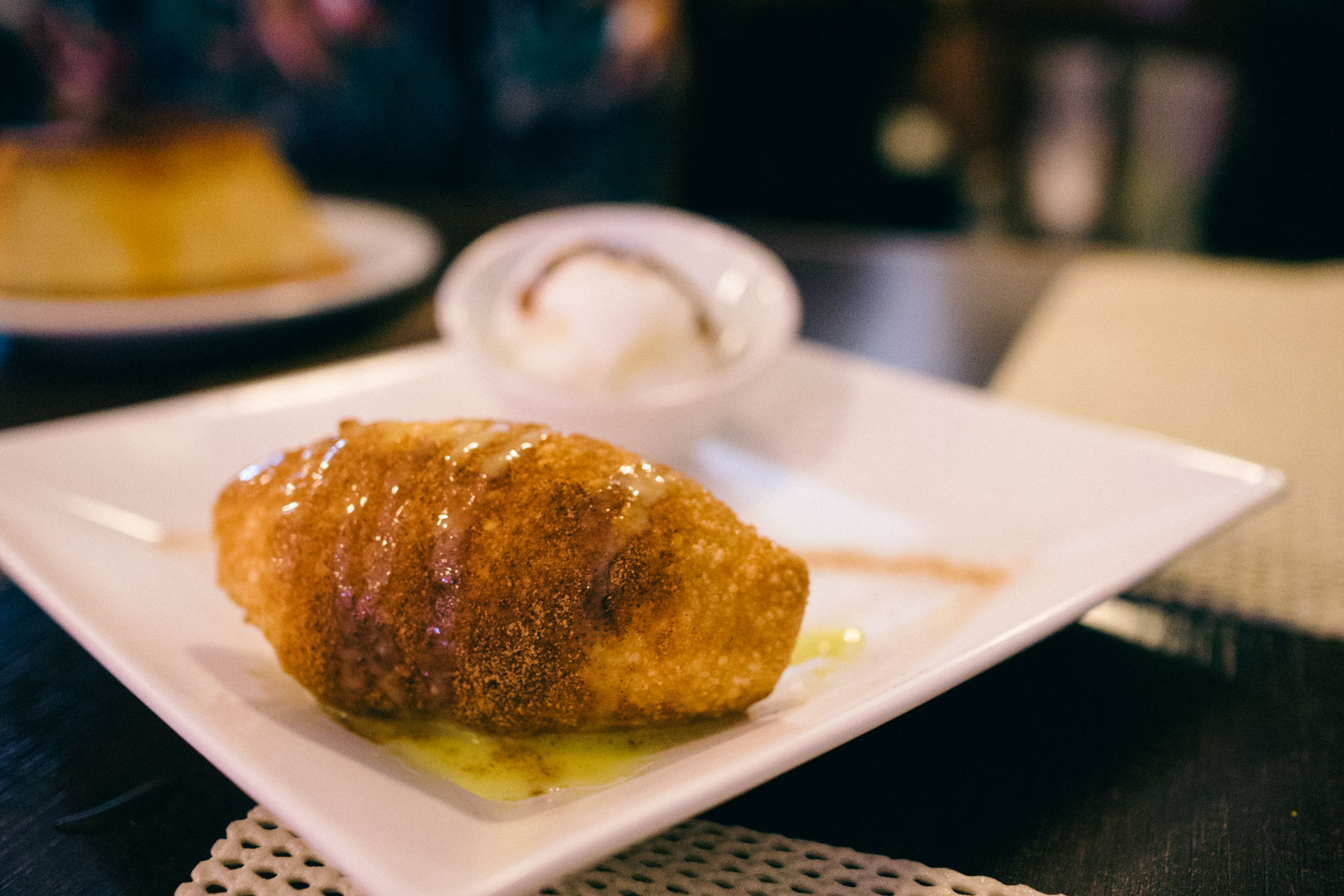 Bolinho de Estudante, but I think this was called "Punheta com baba e moça" on the menu (R$15 or $5.50 USD). This thing looked pretty underwhelming, but it was actually one of the best desserts we had in Brazil. It's a tapioca donut rolled in cinnamon sugar and drizzled in condensed milk. SO GOOD!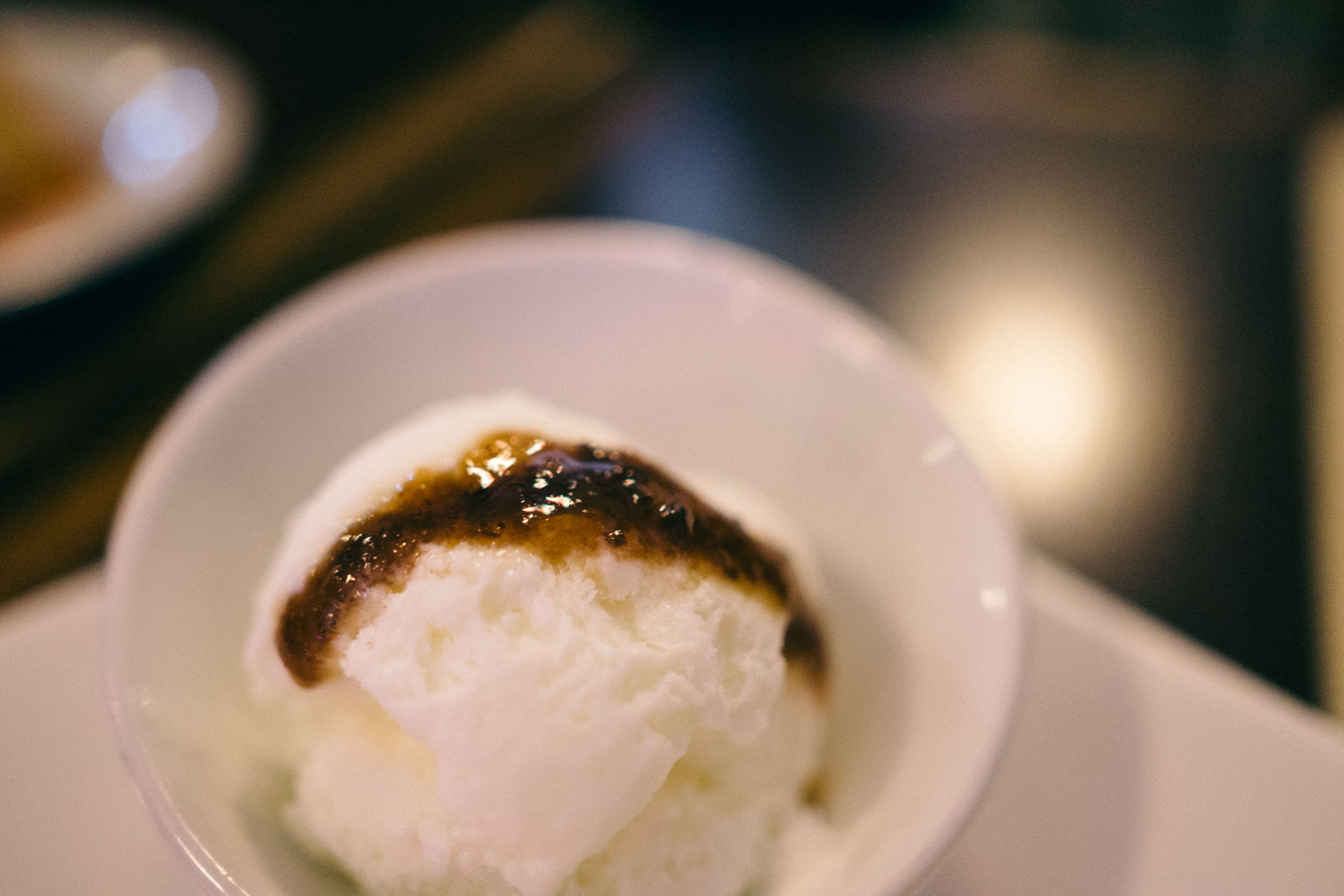 Manjar de coco (R$10 or $3.75). This is a play on a traditional Brazilian custard made with milk, condensed milk, coconut milk, sugar and prunes. This dessert uses the same ingredients but is an ice cream instead of custard.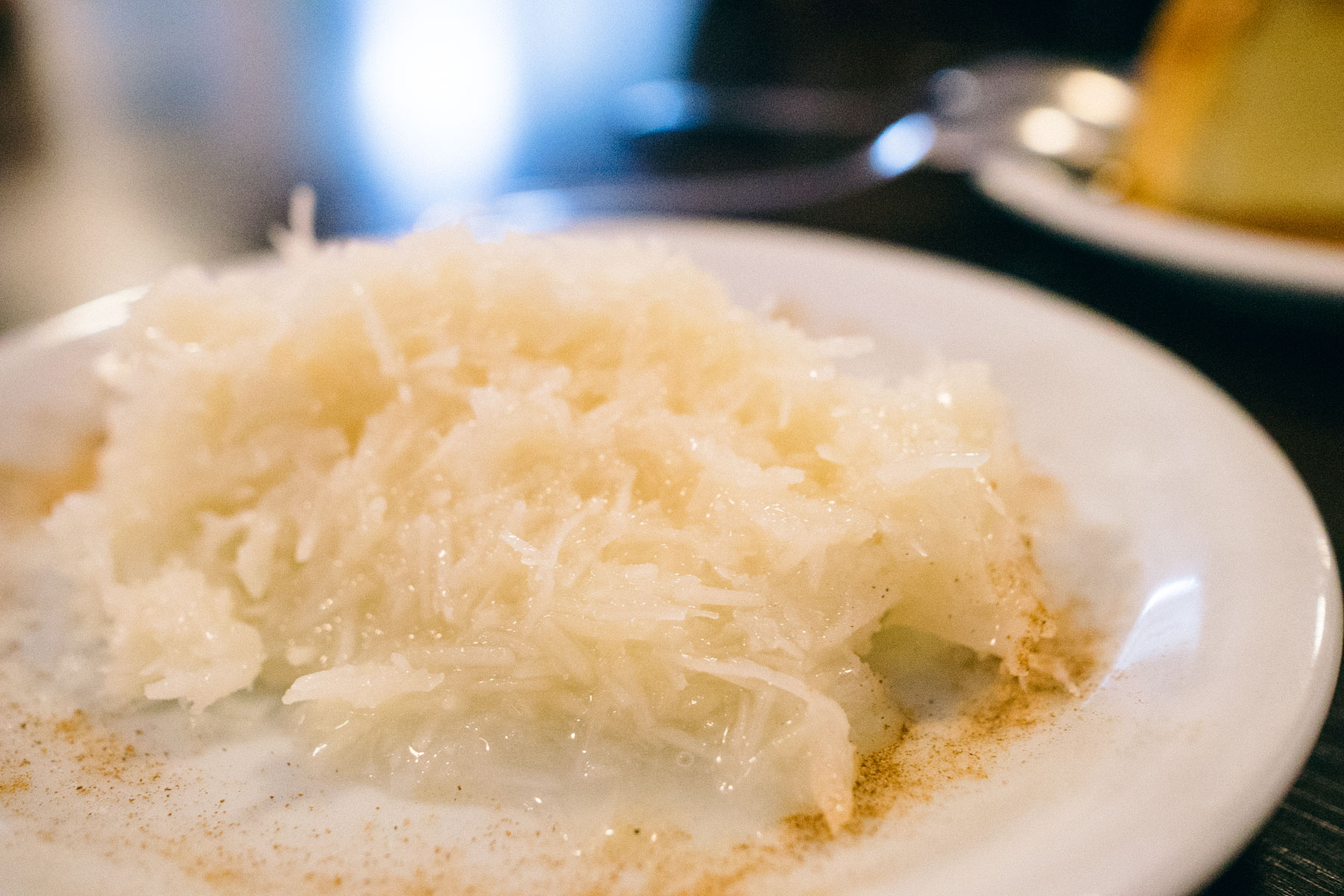 Cocada Branco (R$8 or $3 USD). This dessert was really sweet consisting of shredded coconut and coconut sizzurp.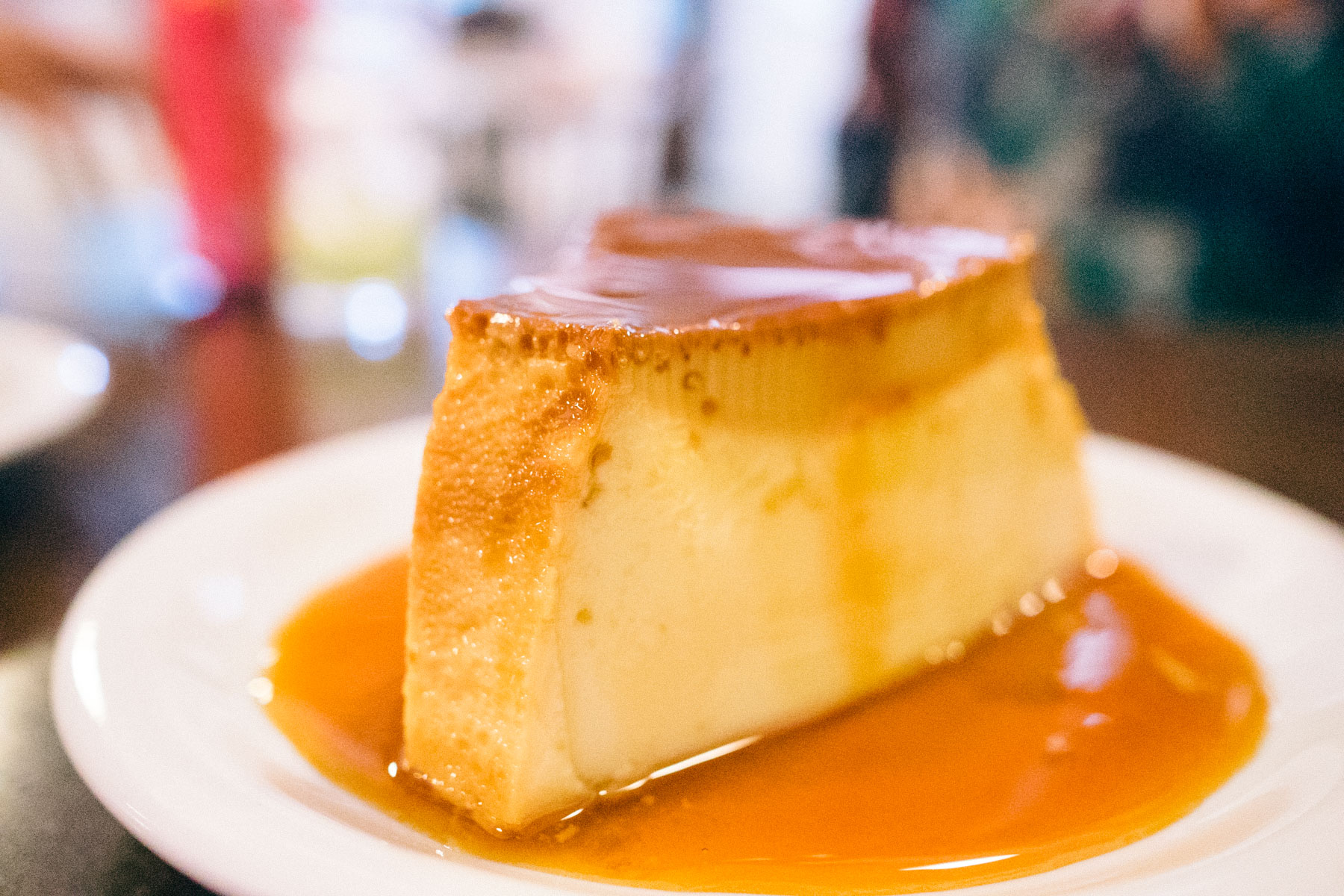 Pudim de Leite (R$15 or $5.50 USD). Brazilians love their pudim which is similar to a creme caramel.

Rua Barão de Tatuí, 272 – Santa Cecília
São Paulo – SP
01226-030, Brazil
p: +55 11 3666-3066
African, Brazilian, Dinner, Lunch, Sao Paulo, Brasil, South American