Rio de Janeiro Cray !!! Aprazível Brazilian Restaurant
2
The Lowdown
Restaurant Name: Restaurante Aprazível
Cuisine: Brazilian
Average Price per Person: R$70 to 200 BRL or $32 to 90 USD
Location: Rio de Janeiro, Brasil (see map below for details)
Recommendations: Pernil das Gerais and Entrecôte

Ratings (out of 5)
Taste: 3.5
Creativity/Authenticity: 4
Atmosphere: 4.5
Service: 3.5
Bang for Buck: 3.5

Crayscale !!!
Sitting pretty perched at the top of Santa Teresa hill with a killer view of Rio de Janeiro is one of the city's most popular restaurants, Aprazível. The restaurant is literally built into the side of Santa Teresa dividing the restaurant into sections with levels to this concept. The top floor is the entrance with the option of taking an elevator or two story staircase that leads down to the dining areas. The dining areas are broken down into various sections spread across different levels including an indoor dining room, two outdoor terraces, and elevated "tree-house" style dining rooms. Reservations are recommended so try to ask for a table with a view when making resos.
Aprazível's menu consists of your usual Brazilian fair including simple salads, traditional starters, fish, steak, beef dishes, lamb shoulder, pork confit, free-range chicken, duck breast, desserts along with an extensive cachaça (Brazilian sugar cane spirit) and wine list. We had our fair share of seafood in Recife, so skipped the fish and went all in on the meat sharing the entrecôte steak and the pork. The entrecôte was cooked to a perfect medium rare, but to be honest, not the best entrecôte I've had for that price. The pork was succulent and flavorful pairing nicely with the pineapple, but again, not most memorable.
Overall, the food was average, but the atmosphere, the space, and the view was incredible. If it's your first time in Rio or if you're trying to impress that special someone, Aprazível is definitely a great spot to take in that view and a dope place to catch the sunset. Aprazível is also fairly close to the major tourist attractions of Lapa and Corcovado / Christ the Redeemer, so it'd be a good place to end your activity filled day. Santa Teresa itself is also a great area to snap some photos of Rio de Janeiro's photogenic landscape.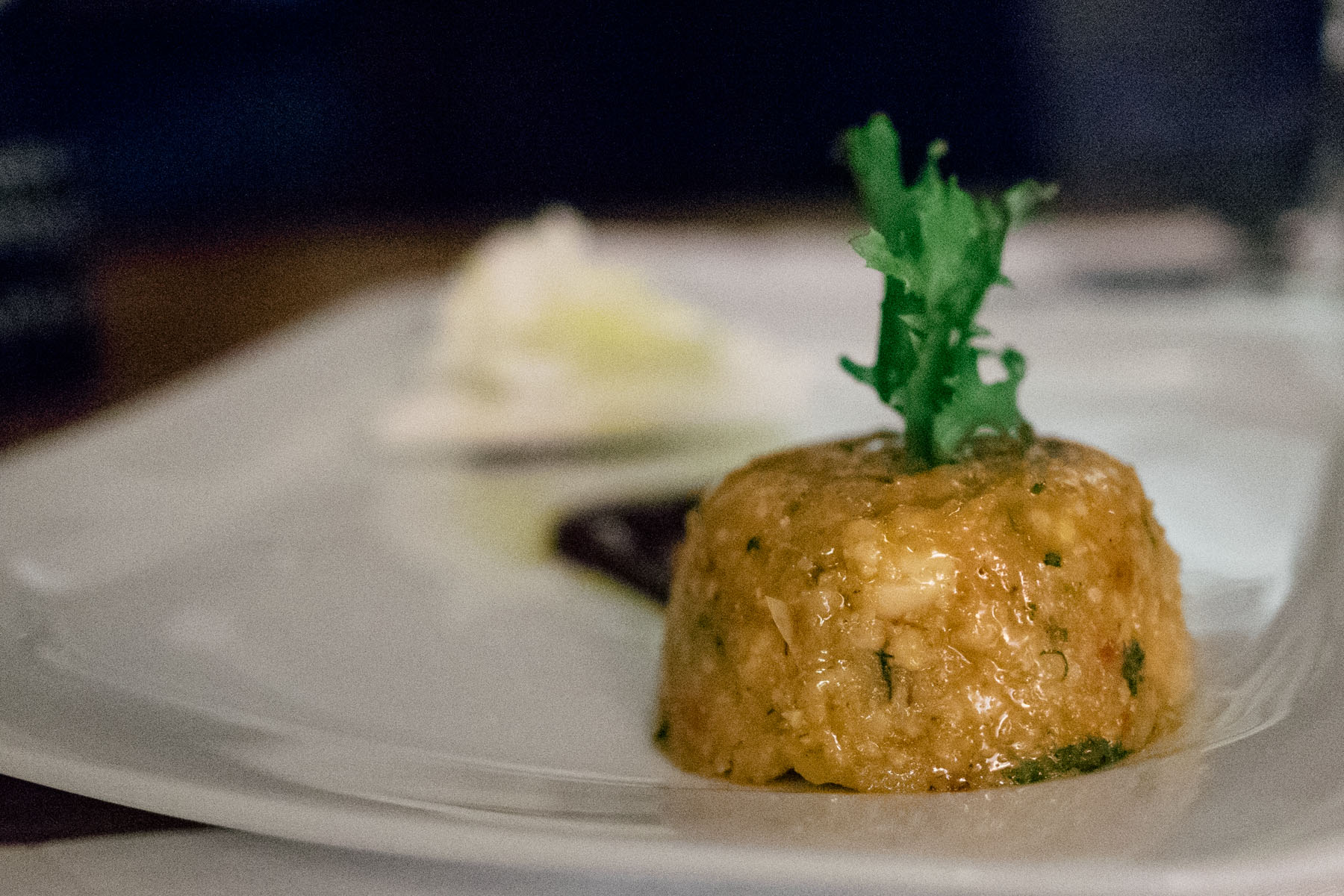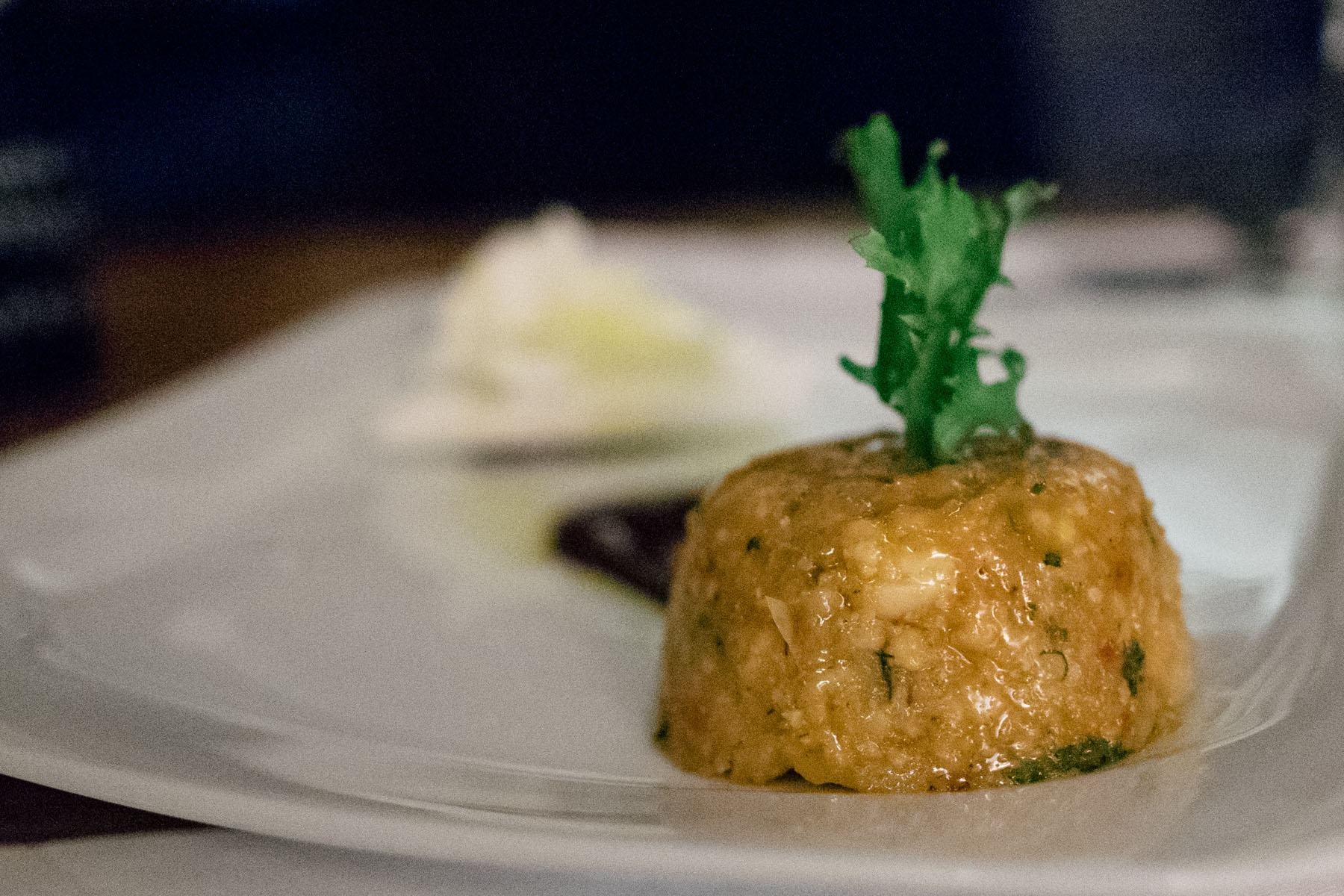 Retumbão – tapioca couscous cooked in rich shrimp stock with sliced squid, grated Brazil nuts, shredded coconut and açaí sauce served with a tapioca beiju (R$38 or $17 USD). The texture of the Retumbão was packed with flavor and was slightly similar to a risotto, but with a more viscous texture.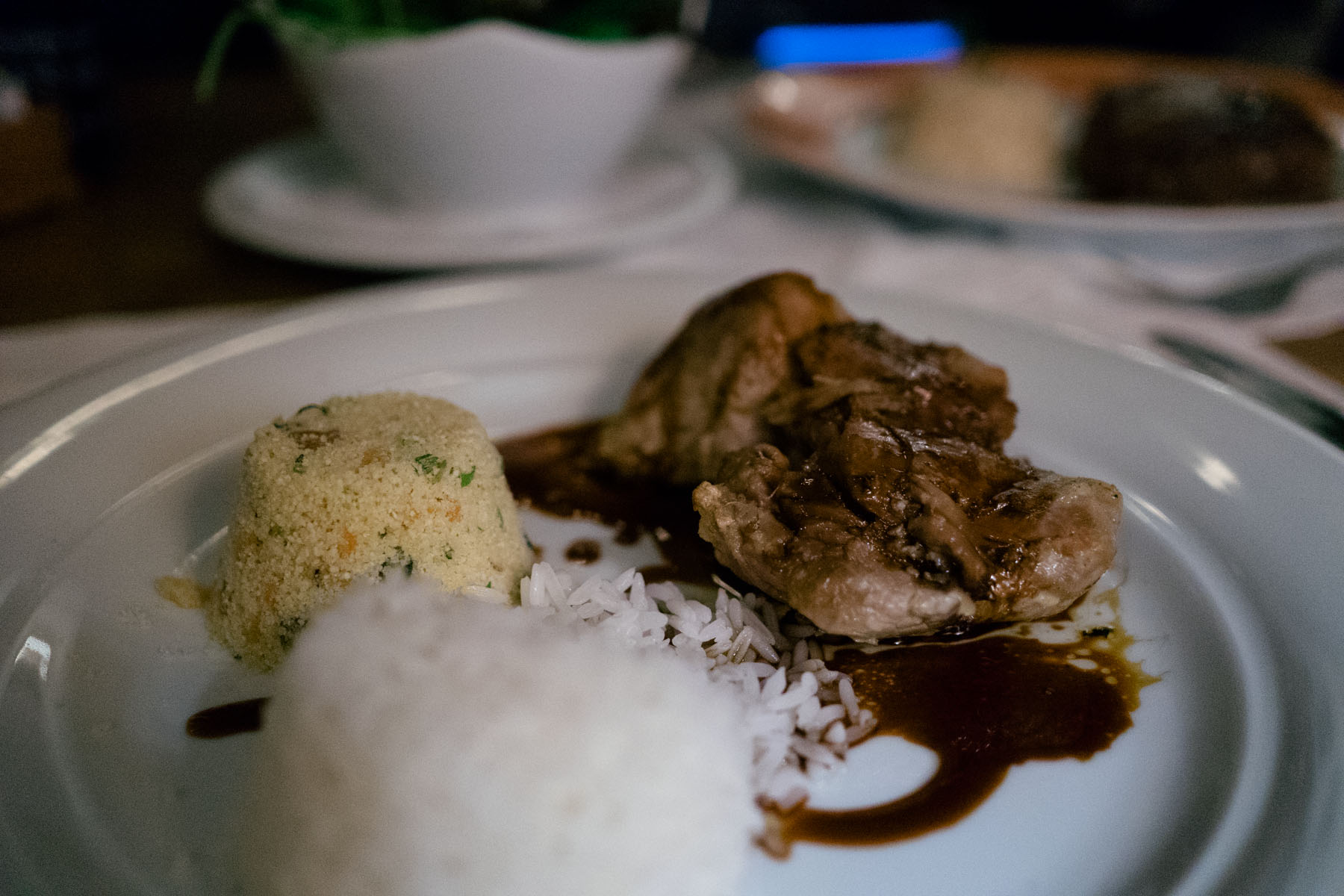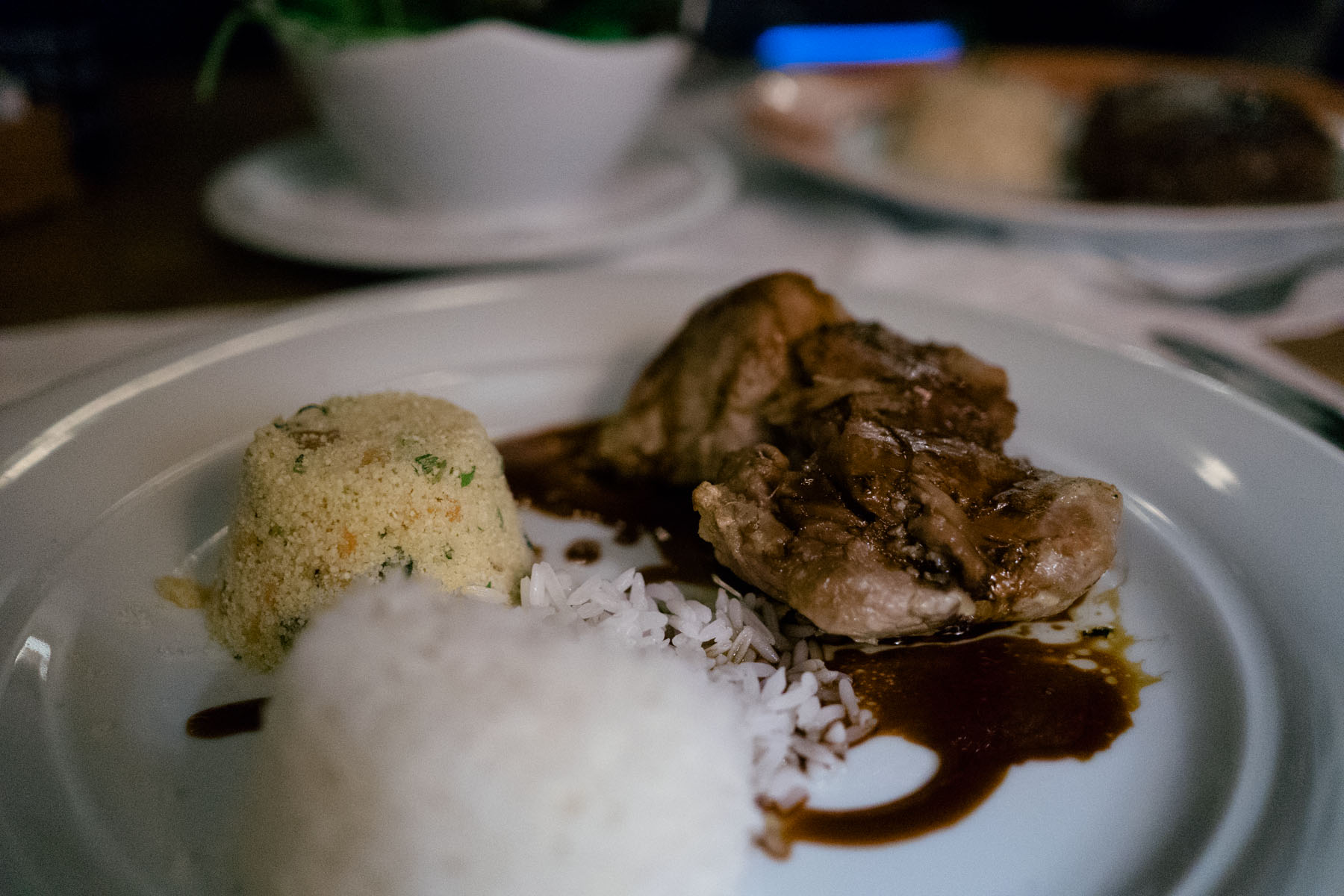 Pernil das Gerais – braised free-range pork from Minas Gerais served alongside caramelized pineapple, mint, white rice and manioc flour with carrots and raisins (R$74 BRL or $33 USD). Can't go wrong with sweet caramelized pineapple and succulent braised pork!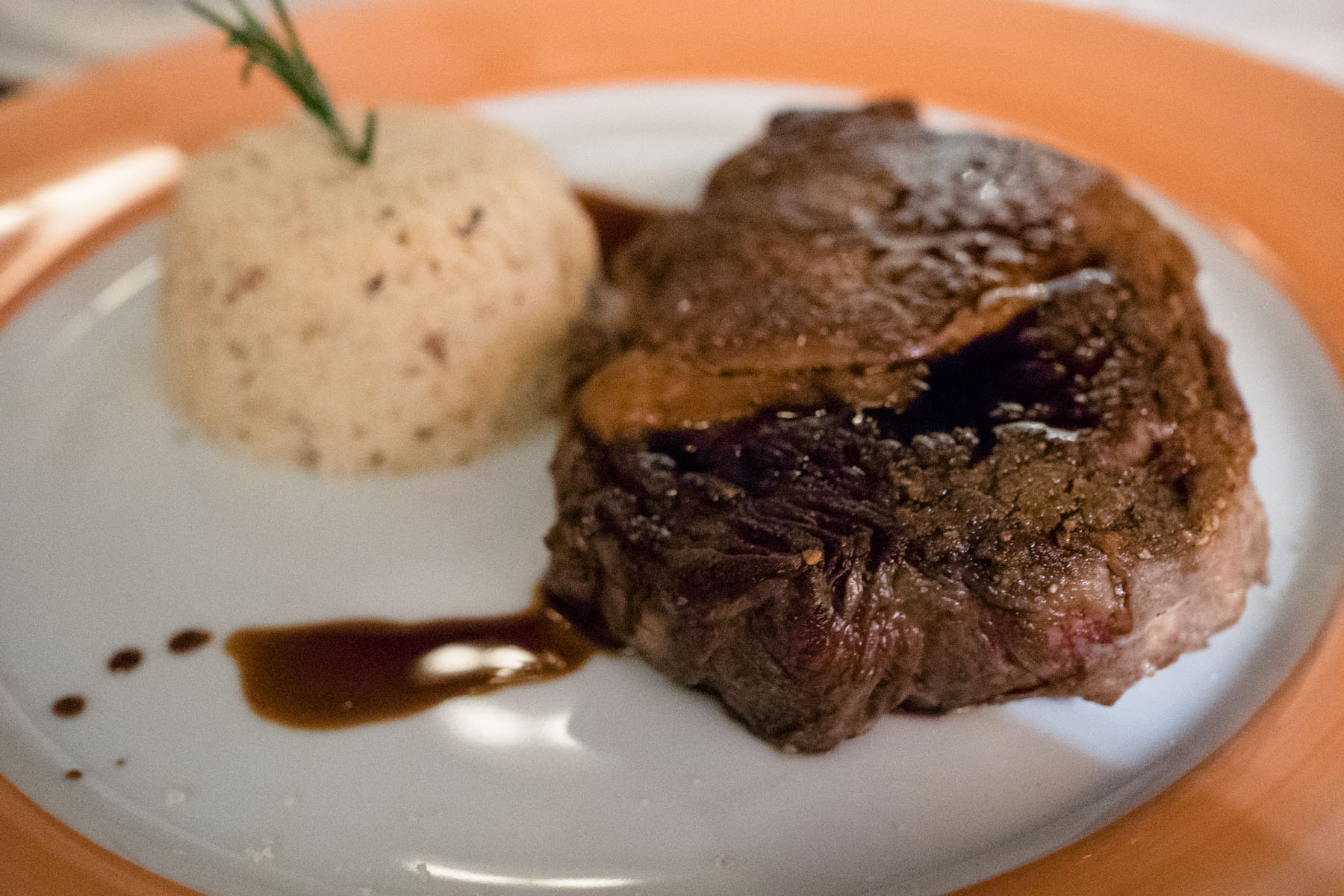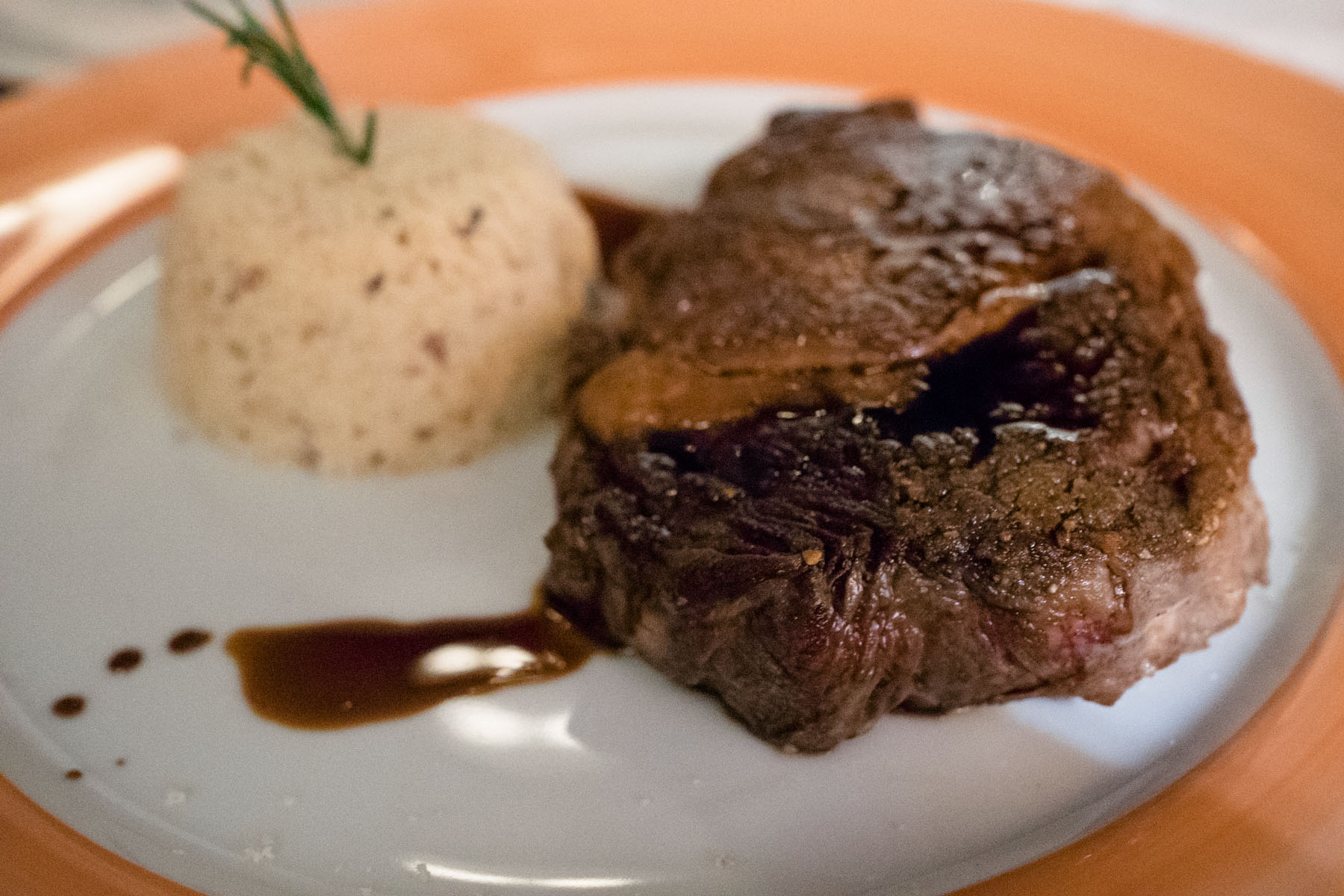 Entrecôte da Guanabara – ribeye steak on a puddle of demi-glace sauce served with farofa and a side of long-bean salad (R$72 or $32.50 USD).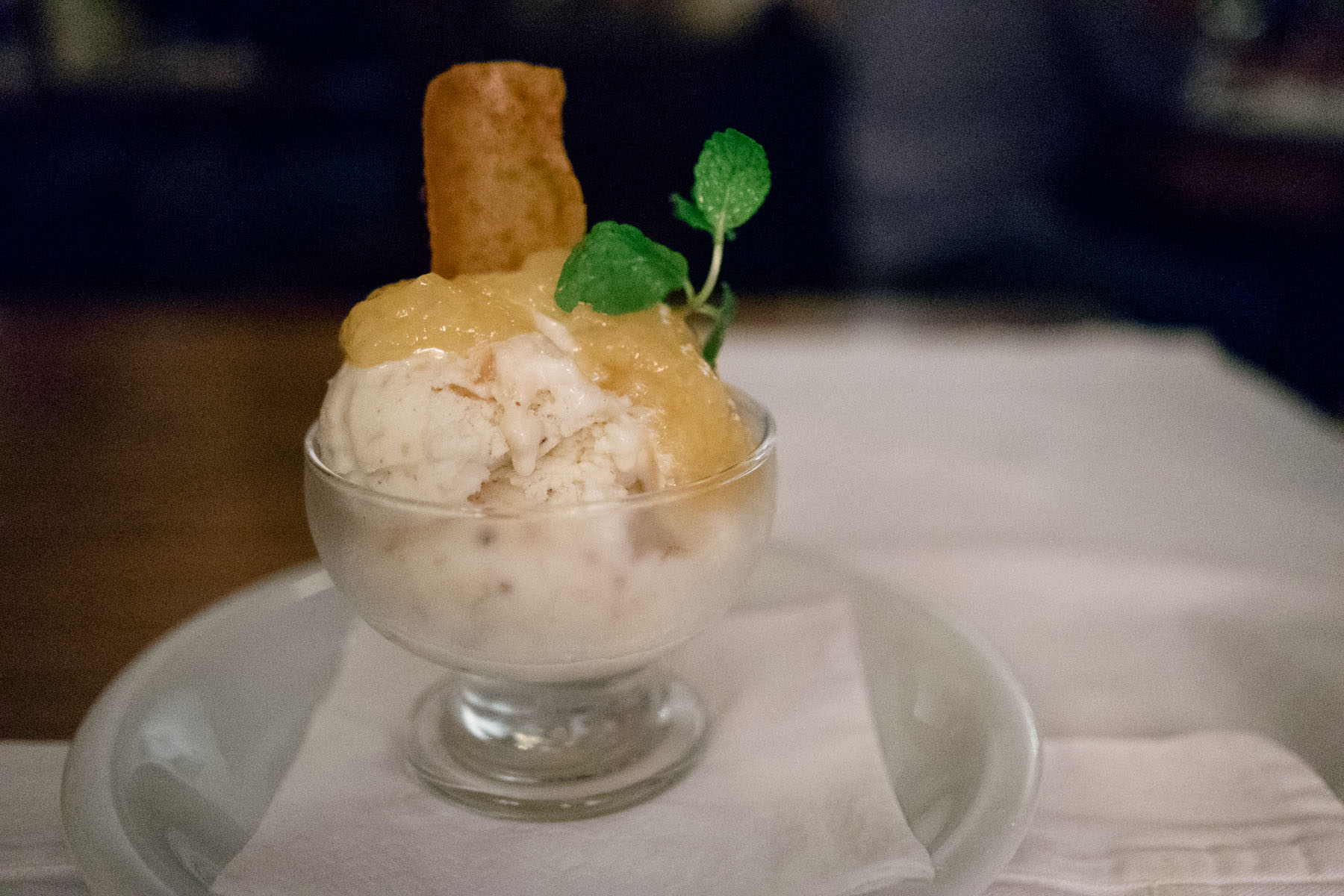 Carimbó – castanha (Brasil nut) ice cream served with cupuaçu which is a fruit common in South America with a flavor described as a mix of chocolate and pineapple (R$26 or $11.75 USD). Loved the nutty castana ice cream topped with the sweet cupuaçu. It had an interesting flavor, but I would have to say it tasted more of pineapple than it did of chocolate.

Restaurante Aprazível
R. Aprazível, 62 – Santa Teresa
Rio de Janeiro – RJ
20241-270, Brazil
p: +55 21 2508-9174
Brazilian, Brunch, Dinner, Lunch, Rio de Janeiro, Brasil, South American