I was visiting New York for just over a week. I ❤ NY and I've always dreamed of moving there one day. I hadn't been to New York for almost 3 years so I was super excited to be back! The first time I visited, I spent most of my time being a tourist and the second time around, alls I did was party and bullshiit. So this time, I was food focused and planned to eat my way through NYC.
Luckily, our friends from HAVEN, Dan and Arthur Chmielewski were in town around the same time and invited us along on the craziest food tour EVARRR! The masterminds behind this amazing food tour are their sister Angelique Chmielewski and her man Stevenson Aung who are fellow Albertans who moved to New York to pursue fashion and design respectively  (check out their websites! They're awesome!). The food tour is pretty much a taste of some of their favorite spots in  Manhattan. Thank you SOOOO much for taking us on the best food adventure ever! Eugene and I promise to return the favor when you visit Hong Kong!
Within an 8 hour span, we hit up at least 20 food and beverage establishments! We technically only ate at about 14 though, which is still pretty cray cray in my mind. For the purpose of this food blog, I'll only post the spots where we actually ate food. If ya'll follow me on Instagram, you would have seen a thorough look at the Chmieleski and Aung Food Tour with short captions, but here are the full details! Apologies in advance for the inconsistent picture quality since some pictures were taken with my iPhone!
#1: Café Habana
17 Prince Street at Elizabeth Street New York, NY 10012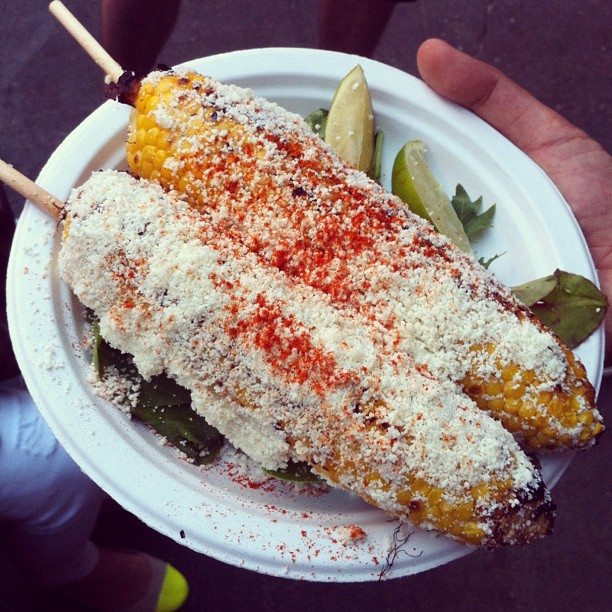 The tour started off with some banging' Grilled Corn Mexican Style from Café Habana ($2 USD)! Mmmm the corn was super sweet, juicy and tangy. SOO good! Check out some of the other goodies they have on their menu.
#2: Tacombi at Fonda Nolita
267 Elizabeth Street New York, NY 10012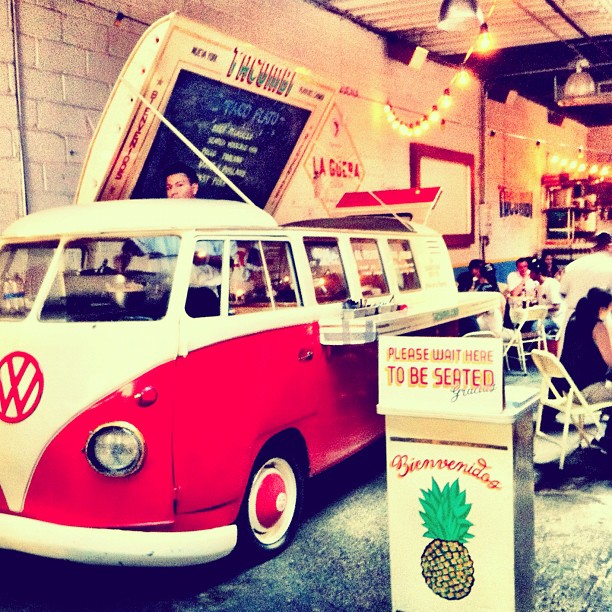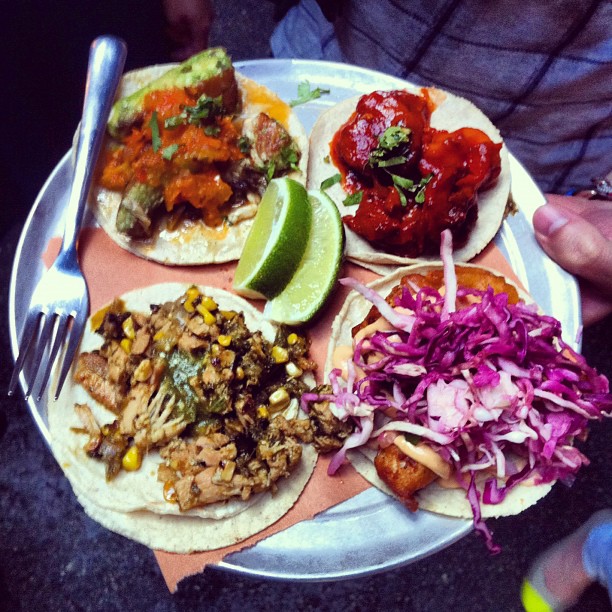 After the corn, we walked down the street to Tacombi at Fonda Nolita for some tacos! They have a ton of choices on their menu but we had the Seared Veracruzana Fish,  Shrimp A La Diabla, Pollo Poblano and Crispy Ensenada Fish ($3.67 to $5.51 USD each). These were all awesome and wayyyy better than any tacos we have in Hong Kong. The Crispy Ensenada Fish was my favorite!
#3: Caracas Arepa Bar
93 1/2 E 7th St. NY, NY 10009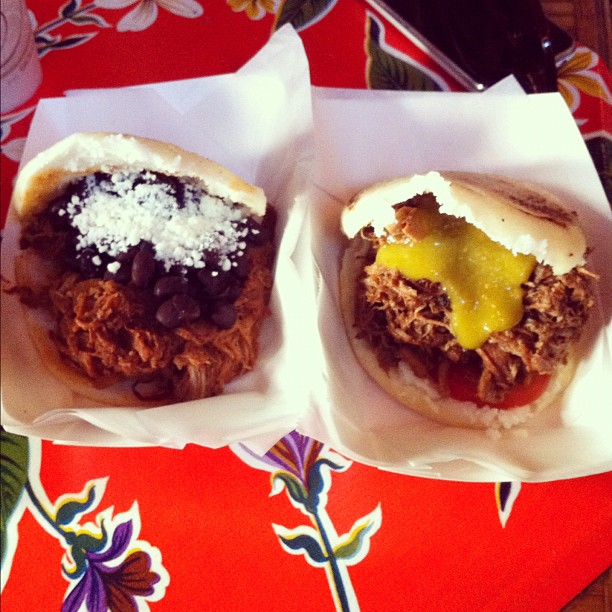 Our third spot on the tour was Caracas Arepa Bar which specializes in Venezuelan arepas which are essentially corn flour pockets stuffed with various fillings such as meat, beans, and veggies. Here we have De Pabellón shredded beef, black beans, white salty cheese and sweet plantains ($7.50 USD)  and La de Pernil roasted pork shoulder, tomato slices, and spicy mango sauce ($7.50). Both were effing delicious but I liked the De Pabellón slightly more which is weird because I'm not a huge fan of beans.  Make sure you squirt on a generous glob of House (Secret) Sauce on your arepas! The sauce is amazing! (menu here)
#4: people's pops 
75 9th Ave, Manhattan, NY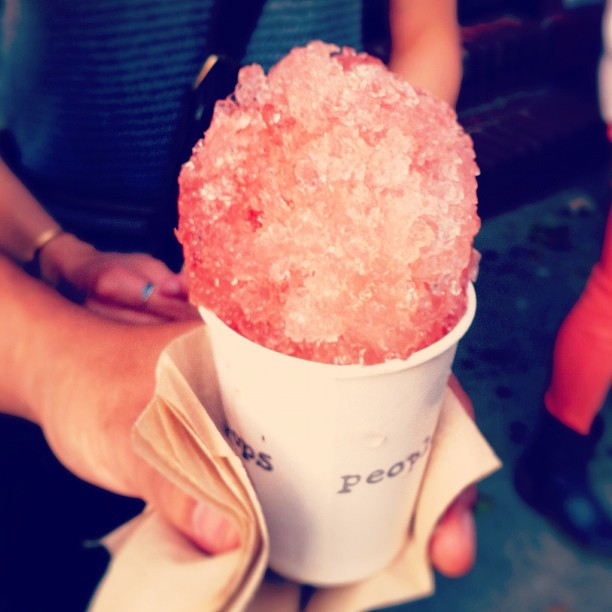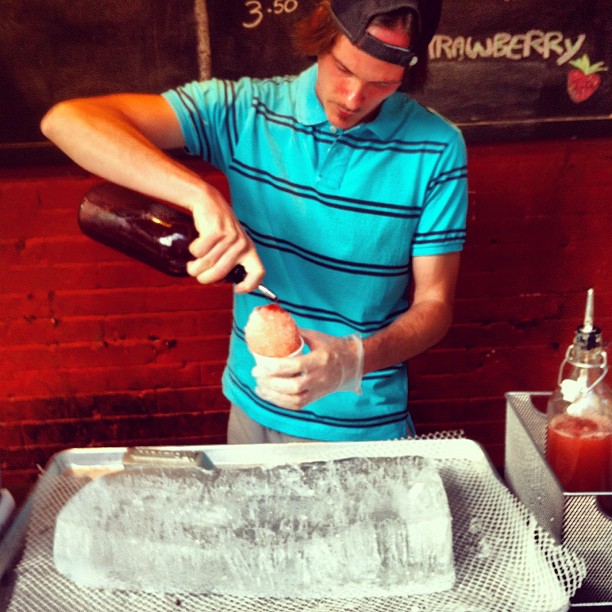 After the first three savory spots, we switched it up and had Rhubarb and Red Plum shaved ice ($2.50 USD) at people's pops. I've never seen shaved ice made like this! So buddy basically takes a metal ice scraper and shaves layers off of that huge ice block. Its similar to a sno cone but without all that nasty artificial coloring and sweetener ish.
#5: Luke's Lobster
93 E. 7th Street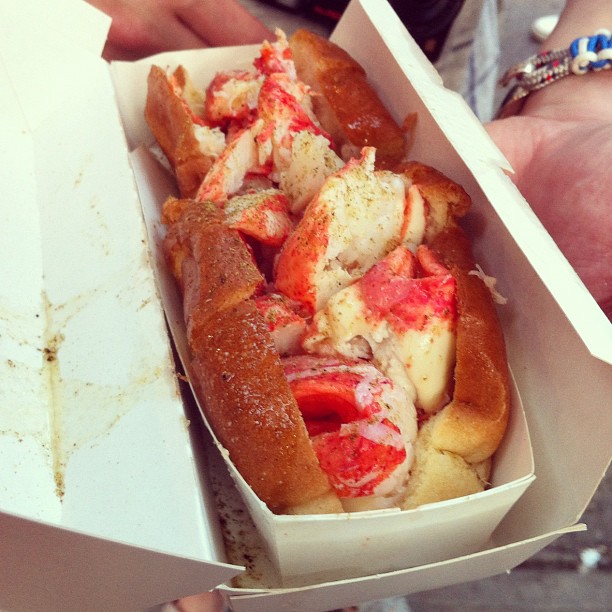 Luke's Lobster was the best part of the food tour and possibly one of my favorites of my entire NYC trip! It was SOOO EFFING DERICIOUS! I seriously have dreams about this Lobster Roll ($15 USD). The roll was soft and moist, lobster was cooked perfectly, and drenched in buttttaahhh just the way I rike it! The Crab Roll ($12 USD) is good too and soaks up more of that butter!!!
#6: Porchetta
110 East 7th Street  New York, NY 10009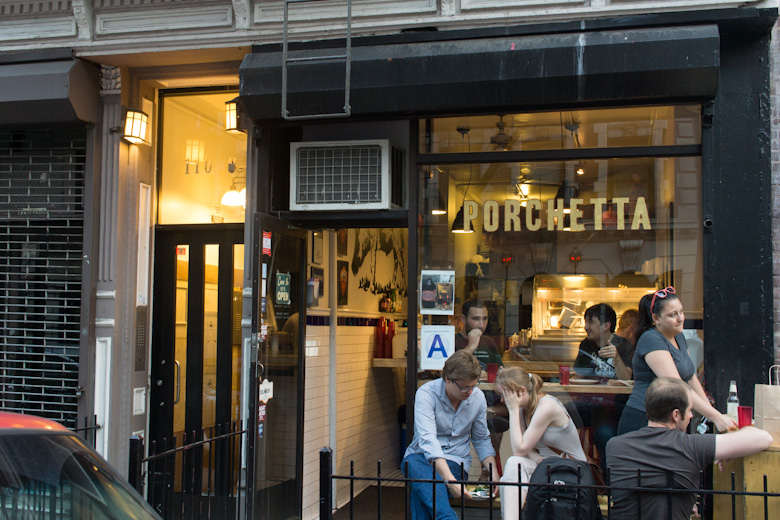 Number 6 on the tour was Porchetta where we ate the Porchetta Sandwhich ($10 USD). I thought this was aiite. The bun was sort of tough and hard while the pork was on the dry side.
#6: Butter Lane
123 East Seventh Street, New York, New York 10009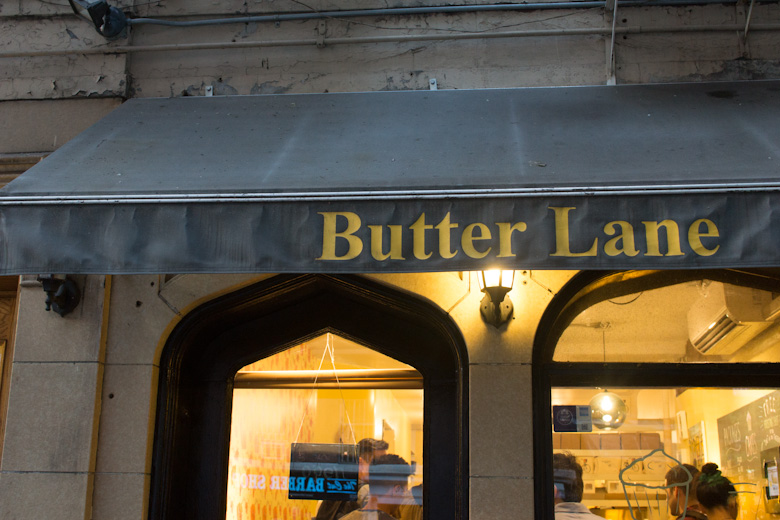 Throwin' in some more dessert with cupcakes from Butter Lane – Banana with Cherry Frosting, Chocolate with Espresso Frosting, Vanilla with Popcorn Frosting, and Banana with Vanilla Frosting (I think it was $3.25 USD per cupcake). We went pretty late so they were sold out of a lot of flavors. I really wanted to try their Sea Salt Chocolate and Cookie Dough frosting!
#7: Big Gay Ice Cream Shop
125 East 7th Street, New York NY 10009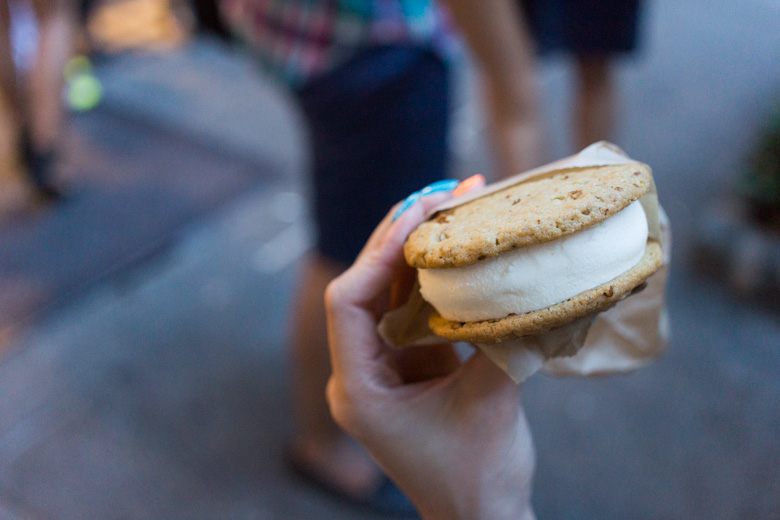 This is a Bourbon Ice Cream Ice Cream Sandwich (I think it was $4 USD?) from Big Gay Ice Cream Shop! It tasted exactly like bourbon and was so so so good. I've been dying to try this place forever ever! I wanna go back and eat errrrthingggg! Their toppings sound unreal – Olive Oil & Sea Salt, Toasted Curried Coconut, Wasabi Pea Dust, Pumpkin Butter, and Sriracha!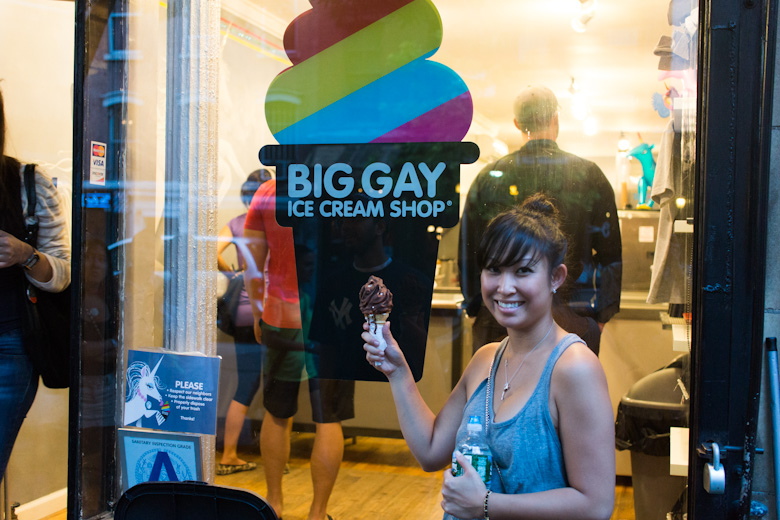 Sammi holding a Salty Pimp – Vanilla ice cream, dulce de leche, sea salt, chocolate dip ($5 USD) ! Sammi is one of my BFFS and I lufffff her to death! I miss you SAMMI!!! ❤❤❤
#8: Crif Dogs
113 Saint Marks Pl # 2, New York, NY 10009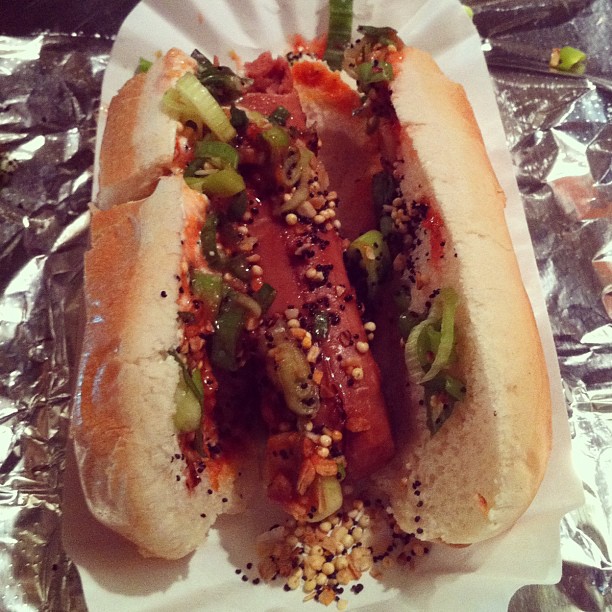 Veggie Special at Crif Dogs ($5.00 USD). We did have a vegan on our tour so we had to make sure she was satisfied as well so we stopped at Crif Dogs for the Veggie Special. This was my first time having a vegetarian hot dog but it tasted almost exactly like the real thing.
#9: Puddin'
102 St Mark's Pl, New York, NY 10009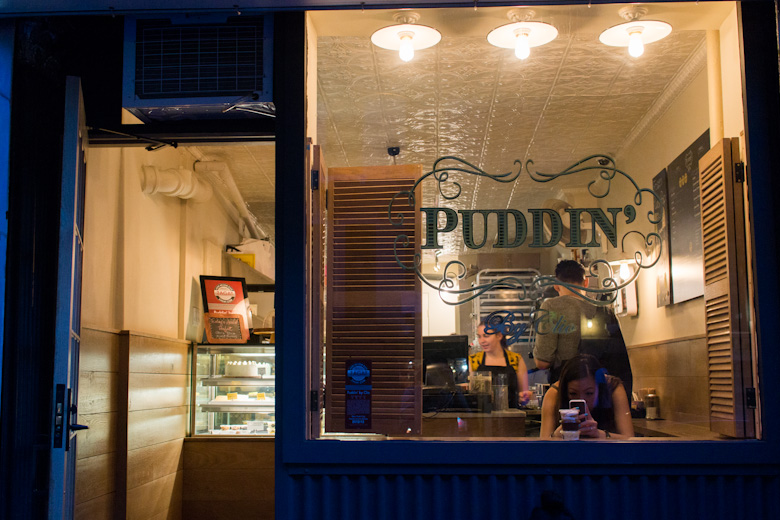 I'm not huge into pudding and there has only been one other place I've had memorable pudding which was in Japan. But Puddin' definitely hits the spot! Puddin' has the creamiest, smoothest, velvetiest pudding i've ever tasted! So so good!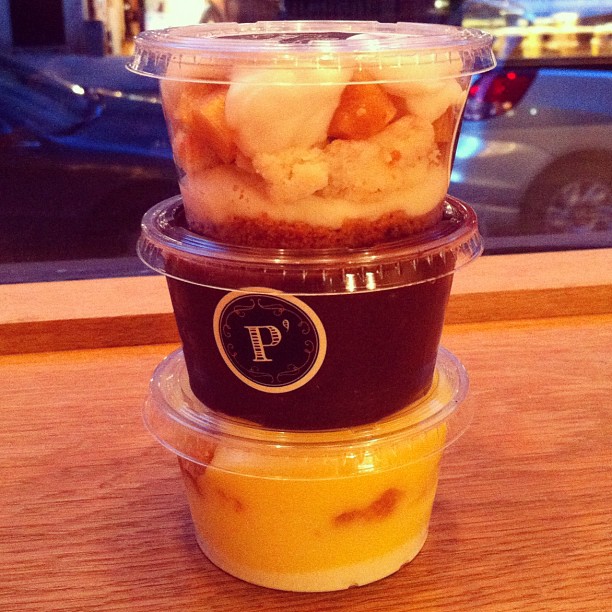 Coconut Cruise – Coconut Pudding, fresh pineapple, coconut-soaked lime cake, and graham cracker crumbs ($4 USD); Chocolate – 70% dark chocolate ($3 USD); and Lemon Drop – Lemon pudding, crushed ginger crunch cookies, toasted marshmallow creme ($4 USD). These were all friggin amazing but Lemon Lemon Drop FTW!
#10: Dumpling Man
100 Saint Marks Pl # B, New York, NY 10009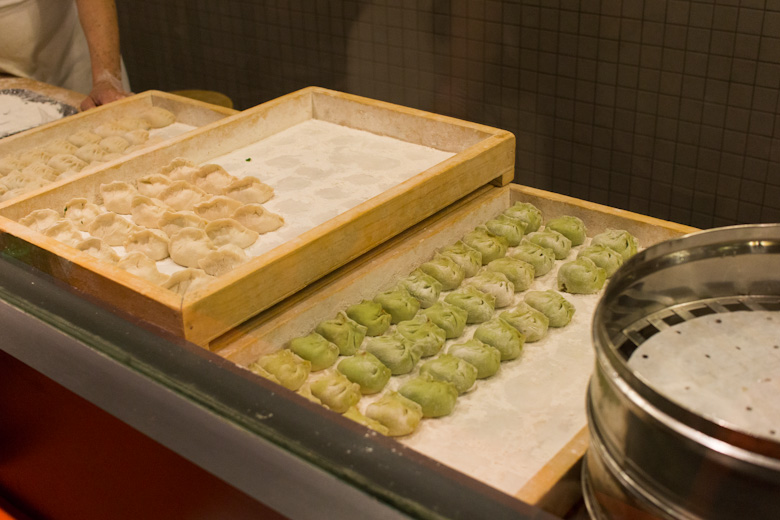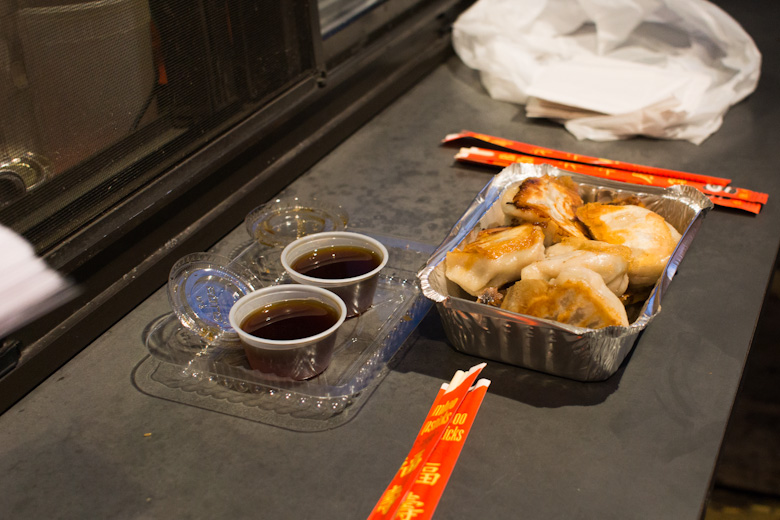 10th spot was Dumpling Man ($6.95 USD). I guess for American standards, these would be pretty good but the Dumpling Man's got nothin on local Hong Kong dumplings so I could have skipped this.
#11: Xi'an Famous Foods
81 St. Mark's Place, New York, NY 10003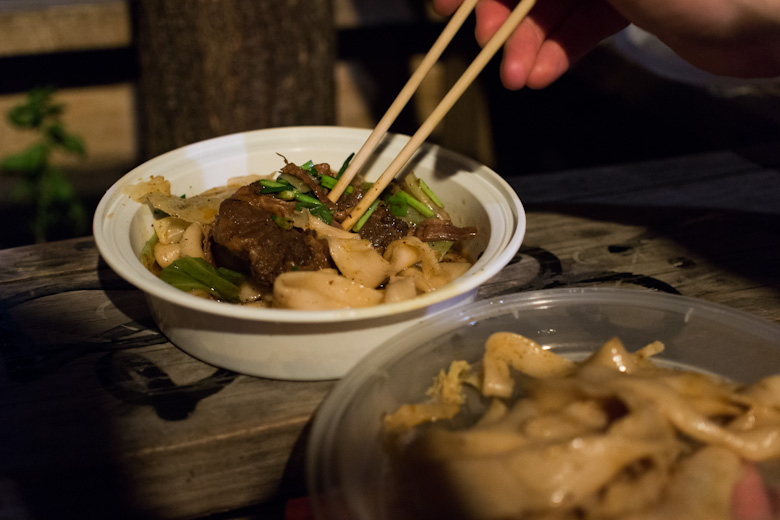 The 11th spot we hit up was Xi'an Famous Foods. Not sure if the "Famous" part came after the place blew up but the spot is quite popular. Serving deliciously spicy pulled noodles and cooked to perfection al dente Chinese style, they soak up all that spicy broth with a nice accompaniment of meat. In this case it was the Stewed Oxtail Hand-Ripped Noodles ($6.50 USD). This was for the most part one of the best dishes of the night unanimously.
#12 Kenka
25 St Marks Pl (between 3rd Ave & Astor Pl), New York, NY  10003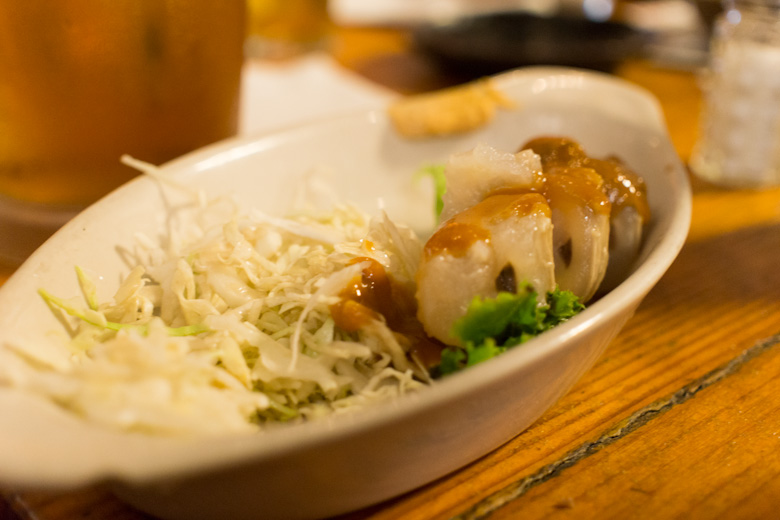 After all this eating, we figured it was time for some DRANK. Arthur and Dan suggested this place they kept incorrectly referring to as "Fight." It is in fact called Kenka, which is the Japanese word for fight but after asking around nobody knew what we was talking about. The spot is extremely (albeit deliberately) tacky with a lot of '70s Japanese imagery and some rather lewd mannequins decked out with massive strap-ons in a small courtyard. We really just came for the beer, however we did hear about the "special" menu which consisted of some next level offal. We're pretty used to your liver, lung, kidneys etc but they served bull penis ($6 USD), turkey testicles ($6 USD) and pork brain ($6 USD, probably the tamest of the three?). Pictured above is the bull penis which to be frank doesn't have an offensive taste, but of course you need a strong mind to get past the fact you are eating pen15. If you've had any form of beef tendon (which comes in either soft, tender and thicker more fibrous cuts), the texture is similar… The turkey testicles ($6 USD) taste like liver, with a smoother, less overpowering taste. If you served it mashed up, it would be hard to differentiate. We didn't get the pork brain as our resident doctor suggested that it could be dangerous due to the who-knows-what viruses looming. The score of 0 really isn't a true rating, we would definitely come back, pitchers were cheap, like $15 USD.
#13 Japadog
30 St. Marks pl, (between 3rd Ave & Astor Pl), New York, NY  10003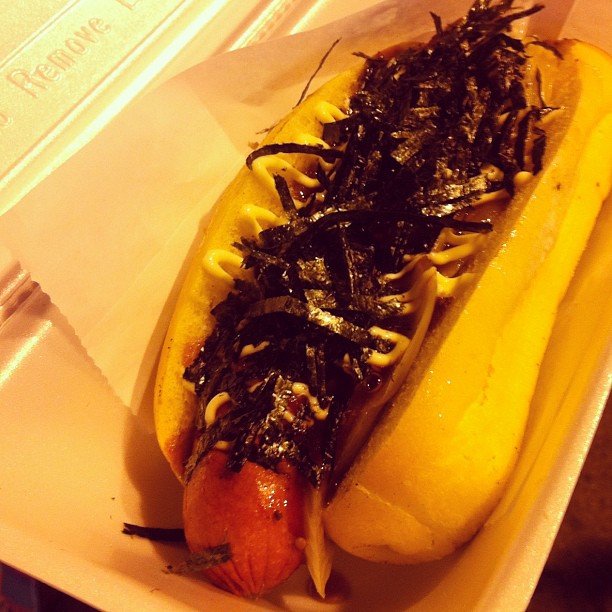 Vancouver's claim to hotdog fame made the move to New York City not that long ago. I must concede the Japadog New York spot was my first experience, but so many Vancouver people swear by the Japanese-inspired hot dogs. By this time, I can't say I really knew what was going on. It wasn't memorable and I was pretty full… but I'll go with the sheep and say that it's worth trying out again, hopefully on Canadian soil.
#14 The Meatball Shop
84 Stanton Street, New York, NY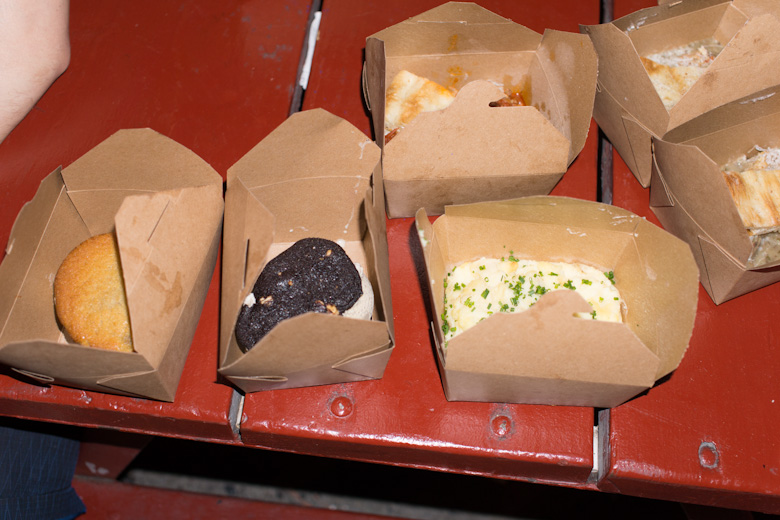 The Meatball Shop is amazeballs, amazeballs enough we went three times. The first time we went was with Nico of Staple Design and we went back again on this food tour. The pictures of this spot, while being our favorite are virtually non-existent. Mostly cause Eugene got too drunk the first two times to take nice photos and forgot his camera the third time when we went to the Brooklyn joint. As you can imagine, balls are the specialty and you have a lot of play in which you can choose the type of meatball (Classic Beef/Spicy Pork/Chicken/Vegetable) with a sauce (Classic Tomato/Spicy Meat Sauce/Mushroom Gravy/Parmesan Cream/Pesto) in various formats ("Naked Balls"/Sliders/Heroes/Smash) ranging from$3 – $10 USD. There are some awesome sides too like the mashed potatoes and choose-your-own ice cream sandwiches. I definitely recommend going here… the Mushroom Gravy and mashed potatoes are things you NEED to get.
American, Asian, Chinese, Cuban, Dessert, Dinner, European, Italian, Japanese, Lunch, Mexican, New York, USA, North American, South American, Venezuelan