The Lowdown
Restaurant Name: Rubirosa
Cuisine: Italian American Restaurant and Pizzeria
Average Price per Person: $20 to $35 USD
Location: Nolita, New York City (please refer to the map below for details)
Recommendations:

Ratings (out of 5)
Taste: 4
Creativity/Authenticity: 4
Atmosphere: 3.5
Service: 3.5
Bang for Buck: 3
Crayscale !!!

While I was in New York, I was on a quest for good Italian restaurants and pizzerias. I just happened to find the best of both worlds at Rubirosa! I did some intense research before my trip and had written Rubirosa down somewhere on the 5 pages of my NYC To-Eat List in my journal. I had a few New York food veterans skim through my list to highlight the good spots. Rubirosa was one of the spots that Nico Reyes of Staple Design co-signed. Having just met him and exchanged a few words about food, I had a good feeling I could depend on this guy.
Rubirosa is an awesome little Italian-American restaurant/pizzeria located in Manhattan's Little Italy. The restaurant has a mellow family style vibe to it and its interior has a rustic old school Italian feel with a long narrow bar that splits the front room of the restaurant. The atmosphere at the entrance seems slightly cozier and romantic, but the tables at the back is where all the pizza making action can be witnessed.
The food here is exactly what I was hoping for. Straight-up Italoamericani food. Everything from the pasta to the pizza was done right. The gnocchi was delicate and tender smothered in a rich creamy delicious sauce which melted in my mouth with every forkful I shoveled into my mouth. The Black and White tagliatelle had a mound of seafood atop texturized ribbons of al-dente tagliatelle that absorbed the flavorful red sauce. Don't even get me started with the pizza! The crust was über thin and crispy with the perfect balance of salty prosciutto shavings, halved sweet figs and reduced balsamic drizzle. Mmmmm Rubirosa definitely hit the spot =) !!!
Breaking bread.
Mixed Green Salad with thinly sliced cucumber, tomatoes, fennel, shaved pecorino and oregano vinaigrette ($10 USD). The salad was refreshing finished with just the right amount of buttery pecorino.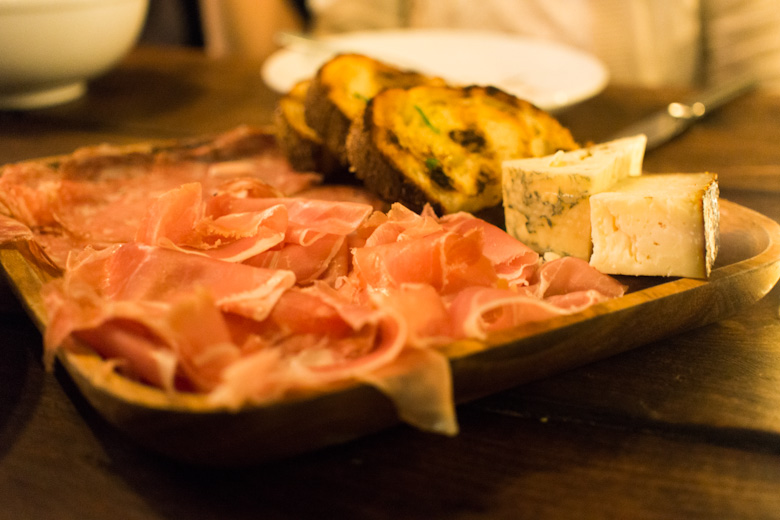 Rubirosa Antipasto with prosciutto di parma, local salumi & cheese, homemade mozzarella, roasted peppers, marinated olives, giardiniera ($19 USD small/ $29 USD large). Mmmm couldn't stop eating the the prosciutto and salumi! Sooo good.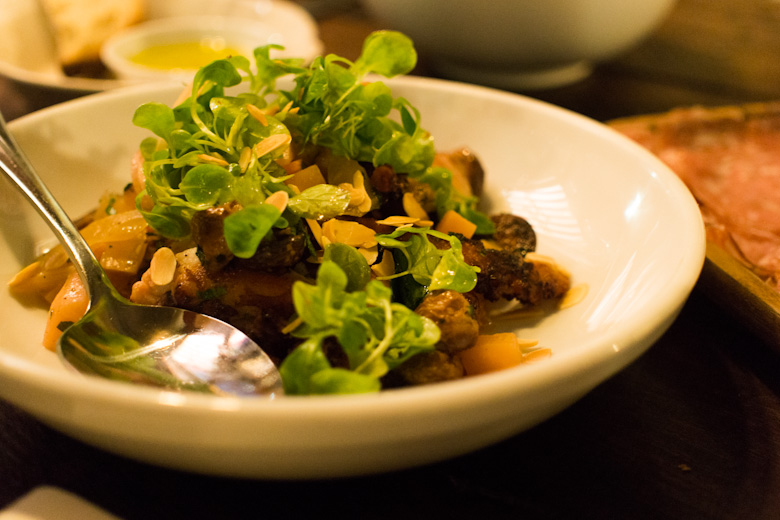 Roasted Octopus with giardiniera, mache, tomato and almonds ($16 USD). The octopus was cooked perfectly, tender and succulent. I can't stand when octopus is overcooked leaving the texture rubbery and chewy, that's that shiit I don't like.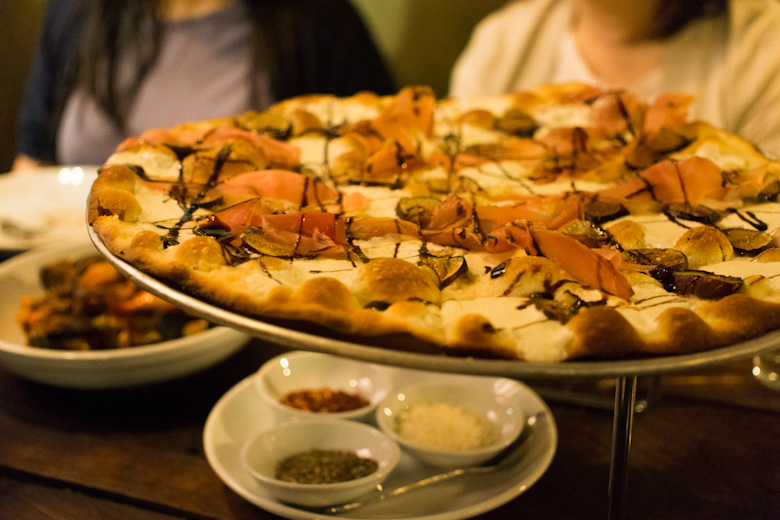 Very Special Pizza with buffalo mozzarella, figs and prosciutto ($18 USD small / $26 USD large). Mmm so good. I heard good things about their Vodka pie too with vodka sauce and fresh mozzarella. Gotta try that next time.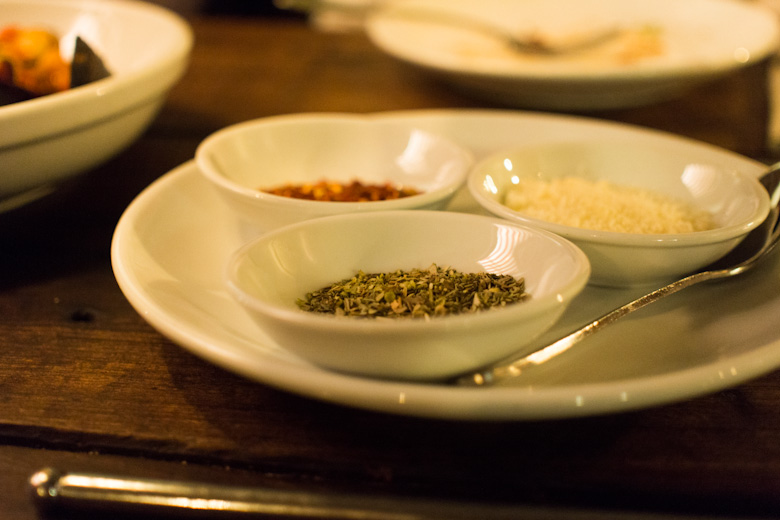 Pizza sprinkles.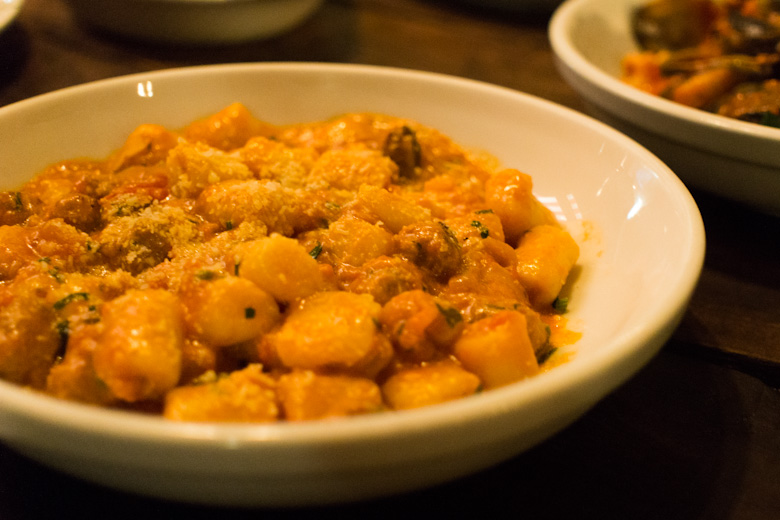 Gnocchi with mini meatballs, onions and ricotta ($15 USD small / $25 USD large). This was effing bangin.' Those potato-ey packets of deliciousness covered in creamy ricotta and that sauce with those meatballs was like an amazing orgy in my mouth.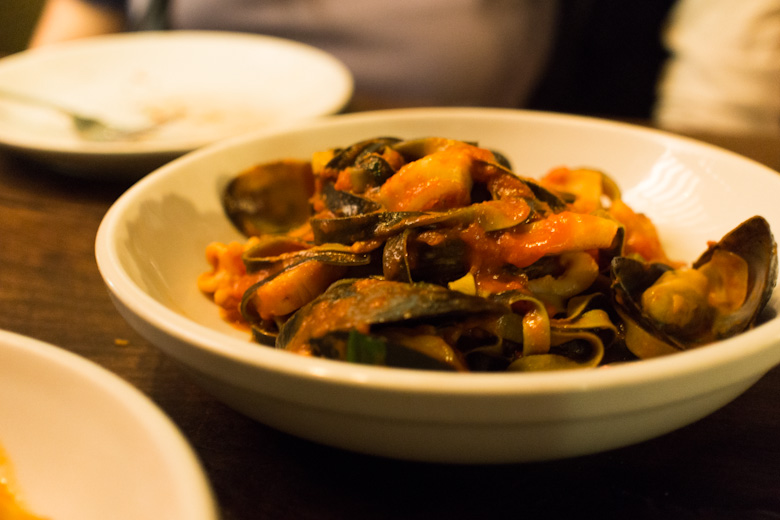 Black & White Tagliatelle with clams, mussels, shrimps, scallops and calamri ($17 USD small / $27 USD large).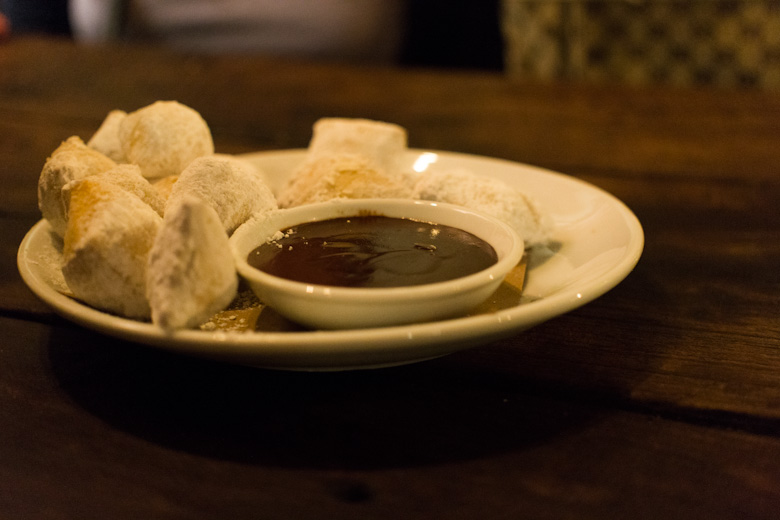 Zeppole – mini Italian doughnuts with chocolate-hazelnut sauce ($8 USD).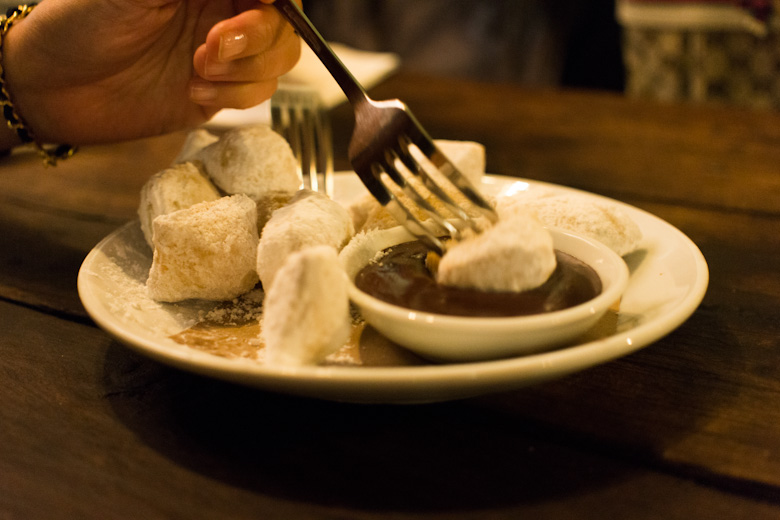 Mmmm these were delicious and on the house thanks to Eugene giving this dude that works at Rubirosa 15 minutes of fame via Hypebeast Instagram haha.
American, Dessert, Dinner, European, Italian, New York, USA, North American