The Lowdown
Restaurant Name: Lan Fong Yuen 蘭芳園
Cuisine: Hong Kong Style Tea Café or Cha Chaan Teng
Average Price per Person: $25 to $60 HKD or $3 to $8 USD
Location: Tsim Sha Tsui, Central, and Sheung Wan, Hong Kong (please refer to the map below for details)
Recommendations: Hong Hong style milk tea (奶茶), chicken steak instant noodles with green onion sauce (蔥油雞扒撈丁) and condensed milk butter bun (奶油豬仔飽)

Ratings (out of 5)
Taste: 3.5
Creativity/Authenticity: 4.5
Atmosphere: 3.5
Service: 2
Bang for Buck: 4
Crayscale !!!

Hong Kong has an abundance of tea cafés or Cha Chaan Tengs offering quick, affordable Hong Kong style fast food notorious for terrible customer service. If you're unfamiliar with the concept of a Cha Chaan Teng, just picture an old school Chinese style diner with unfriendly waiters serving Hong Kong's own versions of unhealthy, convenient fast food such as noodles, sandwiches, French toast, and even curry. Regardless of how unhealthy and terrible the service of Cha Chaan Tengs may be, people can't stop, won't stop. Locals just seem to value fast service and affordable prices above all.
One of my favorite Cha Chaan Tengs in Hong Kong is Lan Fong Yuen. I used to eat here once a week or grab a milk tea when I worked in Central. There are three locations, but I usually hit up the OG location in Central. It's sort of hard to find at first because it's literally a hole in the wall. There's a stand that resembles somewhat of a shack blocking the entrance of the restaurant leaving a small crevasse on the side where customers enter. Inside the shack is a station setup for preparing drinks and toasting buns. Sharing tables here is mandatory as the seating area of the restaurant is pretty small, stuffed with compact foldable round tables and uncomfortable stools #sardinecanstyle.
Lan Fong Yuen is kind of a big deal in the world of Cha Chaan Tengs and has become quite the tourist attraction. There's usually a line during the lunch and dinner rush but it moves  fairly quickly as the servers have a pretty good hustle going on as they rush and boot customers out once the plates start clearing up. It's a good place for a quick bite to eat or to grab take out. They were kind of giving me the stink eye when I was taking pictures though, probably because they wanted me to inhale my food and GTFO.
Some of Lan Fong Yuen's signature dishes are the classic Hong Hong style milk tea (奶茶), chicken steak instant noodles with green onion sauce (蔥油雞扒撈丁), pork chop bun (豬扒包), and condensed milk butter bun (奶油豬仔飽). I've also heard good things about their Kaya coconut French toast but have yet to try it. Their milk tea is effing amazingggggg – creamiest milk tea ever! The chicken steak with instant noodles is bangin' too especially when you add a fried egg on top! Their butter bun with condensed milk is dope and on the same level as Tsui Wah's. The pork chop bun is meeehh and you could do without it.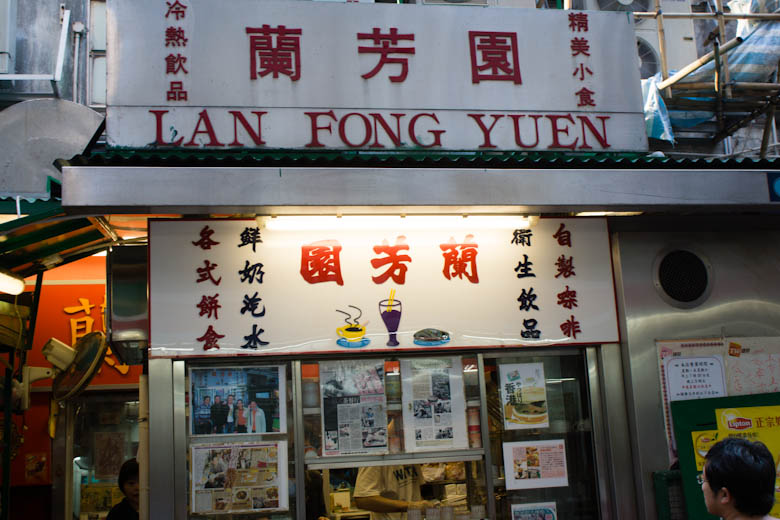 This is the shack at the entrance I was talking about. The entrance is pictured on the left, where that fan is.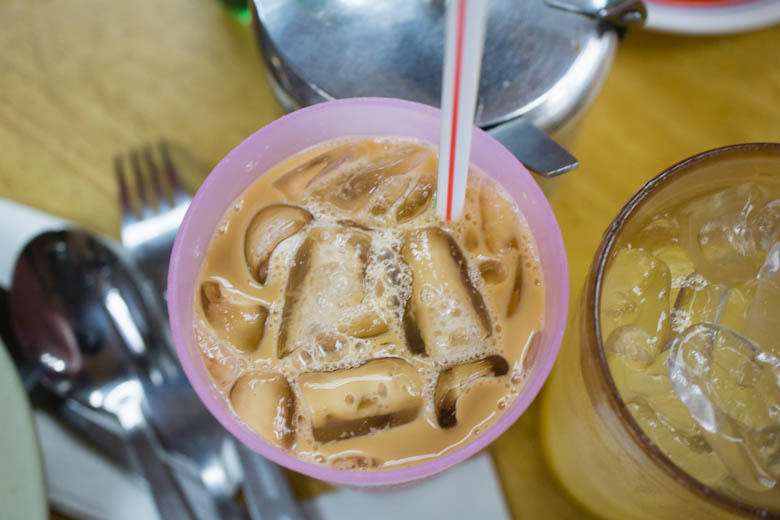 Iced Milk Tea 奶茶 ($16 HKD or $2.05 USD). This came as a lunch set with my noodles, but I had to add an extra $2 HKD or $0.25 for ice. If you like your milk tea super potent and heavy on the milk, you will laaaahhhh this ish.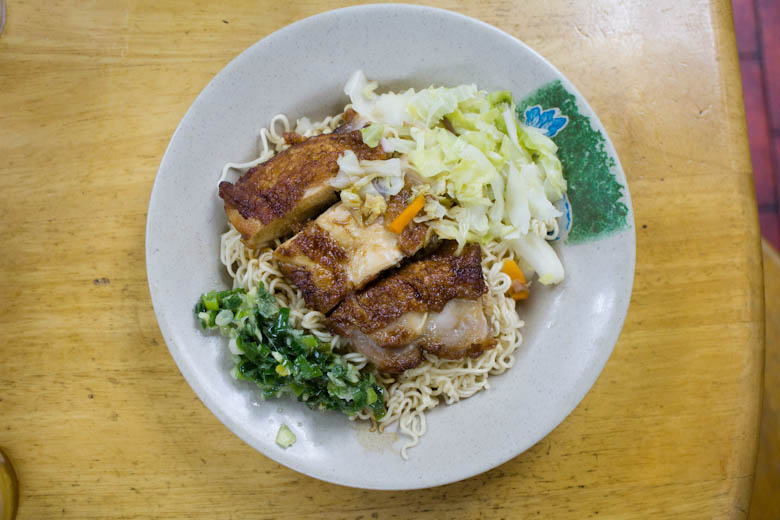 Chicken Steak Instant Noodles with Green Onion Sauce 蔥油雞扒撈丁 ($46 HKD or $5.95 USD includes a drink). The chicken is moist and tender attached to a nice piece of salty crispy skin. Mix that ish up and add an egg if you're feelin' hanngrryy.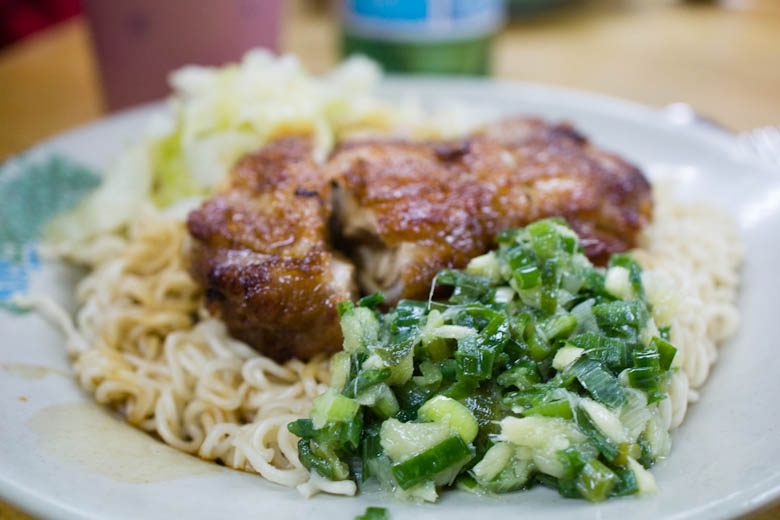 Make sure you get a little bit of that green onion sauce in every bite.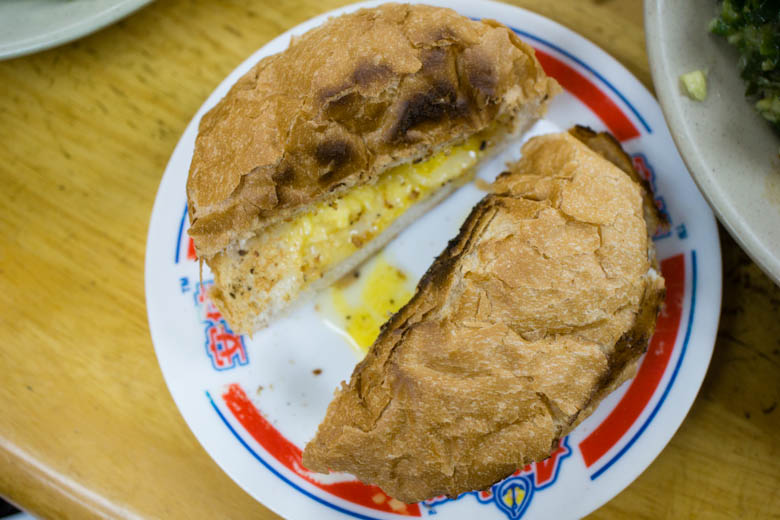 Condensed Milk Butter Bun ($11 HKD or $1.40 USD). This stuff is legit! Super simple but a dynamic duo.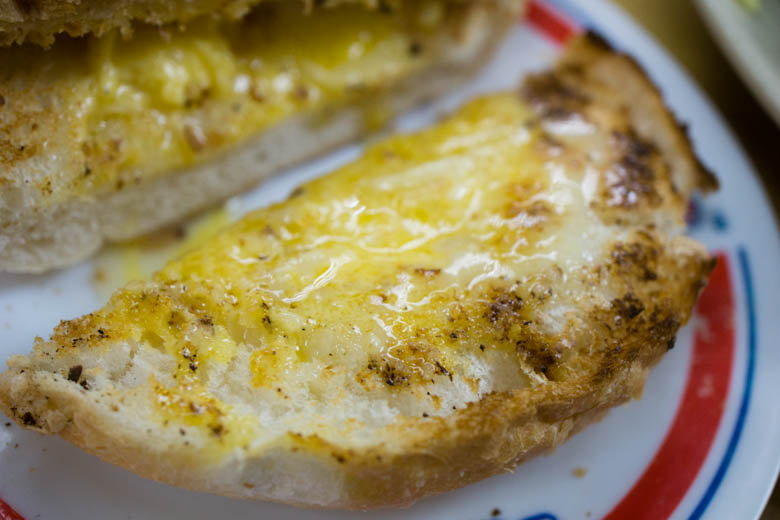 Look at all that buttery and sticky condensed milk goodness. So effing dericious. If you're not into this, you've got problems.

View Larger Map
2 Gage Street, Central
p: 852.2544.3895 / 852.2854.0731
Asian, Chinese, Dinner, Hong Kong, Hong Kong, Lunch