The Lowdown
Restaurant Name: Yardbird
Cuisine: Japanese Yakitori / Izakaya
Average Price per Person: Approximately $500 HKD or $65 USD (depending if you're getting liquored up)
Location: Sheung Wan, Hong Kong (please refer to the map below for details)
Recommendations: Liver Mousse, Sweet Corn Tempura, Yakitori (Oyster, Thigh and Meatball are my favorites), KFC – Cauliflower or Chicken (I love the chicken), Rice Cakes, Mussels, Whiskey Lemonade and Peanut Butter Ice Cream

Ratings (out of 5)
Taste: 4.5
Creativity/Authenticity: 4.5
Atmosphere: 4.5
Service: 5
Bang for Buck: 3.5
Crayscale !!!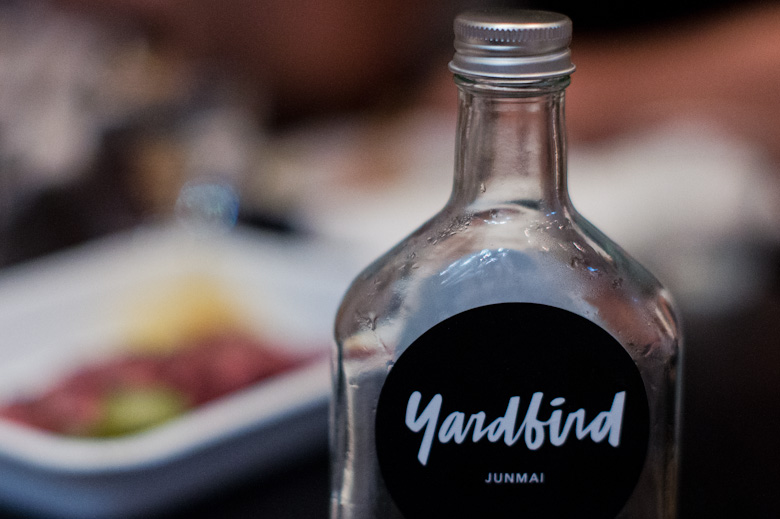 People always ask me what my favorite restaurant in Hong Kong is. It used to be a hard questions for me to answer because there are so  many great restaurants to choose from. Now that I think about it, I'd have to say Yardbird has won my heart tummy over. It's consistently delicious and always hits the spot. The owners of Yardbird, Chef Matt Abergel and Lindsay Jang, have seriously come up with a master plan creating the rillest place for good eats and the prelude to unforgettable nights (ask Eugene about his infamous naked on the bathroom floor photo). I first went to Yardbird back around when it opened, but of course at that time That Food Cray !!! was nowhere to be seen.
Yardbird does a really good job of keeping their food simple, yet creatively tantalizing. They don't over complicate dishes with a shiiiit ton of ingredients to the point where you forget what it is you're eating. Their food is straight up and to the point (more on the food if you scroll down to the pictures). Their menu comprises of full on lesson in chicken anatomy serving almost every part of the chicken from gizzard to tail, although skipping chicken feet (we get enough of that at dim sum).
Besides legit food, Yardbird also has an awesome atmosphere and drink menu. It's unpretentious, gives off good vibes, and focuses on friendly good service which is a rarity in Hong Kong. While many scoff at the idea of no reservations, it's not really a big deal – except for maybe the summer. Show-up, post up outside or at one of the standing tables and enjoy some good drinks. Another thing about HK is its lack of tipping. More often than not it's not customary to tip (i.e. local cafes or chaa chaan tengs) or simply added to the bill. So either way you get terrible service, since you're subjected to an industry of under-appreciated, under-paid (goes without saying for a lot of industries though) workers who simply don't ever see the restaurant business as a viable vocation and they just go through the motions. At Yardbird the servers are aware of everything around them it seems, they pick up on your own little cues and understand what you're in need of, before you even need to communicate it.
Eugene and I have had some of the funnest nights that started off at Yardbird. If you're living in Hong Kong and haven't been to Yardbird (most people DO seem to have gone at least once), go, NOW! Or if you're visiting Hong Kong, put Yardbird on your To-Eat List.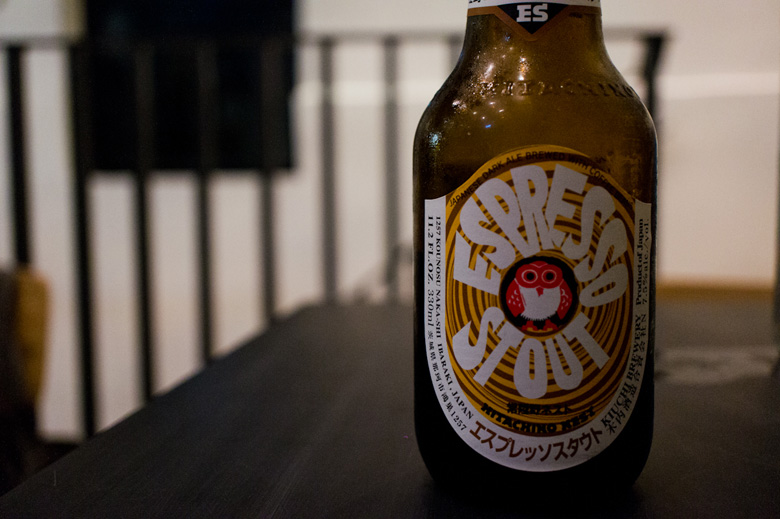 I'm not a huge beer drinker but I love Yardbird's Japanese imported Hitachino Nest  beer ($58 HKD or $7.50 USD per bottle). But if you're looking to get eff'd up really fast, skip straight to the Whiskey Lemonades.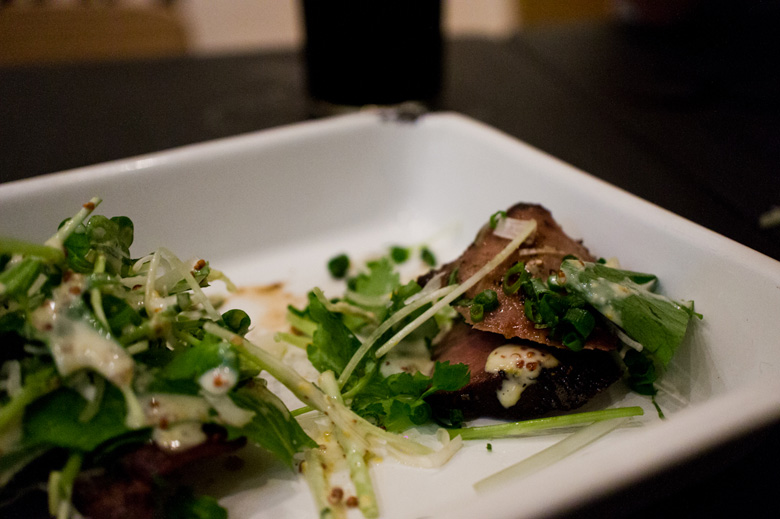 Mmmmm Ox Tongue and Japanese herbs with Japanese mustard vinaigrette ($110 HKD or $14 USD).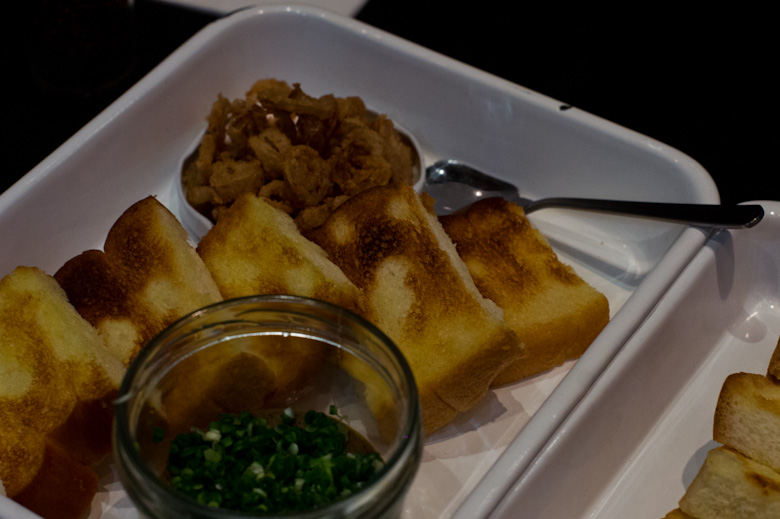 Liver Mousse with milk bread and crispy shallots ($110 HKD or $14 USD).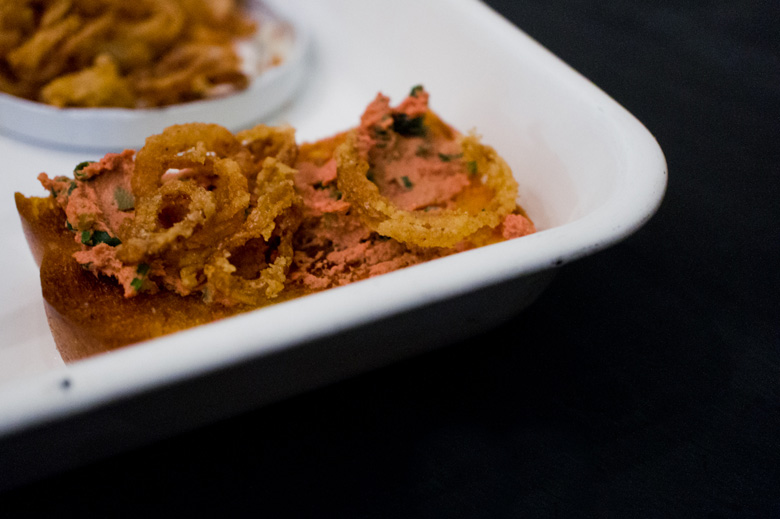 So you take a slice of the sweet fluffy milk bread, spread on a generous layer of the creamy liver mousse/pâté, sprinkle some crispy shallots on that ish and you've got yourself the best thing ever! I am a liver hater (except for foie gras) but this stuff is unreal. Its amazing how Yardbird has turned something I disliked eating into something I can't stop, won't stop eating.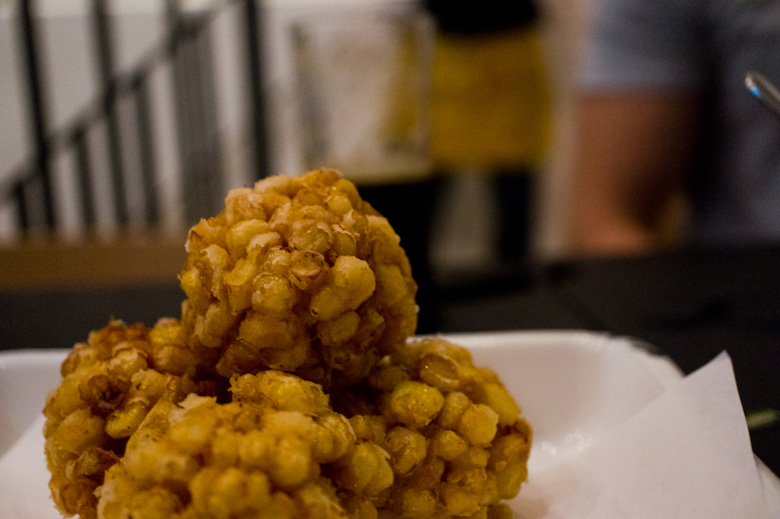 Sweet Corn Tempura ($85 HKD or $11 USD). I've had all sorts of tempura but never in the form of big hot balls of corn. This is another one of my favorites. Corn in itself is delicious but deep fried and with a little salt and pepper = amazing.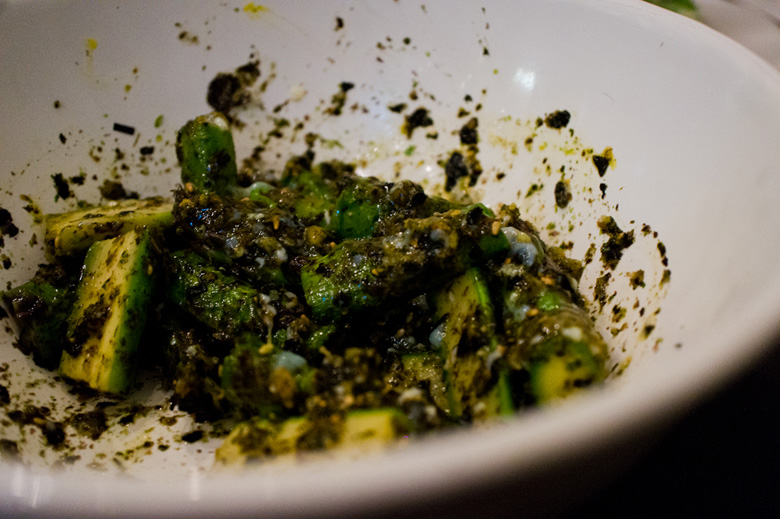 Asparagus and Onsen Egg ($95 HKD or $12 USD). I love asparagus and it tastes even better with the creamy onsen egg, furikake and sesame.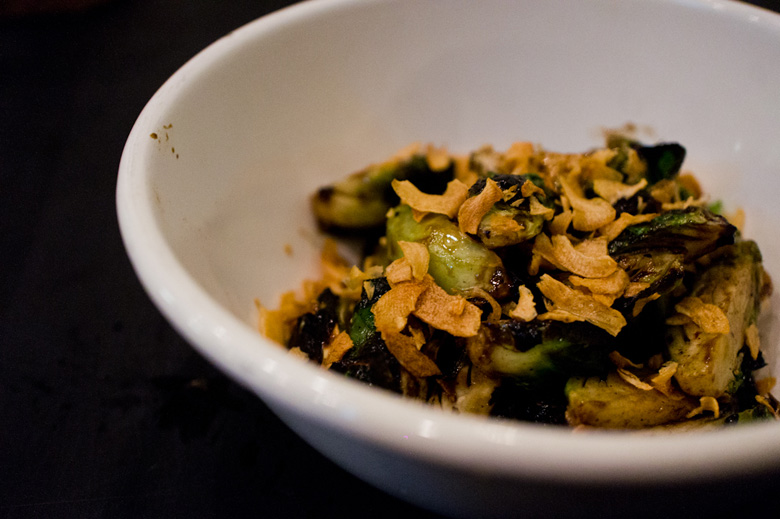 Brussel Sprouts with Fried Garlic ($80 HKD or $10 USD). My parents could never get me to eat brussel sprouts, but if they had made them like this, I would have asked for seconds.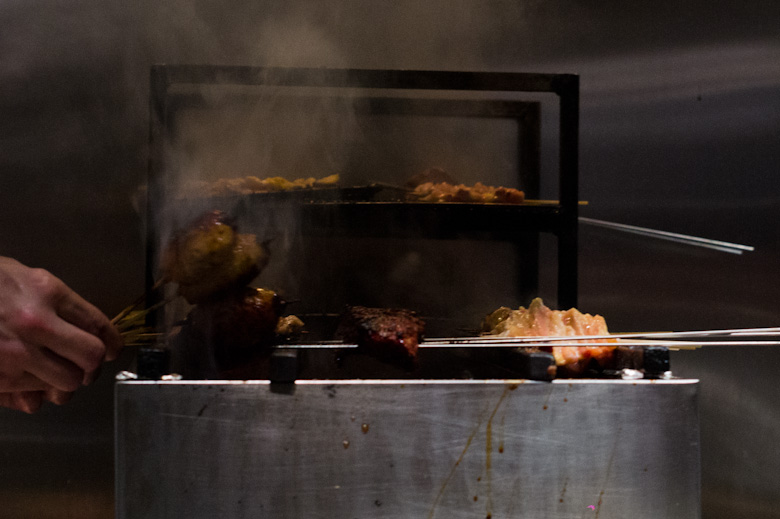 Yakitori madness!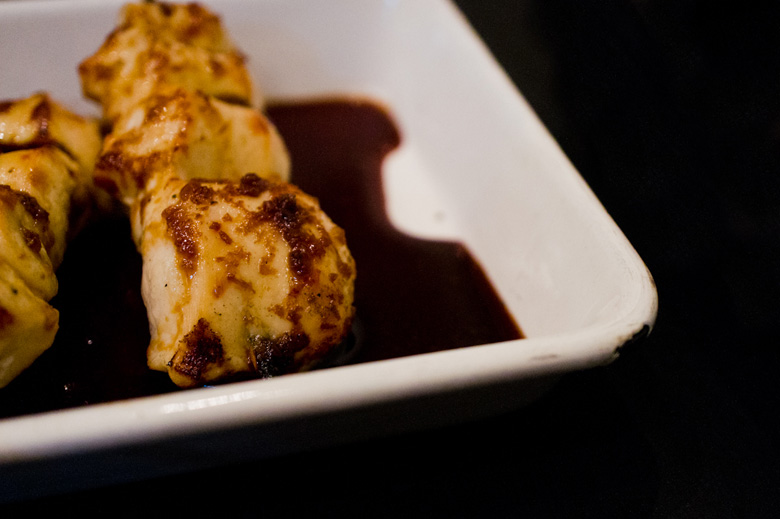 Breast Yakitori with wasabi and soy sauce  ($38 HKD or $5 USD). When it comes to chicken, I always go for the dark meat or meat attached to the bone. Whenever I hear chicken breasts, I automatically think of dry and flavorless chicken. However, Yardbird's Breasts are far from the white breast stereotype and are tender and flavorful. I ain't mad at this.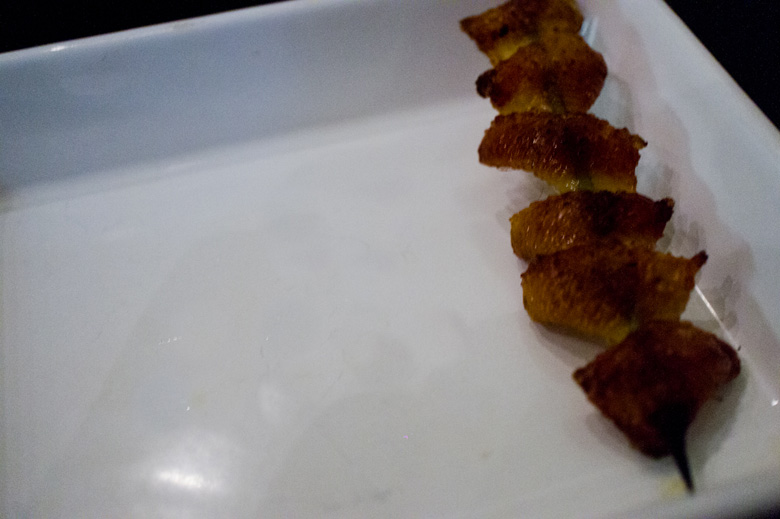 Skin Yakitori with sake and sea salt ($38 HKD or $5 USD). The skin yakitori is good but I prefer the fried chicken skin in the Chicken and Egg Rice. But I'd fux with both.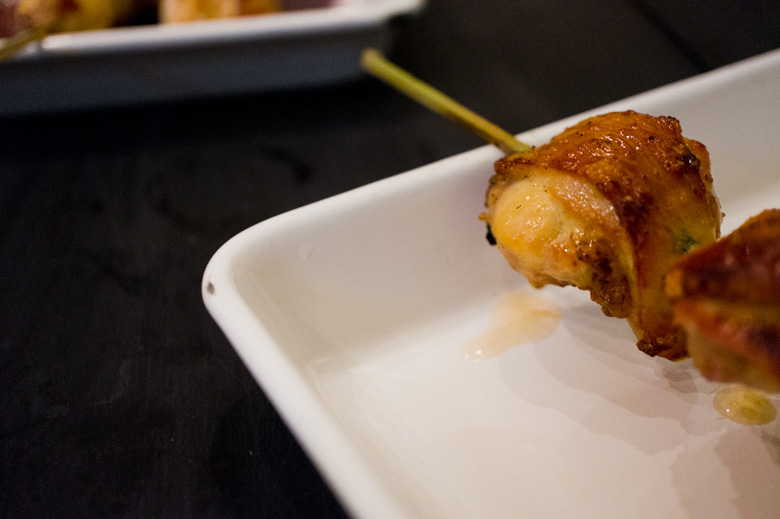 Oyster Yakitori with sea salt and lemon  ($42 HKD or $5.50 USD). The Oyster is definitely my favorite piece of meat on the chicken. Chicken oysters are small pieces of dark meat near the thigh of the bird. Yardbird's Oysters are super flavorful, tender and tastes amazing with the skin attached.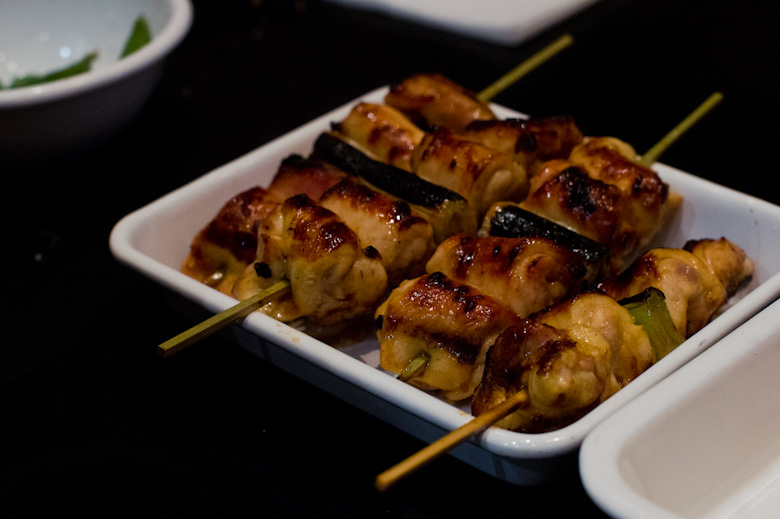 Thigh Yakitori tare with welsh onion  ($38 HKD or $5 USD). The sweet barbecued chicken thigh is another one of my favorite pieces on a bird. Like the oyster, it's flavorful, tender and juicy.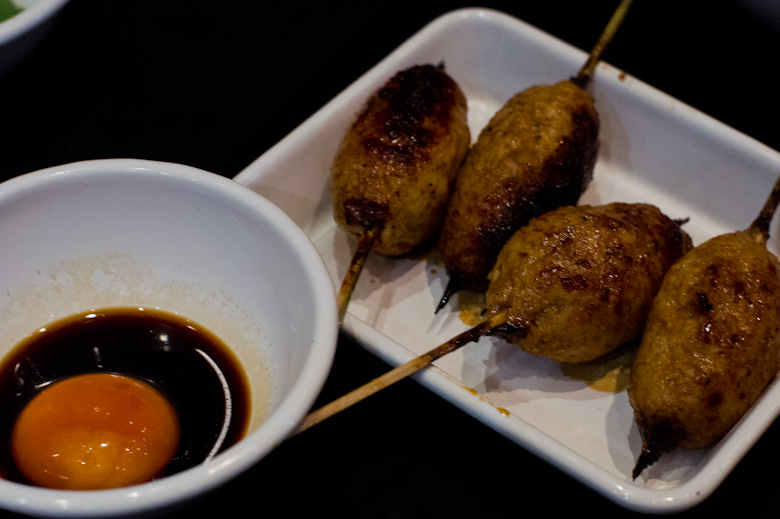 Meat Ball Yakitori tare with egg yolk FTW! ($42 HKD or $5.50 USD)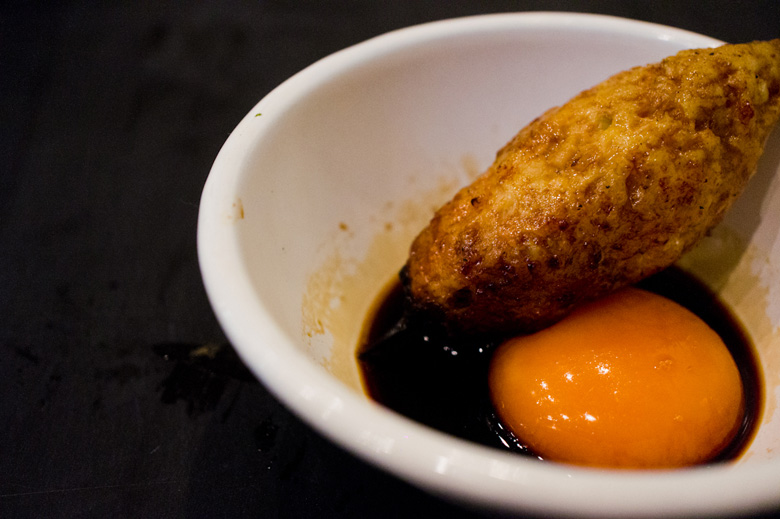 I friggin love this gigantic uniball of chicken! It tastes amazing when dipped in the egg yolk submerged in a pool of sweet soy sauce. I like to save my sauce and put that ish on errthing.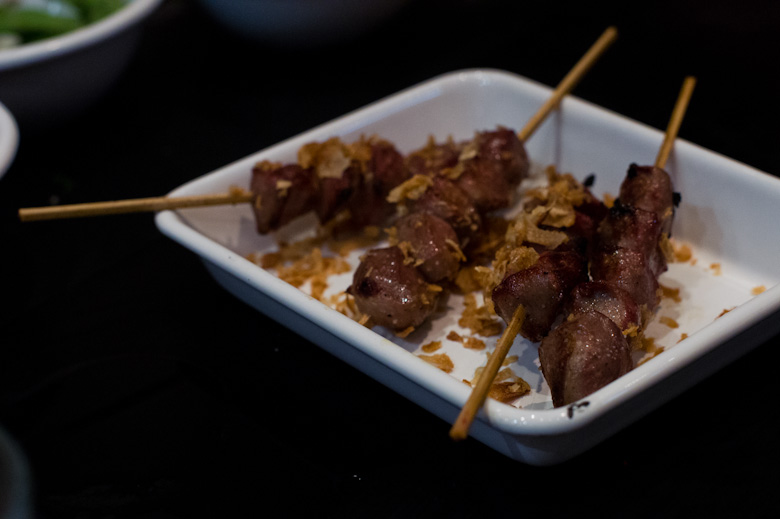 Gizzard Yakitori with fried garlic and olive oil ($38 HKD or $5 USD). Mmm love the fried garlic with the chewy gizzard.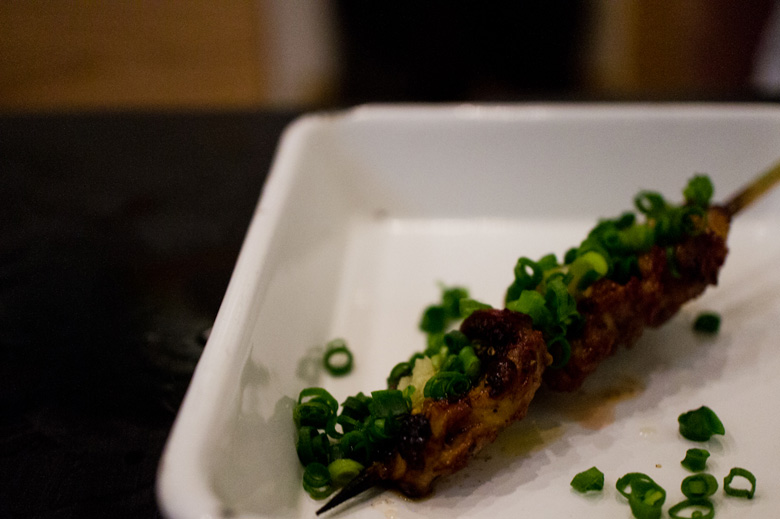 Heart Yakitori ($38 HKD or $5 USD). Sounds weird but tastes delicious especially with the green onions and ginger. If you can get past what it is, it's really a tender piece of meat without the usual taste you get with organs.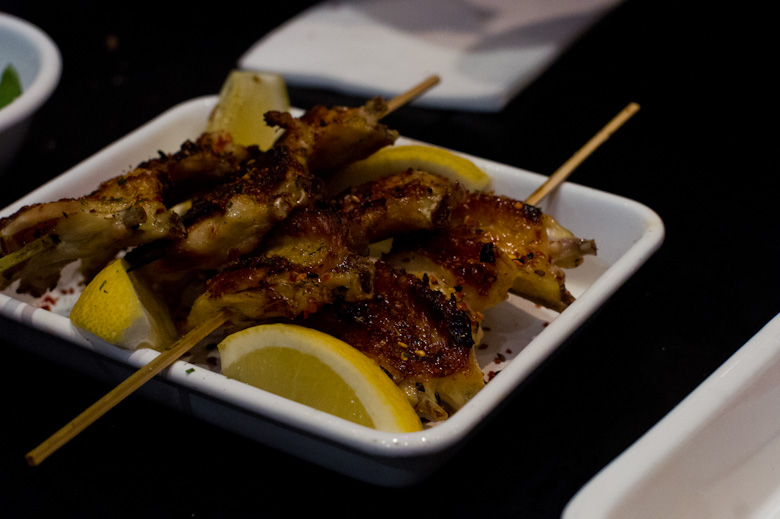 Wings with sea salt and  shichimi ($38 HKD or $5 USD). Can't go wrong with wings. Extra  shichimi  for me please!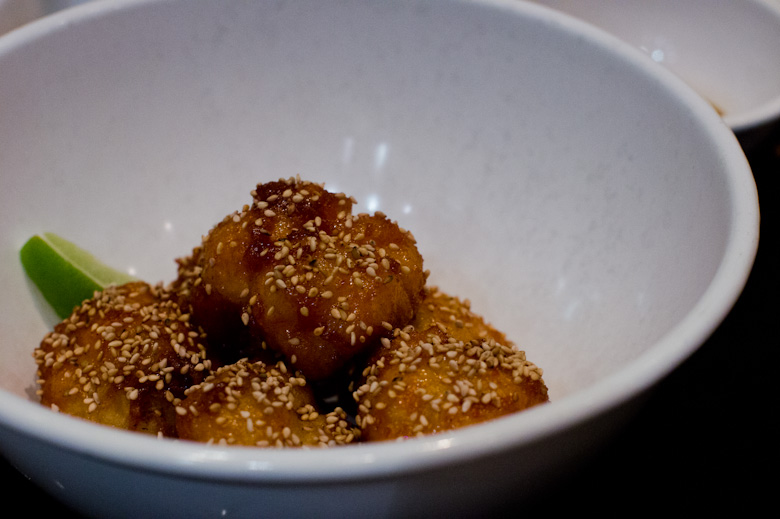 KFC (Korean Fried Cauliflower) with yuzu and chili ($75 HKD or $10 USD). A vegetarian version of Korean Fried Chicken (which Yardbird also makes upon special request – thanks for the tip Linsday). The KFC is bomb whether its chicken or cauliflower.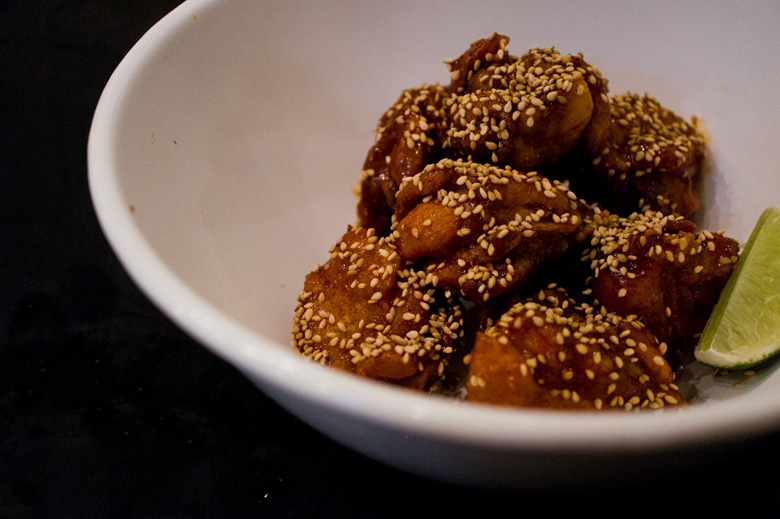 KFC (Korean Fried Chicken). I personally prefer the chicken because of my love for Bon Chon Chicken! My first time having Bon Chon Chicken was during a visit to NYC. A friend David Chang, took us to K-town and introduced us to this amazing sweet and spicy fried chicken (thanks China)! Ever since then, I've been on the prowl for something remotely close to Bon Chon Chicken, and I've found it – at Yardbird =)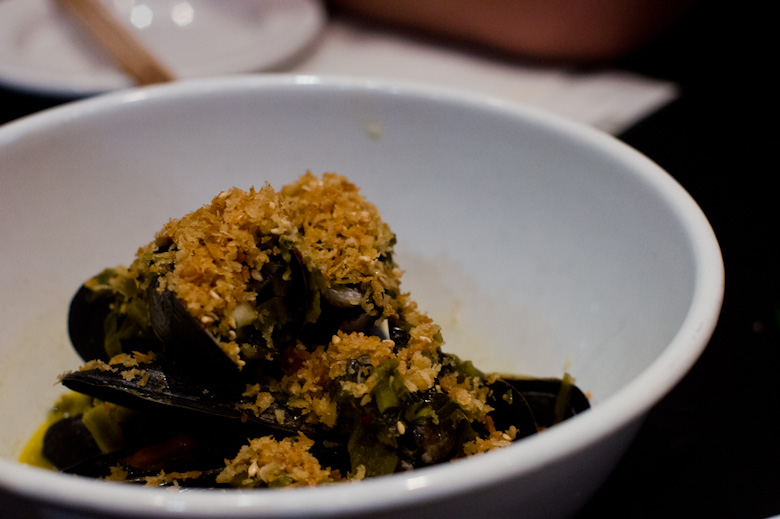 Salt Spring Island Mussels with takana pickled mustard greens and sesame panko ($140 HKD or $18 USD).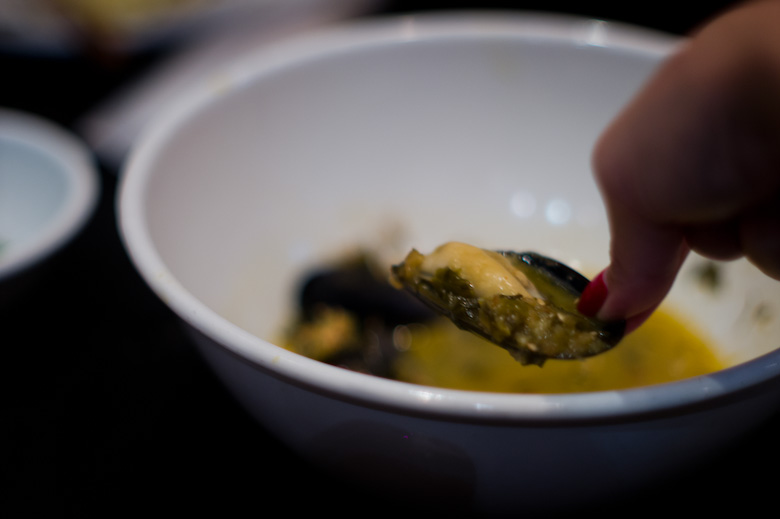 Mmmm the mussels are so good and love the broth. I usually break off the top part of the shell and use the bottom half as a spoon to scoop up the delicious broth.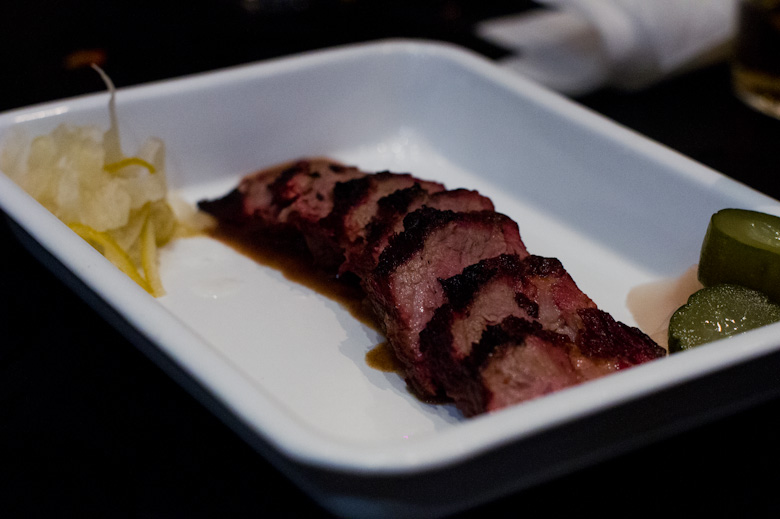 Short Rib with Japanese Curry and Pickles ($240HKD or $30 USD). This tastes almost like Chinese Barbecue Pork or Char Sui. Make sure you try the pickles!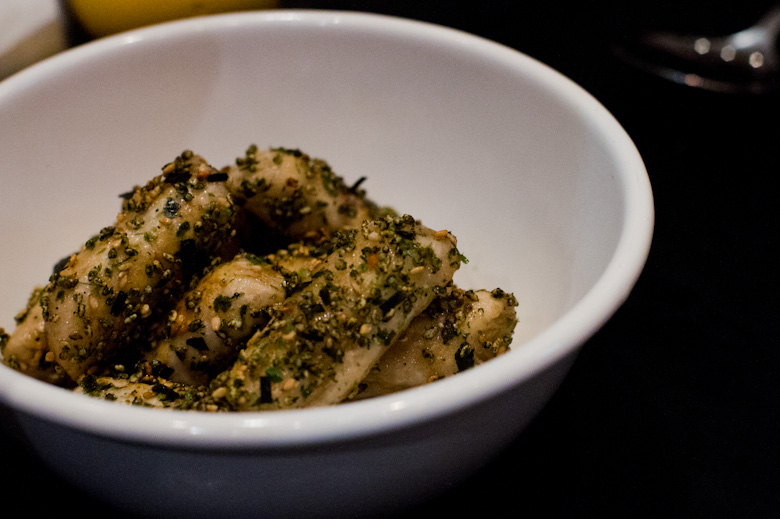 Rice Cakes with furikake and sesame ($80 HKD or $10 UD). SOOO GOOD and super addictive. These usually arrive last when you're completely stuffed but it's impossible to turn them away. I need to learn how to make these.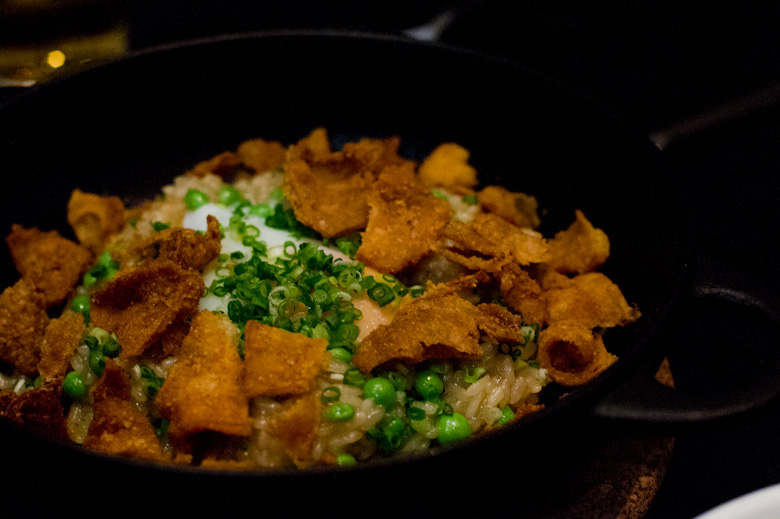 Chicken and Egg Rice ($128 HKD or $16.50 USD) with crispy chicken skin and peas. This is so good it was featured on Hypebeast Eats.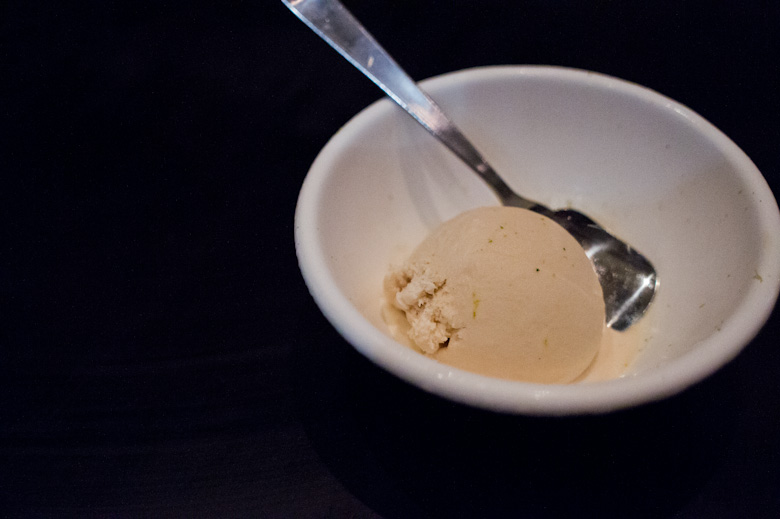 Peanut Butter Ice Cream. Two words – effing delicious. Order it, eat it, love it.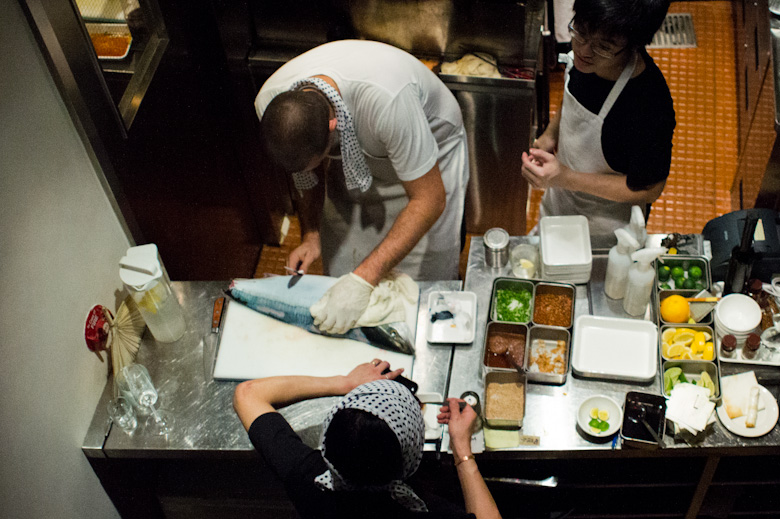 Chef Matt Abergel getting his Chef on.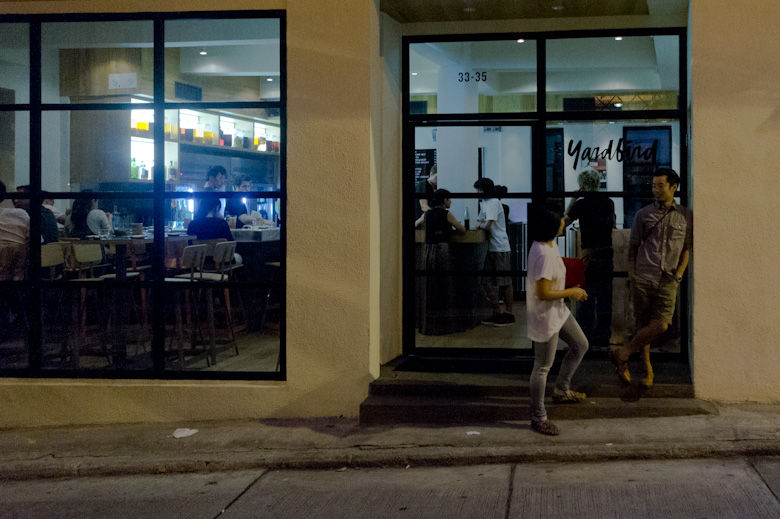 Harro Jenn Kong and Ephraim Chui.
154-158 Wing Lok St
Sheung Wan, Hong Kong
p: +852.2547.9273
[email protected]
Asian, Dinner, Hong Kong, Japanese