The Lowdown
Restaurant Name: Misono
Cuisine: Japanese Teppanyaki Steak
Average Price per Person: ¥8,000 to ¥20,000 JPY or $80 to $200 USD. For a better deal, try to go during lunch. It's apparently a lot cheaper, nearly half the price.
Location: Kobe, Japan (please refer to the map below for details)
Recommendations: KOBE BEEF Sirloin Steak, Cold Beef, and Garlic Rice

Ratings (out of 5)
Taste: 5
Creativity/Authenticity: 5
Atmosphere: 4.5
Service: 5
Bang for Buck: 4

Crayscale !!!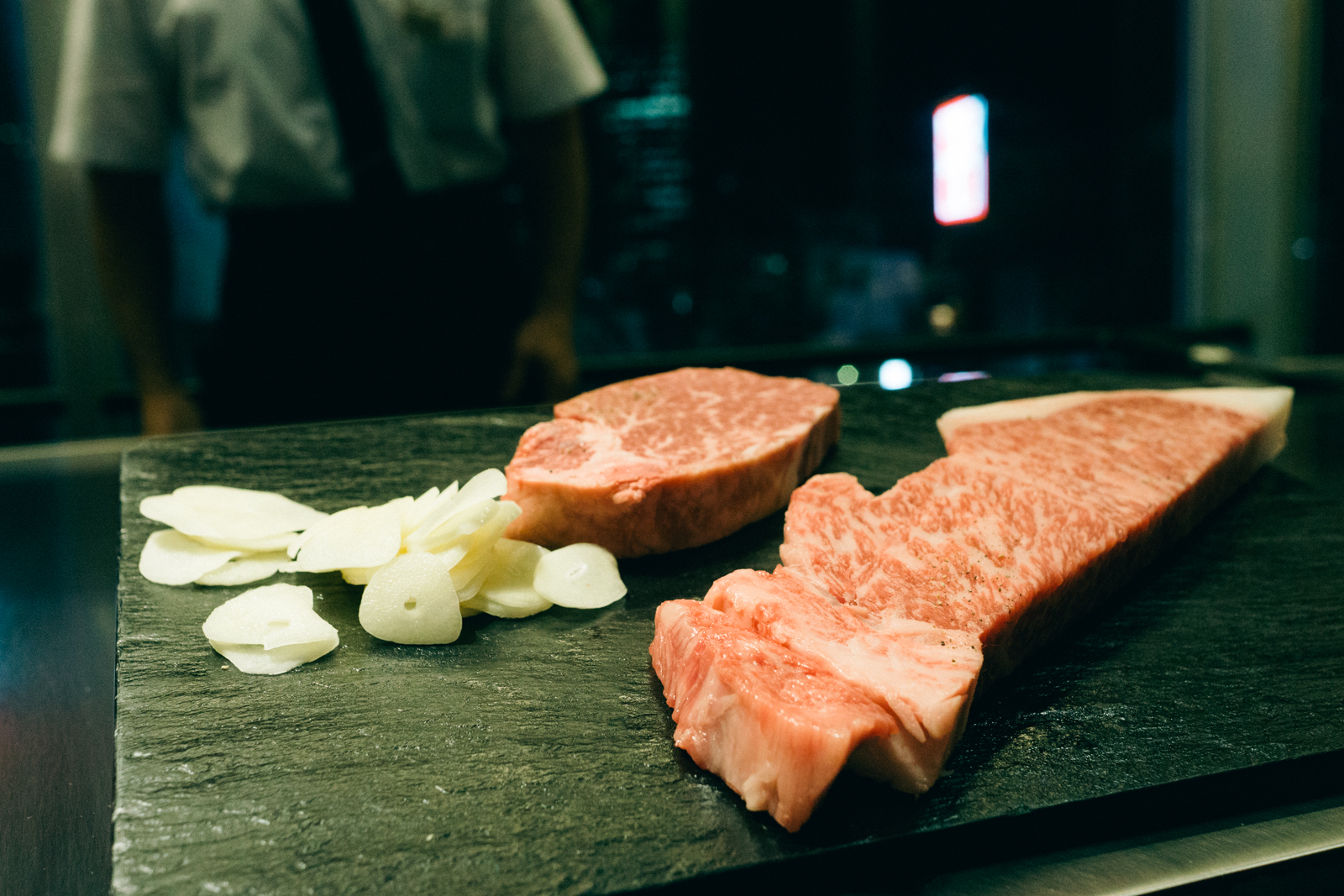 I can finally cross off EATING KOBE BEEF IN KOBE, JAPAN off my bucket list! I fuggin' LOVE steak and eating one of the worlds' finest grades of beef in its place of origin was an unreal experience. Kobe beef is #veryrare. If you think you've had it, chances are, you were straight up lied to and robbed. The real stuff barely leaves the country. Only within the last year or so has Kobe Beef been exported outside of Japan. Kobe beef farmers are extremely protective of their trademarked product and have extremely high standards and conditions in order for a cow to be labeled as Kobe Beef. Legit Kobe Beef must be classified as Tajima cattle (black Wagyu cattle), born, fed, raised and slaughtered in Hyogo Prefecture. There are a whole bunch of conditions in classifying Kobe Beef and if you're interested in finding out more, click here.
Anyhoo, this is why I was so stoked to be stuffing my face with the real Kobe Beef deal. Kobe is actually super close to Osaka and Kyoto. So if you're planning a trip in the Kansai region or if you have a Japan Rail Pass, Kobe is definitely worth hitting up. I'm pretty sure you could walk into any steak restaurant in Kobe and have one of the best steaks EVER, but we decided to play it safe and did a little research and found ourselves at Misono! If you can't make it to Kobe, Misono also has locations in Osaka, Kyoto and Tokyo (click here http://www.misono.org/en/kobe.html)
Not only does this Misono serve up some of the trillest Kobe beef, the restaurant made history in 1945 when they introduced Teppanyaki to the world (not Benihana)! Misono was the first restaurant to conceptualize dining around hot iron griddle surfaces and having food cooked in your face. Overlooking Kobe's downtown, we watched our seasoned chef grill that perfectly marbled melt-in-your-mouth Kobe Beef.
Misono's menu is fairly straightforward offering a variation of steak sets, different cuts of steak (Kobe Beef was all sirloin), appetizers and sides. We had our eyes on the prize and were on a mission to stuff our bellies with as much Kobe beef as possible, so we skipped out on the sets and went ALL-IN on that beef. It's a delicacy for a reason and it ain't cheap. We ordered a total of 400 grams of what we were told was Grade A5 BMS (Beef Marbling Scale) No. 12 Wagyu Kobe Beef Sirloin Steak (¥9,450 or $94.50 per 100g), 300 grams of Grade A4 BMS No. 7 Wagyu Beef Fillet Steak (¥5,250 or $52.50 per 100g), and 100 grams of Grade A4 BMS No. 7 Wagyu Beef Sashimi (¥5,250 or $52.50). Misono is also recognized for having amazing garlic rice, so we ordered some of that too. Check it out!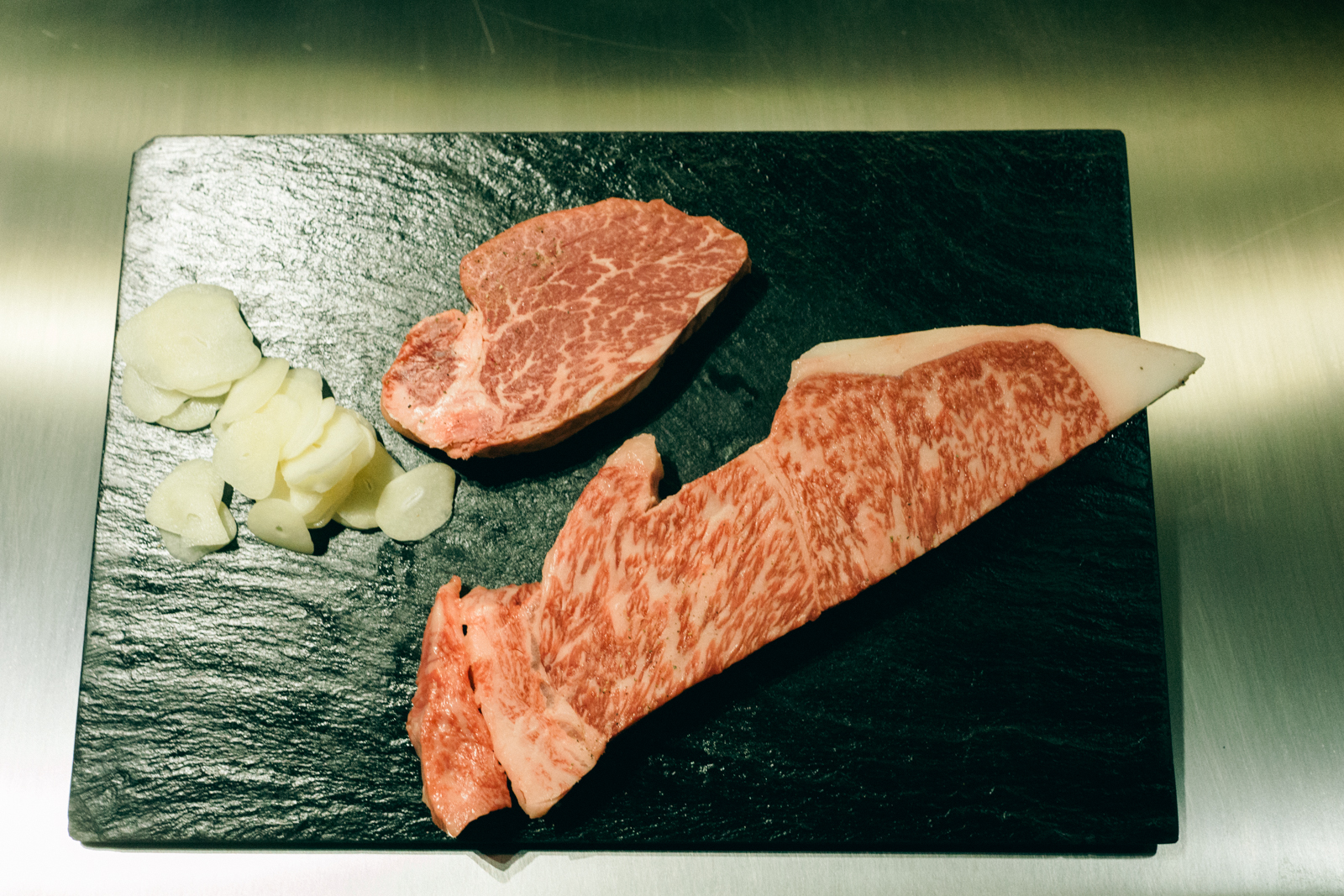 100 grams of A4 Wagyu Beef Fillet Steak on the left and 200 grams of Grade A5 Wagyu Kobe Beef Sirloin Steak on the right. Check out the marbling on those bad boys! They look similar but you can definitely taste the difference!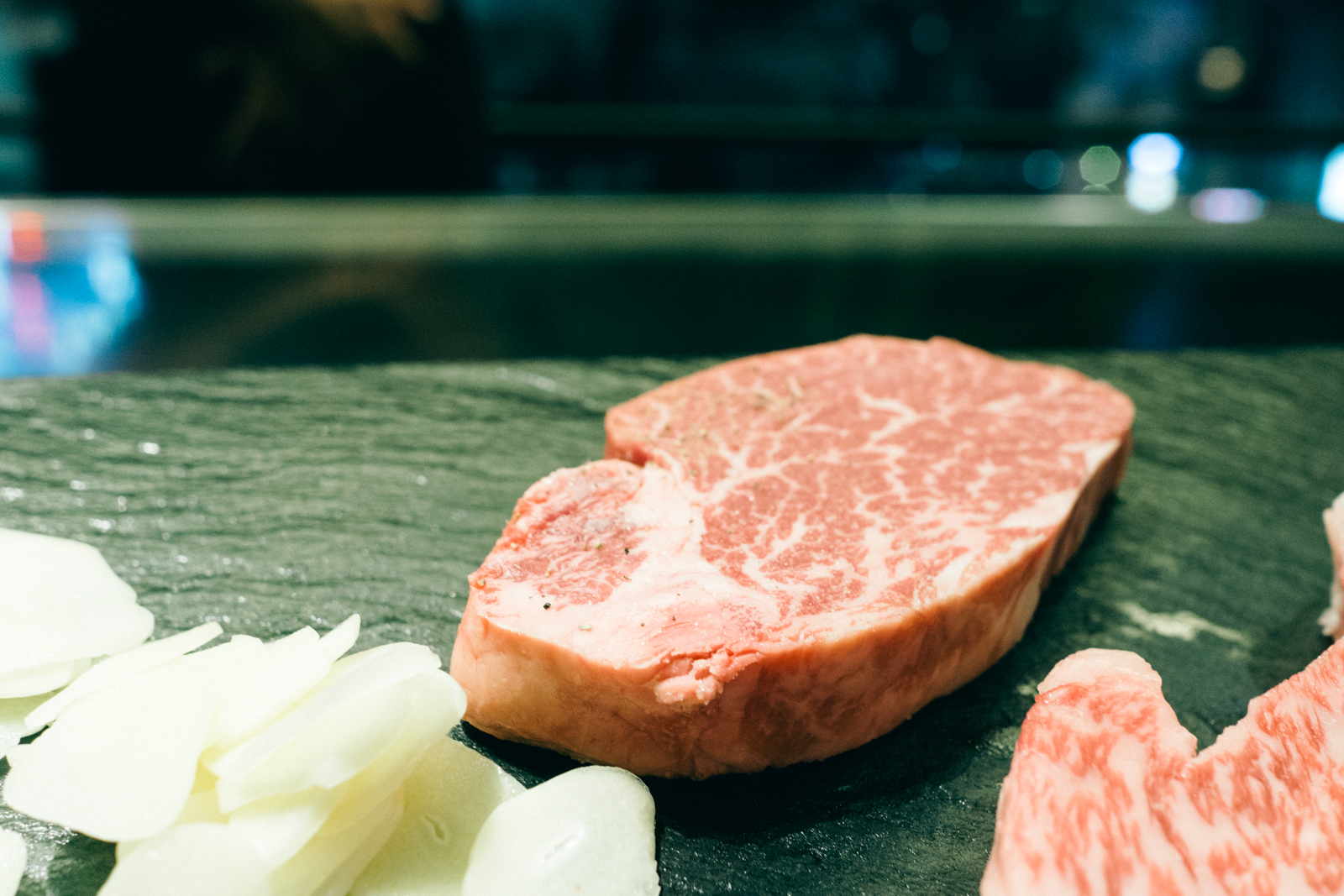 The chef served up the A4 Wagyu Beef Fillet Steaks first.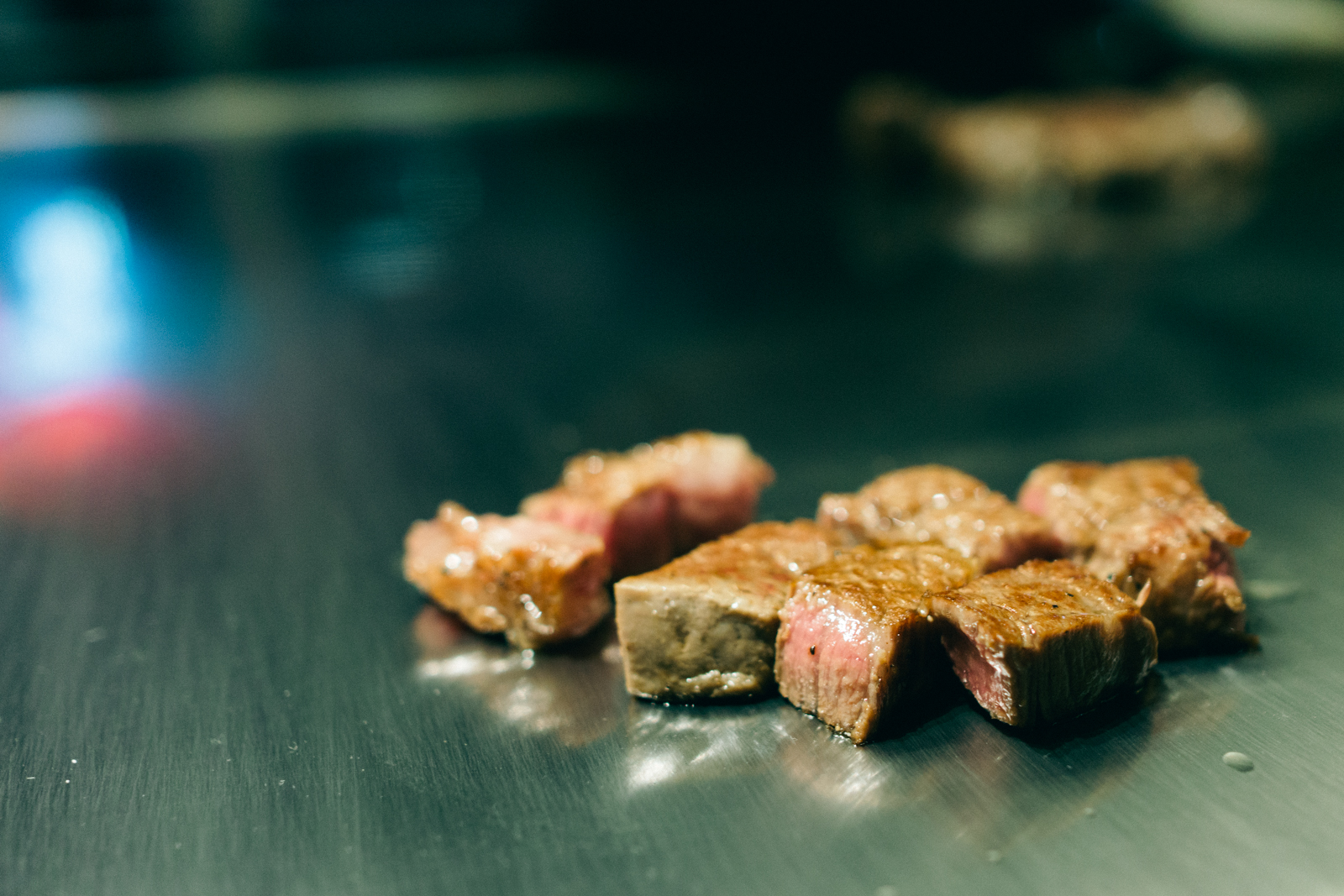 It was already dope as fugggg and already one of the best steaks I've ever had.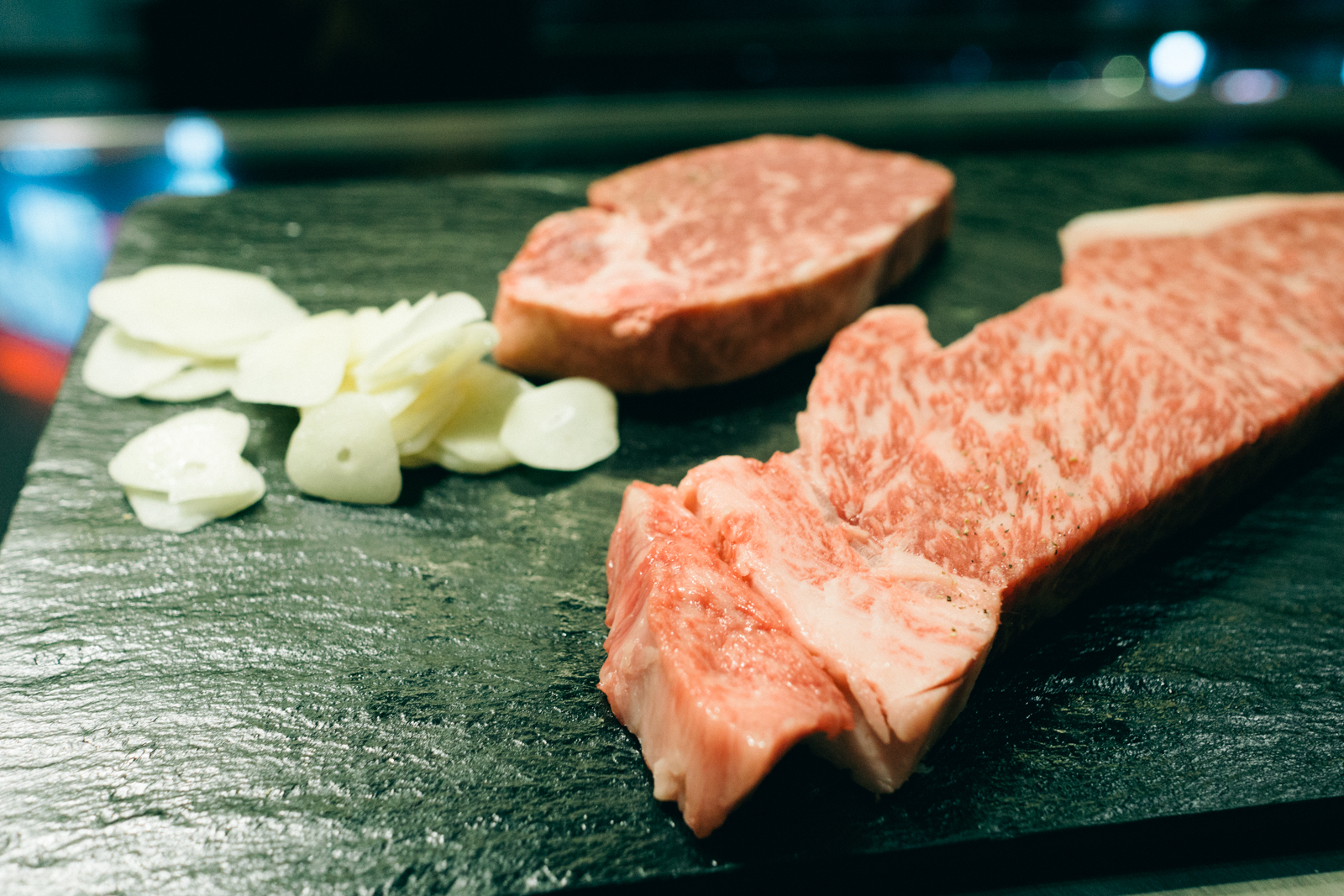 Next up was the GradeA5 Wagyu Kobe Beef Sirloin Steak!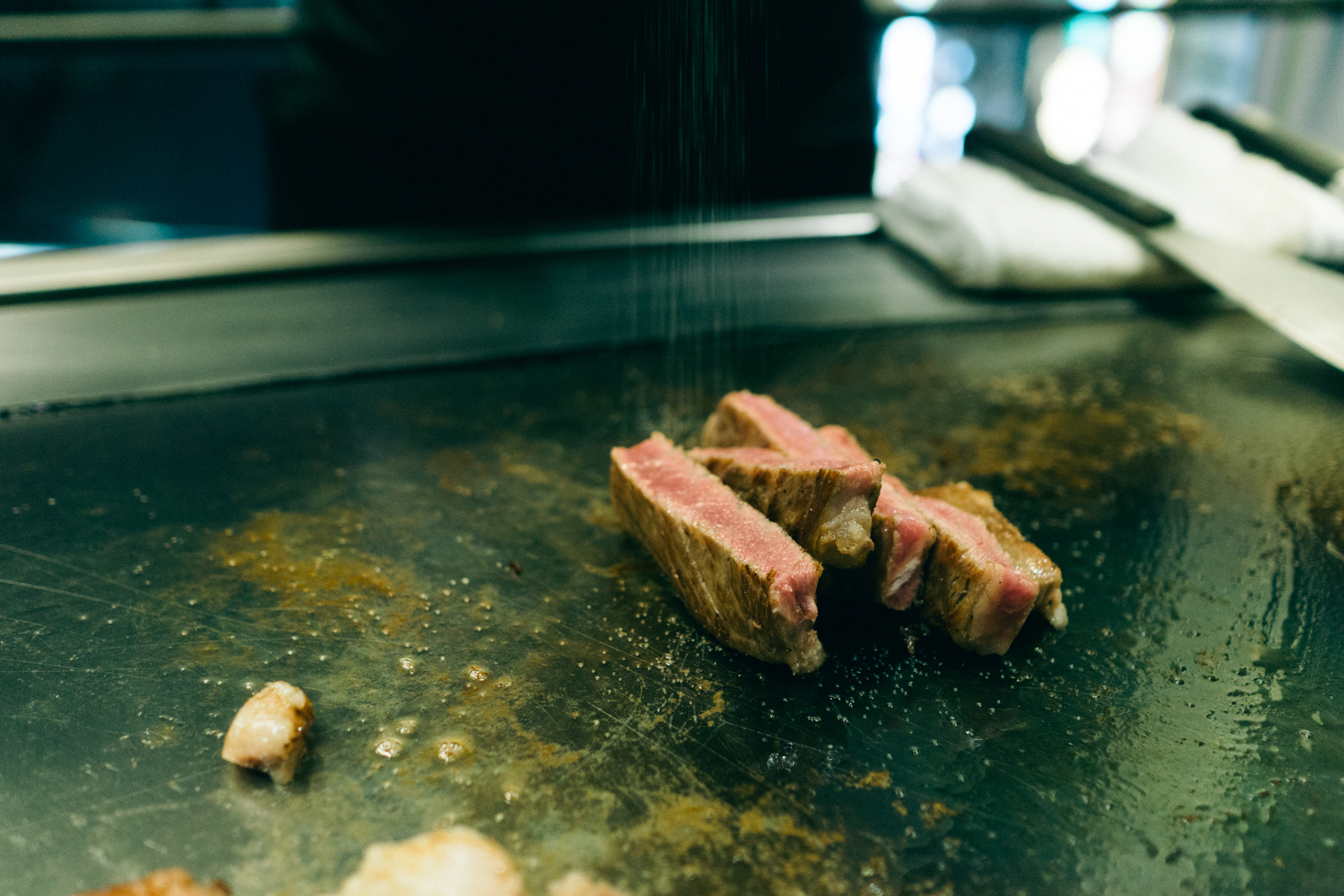 I honestly didn't think I would taste the difference between the A5 Wagyu Kobe Beef Sirloin Steak and the A4 Wagyu Beef Fillet, but I definitely did.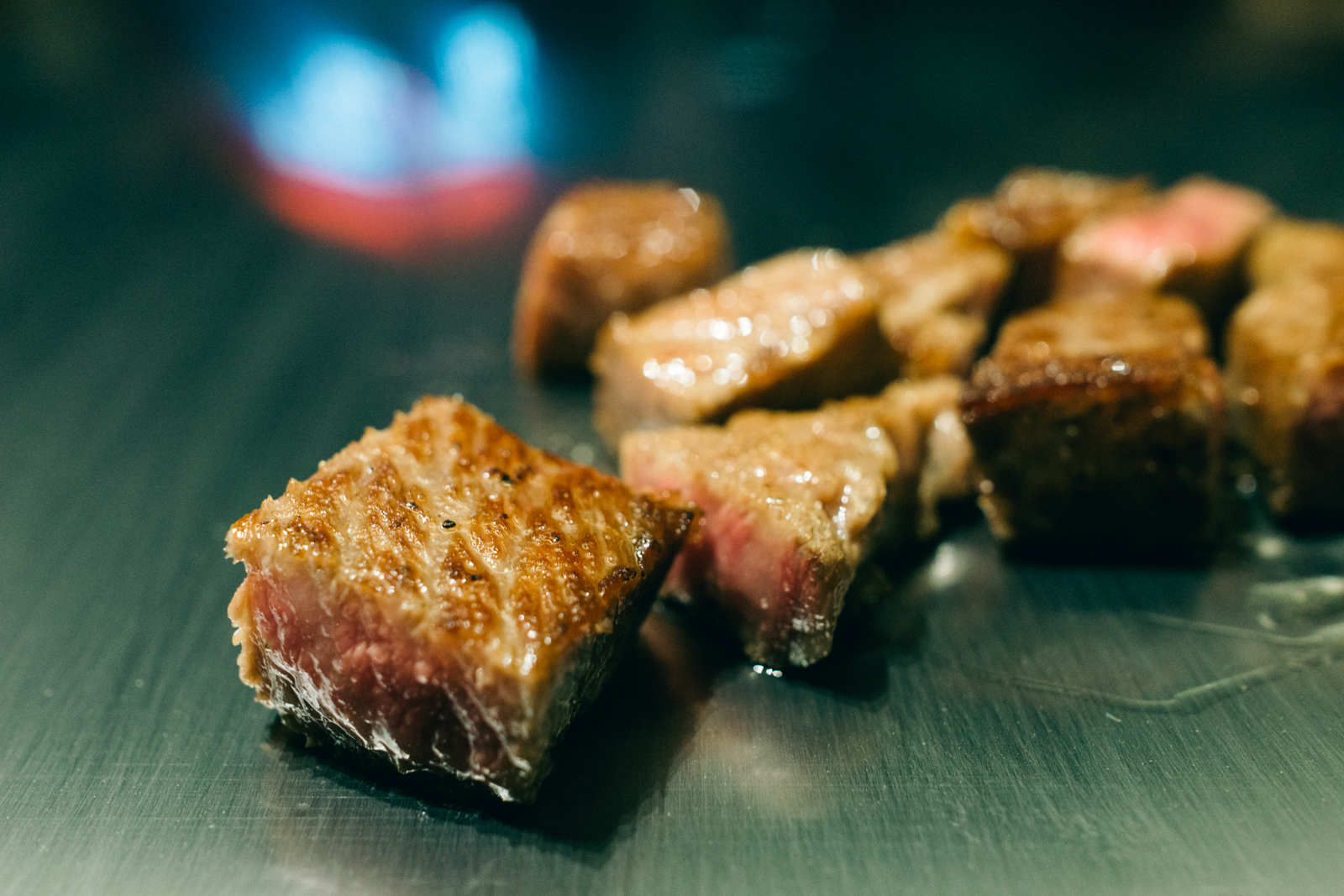 The A5 was like BUTTER and the most amazing piece of meat that has ever entered my mouth. SOOO FRIGGIN' CREAMY. HOLY EFF.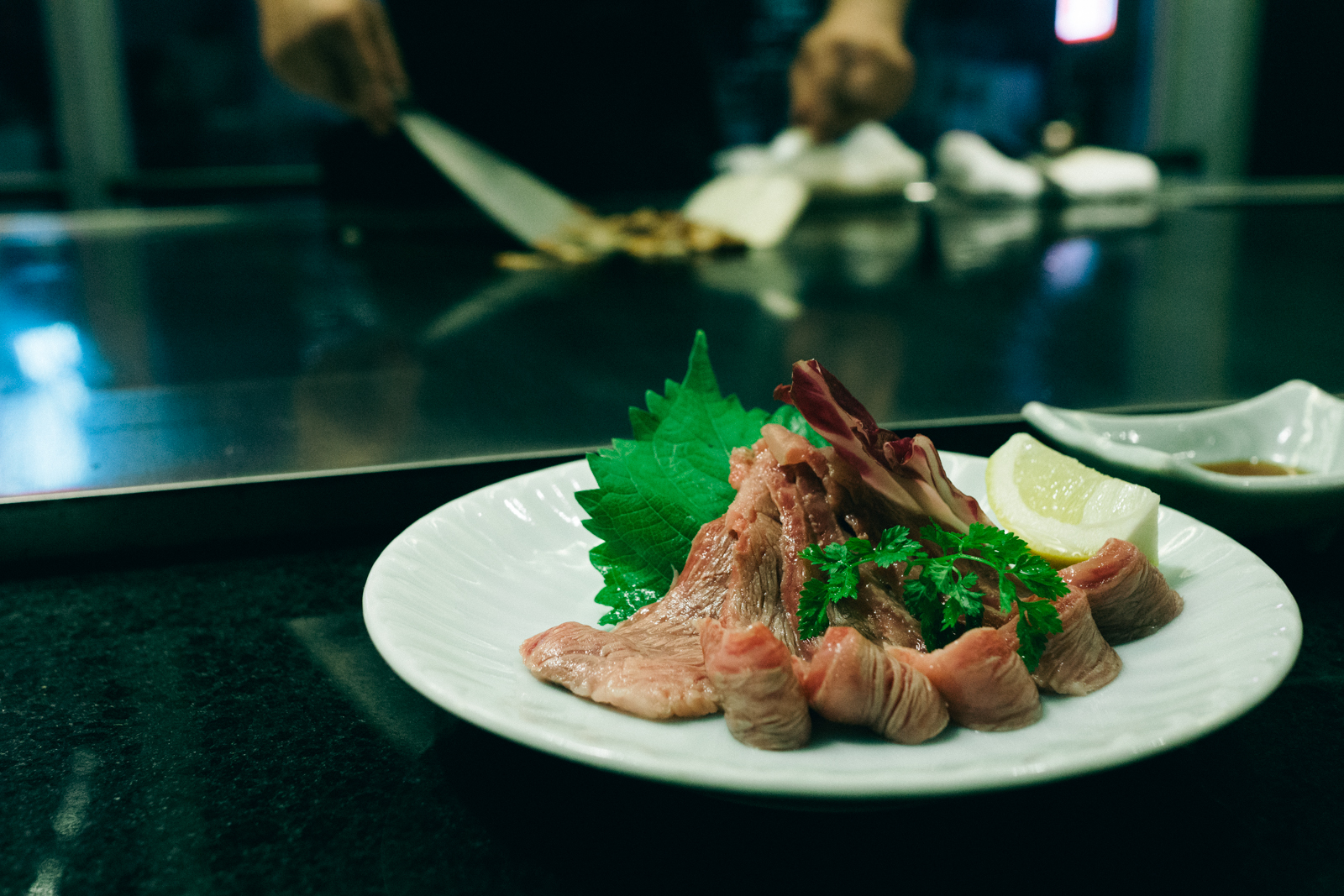 A4 Wagyu Beef Sashimi. I was amazed at how tender this was, I barely had to chew.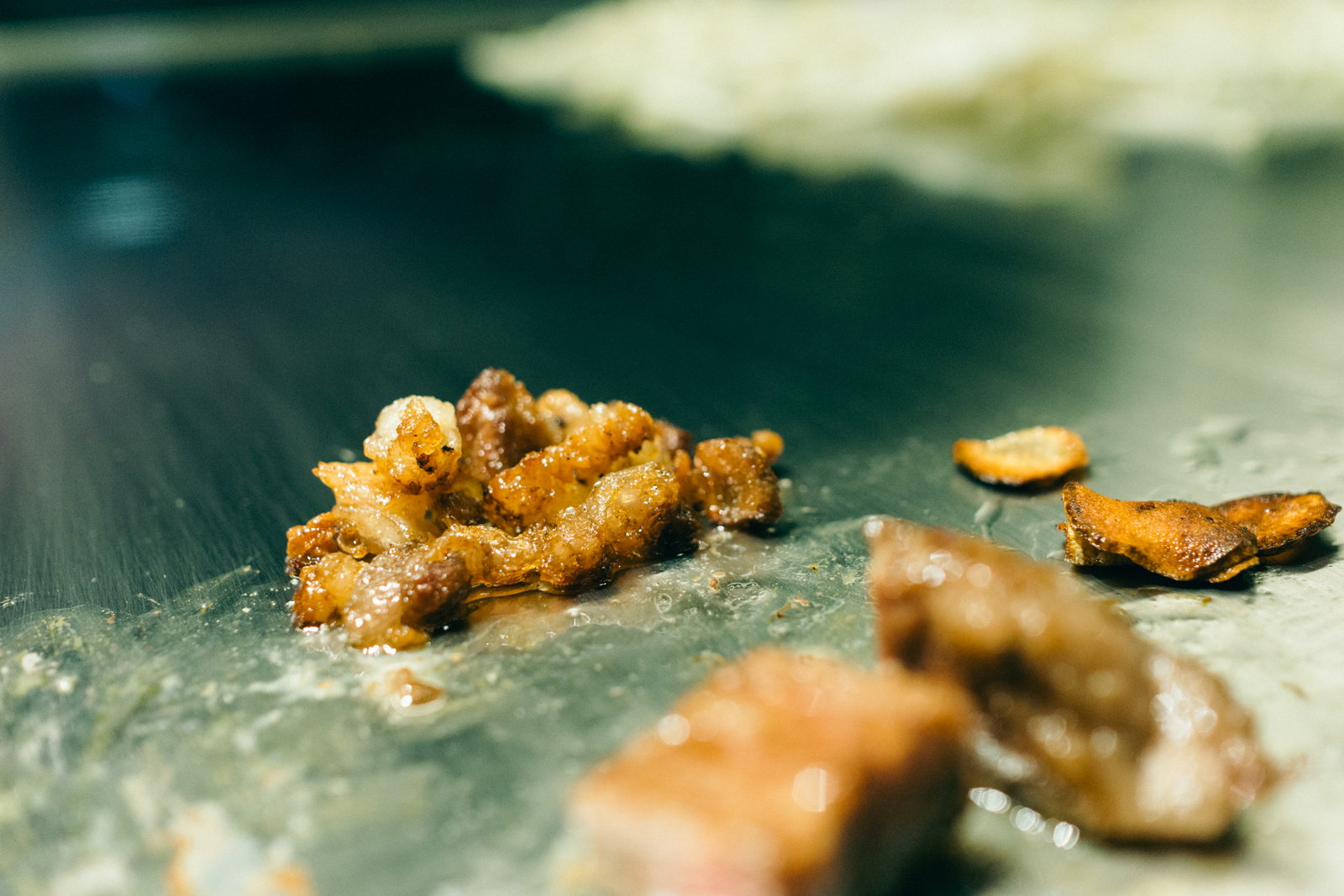 After all the beef was consumed, the chef fried up the fat! He rendered a lot of the fat off which he saved in a container and used for the garlic rice! He served us the remaining crispy bits of fat. Mmmmmm KOBE BEEF FAT > BACON. I saved some bits of fat for my garlic rice!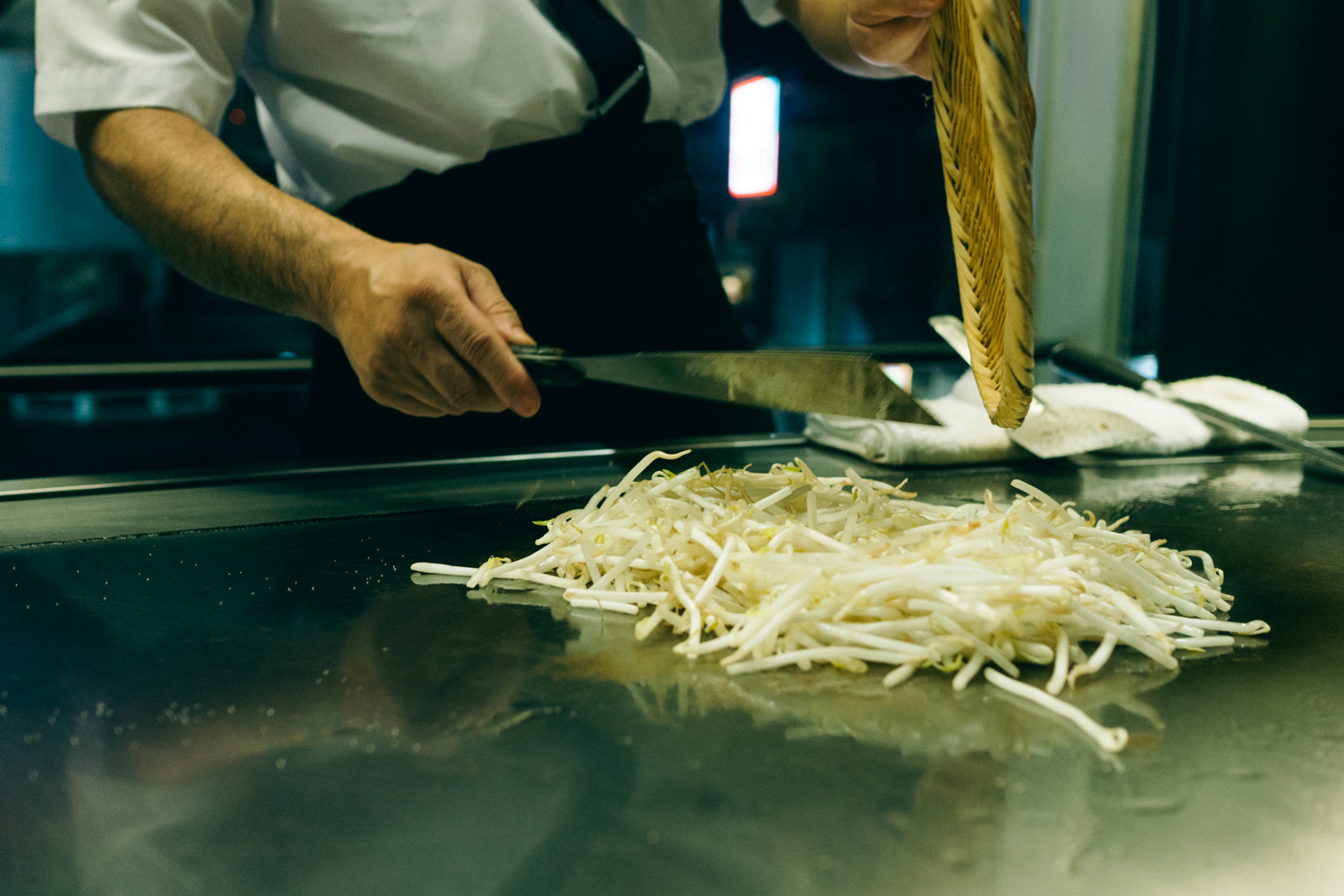 The chef then used some of the leftover fat on the grill and threw on a mountain of bean sprouts which soaked up all that beefy flavor.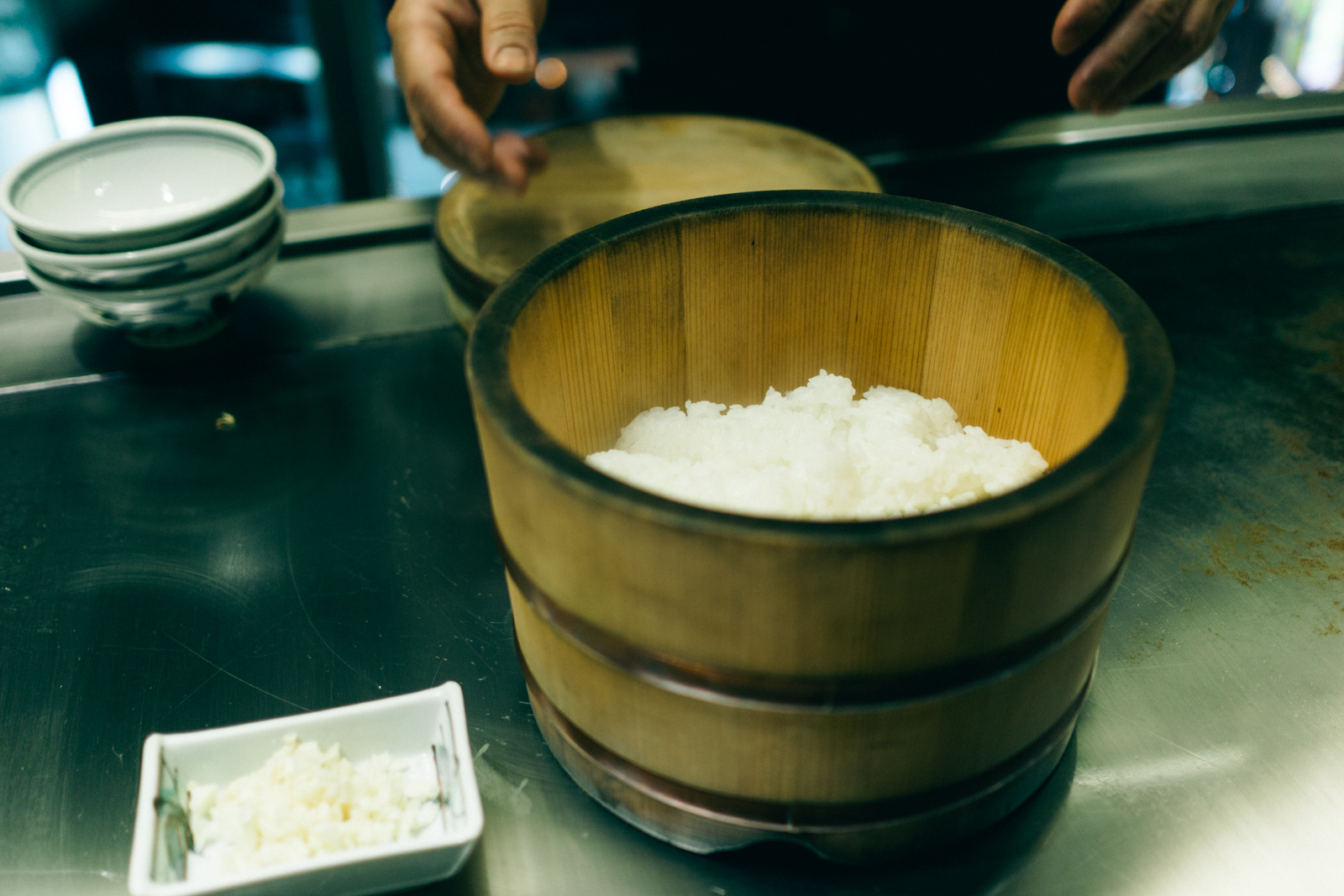 Next, the Garlic Rice!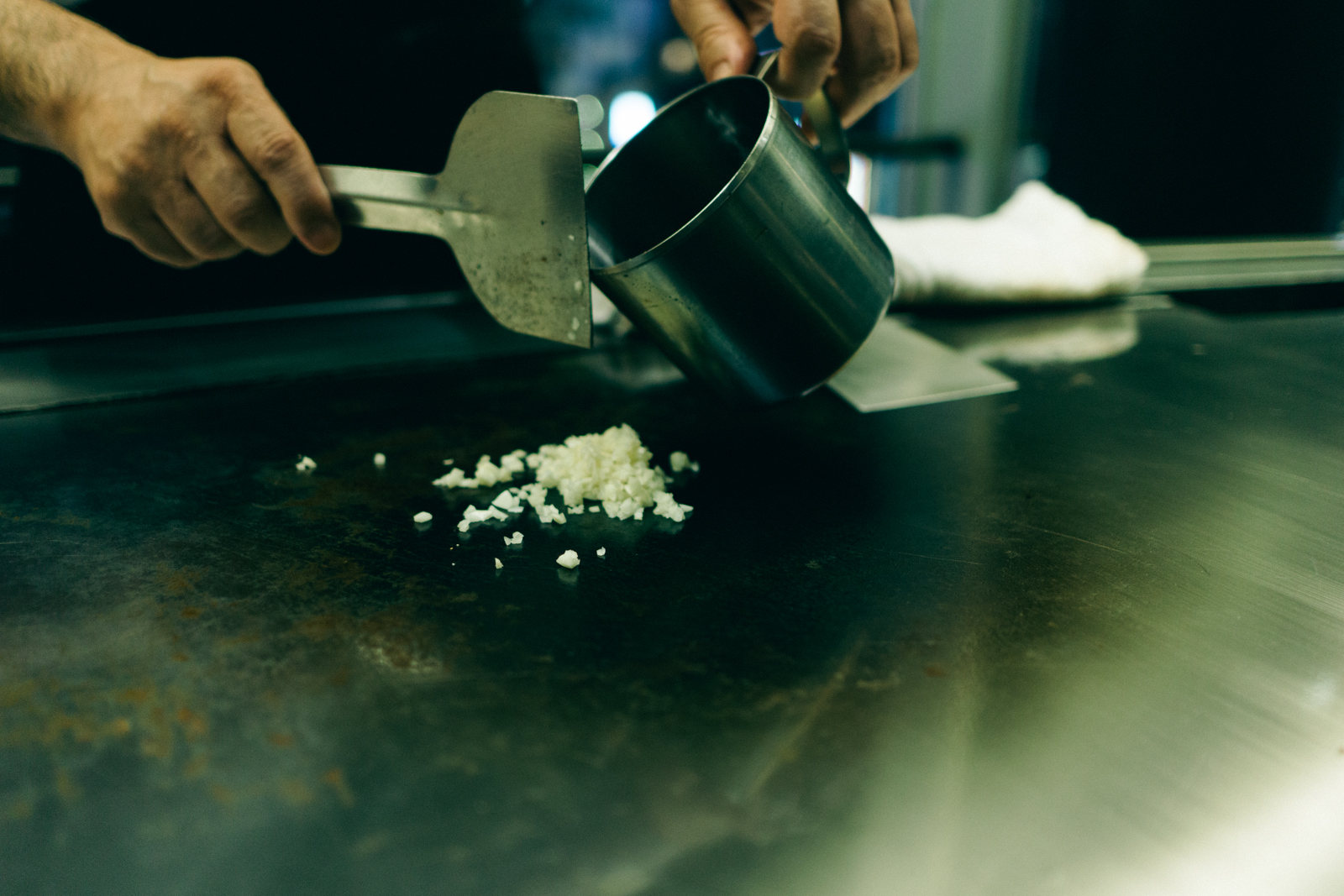 He doused the garlic in the melted Kobe Beef fat then smothered it with the steaming hot rice.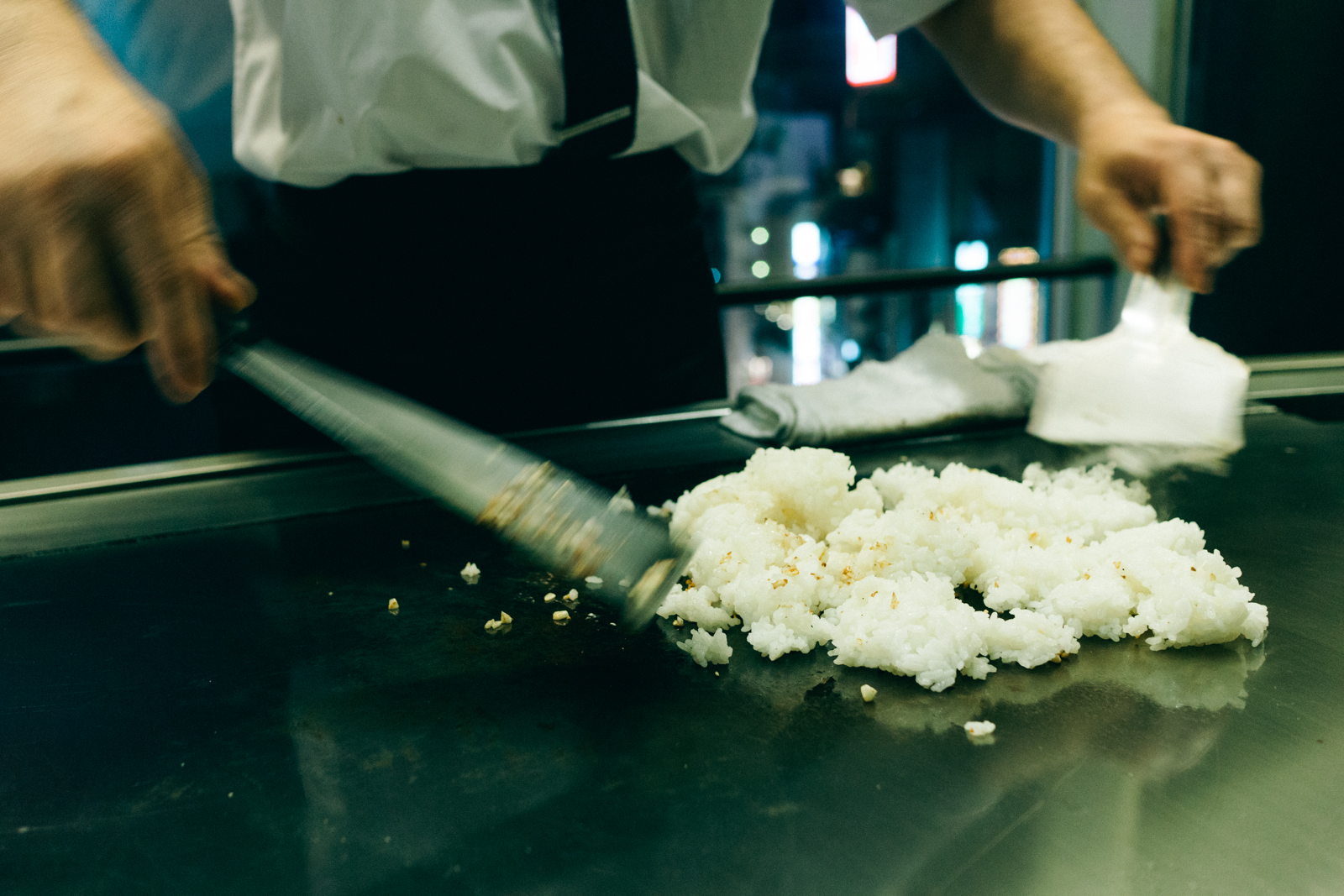 View Larger Map650-0011
1-1-2 Shimoyamate-Dori, Chuo-Ku, Kobe, Misono Building, Floors 7 and 8
p: +81-078-331-2890
w: misono.org/en/kobe.html
Hours:
Monday to Friday 11:30 to 14:30 (Last Order: 13:30)
Saturday, Sunday, Holidays 12:00 to 15:00 (Last Order: 14:00)
Dinner Monday to Sunday and Holidays 17:00 to 22:00 (Last Order: 21:30)
Asian, Dinner, Japanese, Kobe, Japan, Kyoto, Japan, Lunch, Osaka, Japan, Tokyo, Japan