The Lowdown
Restaurant Name: Kaikaya By The Sea
Cuisine: Japanese Izakaya
Average Price per Person: ¥3,500 to ¥5,000 JPY or $35 to $50 USD
Location: Shibuya, Tokyo (please refer to the map below for details)
Recommendations: Sengyo no Carpaccio, Hai-Kara, Shimofuri Kobe-Gyu no Nigiri-Zushi and Maguro no Kama no Supearibu

Ratings (out of 5)
Taste: 4.5
Creativity/Authenticity: 4
Atmosphere: 3.5
Service: 4
Bang for Buck: 3.5
Crayscale !!!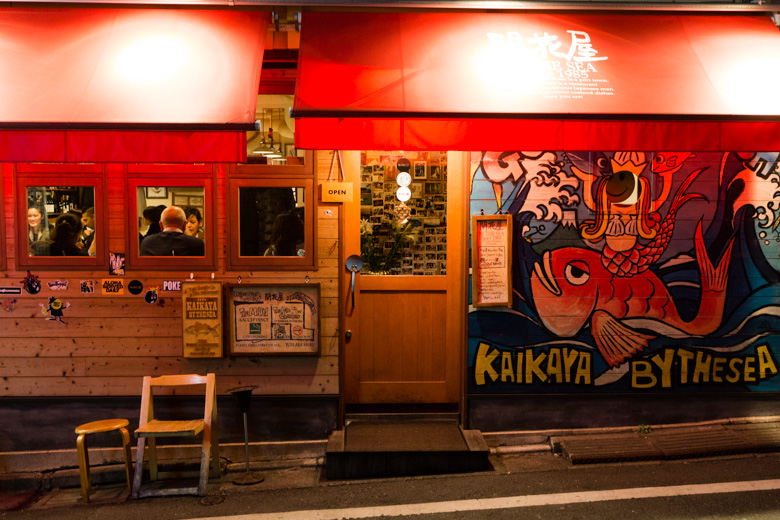 We were dying to eat at a legit Izakaya during our trip to Tokyo. Our friend Arthur Chmielewski, co-founder of HAVEN, sent us a list of spots to check out during our trip. Kaikaya by the Sea Izakaya was highlighted on his list as his favorite restaurant in Tokyo and an absolute must! Thank you Arthur for yet another awesome recommendation!
Kaikaya is tucked into the streets of Shibuya in a cozy space with only a handful of tables and a tiny kitchen. It's kind of hard to find if you aren't familiar with the area and aren't armed with Google Maps, but doesn't hat go without saying for nearly everything in Japan? If you find yourself surrounded by love hotels, then you're likely headed in the right direction. Kaikaya isn't exactly considered an authentic Japanese Izakaya considering the restaurant's food is somewhat unconventional Japanese with a slight Western influence and is super popular amongst the foreign residents of Tokyo.
The menu is swimming with a huge selection of fresh fish and seafood. If you're not down with seafood, there are other alternatives as well including beef, pork, chicken and vegetarian dishes, but I strongly encourage you to try the fish. I highly recommend ordering off of the "Another-style Sashimi" and "Original Seafood Dishes" sections of the menu which cover the non-tradish raw fish and seafood dishes. This is where we found most of the winners of the meal including fresh fish carpaccio, scallop gorgonzola gratin, and the tuna spareribs! The Kobe beef nigiri-zushi was effing incredible and a must order too!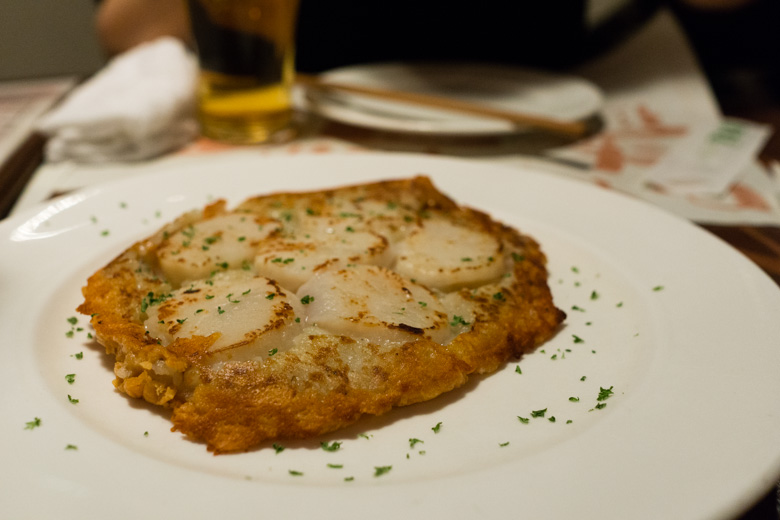 Hotategai no Risotto Okoge – gorgonzola risotta pancake with scallops (¥1,000 or $10.50 USD).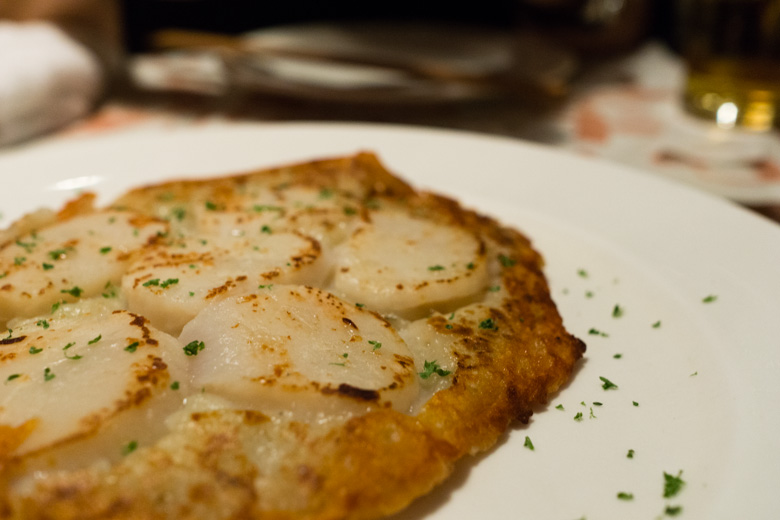 I usually avoid pungent cheeses, but this had just the right amount of gorgonzola and was fairly subtle without overpowering the scallops. The pancake had a nice crispy crust with a gooey soft center wrapped around tender fresh slices of perfectly seared scallops.
Sengyo no Carpaccio – fresh hamachi (yellow tail) carpaccio with garlic, olive oil, balsamico, and sweet basil (¥1,000 or $10.50 USD).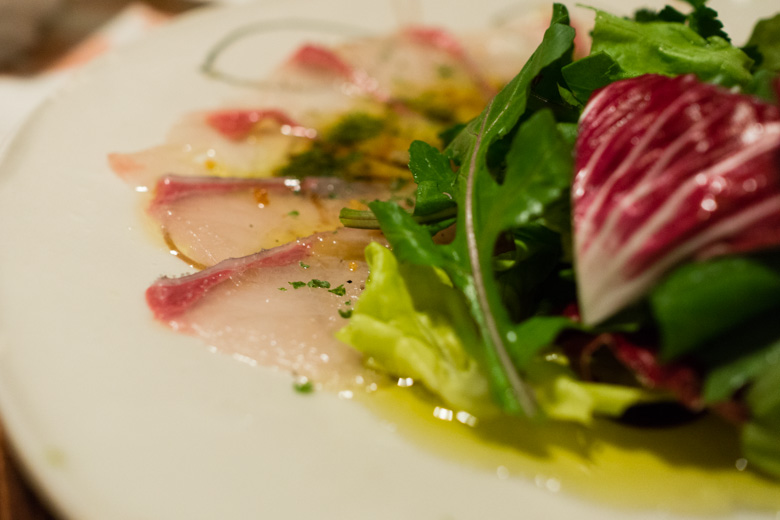 The hamachi carpaccio was one of my favorite dishes. The fresh hamachi on its own is amazing and tasted even better with a few simple ingredients and a little acidic kick.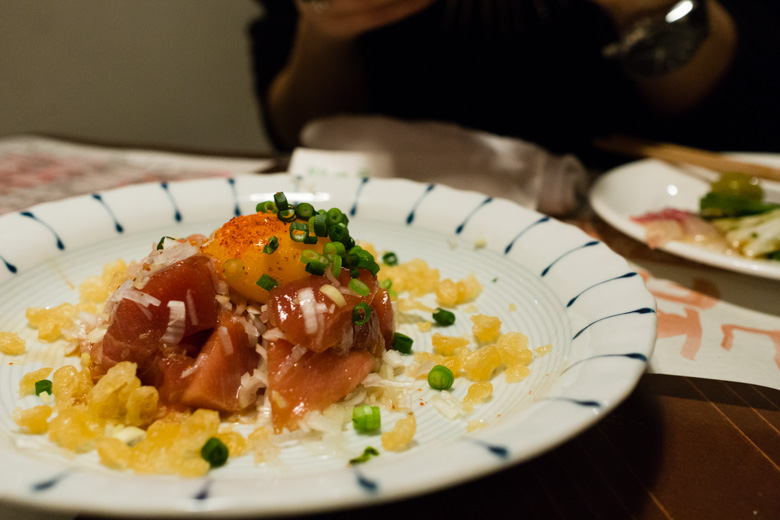 Hai-Kara – tuna tartare with scallion, tenkasu (tempura batter), and egg yolk (¥850 or $8.90 USD).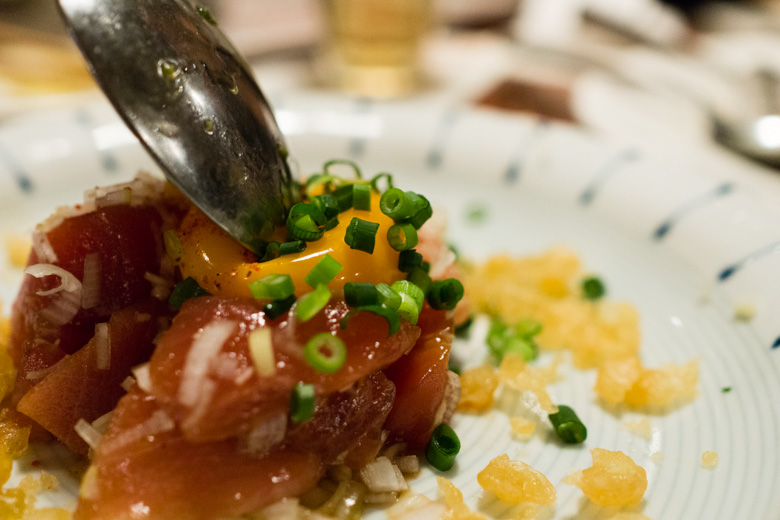 Another one of my favorites! If you know me, like really know me, you'll know that I LOVE (1) raw fish or beef and (2) EGGS !!! The tuna was hella fresh and tasted amazing with the rich creamy raw egg yolk and crunchy bits of fried tempura batter. This reminded me of Hawaiian poke, but better!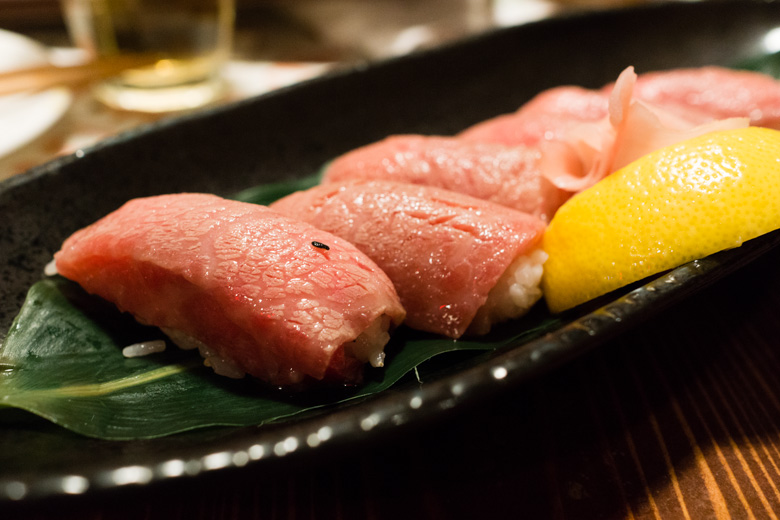 Shimofuri Kobe-Gyu no Nigiri-Zushi or Kobe beef nigiri sushi (¥1400 or $14.68 USD).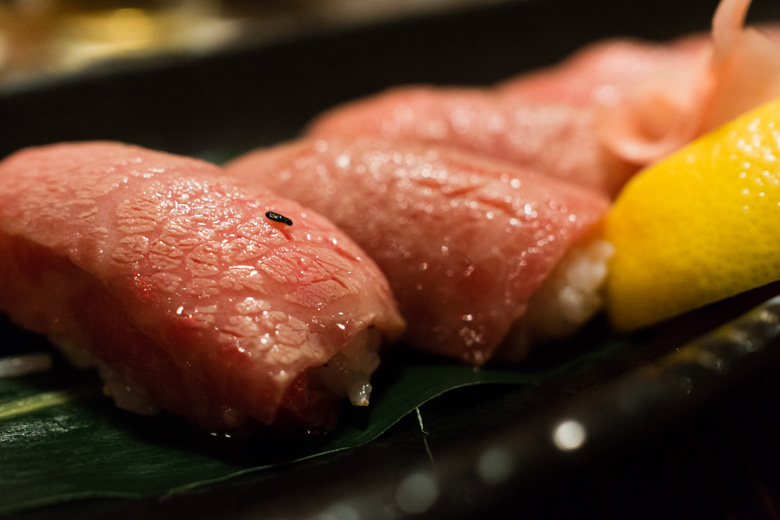 This was EFFING INCREDIBLE !!! The best beef nigiri sushi I've ever had! It was like butter in my mouth – sooo tender and sooo creamy. Seriously SOOO AHHHHMAZING !!!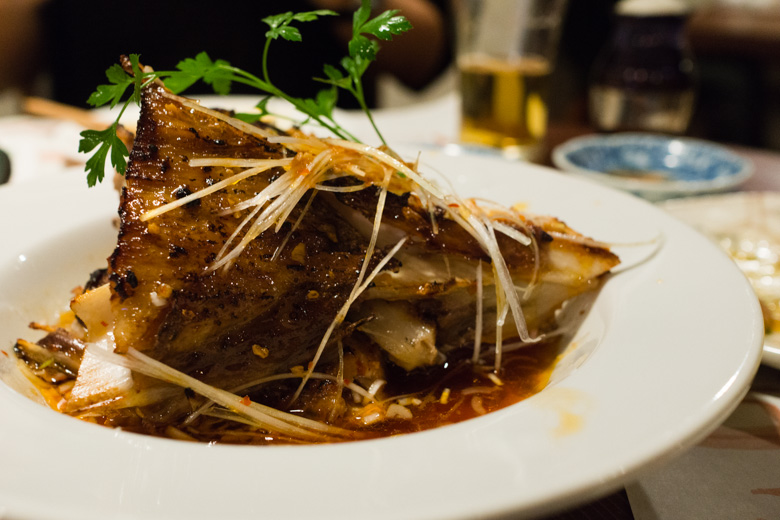 Maguro no Kama no Supearibu – House Special Tuna Spareribs (¥1,000 or $10.50 USD).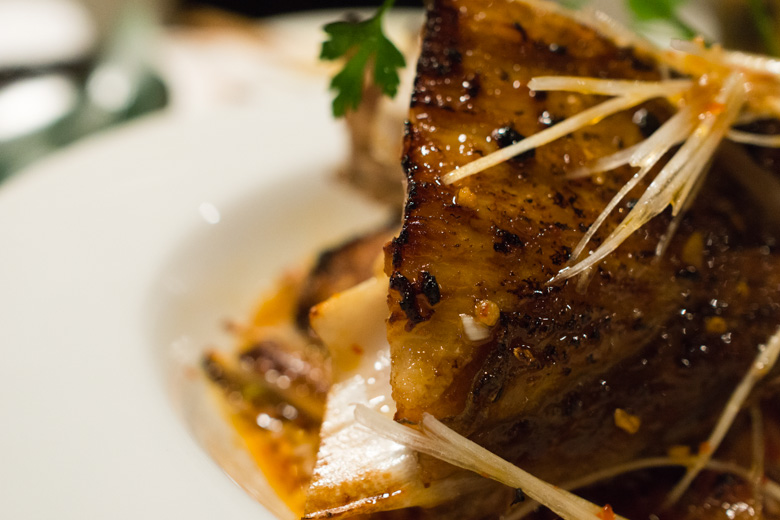 This is what Kaikaya is know for and another must order! The tuna is moist, flavorful and tender. The sauce is bomb, sweet and just a tad spicy.
View Larger Map
23−7 Maruyamacho
Shibuya, Tokyo 150-0044, Japan
p: 03-3770-0878
w: kaikaya.com‎
Asian, Dinner, Japanese, Lunch, Tokyo, Japan