Indonesia Cray !!! Eating My Way Through #WonderfulIndonesia – Jakarta & Padang
I just got back from another #WonderfulIndonesia trip sponsored by The Ministry of Tourism Republic of Indonesia! If you've been reading the blog (sorry I've been MIA), you may recall my trip to Indonesia in 2015 where I traveled from Bandung to Bali! Along the way, I watched the sunrise at Borobudur Temple, spent magic hour at Prambanan Temple, trekked up Mount Bromo, came face-to-face with the last of the Komodo dragons on Komodo Island, walked along the Jatiluwih rice terraces in Bali, and of course, stuffed my face all day, every day.
This time around, I spent nearly two weeks learning more about Indonesia's culture, culinary offerings, history and we even got to do some shopping. The trip started with 3 nights in Jakarta, followed by a couple days in Padang, then Yogyakarta for 2 days, and Bali for the remainder of the trip!
I always feel like the best way to familiarize yourself with a country's culture is through your stomach. Food is a major component of a region's culture and so much is explained through local traditions, cooking techniques, regional produce, and more. The most memorable experiences I had was learning to prepare some Indonesian classics including sambal and rendang. I also loved our trip to Bukintiggi where we had Nasi Padang in a restaurant setting, in a street market, and a home cooked feast!
Here were some of the highlights of the first part of my trip, starting with Jakarta and Padang! Stay tuned for part 2 whch will cover Yogyakarta and Bali!
Jakarta
Giyanti Coffee Roastery
Giyanti is a rustic coffee shop in Jakarta known for serving "modern coffee with a traditional touch." They pride themselves on sourcing the finest coffee beans in the world. They offer specialty coffee and espresso drinks along with delicious pastries such as croissants, brownies, cakes, and more. The space is absolutely gorgeous with indoor and outdoor seating decorated with colorful signs, a mix-match of furniture, paintings, mosaic tiles, and lush plants. This place has a unique decor and backdrop alongside cups of coffee that are on point.
Jalan Surabaya No.20, Menteng, Kota Jakarta Pusat, Daerah Khusus Ibukota Jakarta 10310, Indonesia
p: +62 21 31923698
w: www.giyanticoffeeroastery.com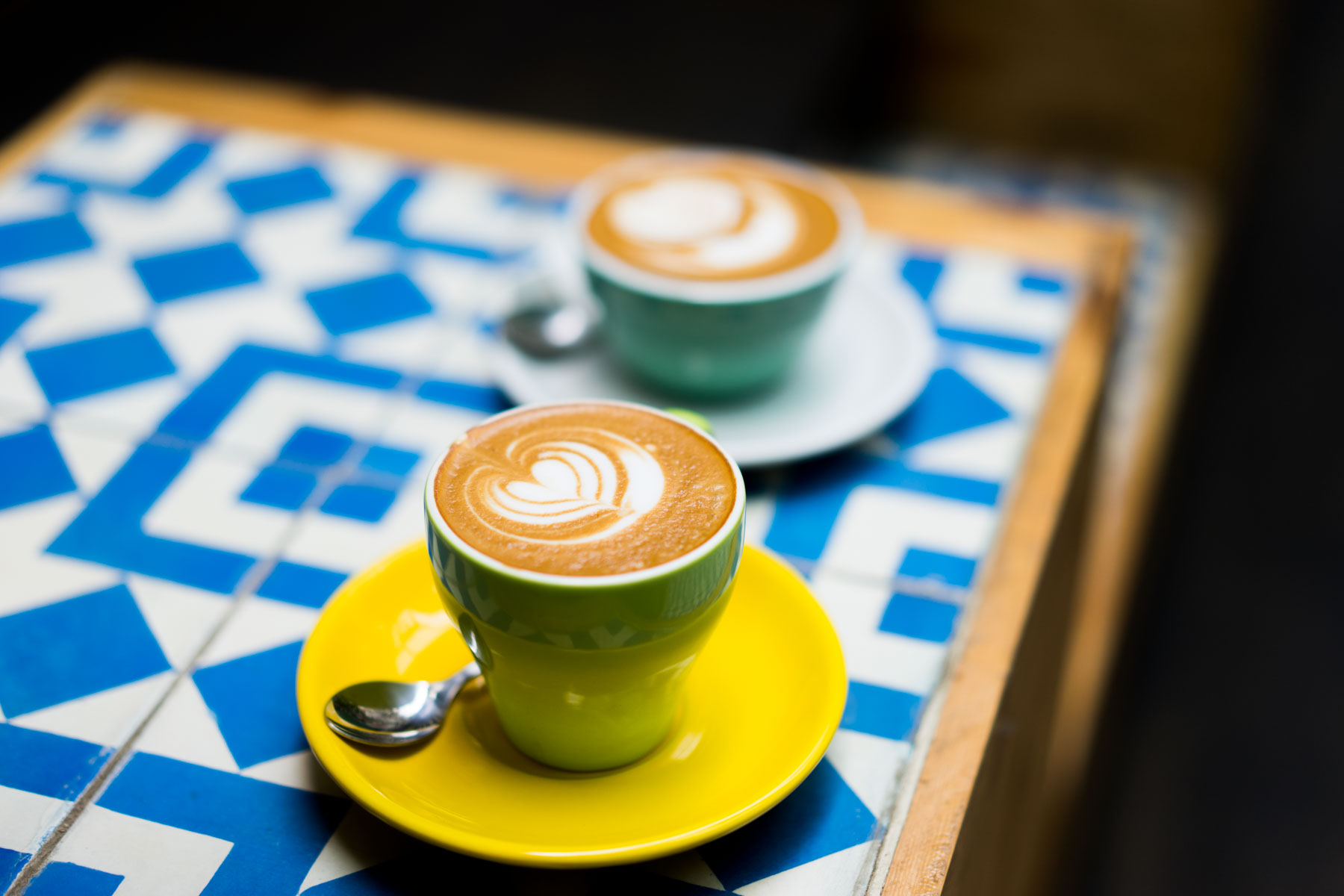 BEAU by Talita Setyadi
BEAU is a beautiful café founded by pastry chef Talita Setyadi. She apparently graduated at the top of her class at Le Cordon Bleu and is known for making some of the best pastries in Jakarta. Be sure to try the croissants (salted egg yolk and almond was my fav), the dukkah egg open-faced sandwich, Brioche French toast, and the coffee.
Jalan Cikajang No. 29, RT. 01 / RW. 05, Petogogan, Kebayoran Baru, RT.1/RW.5, Petogogan, Kby. Baru, Kota Jakarta Selatan, Daerah Khusus Ibukota Jakarta 12170, Indonesia
p: +62 21 27517454
One Fifteenth Coffee
One Fifteenth is another specialty coffee shop in Jakarta. The coffee shop's name is derived from the common brewing ratio of 1 part coffee to 15 parts water. One Fifteenth only sources quality beans and roasts their beans in partnership with Morph Coffee Roasters. They now have multiple locations across Jakarta and in Bali.
Jl. Gandaria I No.63, RT.2/RW.3, Kramat Pela, Kby. Baru, Kota Jakarta Selatan, Daerah Khusus Ibukota Jakarta 12130, Indonesia
p: +62 21 7225678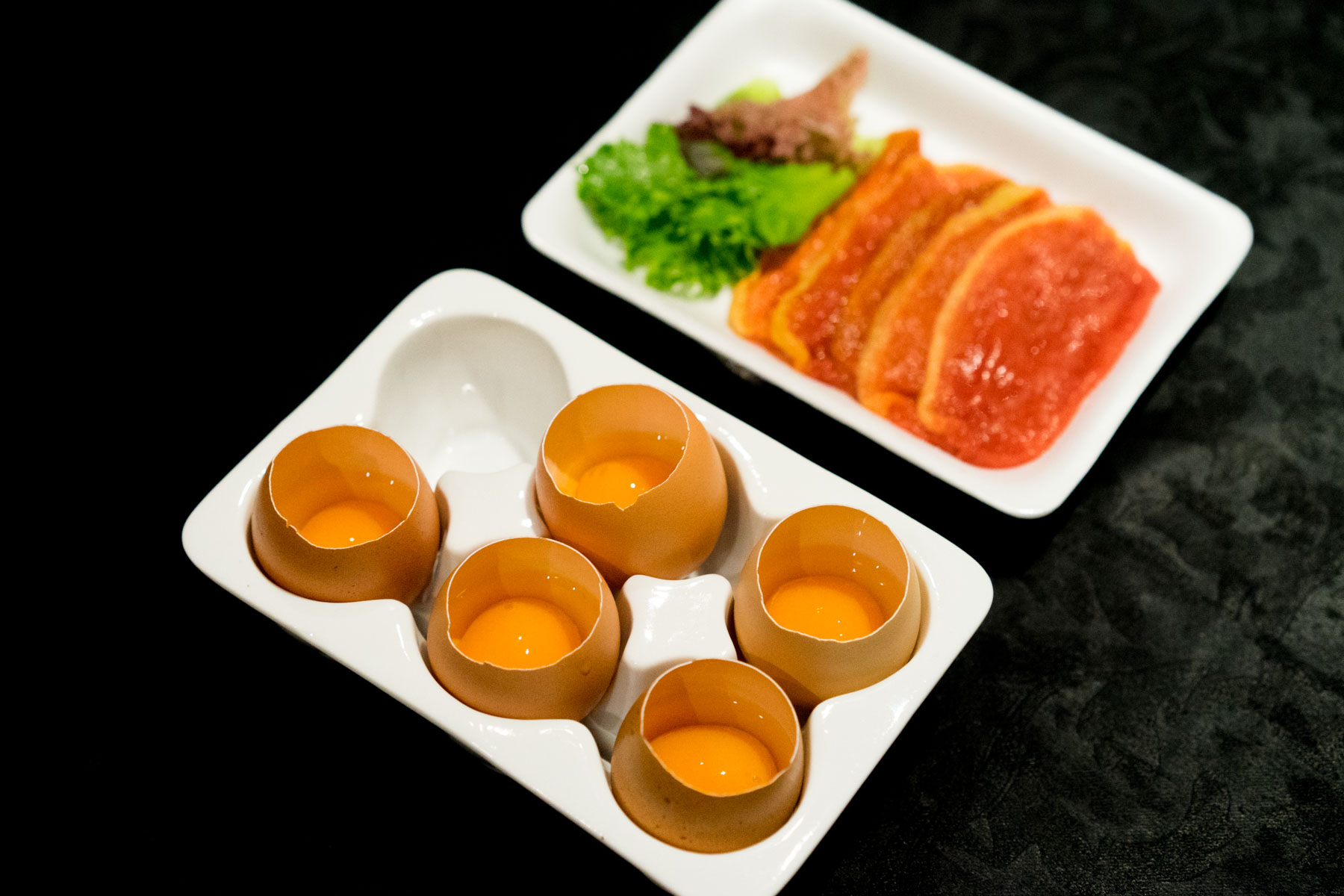 Namaaz Gunawarman
Namaaz opened in 2012 by owner and chef Adrian Ishak. It's one of Indonesia's first molecular gastronomy restaurants. The menu constantly changes with a different theme every time. When we arrived, we were instructed to open a little coin purse that was left on the table. Inside the coin purse was a list with 17 items which established the theme of our dinner – groceries and household items.
Chef Adrian kept us guessing as he served us dishes like "glass cleaner" spinach soup served with a squeegee to scrape the gelatinous soup with. There was also a dish that looked like slices of "raw beef" and "raw eggs" which turned out to be marinated watermelon and mango. He also presented us with "fruit wrapped in styrofoam" which was actually a mutton curry topped with coconut milk "styrofoam" and an edible "lipstick" dessert.
As we thought the meal was coming to an end, it started to get real turnt, real quick. The restaurant turned off all the lights and started blasting Justin Bieber's "Where Are Ü Now" while serving a glow-in-the-dark dessert. For the grand finale, we were given rain ponchos and all of a sudden our dessert starts exploding with smoke and liquid nitrogen everywhere. This was definitely one of the most entertaining meal I've had in a while, but not one full of gimmicks.
Jalan Gunawarman No.42, RT.5/RW.2, Selong, Kebayoran Baru, Kota Jakarta Selatan, 12110, Indonesia
p: +62 811-1557-798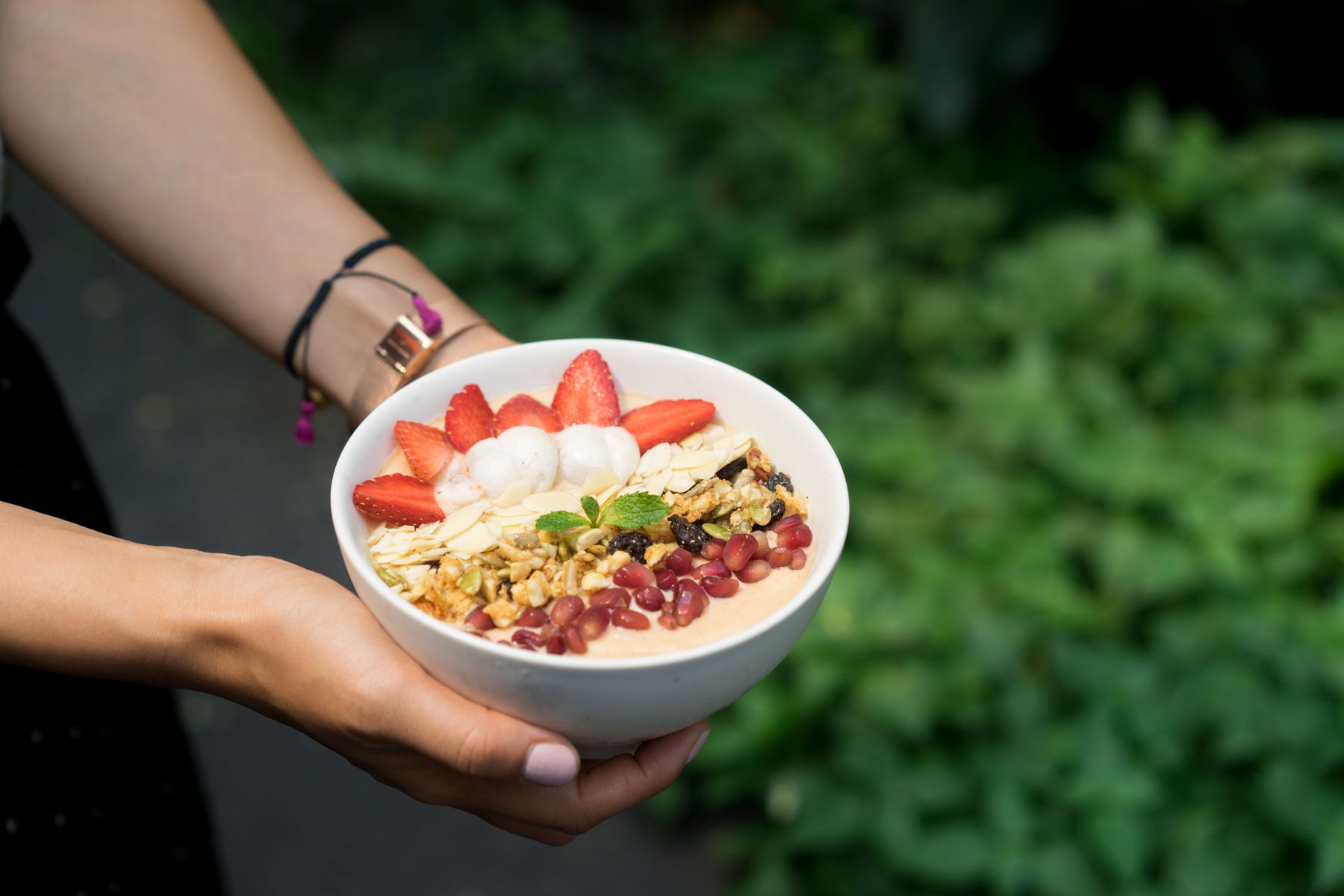 Beets & Bouts
If you want to balance things out a bit and go for something on the healthier side, check out Beets & Bouts. Serving salads and smoothie bowls, Beets & Bouts is all up on that health tip. They even have an assortment of home-made kombucha by Happy Kombucha.
Fairgrounds SCBD Sudirman Lot 14 (Basement Level), RT.5/RW.3, Senayan, Kby. Baru, Kota Jakarta Selatan, Daerah Khusus Ibukota Jakarta 12190, Indonesia
p: +62 812-8015-9339
Hotel Pullman Thamrin
We stayed at the Hotel Pullman Thamrin, a 5-star hotel conveniently located in Jakarta's central business district, right across from Grand Indonesia. The rooms are spacious, modern, and the beds are super cozy! The breakfast selection was insane, with one of the largest buffets I've ever seen.
Jl. M.H. Thamrin No.59, RT.9/RW.5, Gondangdia, Menteng, Kota Jakarta Pusat, Daerah Khusus Ibukota Jakarta 10350, Indonesia
p: +62 21 31921111
Padang
Sate Mak Syukur
Sate is a staple in Indonesia and different regions have their own renditions of skewered meat. There are four main types of sate in West Sumatra/Minangkabau alone. We got to sample the Padangpanjang style at a two-story sate house called Sate Mak Syukur. This joint is known for its beef sate Padang. Be sure to try all the different types of chips and the coconut puddng wrapped in a banana leaf.
Jalan Sutan Syahrir No.250, Silaing Bawah, Padang Panjang Barat, Silaing Bawah, Padang Panjang Bar., Kota Padang Panjang, Sumatera Barat 27118, Indonesia
p: +62 752 82452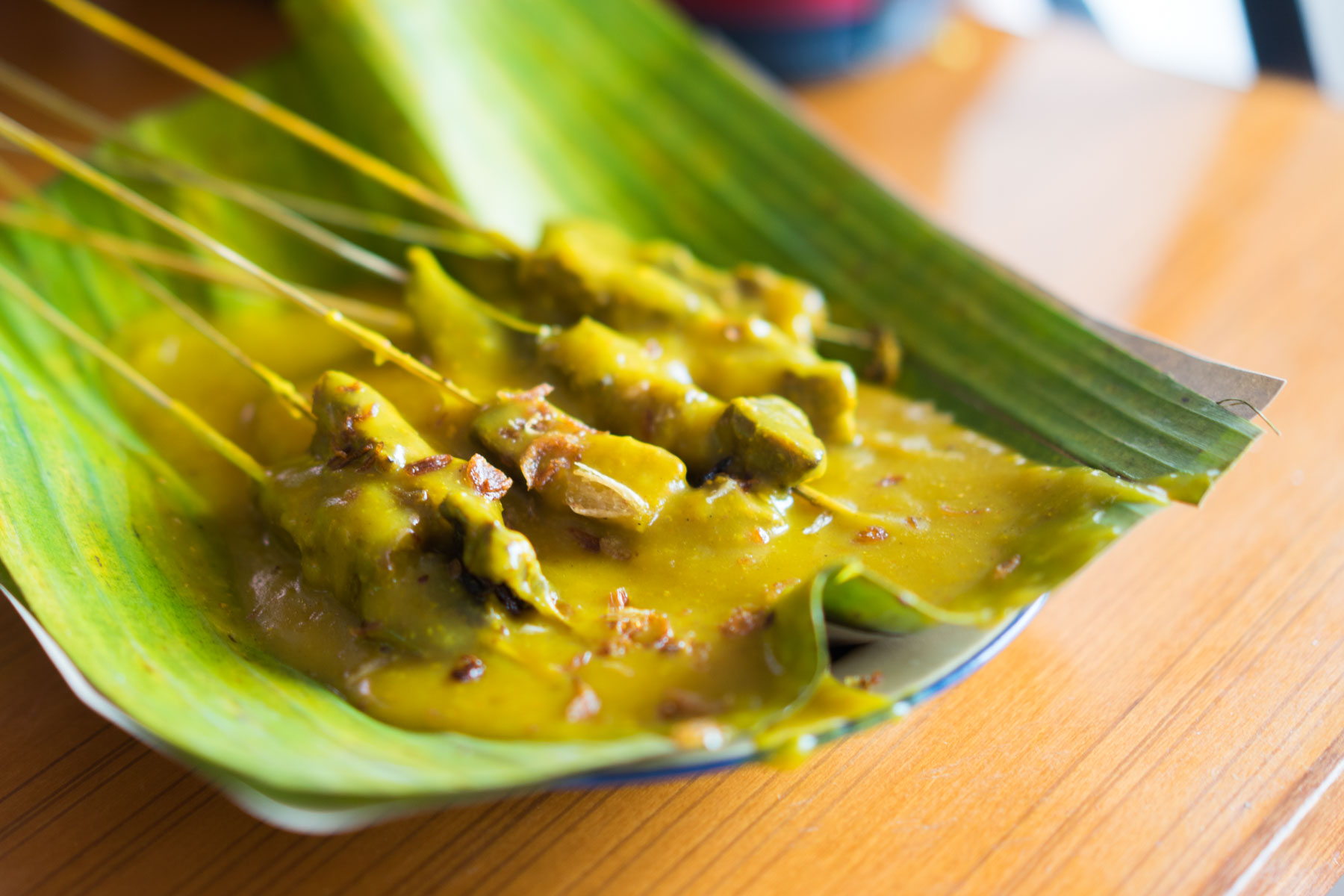 RM Gumarang
If you have a sweet tooth or if you want to try some local coffee and tea, check out RM Gumarang. They offer some authentic local desserts such as pokat ketan (avocado sticky rice), bubur kampium (a sweet mung bean porridge with assorted fruits and coconut milk), katan sarkayo (sticky rice with egg and coconut milk custard), and ampiang dadiah (buffalo milk yogurt with sticky rice and palm sugar syrup). To be completely transparent, I wasn't into the desserts, but more eggcited about the kopi telur and teh telur, traditional Padang-style coffee and tea made with frothy whipped eggs and sweetened condensed milk! The drinks had a consistency of a similar to zabaione or sabayon, an Italian dessert, or beverage, made with egg yolks, sugar and sweet wine.
Jl. M Syafei no 8 | Pusat Pasar Padang Panjang, Padang Panjang, Indonesia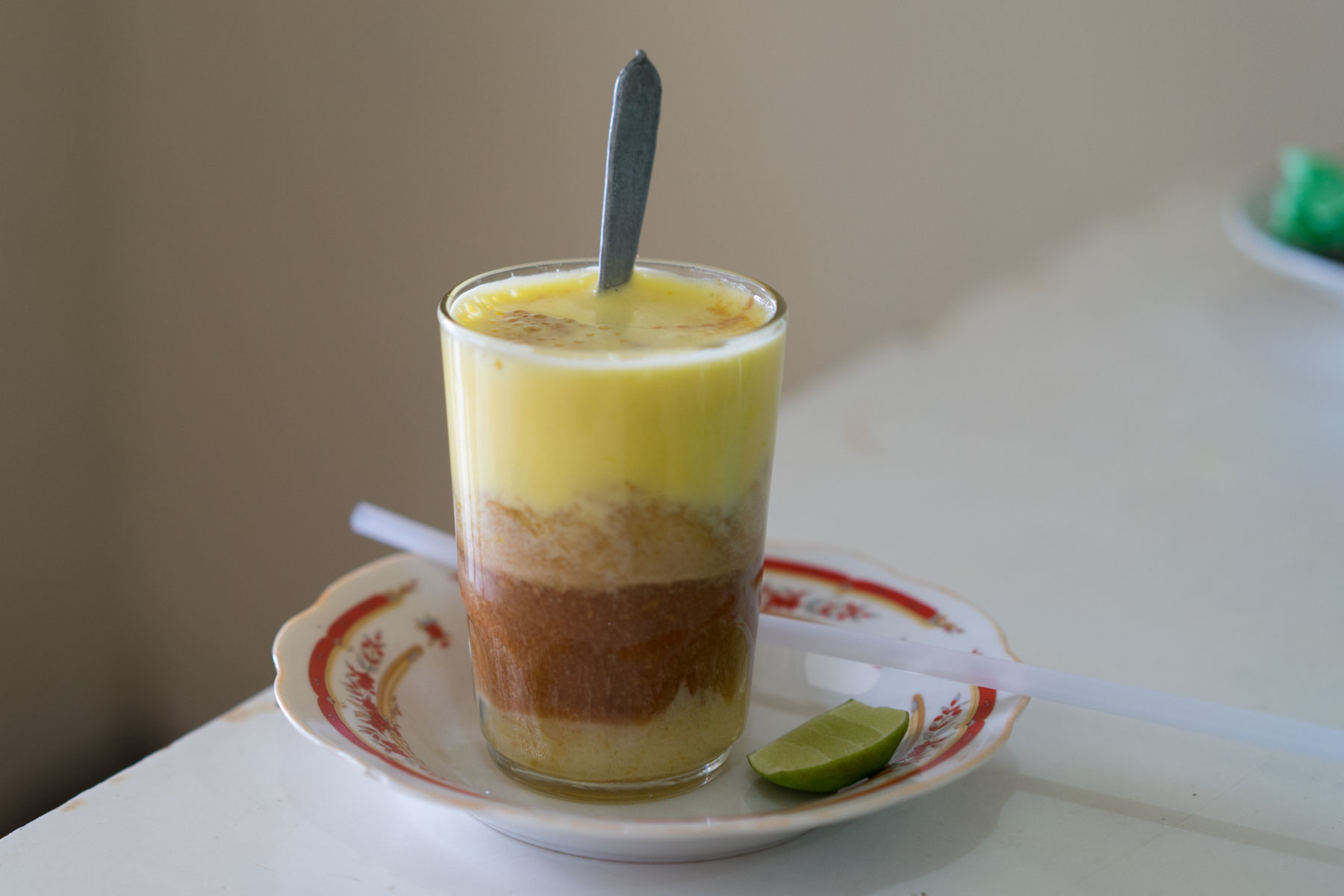 Martabak Bandung
After grabbing teh telur or kopi telur, hit up Martabak Bandung right across the street! If you're unfamiliar with Martabak manis, it's essentially a thick stuffed sweet pancake filled with a ton of butter and condensed milk. You can order different fillings including cheese, chocolate, fruit, nutella, and more. The possibilities are endless. This stuff is extremely addictive and high in calories FYI. But YOLO.
Jl. M Syafei no 8 | Pusat Pasar Padang Panjang, Padang Panjang, Indonesia (I don't have the exact address, but it's right across from RM Gumarang)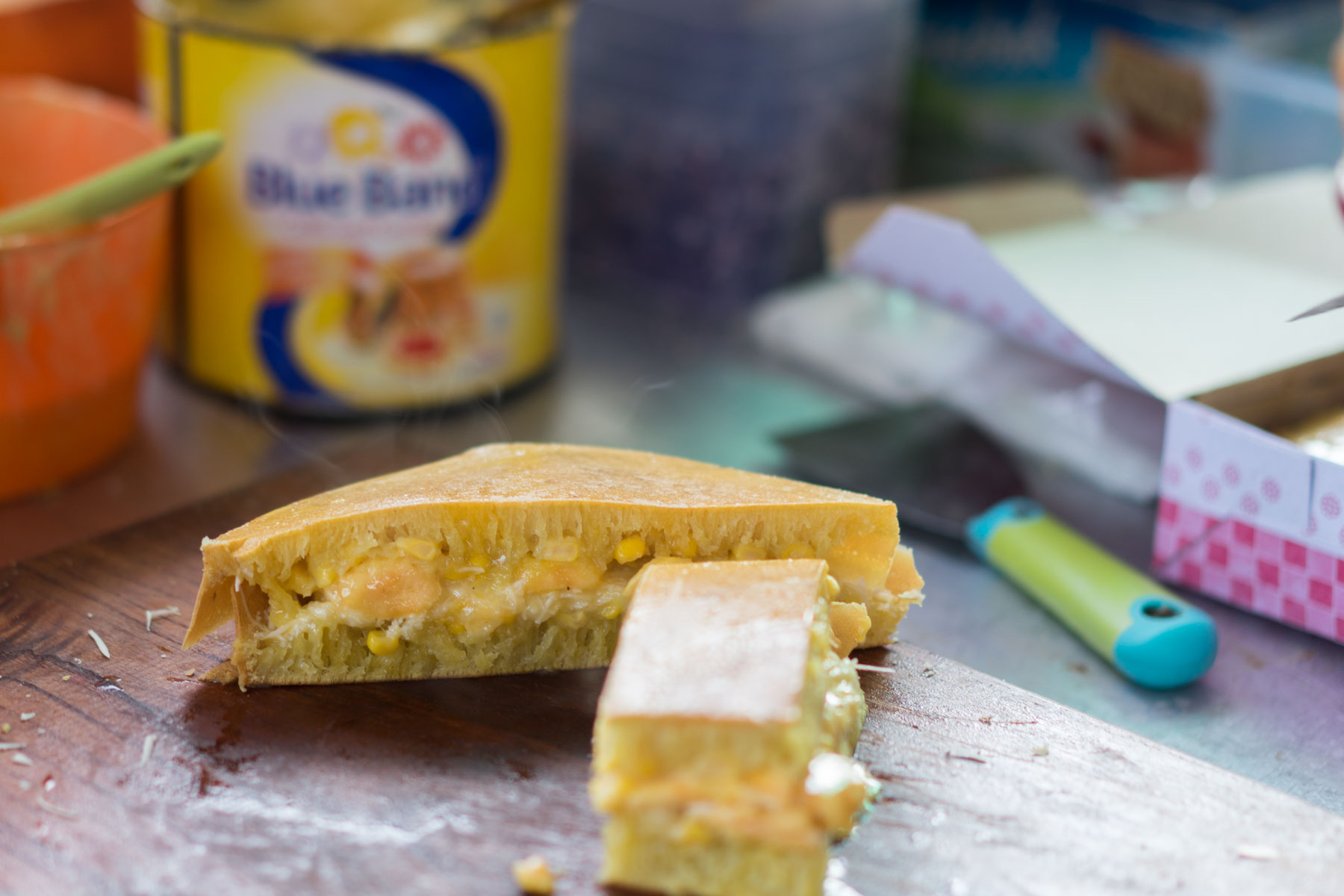 RM Family Benteng
RM Family Benteng is a local favorite serving Nasi Padang, known specifically for its ayam pop aka coconut fried chicken. The chicken is very flavorful, tender, and moist! I also loved the ayam gulai (coconut curry chicken), beef rendang, and gado gado. I also tried paru, which is a dehydrated beef lung, for the first time. It was actually not as bad as it looks and tastes like beef jerky!
Jl. Yos Sudarso, Benteng Pasar Atas, Guguk Panjang, Benteng Pasar Atas, Guguk Panjang, Benteng Ps. Atas, Guguk Panjang, Kota Bukittinggi, Sumatera Barat 26113, Indonesia
p: +62 752 21102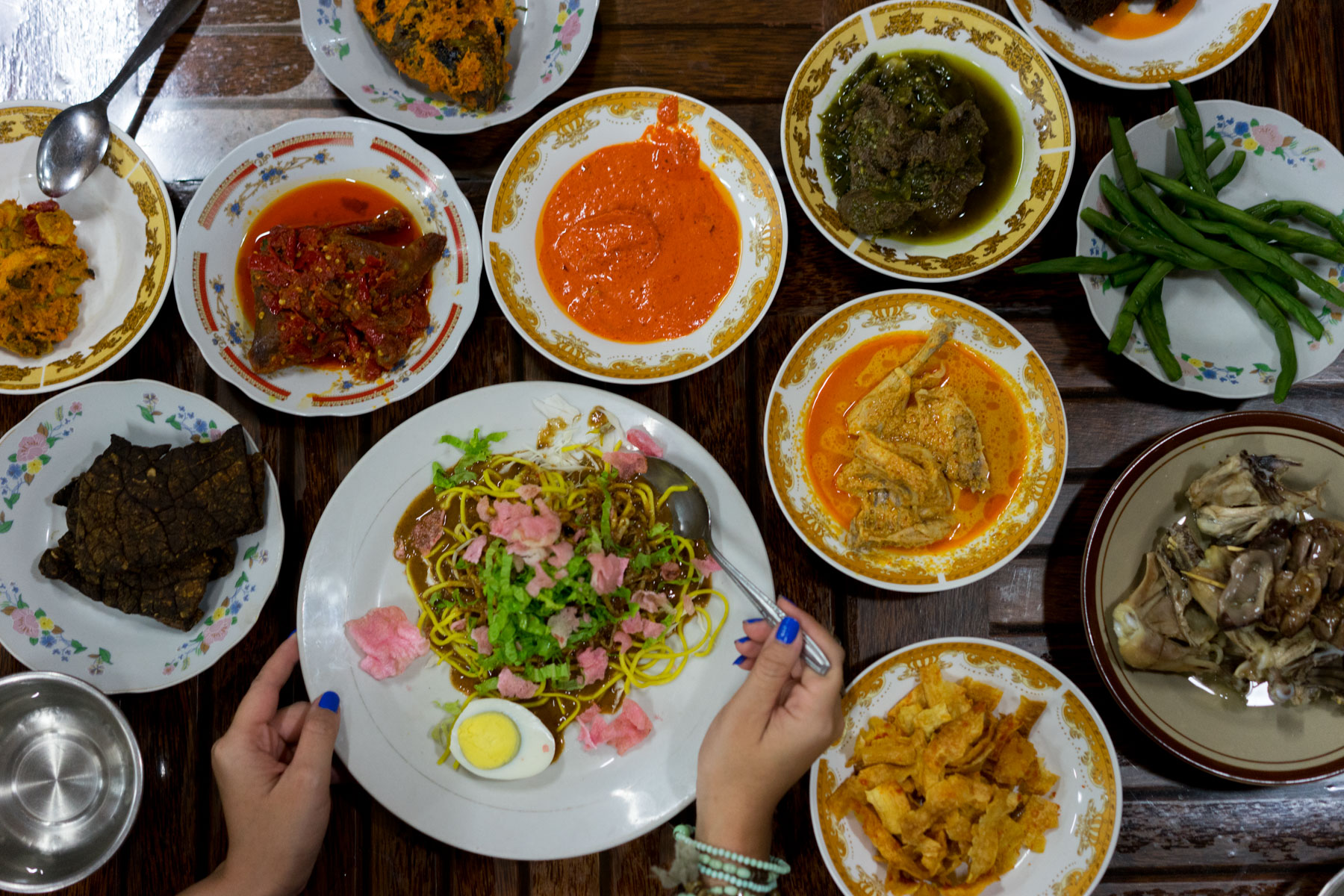 Uni Emi
The most memorable experience of the trip was when we learned how to make rendang from the rendang queen Uni Emi. She welcomed us into her home, taught us how to make rendang and made us a full blown Nasi Padang feast! We had all rendang everything including anchovies with patai rendang, mixed vegtables with herbs rendang, egg rendang, and meatball rendang. She also made grilled fish, fried eel & chips, ayam lado mudo (green chili chicken), green jackfruit curry, casava leaf curry, acar (pickled vegetables), and jariang balado which is a spicy dog fruit (aka jengkol) dish which is a common bean found in south east Asia.
Alan Soekarno Hatta Belakang Bengkel Sinar Pagi No 39, Kelurahan Padang Tinggi Kecamatan, Payayakumbuh Barat Kota Payakumbuh, Padang Tinggi, Payakumbuh Bar., Kota Payakumbuh, Sumatera Barat 26224, Indonesia
p: +62 821-7097-9983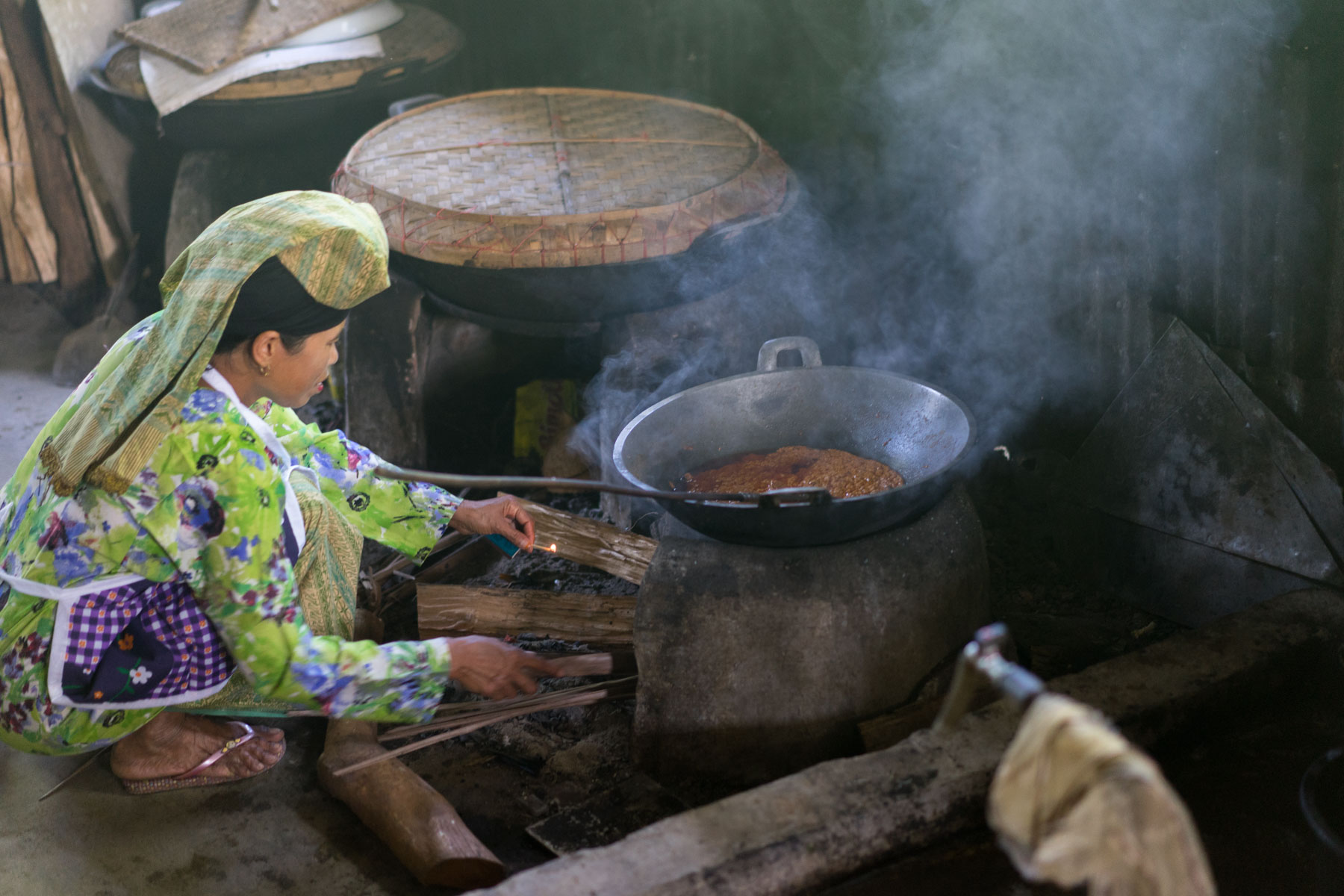 Novotel Bukittinggi
In Padang, we stayed at the Novotel Bukittinggi, centrally located and walking distance from one of Bukittinggi's major landmarks, Jam Gadang. The hotel is a bit older, but well kept with a decent sized pool.
Jalan Laras Datuk Bandaro, Bukit Cangang Kayu Ramang, Guguk Panjang, Bukittinggi City, West Sumatra 26115, Indonesia
p: +62 752 35000
Asian, Bali, Indonesia, Bali, Indonesia, Brunch, Dessert, Dinner, Indonesian, Lunch