The Lowdown
Restaurant Name: Pioneer Saloon
Cuisine: Hawaiian-style Japanese
Average Price per Person: $8 to $15 USD
Location: Honolulu, Hawaii (please refer to the map below for details)
Recommendations: Ahi Poke Bowl, Tonkatsu, and Chicken Katsu Curry

Ratings (out of 5)
Taste: 4
Creativity/Authenticity: 4.5
Atmosphere: 3
Service: 2.5
Bang for Buck: 4.5
Crayscale !!!

Pioneer Saloon is an awesome little joint in Honolulu, Hawaii serving some legit, straight up, and what I would consider good Hawaiian/Japanese comfort food. Pioneer Saloon is located super close to Diamond Head, a volcanic tuff cone with an amazing view of Honolulu. There's a super easy hiking trail that leads up to the peak which takes about 30 to 45 minutes and definitely worth checking out. The saloon has a laid back vibe, welcoming both take-out and dine-in customers, with all food served in disposable take-out containers.
One of my favorite dishes at Pioneer Saloon was the Ahi Tuna Poke Bowl. Poke is a Hawaiian take on cubed raw fish dish typically made with tuna marinated with sea salt, soy sauce, sesame oil, limu seaweed and chili pepper inspired from Japanese sashimi and chirashi. Pioneer Saloon has one of the best poke bowls I've tasted using fresh cubed ahi tuna with small chunks of buttery avocado, crisp strips of shiso served with a warm bed of flavorful furikake rice. Super healthy, delicious and satisfying!
Pioneer Saloon also has legit katsu, Japanese style deep fried deliciousness! I've tried the tonkatsu (deep fried pork cutlet) and chicken-katsu and they both hit the spot. The Japanese curry sauce is dope too – hella flavorful, sweet and not too heavy.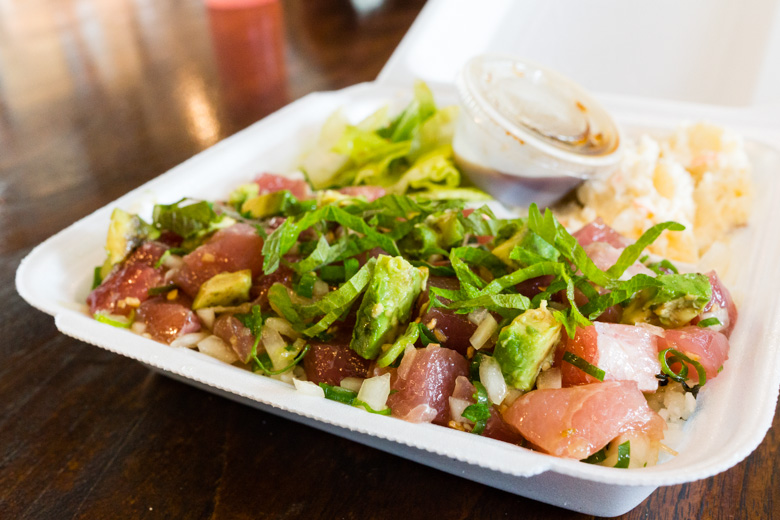 Ahi Poke Bowl with avocado, shiso, furikake rice and a side of potato salad ($12 USD).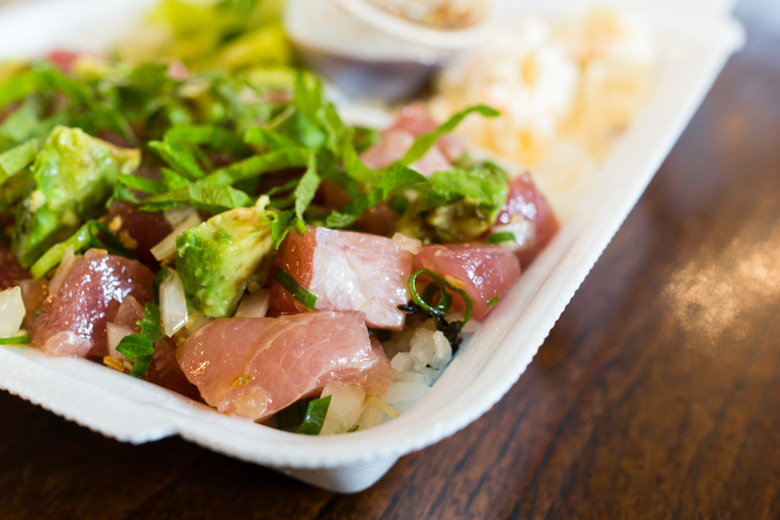 The tuna was super fresh and tasted amazing with the strips of shiso and buttery avocado!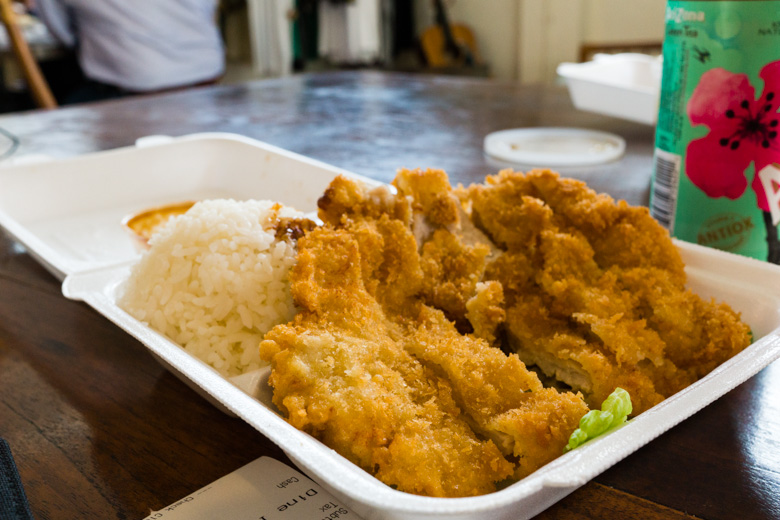 Tonkatsu ($9 USD). The pork cutlet was extremely tender and juicy with a golden crispy crust.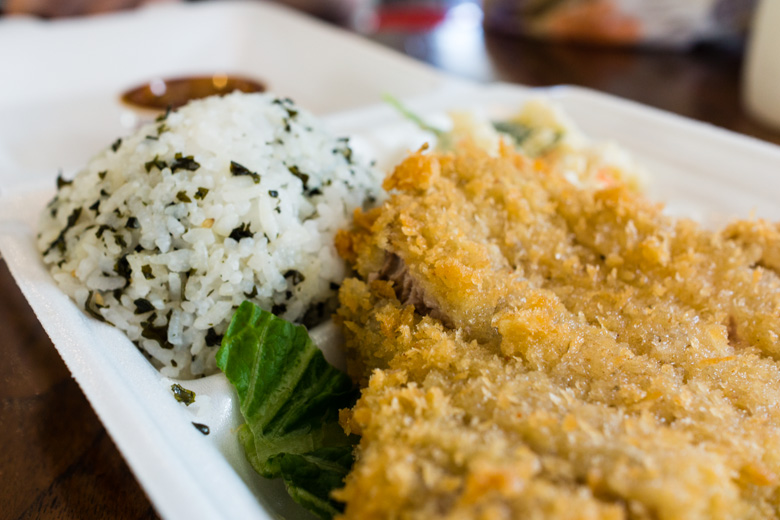 Ahi Katsu with furikake rice ($12 USD).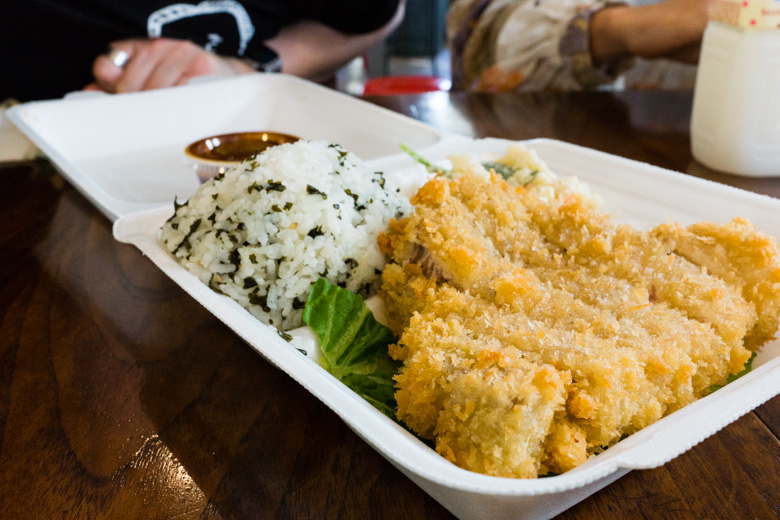 This was the first time I've seen Ahi Katsu! It was another delicious dish with moist strips of crispy fried tuna.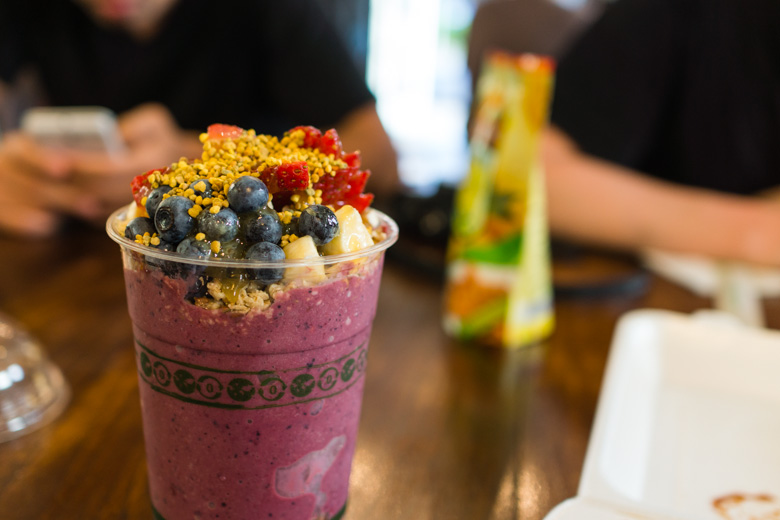 The Hawaii Health Bar is right across the street – grab one of their killer Açaí bowls!

View Larger Map
3046 Monsarrat Ave, Honolulu, HI 96815
American, Asian, Dinner, Hawaiian, Lunch, North American