Honolulu Cray !!! Cream Pot Breakfast & Brunch
The Lowdown
Restaurant Name: Cream Pot
Cuisine: Breakfast and Brunch
Average Price per Person: $15 to $30 USD
Location: Honolulu, Hawaii (please refer to the map below for details)
Recommendations: Ricotta Soufflé Pancakes

Ratings (out of 5)
Taste: 3
Creativity/Authenticity: 4
Atmosphere: 4
Service: 4
Bang for Buck: 2.5
Crayscale !!!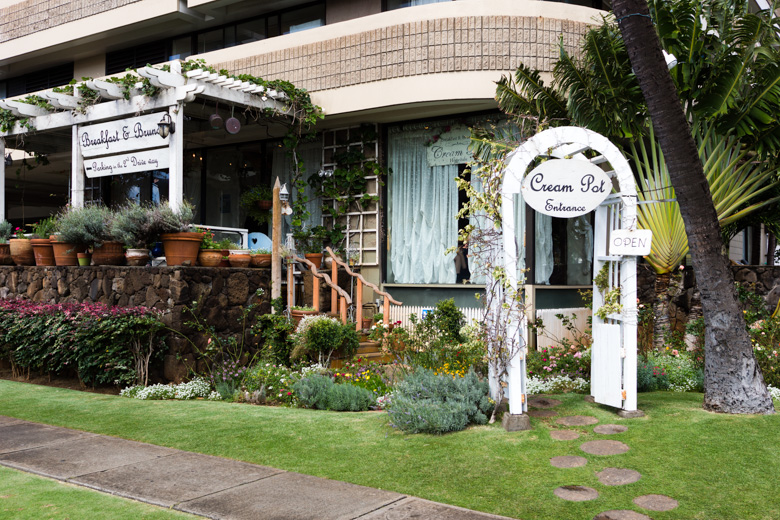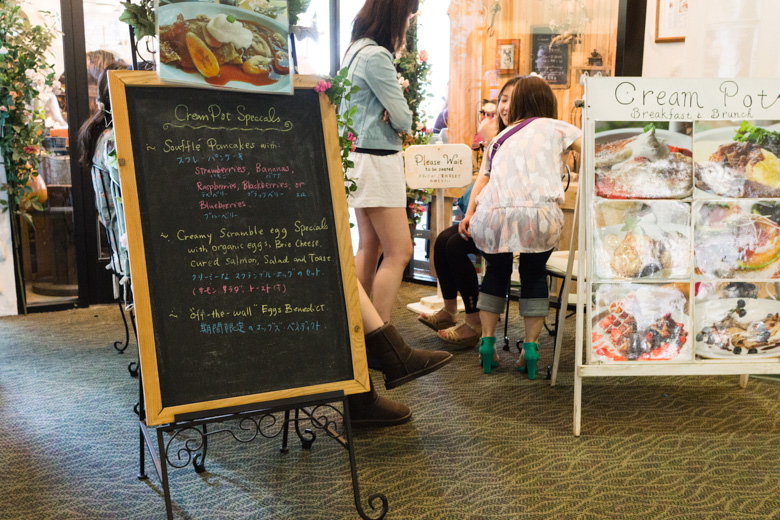 Raspberry Ricotta Soufflé pancakes! Eggs Benedict on French toast with bacon and salted caramel sauce! That's my shiit right thurr. I'm all about the eggs, bacon, Belgian waffles, pancakes, and all that brunch deliciousness. Cream Pot has all of that and then some. I could not contain my excitement when I found out about this place and drooling like a fatty when flipping through the rudimentary but extremely well-received picture menu (aka a stack of laminated prints with a ring attached to it).
This place is kind of a big deal in Honolulu, especially to the Japanese tourists so expect a little bit of a wait. The restaurant screams KAWAII filled with floral décor, plants and adorable little nick-nacks which must be what initially attracts its customers. About 20 minutes passed before we were seated at a huge long table in the middle of the restaurant. Cream Pot has both an indoor and outdoor seating. Outdoor seating has a shorter wait time, but we vetoed that idea considering it was pretty windy with unanticipated sudden rain showers. We saw a few items flying off plates and didn't want to end up with pancakes in our faces or soggy food.
Cream Pot's menu has all the brunch essentials and more. I was a little overwhelmed at first as my indecision kicked in. Luckily, I was rollin' with some fellow fatties (Joy Yoon, Simon Wainwright, and Jefford Lam – we miss you guys!) who were down for a brunch feast so we ordered from pretty much every section of the menu except for the Belgian waffles (their waffle iron broke :(. Everything sounded AMAZING on paper, but as I started shoving the food in my mouth, I couldn't help but feel a little dissatisfaction. Some items were pretty legit, but others were just meh. The execution on a few dishes fell a little short and wasn't as good as I expected it to be. I'm obviously not living in Honolulu so consideration in returning doesn't really factor in but read on for more details…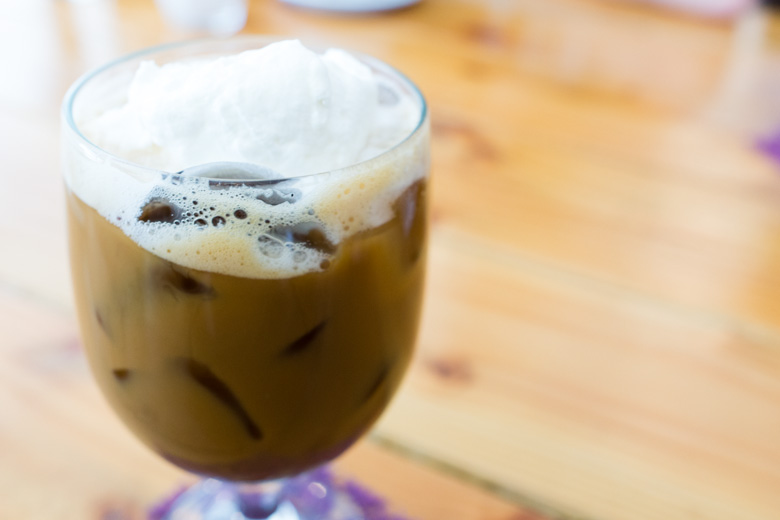 Iced Coffee.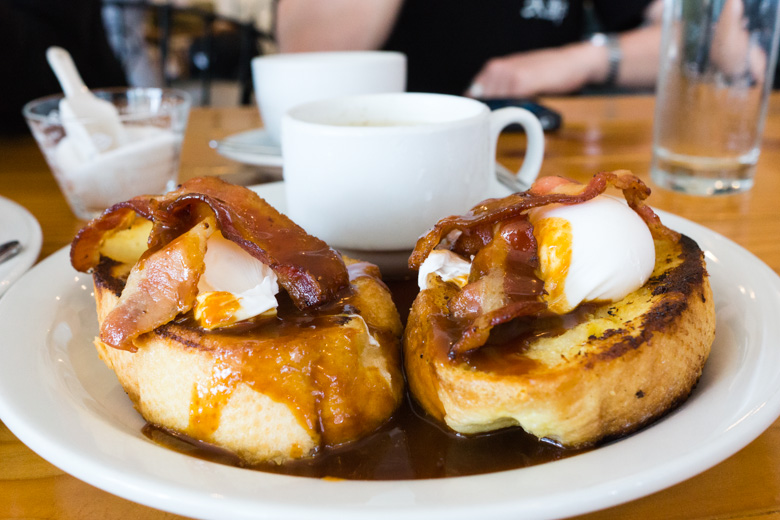 Off-the-Wall Eggs Benedict with crème anglaise dipped French baguette, poached eggs, bacon and salted caramel sauce.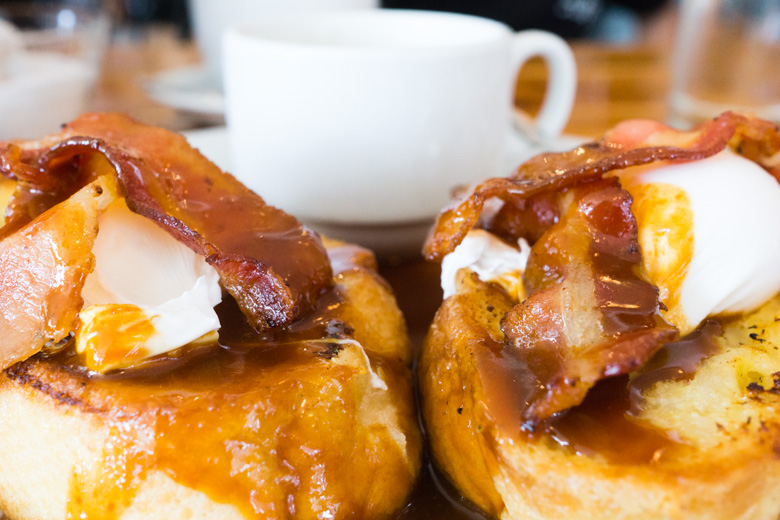 They went a little too HAM on the salted caramel sauce which made this dish way too sweet. The crème anglaise dipped French baguette was slightly soggy side. It also came with a really bland cold, tasteless soup.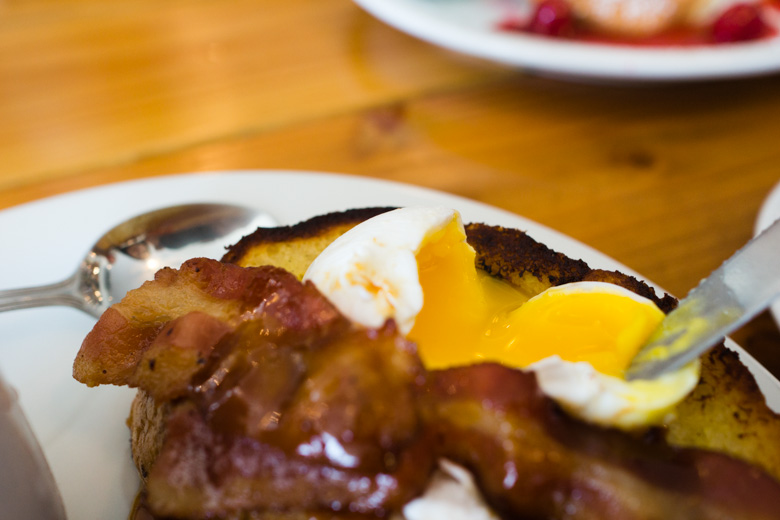 On the flip side, the runny poached eggs were on point as well as the as the crispy strips of bacon. All together, this would have been a pretty dope dish if they went easier on the salted caramel sauce and had a baguette that held up to the runny egg yolk and that sauce.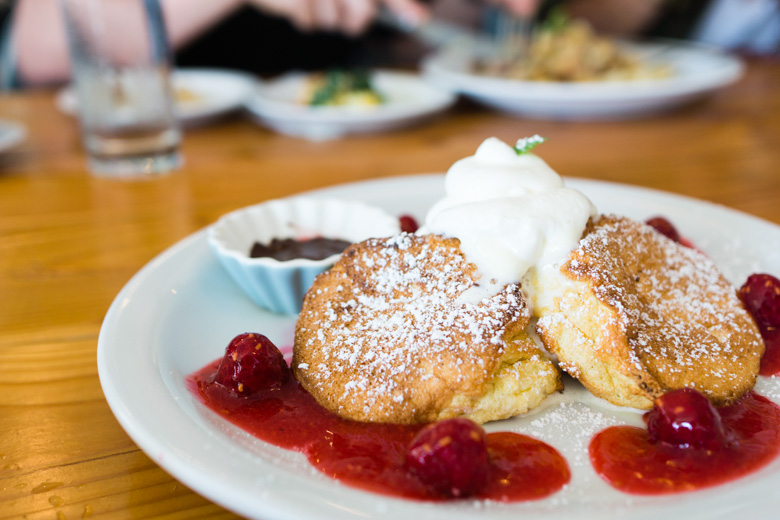 Raspberry Ricotta Soufflé Pancakes.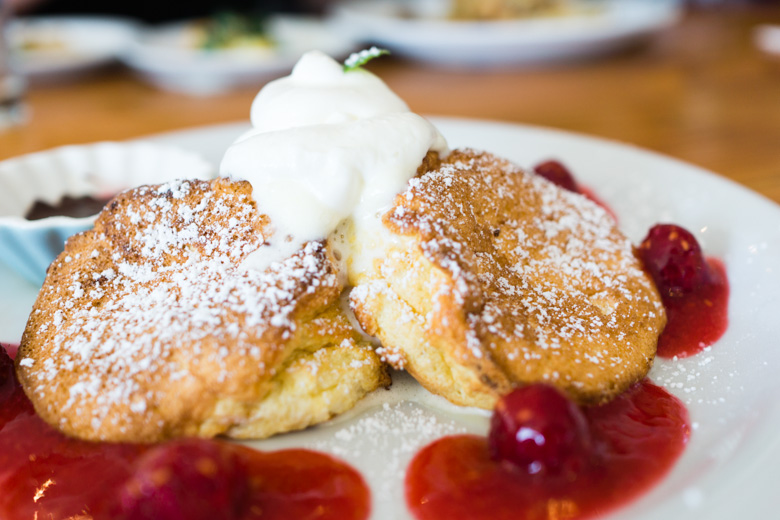 These pancakes were mad fluffy and almost 3 centimeters thick! I lurved the fresh raspberry sauce with the giant load of whipped cream.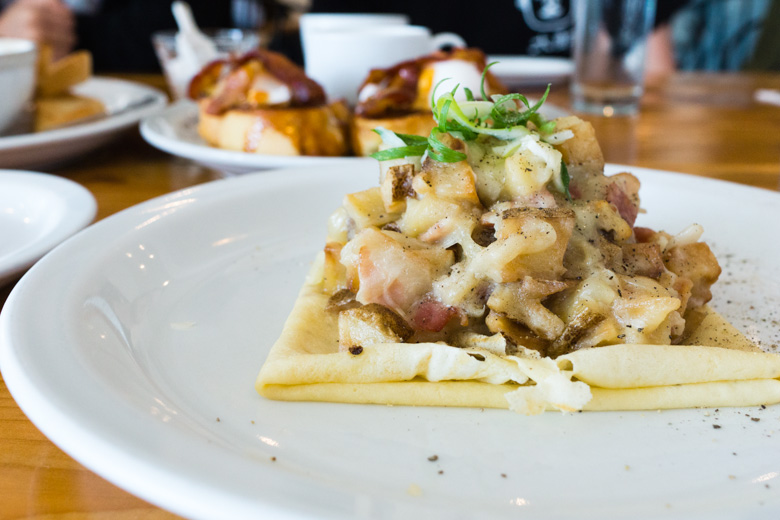 Classic Savory Crepes with baked maple cured bacon, caramelized Maui onions, potatoes and béchamel sauce ($12.50 USD).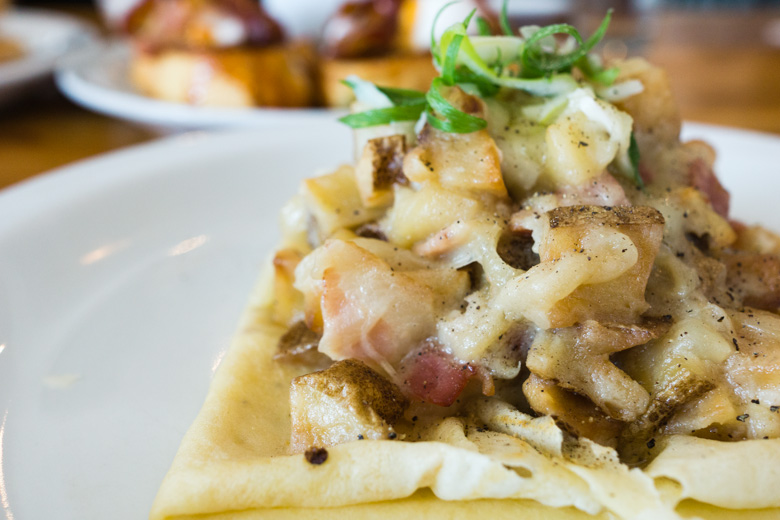 This was actually a pretty tasty trio smothered in that delicious creamy white sauce (#pause).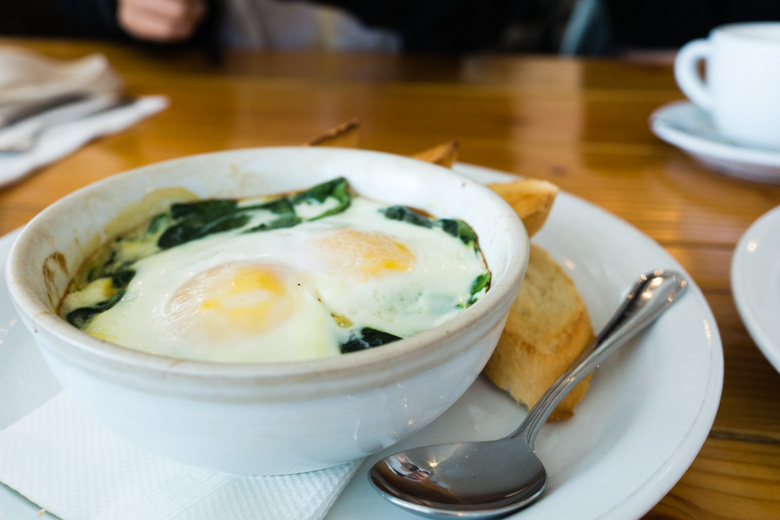 Shrimp Baked Eggs with spinach, béchamel sauce and toasted baguette ($12.50 USD).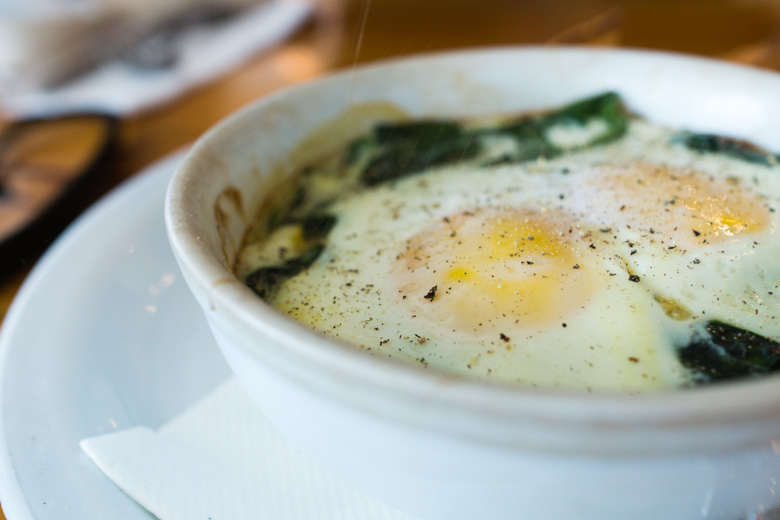 The baked eggs were bomb. The crunchy baguette soaked up all that velvety egg yolk x buttery béchamel dericiousness with wilted pieces of spinach and small chunks of sweet shrimp. YUM!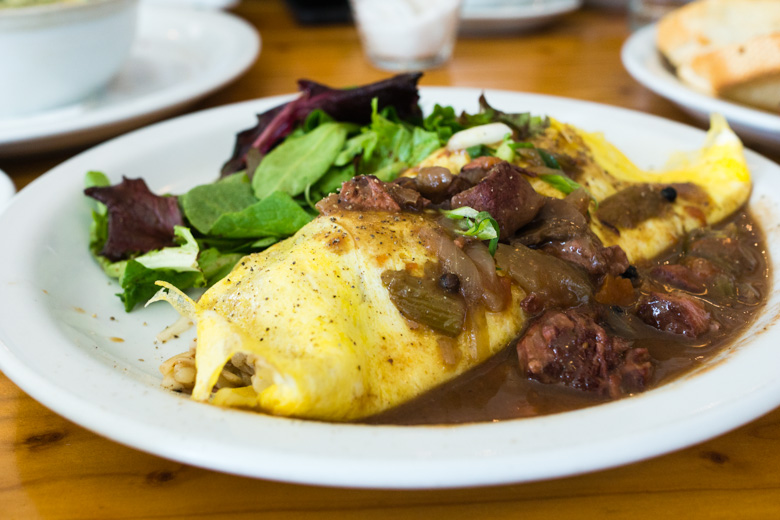 Burgundy Beef Stew Omelet Rice ($18 USD).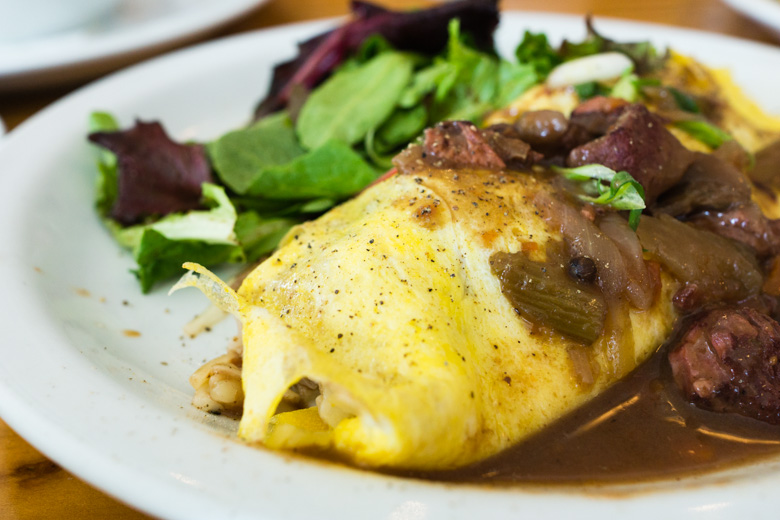 A pretty standard rendition of a Japanese rice omelette with some generously sized chunks of beef, just not the most tender.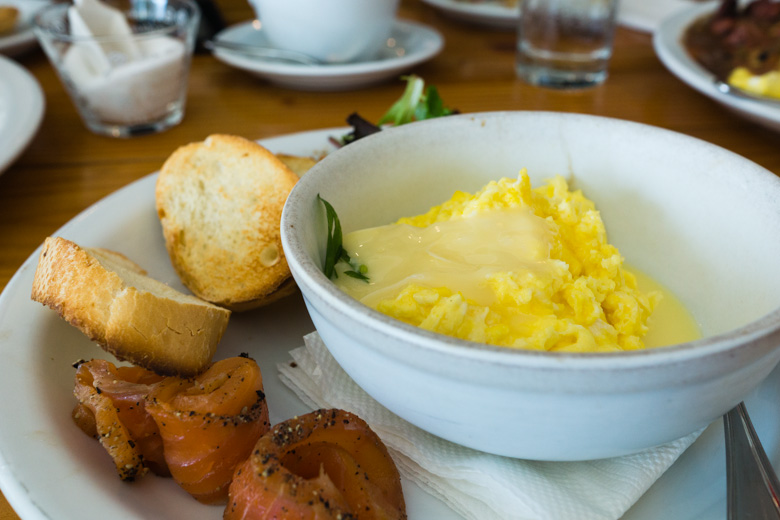 Creamy Scrambled Egg with organic eggs, brie cheese, cured salmon, salad and toast. This was a pretty big letdown.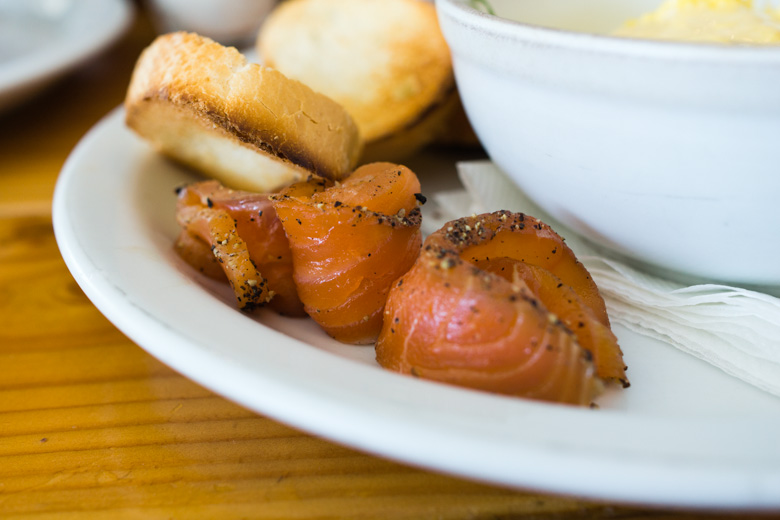 They definitely chinsed out on the brie cheese and cured salmon. There were only 3 small slices of salmon and a puddle of brie a top the underwhelming scrambled eggs.
444 Niu Street
Honolulu, HI 96815
p: 1.808.429.0945
American, Brunch, Hawaiian, Honolulu, USA, North American