The Lowdown
Restaurant Name: Bubbies Homemade Ice Cream and Dessert
Cuisine: Ice Cream and Dessert Parlor
Average Price per Person: $5 to $10 USD
Location: Honolulu, Hawaii (please refer to the map below for details)
Recommendations:

Ratings (out of 5)
Taste: 3
Creativity/Authenticity: 4
Atmosphere: 3
Service: 2.5
Bang for Buck: 3.5
Crayscale !!!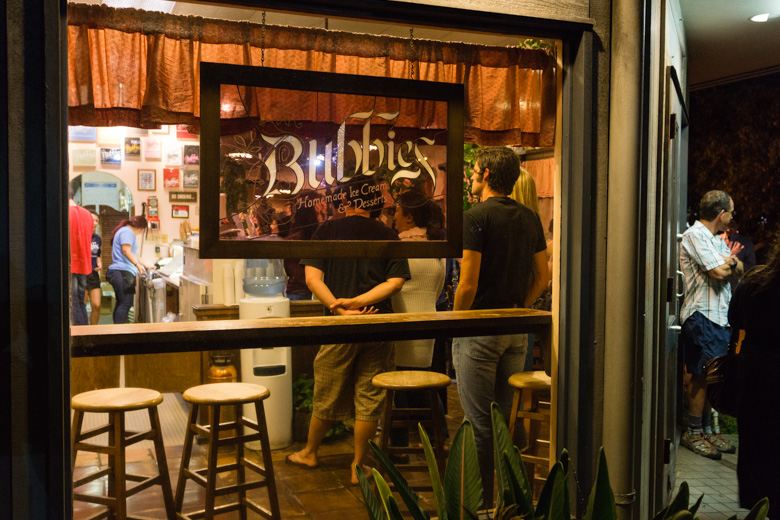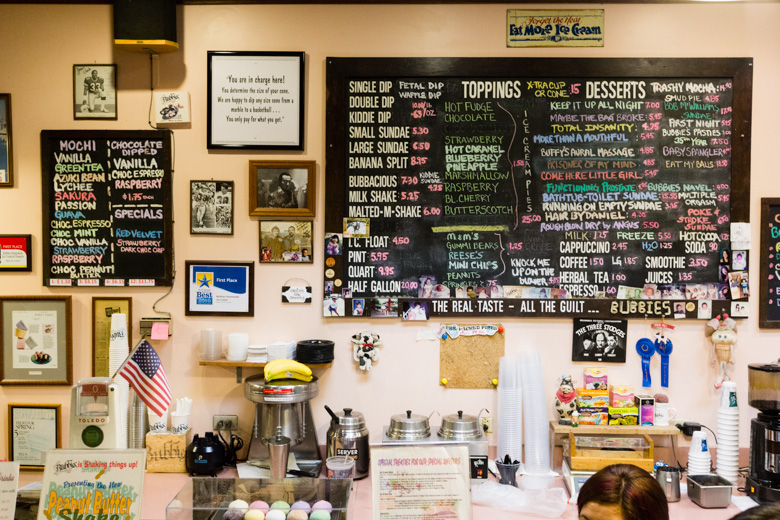 Bubbies is kind of a big deal in Honolulu and considered to have some cray cray ice cream as well as the best mochi. Locals are all about that Bubbies and insist that it's the beez neez of all ice cream. Bubbies' ice cream is produced locally at headquarters in an ice cream factory located in Aiea, Hawaii. It has expanded immensely being a lead supplier locally and as well as through international borders supplying ice cream to the famous Japanese restaurant Nobu, Bellagio hotels and resorts, and Dean & Deluca in countries around the world. I love ice cream and I friggin' love mochi, so I had to check this place out for myself.
Unlike everywhere else in Honolulu, Bubbies is open late (Monday to Thursday until 12 am; Friday and Saturday until 1 am and until 11:30 pm on Sundays). We hit up the Varsity Center location fairly late and were greeted by an unexpectedly long line. The wait wasn't too bad as we all stared at the colorful chalkboard menu debating long and hard on what we all wanted. We waited for about 15 minutes before hitting the front of the line. I was there for one thing and one thing only – the MOCHI.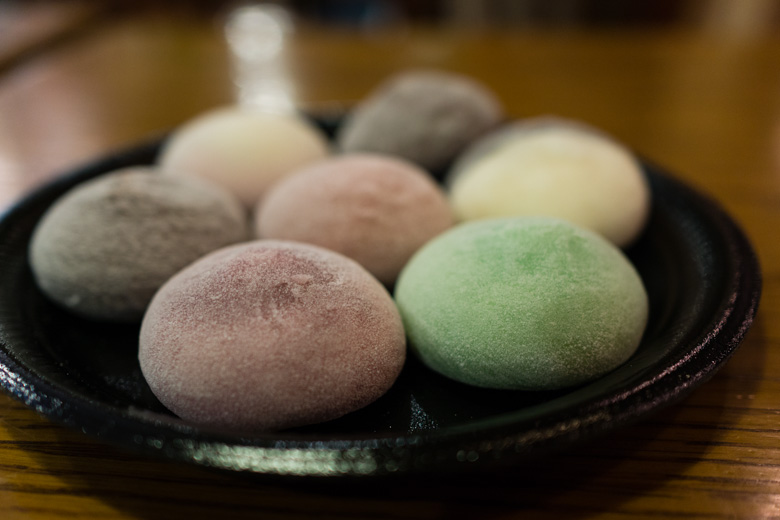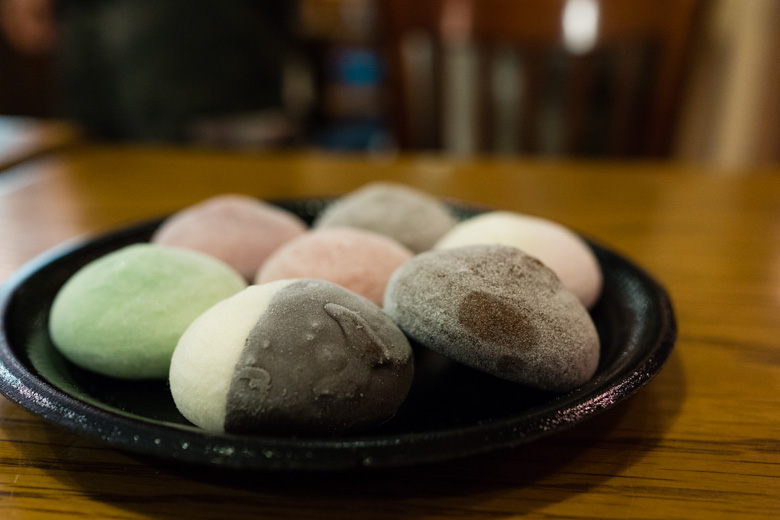 It was a tough call, but I finally narrowed it down to seven out of twenty flavors – Azuki Bean, Green Tea, Red Velvet, Chocolate Espresso, Strawberry Chocolate Chip, and Chocolate Dipped Vanilla. I had finally received my seven highly anticipated assorted frozen balls of ice cream. My first thought was, which one should I put in my mouth first? I decided on the green tea, considering I've had my fair share of green tea mochi balls, so it would probably be a good comparison to other balls I've tasted.
The balls were definitely harder than I expected, so I let them sit for awhile to allow the mochi skin to thaw and ice cream to melt slightly for a creamier texture. After letting it sit for a minute, I put it back into my mouth. Honestly, I don't want sound like a troll or anything, but the mochi didn't exactly live up to the hype. The mochi skin was a thicker and chewier compared most mochi I've had. I prefer the mochi layer thinner with a more sticky glutinous texture. Most of the ice cream flavors were pretty good though. Not the best ice cream I've had, but still very creamy. Some of the flavors didn't really taste like the actual flavor either and was kind artificial tasting which turned me off.
I would definitely go back to Bubbies to try some of their other desserts though. There were a ton of other desserts I didn't get a chance to try that sounded amazing including the Total Insanity, a dipped vanilla ice cream sandwich, sandwiched between two fudge brownies then dipped again in chocolate WTF!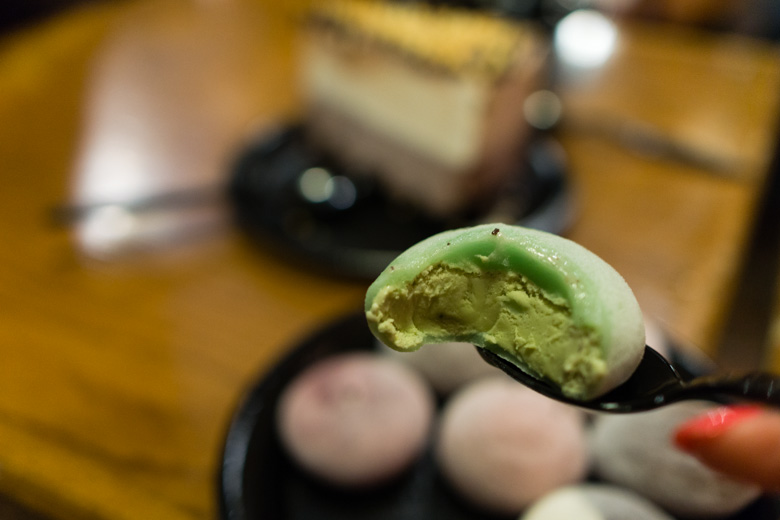 Green Tea Mochi ($1.75 each). The green tea mochi was pretty good, but I didn't think the green tea ice cream was potent enough.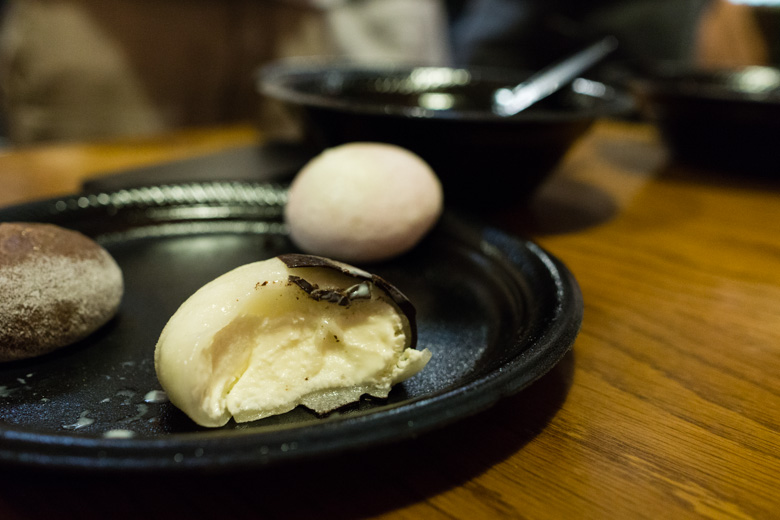 The chocolate dipped vanilla ice cream mochi was interesting. I've never had a chocolate dipped mochi and it was pretty delicious.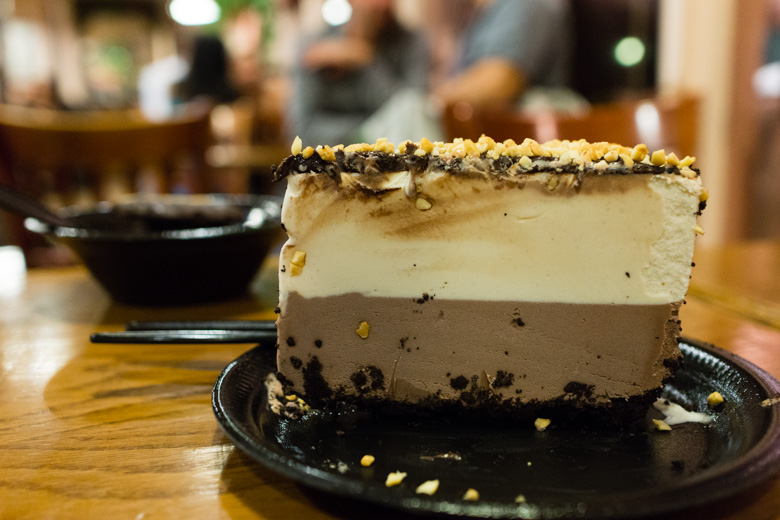 Mud Pie ($4.85). I LOVE MUDPIE! My parents used to buy me a mud pie every year for my birthday cake! This definitely brought back some good memories. Loved the creamy vanilla and chocolate ice cream with the delicious chocolate cookie crumb crust and bits of crushed nuts.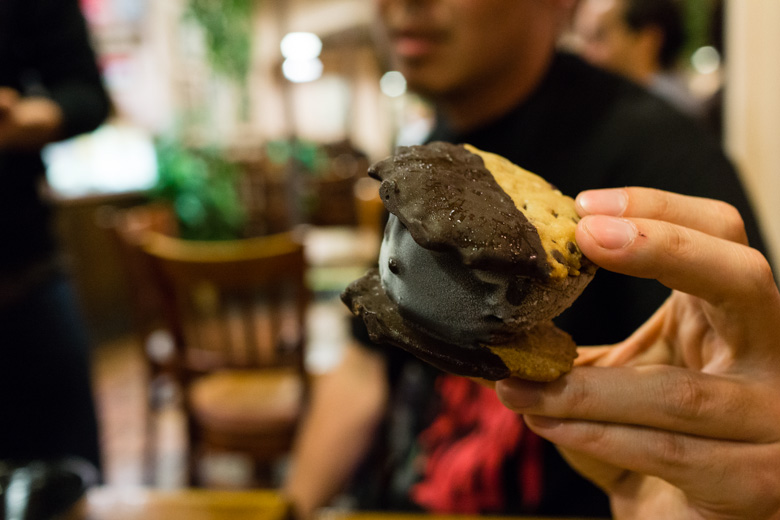 This is a mochi ice cream sandwich! I didn't taste this, but our friend Brandon said it was pretty tasty.

View Larger Map
1010 University Ave B4, Honolulu, HI
p: 1.808.484.5800
w: bubbiesicecream.com
American, Asian, Dessert, Honolulu, USA, Japanese, North American