The Lowdown
Restaurant Name: Smile Yogurt & Dessert Bar
Cuisine: Frozen Yogurt and Dessert Bar
Average Price per Person: $50 to $70 HKD or $6.50 to $9 USD
Location: Tsim Sha Tsui, Kowloon City and Causeway Bay Hong Kong (please refer to the map below for details)
Recommendations: Chocolate Lover, Banana Split, Very Healthy Mix, and Wild Summer

Ratings (out of 5)
Taste: 4
Creativity/Authenticity: 4.5
Atmosphere: 3.5
Service: 3.5
Bang for Buck: 3.5

Crayscale !!!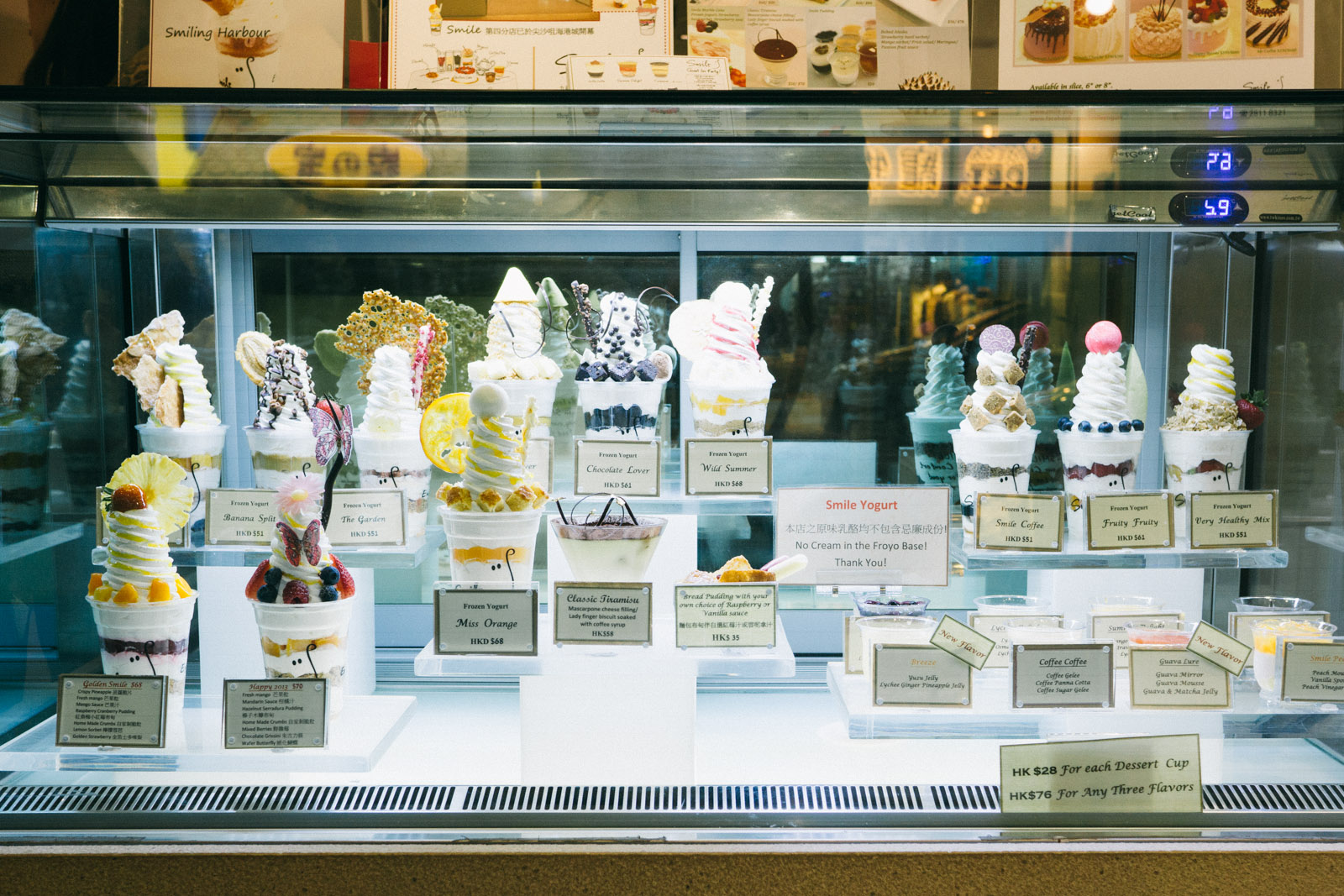 Froyo has been on trend for a minute marketed as a "healthy" dessert alternative for the most part. Hong Kong-based Pastry Chef Tony Wong of Tony Wong Patisserie decided to do froyo a little differently. It's definitely not the healthiest frozen yogurt on the street, but it's cot damn tasty and pretty to look at.
Tony Wong started a chain of turntup frozen yogurt joints called Smile Yogurt and Dessert Bar incorporating a combination of chocolates, fruits, pastries, sauces, and more that often resemble parfaits. Cray Cray creations such as the "Wild Summer" consists of layers of frozen yogurt, cookie crumbs, fresh mango, mango granita, sweet lychee, topped with raspberry sauce, an apple chip and a passion fruit pineapple Mikado (chocolate covered biscuit stick – think Pocky, but fancier). Smile Yogurt and Dessert Bar is one of my go-to dessert spots and never fails to put a smile on my face.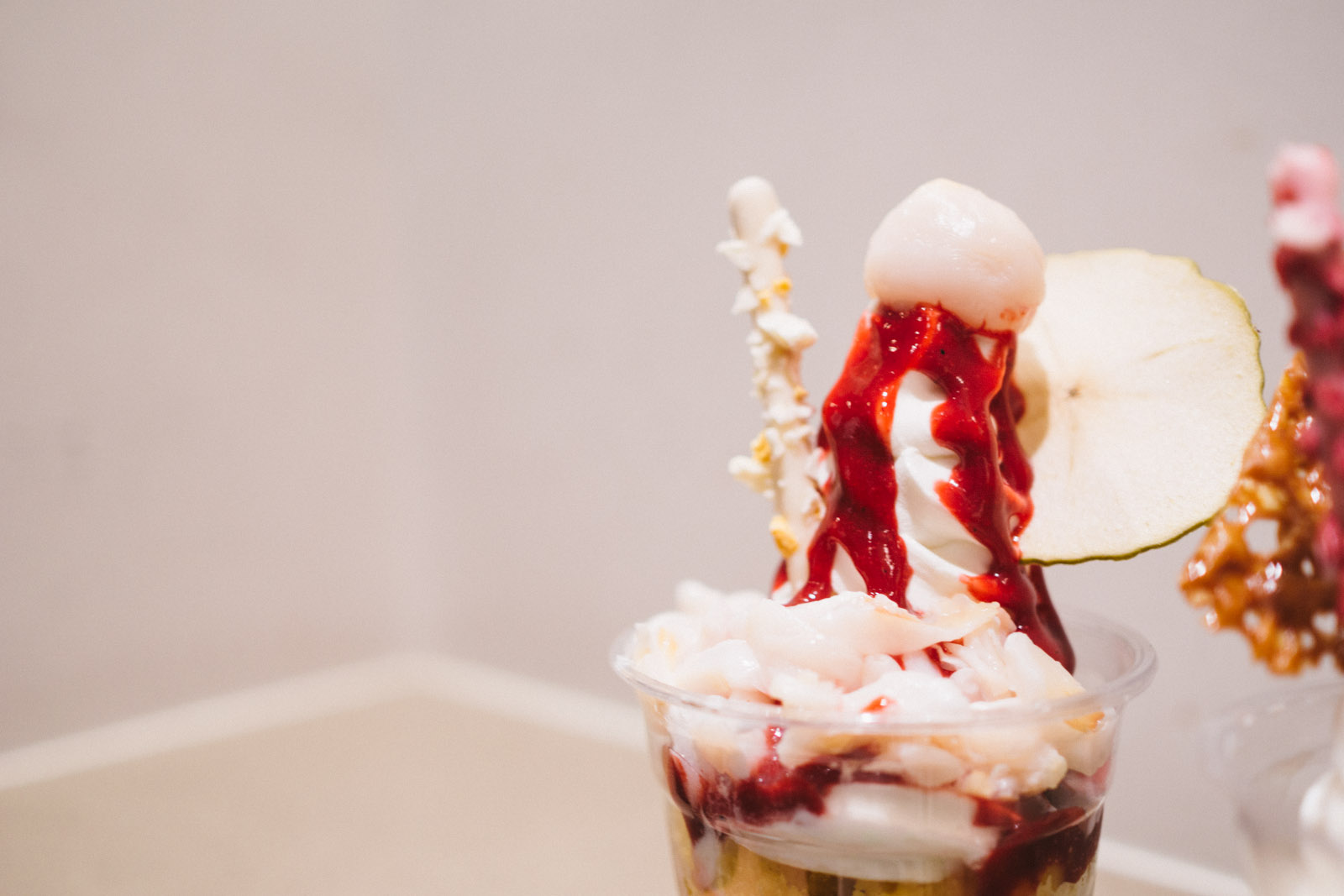 Wild Summer ($68 HKD or $8.80 USD). #levelstothis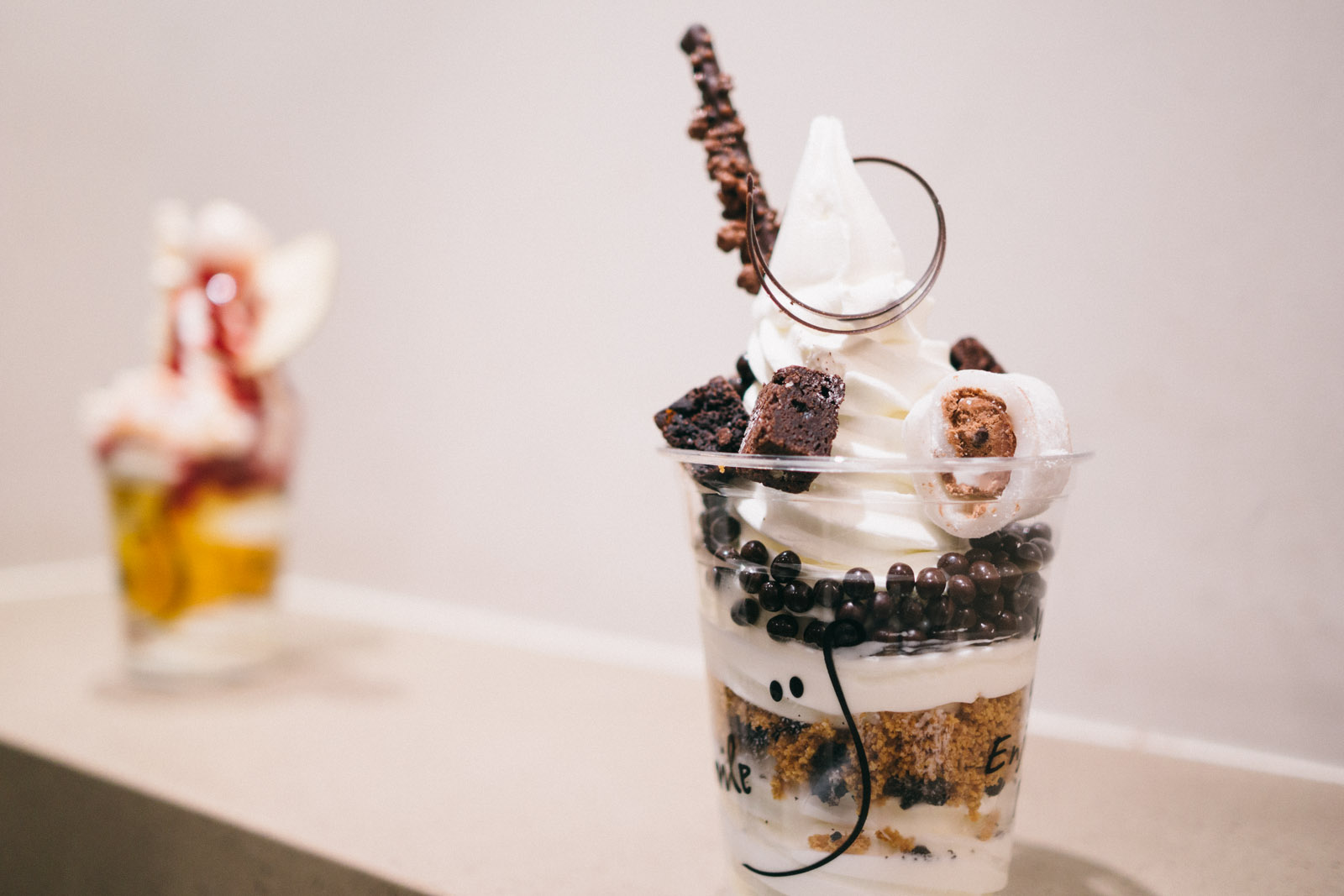 Chocolate Lover ($61 HKD or $8 USD). Frozen yogurt layered between graham cracker crumbs, Oreo crumbs, crunchy chocolate pearls, moist bite-sized chocolate brownies finished with a giant chocolate curl, chocolate mochi chunk and a chocolate Mikado.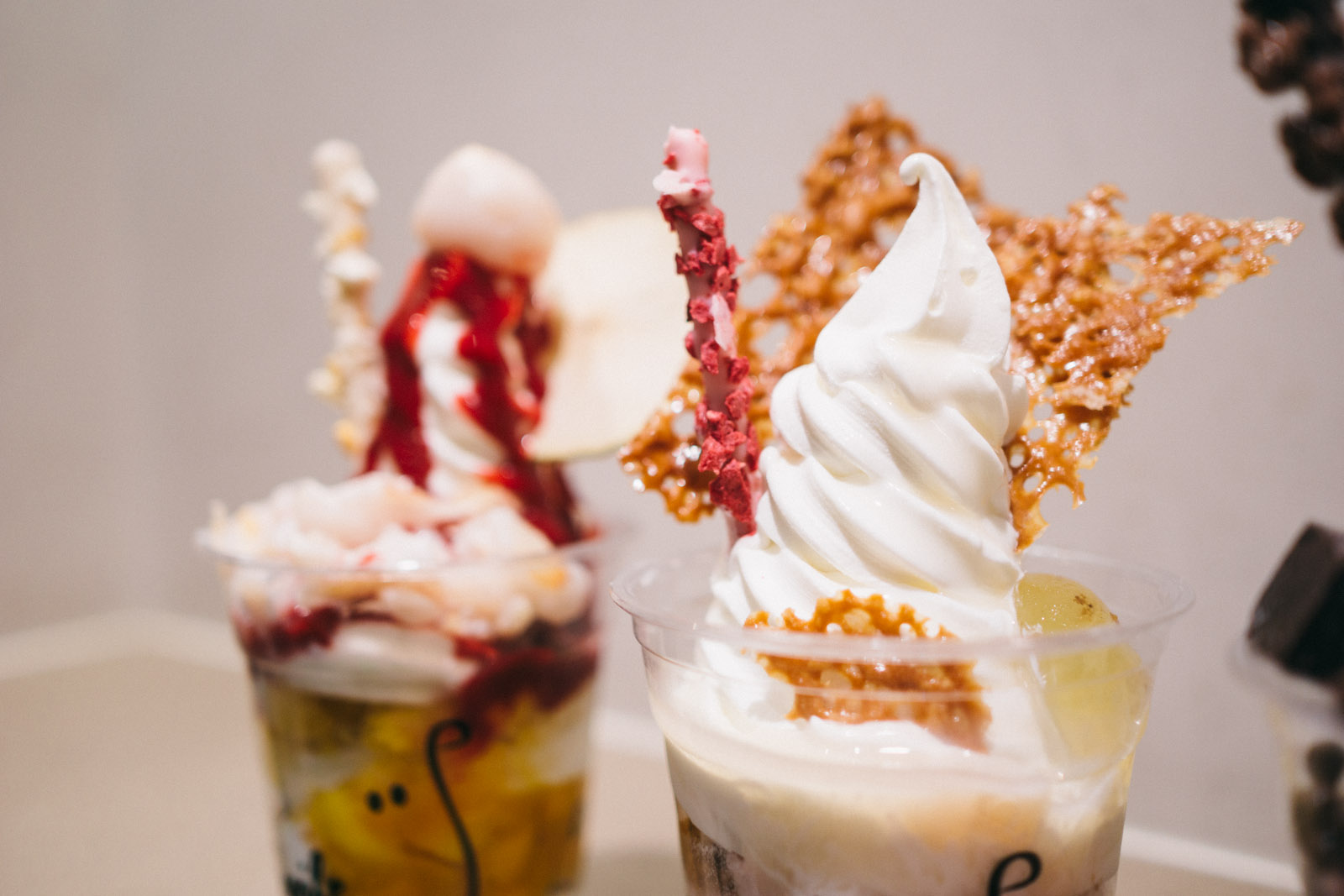 The Garden ($51 HKD or $6.60 USD). A combination of frozen yogurt, melt in your mouth cubes of strawberry meringue, graham cracker crumbs, osmanthus jelly, lychee rose sauce, a puff pastry net and raspberry Mikado.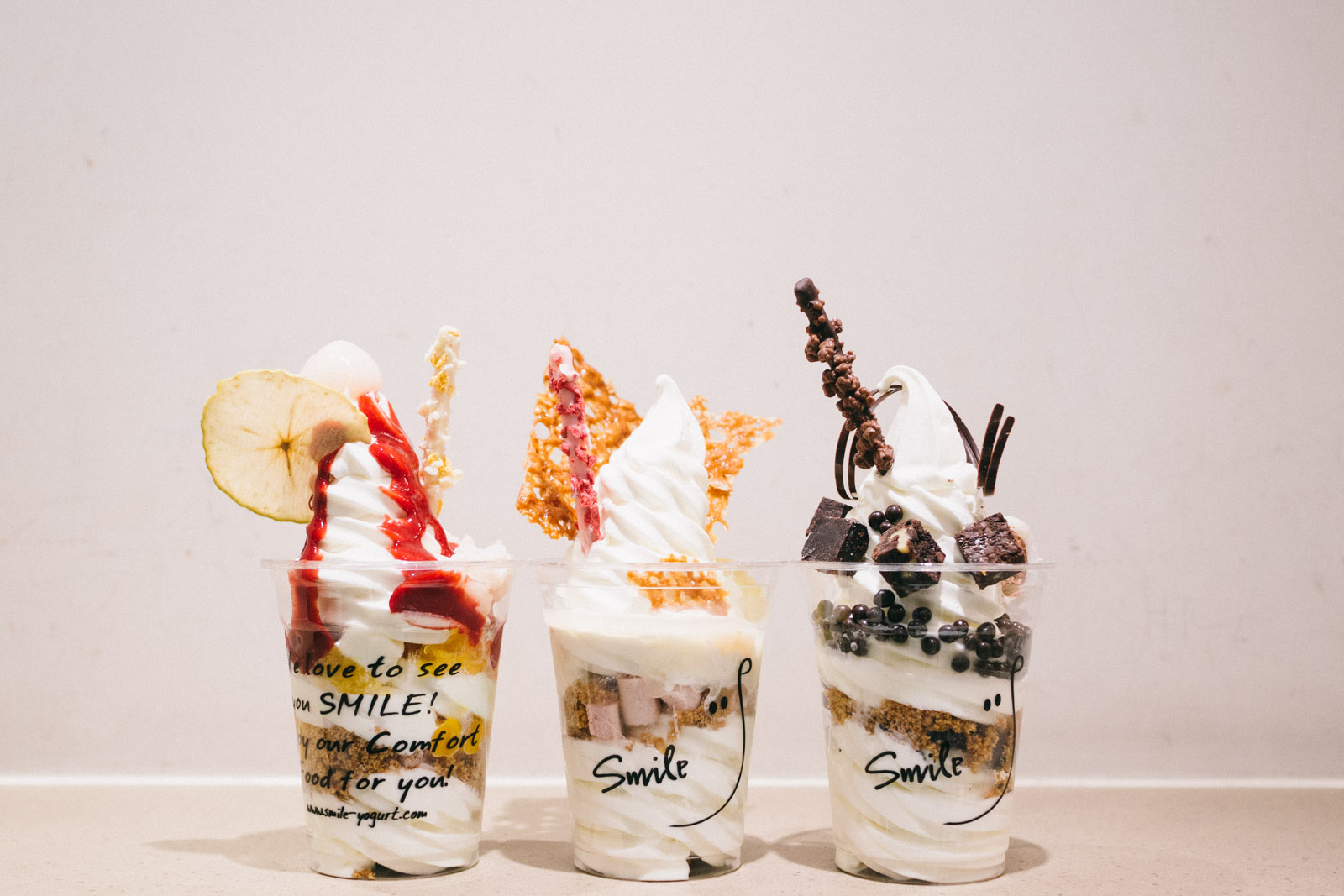 View Larger Map
Shop 509, 5/F Hysan Place,
500 Hennessy Road,Causeway Bay, Hong Kong
t: +852-2811-8321

View Larger Map
Tsim Sha Tsui K11 Branch
Unit G15A, G/F, K11, 18 Hanoi road, Tsim Sha Tsui, Kowloon
t: +852-2138-6210
w: www.smile-yogurt.com
Harbour City Branch
OTG 49, G/F, Ocean Terminal, Harbour City, Tst, Kowloon
t: +852-2736-0268
Kowloon City branch – with dessert bar area
G/F No.65, Lion Rock Road Kowloon City, Kowloon
t: +852-2382-6669
American, Asian, Australian, Canadian, Dessert, Hong Kong, Hong Kong, North American