The Lowdown
Restaurant Name: Tung Po Kitchen 東寶小館
Cuisine: Chinese Food – Guangdong Dai Pai Dong
Average Price per Person: $250 to $500 HKD or $35 to $70 USD
Location: North Point, Hong Kong (please refer to the map below for details)
Recommendations: Steamed Clams, Roast Chicken, Squid Ink Spaghetti with Cuttlefish Balls, Wasabi Mayo Cucumbers with Squid, and Lotus Leaf Steamed Rice

Ratings (out of 5)
Taste: 3.5
Creativity/Authenticity: 4
Atmosphere: 3.5
Service: 3.5
Bang for Buck: 3.5
Crayscale !!!
Whether you're organizing a feast for a big group, looking for a legit local place to start a fun yet random night or expecting to get turnt, Tung Po is where it's at. Tung Po is a Dai Pai Dong (cooked food stall) in North Point, Hong Kong serving mainly Guangdong style food. It started out as one food stall which gradually spread taking over the entire 2nd floor of the building. Try to overlook the restaurant's sus and grimy appearance, the food is super good and the atmosphere gives off good vibes.
The restaurant owner Robby is friggin' hilarious. He's got to be the main reason why people love this place and keep going back for more. This guy is hella entertaining and I pretty much just watched him the entire night getting wasted, moon walking from table to table taking orders, blasting the most random music and busting out crazy dance moves. He's awesome! It puts everyone in a good mood and lightens up the atmosphere.
The food at Tung Po is also mad good. There is a huge selection of fresh seafood dishes along with some of Tung Po's signature dishes including the chicken, squid ink spaghetti, and lotus leaf steamed rice. The best part of the dining experience is you get to drink beer out of bowls!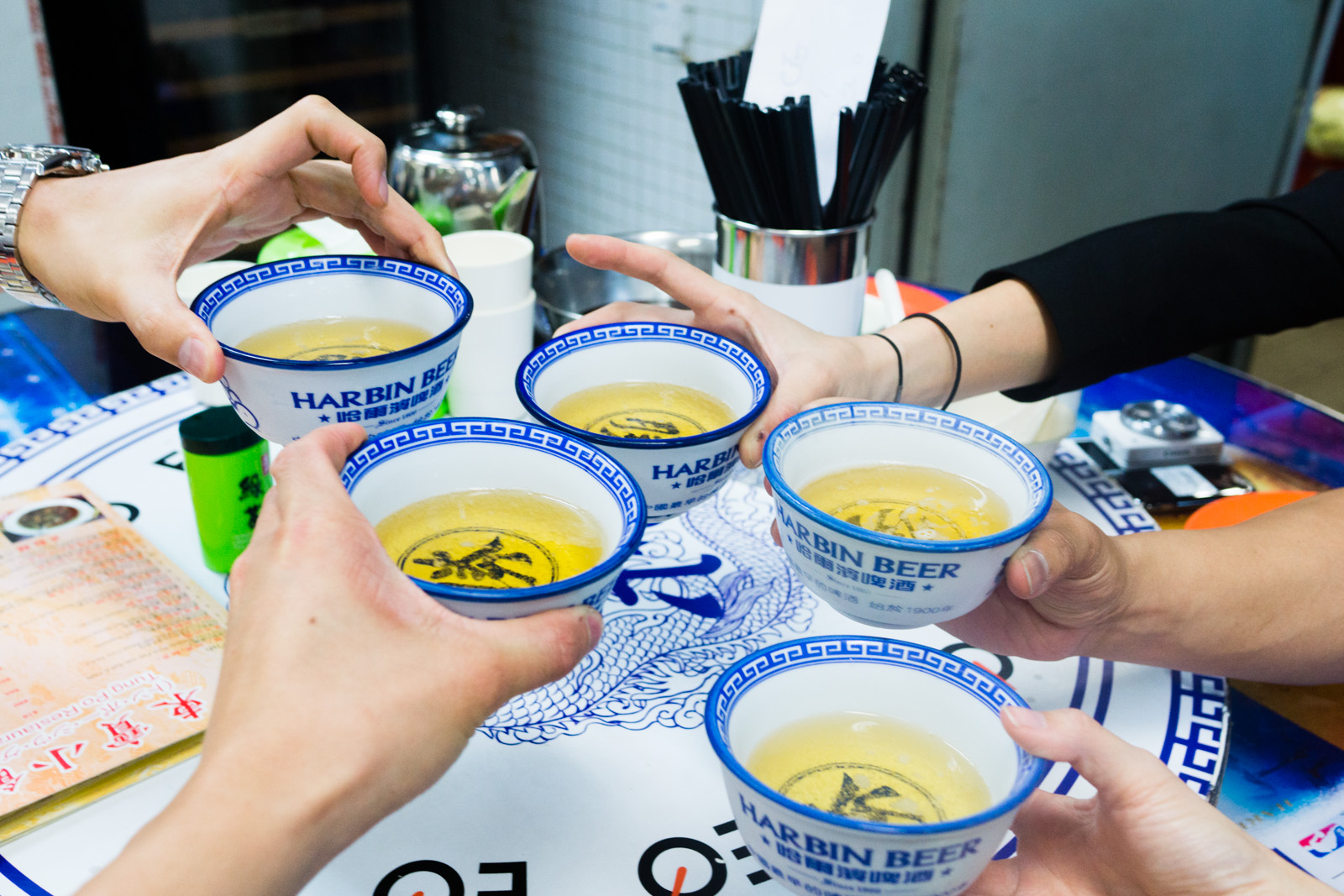 Wasabi Mayo Cucumbers with Cuttlefish 前菜芥末八爪魚青瓜絲. This ish is addictive. The wasabi mayo is creamy with a nice kick that tastes delicious with the refreshing crunchy cucumbers and chewy cuttlefish bits. Careful though, that wasabi hits your sinuses hard, in a good way.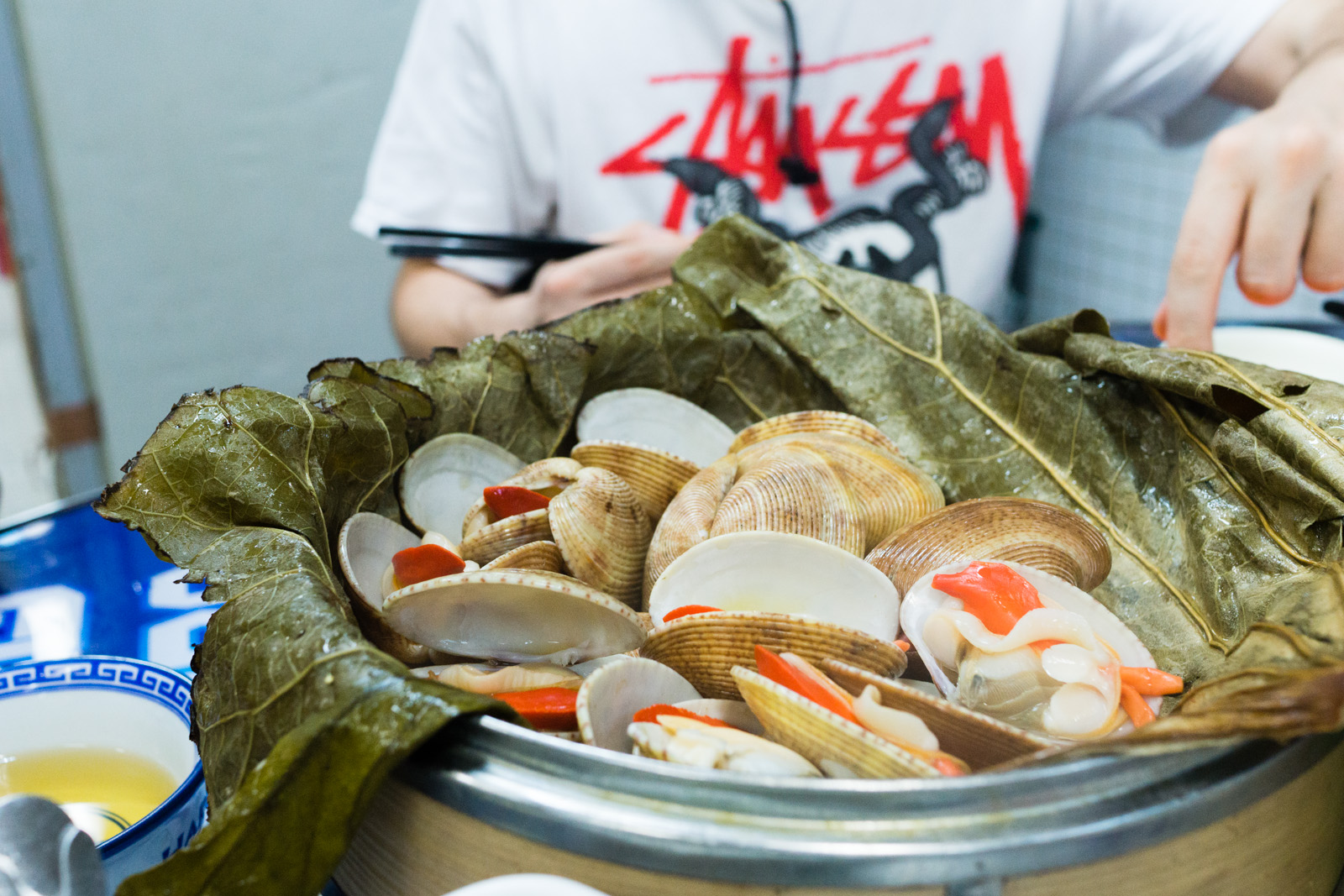 Clams Steamed in a Lotus Leaf 蒸蛤蜊.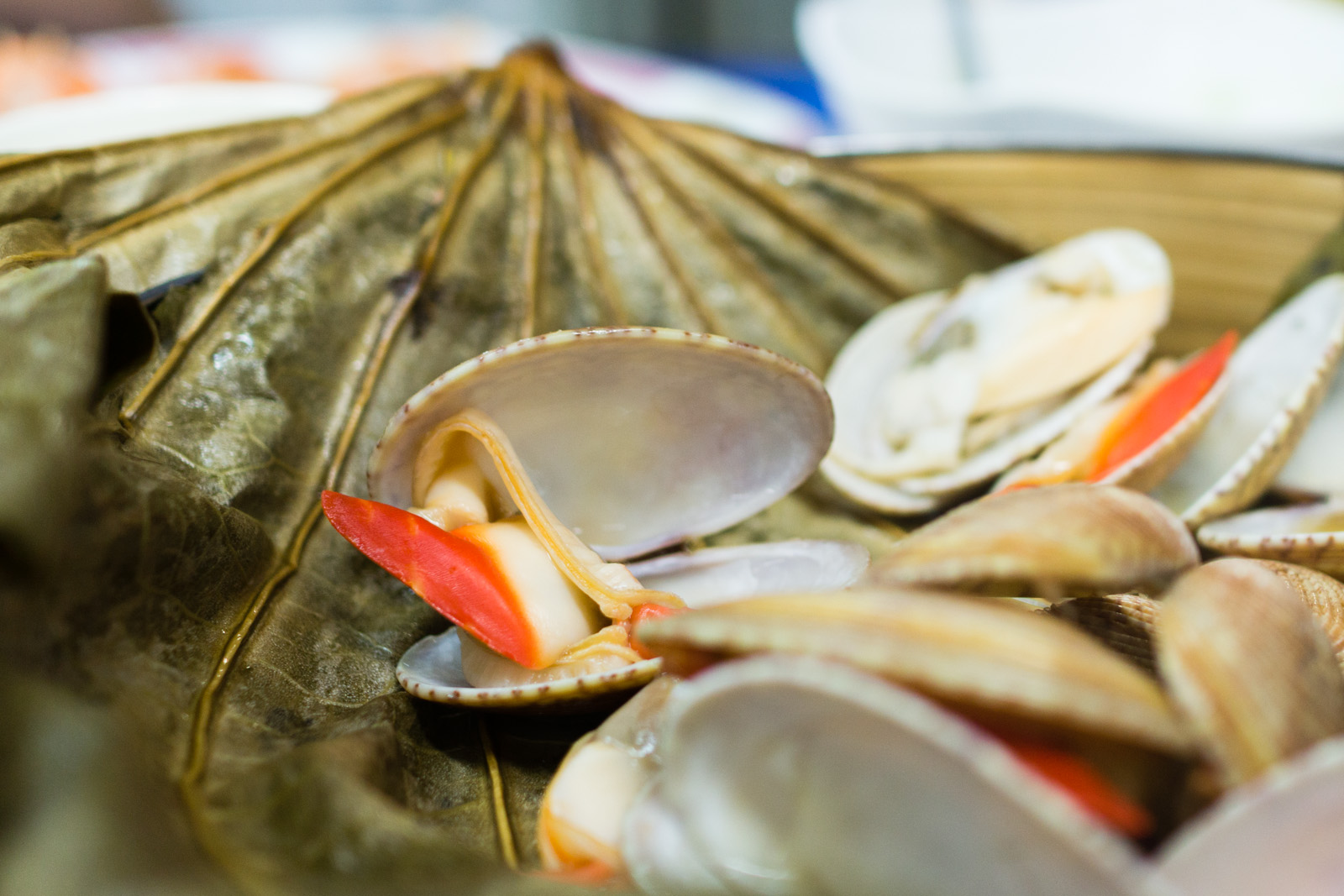 The clams are big, juicy and are mad tasty with the tangy garlic vinegar sauce. Good call on the sauce Lanciple, apparently it's only given upon request.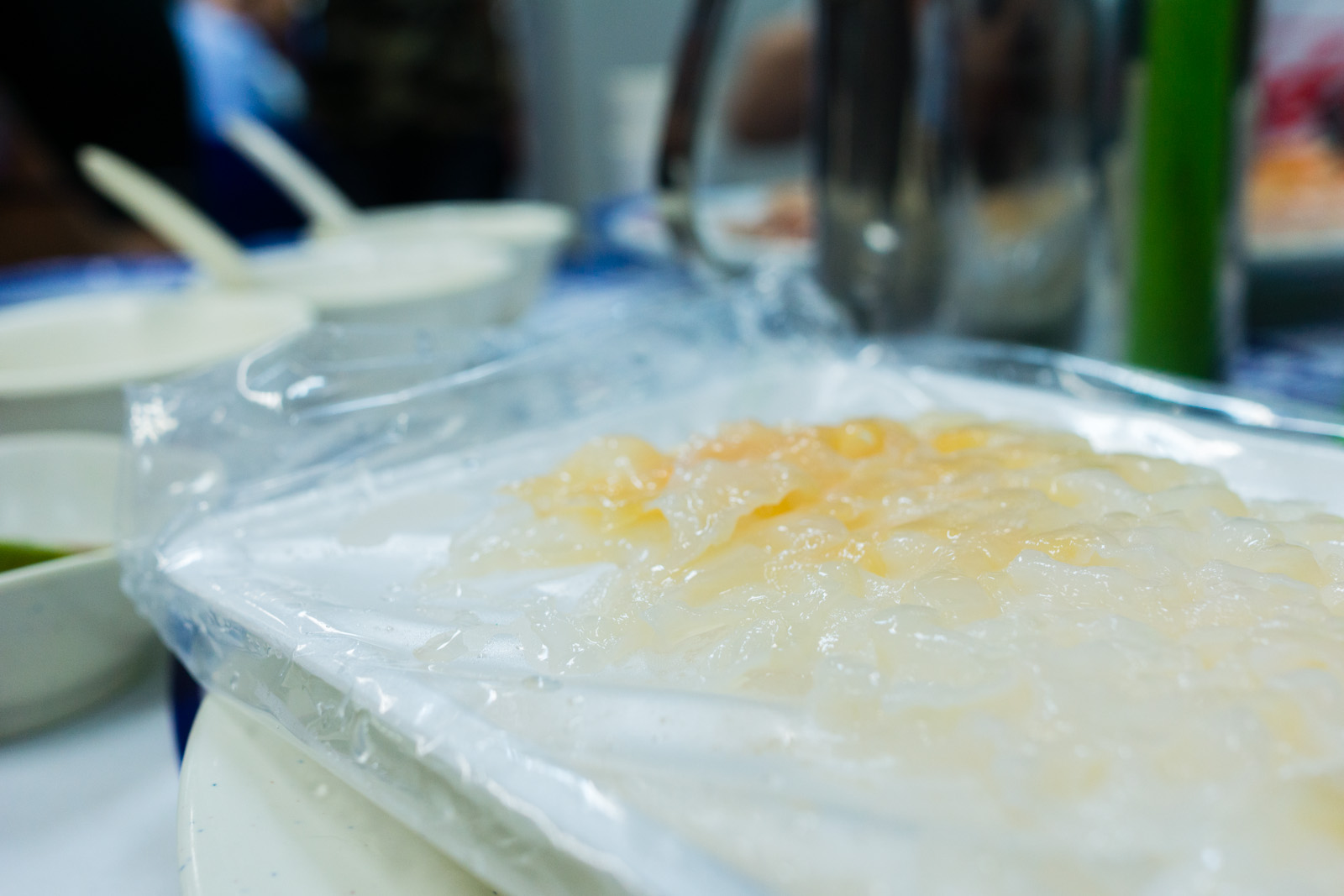 Geoduck Sashimi 象拔蚌. I was kinda hesitant to eat anything uncooked here, but I risked it, and I live to tell about it. It was delicious, but not a must order.
Mantis Shrimp 瀨尿蝦.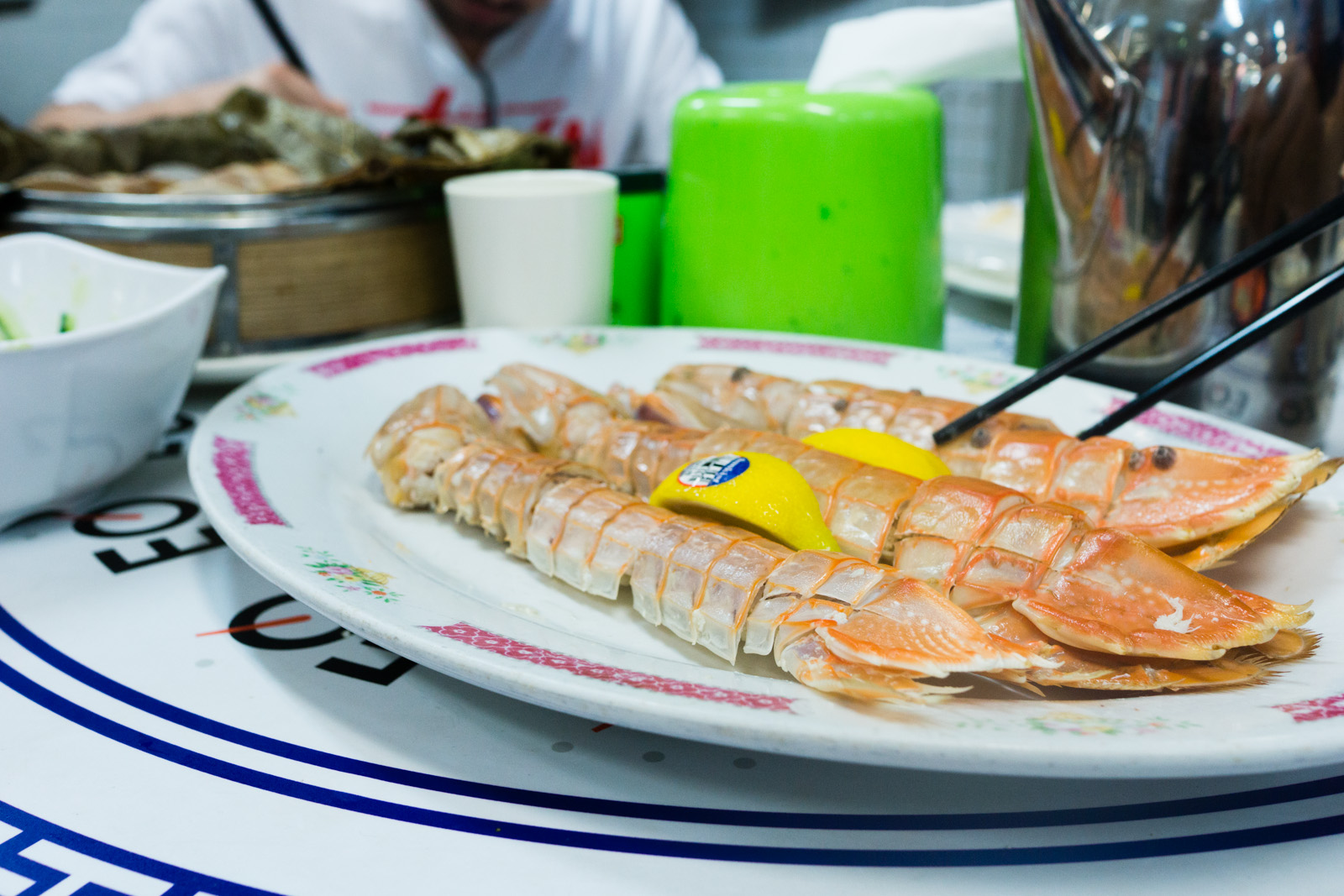 If you're ever in Hong Kong, you need to get yourself a few of these gigantic mantis skrimp. These bad boys are huge (about the size of a banana), juicy, and full of sweet meaty goodness.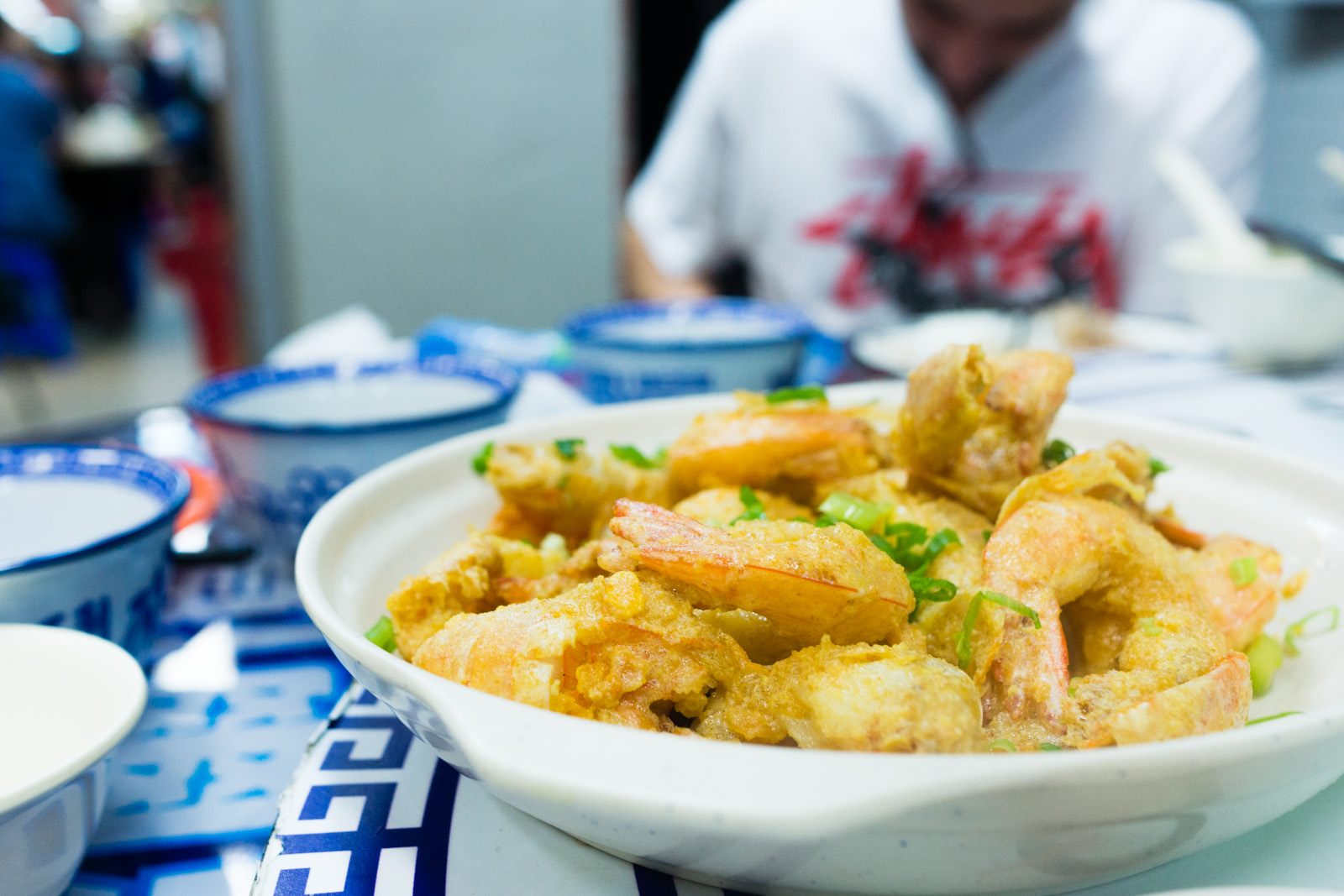 Deep Fried Salted Duck Yolk Shrimp 黃金蝦.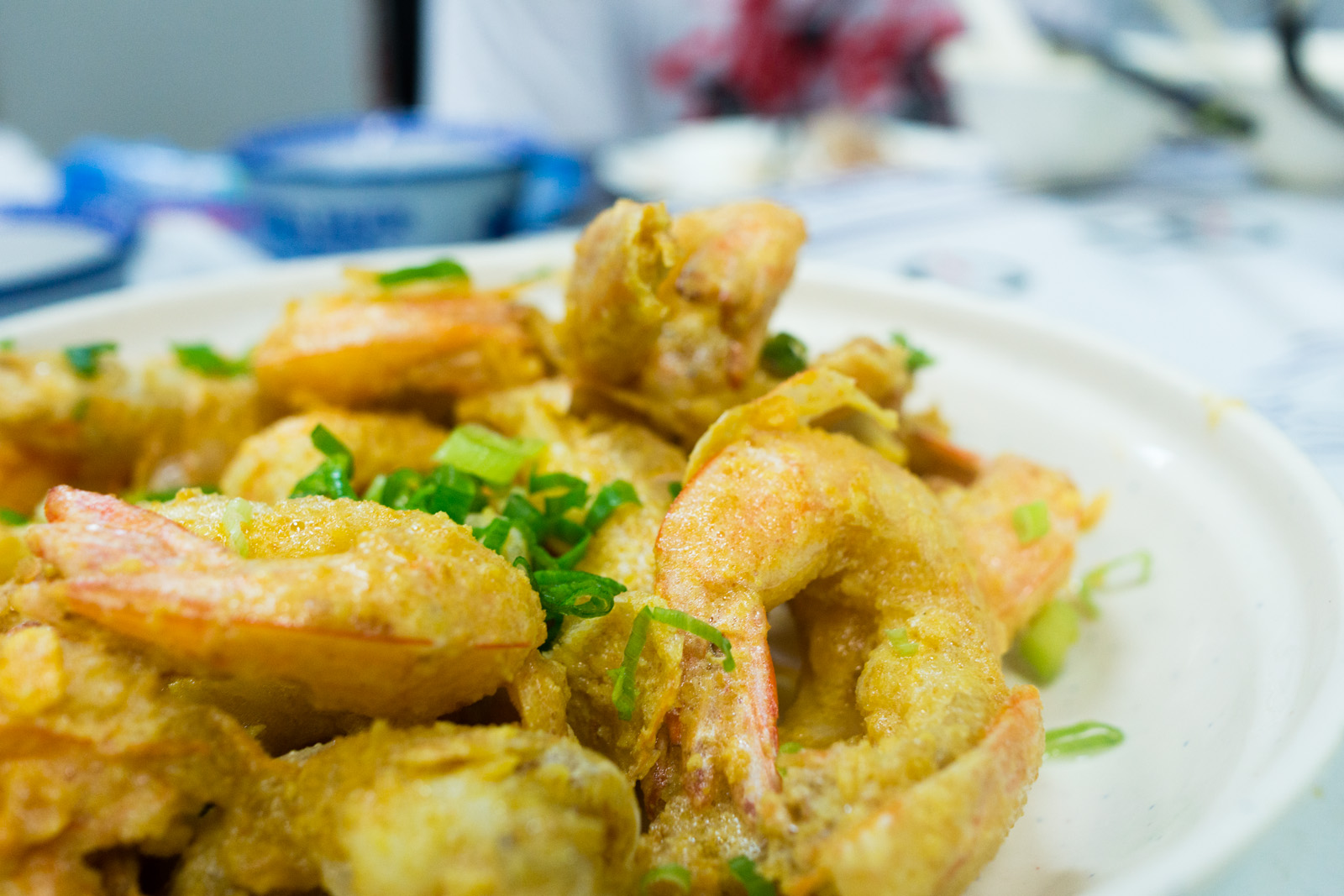 These shrimps are dipped in a salted duck yolk batter and thrown into the deep fryer. They shell gets super crispy so you eat these things whole, head, legs, tail, everything. The duck yolk is rich, salty and has a pleasantly grainy texture that tastes amazing with the plump juicy shrimp.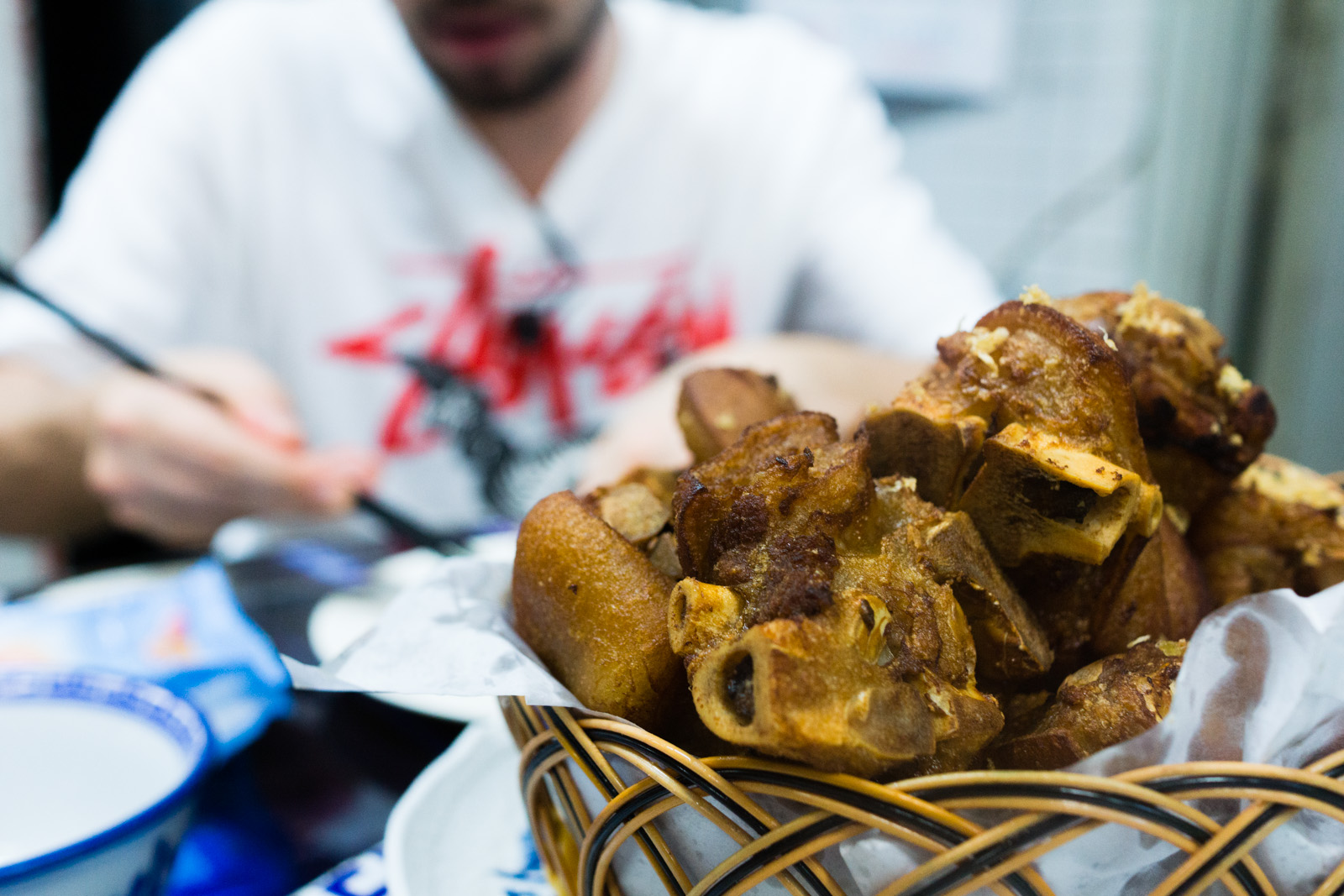 Pork Knuckle 南乳炸豬手 ($88 HKD or $11 USD). This was the first time I've had pork knuckle fried. It was surprisingly succulent and flavorful. It was served with a salty pasty sauce which was soaked up by the fried knuckle. It was tasty, but I could only eat about one as it was pretty filling.
"Wind Sand Chicken"風沙雞.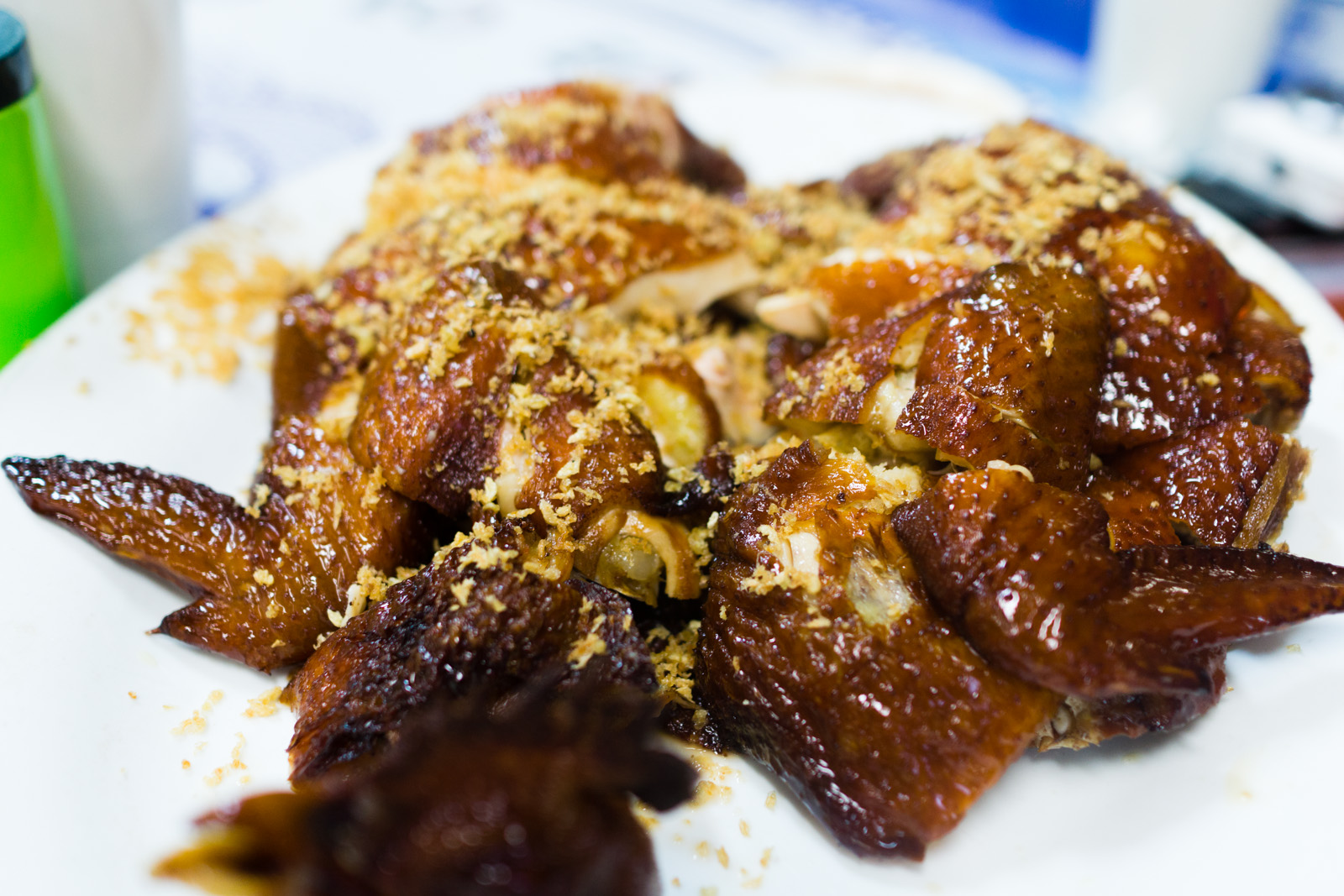 The chicken is one of Tung Po's specials and an absolute must order. This chicken in banging. The chicken is tender and succulent attached to a thin piece of crispy skin finished with a generous shower of fried garlic.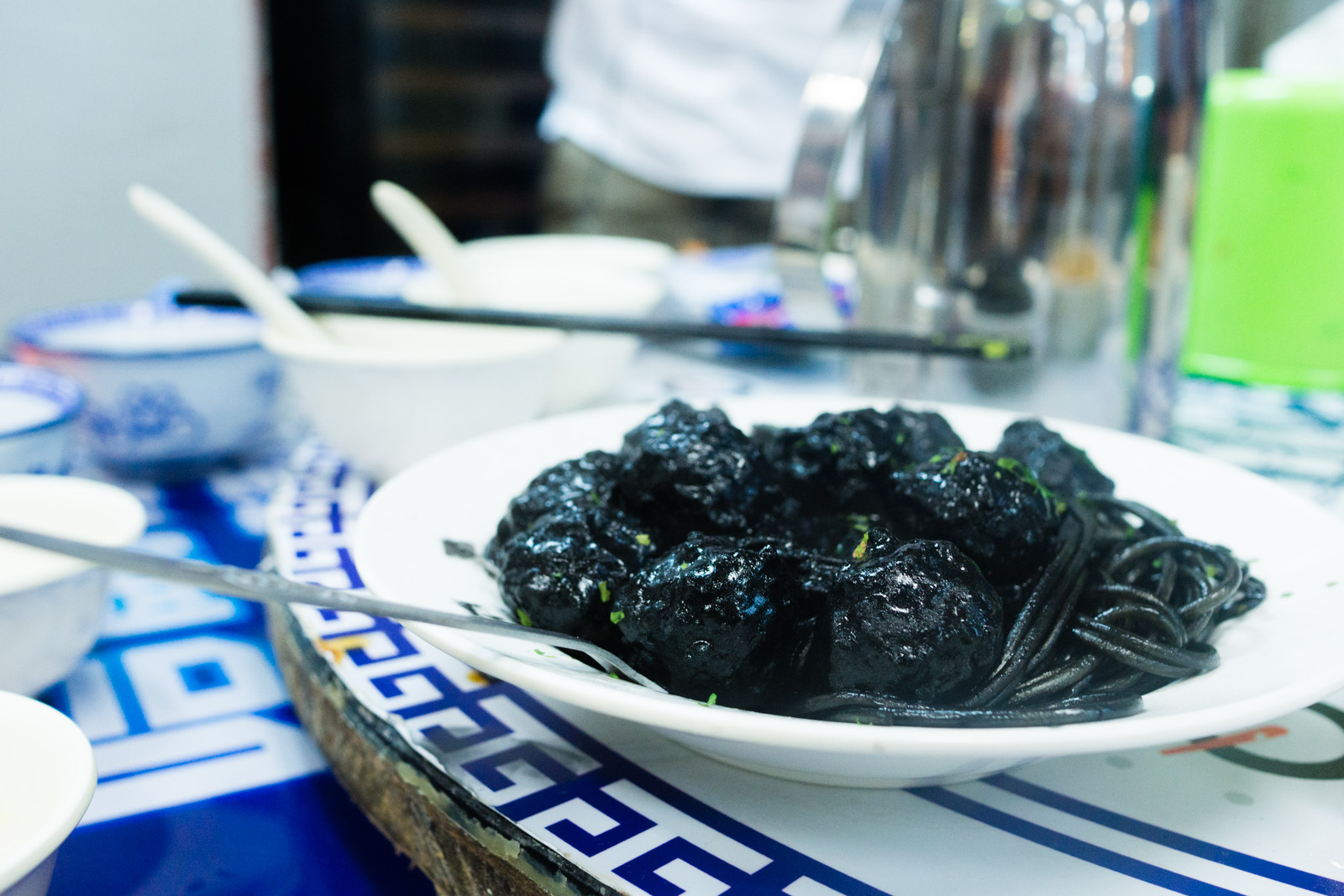 Squid Ink Spaghetti with Cuttlefish Balls – #allblackeverything 墨魚汁意粉 ($108 HKD or $14 USD). I am obsessed with squid ink. I can't even describe the flavor of it, but it's velvety and mildly salty. The squid ink in this dish was almost buttery and the pasta was a perfect al dente. I loved the mouth-sized black balls. They balls were nice and springy with a pleasantly fishy aftertaste.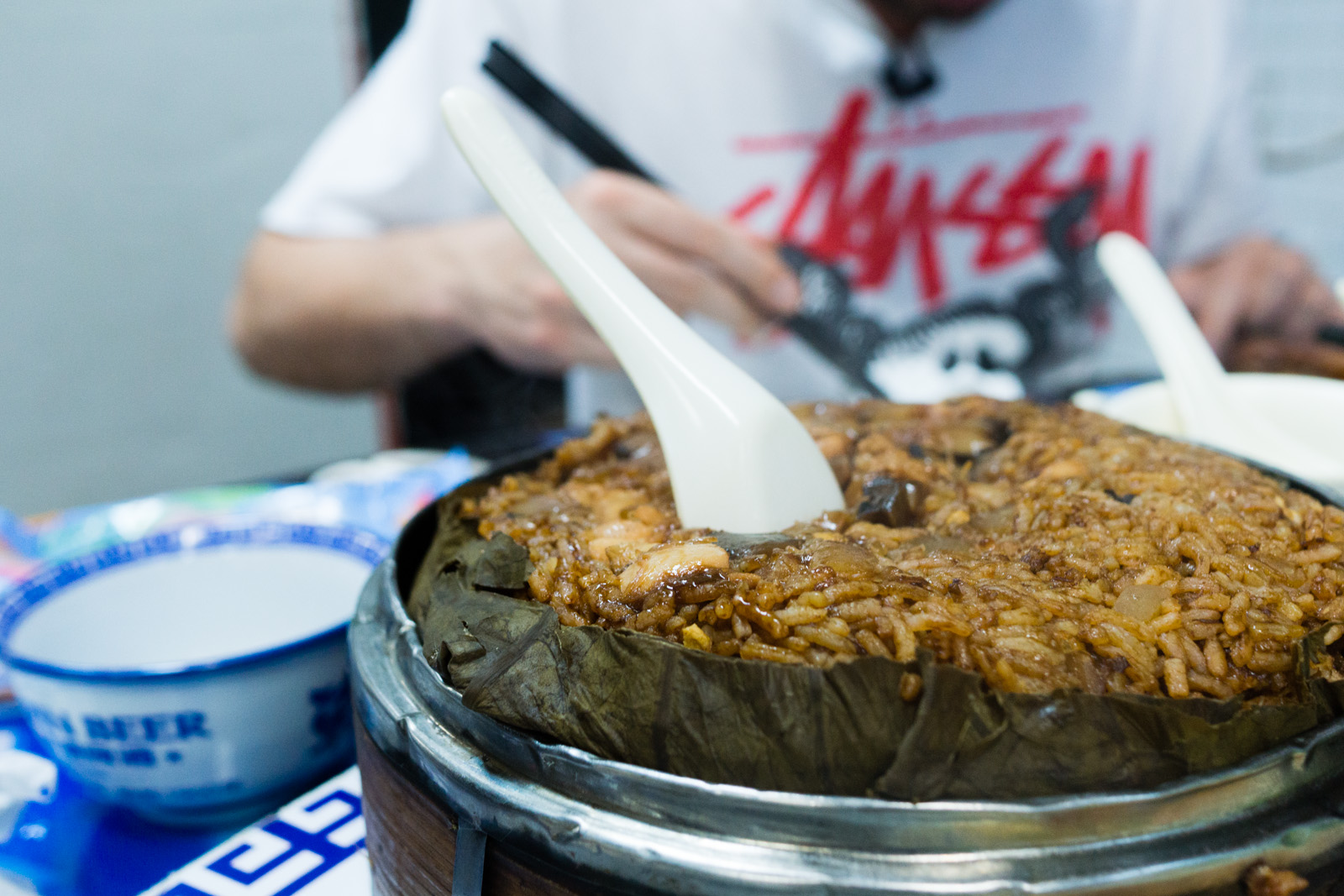 Steamed Lotus Leaf Rice 鴨汁荷葉飯 ($90 HKD or $11.50 USD). This stuff is soooo good! The rice is steaming hot, moist, and flavorful with bits of shitake mushroom and chunks of chicken.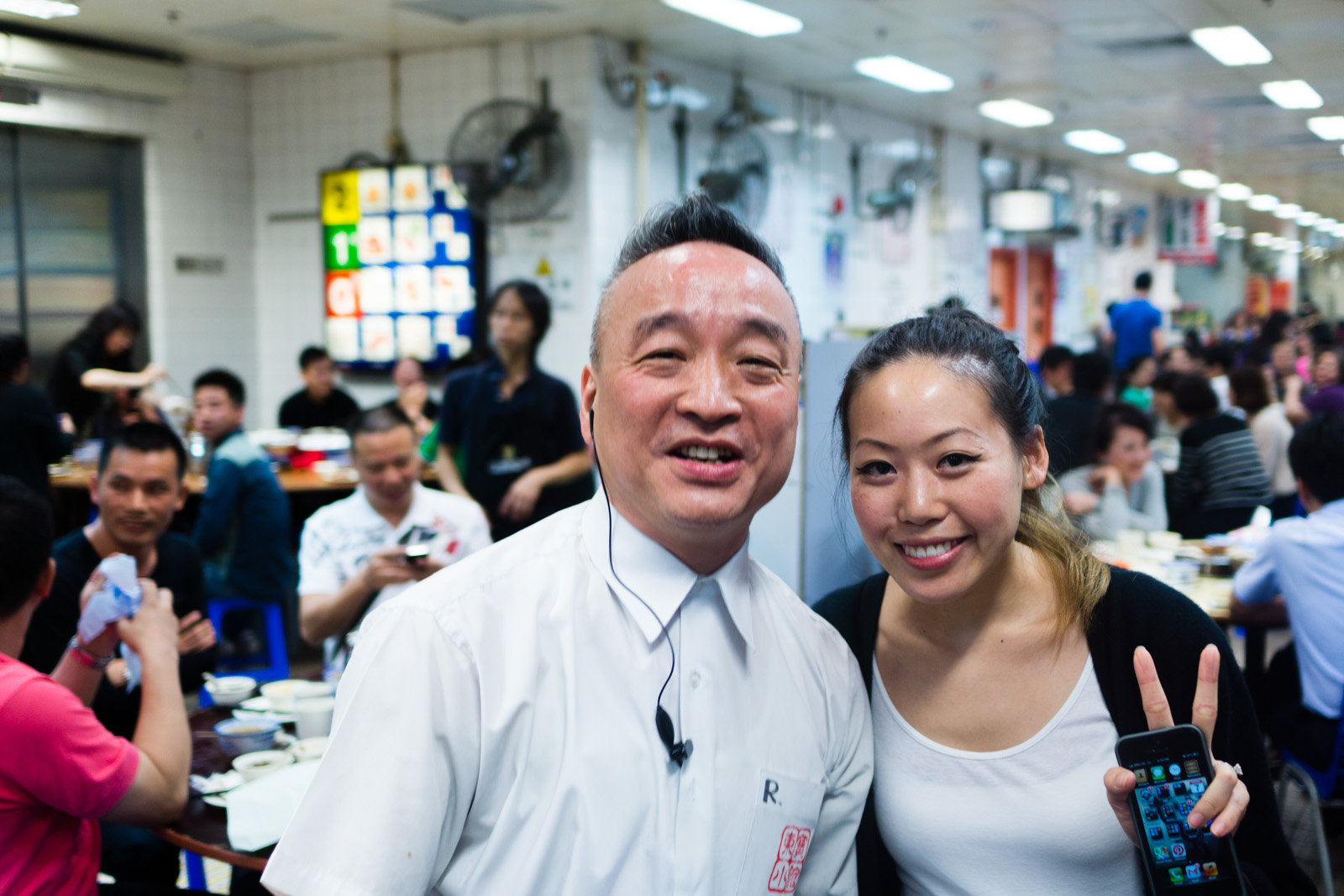 This would be Robby, the man that runs this joint.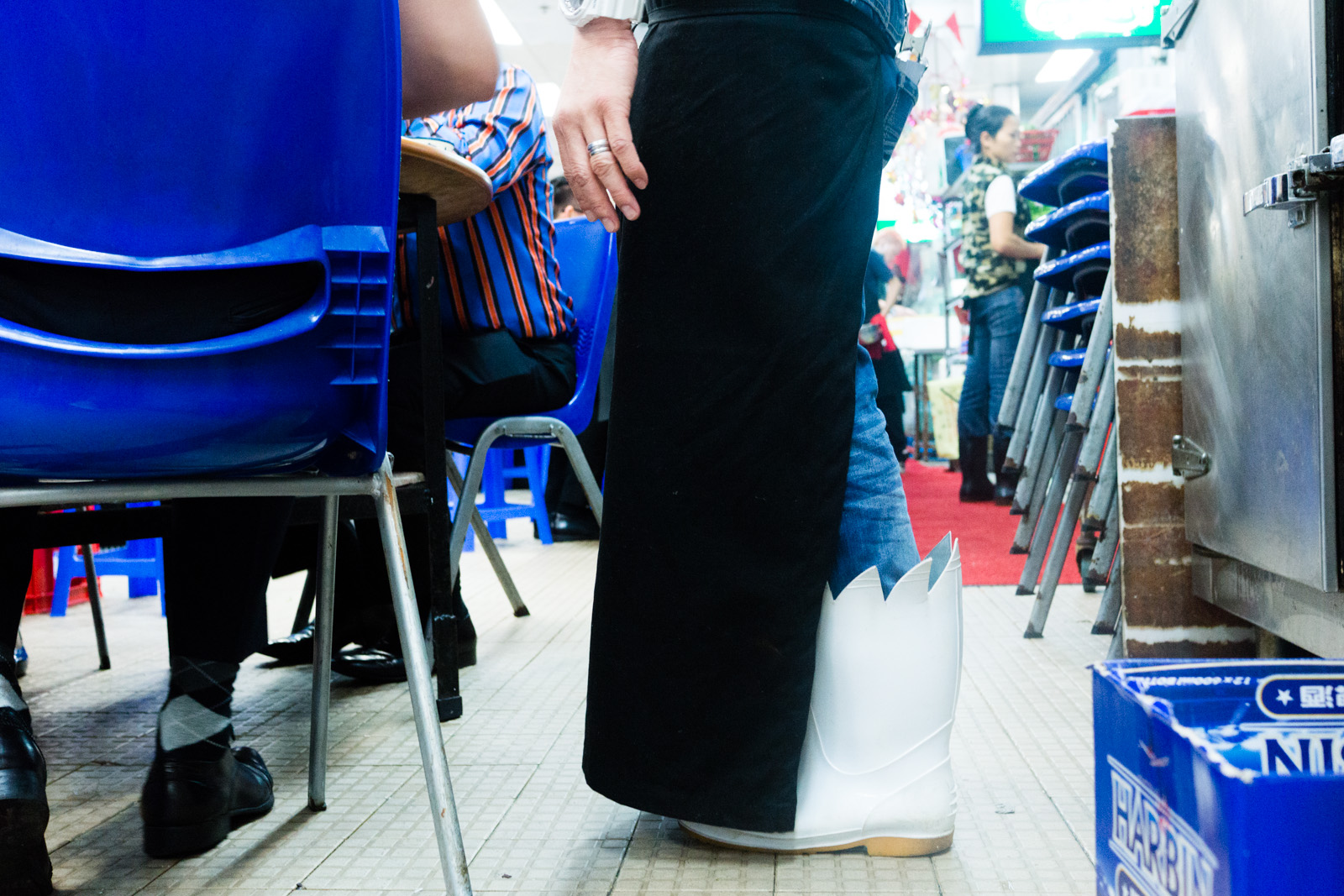 Deez are Robby's boots…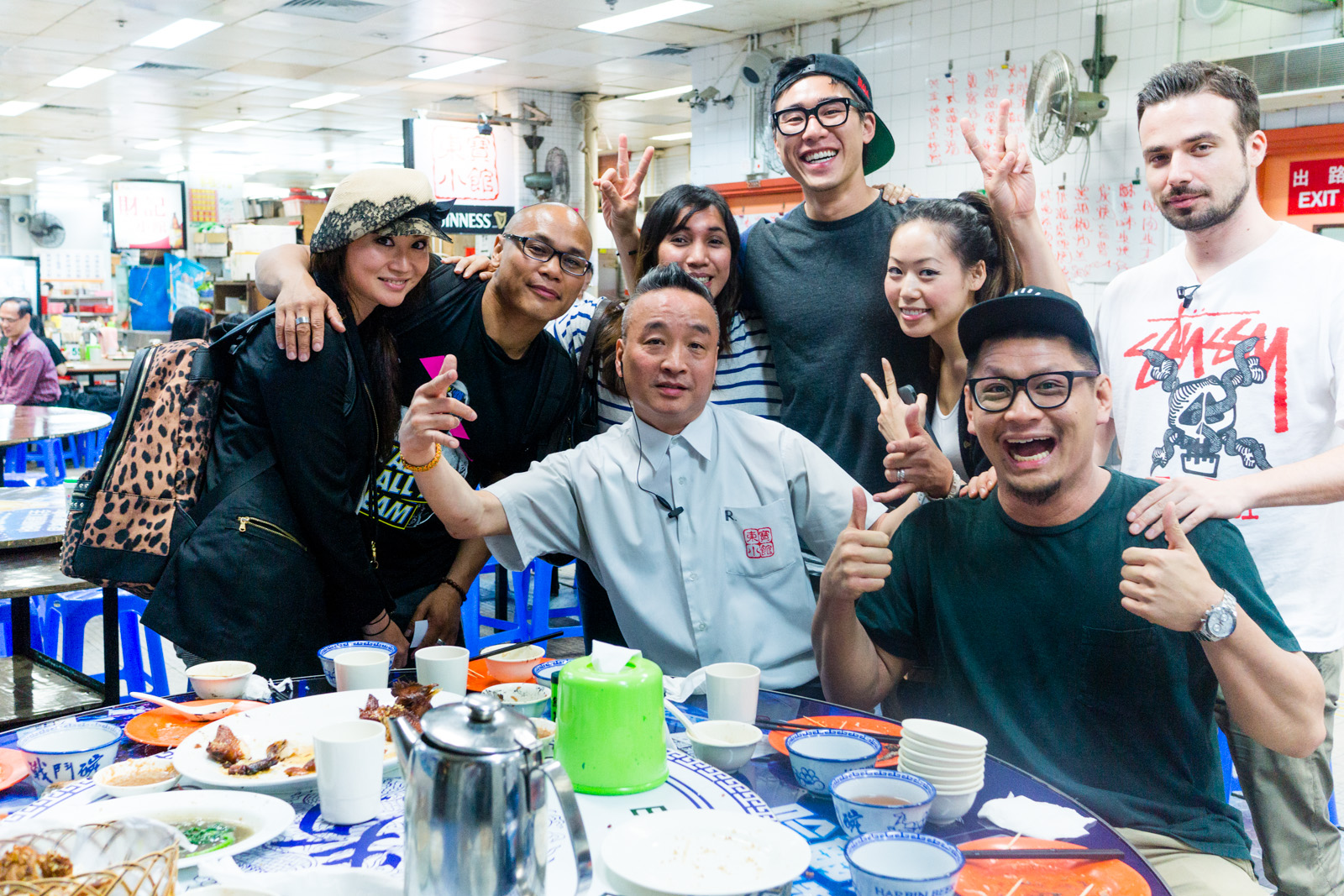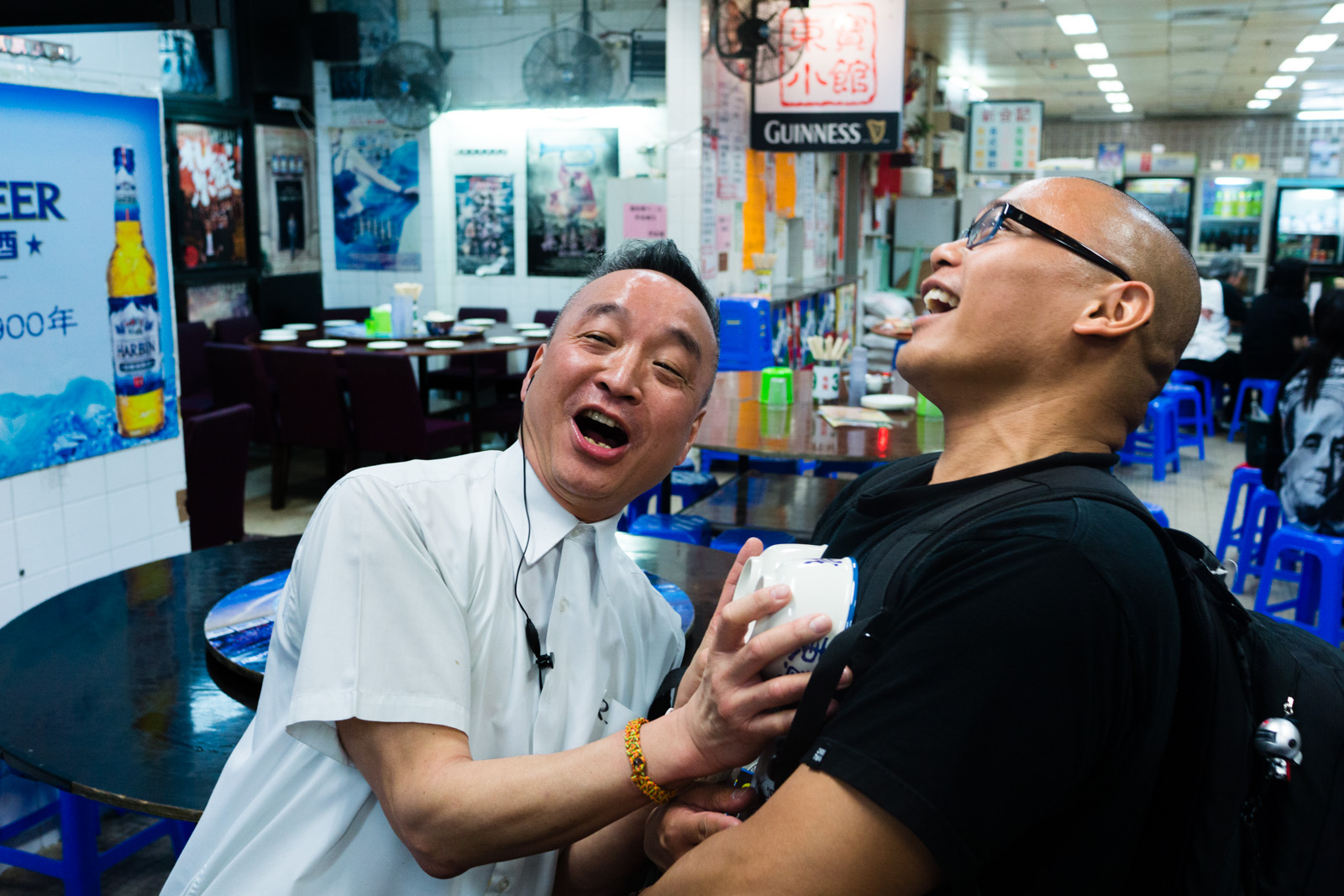 Robby getting intimate with DJ Neil Armstrong.
2/F Java Road Municipal Services Building, 99 Java Road, North Point
北角渣華道99號渣華道市政大廈2樓
p: +852.2880.5224
Asian, Chinese, Dinner, Hong Kong, Hong Kong