Hong Kong Cray !!! Sushi Shikon Three Michelin Star Restaurant
The Lowdown
Restaurant Name: Sushi Shikon
Cuisine: Japanese
Average Price per Person: Starting at HKD 1,800 or $230 USD for Lunch / HKD 3,500 or $450 USD for Dinner
Location: Sheung Wan, Hong Kong (see map below for details)
Recommendations: Omakase (set meal)

Ratings (out of 5)
Taste: 5
Creativity/Authenticity: 5
Atmosphere: 5
Service: 5
Bang for Buck: 4

Crayscale !!!
I GENERALLY don't fux with attending F&B events or tastings. Albeit, when I received an invitation to Sushi Shikon, one of Hong Kong's three Michelin starred restaurants, I couldn't pass up the opportunity. Sushi Shikon has been on my to-eat list for a while. It's one of the very few authentic Japanese restaurants in Hong Kong that keep it 100.
Sushi Shikon is part of the legendary Sushi Yoshitake family in Ginza, Tokyo, which also holds three Michelin stars, founded by Master Chef Masahiro Yoshitake. Sushi Shikon is run by executive chef Yoshiharu Kakinuma, a third-generation sushi chef who has worked for Chef Yoshitake in Tokyo for several years before opening up shop in Hong Kong. Chef Yoshiharu Kakinuma, or as he prefers to be called, Chef Kaki, schooled us about sushi etiquette and shared stories about his father who passed down traditions and techniques as an OG sushi chef.
The restaurant is cozy and intimate, limited to only eight seats along a Hinoki counter. Diners are seated directly in front of the chefs allowing guests to observe and interact with the sushi masters. Chef Kaki was all about educating his guests and was incredibly open to answering questions and sharing insights, but of course, has been sworn to secrecy for some of the restaurant's signature dishes, including that unf*cking real abalone liver sauce.
Sticking with tradition, the menu is omakase style serving both lunch and dinner. For lunch, 12 nigiri sushi pieces, a seasonal appetizer, soup and dessert are offered at HKD 1,800 ($230 USD), whereas dinner consists of 6 appetizers, 10 sushi pieces and dessert priced at HKD 3,500 ($450 USD). Sushi Shikon serves Edomae Sushi, which is synonymous with Tokyo-style sushi, sourcing fresh ingredients flown in from Tokyo's famous fish market, Tsukiji.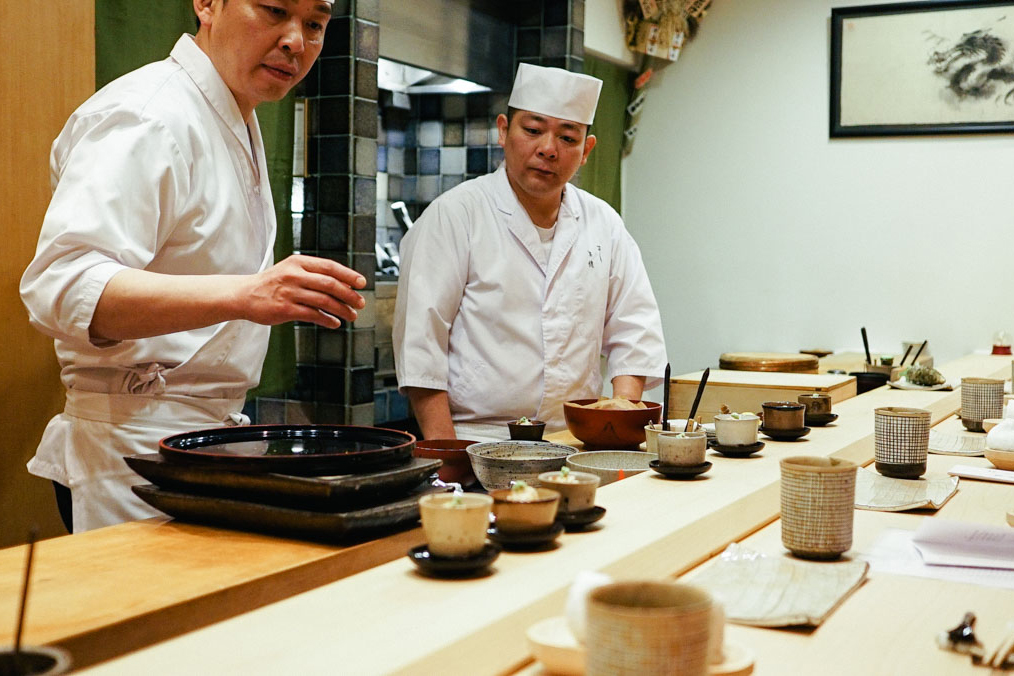 Over the course of two hours, each dish is skillfully and carefully crafted by the master chefs. A "Sushi Etiquette" commandments is provided to ensure guests enjoy the ultimate Shikon experience as intended by the chefs. The guidelines are simple yet make perfect sense. One of the most critical rules to follow being, "It is ideal to eat the sushi within 30 seconds after it has been served. The temperature of the 'shari' sushi rice is adjusted by the chef for different fish so the sushi is at its tastiest just after serving."
Another important guideline, "Using one's hand to eat the sushi pieces is recommended because he chef can serve the 'shari' sushi rice at a softer consistency." Chef Kaki shared wise words from his father, "I make sushi with my hands, you eat with your hands. Which builds a connection between us." He also compared sushi to eating pizza which made so much sense, "pizza tastes different when you eat it with a fork and knife, just like sushi tastes different when you eat it with chopsticks."
The overall experience at Sushi Shikon was unreal. It wasn't just a meal, it was a learning experience. Chef Kaki puts so much emphasis on educating his guests, which made all the difference. Every single piece of food he had placed before us had a story behind it, which makes you appreciate every single bite that much more. Thank you, Chef Kaki and Sushi Shikon for the unforgettable experience.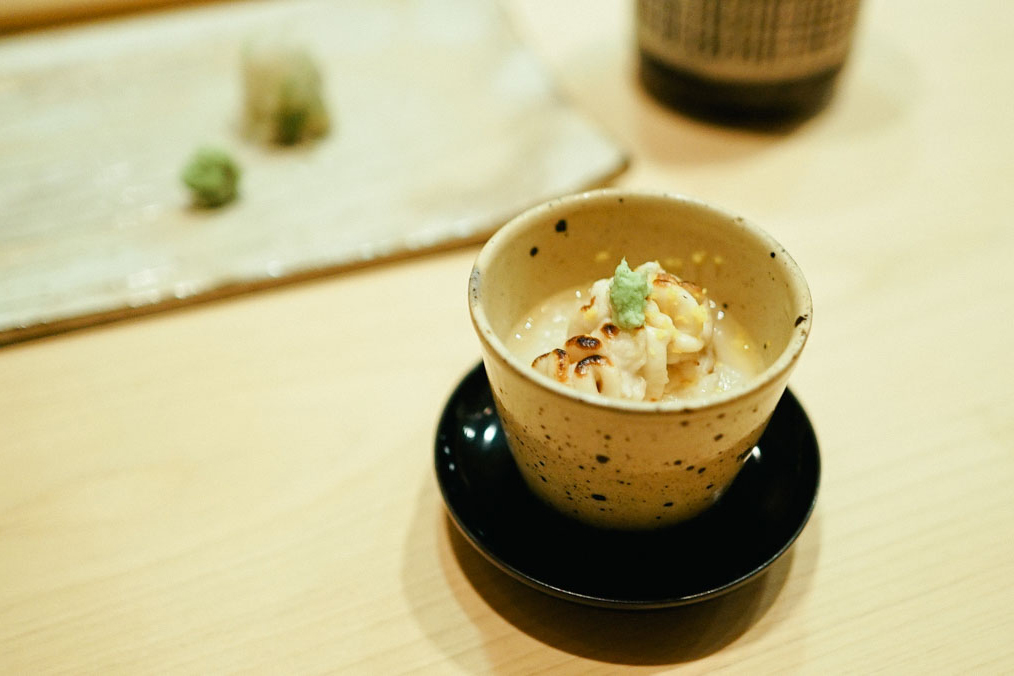 Egg Custard with Cod Milt – The egg custard was silky smooth topped with shirako, otherwise known as cod sperm, finished with yuzu zest. Absolutely delicious.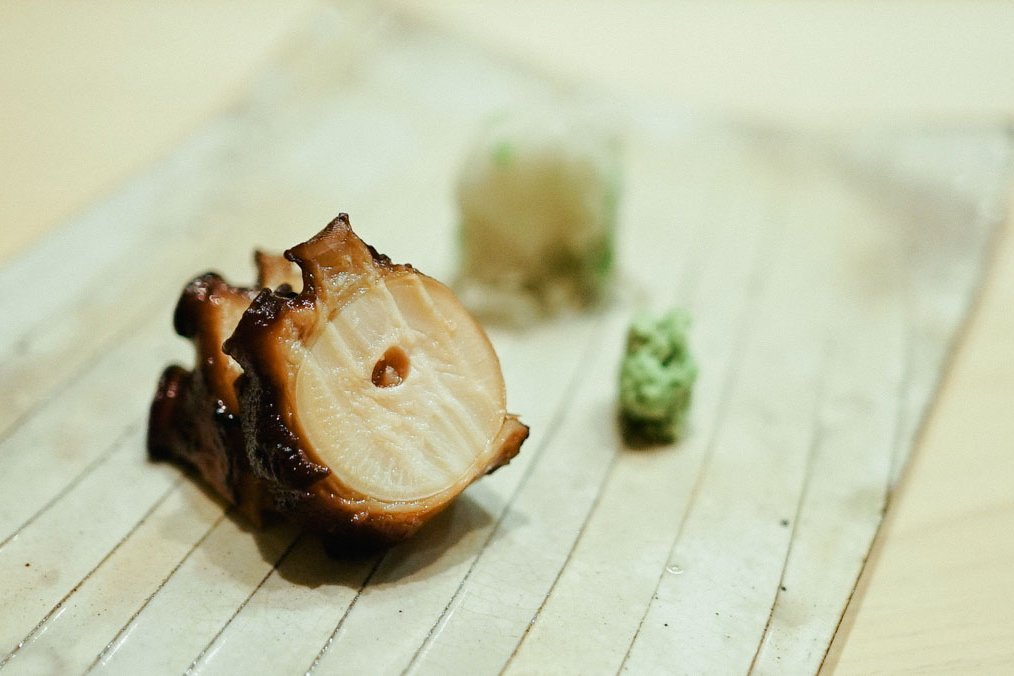 Tender Octopus – the octopus is one of Shikon's signature dishes and the best octopus I've ever had. The octopus is massaged for an hour and a half with sea salt, then braised for 45 minutes and served room temperature.
Seasonal Sashimi – the seasonal sashimi served was rock fish. The rock fish was salted then cured with sea kelp for three days and aged for an additional day. The skin of the rock fish was then seared with charcoal just before serving giving the fish a tender texture and smoky flavor with a nice crispy skin.
The fish was served with a special soy sauce made from a fish bone broth blended with special soy, red chili paste, daikon radish and scallions.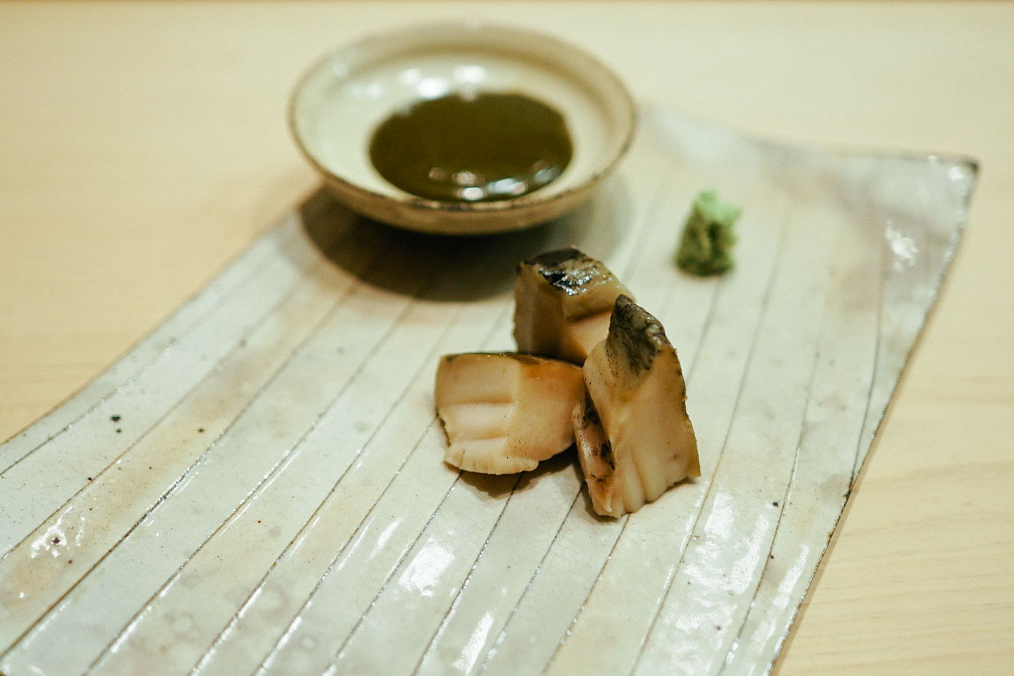 Steamed Abalone – the steamed abalone is another one of Shikon's famous dishes served with its abalone liver sauce.
Chef Kaki reveals that the abalone Shikon sources is from an abalone farmer that "detoxes" its abalone prior to delivering it. He explains that the fisherman catches the abalone and places it in a tank with fresh kelp for a few days, which is the "detox" process. The abalone is then steamed with sake served with a ridiculously abalone liver sauce.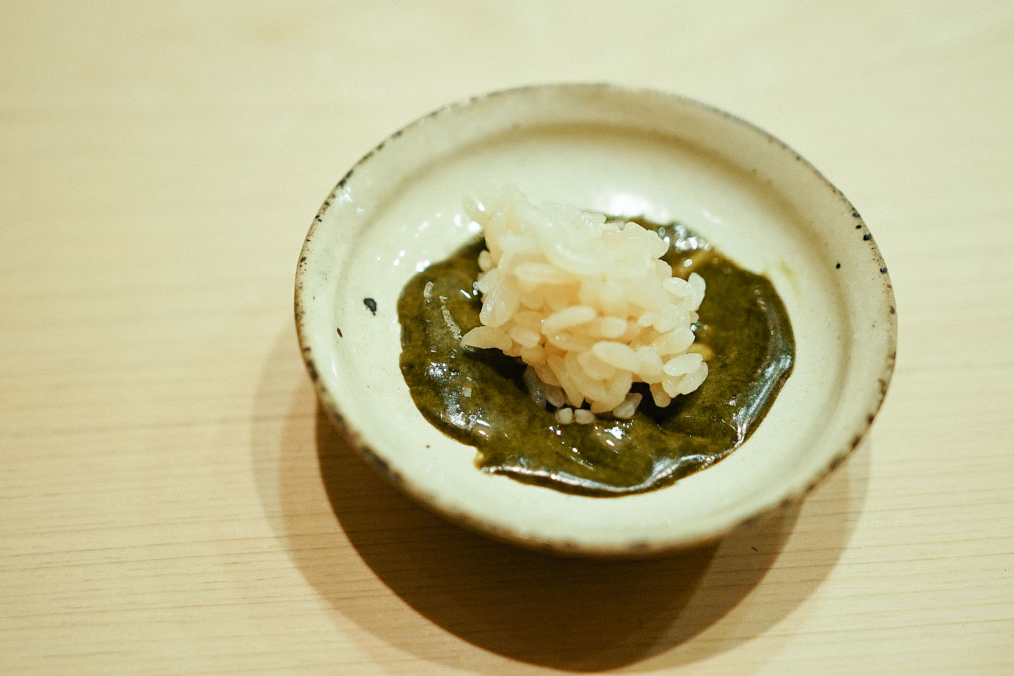 The abalone is super meaty yet tender, amazing on its own, but better with the liver sauce. The sauce was so good, I wanted to lick the dish. Good thing Chef Kaki gave us a ball of rice infused with vinegar to mop up that sauce.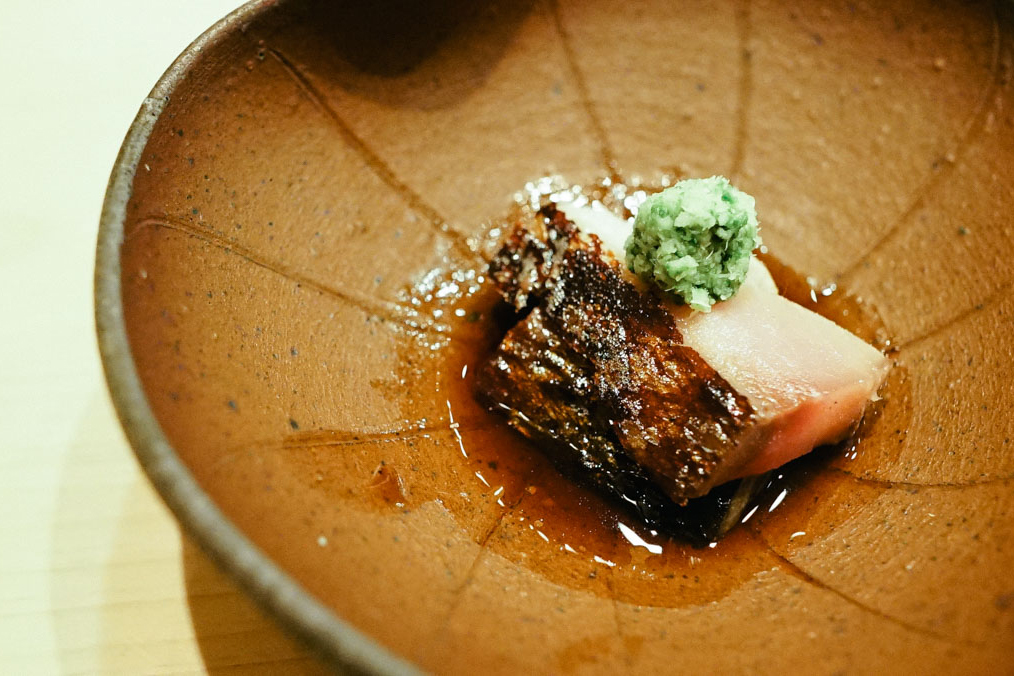 Seared Mackerel – the mackerel was one of my favorite dishes, smoky and so tender, I barely had to chew. Chef Kaki puts a lot of TLC into this mackerel, which is first cured with sea salt, then soaked in vinegar and kombu for four days. The mackerel is then smoked with rice hay and the skin is charcoal seared just before serving, topped with Hokkaido white horseradish, scallion and ginger.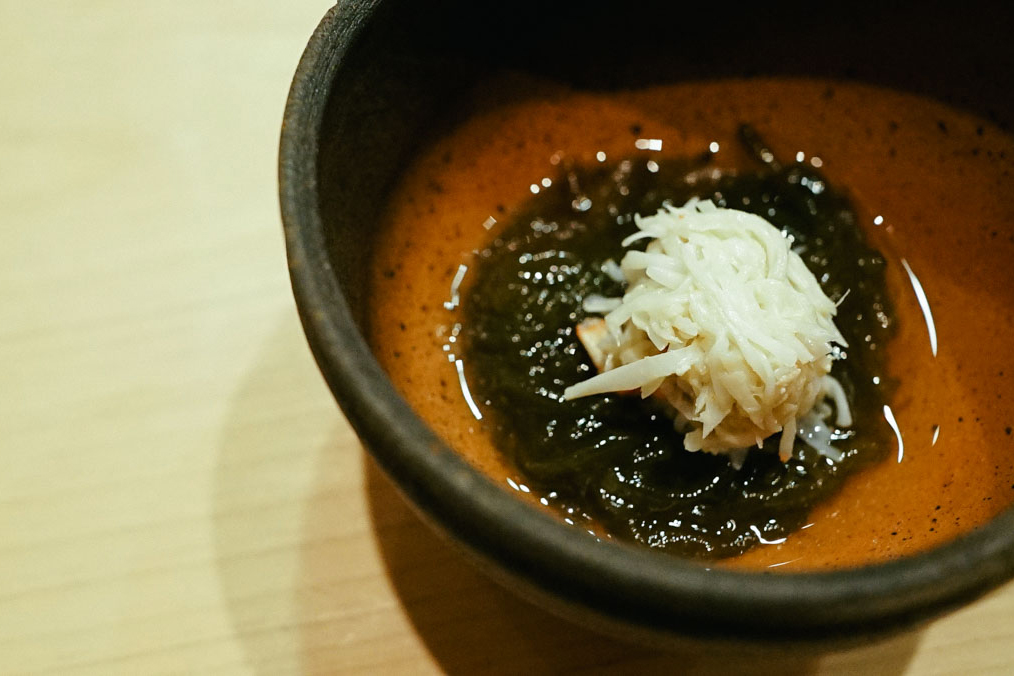 Snow Crab (Male) – the snow crab was served as a palette cleanser. It was sweet and refreshing served with Okinawa seaweed.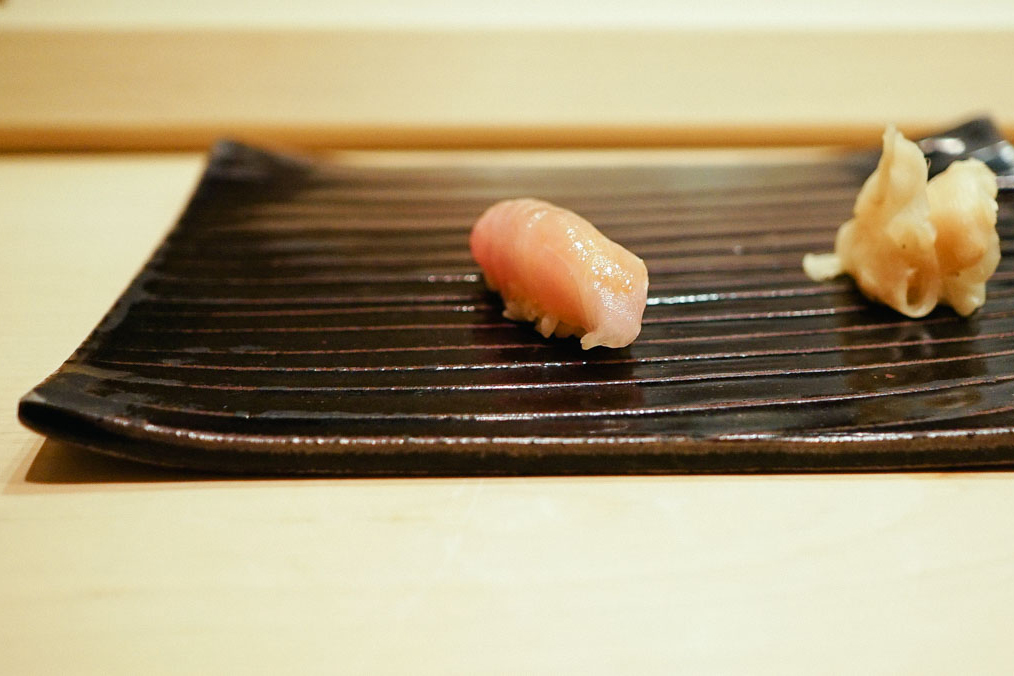 Golden Eye Fish – the first piece of sushi served was golden eye fish, which the chefs marinated the fish for four days with kelp and vinegar.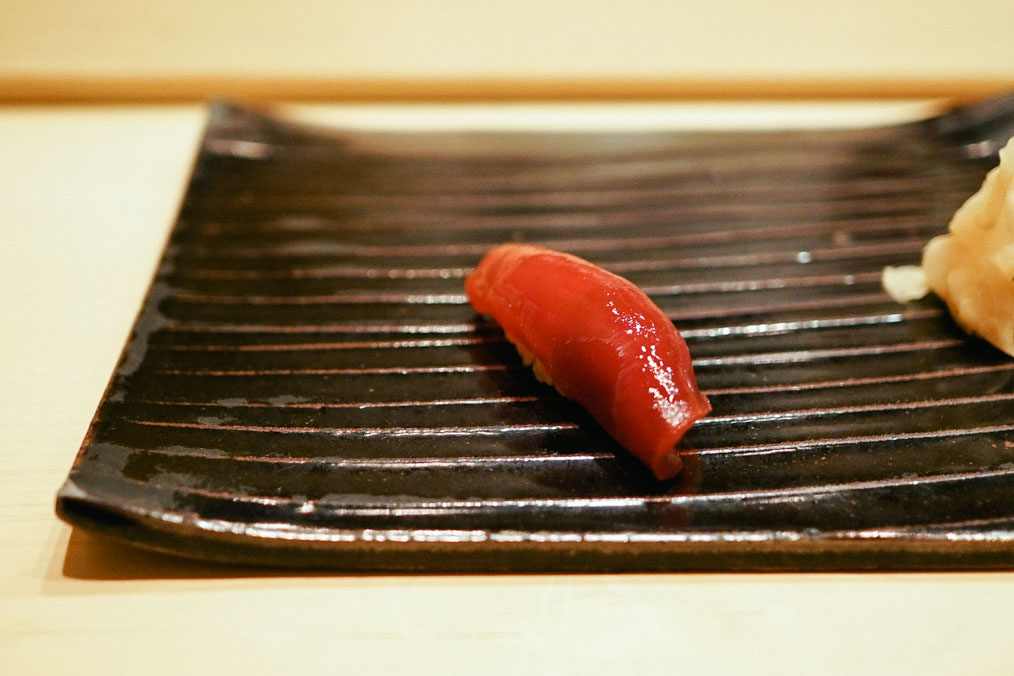 Lean Tuna – the lean tuna was simple yet perfect, marinated with soy sauce from Kyoto.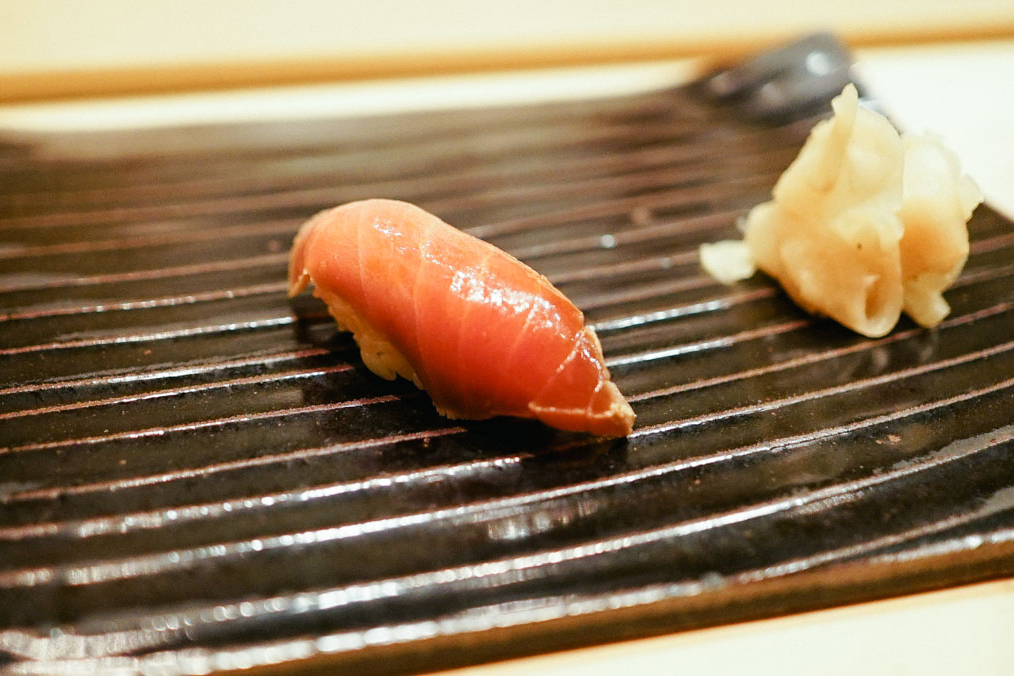 Medium Fatty Tuna – the medium fatty tuna was marinated with a special soy sauce for one hour.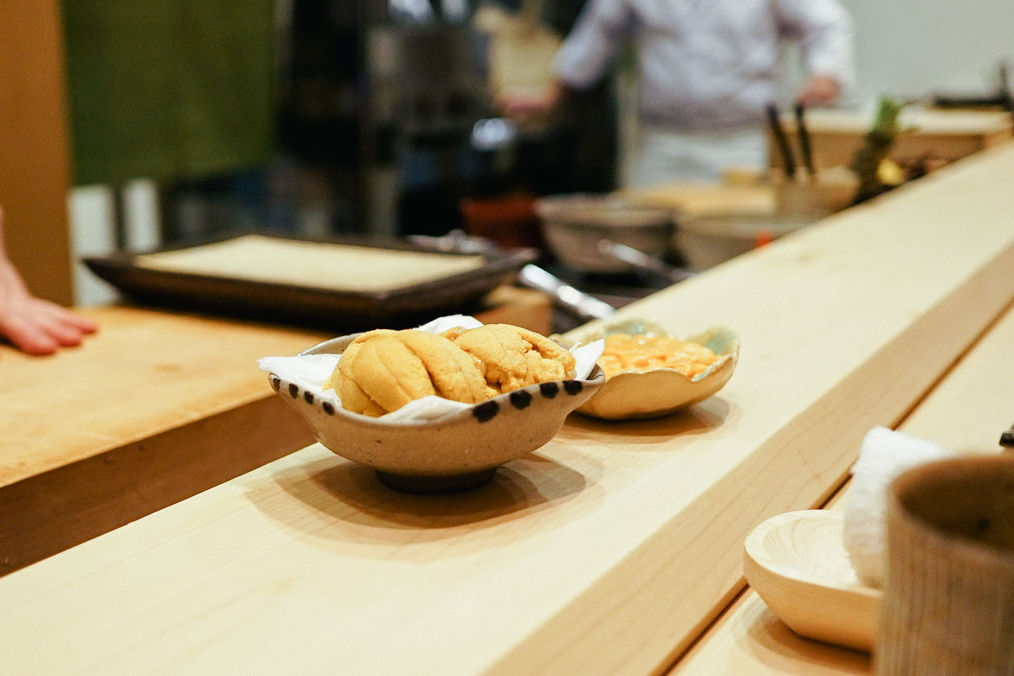 Sea Urchin – Chef Kaki used two types of sea urchin (uni), purple and green. Purple uni is known to be bigger and recognized for its creaminess, whereas the green uni is known to be sweet.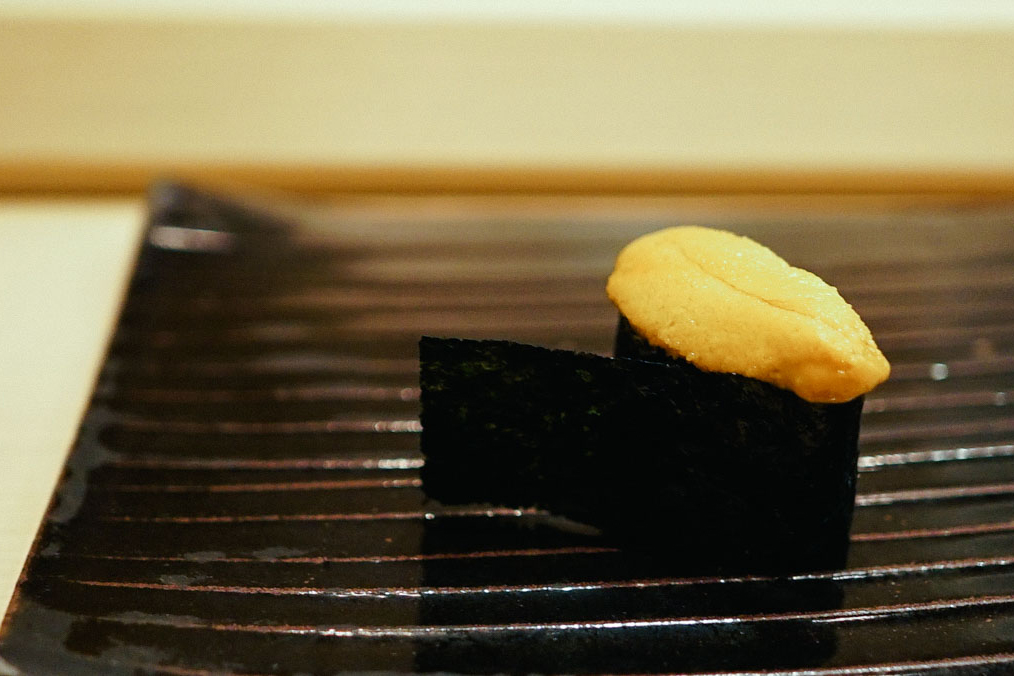 Usually sushi restaurants just use one or the other, but at Shikon, they use the best of both uni worlds.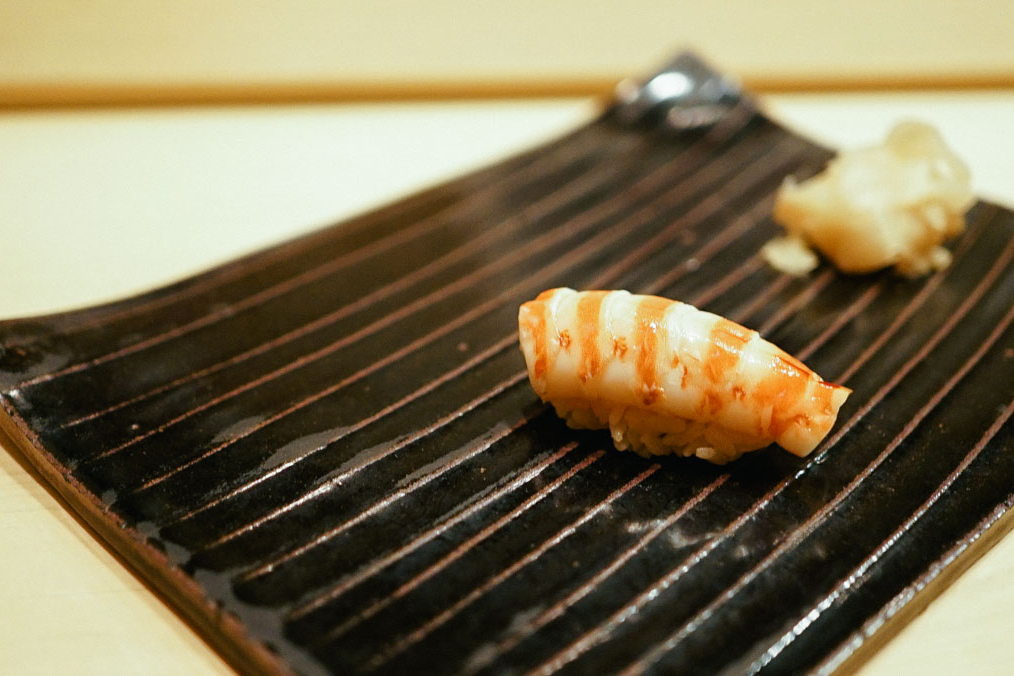 Shrimp – I've never had shrimp (ebi) sushi quite like this. It was cooked perfectly, prepared just before serving so it was still warm. It was sweet, tender, and moist placed a top Shikon's signature sushi rice with a dab of shrimp paste made from shrimp heads.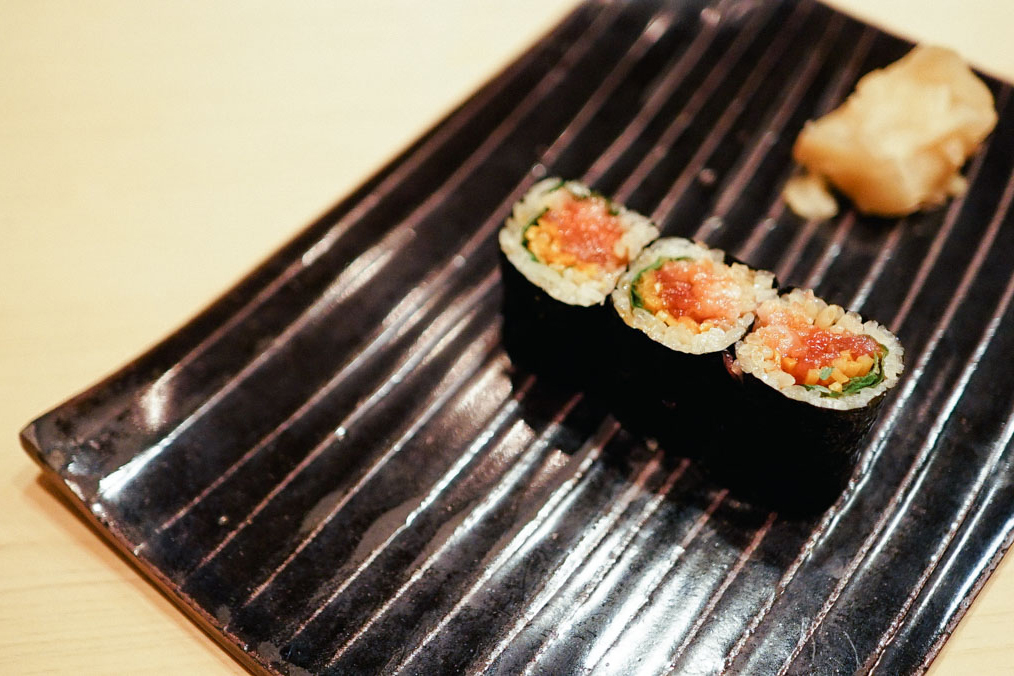 Seasonal Sushi Roll – the seasonal sushi consisted of chopped toro, pickled daikon and shiso. Loved the shiso, especially with the chopped crunchy pickled daikon.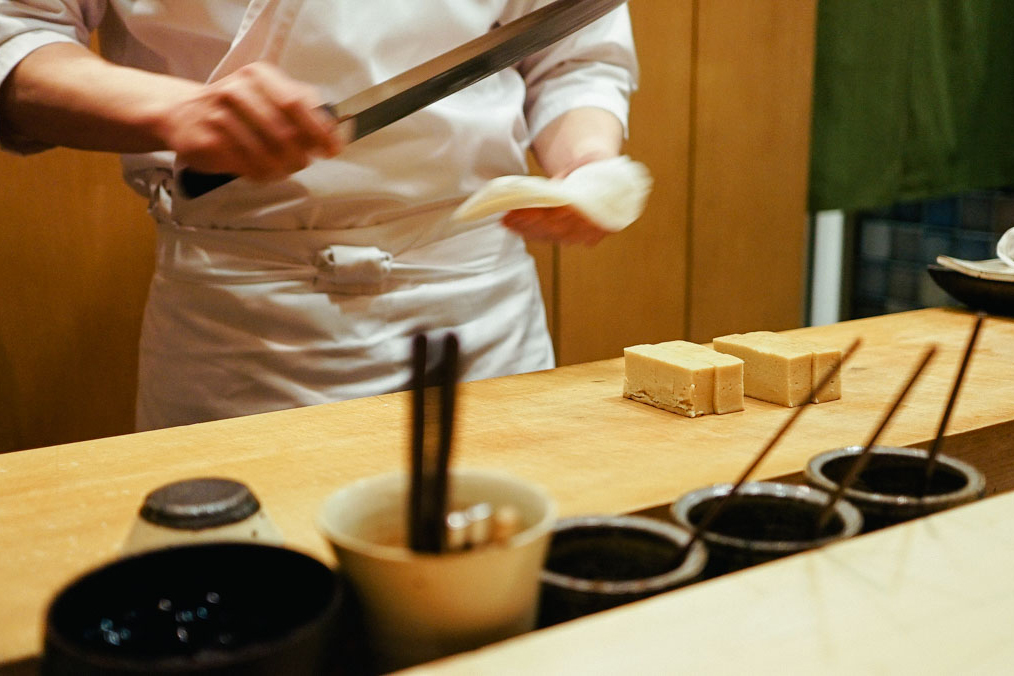 Castella Egg – this was unreal and the best egg (tamago) I've ever had. The egg was cooked for three hours with Japanese mountain yam and shrimp paste. The castella egg was sweet and rich with the consistency of Japanese cheesecake and an extremely moist sponge cake.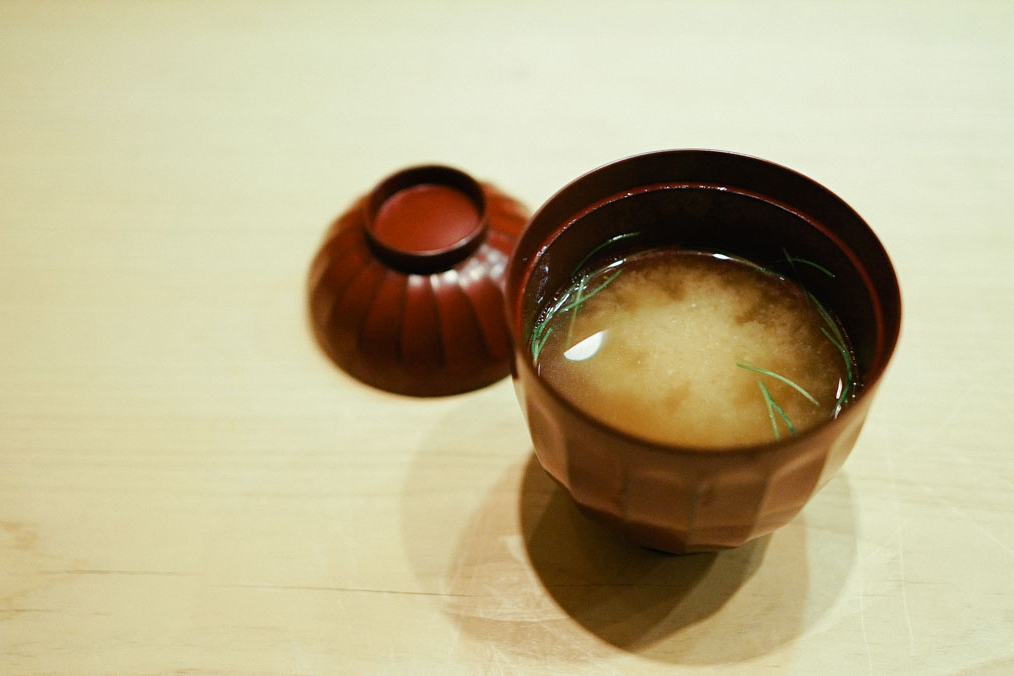 Miso Soup – the miso soup was made with white miso along with a fish bone broth.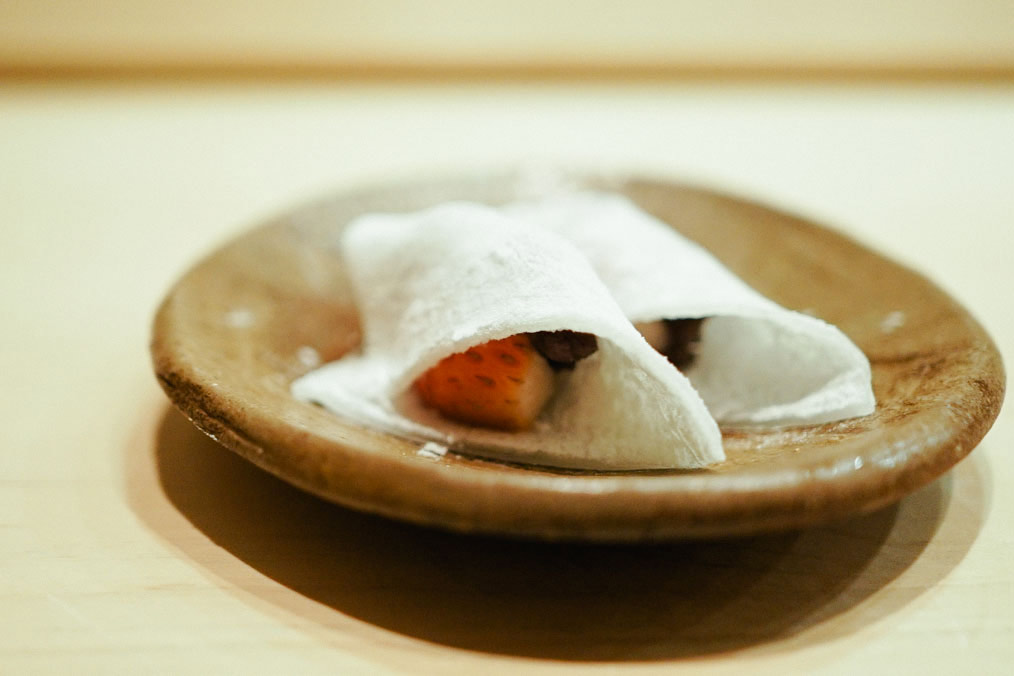 Dessert – the strawberries were incredibly sweet and fragrant paired with red bean wrapped in soft mochi. The perfect ending to a perfect meal.

The Mercer Hotel
29 Jervois Street
Sheung Wan, Hong Kong
t: +852 9697 6800
e: [email protected]
Asian, Dinner, Hong Kong, Japanese, Lunch