Hong Kong Cray !!! Spanish Tapas at Ham & Sherry
The Lowdown
Restaurant Name: Ham & Sherry
Cuisine: Spanish Tapas
Average Price per Person: $300 to 600 HKD or $40 to 80 USD
Location: Wan Chai, Hong Kong (please refer to the map below for details)
Recommendations: The entire "On Board" HAM section, Goats Curd &Jamón Croquette, Salt & Pepper 'Chipirones', and Sobrasada &Fried Quail's Egg on Toast

Ratings (out of 5)
Taste: 4
Creativity/Authenticity: 4.5
Atmosphere: 3.5
Service: 4.5
Bang for Buck: 3

Crayscale !!!
YAY! Another restaurant in Hong Kong by the incredibly talented Chef Jason Atherton! Just steps away from sister restaurant 22 Ships in Wan Chai, Ham & Sherry is another one of Atherton's tapas joints. Unlike 22 Ships, Ham & Sherry takes on a slightly more traditional approach on Spanish tapas with a focus on two things – ham and sherry. Doubling as a jamon bar and sherry bar, Ham & Sherry offers over 50 types of sherry and a plethora of Jamón literally hanging from the ceilings.
Greeted by Spanish blue and white tiles on Ship Street, Ham & Sherry occupies a small space with a dining area up front and a waiting room with a bar in the back. The waiting room was designed as an area for the overflow of customers to hang out while they're waiting for their table at either of the restaurants since both hold a no reservations policy. Although Ham & Sherry's dining area is quite cozy, the seating arrangement is definitely more comfortable than the set up at 22 Ships. The menu is also completely different broken down into a selection of sliced hams "on board", finger foods, salads, tasty combinations on toast, larger "raciones" or rations, desserts, cheeses, and last, but not least, sherry. We ordered a little bit of everything since portions are small and meant for sharing. We went H.A.M. on the ham and tried every single Jamón in the restaurant.
Overall, Ham & Sherry's food is on point, but I personally prefer the menu over at 22 Ships. Albeit, It really depends on what you're in the mood for. If you're looking for proper tapas, hit up Ham & Sherry. If you're feeling adventurous and wanting unconventional next level tapas, hit up 22 Ships. Or you could have the best of both worlds by getting your fill of ham and sherry at Ham & Sherry, then roll over to 22 Ships for some char grilled iberico pork & foie gras burgers, suckling pig, baked smoked bone marrow and legit desserts!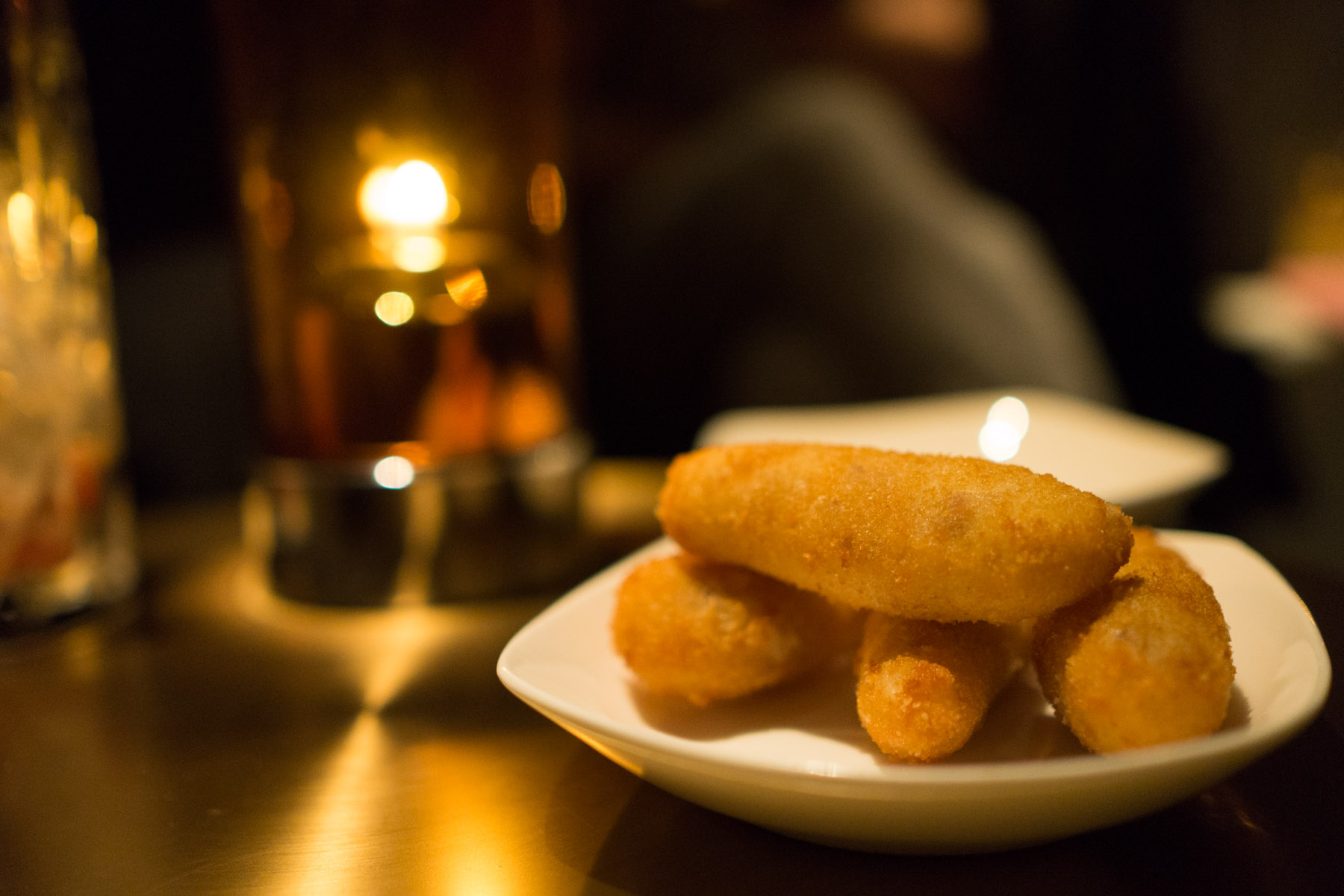 Goats Curd and Jamón Croquette ($60 HKD or $7.80 USD). These croquettes had a crunchy crust filled with a creamy cheesy center with bits of salty cured ham.
Iberico Bellota Chorizo ($60 HKD or $7.80 USD). Iberico Bellota Chorizo is a type of chorizo made from a pure-bred, acorn-fed Iberian pig which is kind of a big deal in the world of chorizo. Soo effing good, I could eat this stuff all day, every day.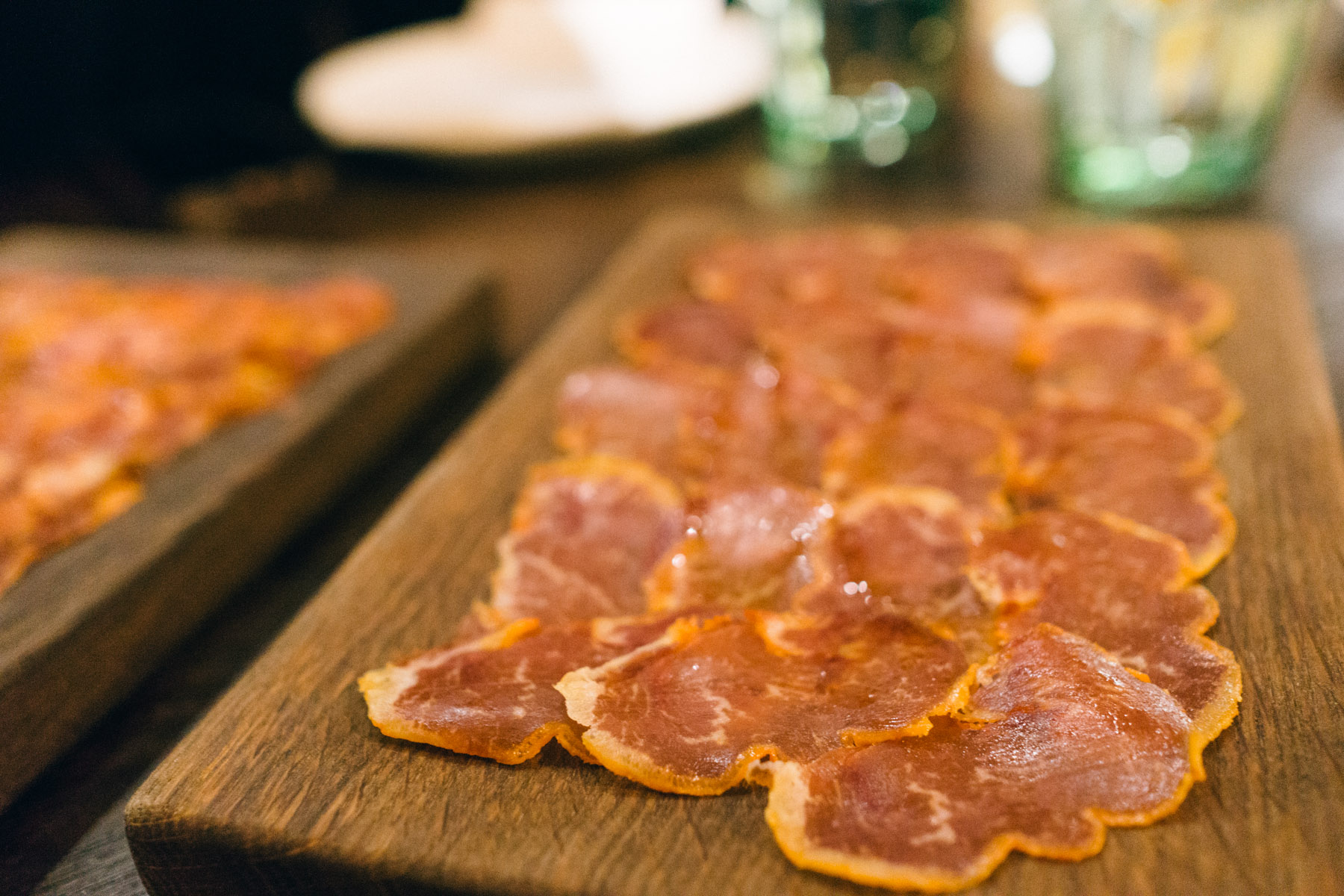 Lomo ($60 HKD or $7.80 USD). Lomo refers to the pork loin of an Iberian pig which is the highest quality piece of meat. Unlike chorizo, the entire loin is cured as one long piece therefore definitely less fatty but extremely flavorful.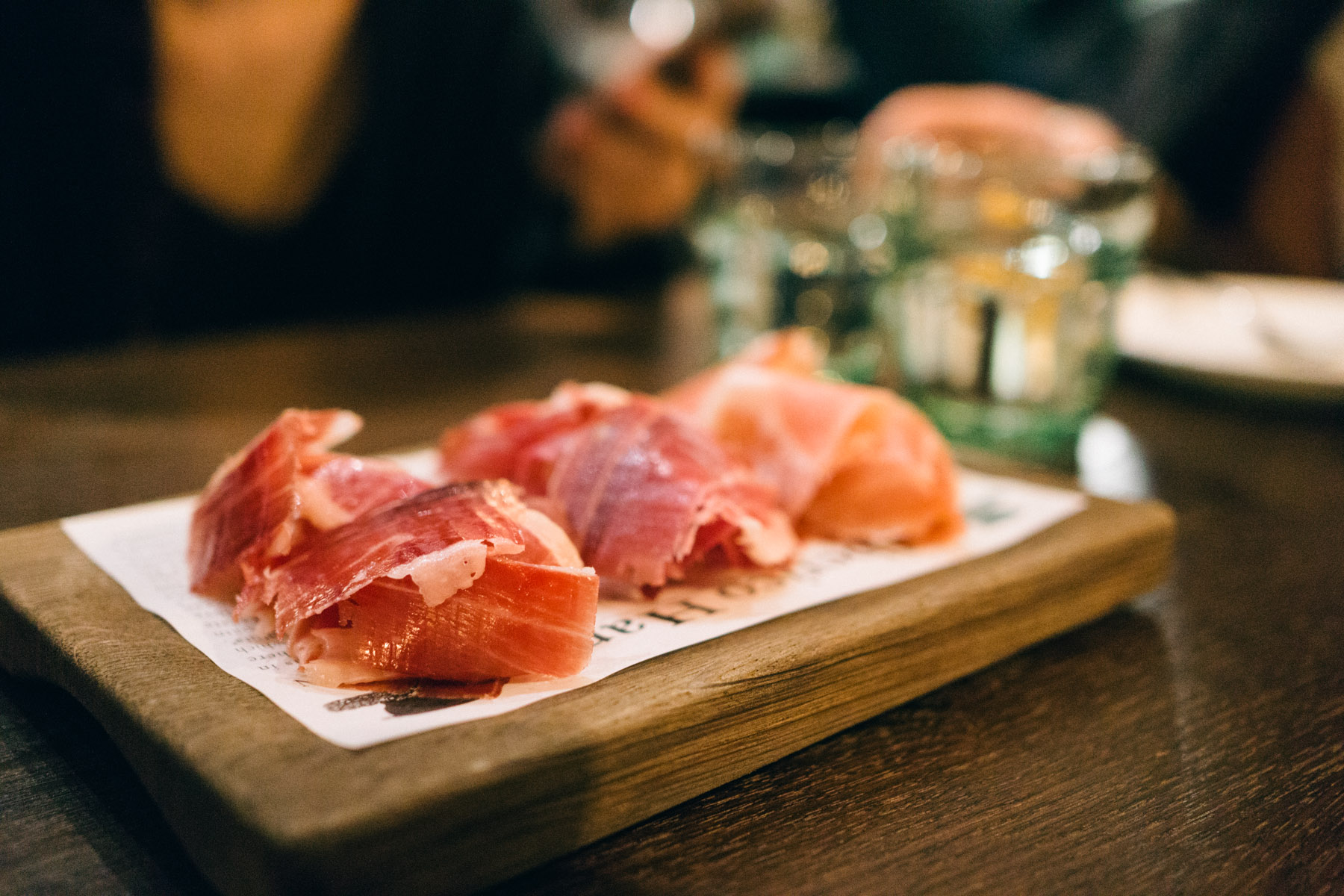 Jamón Iberico de Bellota 40-48 Months, Iberico Paleta 36 Months, Jamón De Teruel Pdo 24 Months ($168 HKD or $22 USD).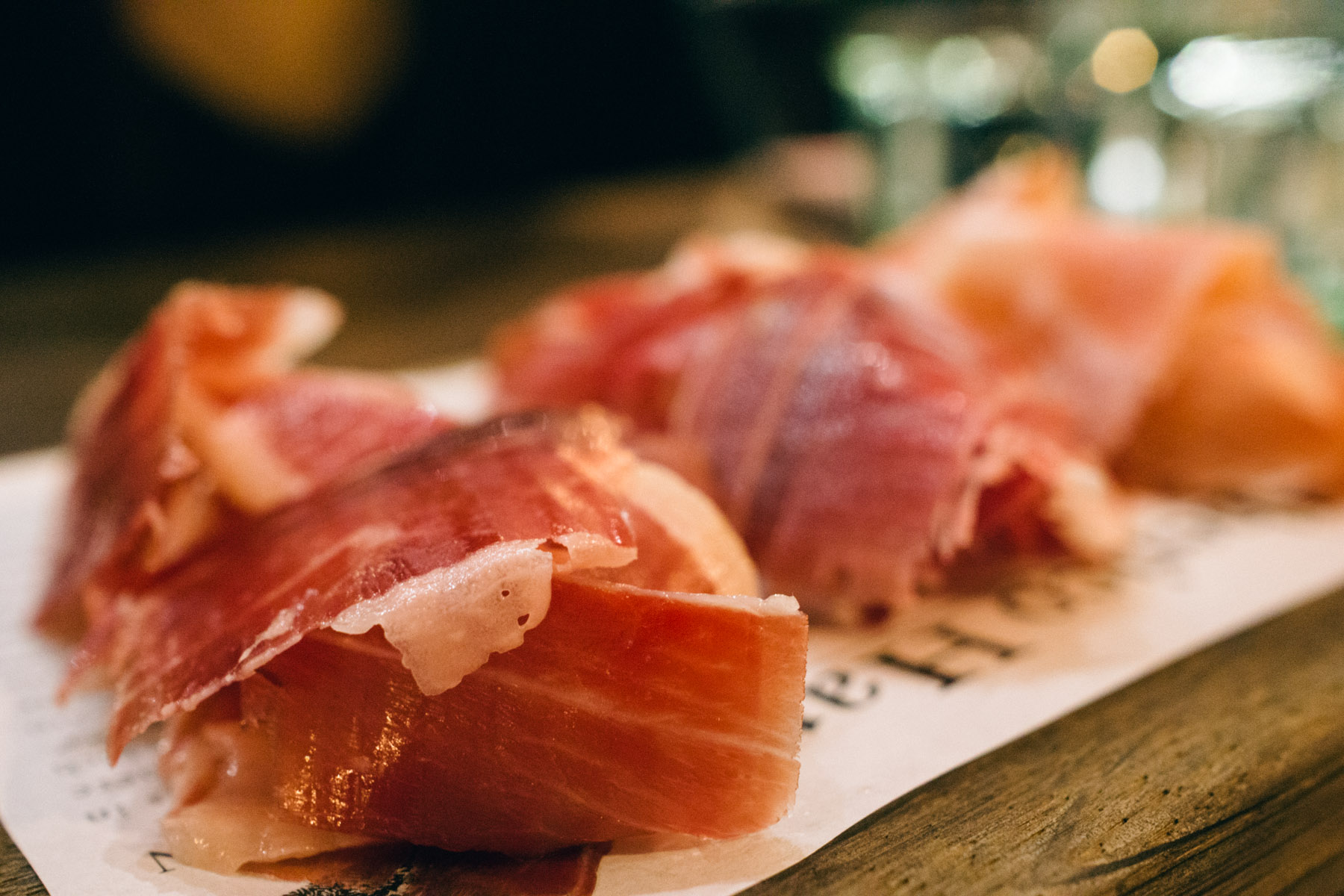 Jamón Iberico de Bellota is the crème de la crème of ham. The Bellota comes from a highly prized pure bred acorn fed Iberian pig that has been cured for 40 to 48 months which explains its deep red color. Of the three hams served, the Bellota had the most intense flavor.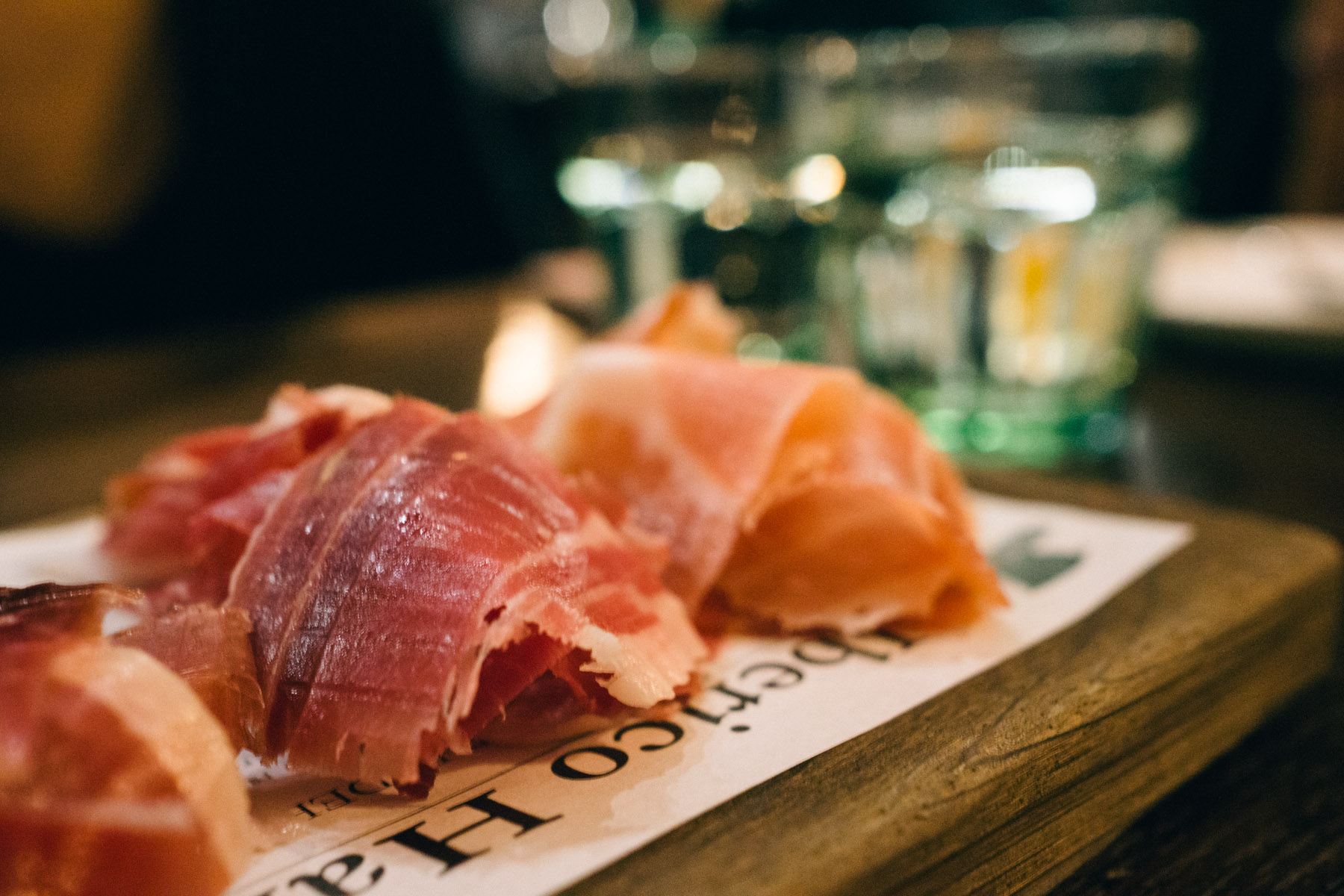 Iberico Paleta also known as shoulder ham is the front legs of an Iberian pig cured for 36 months. The front legs tend to have a lower fat content and are cheaper than the hind legs with a shorter curing process. Jamón De Teruel PDO is a 24 month cured ham from the hind legs of pigs born and raised in the province of Teruel. The flavor of this ham was more delicate and slightly salted with a smooth texture.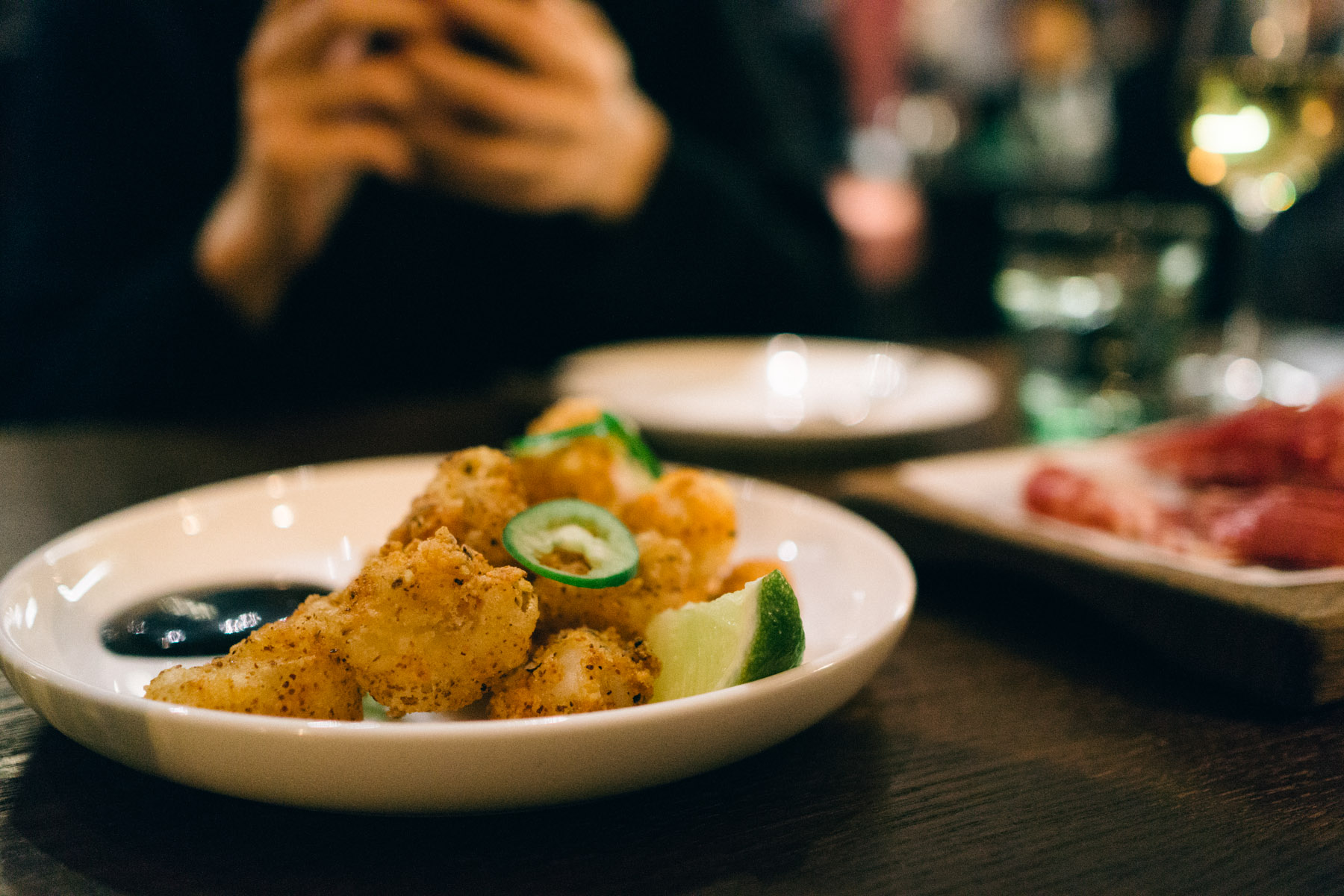 Salt & Pepper 'Chipirones' with Squid Ink Aioli ($68 HKD or $8.85 USD). This is Chef Jason Atherton's rendition of 'Chipirones'. Instead of cooking squid in its own ink, the squid is fried resulting in a crunchy chewy squid with a side of squid ink aioli for dipping.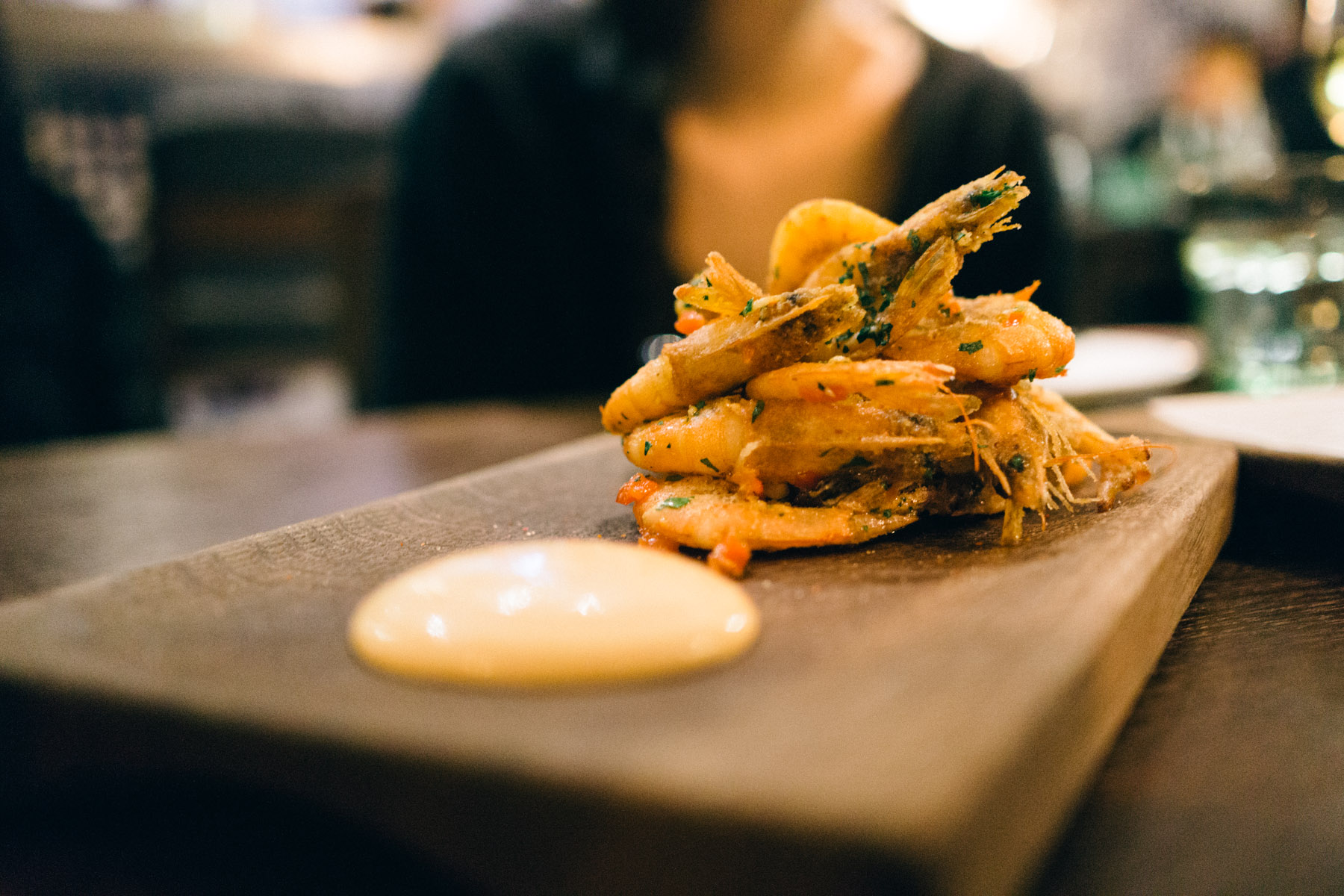 Chili prawns with Paprika Aioli. This was one of the specials on the board. The shrimp's shell is extremely thin so the entire shrimp can be eaten whole. These bad boys were delicious especially with the shrimp heads still intact.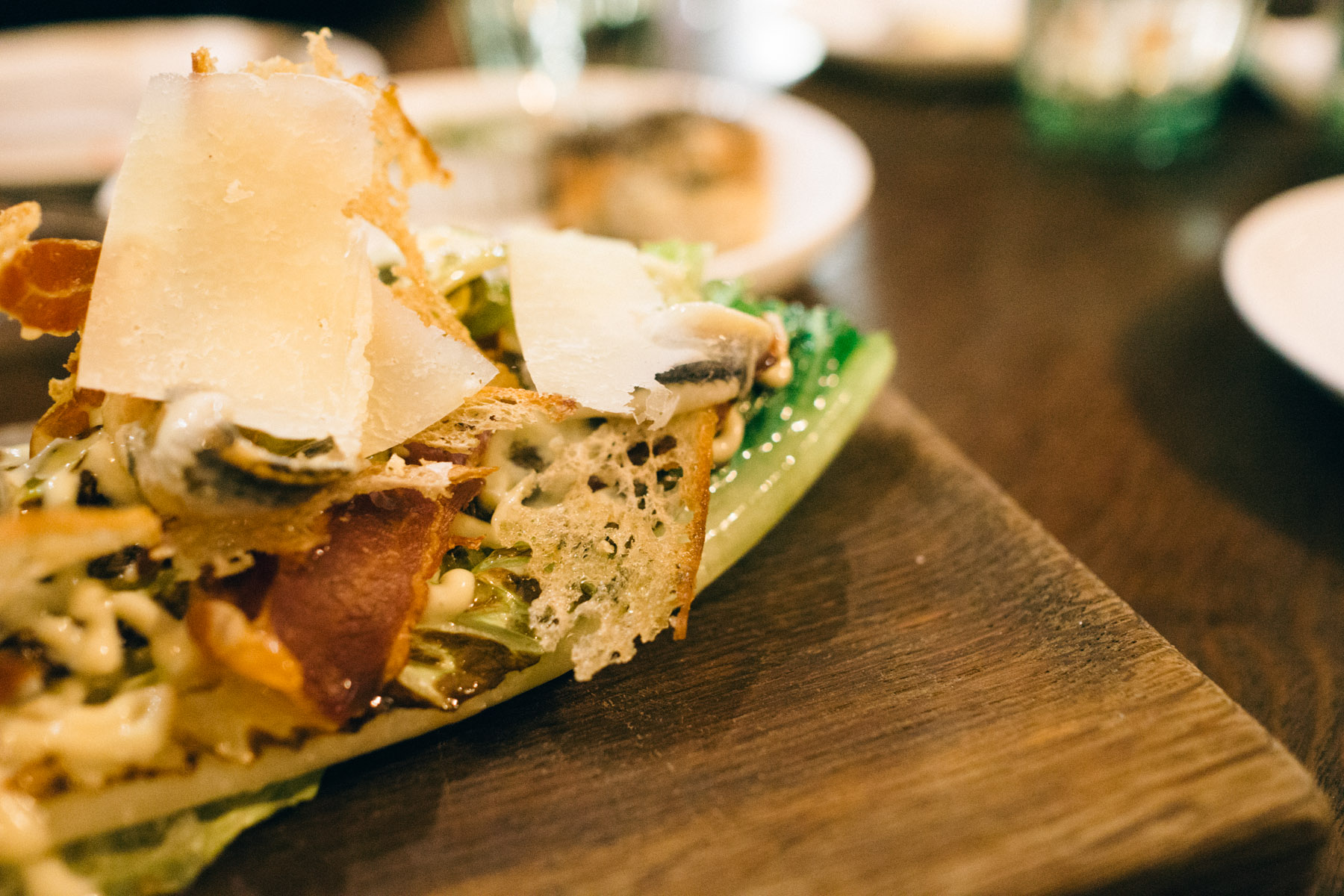 Roasted Caesar Salad with White Anchovies ($88 HKD or $11.40 USD). The Caesar salad was served with the romaine lettuce head topped with white anchovies, smothered in creamy dressing and topped with parmesan shavings.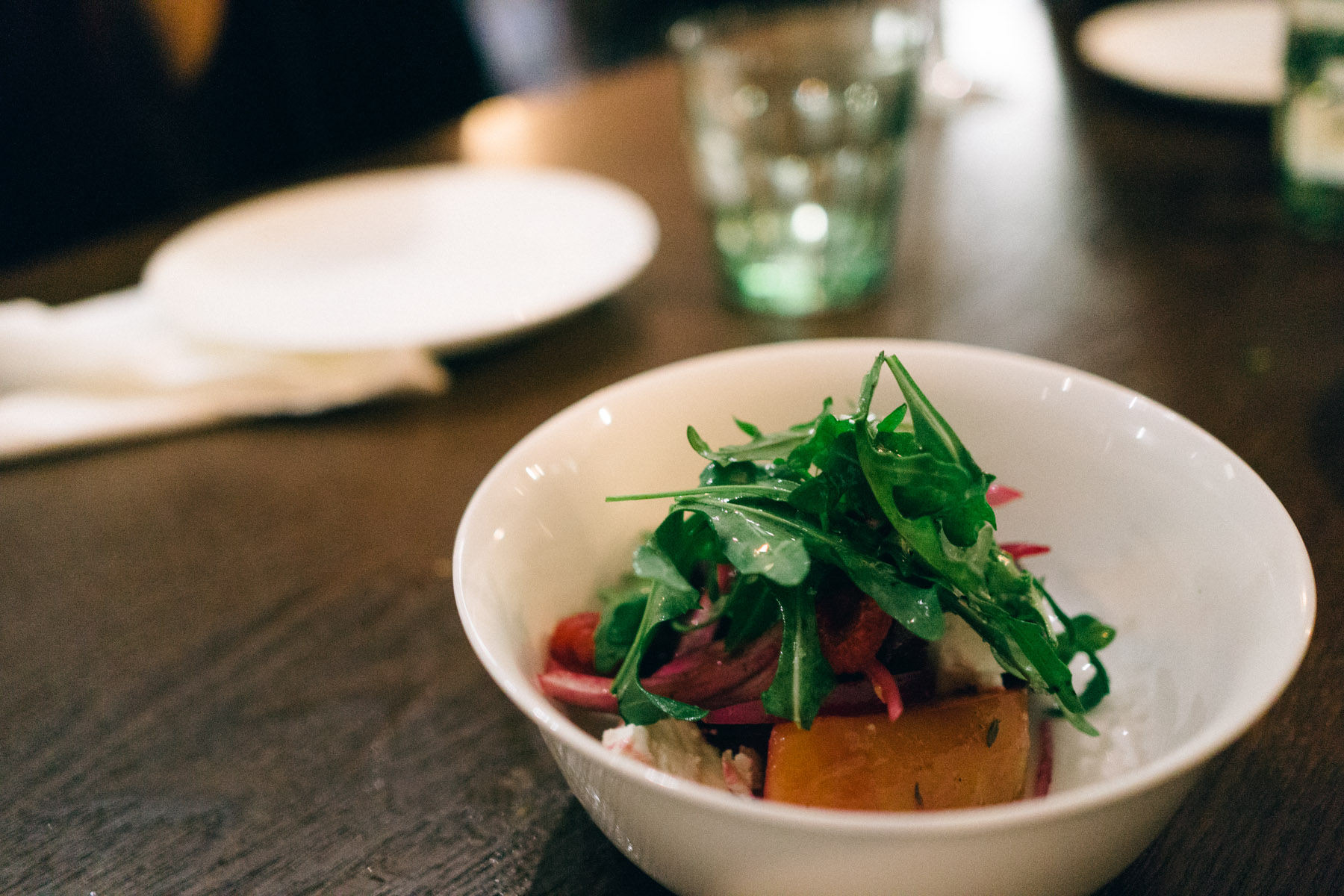 Beetroot, Red Onion, Raspberries & Crumbled Goats Cheese ($72 HKD or $9.35 USD). This salad was light, sweet and refreshing. Just wish there was more of that creamy goat's cheese.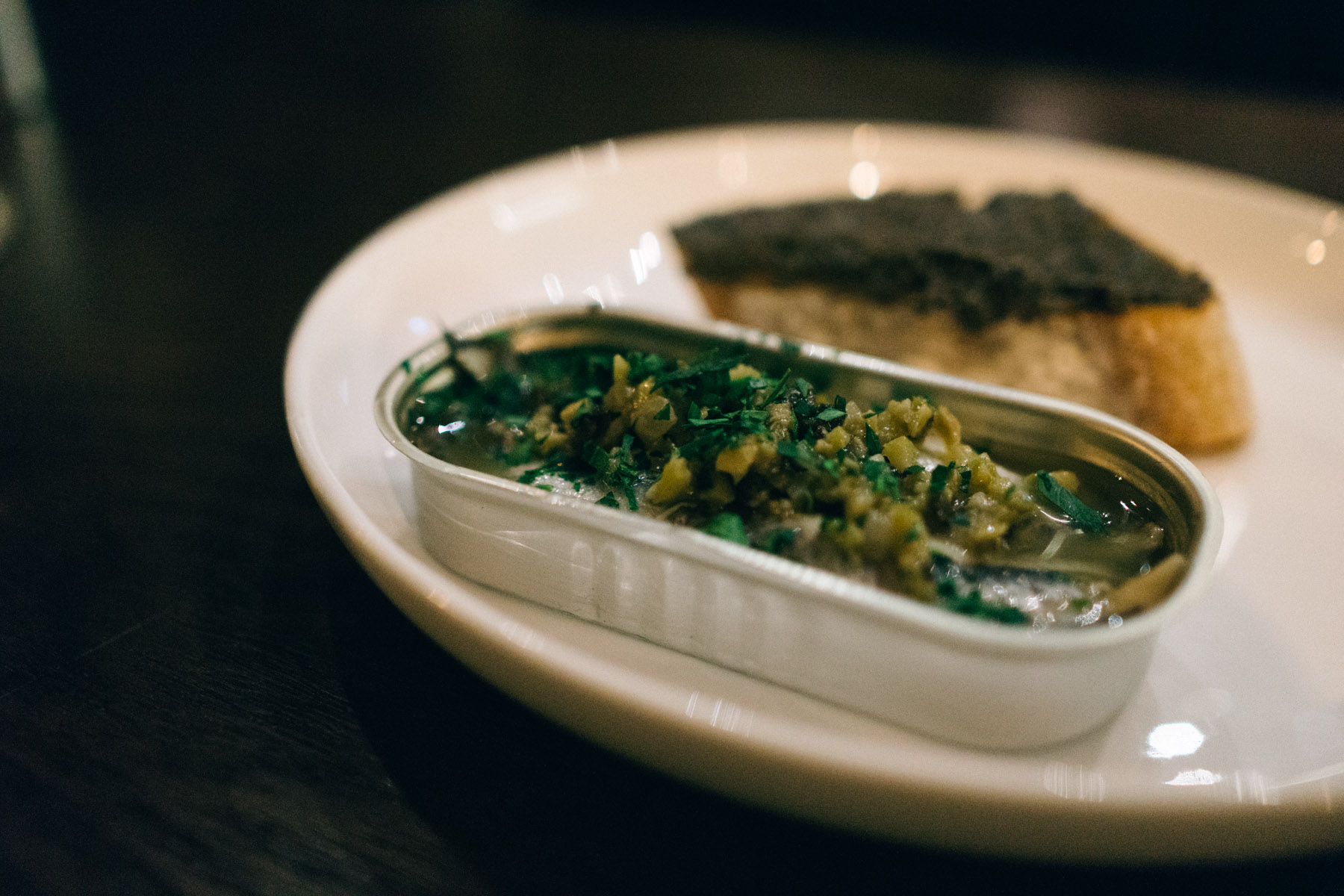 "Boquerones" with Marinated Silver Anchovies and Olive Salsa ($60 HKD or $7.80 USD). The marinated anchovies are served in a tin alongside a slice of crunchy toast a thin layer of ground black olives.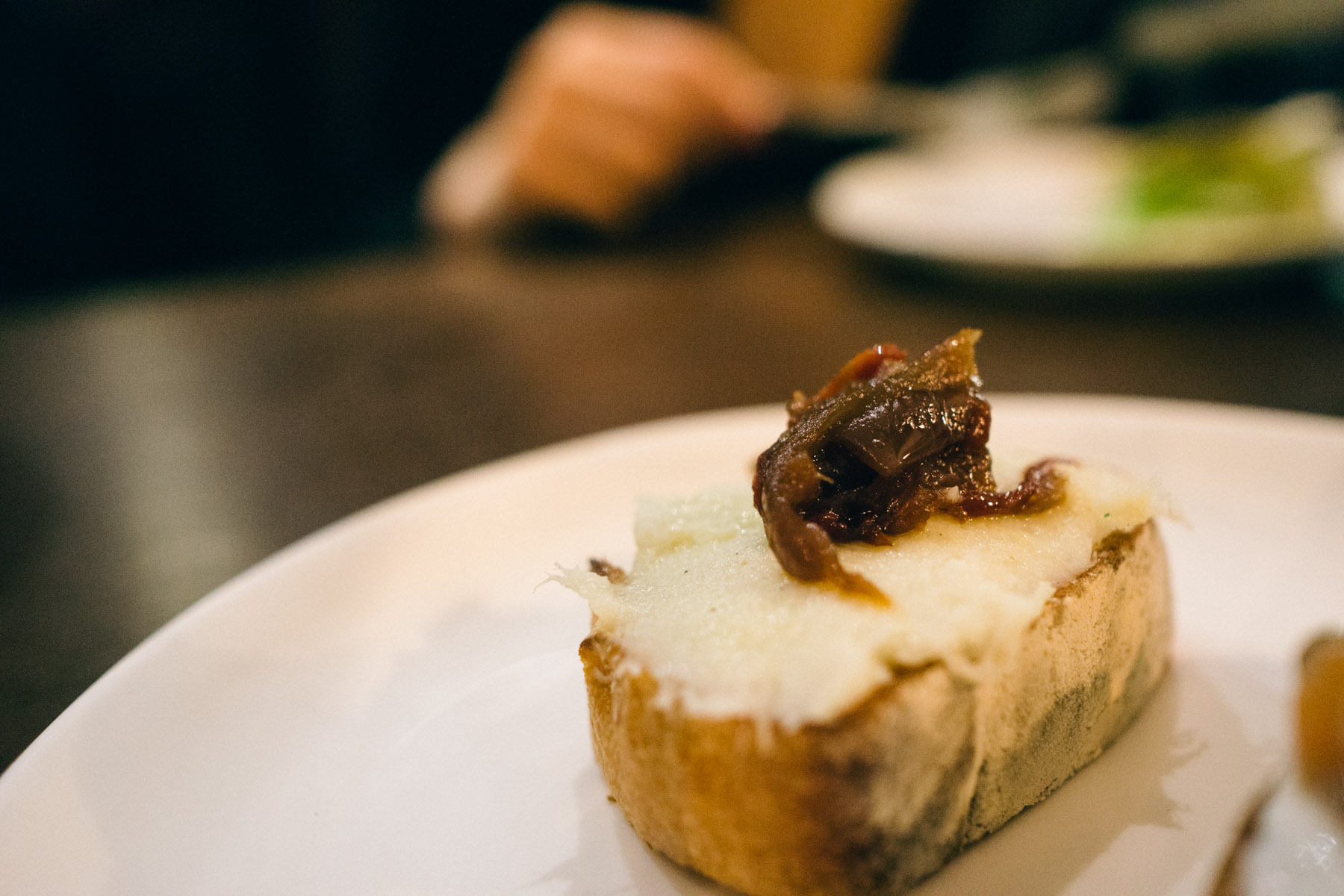 Salt Cod and Piquillo Peppers on Toast ($30 HKD or $3.90 USD). Velvety smooth salt cod is smeared over toasted bread with a dollop of jam.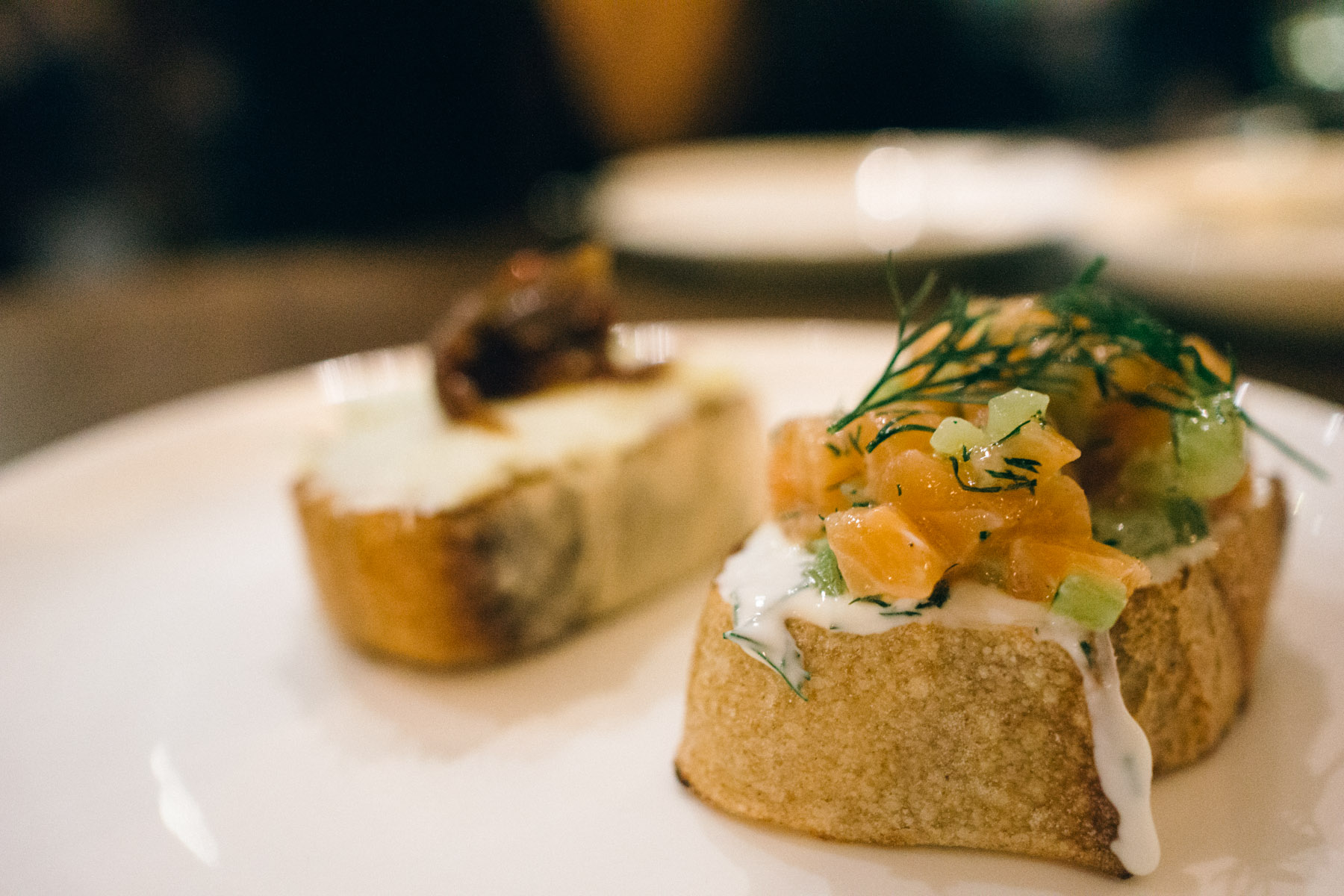 Salmon Tartare, Dill Crème Fraiche, and Cucumber on Toast ($45 HKD or $5.85 USD). The salmon tartare was fresh with crunchy bits of cucumber atop creamy dill crème fraiche.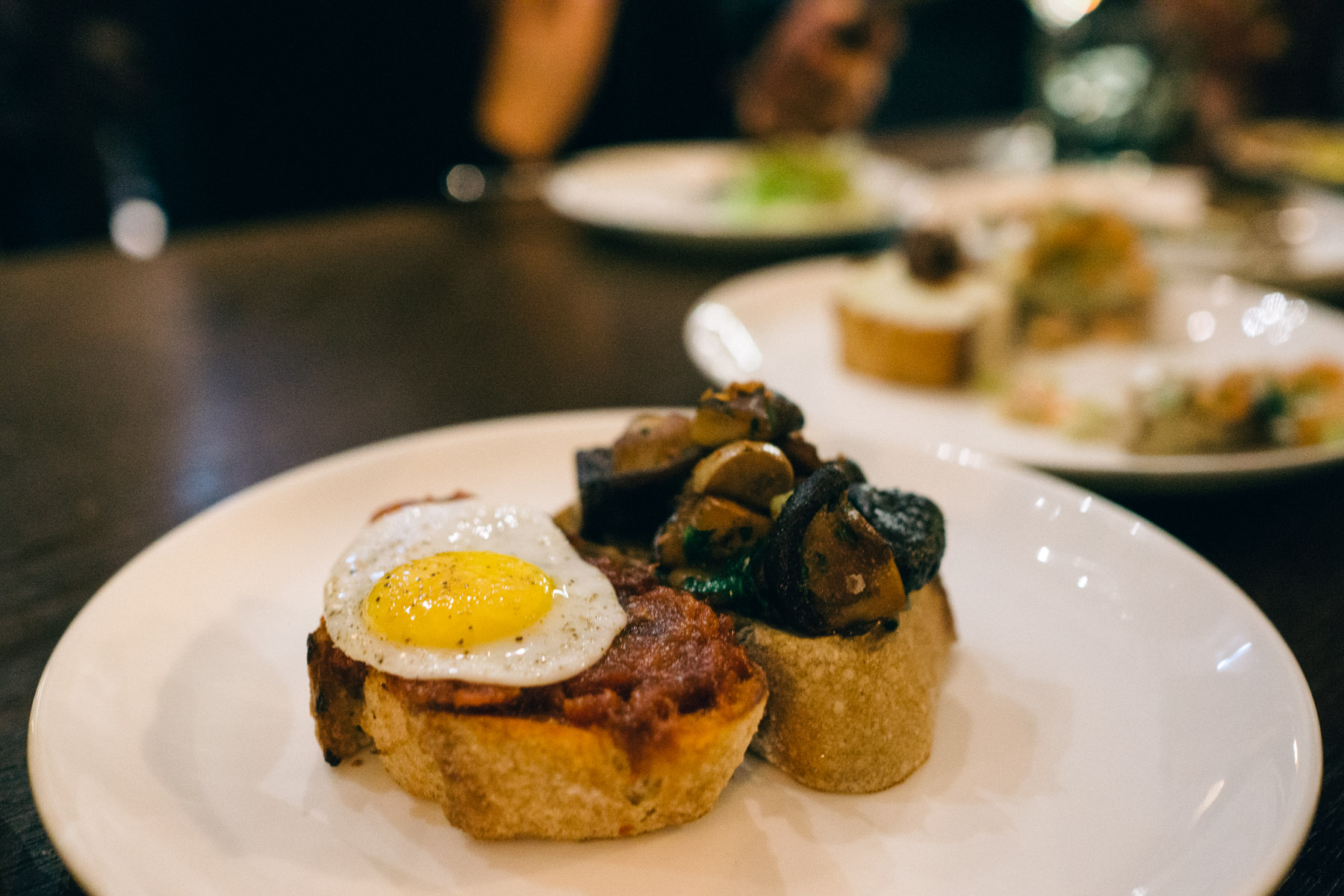 Sobrasada and Fried Quail's Egg on Toast ($45 HKD or $5.85 USD). The sobrasada was made with a smoky spicy chorizo topped with a tiny fried quail egg. This was my favorite of all the pan con dishes we had.
Mushrooms, Roasted Garlic and Parsley on Toast ($40 HKD or $5.20 USD).The mushrooms were moist and delicious, but found it difficult to eat since they kept slipping off the toast.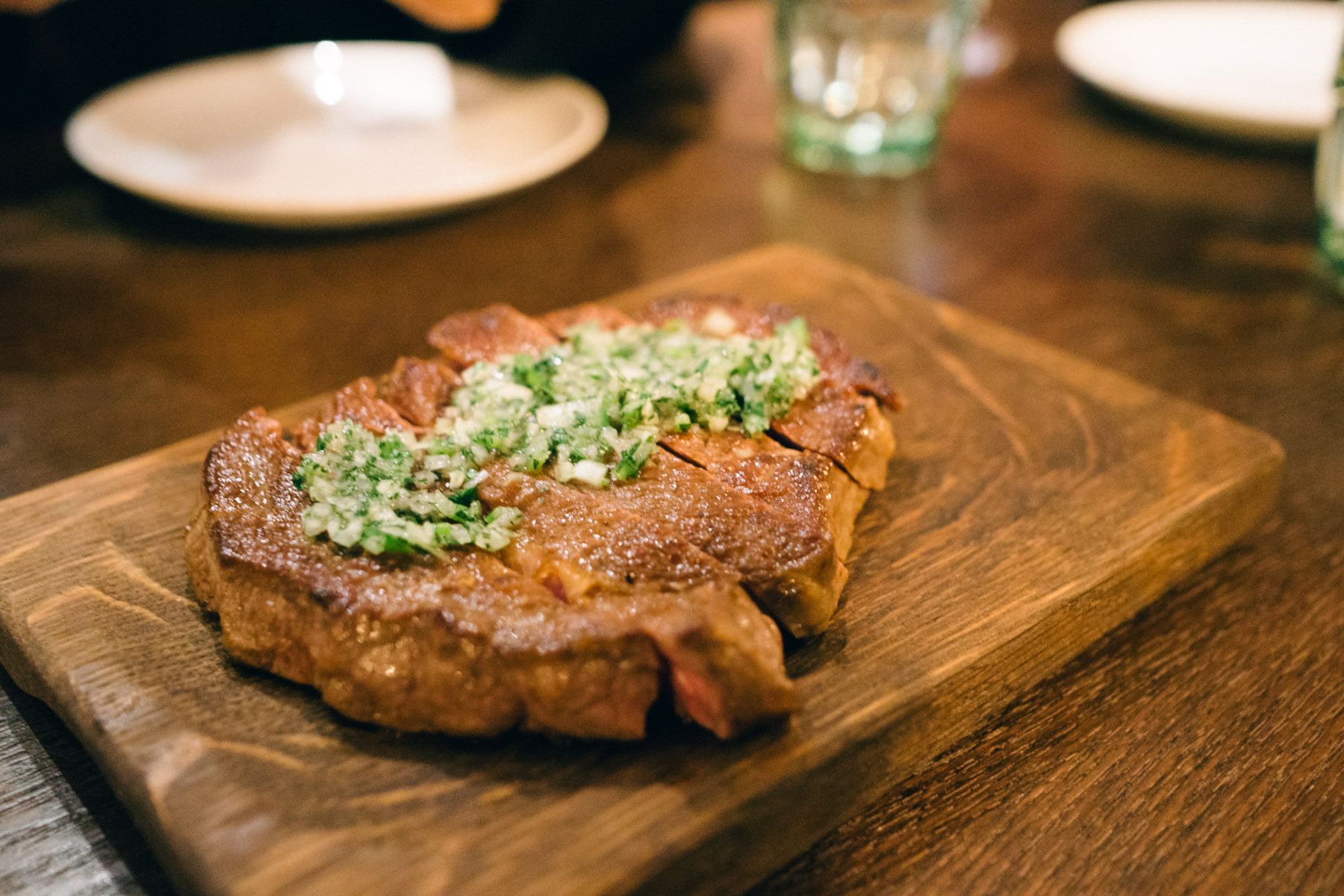 Australian Rib Eye ($158 HKD or $20 USD). The Australian rib eye was cooked to a perfect medium rare, mad flavorful, but just a touch under seasoned.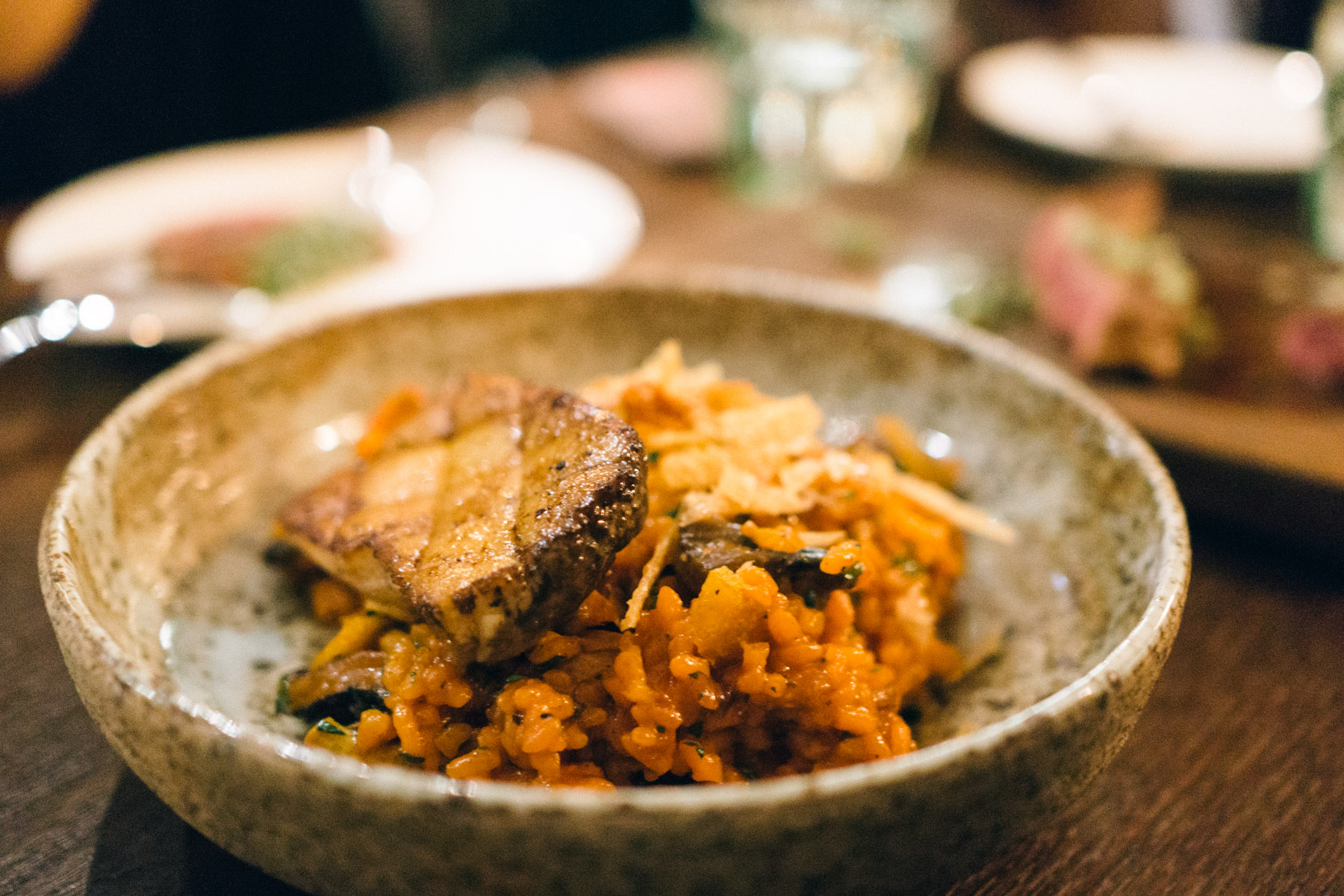 Chicken Mushroom Paella ($138 HKD or $18 USD). The chicken was moist and tender atop fluffy and delicious paella.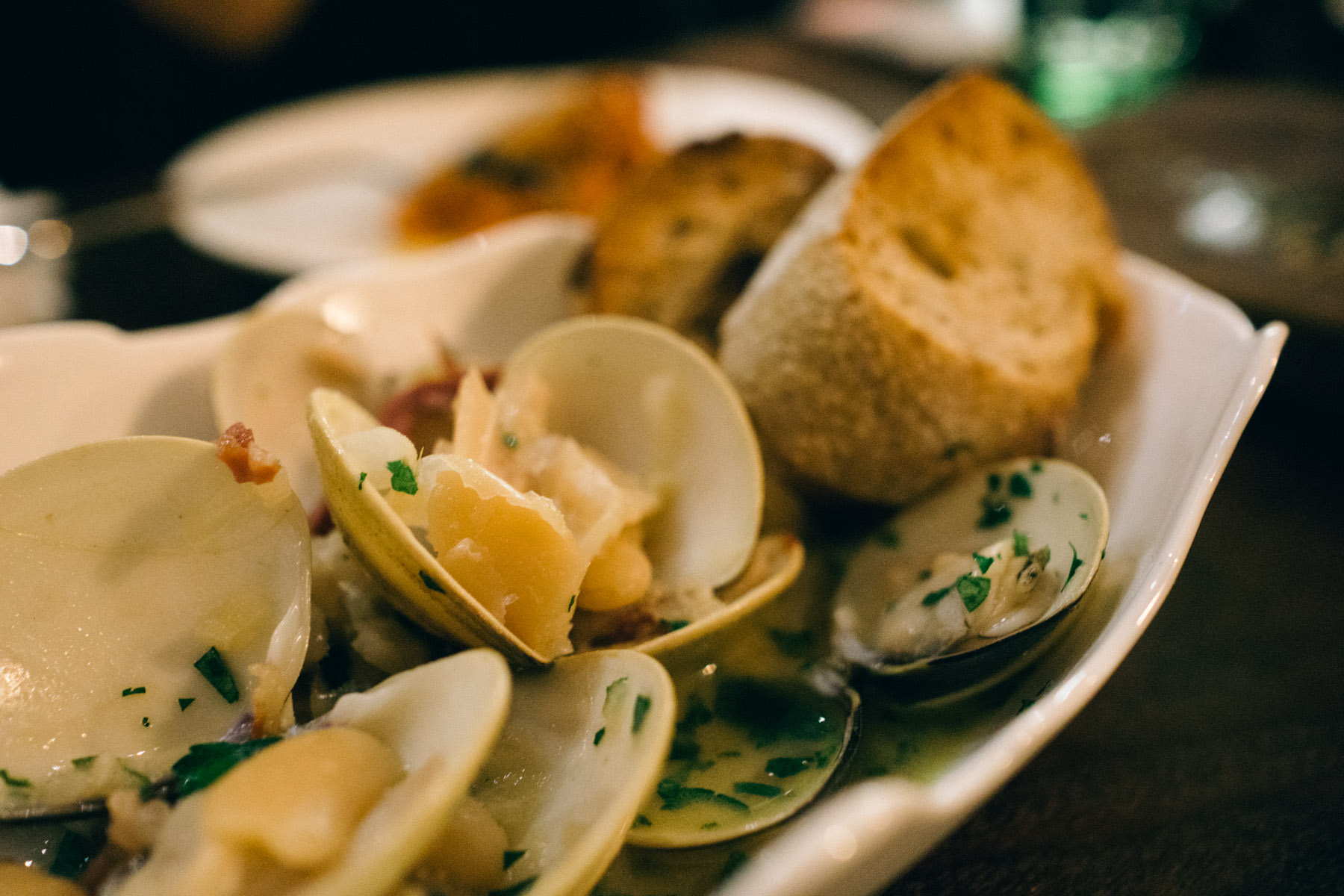 Clams with Iberico Ham, White Beans and Sherry. The baby clams soaked up all that sherry goodness with bits of salty Iberico ham.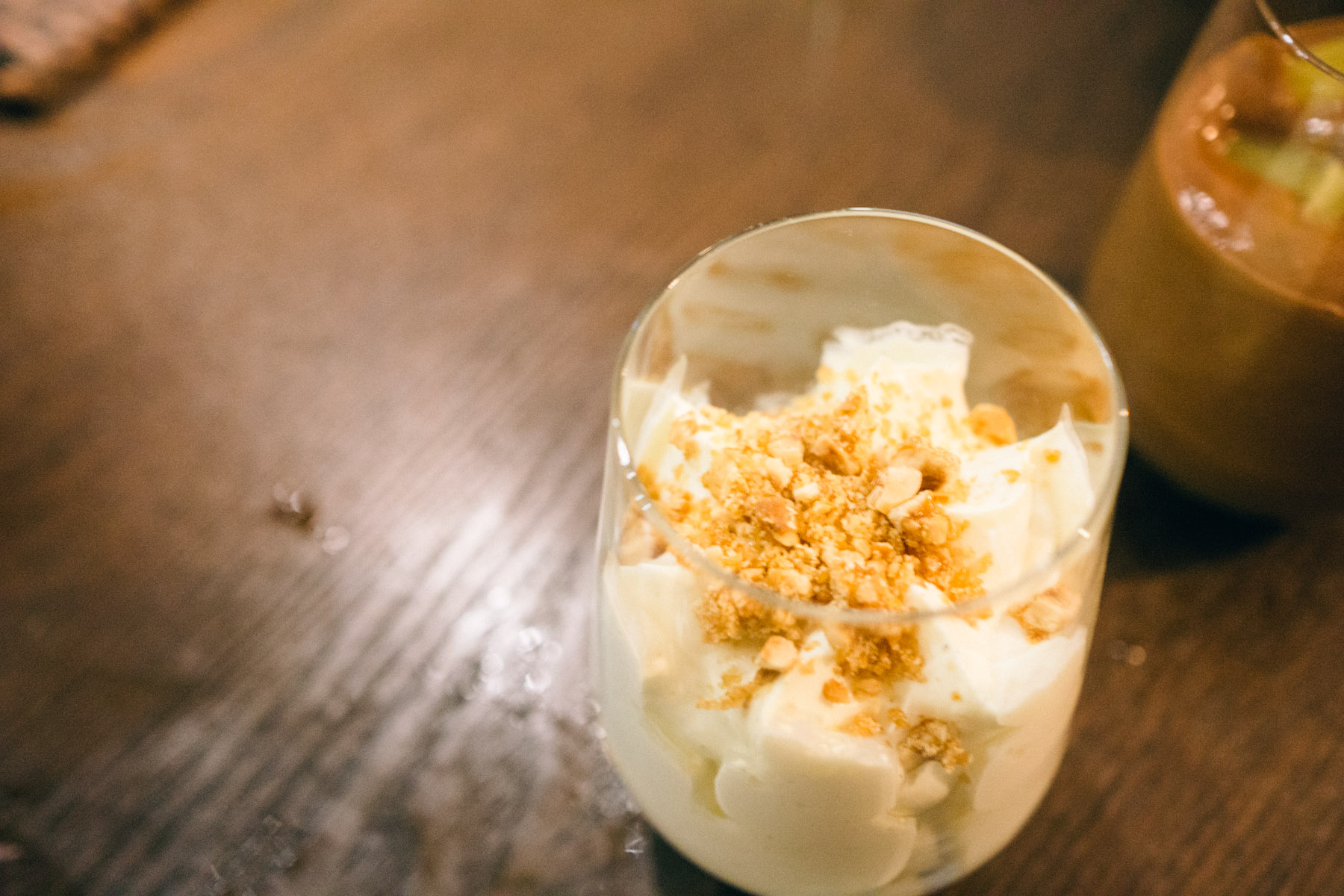 Crème Catalan, Berries & Crumbled Hazelnuts ($48 HKD or $6.25 USD). I preferred the Crème Catalan over the warm chocolate mousse – super creamy with tart berries and crunchy hazelnuts.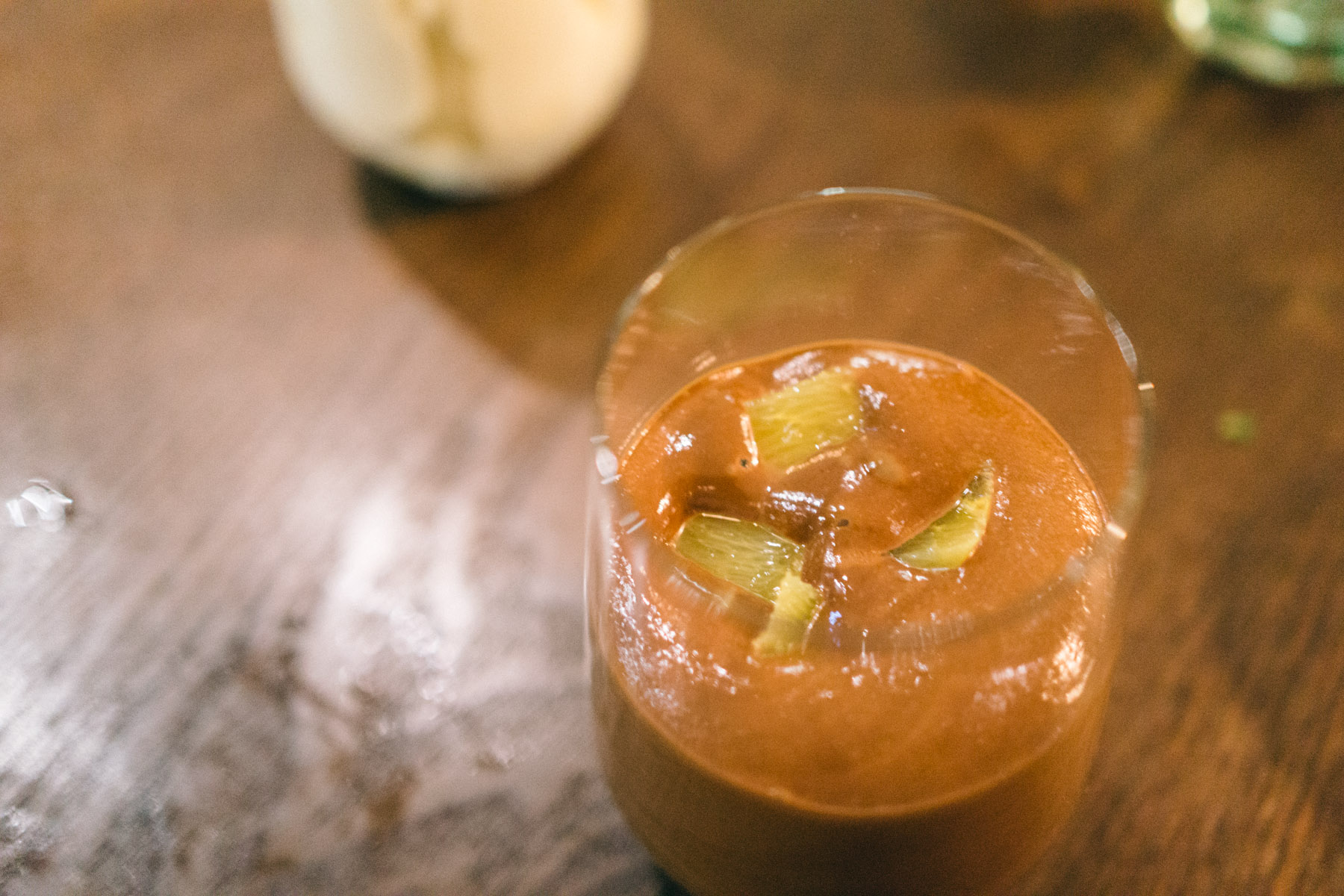 Warm Chocolate Mousse with Candied Orange ($48 HKD or $6.25 USD). I'm not that into chocolate x orange desserts, but this wasn't too shabby. The mousse was light, velvety and chocolately. The desserts at 22 Ships are definitely way better though.

1-7 Ship Street, Wan Chai, Hong Kong
p: +852 2555 0628
Dinner, European, Hong Kong, Lunch, Spanish