Hong Kong Cray !!! Second Draft Gastropub in Tai Hang
2
The Lowdown
Restaurant Name: Second Draft
Cuisine: HK Inspired Gastropub
Average Price per Person: $300 to $500 HKD or $38 to $65 USD
Location: Tai Hang, Hong Kong (see map below for details)
Recommendations: Mapo Burrata, Inked Croquettes, HK French Toast, Beet Root & Avocado, Flower Crab Pasta

Ratings (out of 5)
Taste: 4
Creativity/Authenticity: 4
Atmosphere: 4
Service: 3.5
Bang for Buck: 3.5

Crayscale !!!
What a time… for Chef May Chow, founder of Little Bao in Hong Kong. Named Asia's Best Female Chef 2017 by Asia's 50 Best Restaurants, May Chow has been slaying it, opening Little Bao's second location in Bangkok along with masterminding the food behind a brand new restaurant concept in Hong Kong. The restaurateur has perfected her tasty AF burger-sized baos and has proven herself one again with her second major project, aptly named Second Draft.
Second Draft is a collaborative venture between Chow and Young Master Ales,  a local artisanal brewery. Together, they've created a haven where craft beer and delicious food connect. The gastropub's location is perfect, in the charming neighborhood of Tai Hang, off the beaten path from the chaotic Causeway Bay. The gastropub is situated in a corner unit with large glass windows, high ceilings, and a massive bar with a curated selection of draft beer. The decor is old school with a modern twist — stainless steel taps, rustic tiled floors, and minimal Hong-Kong style chairs, tables and booths. The color palette is very nostalgic, off-white mixed with New Territory taxi green and chestnut colored furniture.
The food is simple yet playful, marrying the flavors of May's Chinese upbringing and American influence. The menu is broken down into bar snacks, small plates, greens, grains, sandwiches, proteins, and larger sharing dishes. May plays with ingredients like burrata cheese, pairing it with numbingly deliciously Sichuan mapo tofu sauce. She reinvents a classic Shanghainese dish consisting mainly of scrambled egg whites and crab served with rice and black vinegar (賽螃蟹), turning it into pasta. One of her most Instagrammable dishes is her take on HK Style French Toast topped with a huge slab of foie gras butter drizzled in Taikoo syrup.
Let's not forget about the drinks! This is a gastropub afterall. The beverage selection is major key, consisting of pages on pages of unique beer, wine, and cocktails. The beer list is carefully curated, sourcing select imports and local brews. Take a peep at the cocktail list as well! There are some flavors unique to Hong Kong that piqued my interest including black sesame, mandarin peels, aromatic spices, and more.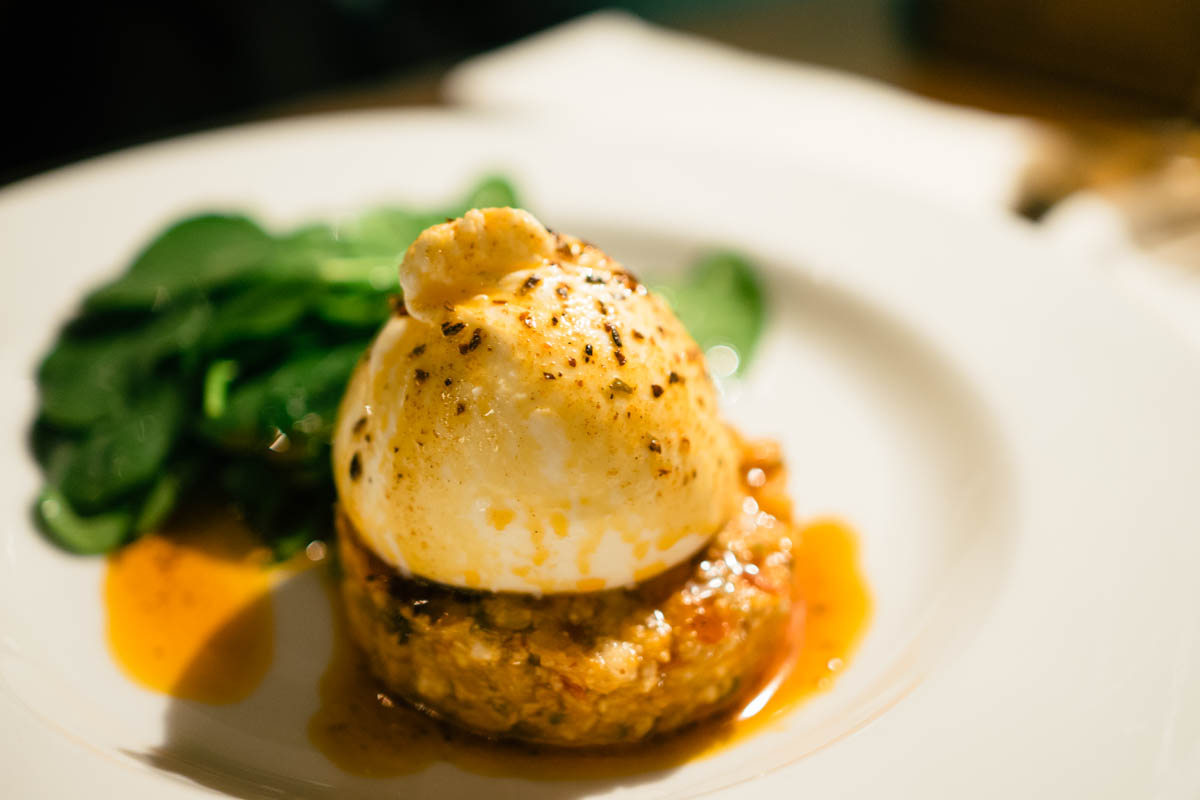 Mapo Buratta ($138 HKD or $17.80 USD). This mapo burrata is FIYAHHH !!! I love the combination of the creamy mild burrata with the spicy mapo pork ragout and baby spinach.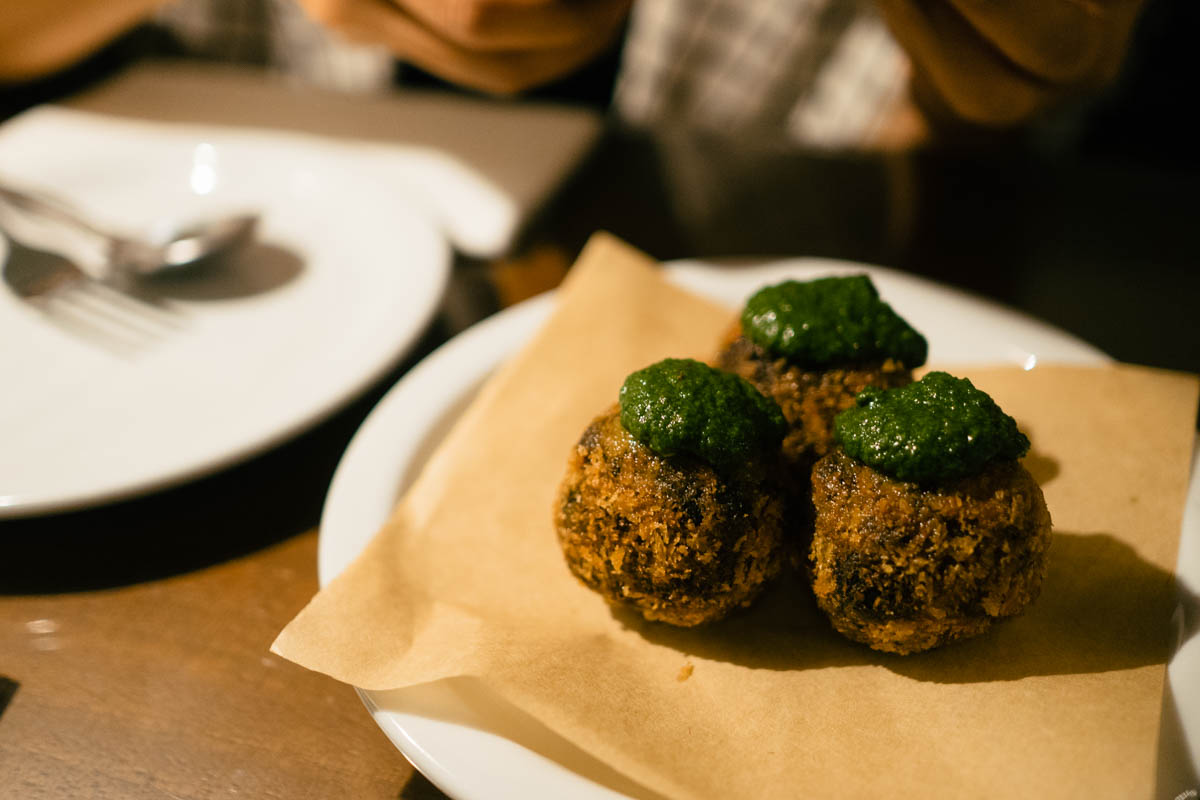 Inked Croquettes ($28 HKD or $3.60 USD per piece). These balls were delicious, crispy on the outside and packed with umami squid ink goodness.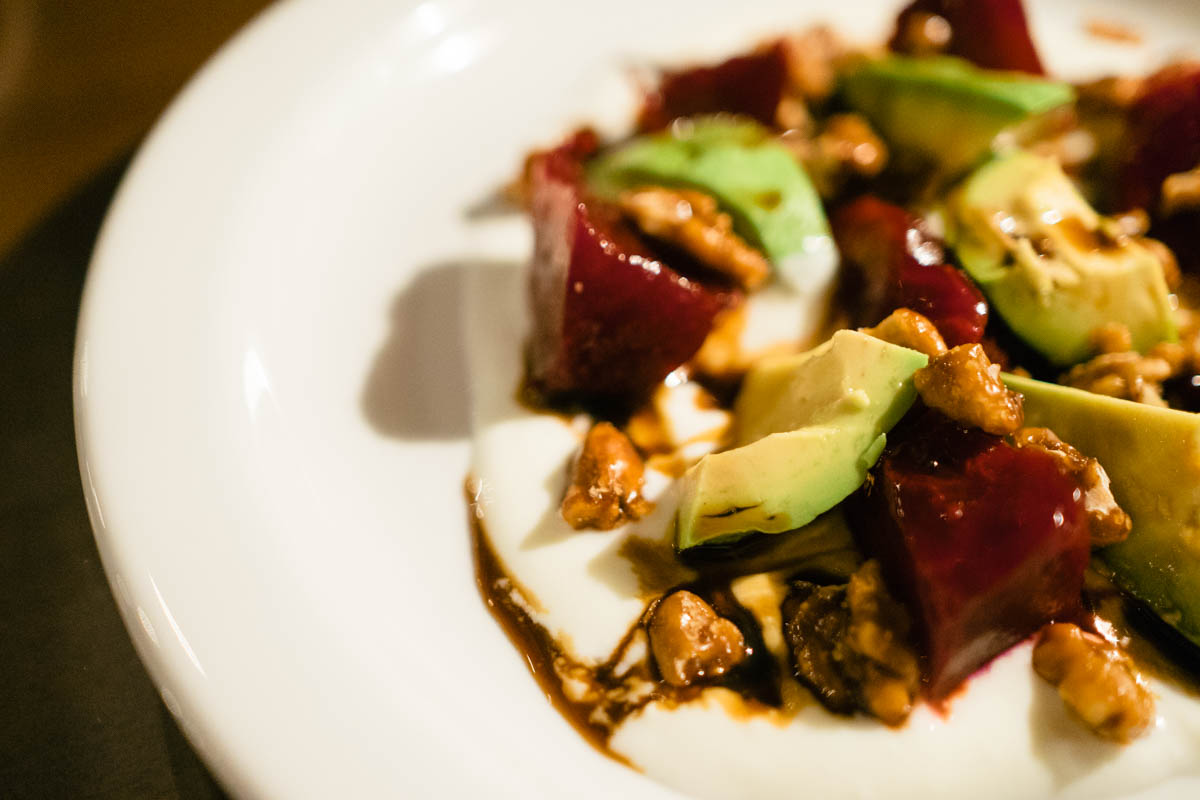 Beetroot & Avocado ($88 HKD or $11.35 USD). This dish is so perfectly balanced – crunchy beetroot, buttery avocado, sweet & sour ChinKiang Vinegar, creamy labneh yogurt, and crunchy candied walnuts.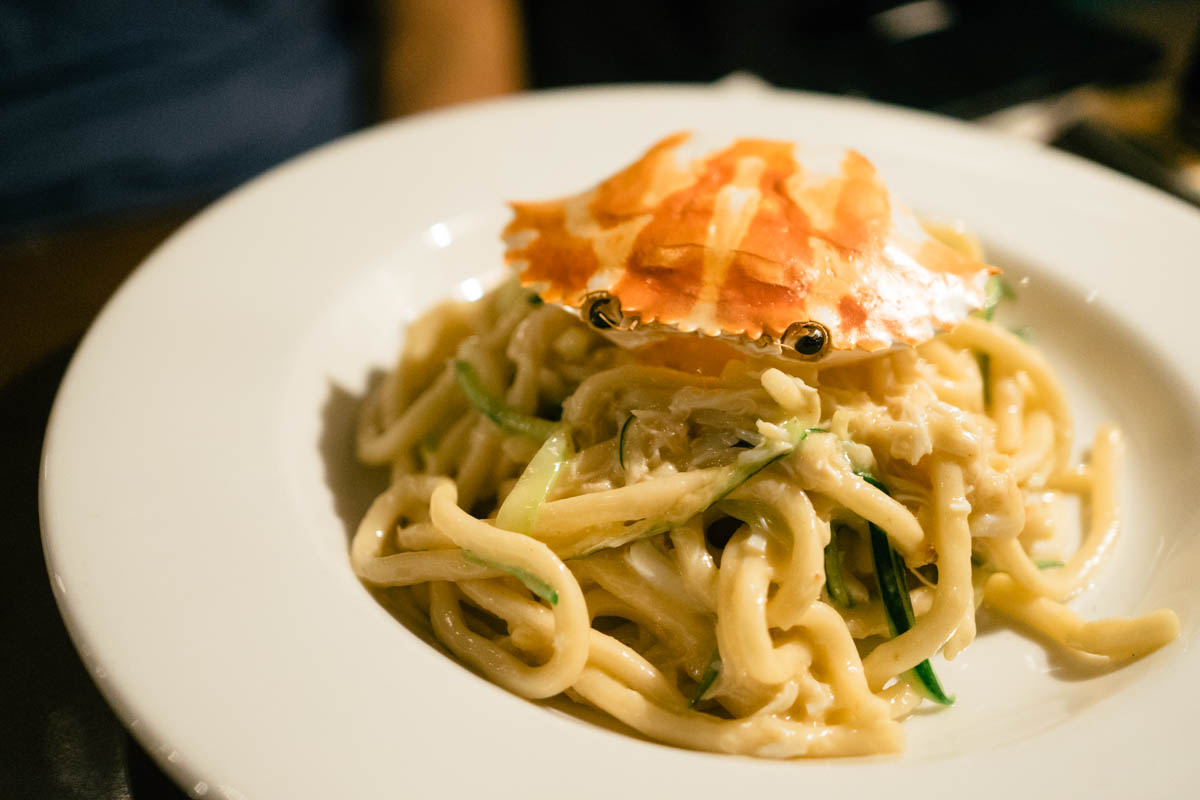 Flower Crab Pasta ($198 HKD or $25.50 USD).
Suprise! There's an egg yolk! As mentioned above, this dish is a play on a classic Shanghainese dish consisting of scrambled egg whites and crab. May's version uses Shanghainese noodles and flower crab, coated in a butter sauce, topped with a fresh egg yolk.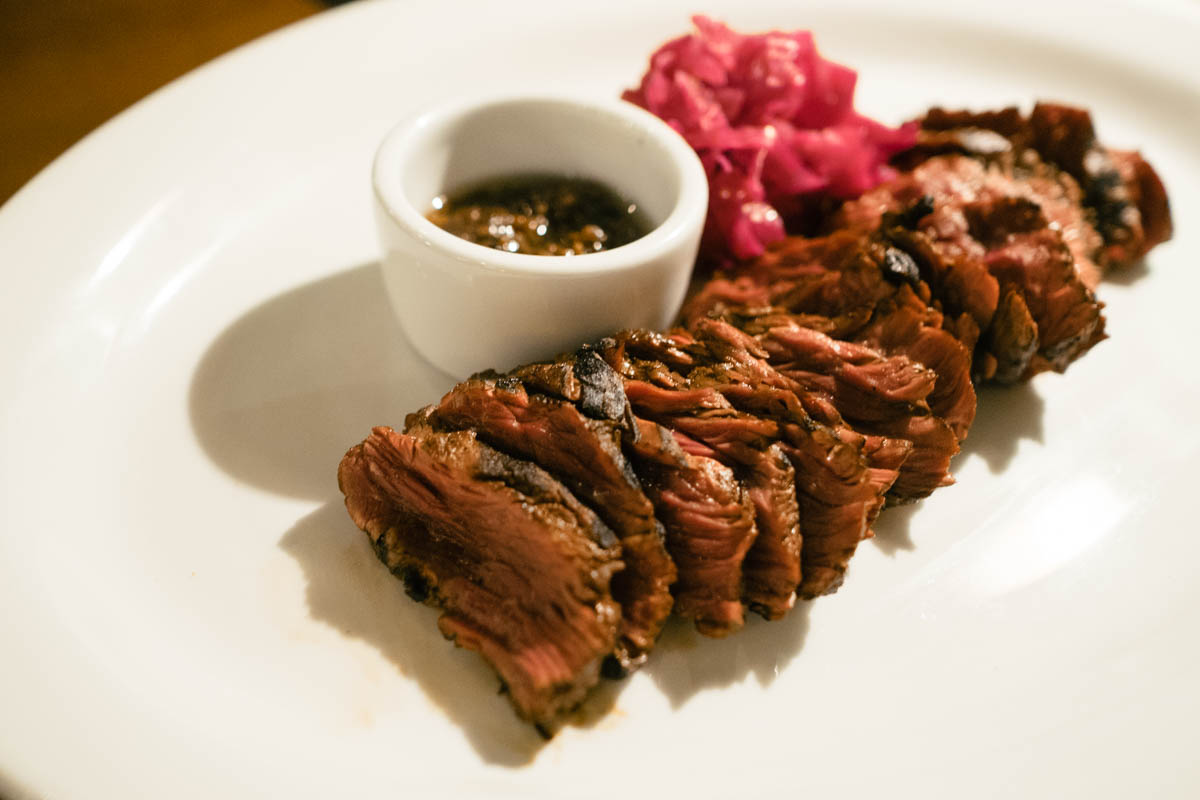 Hanger Steak ($188 HKD or $24.25 USD). The hanger steak is super simple and pretty tasty — sous vide with a light sear, served rare with black pepper oil.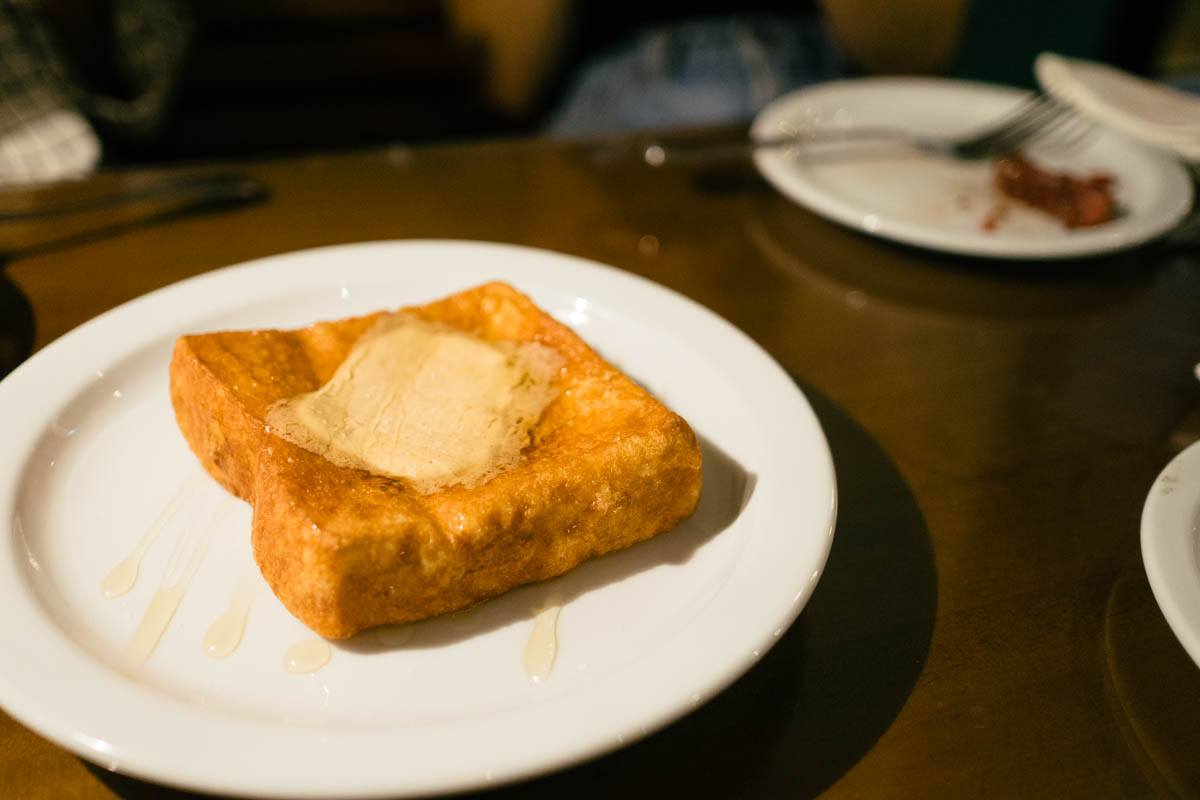 HK French Toast ($68 HKD or $8.75 USD). I've heard mixed reviews about this dish, but I actually really liked it. I'm a Pisces, so I can't help but be all sentimental and sh*t. I grew up eating this stuff every Saturday after Chinese school, minus the foie gras.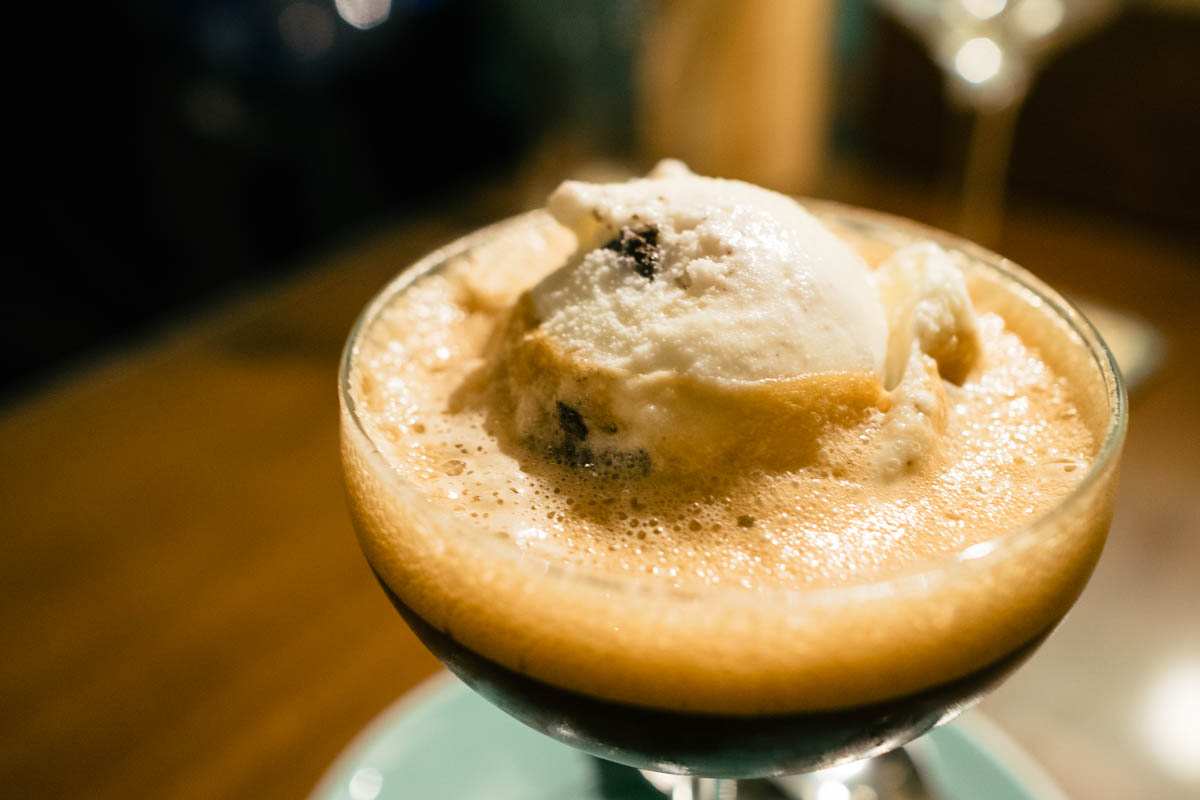 So Second Draft doesn't do dessert, but they do beer floats? I wasn't really feelin' the chunks of chocolate cookies in my beer though.

G/F, Little Tai Hang, 98 Tung Lo Wan Rd, Causeway Bay, Tai Hang
p: +852 2656 0232
Asian, Chinese, Hong Kong, Hong Kong