Hong Kong Cray !!! RONIN
4
The Lowdown
Restaurant Name: RŌNIN
Cuisine: Japanese Izakaya
Average Price per Person: $800 to $1500 HKD or $100 to $195
Location: Central, Hong Kong (please refer to the map below for details)
Recommendations: Shigoku Oyster, Uni Panko , Flower Crab, Sardines, Market Chips, Fried Quail, Tiger Fish, Market Fish Karaage, Kogoshima Beef and Unagi Chirashi

Ratings (out of 5)
Taste: 4.5
Creativity/Authenticity: 4.5
Atmosphere: 4
Service: 5
Bang for Buck: 4
Crayscale !!!

One of my favorite restaurants in Hong Kong, Yardbird, recently expanded opening their second restaurant, RŌNIN (#2Chainz)! This was probably one of this year's most highly anticipated opening of all restaurants in Hong Kong. Given the tremendous success of Yardbird over the past two years, I was definitely curious and excited to see what, the fellow Albertan homies Matt "Shirt-Rippin'" Abergel and Lindsay Jang, the brains behind it all, had been schemin'.
Unlike it's all chicken errthang sister, RŌNIN's main focus is fish and seafood. It's kind of hard defining RŌNIN's cuisine, but I guess you could call it a Japanese-influenced seafood-centric restaurant. Having worked with fish throughout his entire career as a chef, Matt experiments with a plethora of fresh fish, ingredients and techniques cooking up different menus on the daily depending on what's fresh that day. The menu literally changes every day, each date stamped and never to be reused again. If you're not all that into fish, no worries, there are a ton of other types of seafood on the menu along with quail, udon and KAGOSHIMA beef !!!
RŌNIN's aesthetics and atmosphere are completely different to its PIC, Yardbird. Yardbird occupies a bigger space filled with more tables, packed with more bodies, can get  pretty rowdy at times and definitely louder. It's comparably brighter giving off a casual and bumpin' vibe. RÖNIN's got a classier feel, dimly lit, slightly mysterious, more sophisticated and refined. I love the interior of RÖNIN with strong inspirations and help from Vans with the gritty (texture) walls! Through every detail, from the Vans upholstered walls  to the handmade coasters,  you can see how much TLC has been exerted in creating their second child, RŌNIN.
I trust Matt 100% so I let him decide what went into my mouth, omakase steez.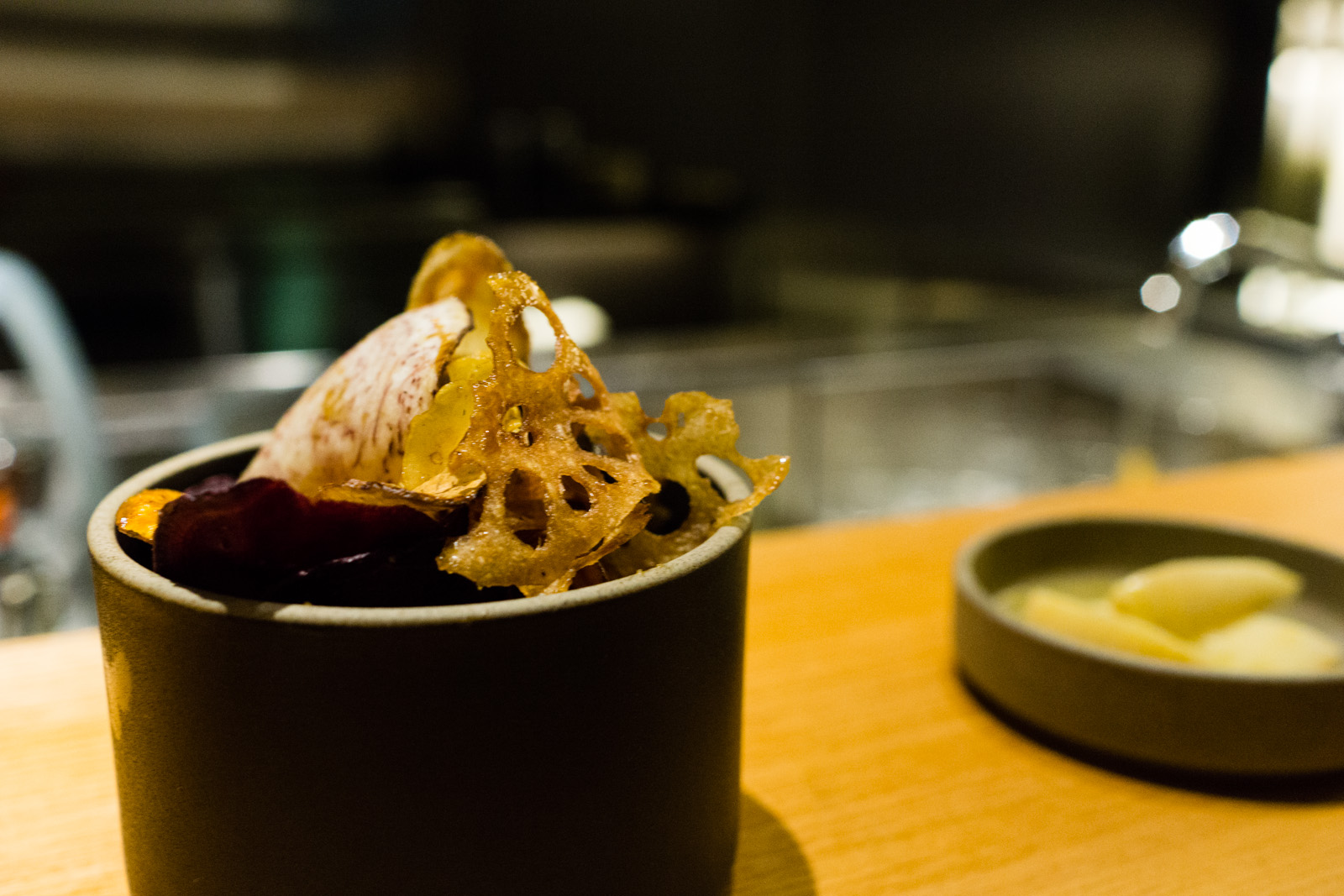 Market Chips with black sugar and Kyoto shichimi ($38 HKD or $4.90 USD). We started the meal off with 17 types of fried dericiousness including lotus root, 3 kinds of sweet potato, taro, chestnuts, pumpkin, turnip and then some. The chips were mad crispy drizzled with sweet black sugar syrup and dusted with shichimi. They are hella addictive and keep you entertained as you try to guess exactly which root vegetable you're popping into your mouth.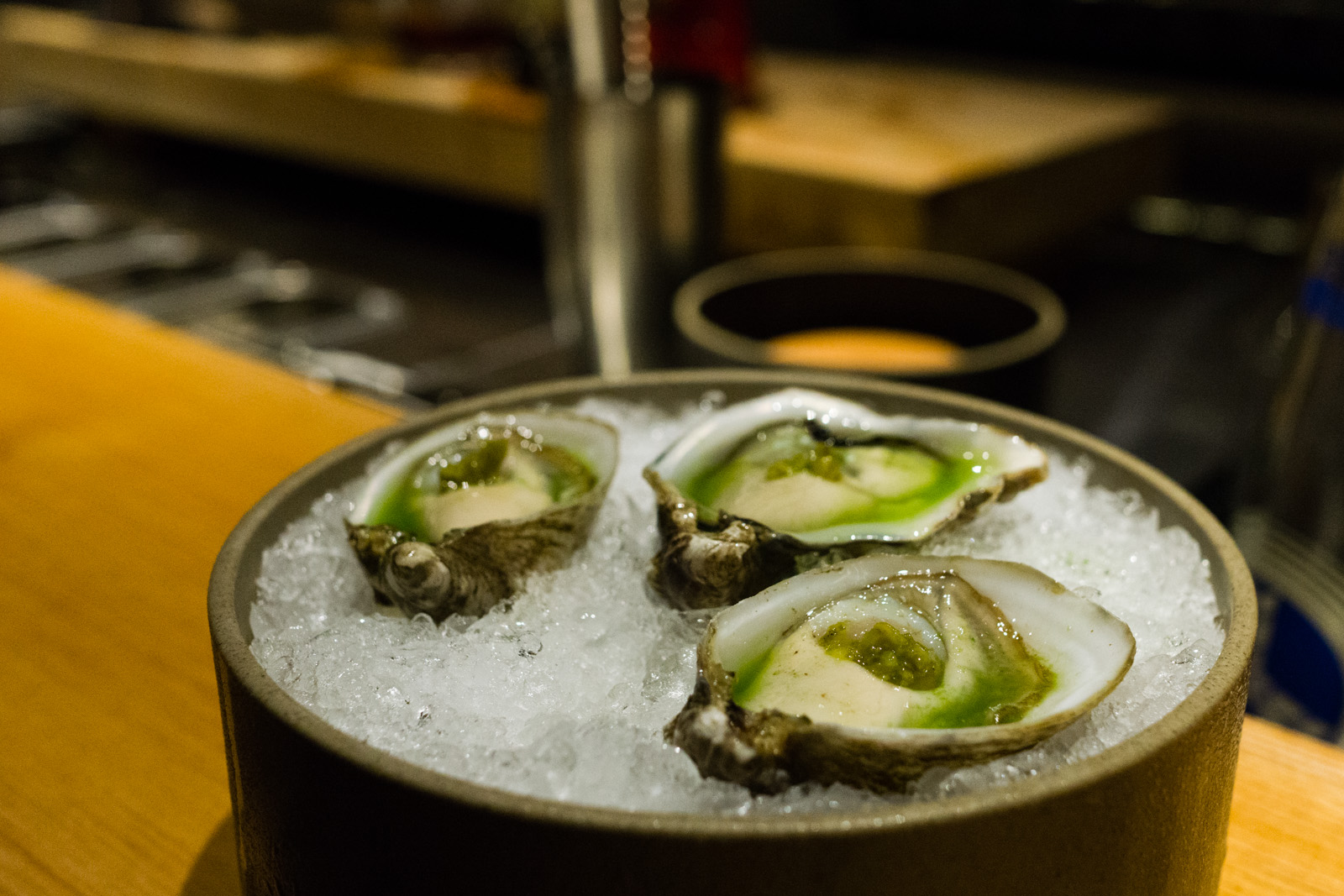 Shigoku Oyster with Cucumber Water and Yuzu Kosho ($42 HKD or $5.40 USD). I lurrvee raw oysters. These bad boys were perfectly presented, deliciously refreshing and had an amazing kick from the yuzu kosho.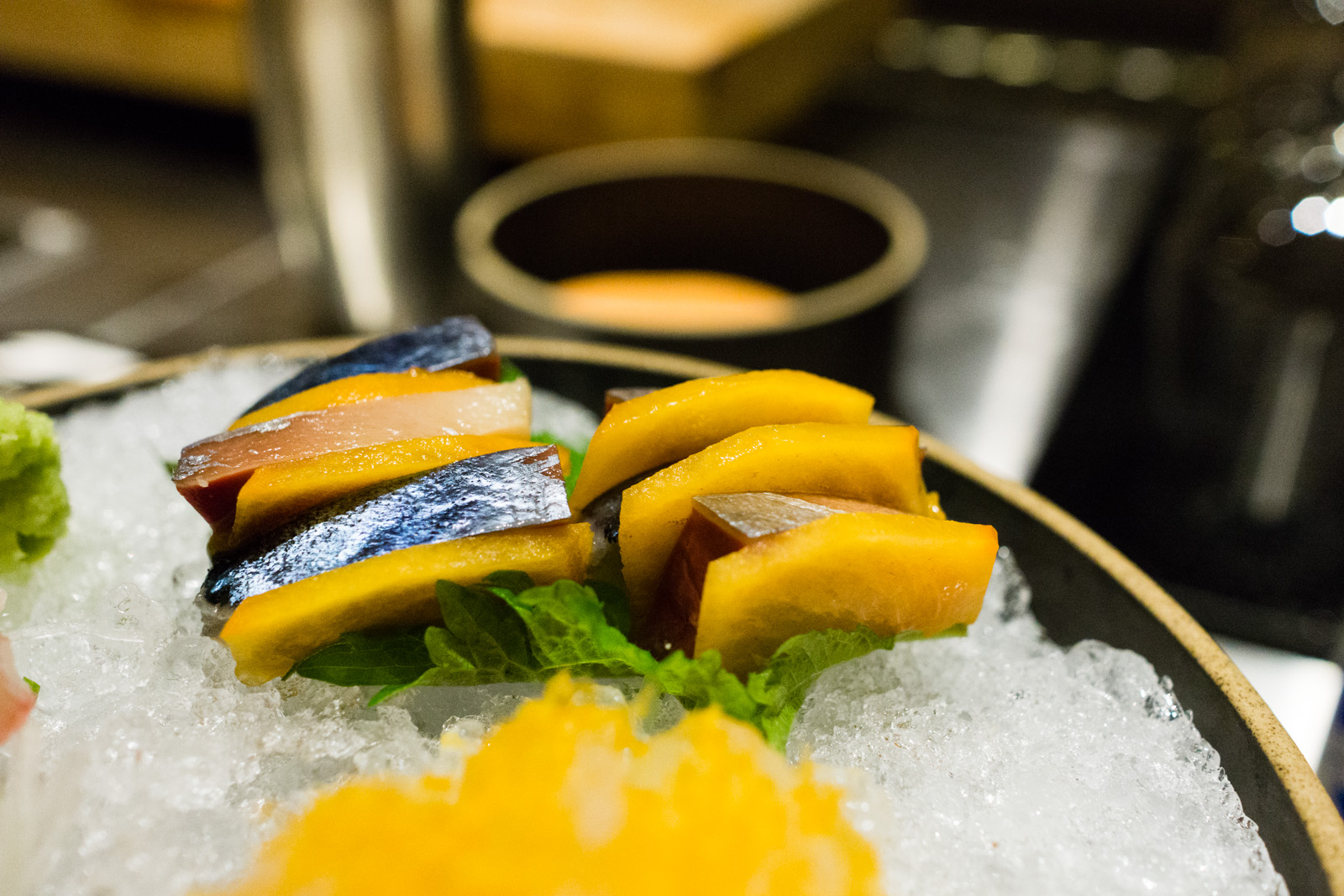 Saba Mackerel Sashimi with Persimmon ($62 HKD or $8 USD). This was my favorite of the 3 raw fish we tried. I'm used to having Mackerel with grated ginger, lemon and green onion, but the sweetness of the persimmon with the fresh Mackerel was on point.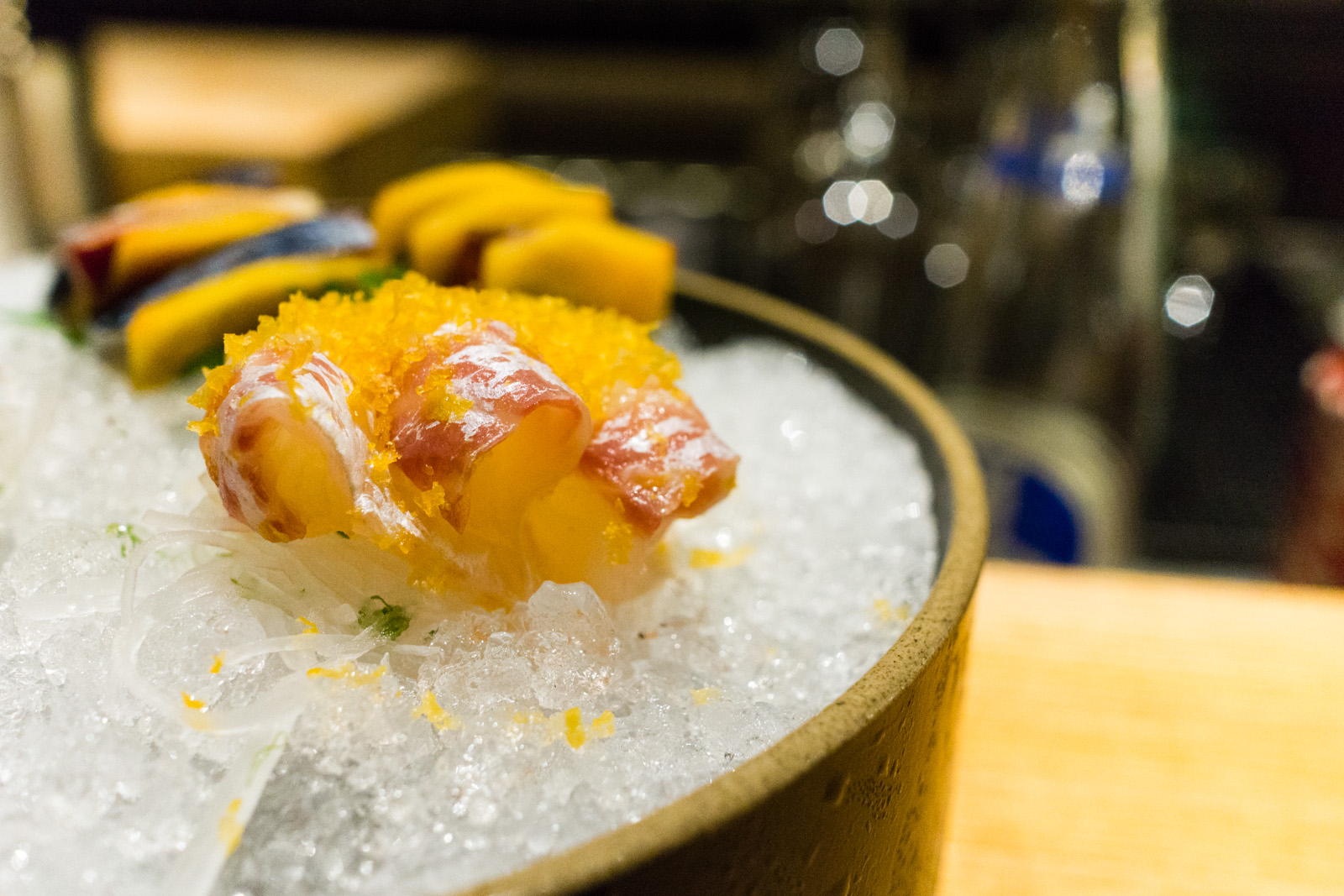 Tai Sea Bream Sashimi with Karasumi and Yuzu ($62 HKD or $8 USD). The Tai Sea Bream with zesty yuzu and the saltiness of the karasumi was the runner up.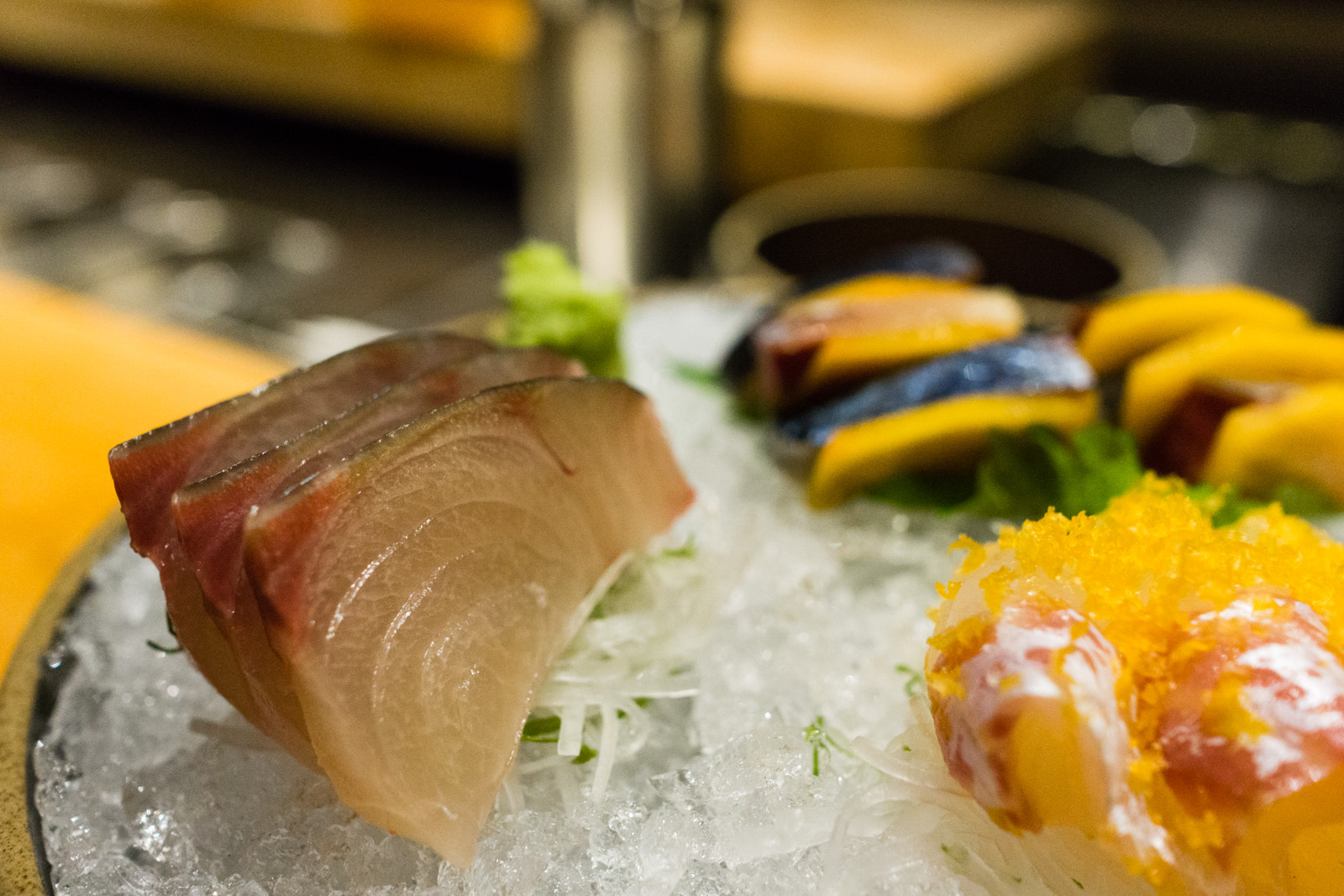 Shima Aji Sashimi ($62 HKD or $8 USD). The Shima Aji Sashimi was good all on it's own with just a touch of fresh wasabi, the real ish, none of that powdered garbage.
Uni with Fresh Nori, and Aonori Panko ($200 HKD or $25.60 USD). OH MY CHOW. This stuff is CRACK! The uni is fresh, creamy and tastes amazing with the nori and crispy panko bits.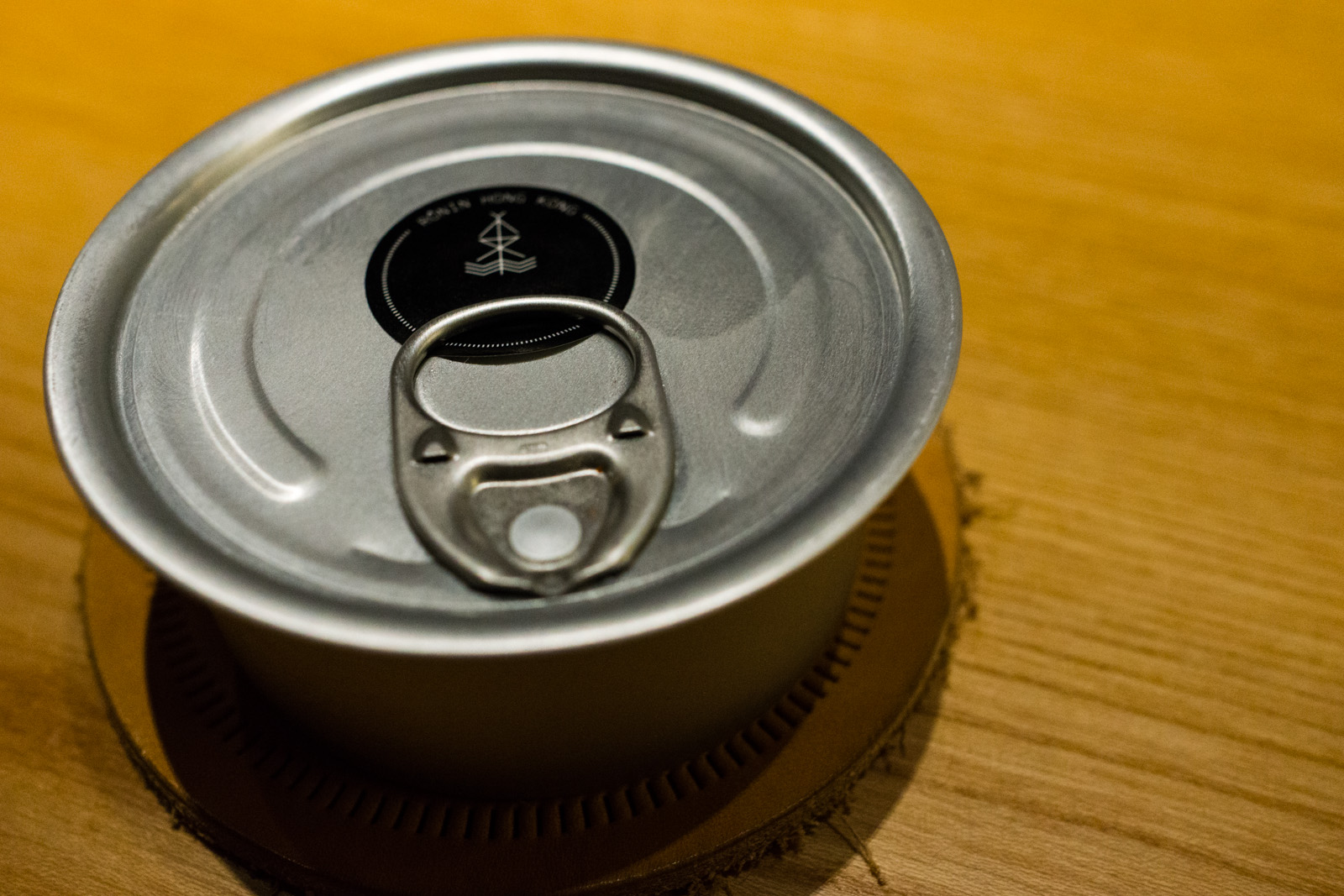 Sardines with Pickled Tomato and Eggplant ($90 HKD or $11.50 USD). Unfortunately it's no longer served like this 🙁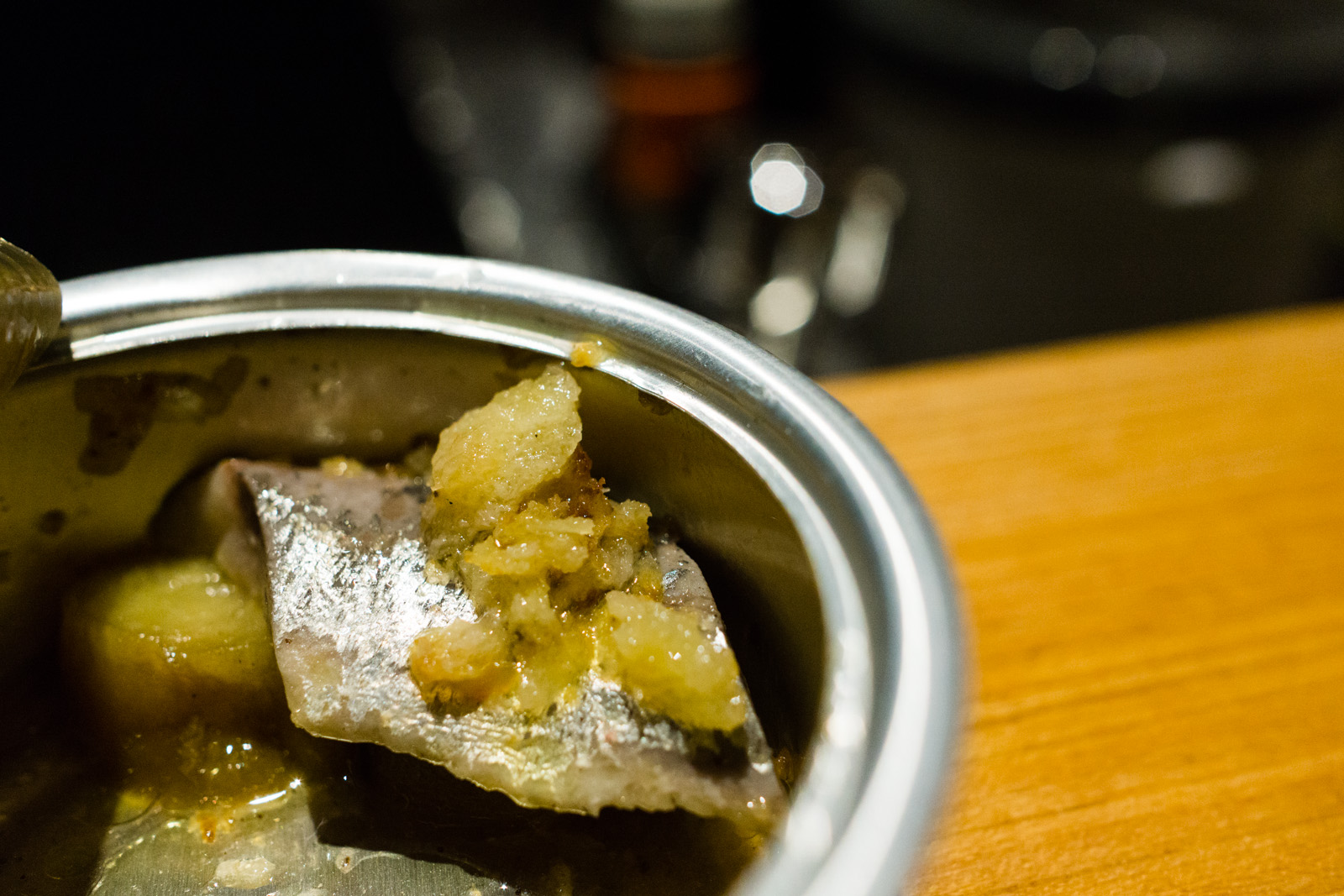 The presentation of this dish was dope. The dish is served in a tin can (using a reverse can-opener) that you get to crack open yourself!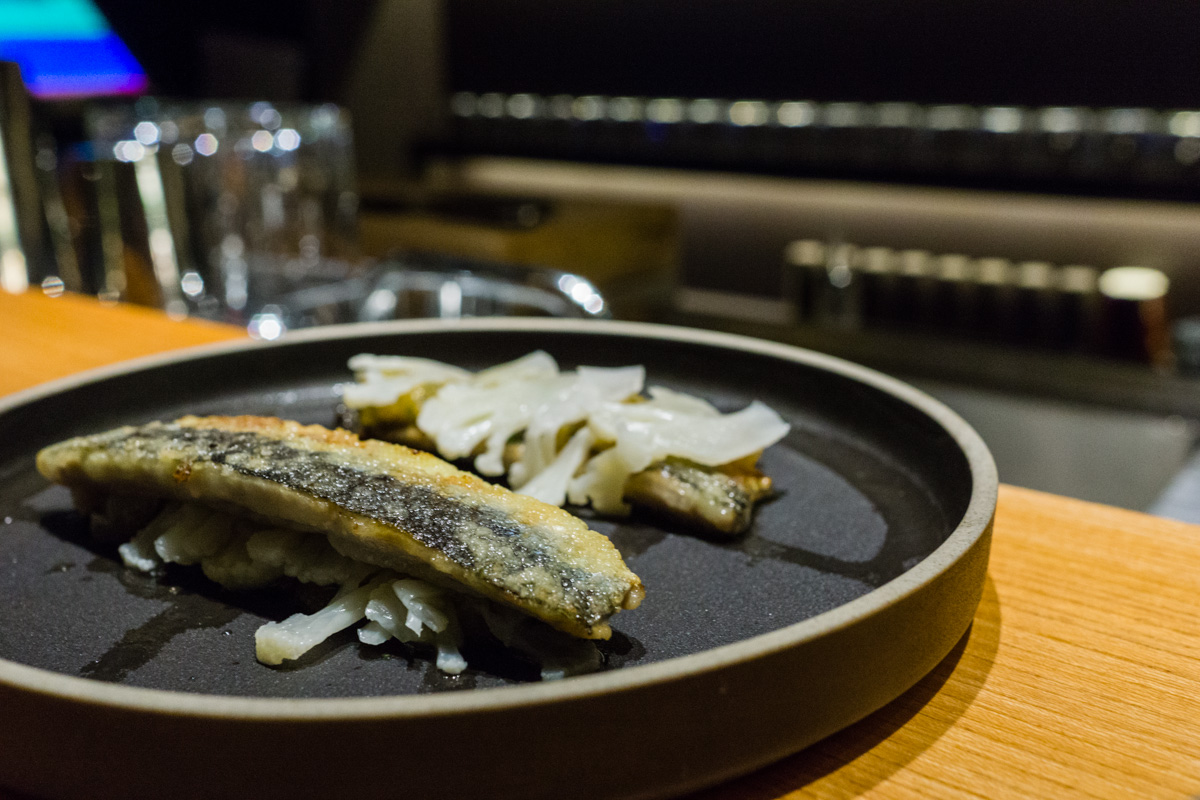 Sardines with Pickled Eggplant, Tomato and Cauliflower. I had this on my latest visited to RŌNIN. This is a rendition of the sardine dish above. I personally enjoyed the flavors of this dish a lot more than the canned sardine, but I am a sucker for presentation so the other dish wins points for that.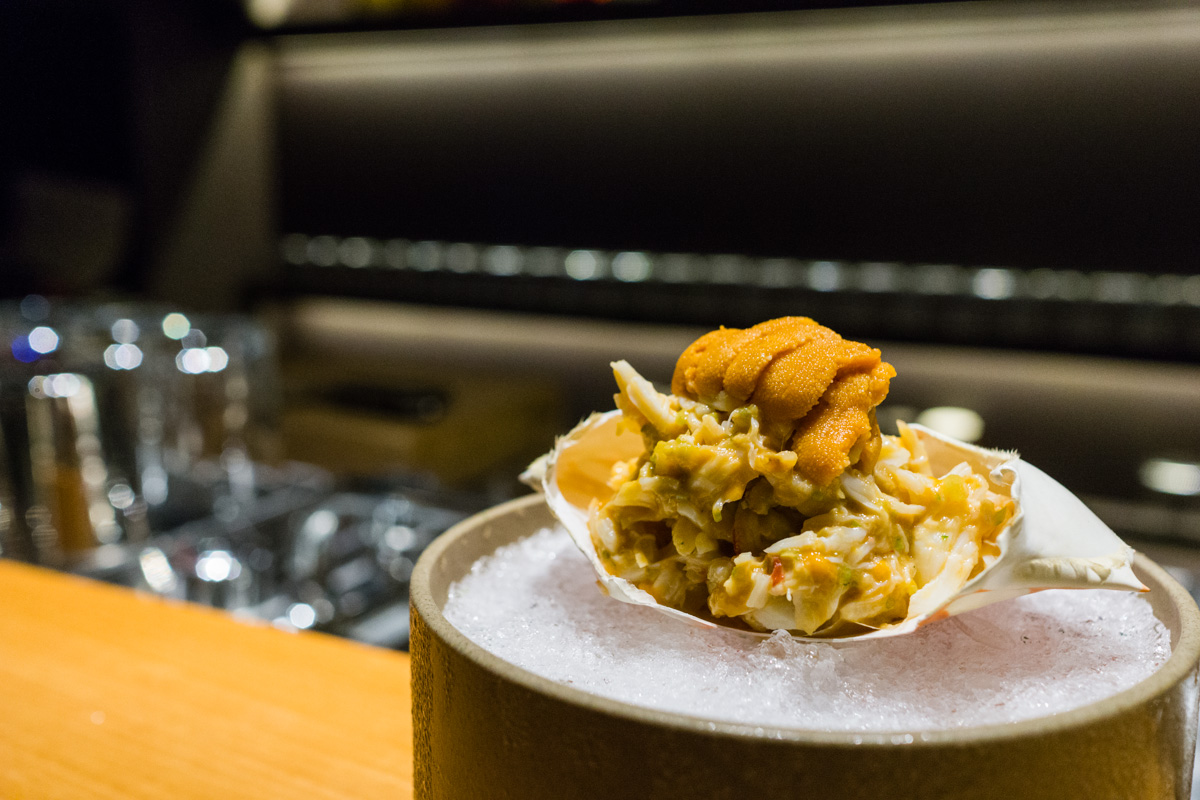 Flower Crab with Mitsuba and Uni ($280 HKD or $35 USD).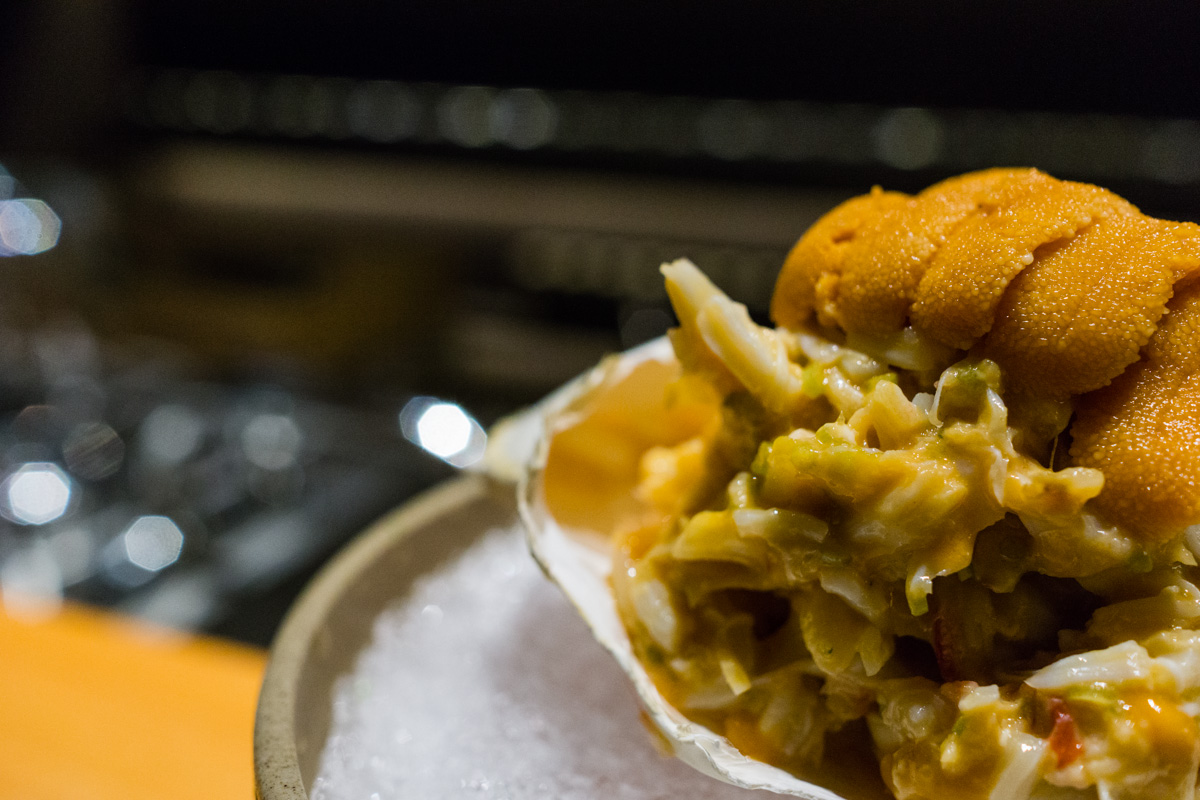 I have a love/hate relationship with crab. I love eating it, but I hate peeling it which is one of the reasons why I loved this dish. The crab meat was sweet and was incredible paired with that fat load of fresh creamy uni.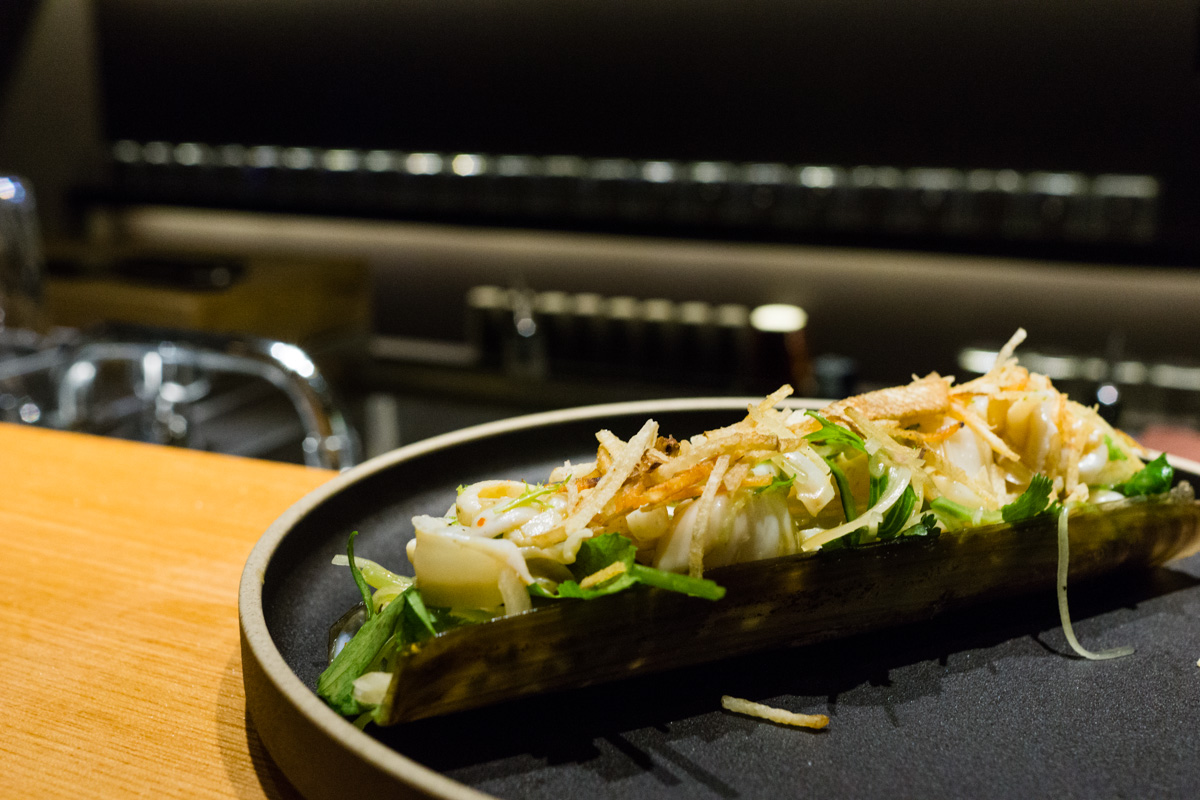 Razor Clam with a Shichimi Vinaigrette and Crispy Yam ($120 HKD or $15 USD).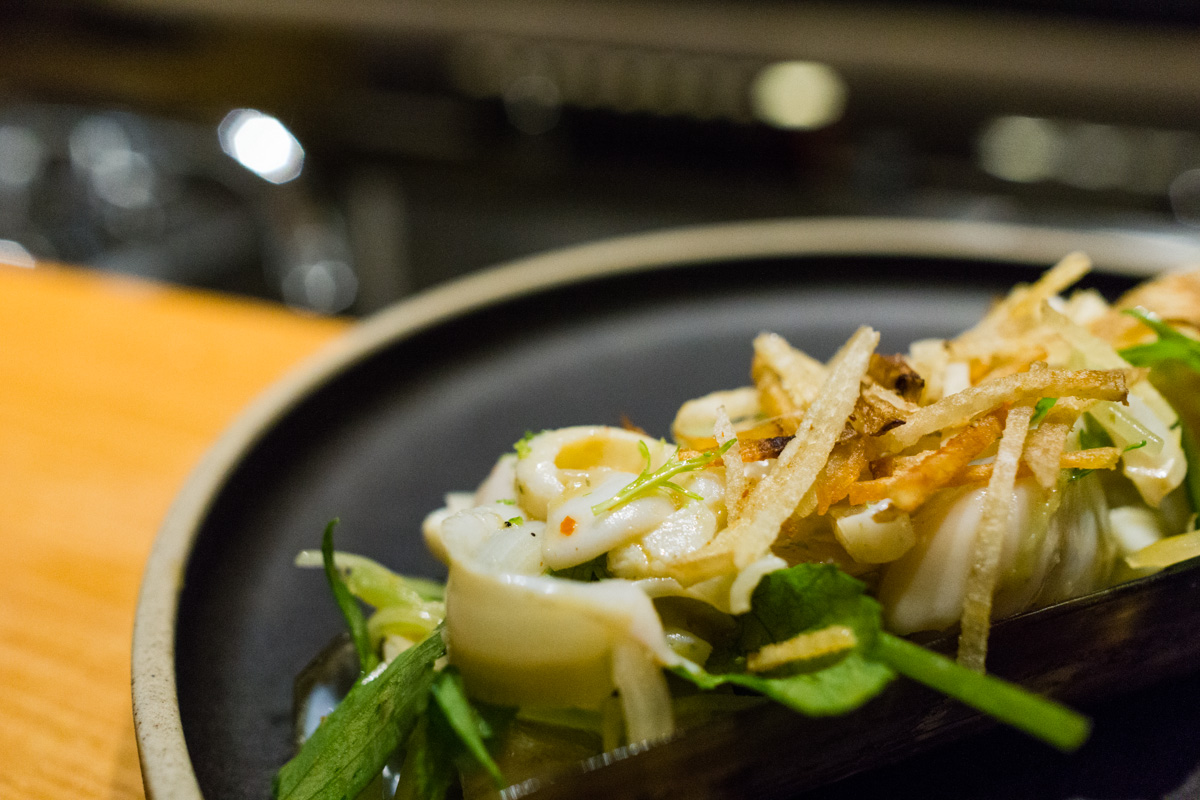 This was probably one of the fattest razor clams I've ever eaten. I like the different use of textures and the contrast of the chewy clams with crispy yam! The crispy yam reminded me of Hickory Sticks! It wasn't the most well-seasoned though.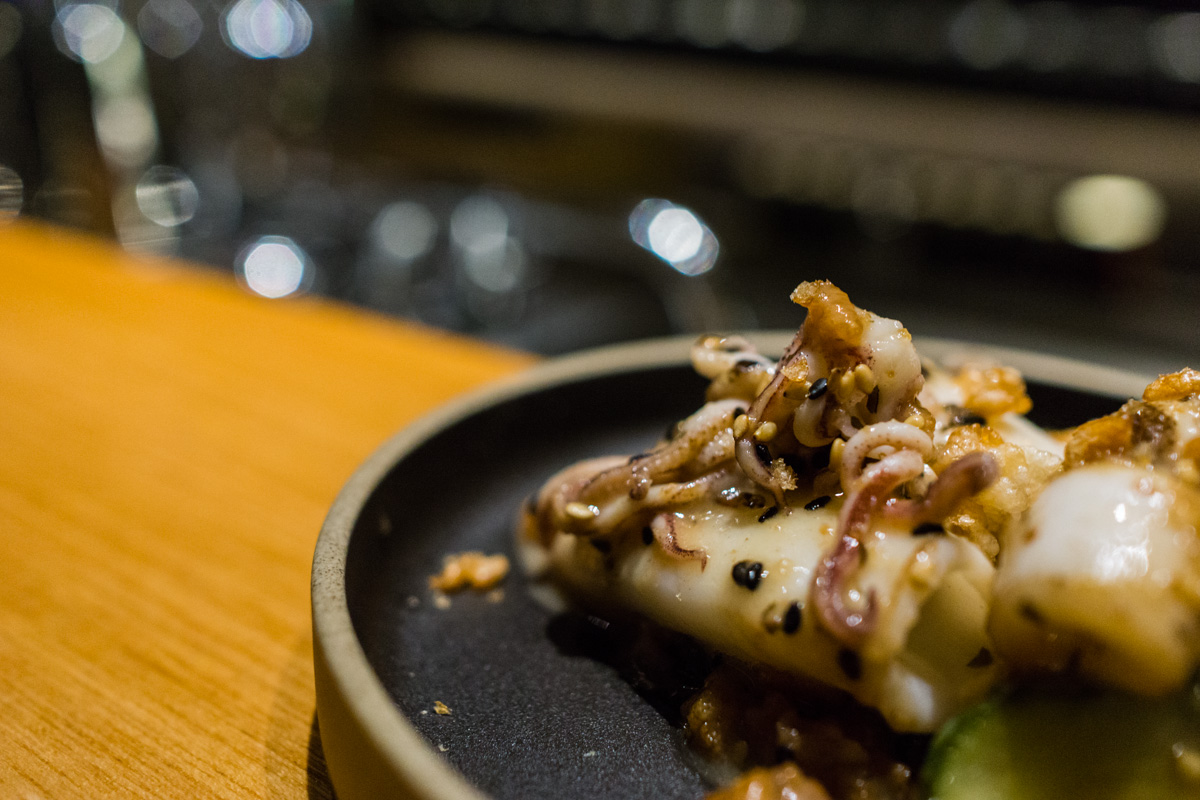 Baby Squid with Ume and Cucumber ($90 HKD or $11.50 USD). The squid was perfectly cooked and flavorful. Another well considered move on textures with the crunchy pickled cucumbers, crispy fried grains or rice and nutty sesame seeds.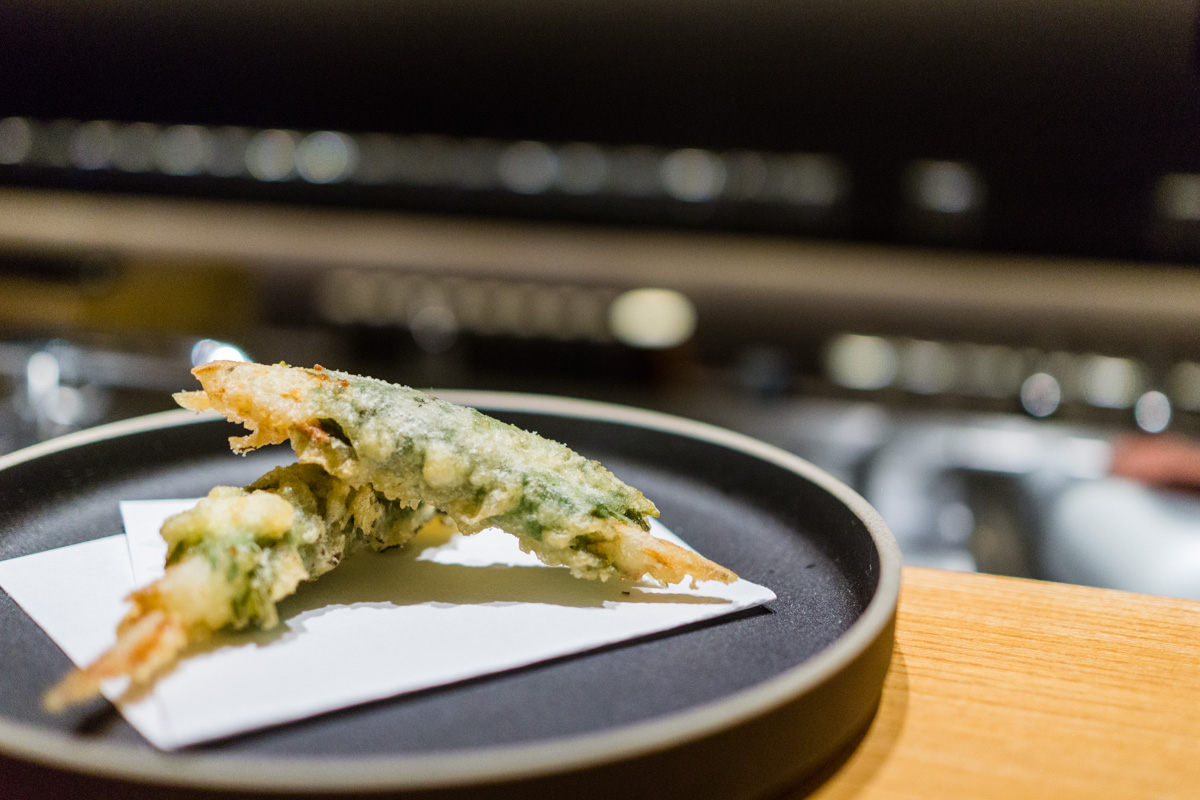 Whitebait Tempura with Mentaiko and Shiso served with sesame salt ($90 HKD or $11.50 USD).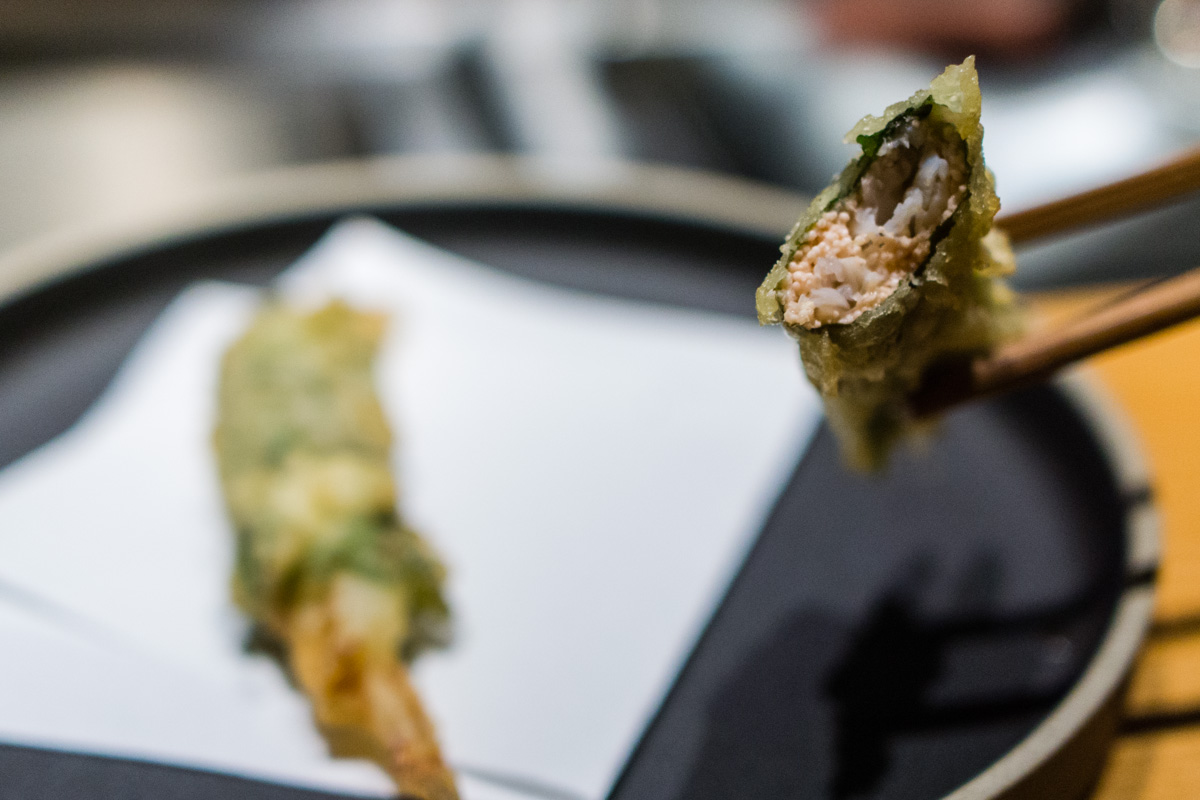 This was another delicious dish consisting of crispy fried fragrant shiso wrapped around the moist skinny whitebait and beads of salty mentaiko.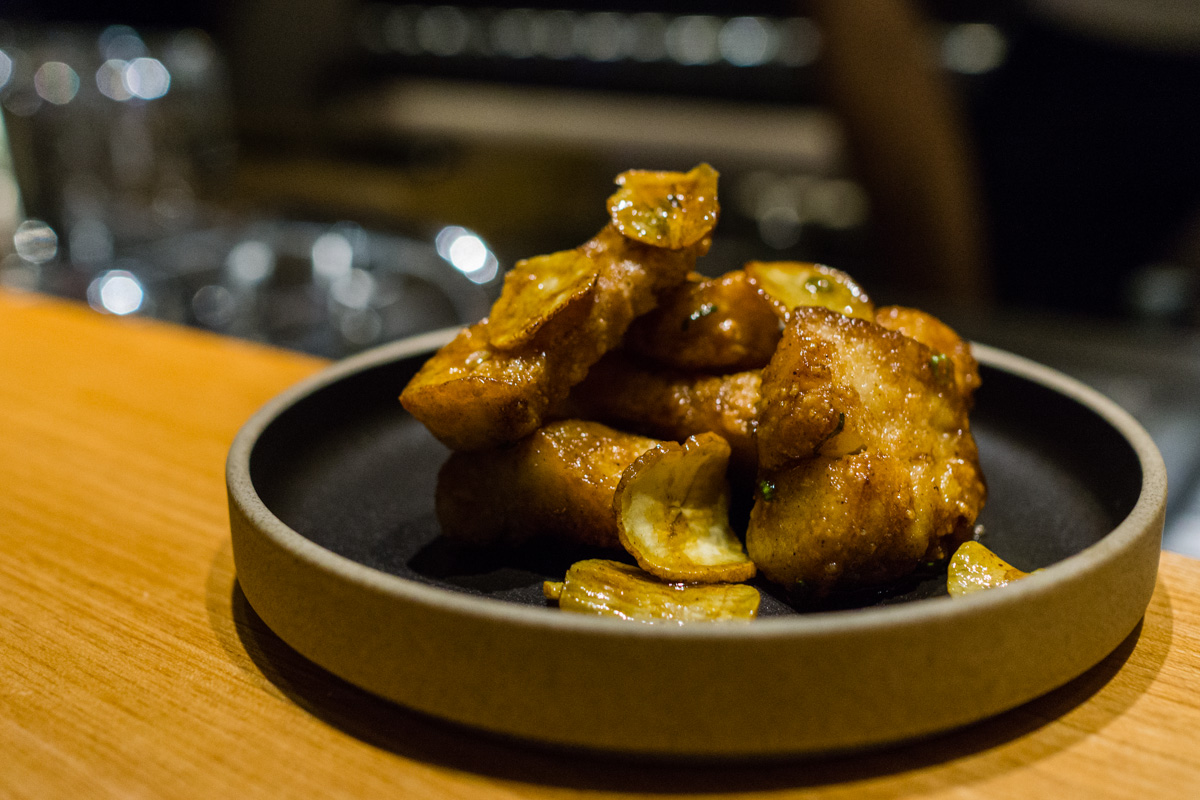 Tigerfish with Honey, Kyoto Shichimi and Chestnuts ($110 HKD or $14 USD).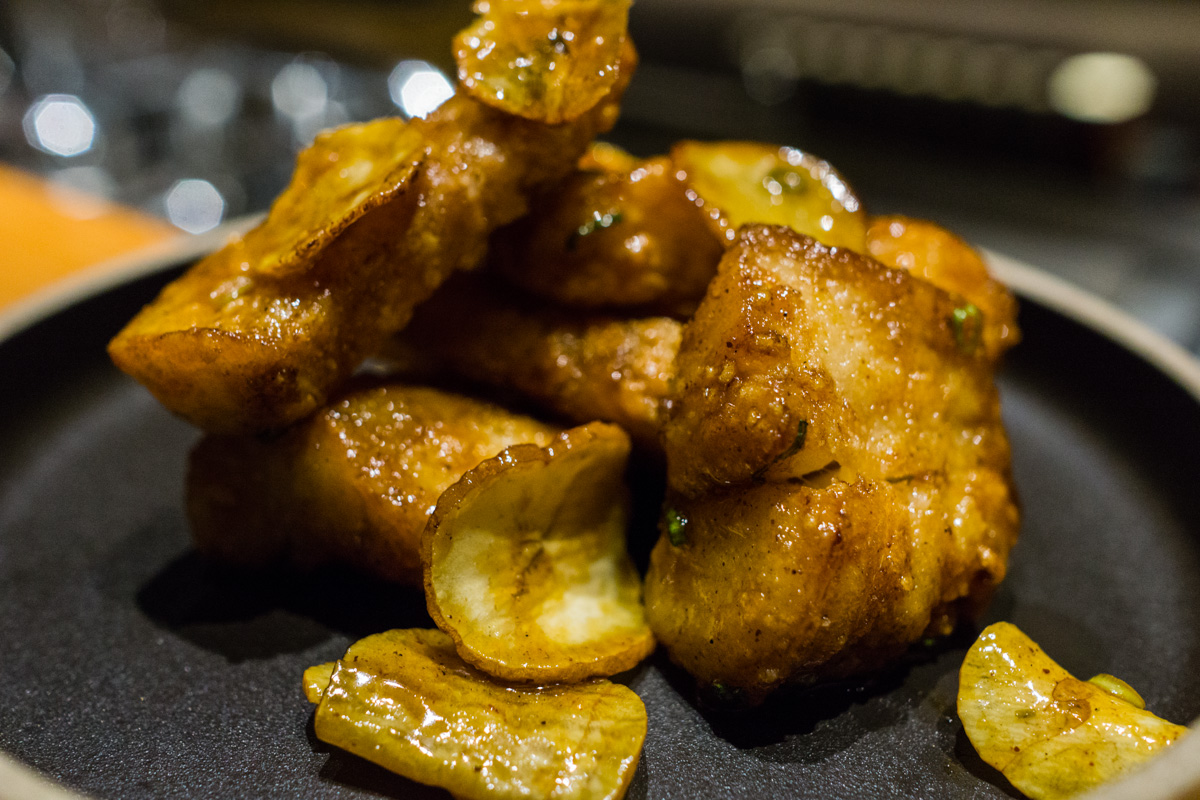 The honey glazed fried tiger fish with slices of crunchy chestnut was legit. The fish was sweet, tender and most. I couldn't stop eating the chestnuts, soooo good!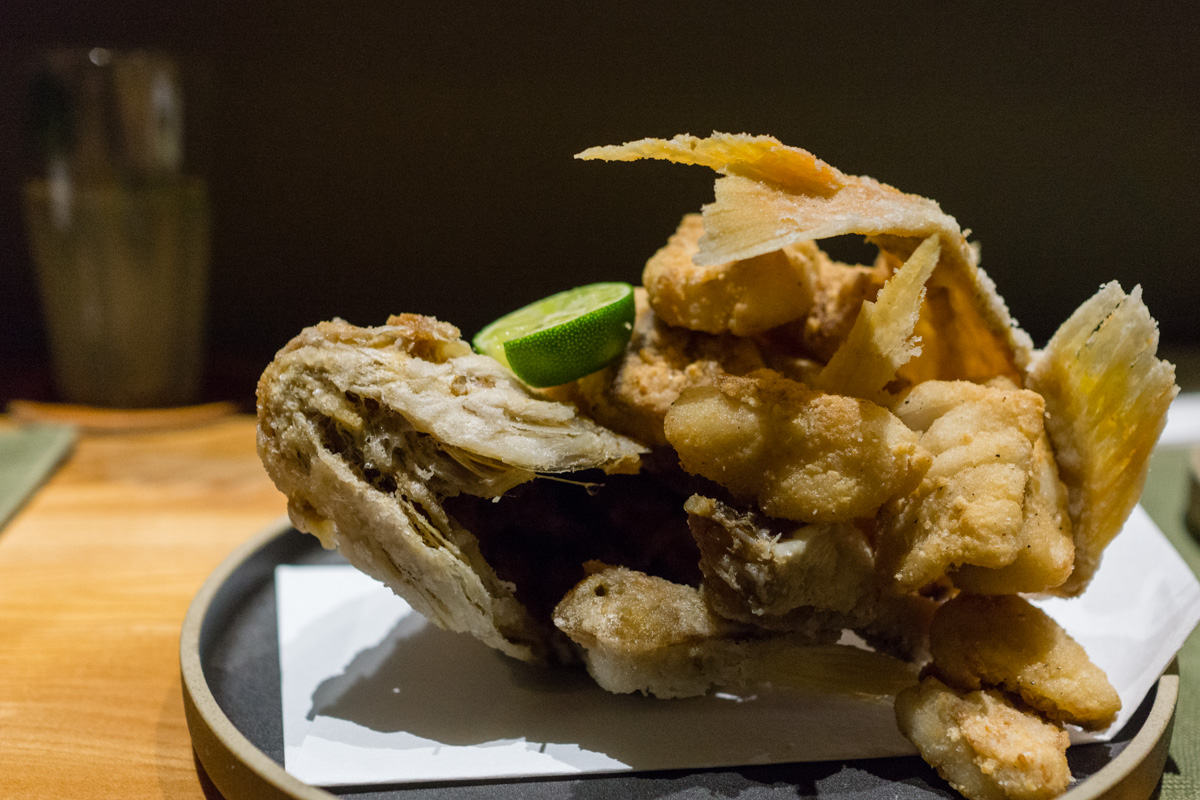 Market Fish Karaage with Yuzu Kosho Mayo. This fish was bad ass. The fish is cut up into cubes, fried, then pieced back together like a puzzle. The fish's skeleton is also fried to the point where the bones are edible too.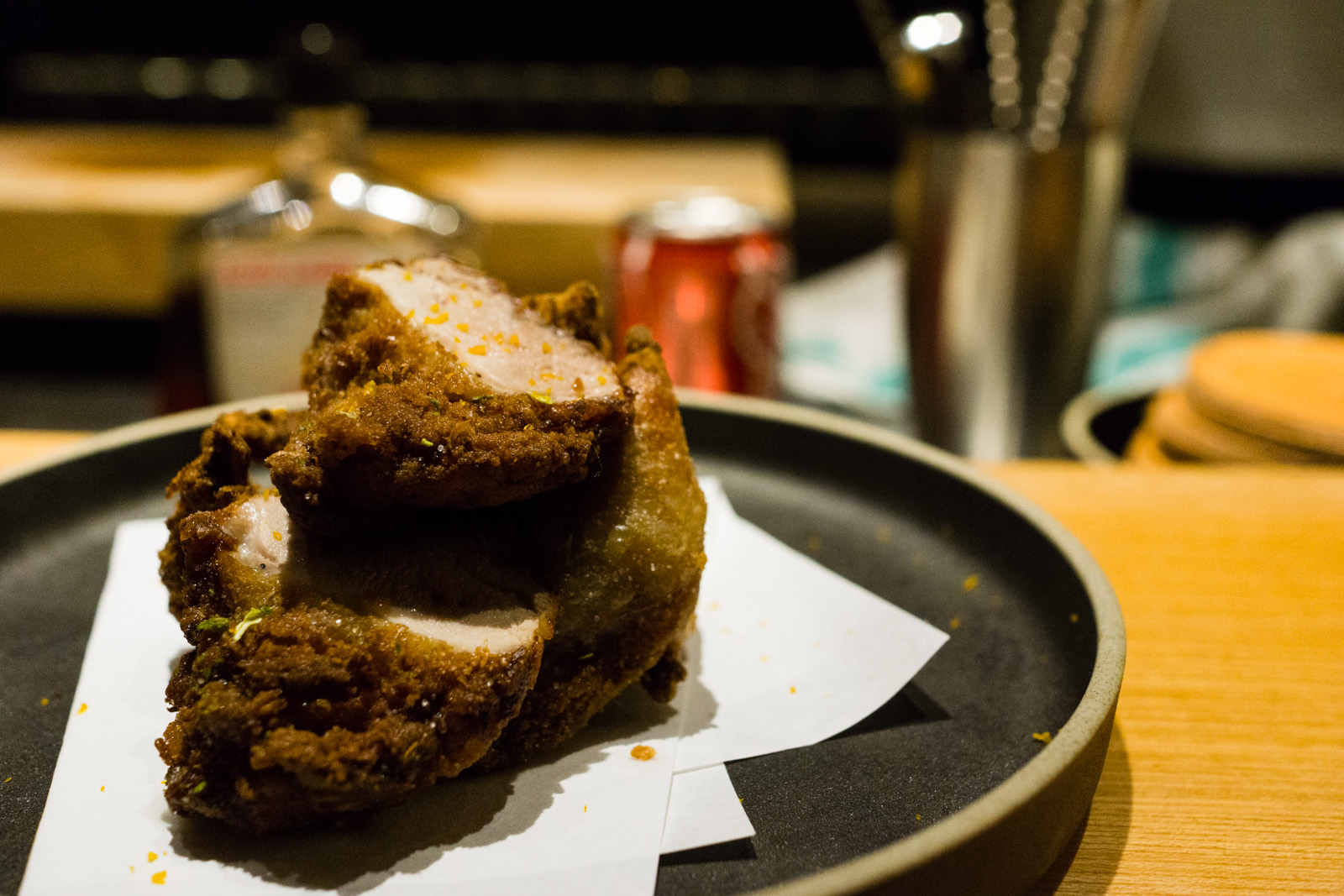 Fried Quail with Sansho and Orange ($150 HKD or $19 USD). The bird's skin was crispy, the meat was moist and nailed it with that sansho.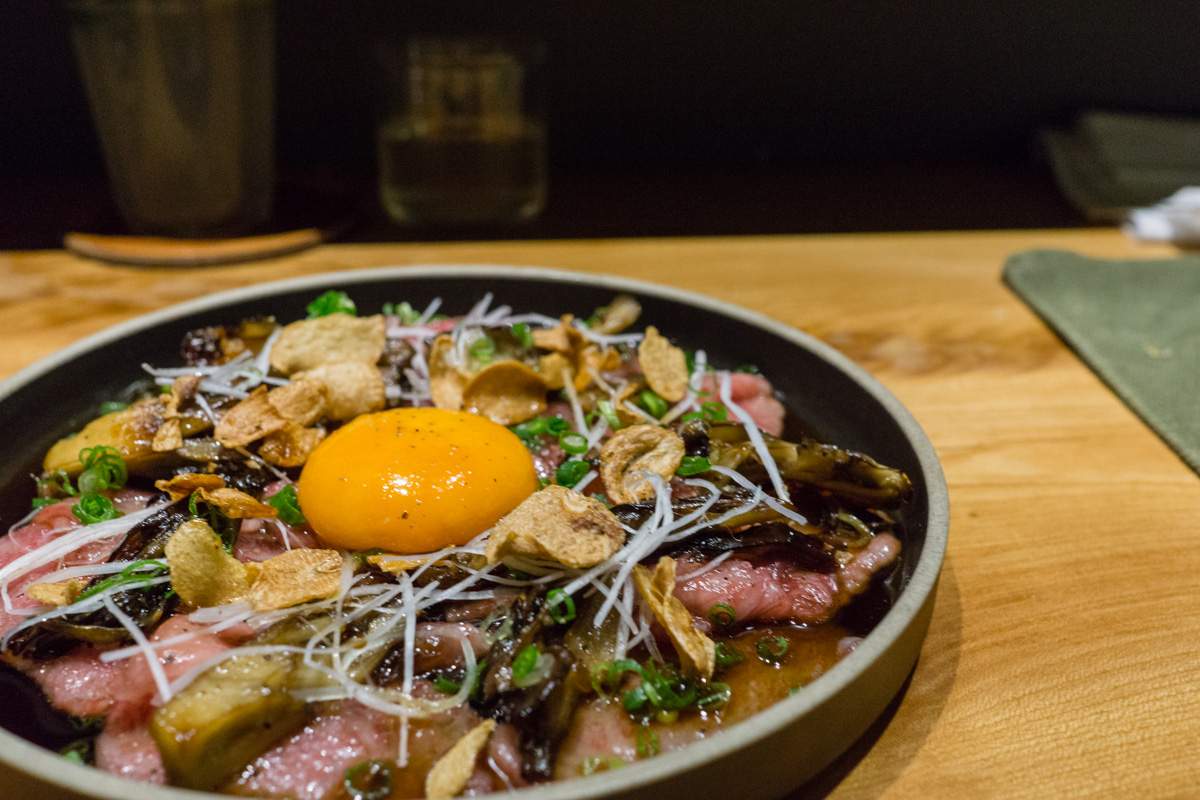 Kagoshima Beef, Maitake, and Egg Yolk ($380 HKD or $48 USD).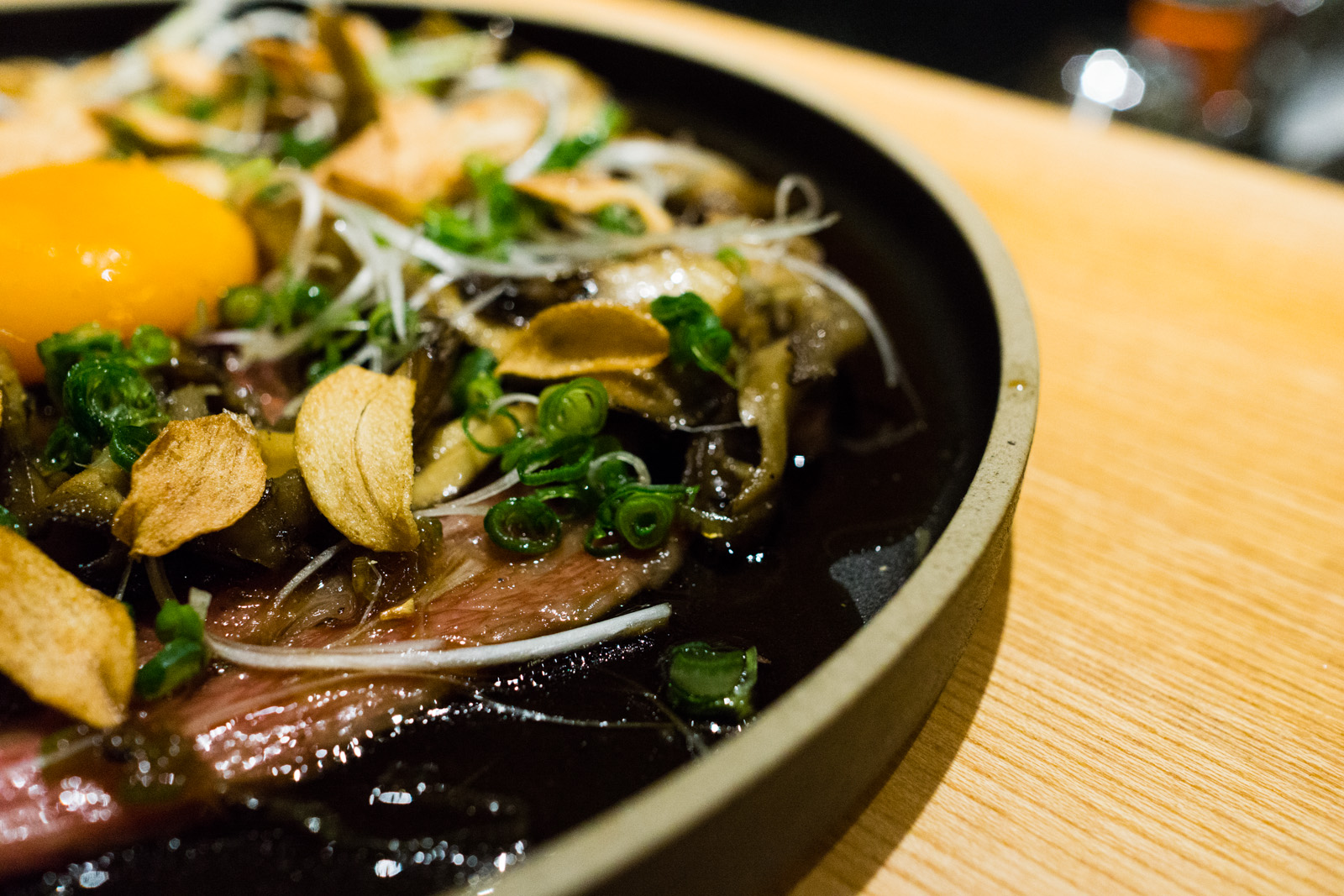 I'm an egg yolk and raw beef whore, so naturally that kagoshima beef had me turnt !!! The beef was effing unreal, incredibly tender, flavorful and was like butter in my mouth #realtalk. That rich creamy egg yolk was like the cherry on top and loved the crunchy fried garlic! ORDER THIS – TRUST ME !!!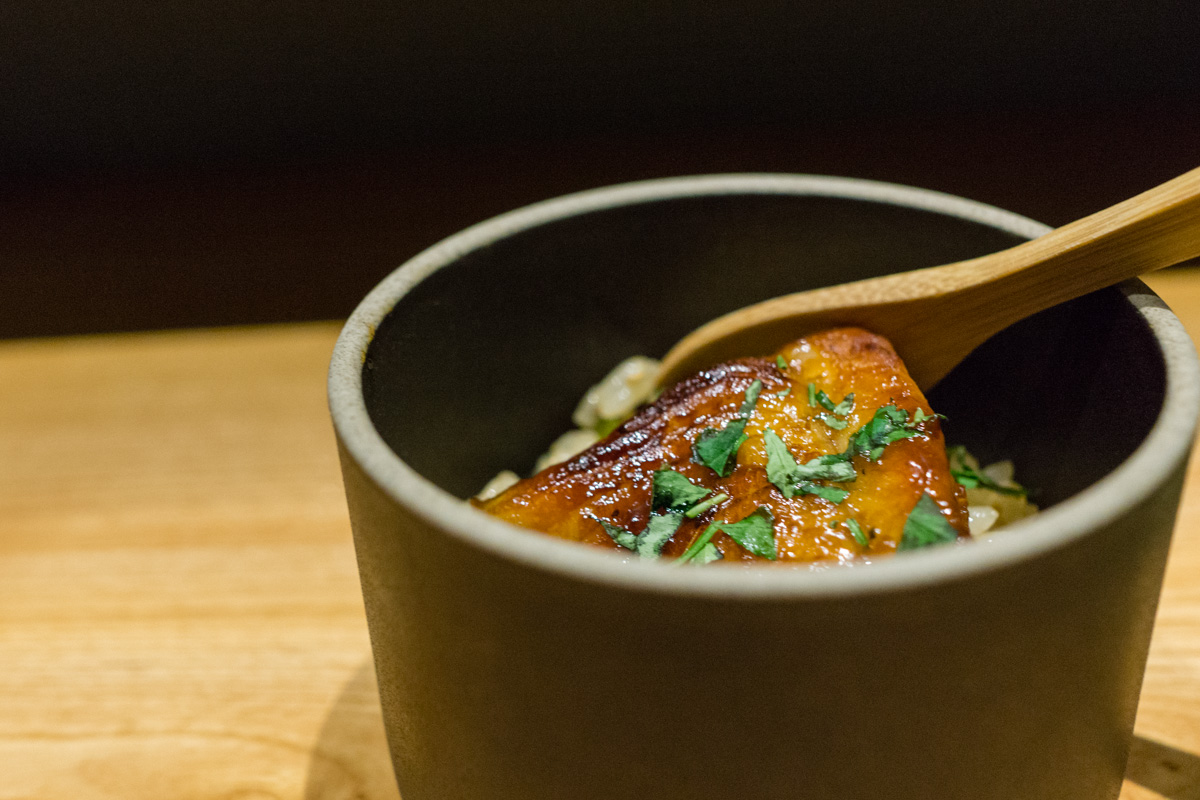 Unagi Chirashi ($130 HKD or $16 USD). Even if you're stuffed, you'll want to eat this. The unagi is moist and flavorful resting on top of perfect grains of short grain rice.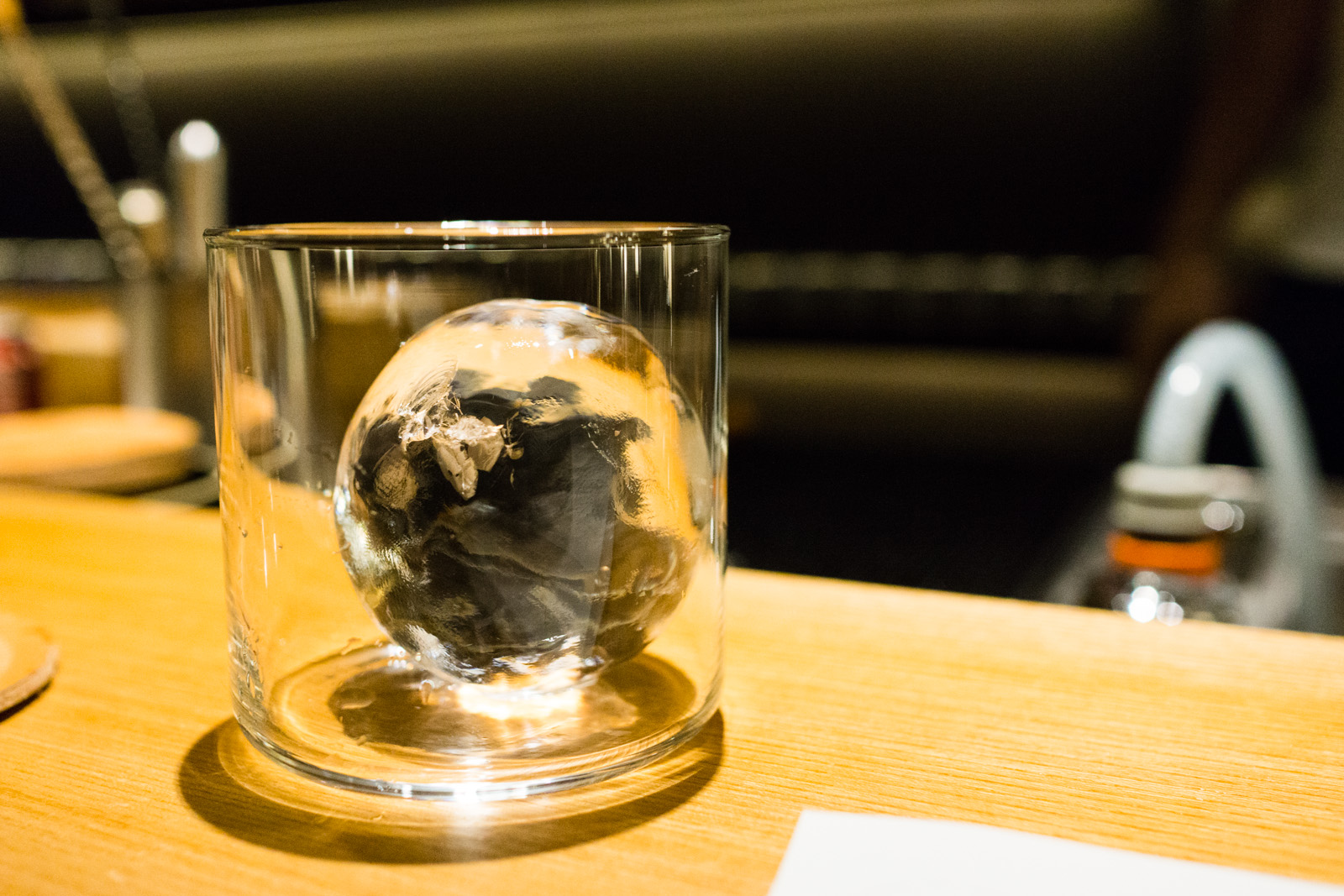 Ball so hard, lets get faded…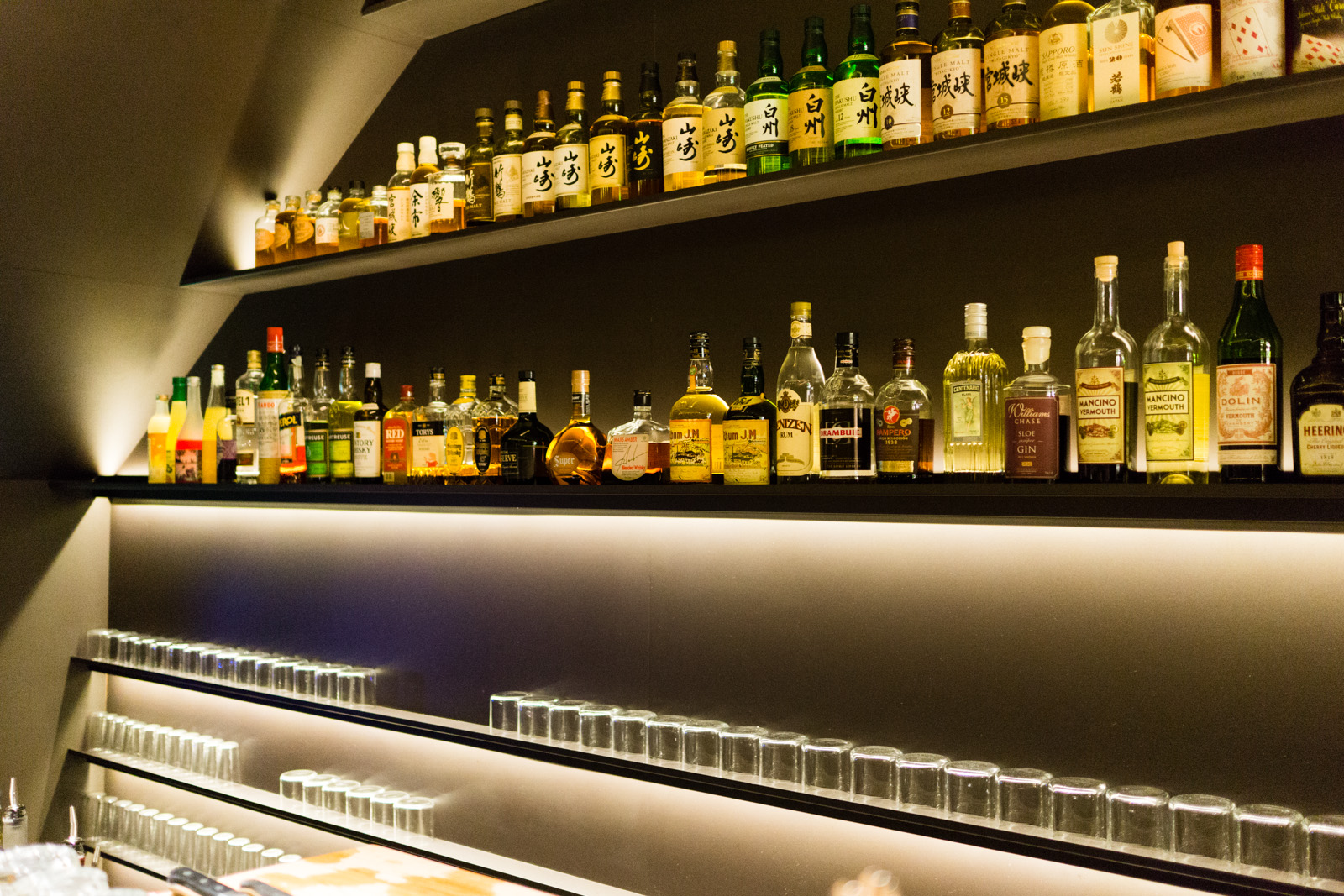 8 On Wo Lane, Sheung Wan
p: +852.2547.5263
w: roninhk.com
e: [email protected]
Dinner, Hong Kong