Hong Kong CRAY !!! Mexican Meets Japanese at Erik Idos' CHINO
3
The Lowdown
Restaurant Name: CHINO
Cuisine: Japanese Meets Mexican
Average Price per Person: $300 to $500 HKD or $39 USD to $65 USD
Location: Kennedy Town, Hong Kong
Recommendations: Tortilla Soup, Scallop & Uni Tostada, Sweet Potato Kakiage,

Ratings (out of 5)
Taste: 4.5
Creativity/Authenticity: 4.5
Atmosphere: 4
Service: 3.5
Bang for Buck: 4

Crayscale !!!
The comfort and security of working within the confines of an established restaurant chain such as NOBU sometimes wear out its welcome. For chef Erik Idos, he spent almost 10 years spent working for the internationally renowned restaurant which took him all around the world to several NOBU restaurants globally. While his last stint was at NOBU Intercontinental Hong Kong , years of experience and understanding of the in's and out's of the F&B industry made him primed and ready to take the leap of faith and start his own thing. An inspiration by both his professional background in Japanese food and his cultural upbringing around Mexican food led to the creation of CHINO.
It wasn't all easy for Erik, as the original plan was to have him open his concept in Taipei. While Taipei was looking to gain from the soft-spoken Angelino native, unfortunately, things didn't pan out which remained the benefit of Hong Kong and the That Food Cray !!! family. Never without a smile on his face, Idos has become more than just a great chef, but a good friend. Alongside his pastry chef girlfriend, Tracey Wei, we've had more than our fair share of fun and compelling conversations and dinners. It has and will always be extremely rewarding to see your friends step out of their comfort zone and try to make it on their own. There's something inherently magical about seeing people build and create their vision.
We were lucky enough to enjoy the very first tasting at CHINO EVER. In stages of an extra soft opening, we weren't treated to the most comfortable experience as they had yet to have their chairs delivered, but the company and intimate focus of the service more than made up for it. It was meant to be an extra casual affair and well, we were more focused on the food knowing full well this was going to be far from the set-up once everything (including the installation of the bathroom sink) was in place. CHINO is located in Kennedy Town and for the time being may be perceived by some to be a bit far and out of the way. However, given the MTR is on its way to opening right down the street on December 27, 2014, there shouldn't be any excuses!
As we looked over the menu, there was a clear intersection and familiarity between Japanese and Mexican food. The foundational elements such as tacos, salsas and tostadas are evidentially inspired by Mexican fare. However, as you drill down deeper, the ingredients help further shape the dish through the usages of ingredients and preparation techniques reminiscent of Japanese food. Think tortilla soup made with chipotle dashi, shiso salsa or kewpie-slathered grilled corn. All-in-all, everything is meant to be shared, so it's ideal to roll up in a bigger crew.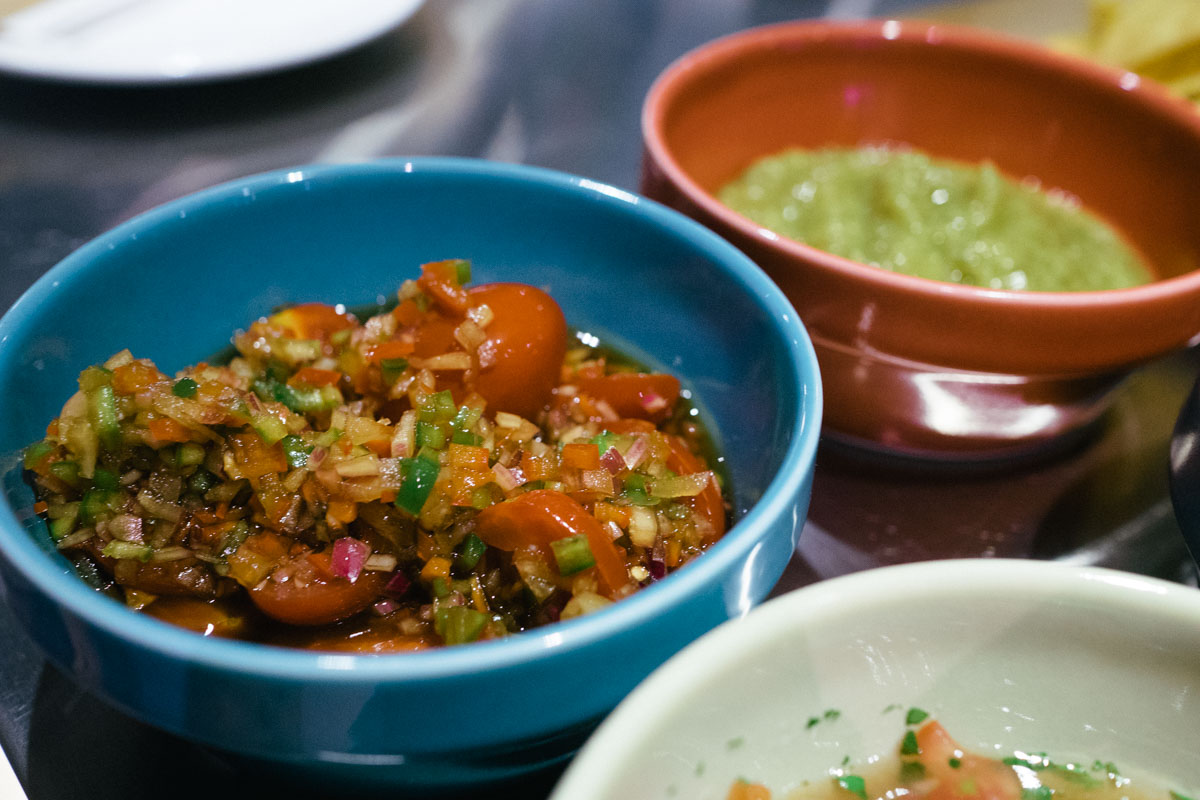 There are 5 salsas to choose from along with guacamole. We went HAM on salsas and tried all of them. The shiso, tomato and vinegar salsa FTW (each salsa $30 HKD or $3.90 USD / all for $110 HKD or $14.20 USD).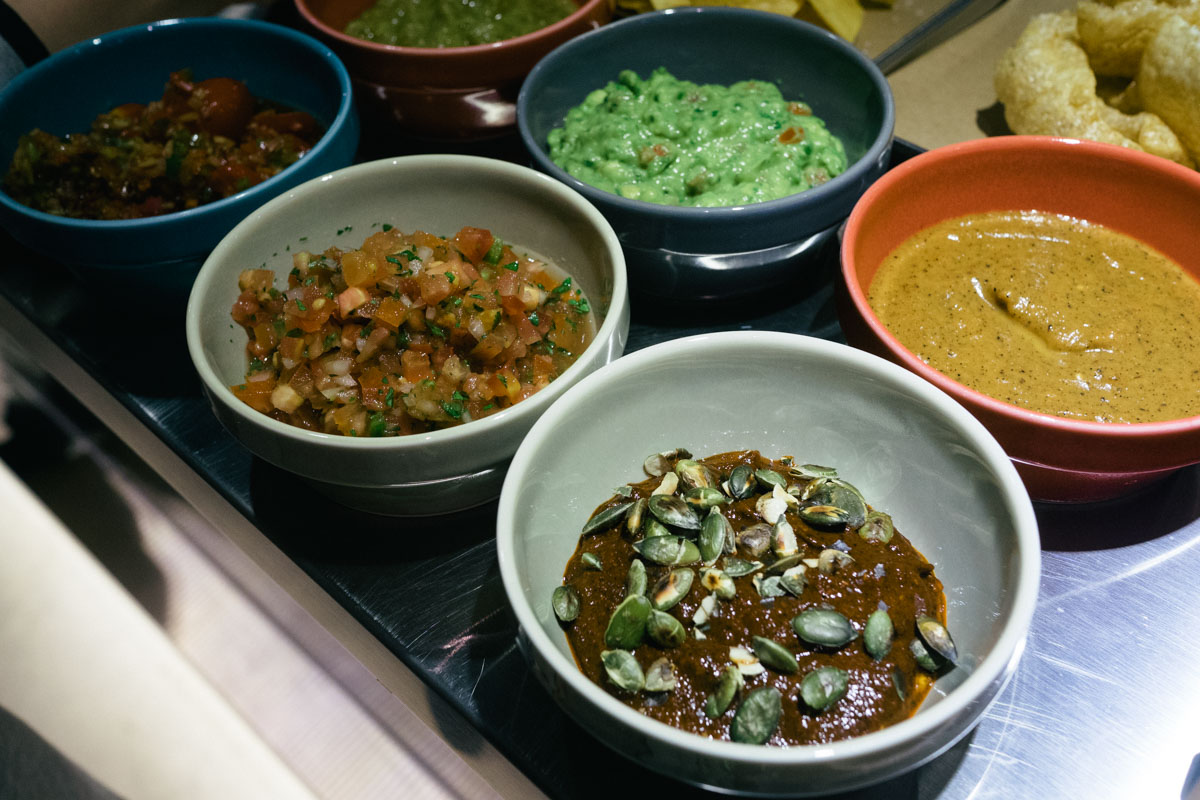 The other salsas are on point as well including an Arbol with pumpkin seeds, fresca with lime and jalepenño, roasted tomato with onion and cumin, and a tomatillo with cilantro and serrano peppers.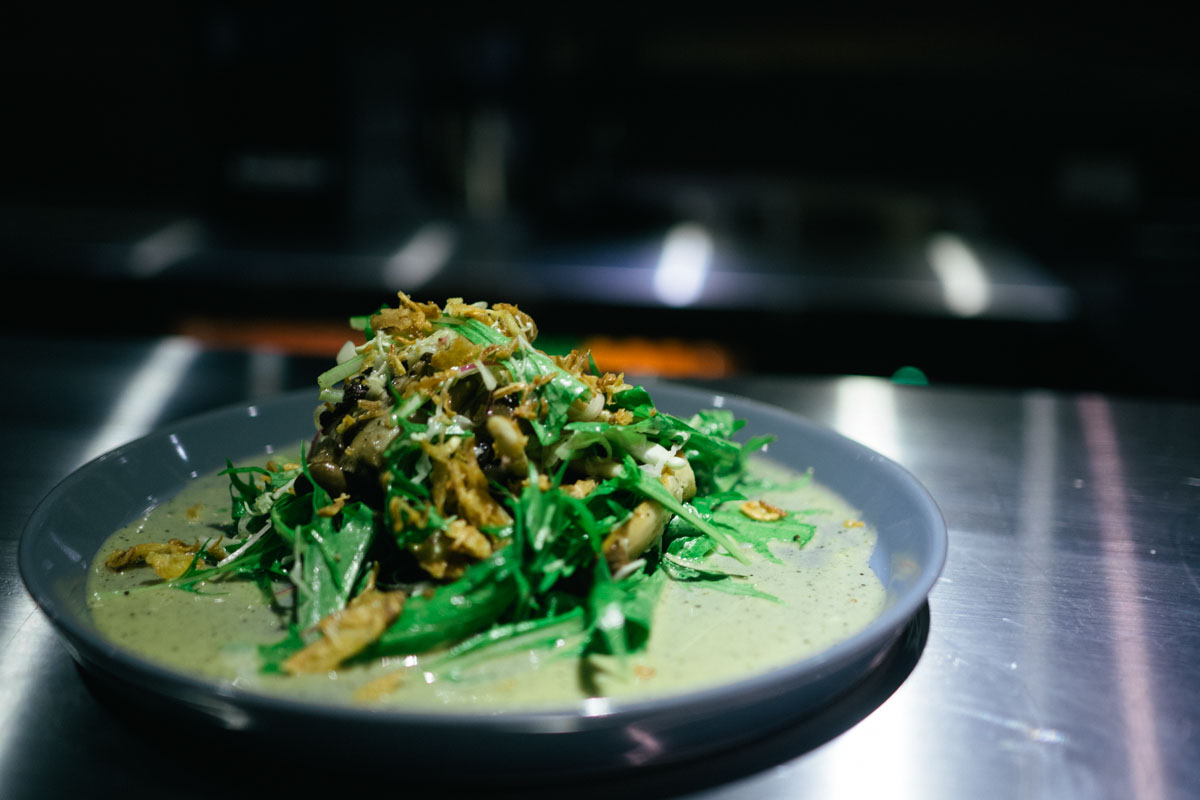 Mushroom / Mizuna / Burnt Jalapeño ($128 HKD or $16.50 USD). The salad had different textures from the mushroom and mizuna. The dressing was packed with flavor and had a strong kick.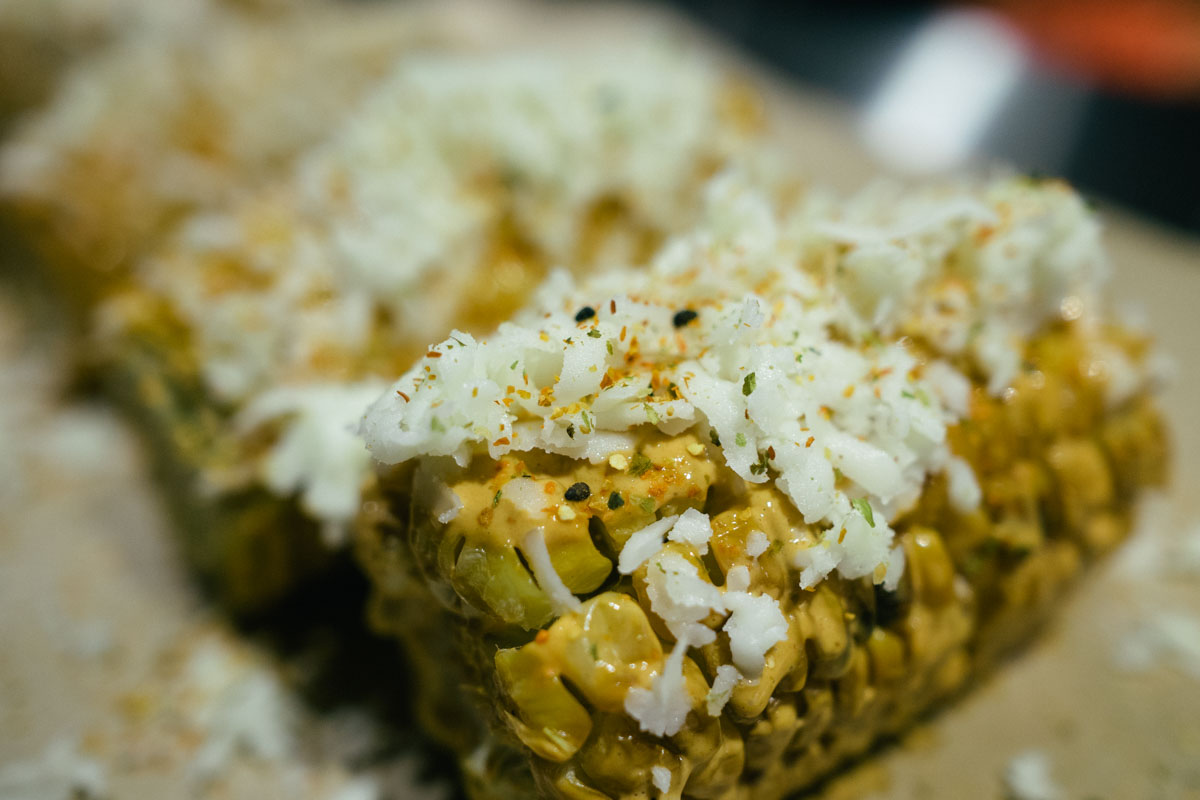 Corn / Kewpie / Cotija ($78 HKD or $10 USD). The corn is bangin' slathered in spicy kewpie and topped with cojita cheese.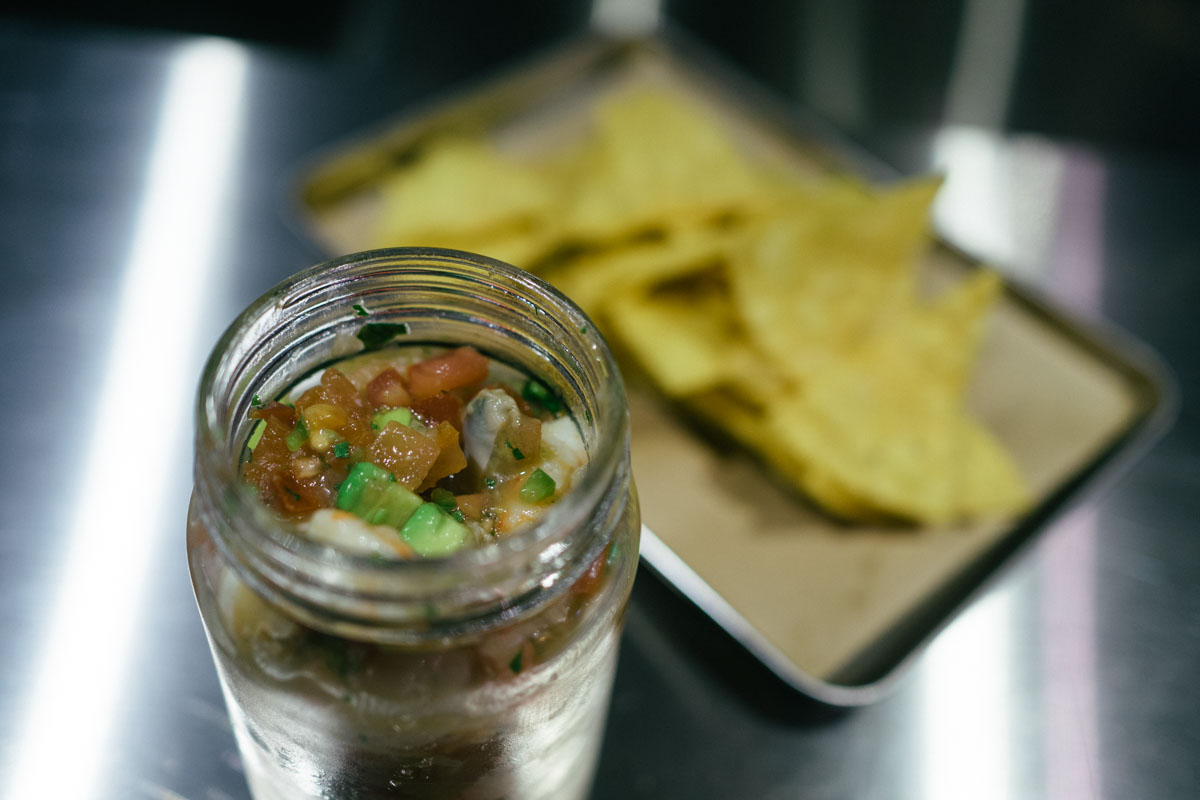 Mariscos / Campechana ($168 HKD or $21.70 USD). The shrimp and scallop in the mariscos was sweet and fresh. I could eat this stuff all day.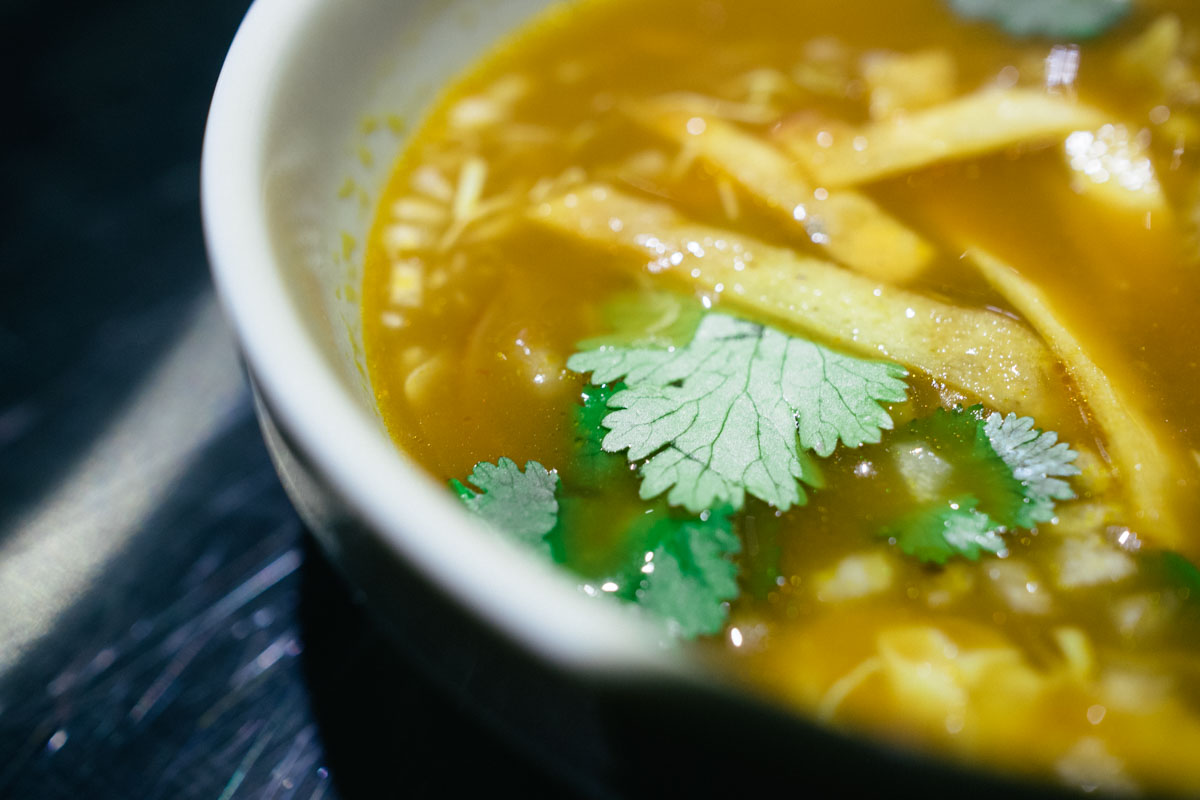 Chipotle Dashi / Tortilla Soup ($58 HKD or $7.50 USD). The soup is one of my favorite things on the menu. The chipotle dashi has an intense umami flavor with crunchy bits of tortilla.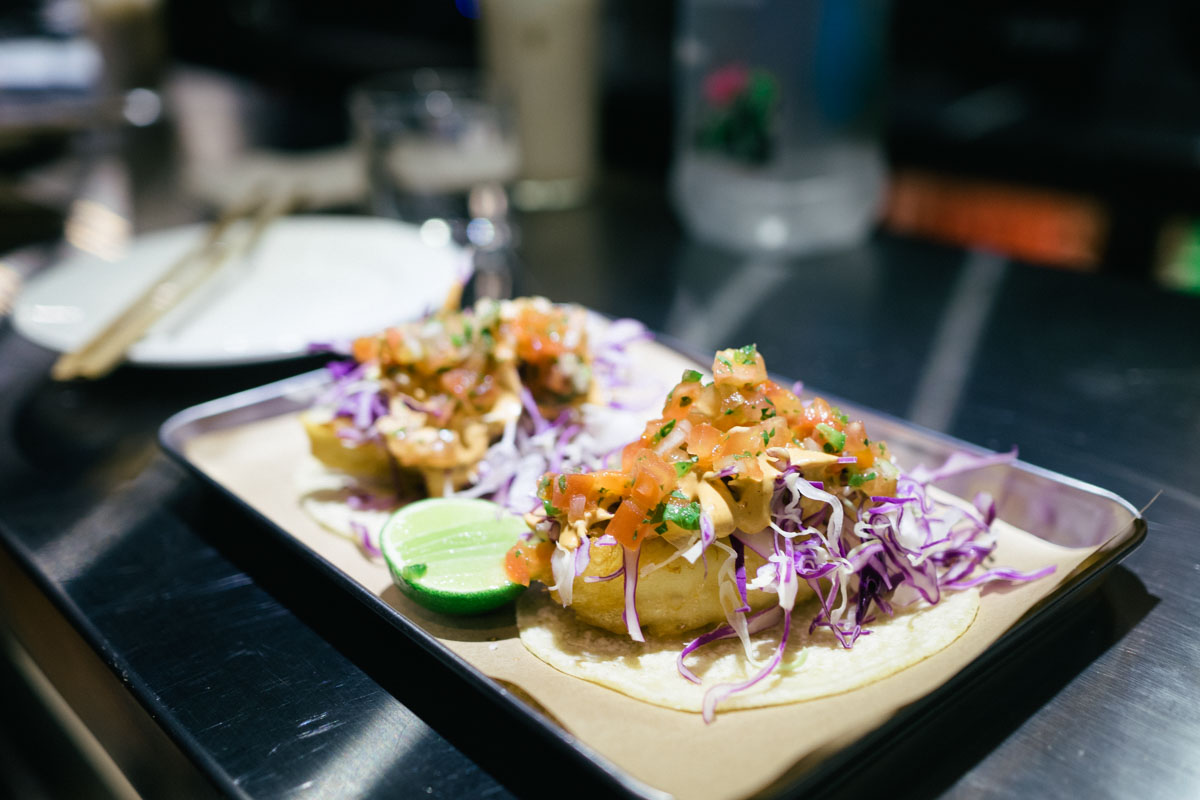 Crispy Fish / Chipotle Kewpie / Salsa Fresca Tacos ($48 HKD or $6.20 USD). The fish tacos are lightly battered giving the fish a crispy crust topped with spicy creamy kewpie then finished with fresh salsa and slaw.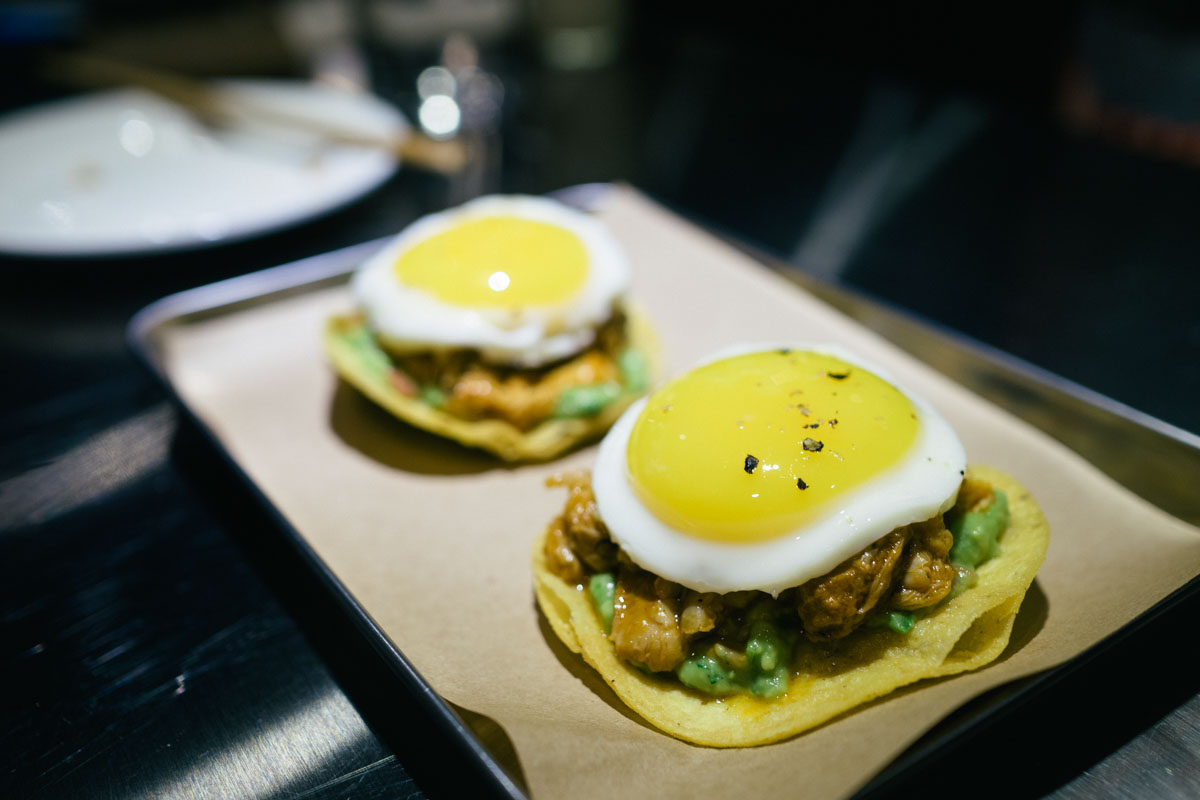 Chicken / Egg Tostada ($58 HKD or $7.50 USD). That Chicken & Egg Tostada CRAY !!! Consisting of chicken tinga, freshly guacamole, topped with a fried egg all on top of a fried corn tortilla. The scallop and uni tostada is unreal too.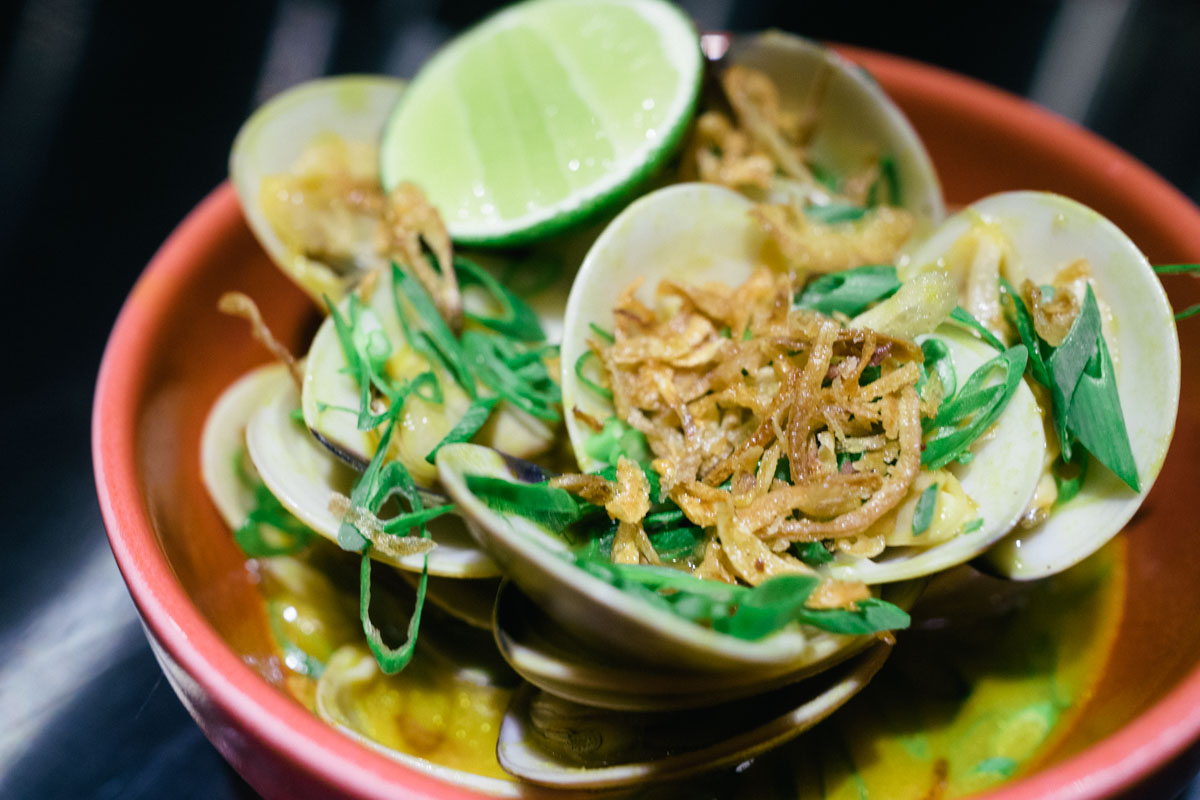 Clams / Aji Amarillo / Crispy Shallots ($148 HKD or $19 USD). The clams were sweet and juicy, make sure you get a mouthful of that sauce.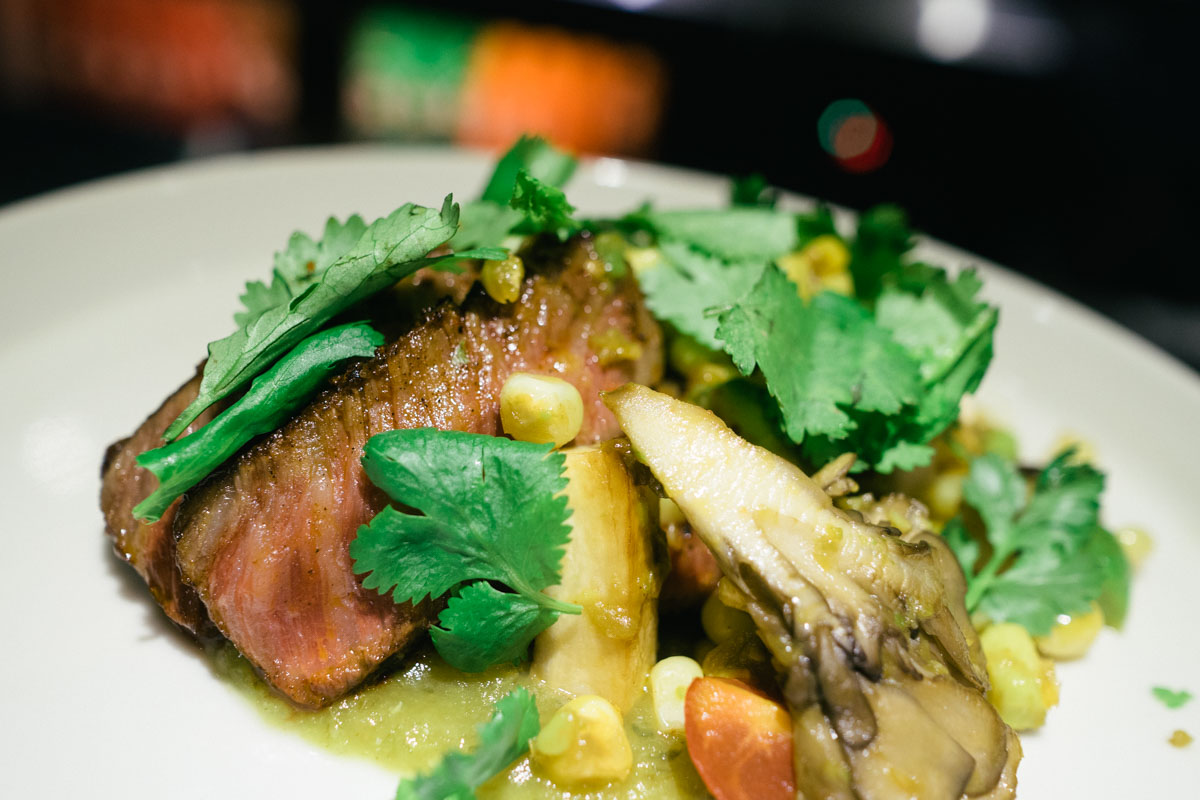 Nozaki Beef / Avocado / Tomatillo ($308 HKD or $40 HKD). That nozaki beef doe – mad marbled, tender and flavorful.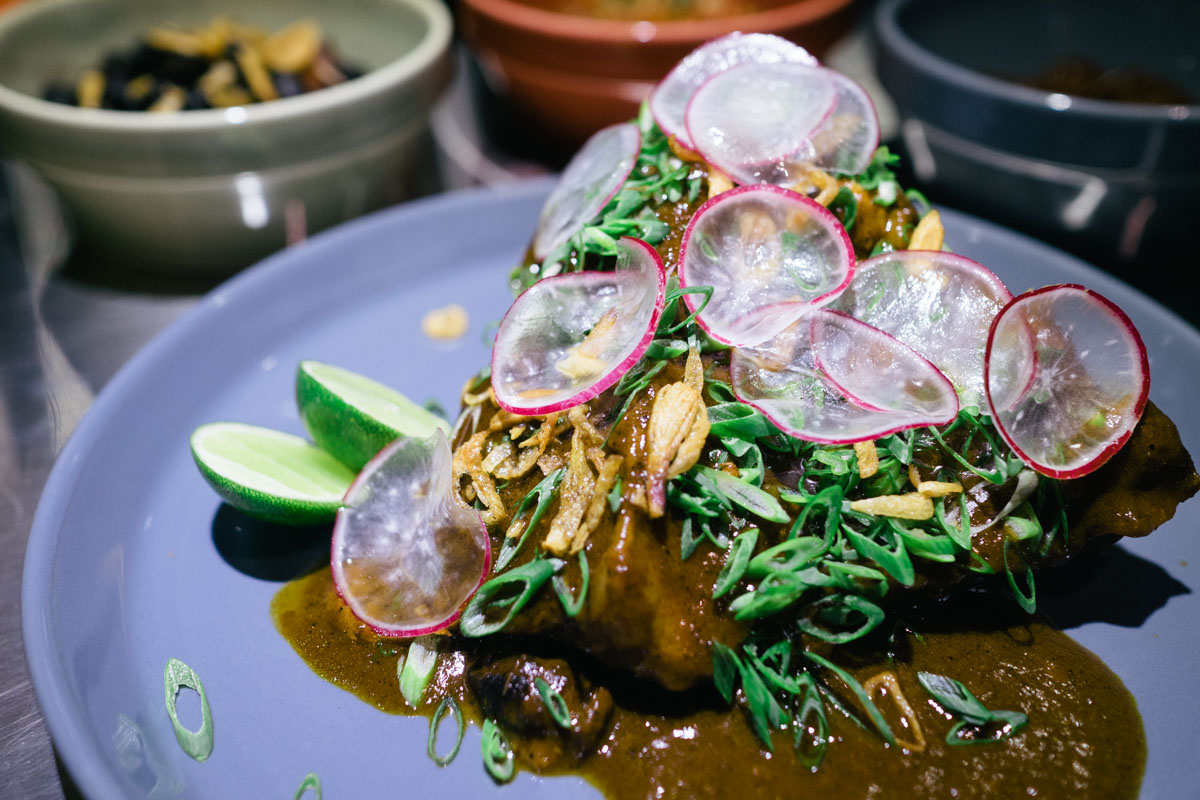 Cochinita Pibil ($500 HKD or $64.50 USD). The cochinita pibil is essentially braised pork butt served with salsas, black beans, fried rice and tortillas so you can assemble your own tacos. The pork is extremely tender and can be pulled apart effortlessly with a fork.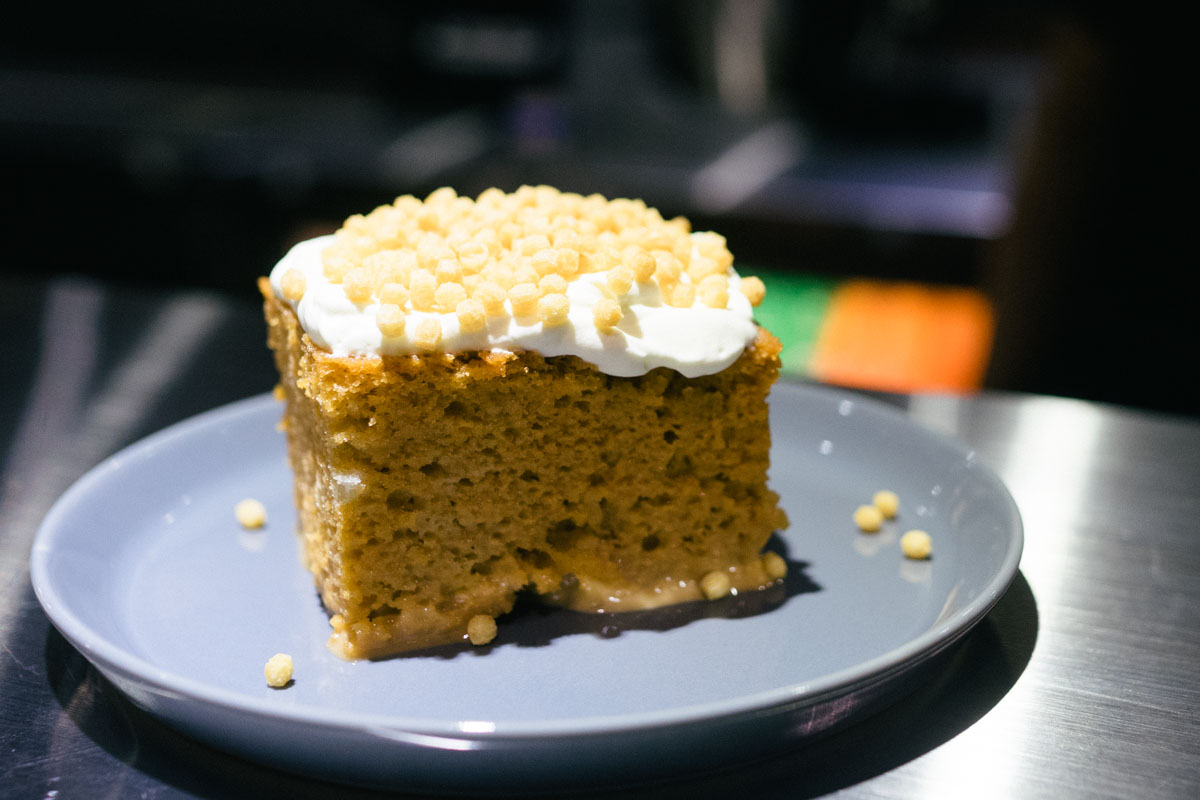 Thai tea tres leches! This stuff is crack, regardless of how stuffed you may be, you have to order this.

1B New Praya Kennedy Town
Sai Wan
Hong Kong
Asian, Dinner, Hong Kong, Japanese, Mexican