The Lowdown
Restaurant Name: Little Bao
Cuisine: Asian Meets American Diner
Average Price per Person: $200 to $500 HKD or $25 to $65 USD
Location:Sheung Wan, Hong Kong (please refer to the map below for details)
Recommendations: Pork Belly Bao, Fish Tempura Bao, Pickled Mushroom Salad, Eggplant & Shiso Pork Tempura, Short-Rib Pan-Fried Dumplings, Orange Chicken, LB Fries, Mac & Cheese and LB Ice Cream Sandwich

Ratings (out of 5)
Taste: 4
Creativity/Authenticity: 4.5
Atmosphere: 4
Service: 3.5
Bang for Buck: 3.5

Crayscale !!!

I've been anticipating the opening of Little Bao since I had my first taste of dem bunz about a year ago at Island East Markets ("Bao" = Chinese Bun). Chef Mai Chow's buns have been quite the tease leaving me thirstin' for more. I couldn't wait to sink my teeth into her soft fluffy buns once again. When she told me she was in the midst of opening her very own permanent bao joint, I was stoked to be able to have her buns in my mouth whenever I please.
Located on Stauton Street, just up the street from where Mai used to put in werk, Yardbird, is where you'll find Little Bao. You'll know you're at the right place when you're greeted by a pretty damn cute ginormous neon face as pictured below. The night we went was bumpin' with a diner-esque vibe filled with about 20 bar stools, half of which allows you to witness some major bao schemin' action. Little Bao gets pretty packed so try to get there early and cop a spot on that waitlist as the restaurant holds a strict no reservations policy and your entire party must be present before being seated.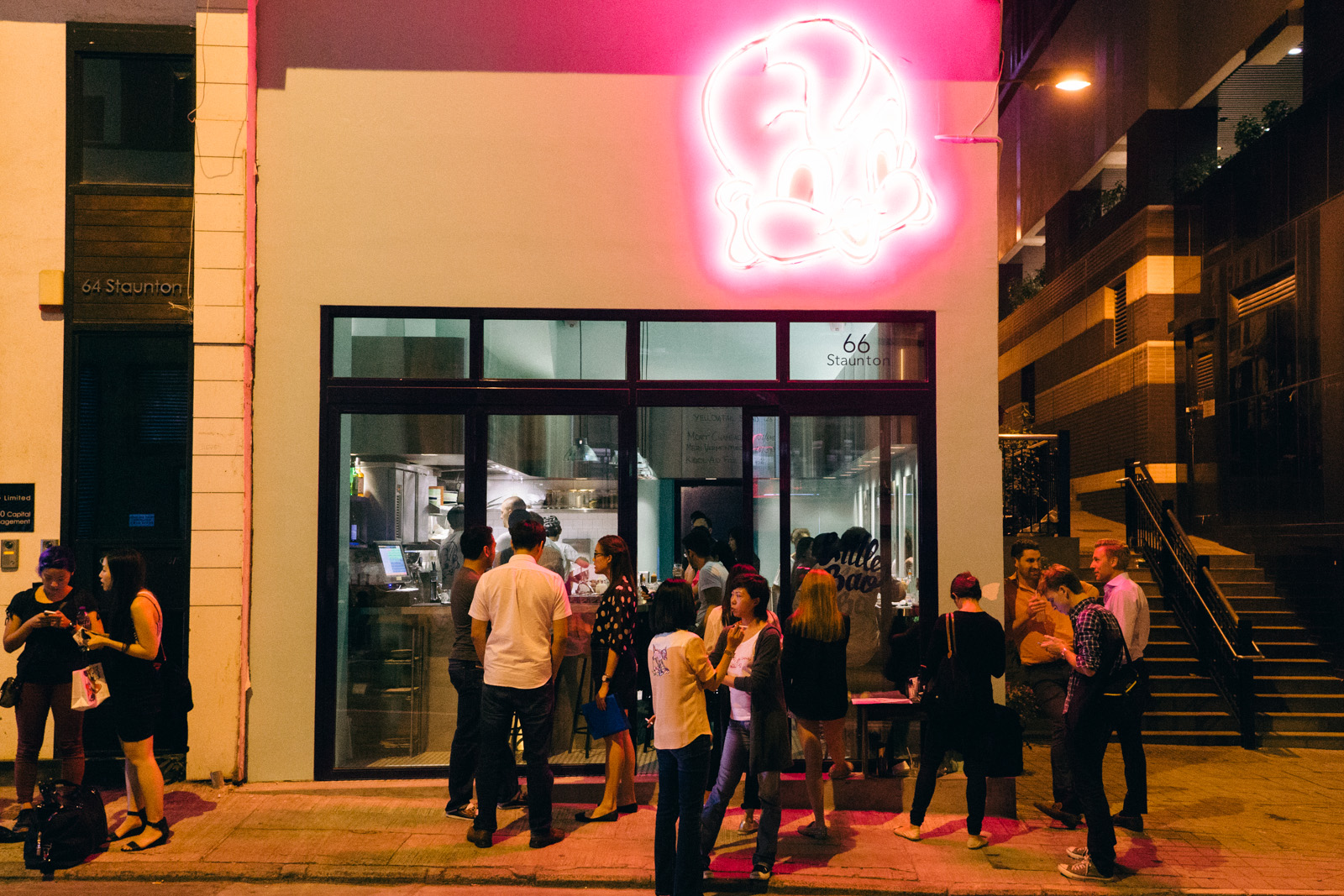 Don't let its name fool you, Little Bao is way beyond little baos. Mai's food is inspired by her #beenazn roots with an unconventional flare creating some #turntup next level, for a lack of a better word, fusion food. She takes proverbial Asian favorites to a whole 'nother level, turning the mundane into something CRAY with a contemporary approach that is easy to relate to and appreciate. Ingredients are fresh to death, using locally grown produce and high quality proteins free from growth hormones or antibiotics.
Little Bao's menu consists of small plates that encourage sharing, along with seasonal specials and four types of baos – Pork Belly, Chicken, Fish Tempura and a vegetarian mushroom-centric option, Sloppy Chan's. Mai's baos ain't so little, if anything, they're more like Asian burgers. Pork Belly is the OG bao, flavorful and succulent braised pork belly paired with a shiso leek salad tossed in a sesame dressing sandwiched between soft fluffy white buns #levelstothisbao. Another unrill bao is the Fish Tempura – mad crispy, tender and moist with a sweet tamarind palm sugar glaze atopped with a pickled lemongrass fennel salad. The Pickled Mushroom Salad, Orange Chicken, Eggplant & Shiso Pork Tempura, Short-Rib Dumplings and Mac and Cheese are must eat as well and definitely hit the spot. Make sure you leave with a happy ending and get the TRILLEST bao of all, the fried green tea ice cream sandwich with a fat load of condensed milk.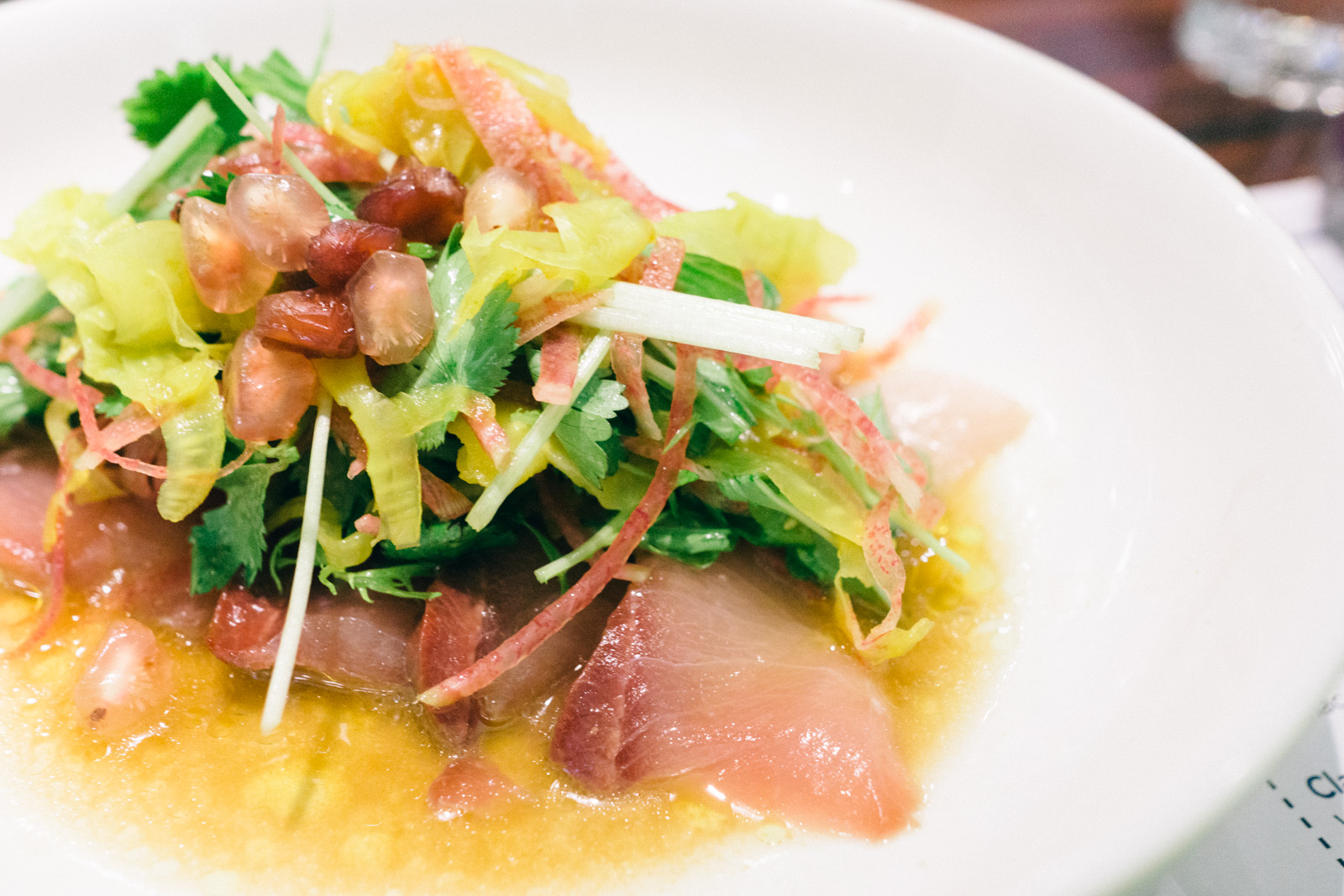 We started off with one of the specials of the evening – a light and refreshing Yellowtail salad.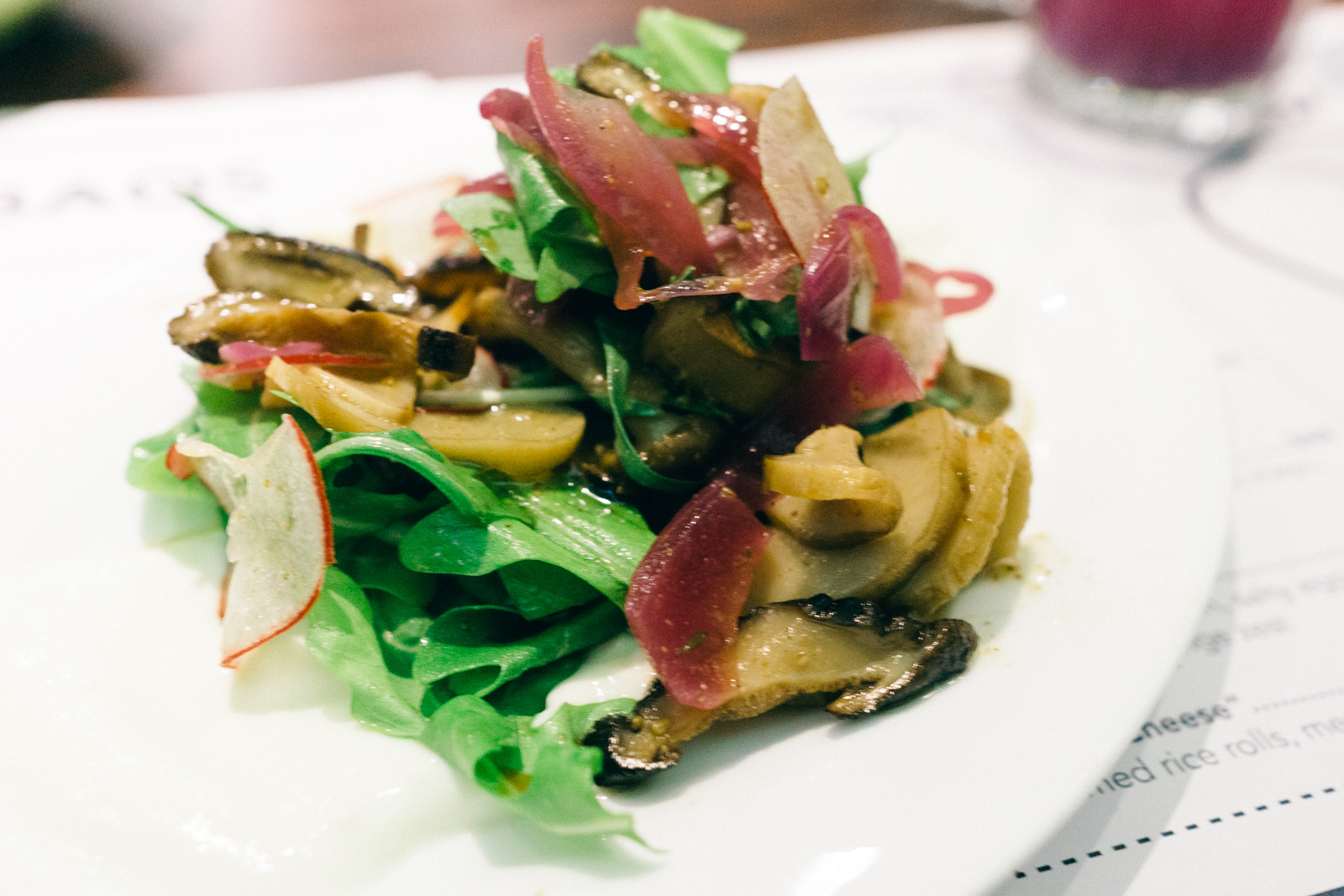 Pickled Mushroom Salad with pickled shimeji, shiitake & eringi mushrooms, arugula, tarragon, labneh and a cumin-soy vinaigrette ($78 HKD or $10 USD). This mushroom orgy was effing delicious especially when lathered with that creamy labneh or Greek yogurt.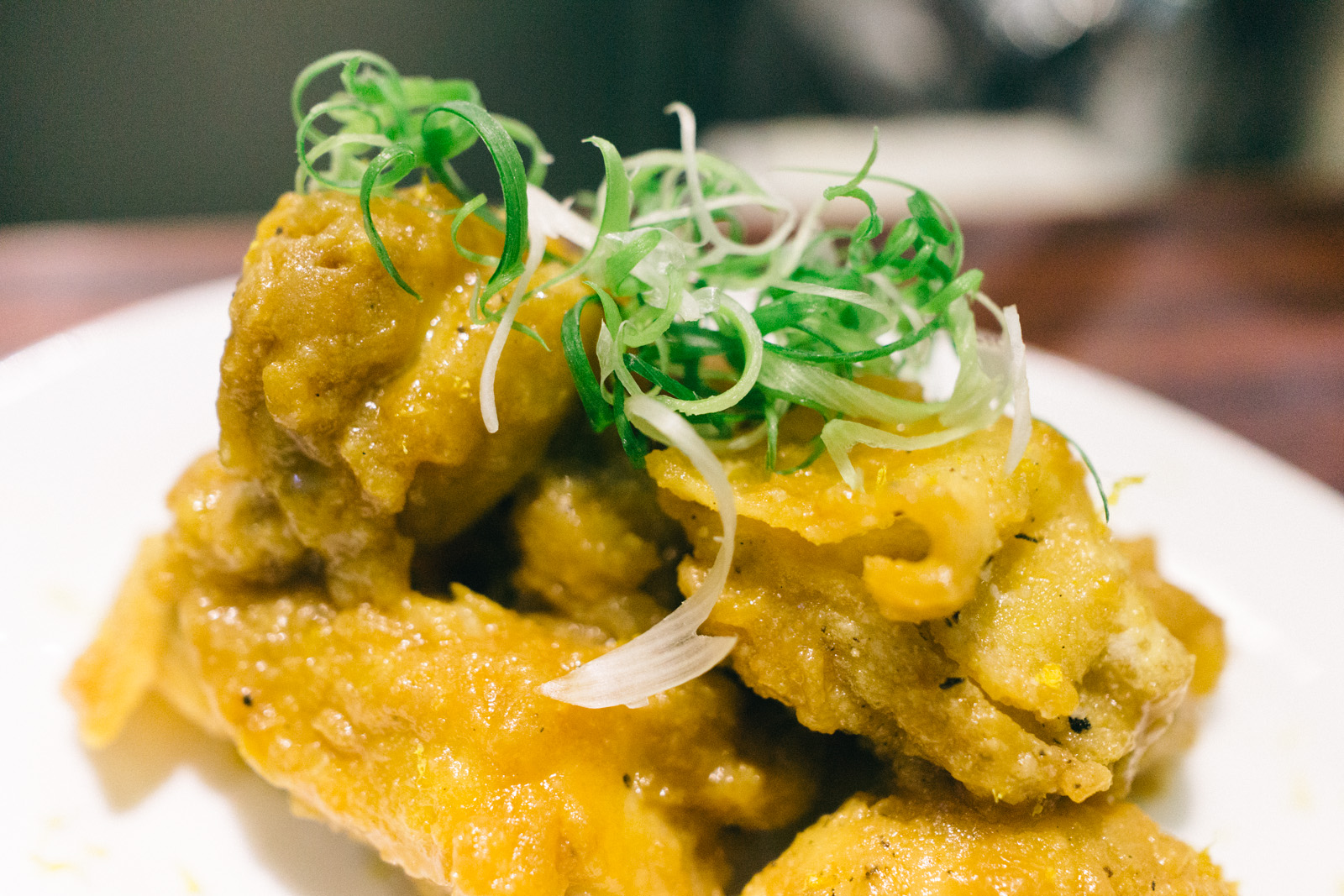 Orange Chicken ($98 HKD or $12.50 HKD). Say herro to my new favorite fried chicken! This fried running chicken coated in salty egg yolk, honey glaze finished with orange zest is banging and possibly the best fried chicken I've had in Hong Kong. Time for Matt from Yardbird to one up this!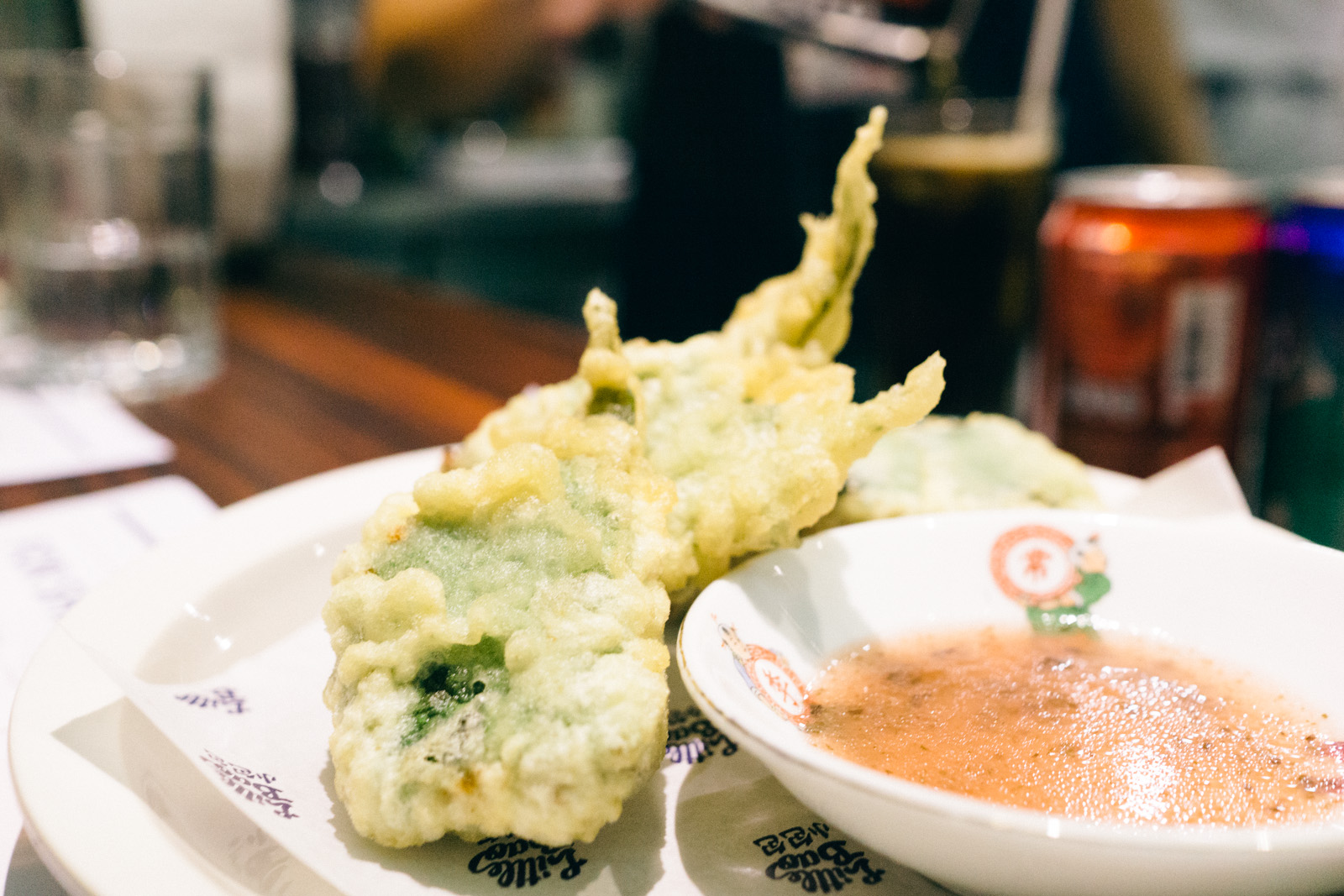 Eggplant & Shiso Pork Tempura ($88 HKD or $11.50 USD). These fried bundles of eggplant and minced pork wrapped in shiso were hella tasty and the ume ponzu dip was on point.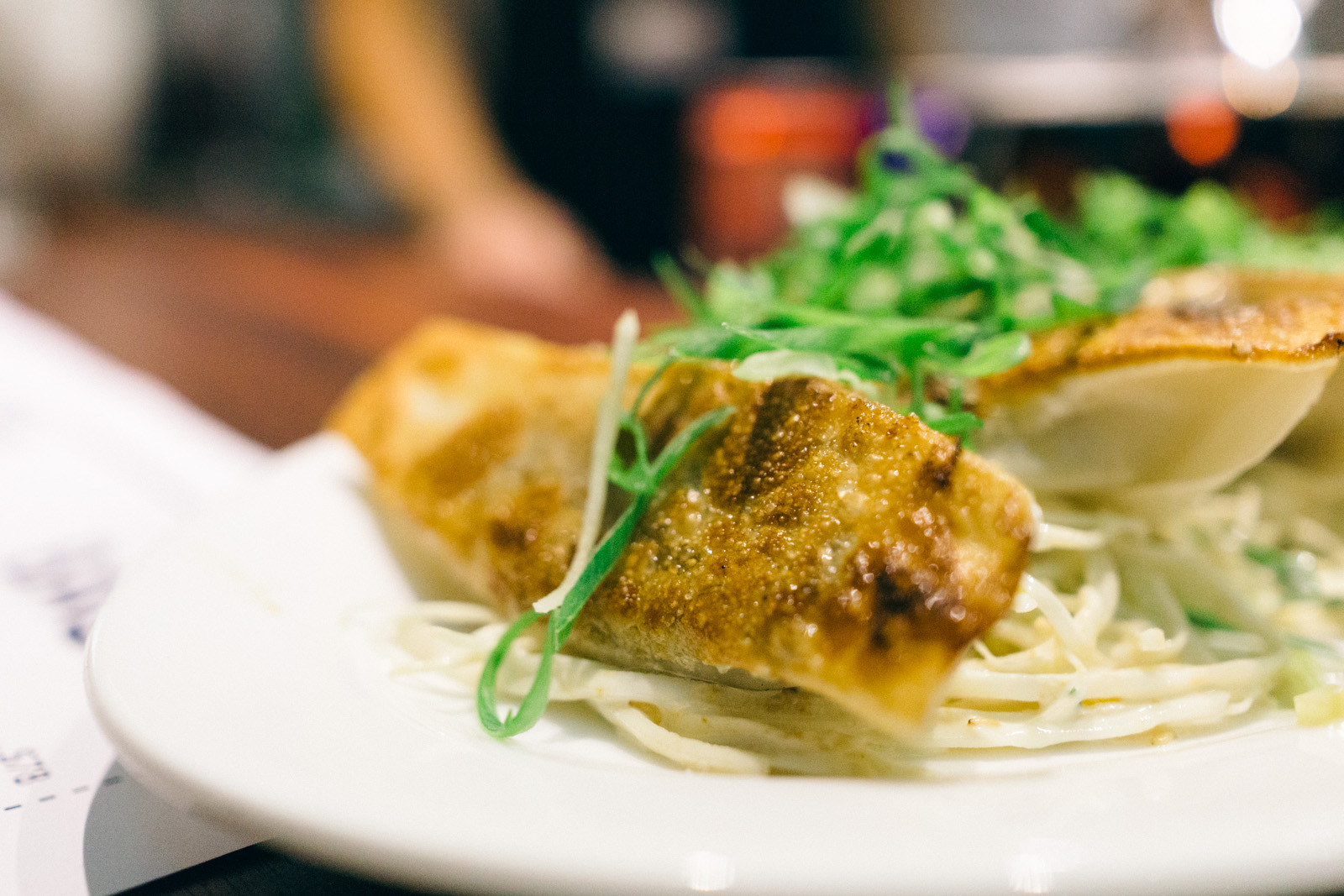 Short-Rib Pan-Fried Dumplings with a celeriac coleslaw ($118 HKD or $15.25 USD). I don't know how Mai did it, but she managed to packed a whole lotta beefy flavor in these extremely tender slow-braised organic OBE beef short rib dumplings.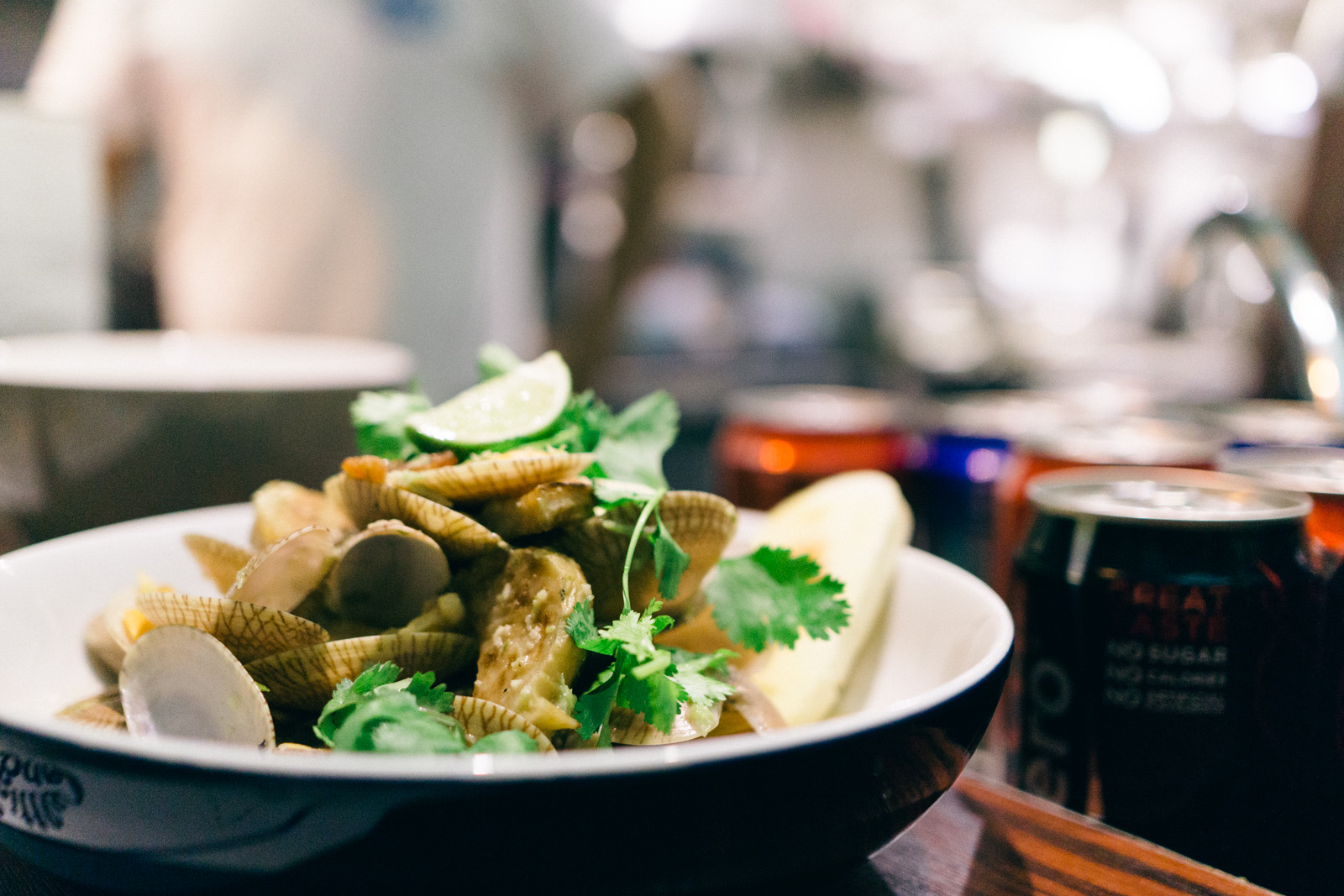 Clams, Bacon, and Potato with a pool of white pepper miso broth, cilantro, and toasted miso-butter baos ($128 HKD or $16.50 USD).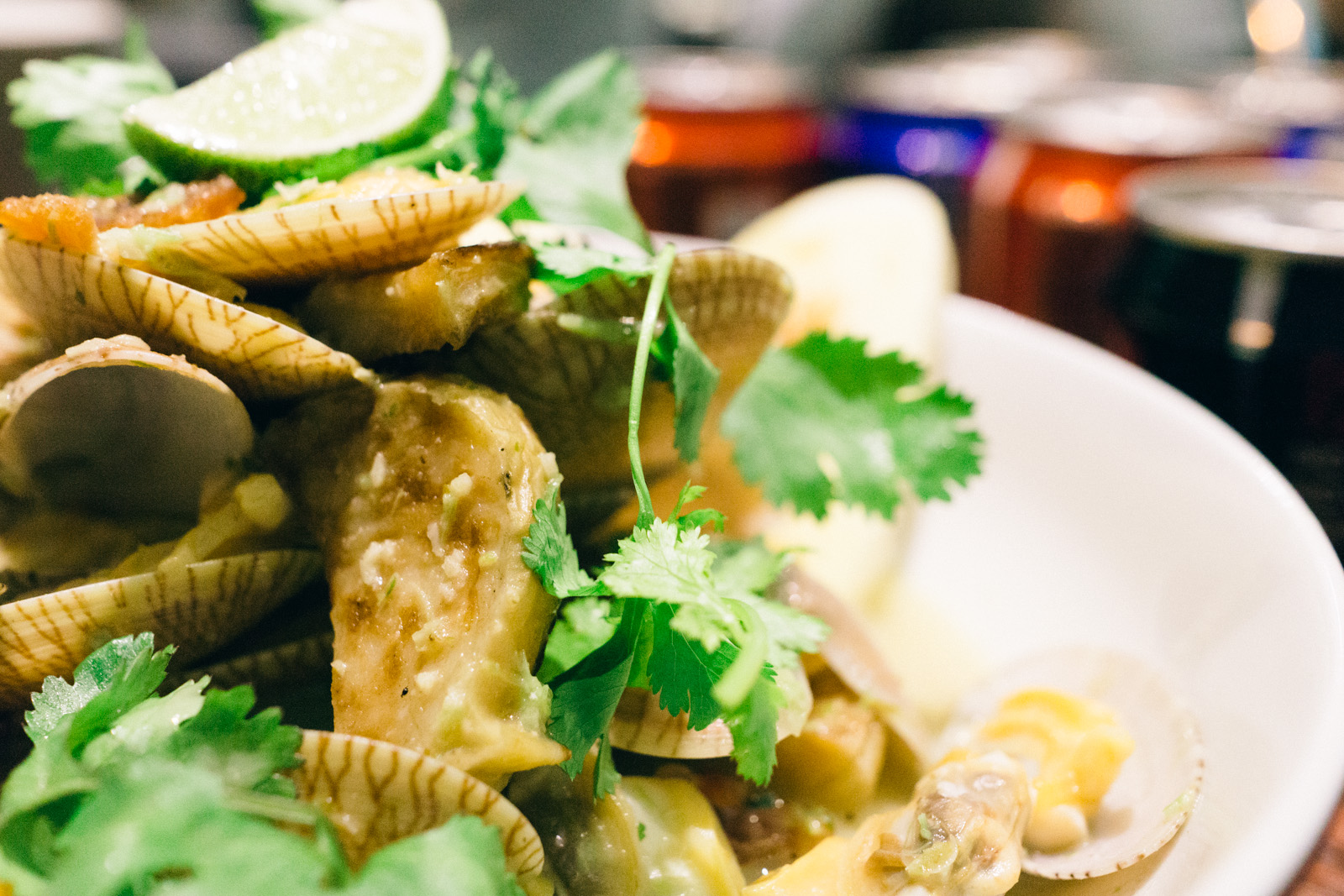 Clams were pump and juicy and the potatoes soaked up all that peppery miso broth. The miso-buttered boas were tasty on their own or dipped into that flavorful broth.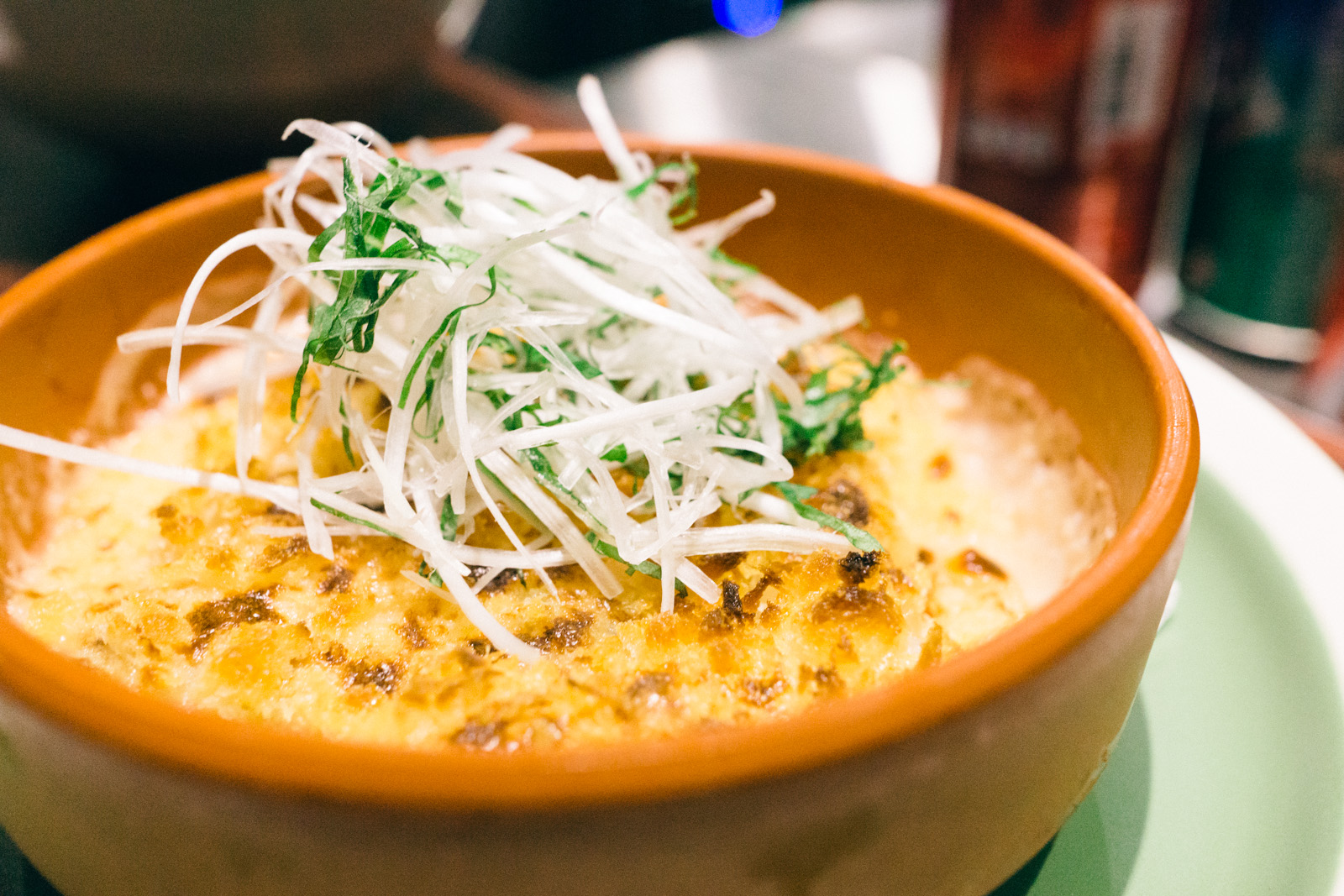 "Mac & Cheese" – steamed rice rolls with mentaiko cheese sauce ($108 HKD or $14 USD). These are probably the most ballin' steamed rice sheet rolls you'll find in Hong Kong, but also the BEST!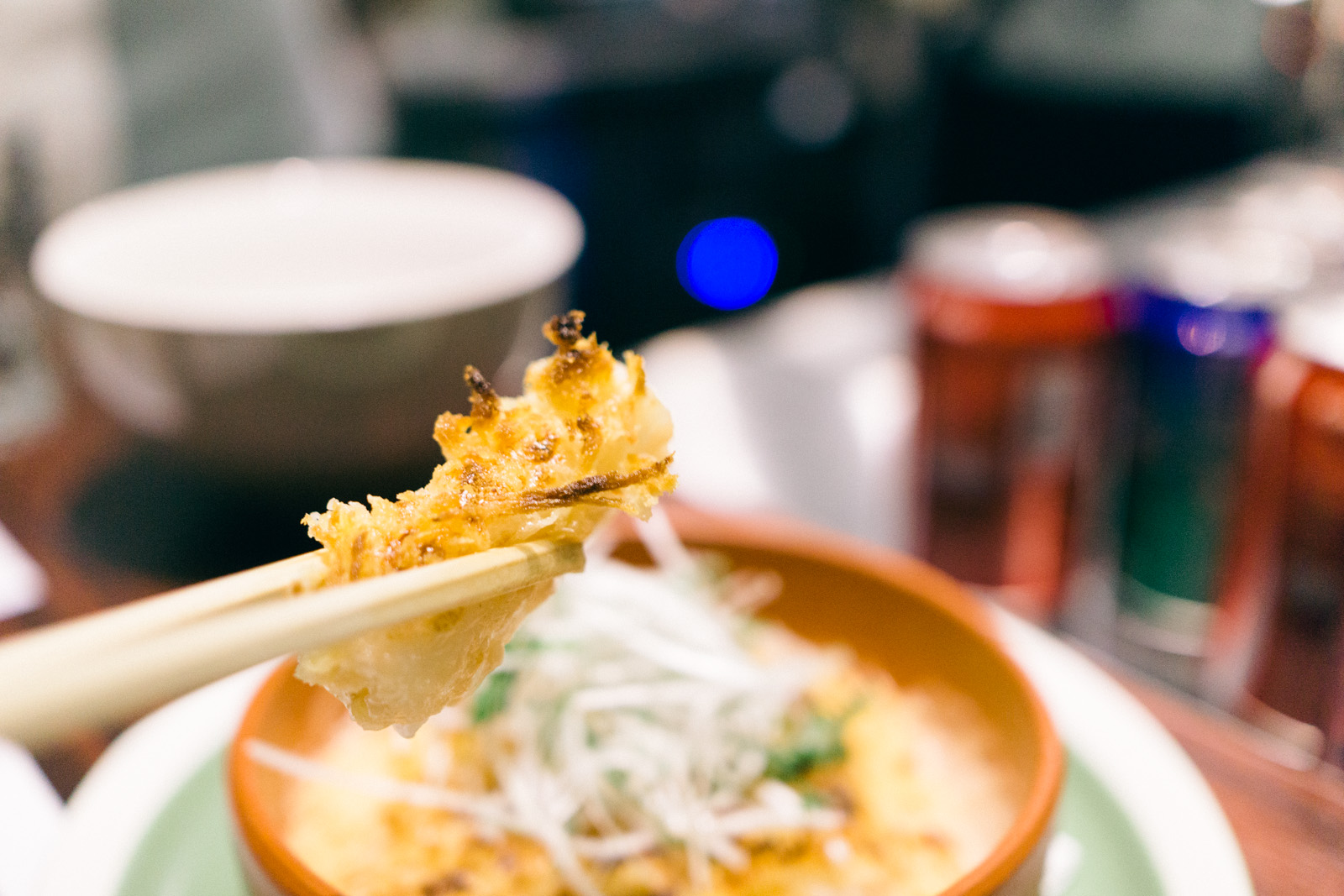 This dish is pretty genius taking a canto-childhood favorite, steamed rice rolls and combining it with an American classic, mac n' cheese. Nicely done Chef!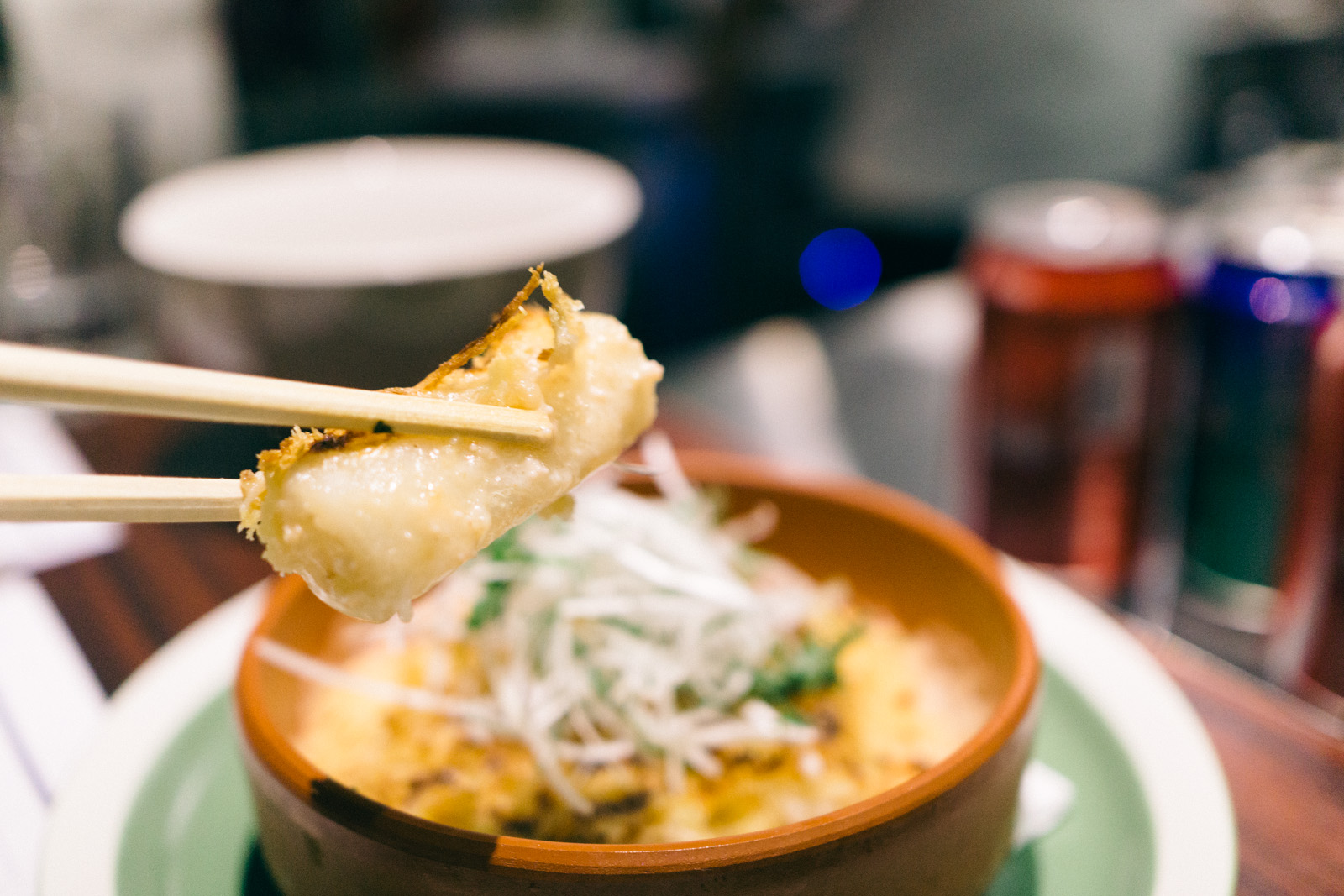 Sooo sooo sooo good.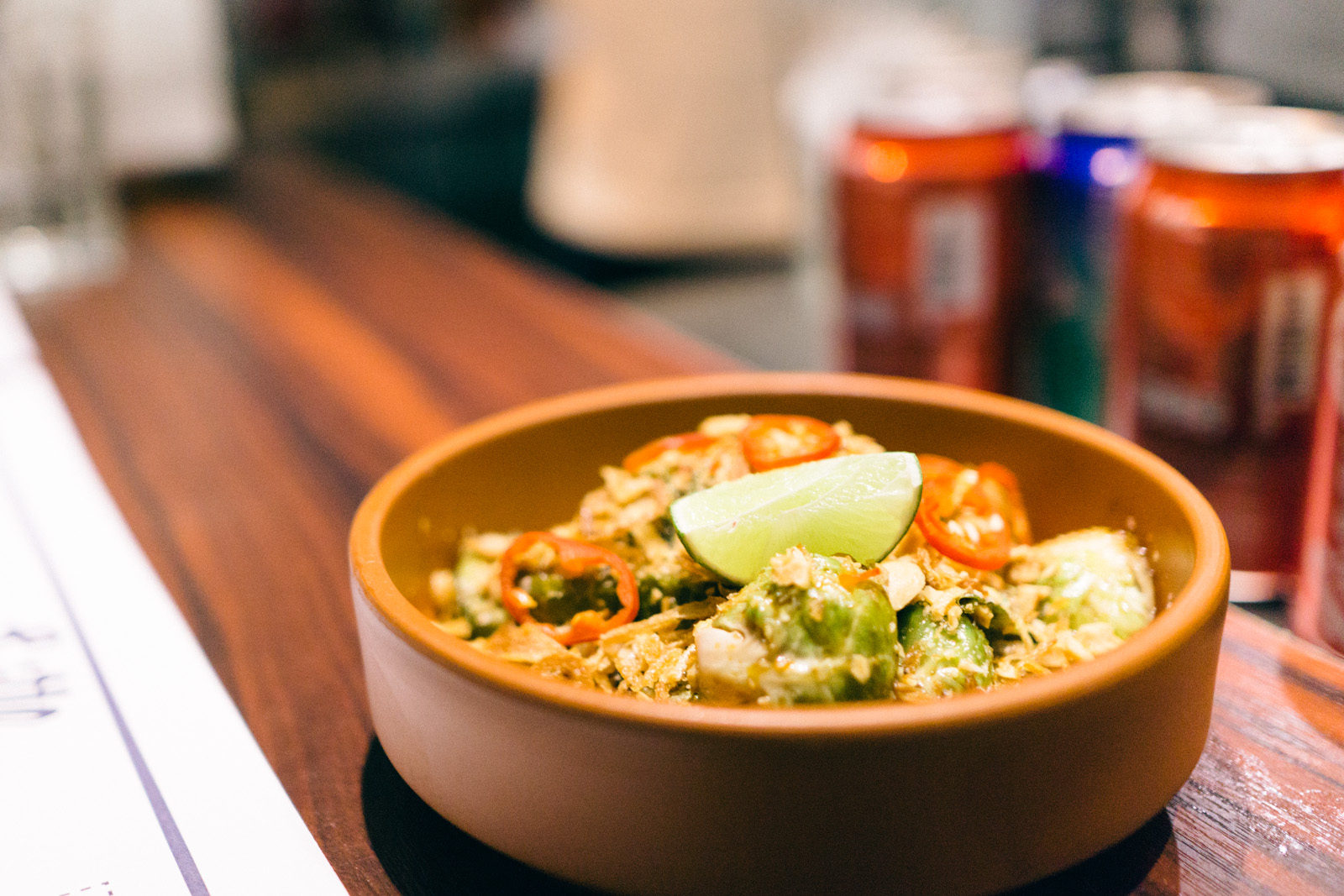 Roasted Brussel Sprouts with fish sauce, caramel, chili, lime and fried shallots ($78 HKD or $10 USD). This reminded me of stir-fried Thai veggies which I lurveeee.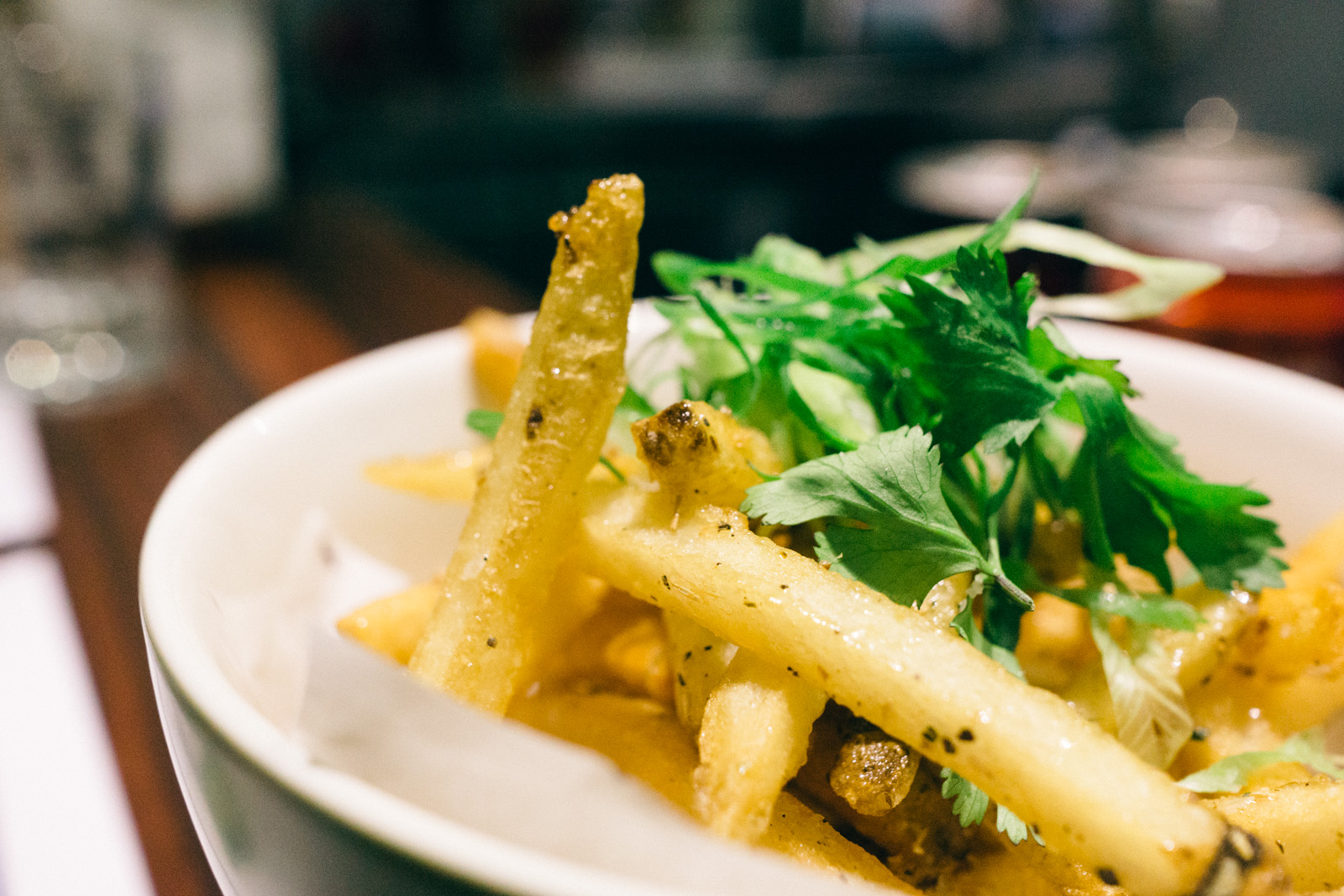 LB Fries with roasted tomato sambal, kewpie mayo, and cilantro ($68 HKD or $8.75). Sooo crispy and dericious.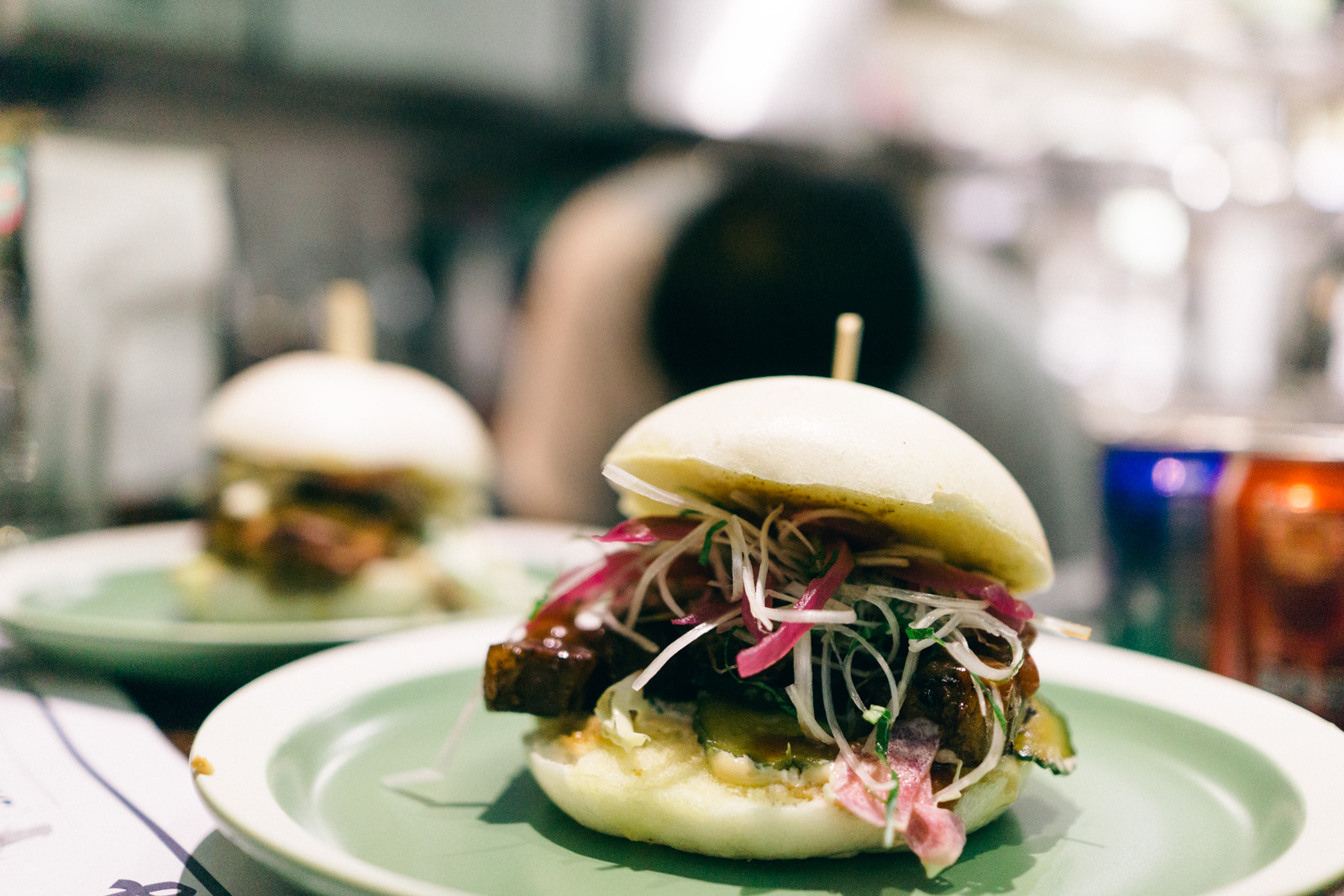 Pork Belly Bao ($78 HKD or $10 USD).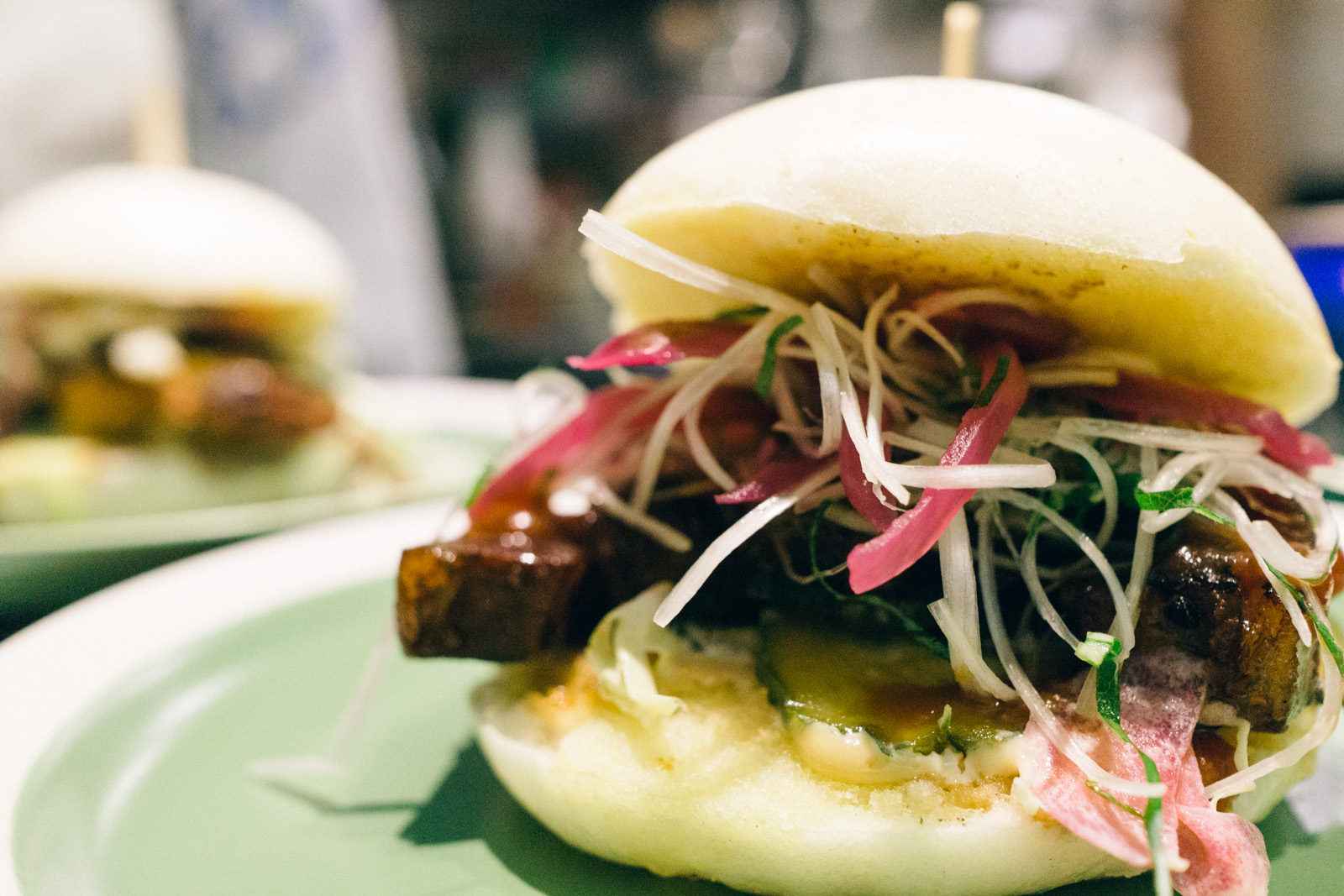 This slow-braised pork belly bao topped with leek & shiso red onion salad, sesame dressing and hoisin ketchup was AMAZEBAOS !!! The pork belly was soo friggin flavorful and tender.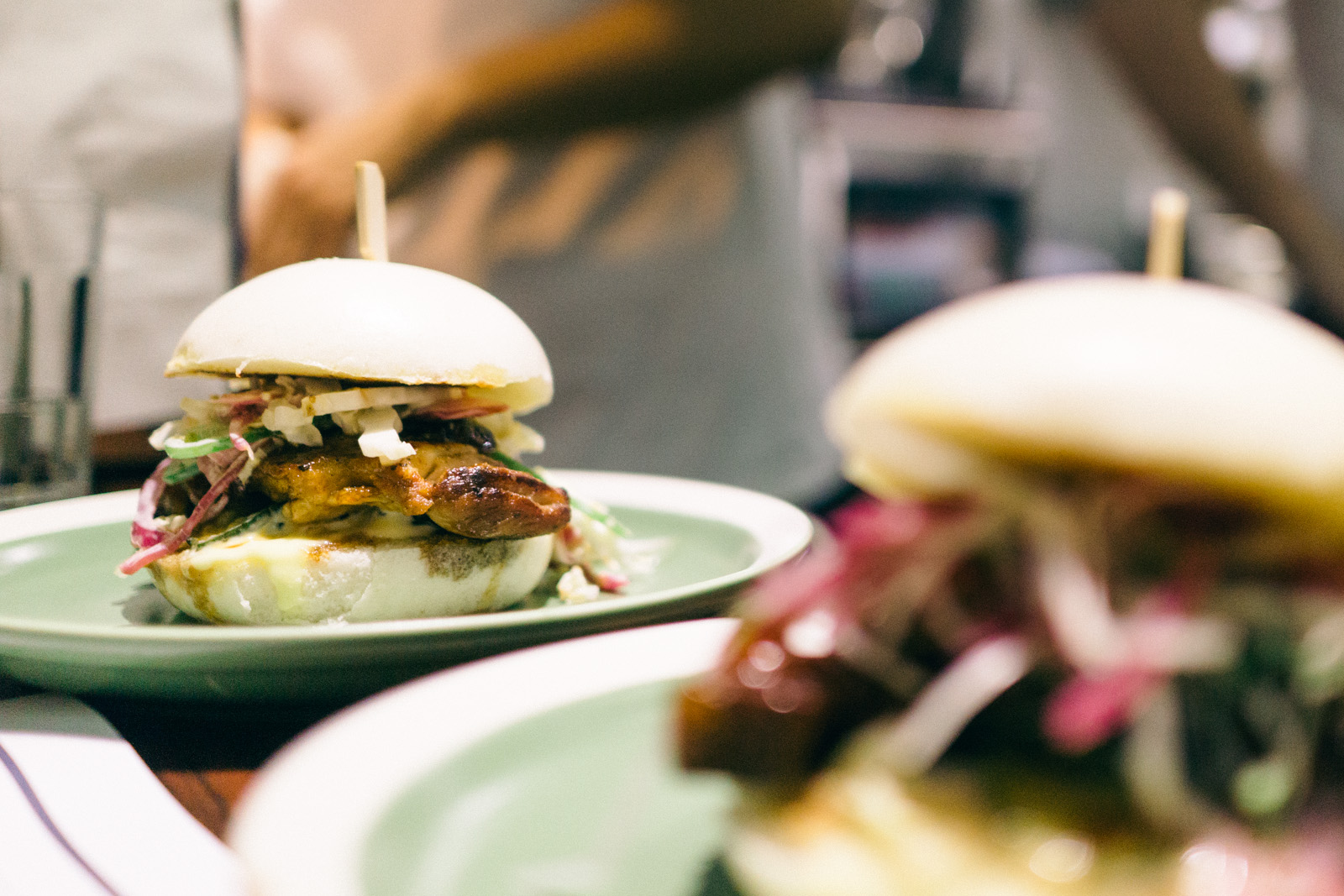 Chicken Bao made with fresh running chicken, black vinegar glaze, Szechuan mayo and napa cabbage coleslaw ($78 HKD or $10 USD).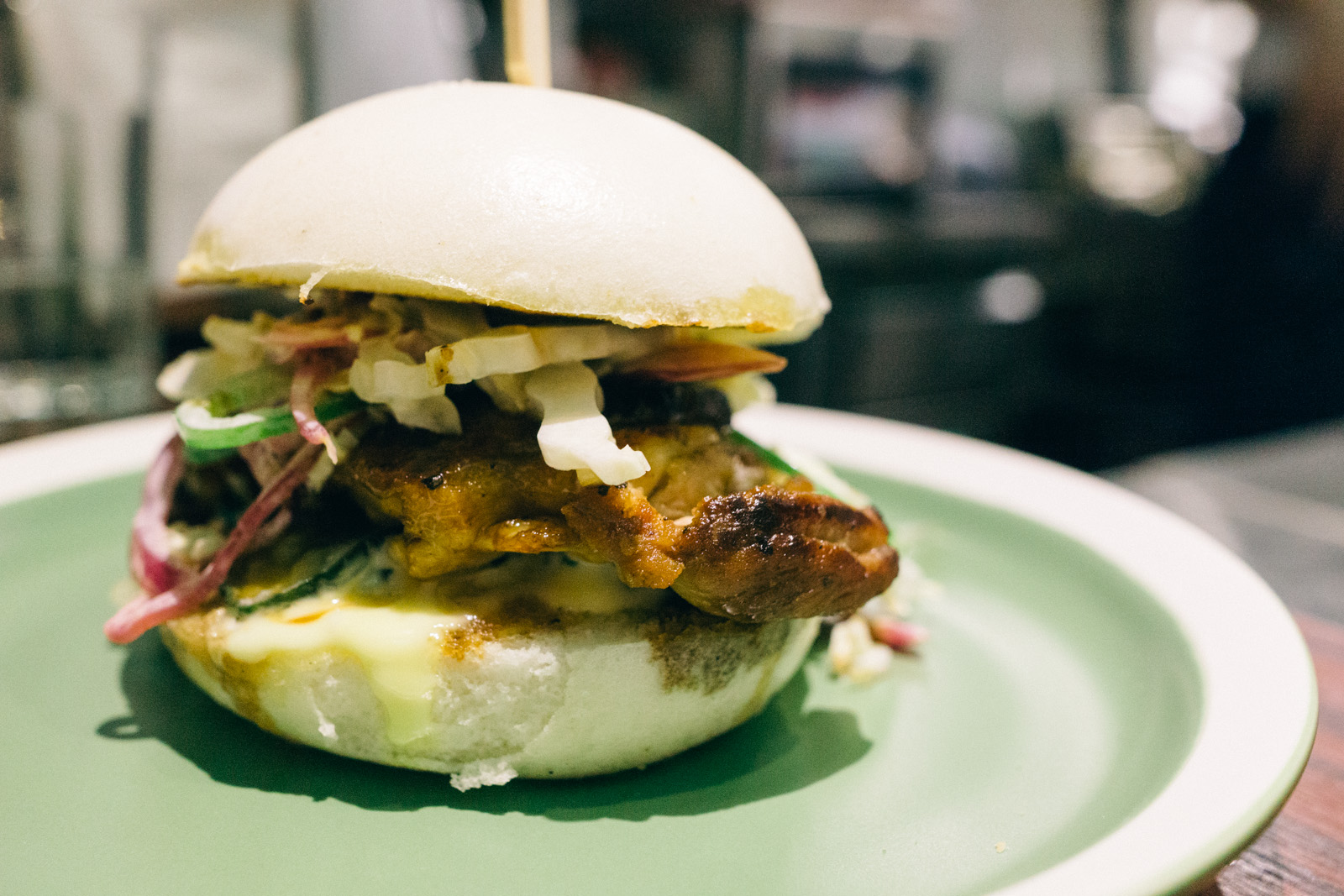 The Chicken Bao was juicy, succulent with a nice spicy kick from the Szechuan mayo.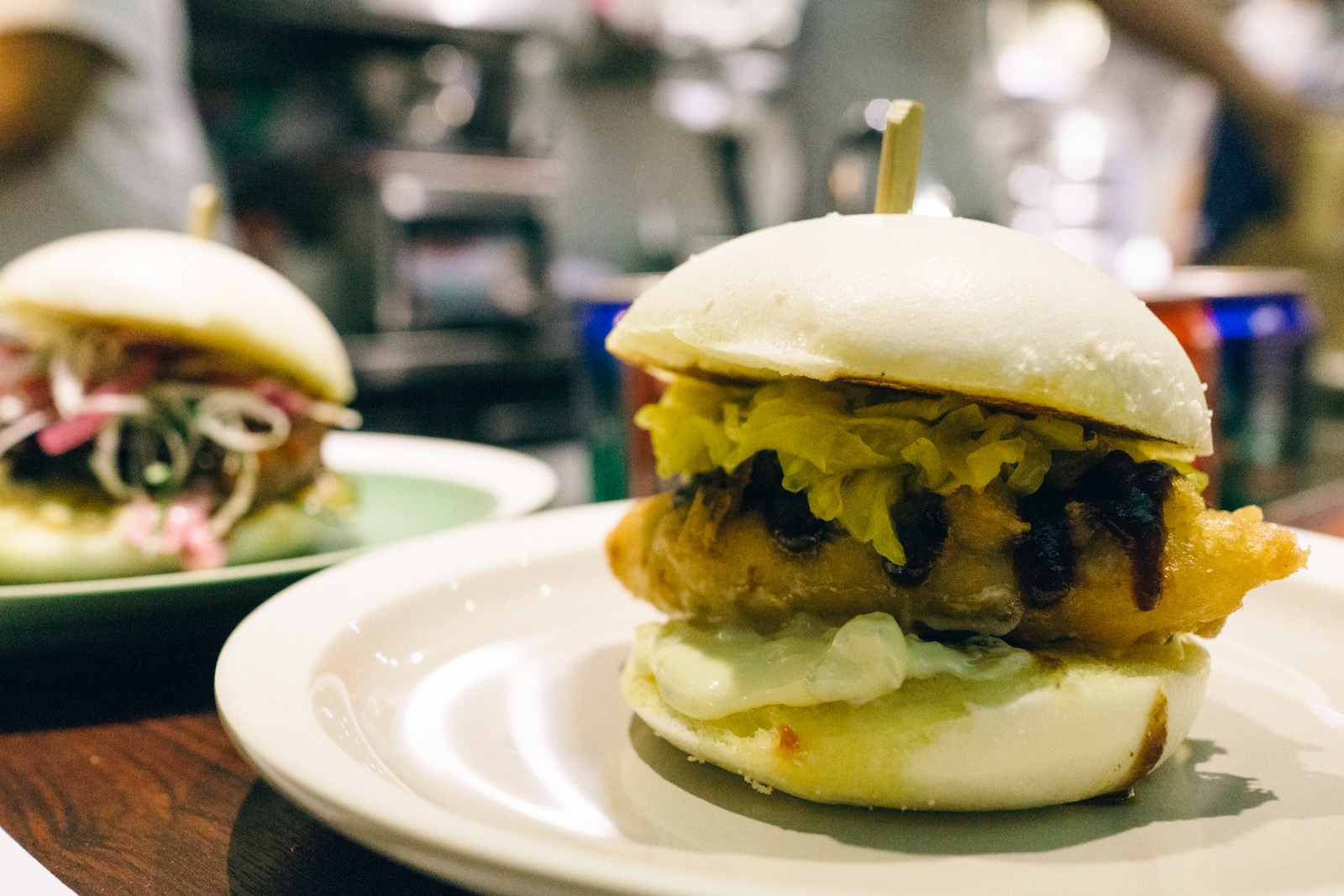 Fish Tempura Bao consisting of fried fresh market fish, tamarind palm sugar glaze, pickled lemongrass fennel salad ($78 HKD or $10 USD).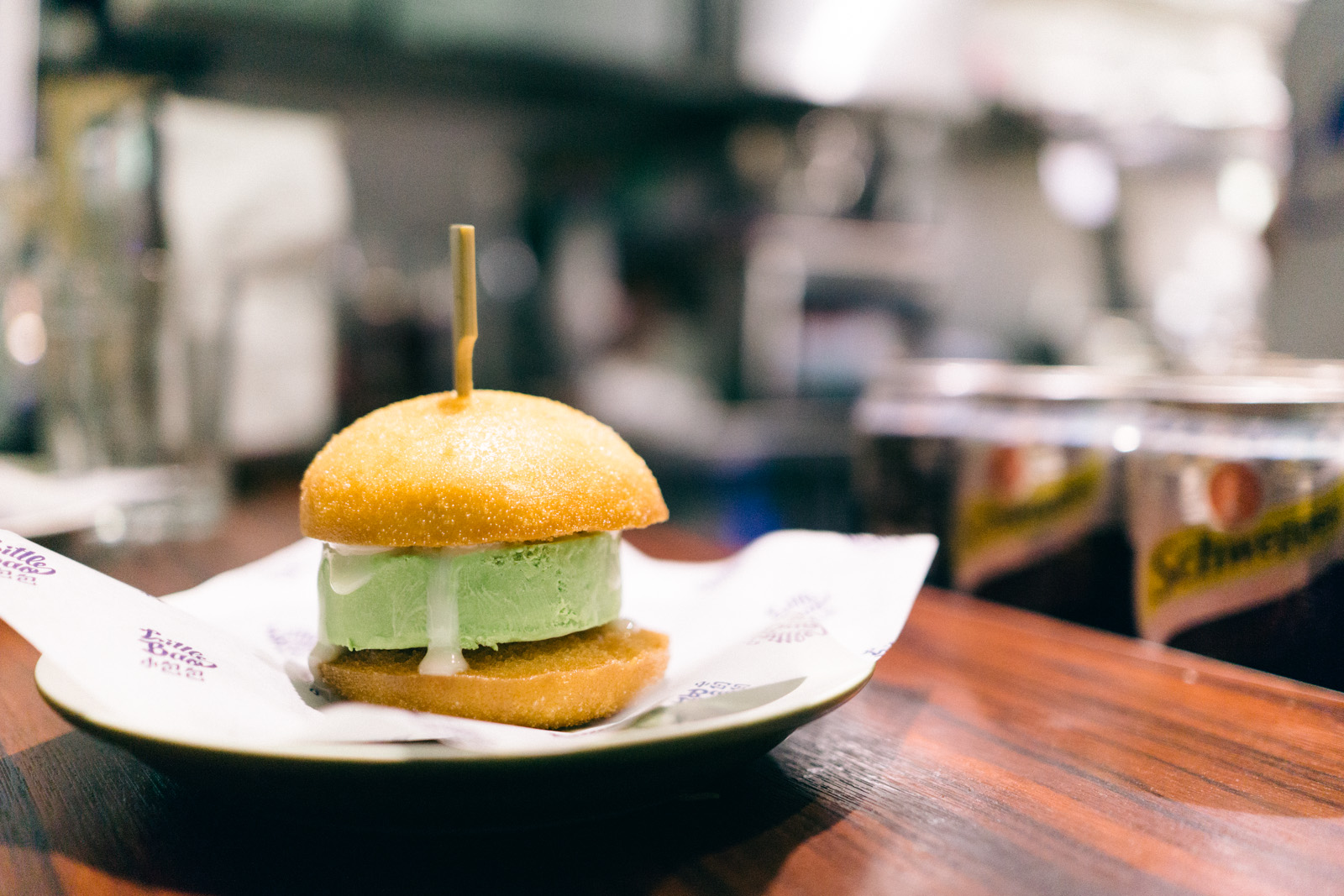 LB Ice Cream Sandwich ($48 HKD or $6.25 USD). This was SOOOO GOOD !!! I was tempted to take down five of these. I can't stop thinking about how friggin' amazing this creamy as fugg green tea ice cream sandwiched between sweet crispy fried buns was.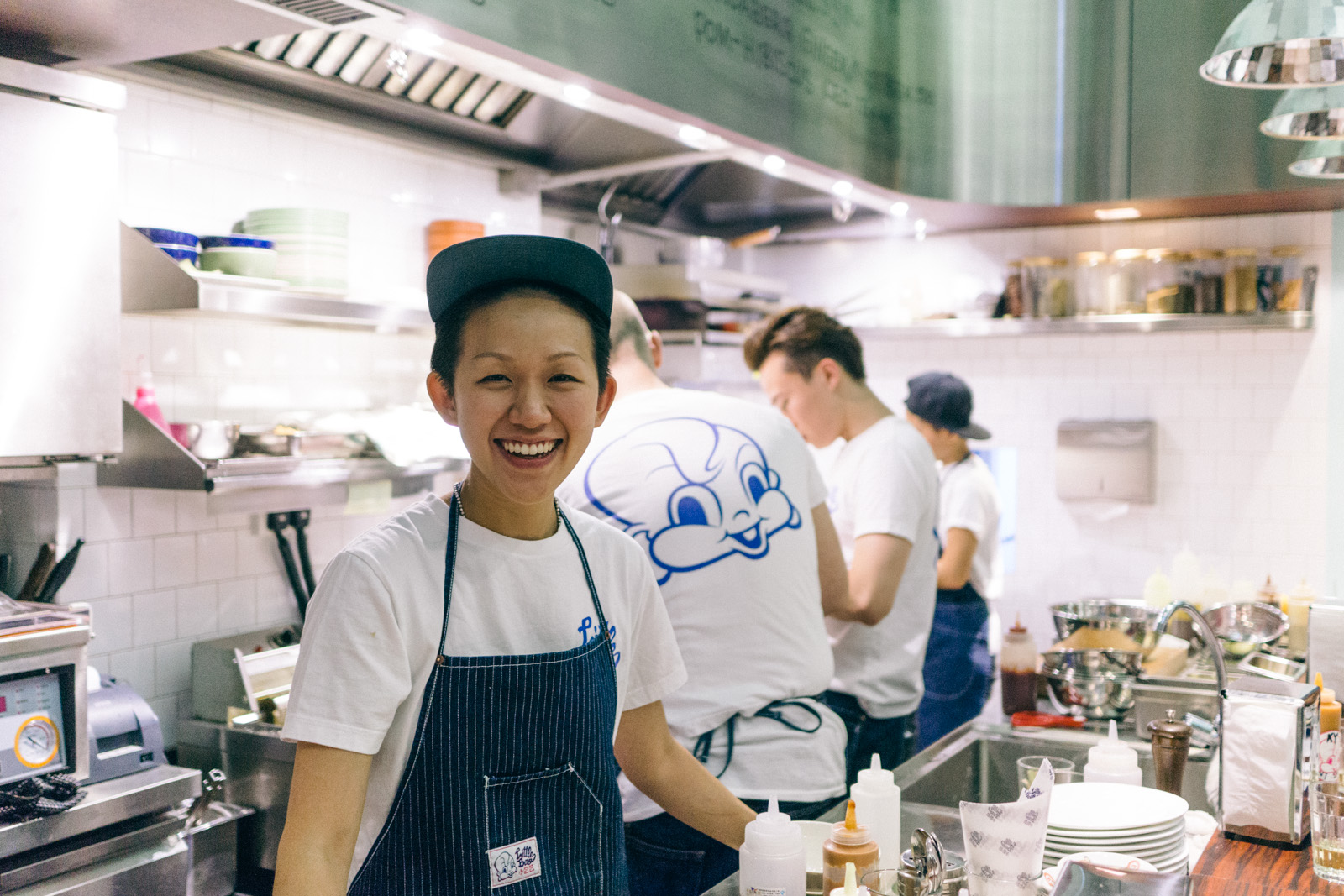 Congrats MAI !!!

View Larger Map
G/F, 66 Staunton St. Central, Hong Kong
p: +852-2194-0202
e: [email protected]
American, Asian, Chinese, Dinner, Hong Kong, Japanese, North American, Taiwanese