The Lowdown
Restaurant Name: Lee's Family Chicken
Cuisine: Korean Food
Average Price per Person: $100 to $180 HKD or $12 to $25 USD
Location: Tsim Sha Tsui, Hong Kong (please refer to the map below for details)
Recommendations: Fried Chicken, Spicy Fried Chicken, Cheese Hot Sauce Chicken & Rice Cake and Cheese Egg Roll

Ratings (out of 5)
Taste: 4
Creativity/Authenticity: 4.5
Atmosphere: 2.5
Service: 1
Bang for Buck: 3
Crayscale !!!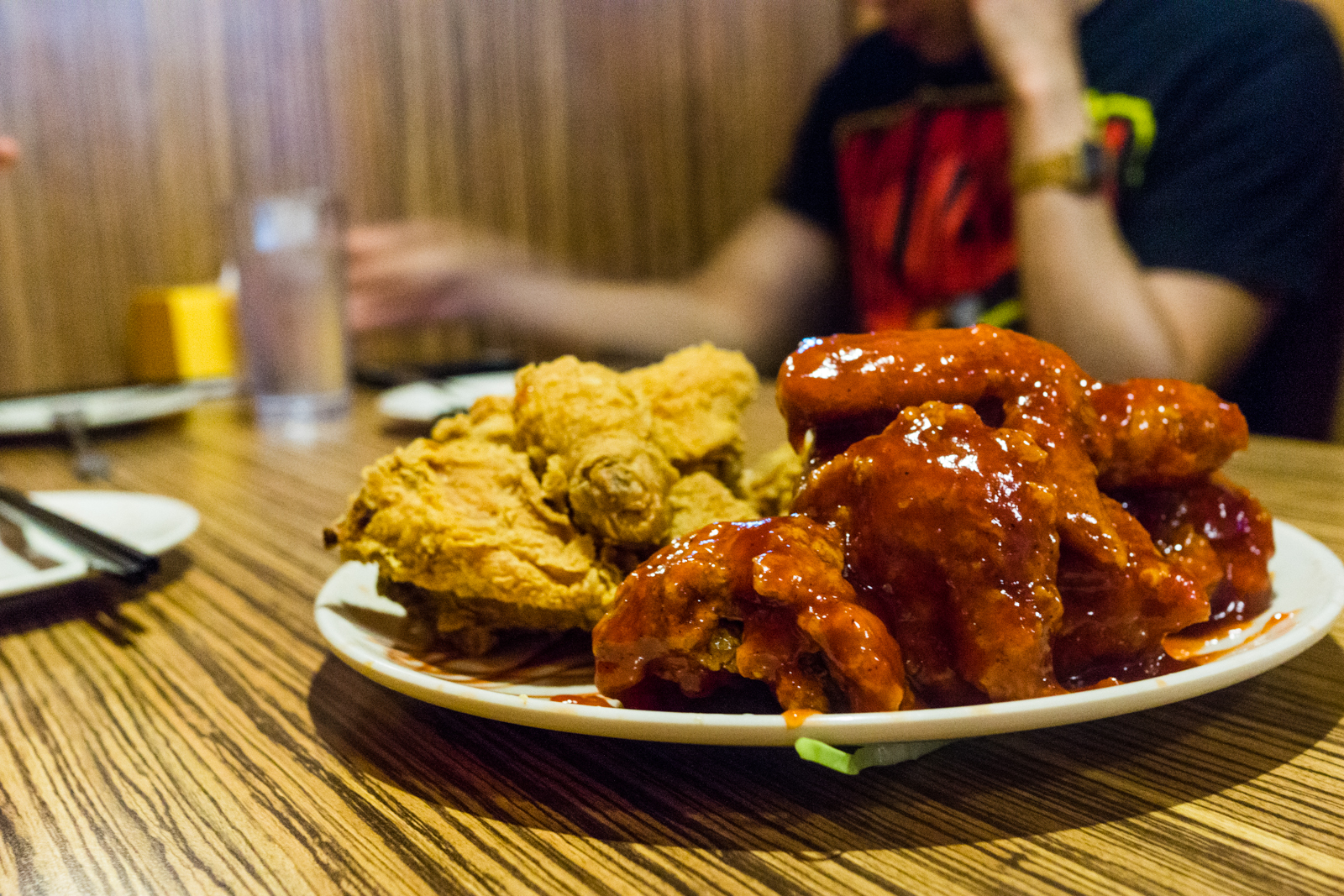 I'm obsessed with Korean Fried Chicken aka Bon Chon Chicken. I've been complaining about the lack of fried chicken restaurants in Hong Kong since moving here. I have owner of Yardbird and the iron chef of chicken, Matt Abergel, to thank for putting me on that Lee's Family Chicken. Lee's chicken is CRACK – hella crispy, juicy and tender. I can't believe Lee's has been right under my nose and took me this long to hear about this place.
Here's a quick 411 on Lee's Family Chicken. First off, this place would have gotten a better "CRAY Scale" rating if the service was better. The fried chicken is effing delicious, but the service is atrocious and extremely disorganized. The restaurant does not take reservations apparently and there is no seating system. I'm about to go in on a rant here, so if you want feel free to skip to the next paragraph. A friend showed up earlier to try to grab a table. The server told him that they don't give out tickets and told him to wait outside. He sat outside for a good 20 minutes, and the people that showed up after him ended up getting a table first. We were pretty choked and asked the waiter what the dillio was. He said "we don't guarantee first come, first serve". WHAT? So you don't take reservations, you don't give out tickets, you don't have any sort of queuing or seating system and tell people to wait outside without any record of who came first, that's pretty ridiculous. Honestly, if this place hadn't been recommended by Matt, we would have been long gone. However, we were told after our first Lee's Family Chicken experience that this place is better suited after a night of debauchery where you're so wasted that you can look beyond the service.
After some yelling and shuffling of tables, we were finally seated. After all that, this better be the best cot damn chicken I've ever had. Our main focus was on the chicken so we ordered 3 types – regular, spicy and spring onion fried chicken. As soon as I sunk my teeth into that crunchy, hot and juicy delectable chicken, all was forgotten – kinda like make up sex #nahmean. The tension and frustration had built up quite the appetite so we also ordered the rice cakes and a cheese egg roll. Again, all the angst had dissipated as we stuffed our faces with mouthfuls of chewy and flavorful Korean rice cakes smothered in a mountain of cheese. The egg roll was pretty amazing too, stuffed with melted gooey stringy cheese.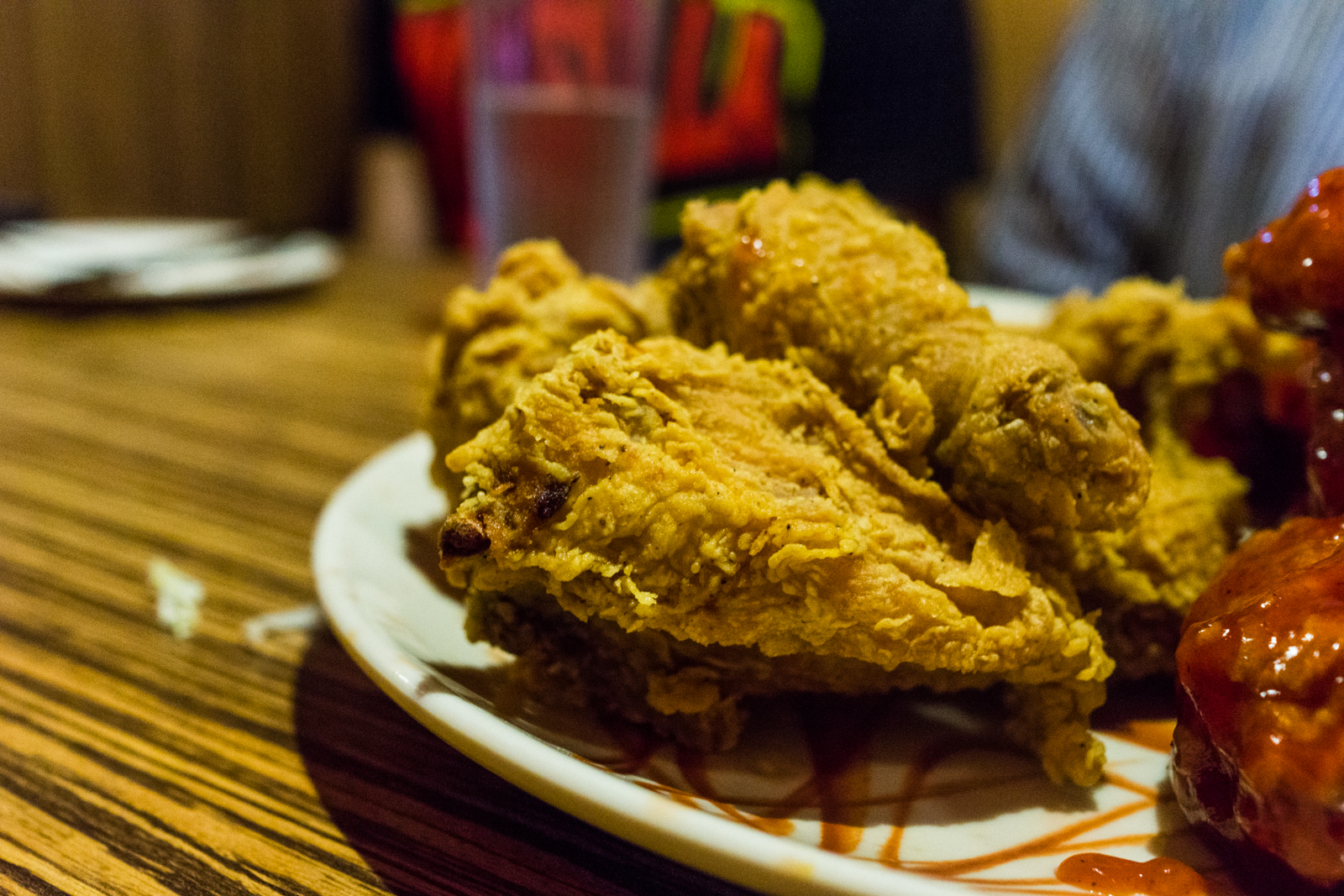 Fried Chicken ($160 HKD or $20 USD).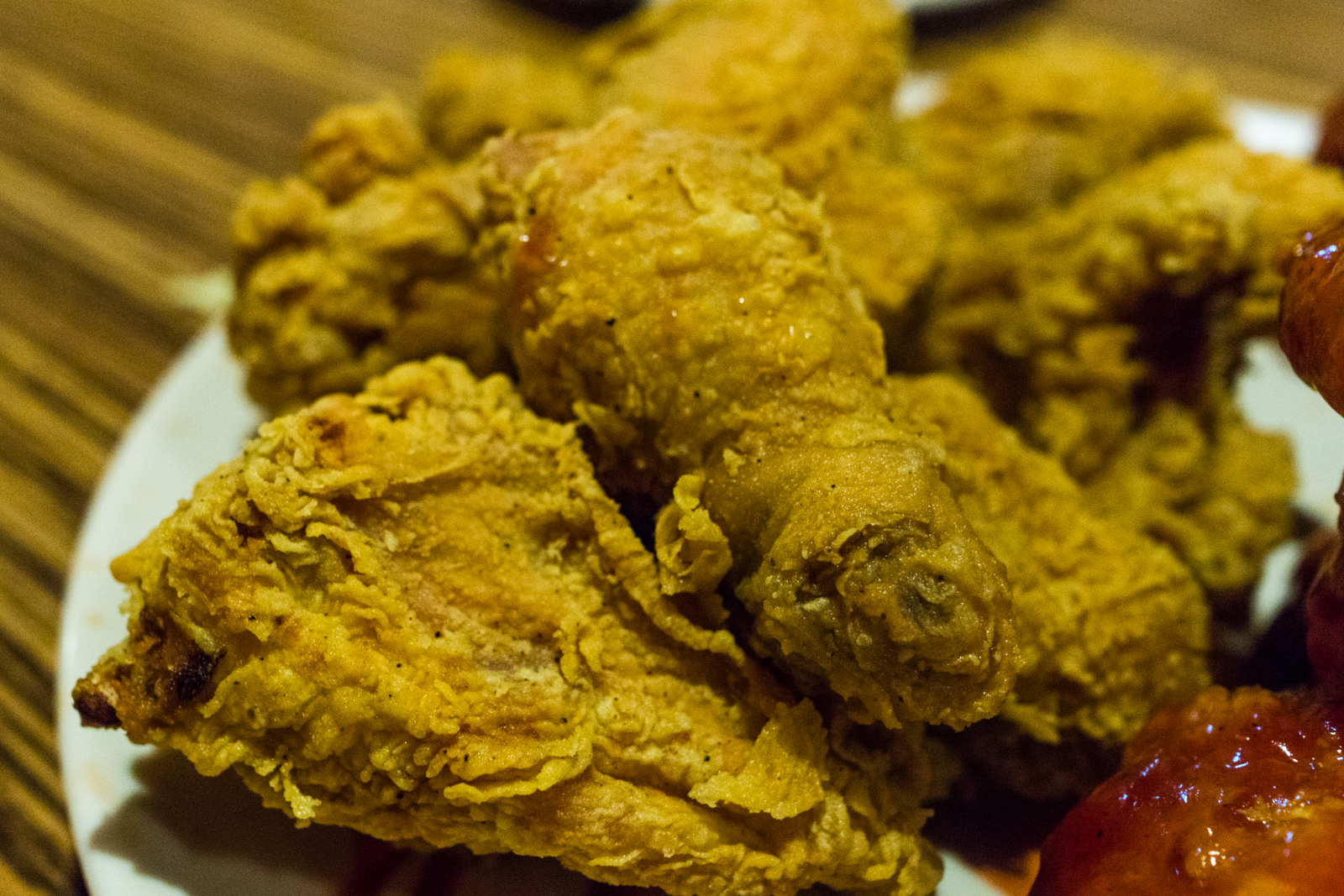 The original was my favorite of the three we tried.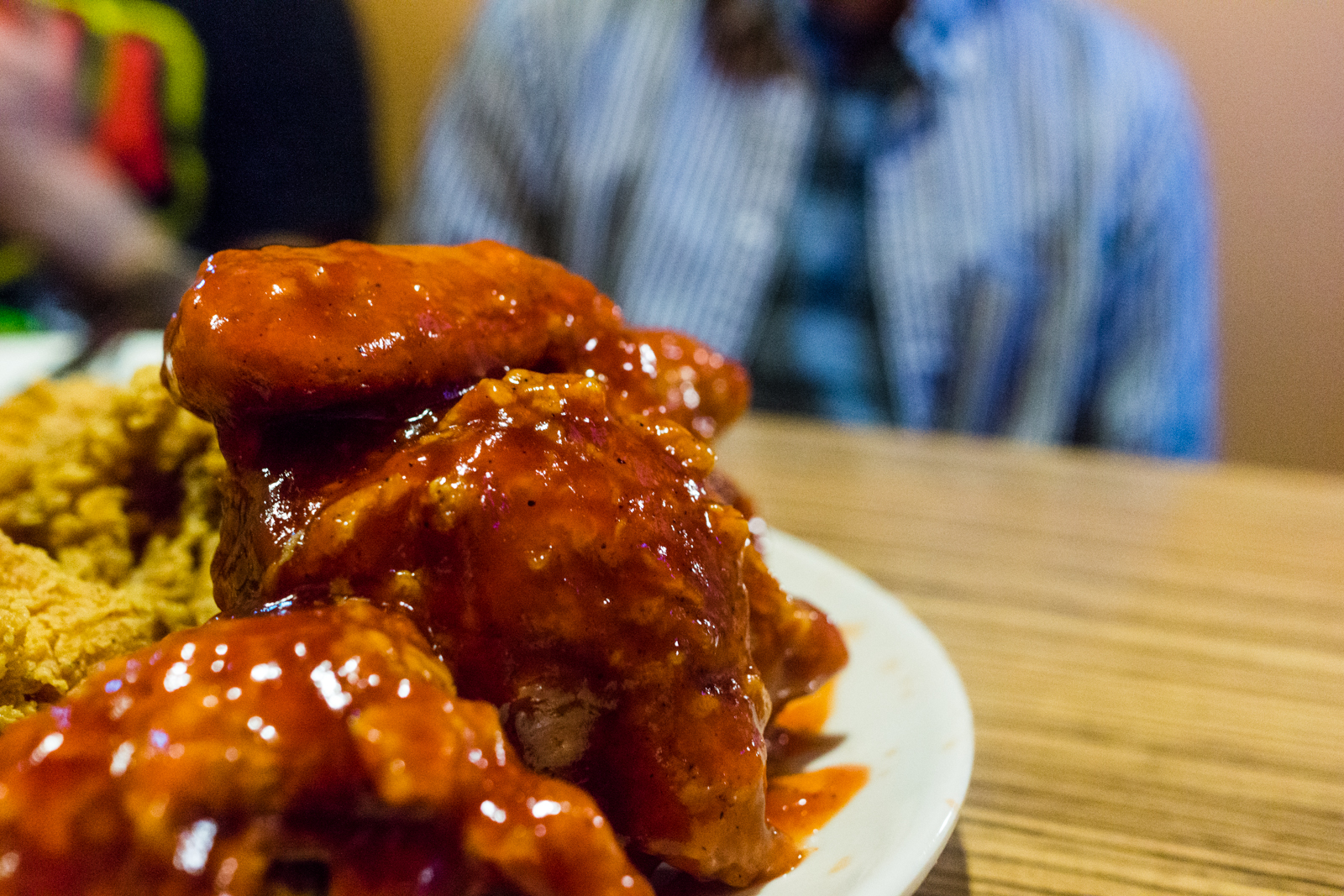 Spicy Fried Chicken ($160 HKD or $20 USD). The spicy fried chicken was pretty much doused in Gochujang, a Korean chili paste made of red chili, glutinous rice, fermented soy beans and salt. It wasn't too spicy and, but I like my spicy fried chicken slightly more tangy and acidic.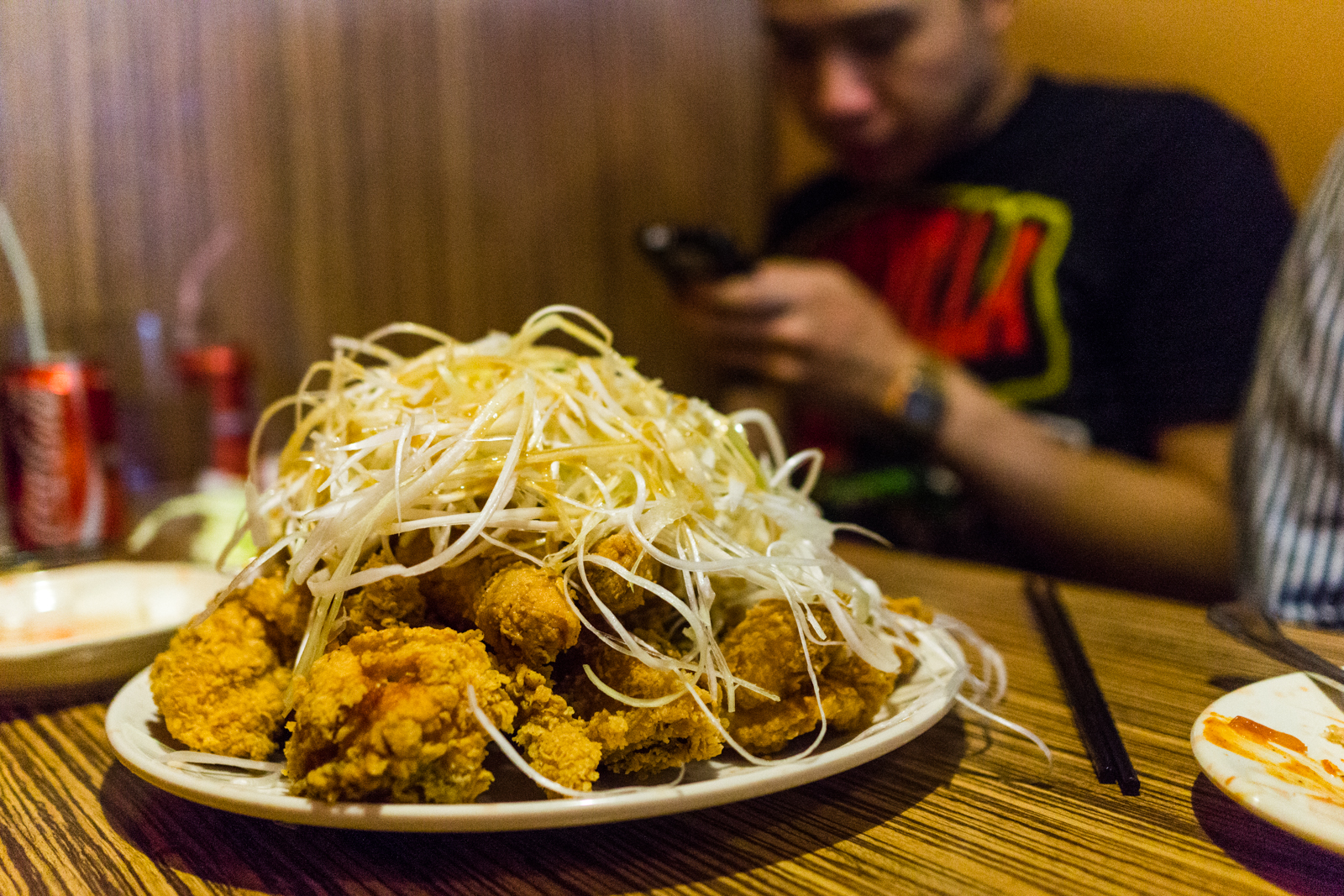 Spring Onion Fried Chicken ($180 HKD or $23 USD). The spring onion looks insane. We were pretty amazed when it came to our table, but when we soon realized that it's really just the original fried chicken wearing a spring onion wig. The spring onion tastes good with the fried chicken, but it's kind of hard to eat and whips you in the face and gets in your hair.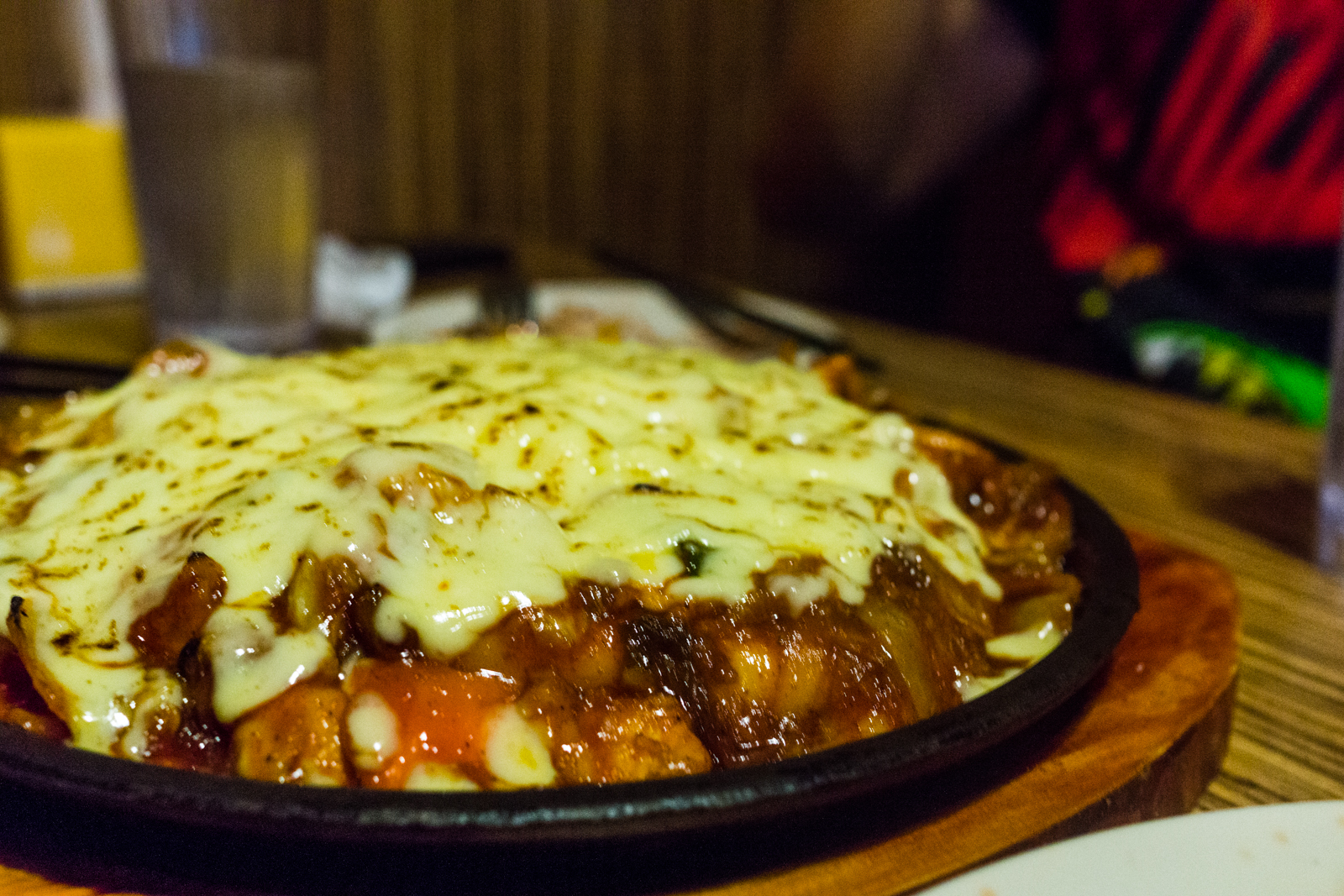 Cheese Hot Sauce Chicken & Rice Cake ($160 HKD or $20 USD).
This stuff was banging. The ddeokbokkie or glutinous rice cakes were drenched in Gochujang, smothered with melted cheese and served on a hot plate. SOO GOOD!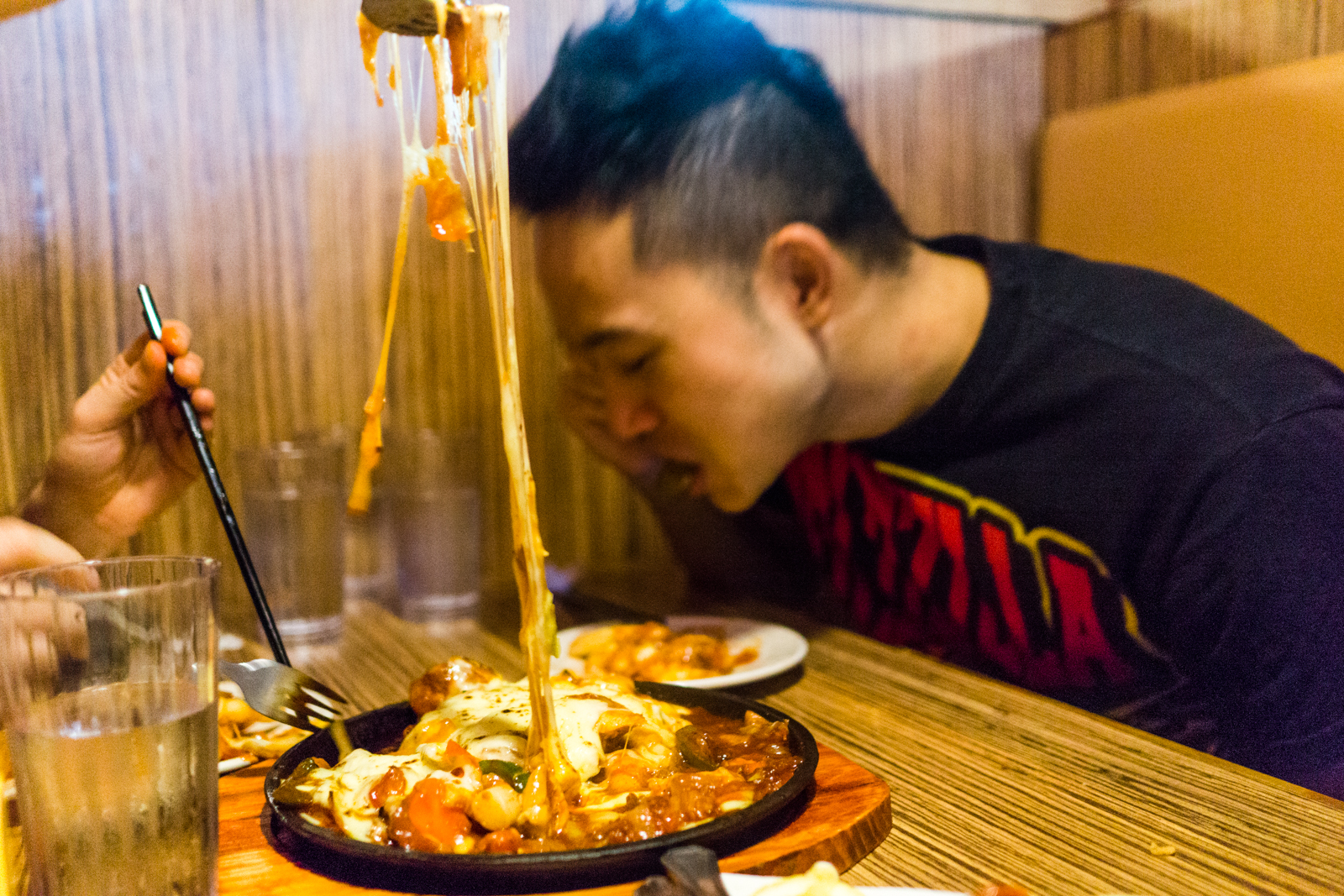 Cheese for DAYSSS!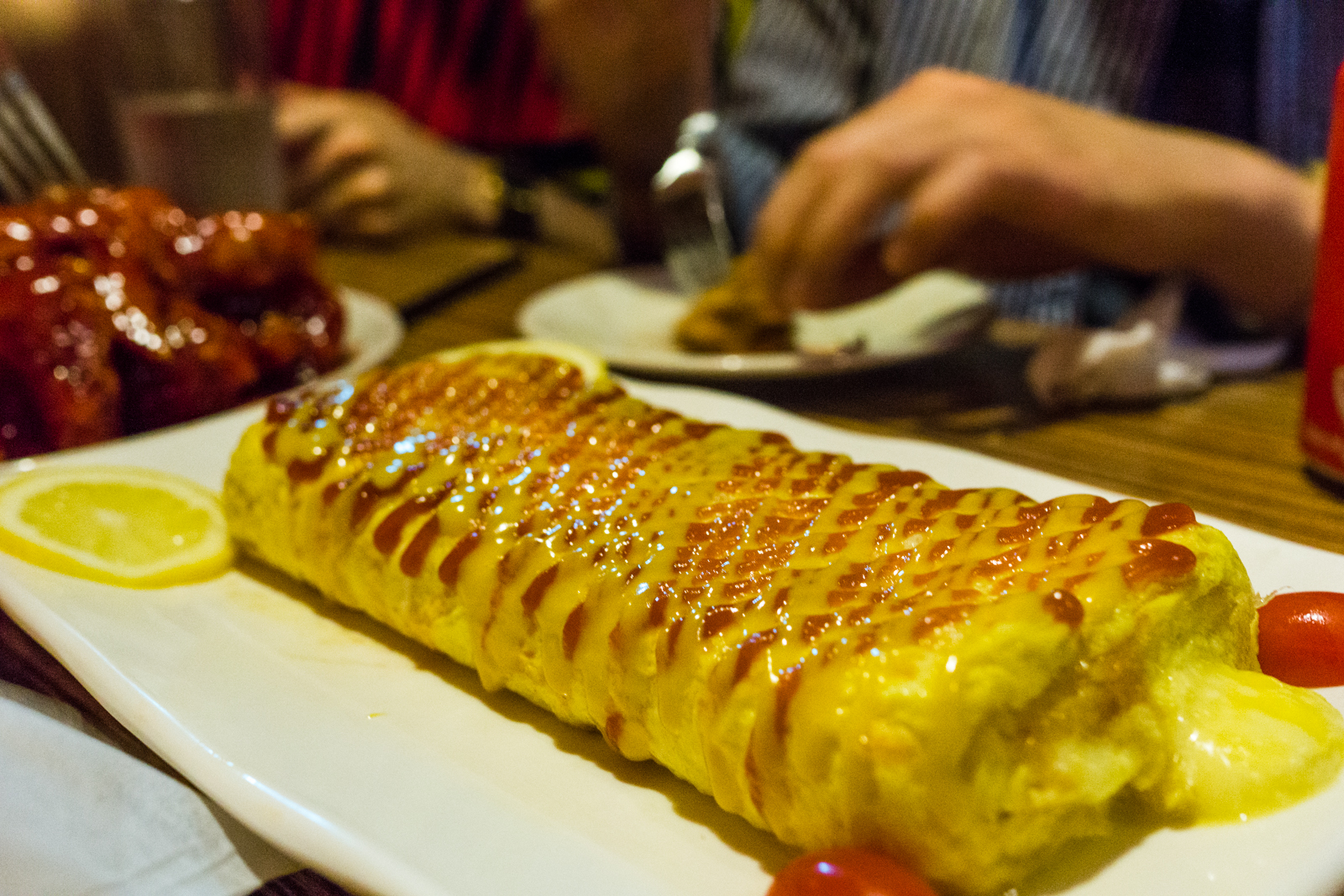 Cheese Egg Roll ($120 HKD or $15 USD).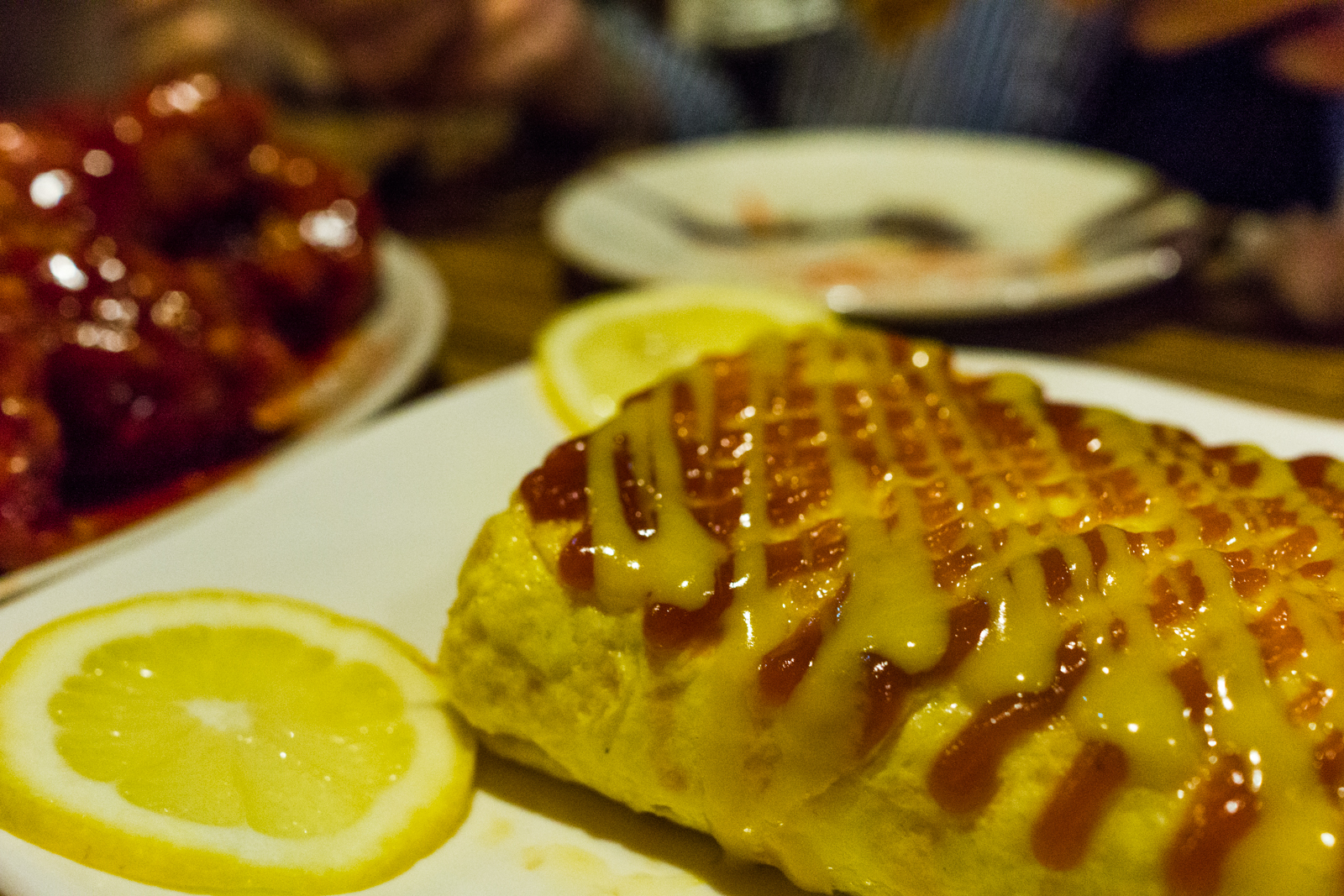 The cheese egg roll was essentially a rolled omelet stuffed with cheese. 
SOOOO CHEESY !!!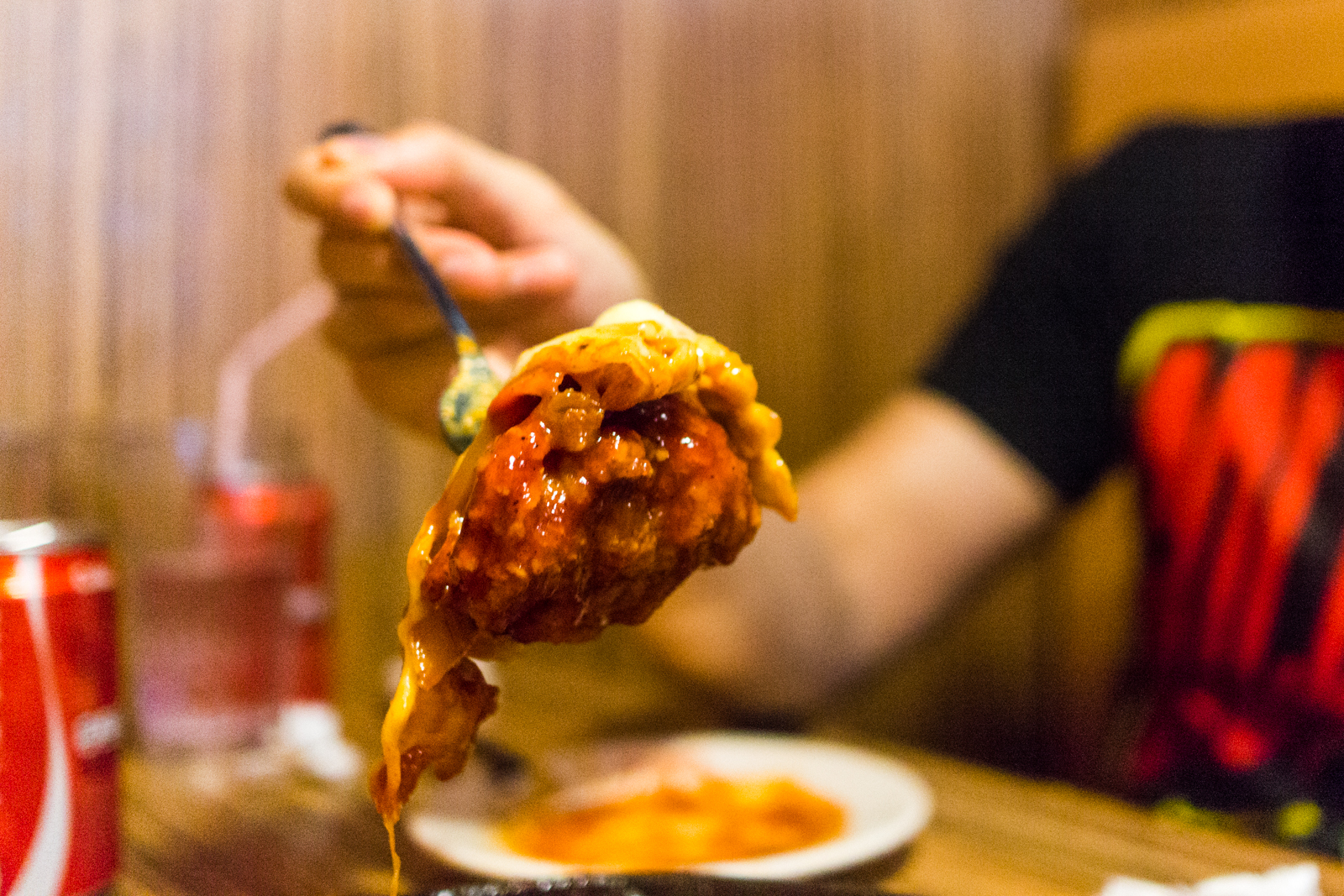 Given the high percentage of menu items with cheese, I can't believe they didn't think of this one – cheese x fried chicken.

View Larger Map
84 Kimberley Rd, Tsim Sha Tsui, Hong Kong
p: +852.2375.8080
Asian, Dinner, Hong Kong, Korean