Hong Kong Cray !!! ATUM Desserant Next Level Contemporary Dessert
The Lowdown
Restaurant Name: ATUM Desserant
Cuisine: Contemporary Dessert
Average Price per Person: $130 to 200 HKD or $17 to 25 USD
Location: Causeway Bay, Hong Kong (see map below for details)
Recommendations: Truffle, Corn, Foie Gras, Berries, Uncertain and Improvisation

Ratings (out of 5)
Taste: 3.5
Creativity/Authenticity: 4.5
Atmosphere: 4.5
Service: 4.5
Bang for Buck: 3.5

Crayscale !!!
Dedicated strictly to desserts, ATUM Desserant steps up the dessert game in Hong Kong taking an unconventional approach to satisfying that sweet tooth. Straying from traditional Hong Kong dessert spots (which in fairness ATUM never tries to mimic), which usually serve sweet soups, glutinous rice products, fresh fruit dishes, shaved ice, jellies, puddings or ice cream, ATUM introduces innovative contemporary desserts using flavors familiar to the Chinese palate.
Chicago's Alinea, seems to have been a source of inspiration for ATUM, using modernist techniques, mainly molecular gastronomy, along with artistic plating and table theatre. Although, far from The World's 9th best restaurant, ATUM seems to challenge its creativity unlike most dessert restaurants in Hong Kong.
With only a handful of bar stools surrounding the dessert bar, a personal dessert specialist is designated to each group for the duration of your meal. The menu consists of all-dessert-everything, continually evolving based on seasonality with an "Improvisation" piece that serves two. ATUM constantly experiments with ingredients and strives to customers with unexpected flavors such as bamboo charcoal, corn, beetroot, truffle and foie gras. So far, we've been on two separate occasions and the menu was completely different. Here are the items we tried and our verdict!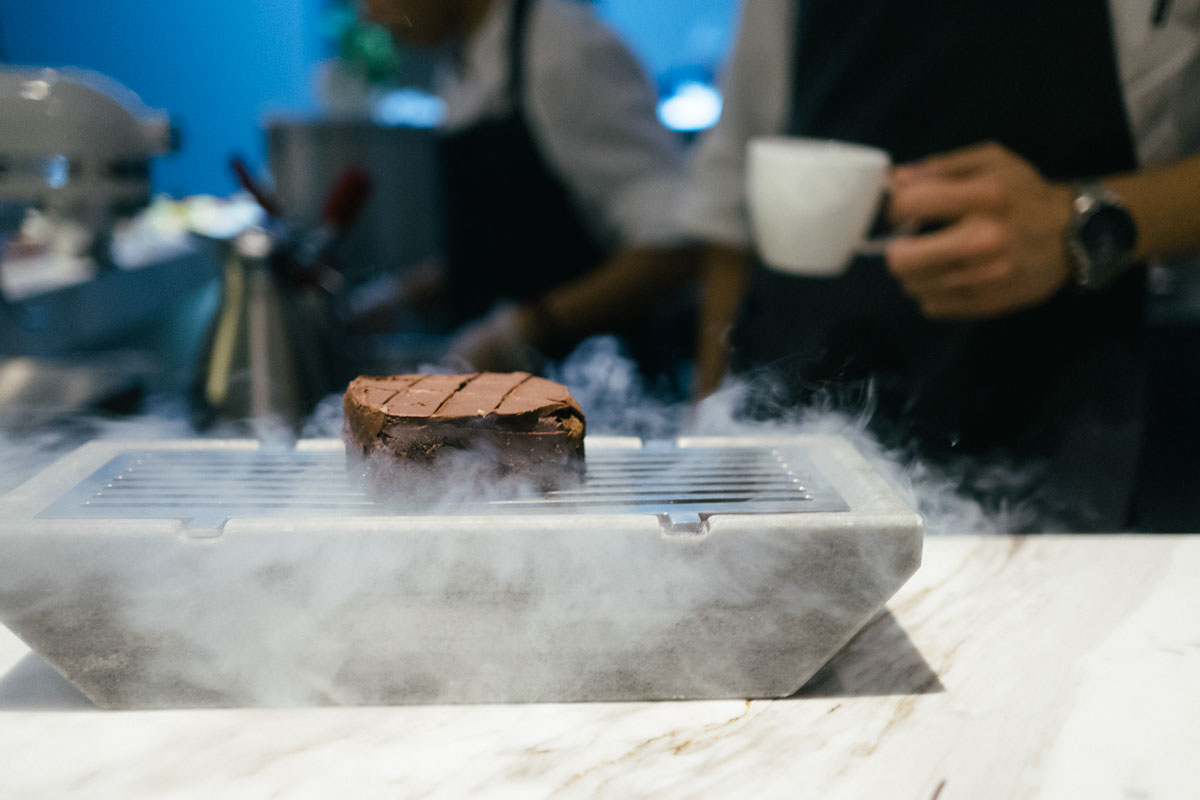 Steak with brownie, poprocks and frozen yogurt ($138 HKD or $17.80 USD).This was a play on "Steak" made of a chocolate brownie with pop rocks and yogurt ice cream.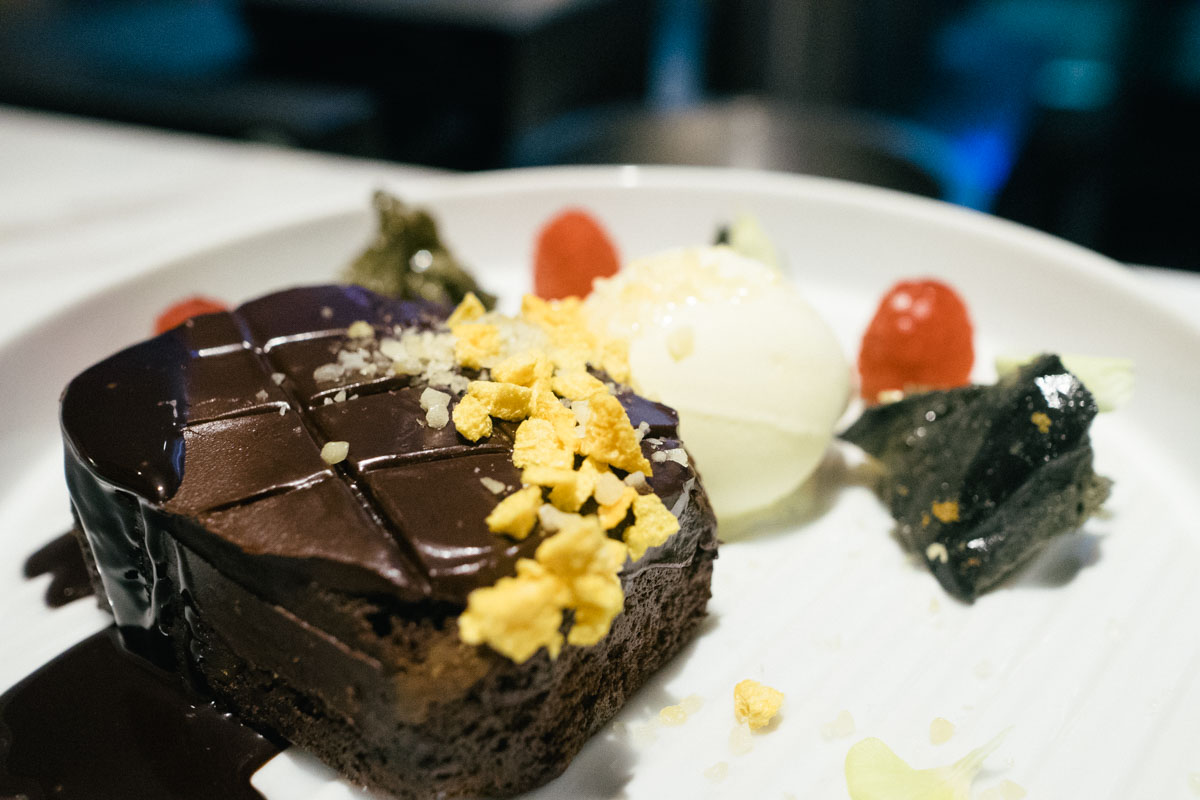 The "steak" ended up being quite moist and had a good texture thanks to the poprocks and walnuts.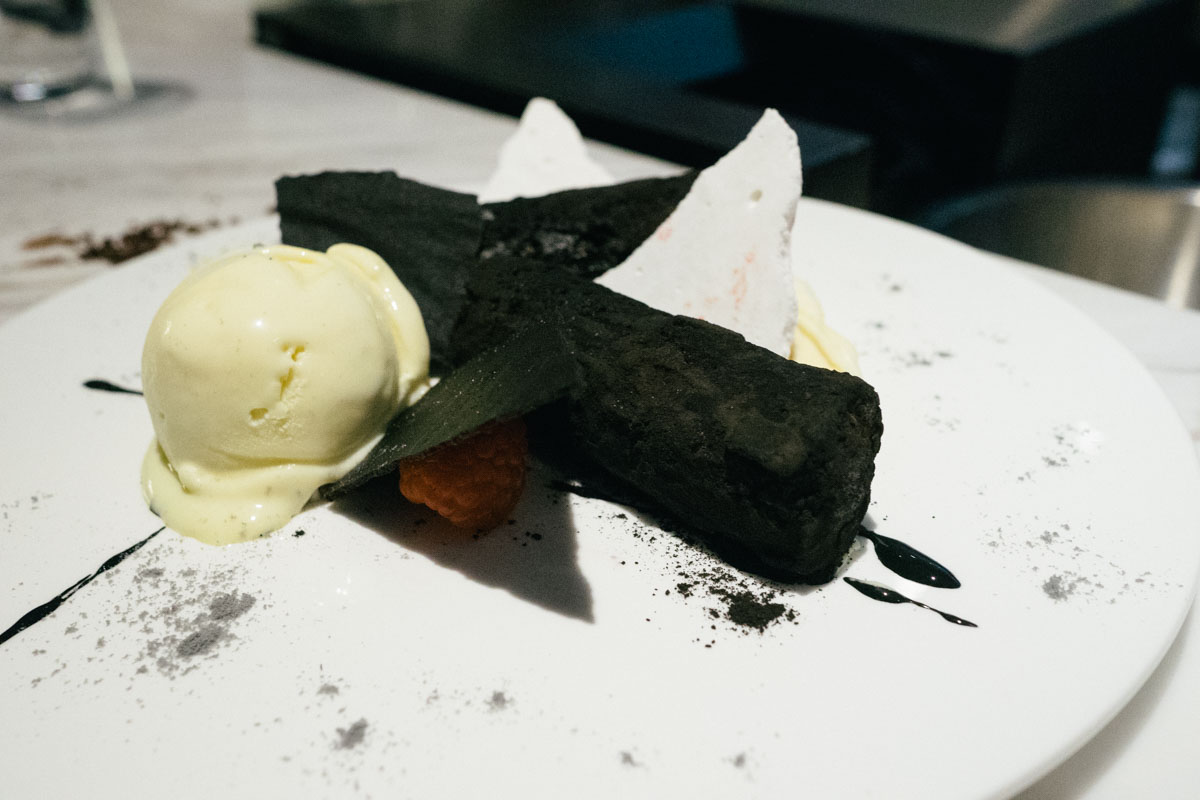 "Uncertain," a mystery menu item which turned out to be a chocolate grape cake with truffle honey ice cream (pricing depends on the day's offering). The cake was a bit dry but had a nice and subtle lingering grape flavor.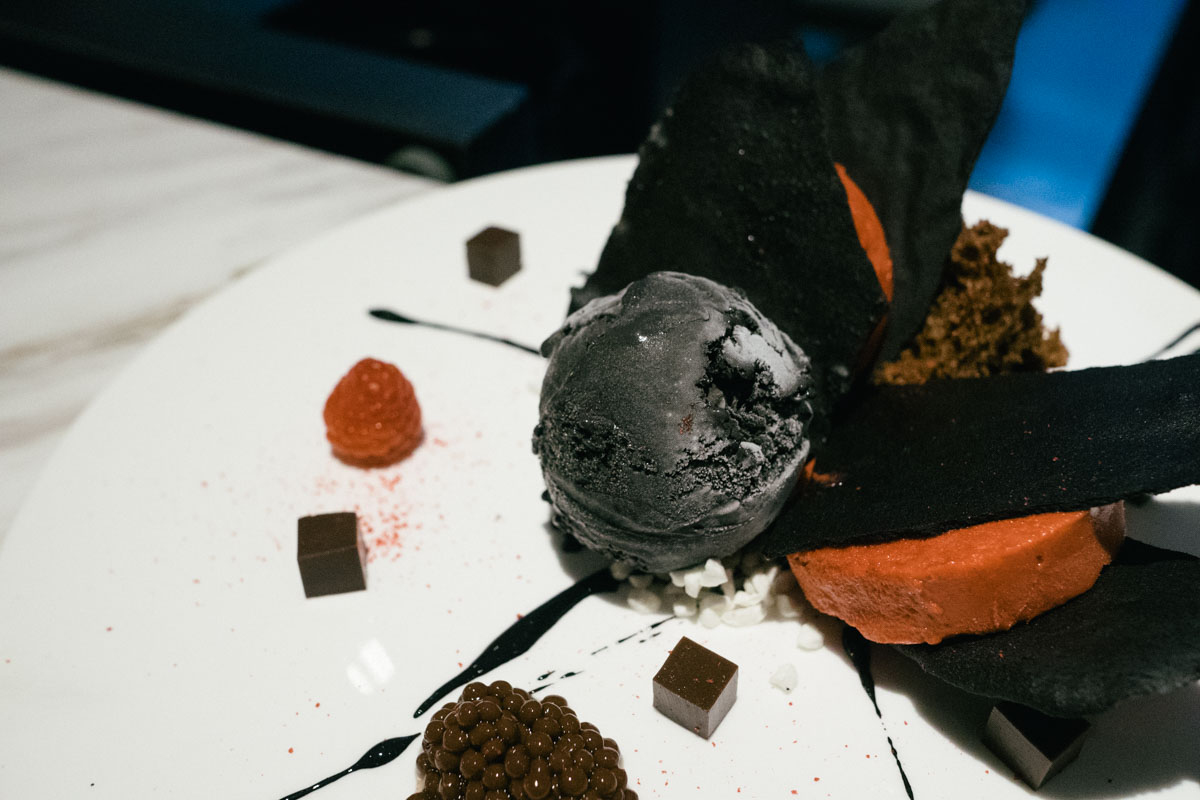 Bamboo Charcoal with raspberry sorbet, chocolate caviar and bamboo charcoal ice cream ($138 HKD or $17.80 USD).
Improvisation for two ($328 HKD or $42.30 USD). A lot of people usually order this. It basically encompasses a free-flow sort of service where a mat (suited for food of course) is laid out in a color of your choice. From there, your "artist," begins to lay out an improvised arrangement. The arrangement features an exhaustive list including caramel, yogurt, passion fruit, yuzu cream, meringue, marshmallow ginger ale, orange jelly, lime mousse, green tea mousse, green tea mochi, bamboo charcoal, chocolate mousse, raspberry sorbet, and chocolate liquid nitrogen sorbet.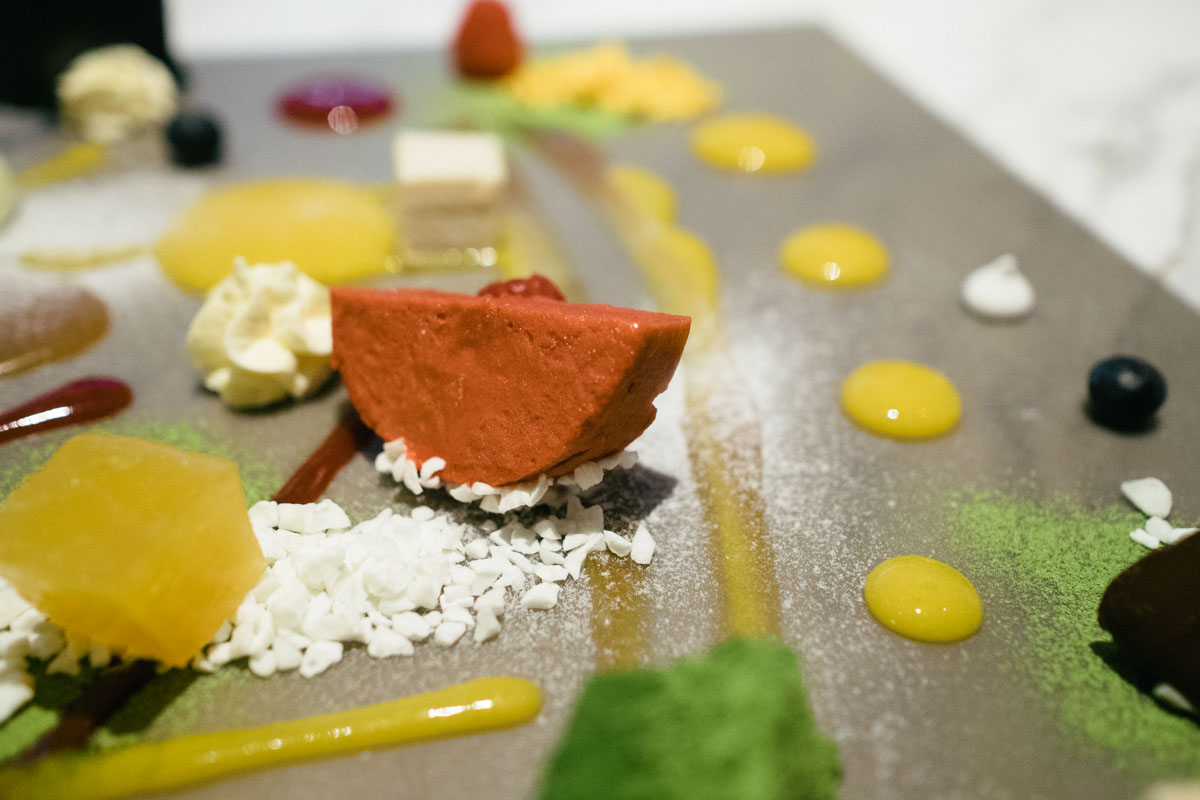 There isn't really a proper way to eat this. You kind of just take bits and pieces mixing whatever flavors you think would work together. Generally everything chosen by the artists should match well together.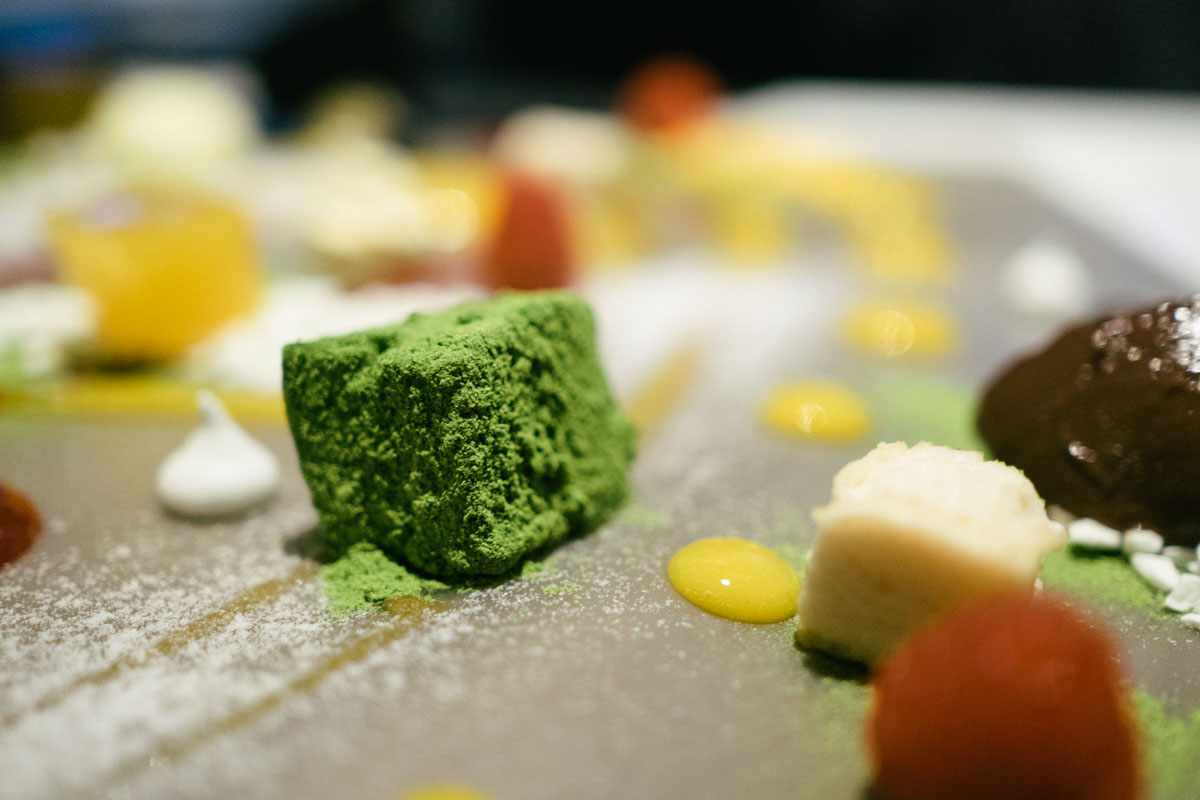 Green tea mochi was one of our favorites.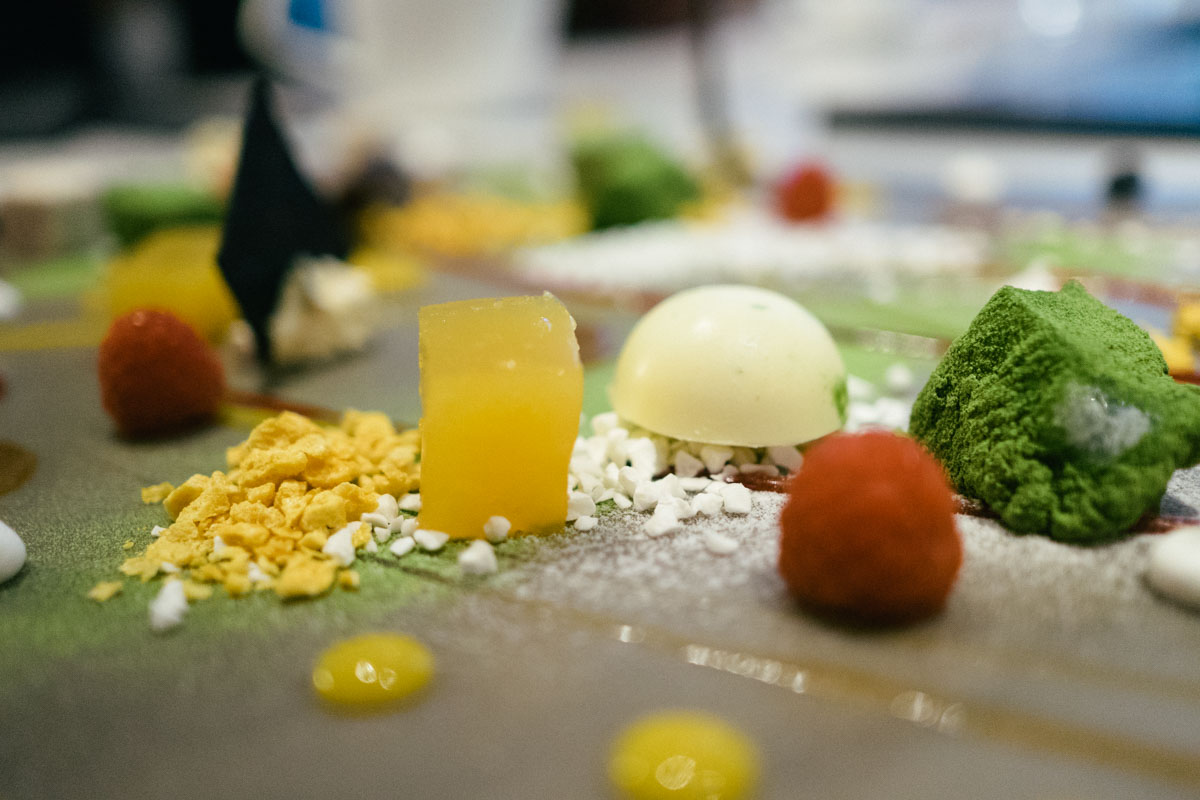 Orange jelly for a nice refreshing hit of citrus.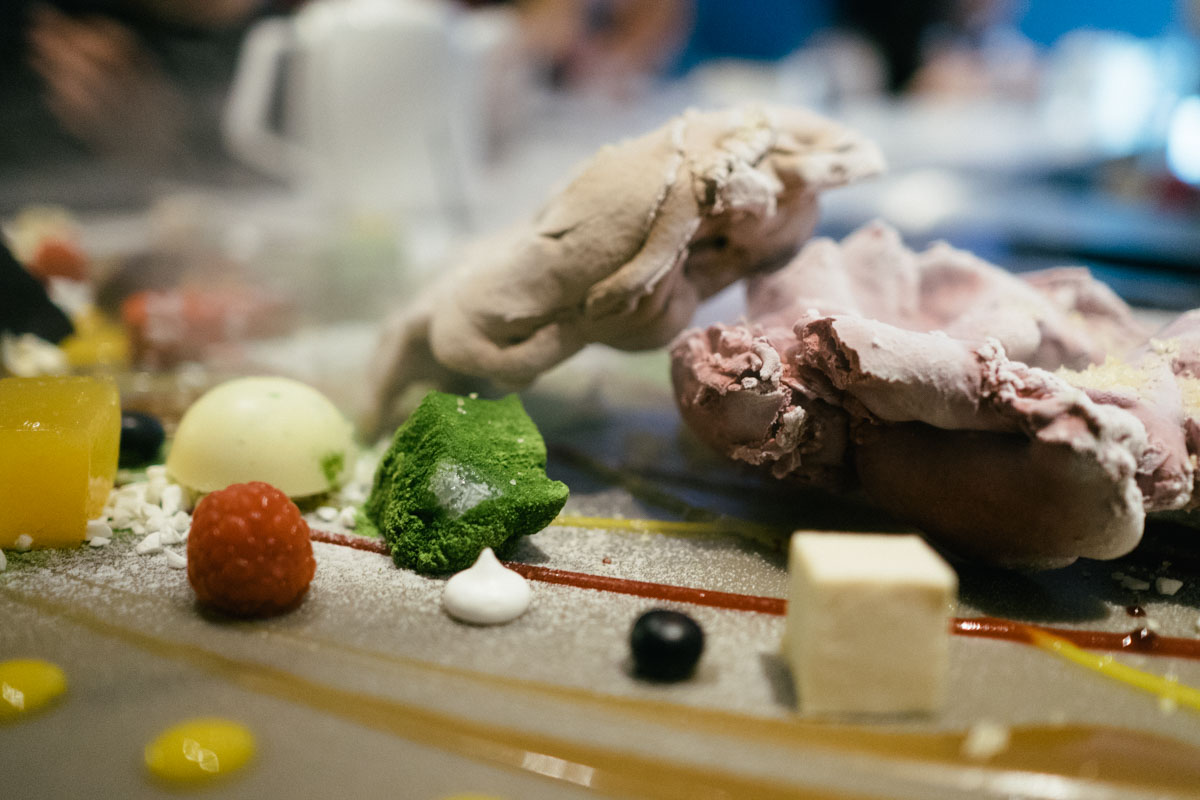 To cap everything off, they throw down a big hunk of liquid nitrogen sorbet that you can take hits of.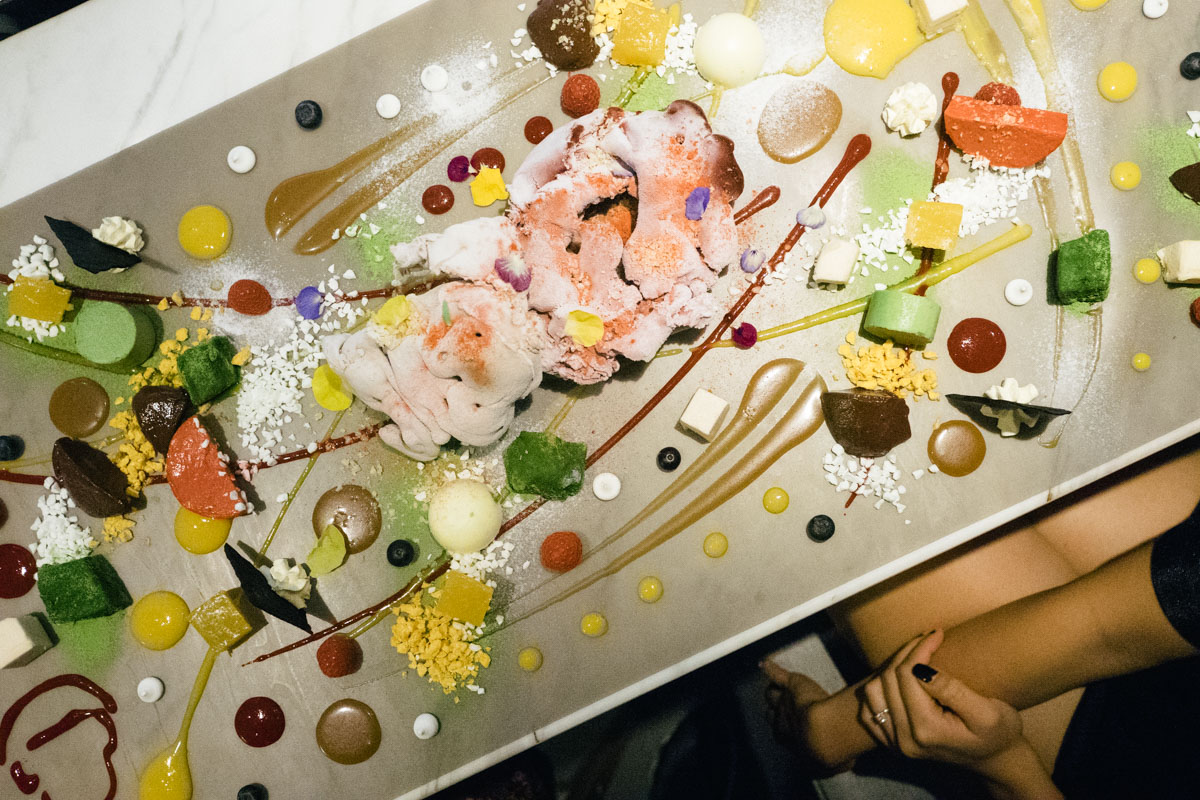 The view from above.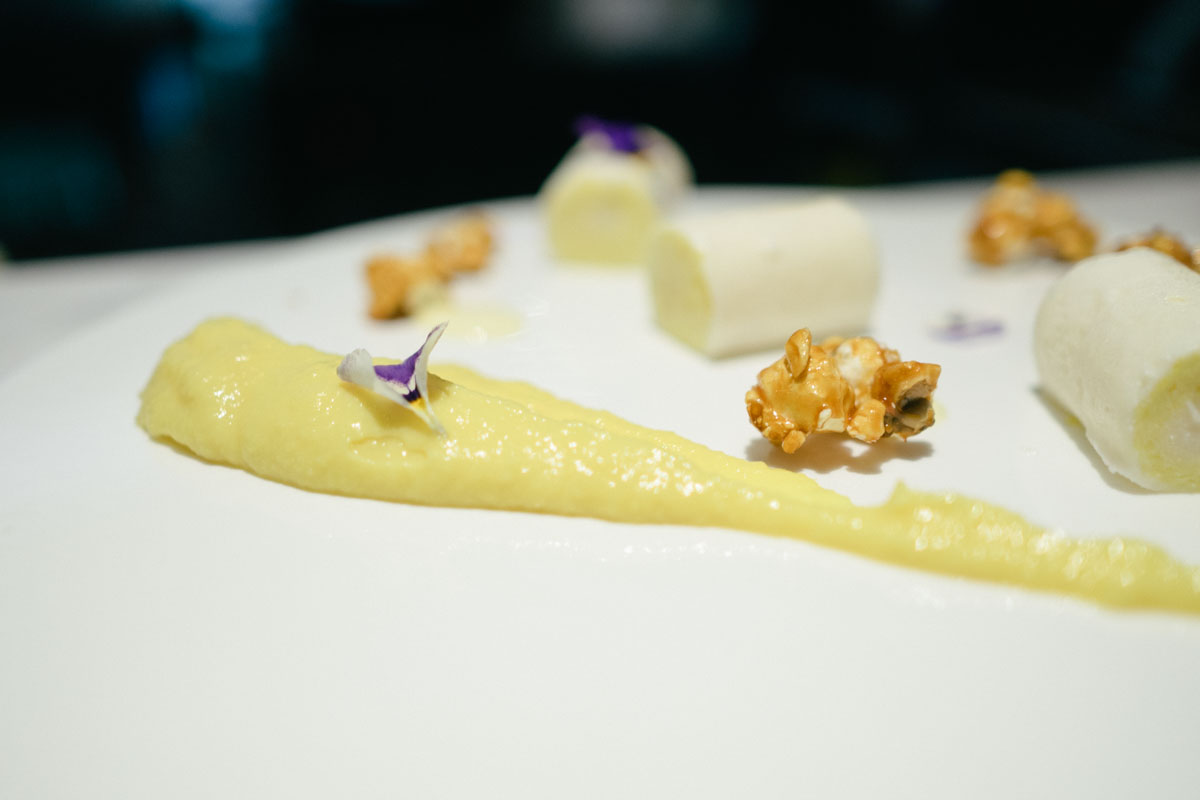 Corn with popped corn, butter corn parfait and sweet corn puree ($128 HKD or $16.50 USD). Asians love corn in their desserts and this hit the spot. The consistency of the puree was totally on point and it offered a nice balanced taste.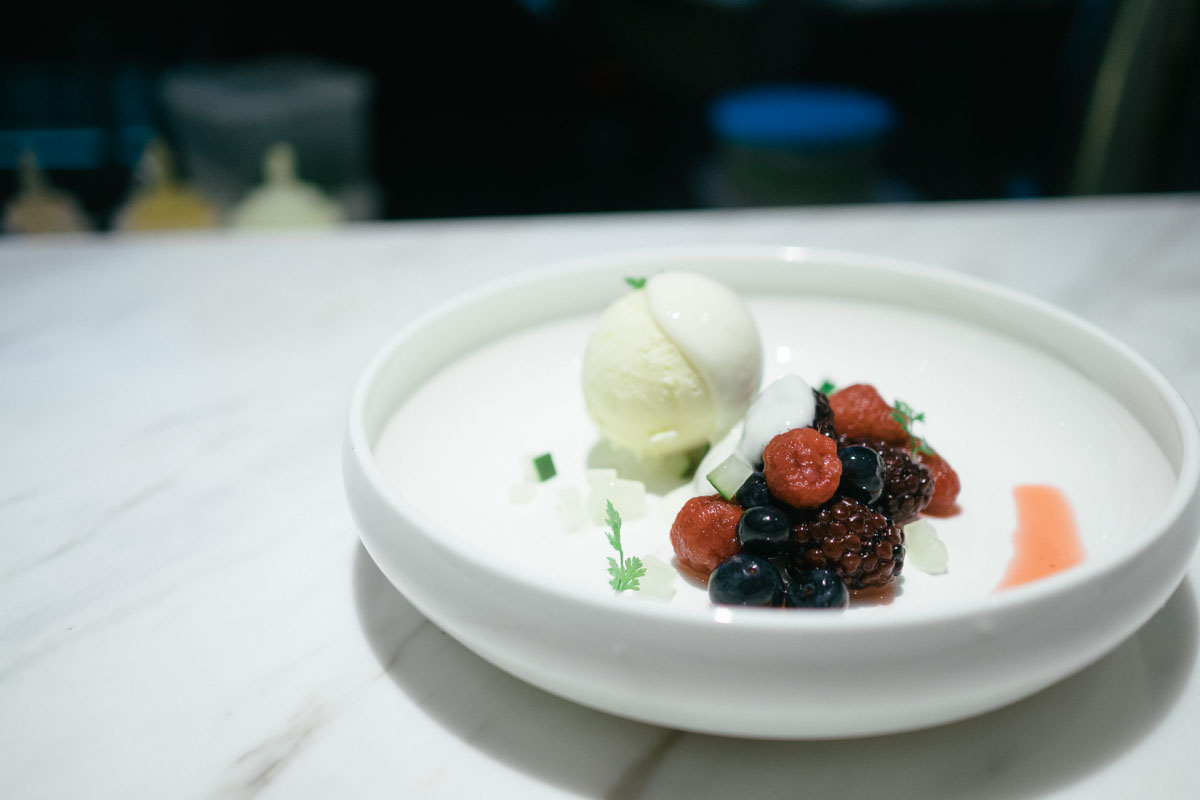 Berries with marinated berries, yogurt ice cream and marinated cucumber ($118 HKD or $15.20 USD).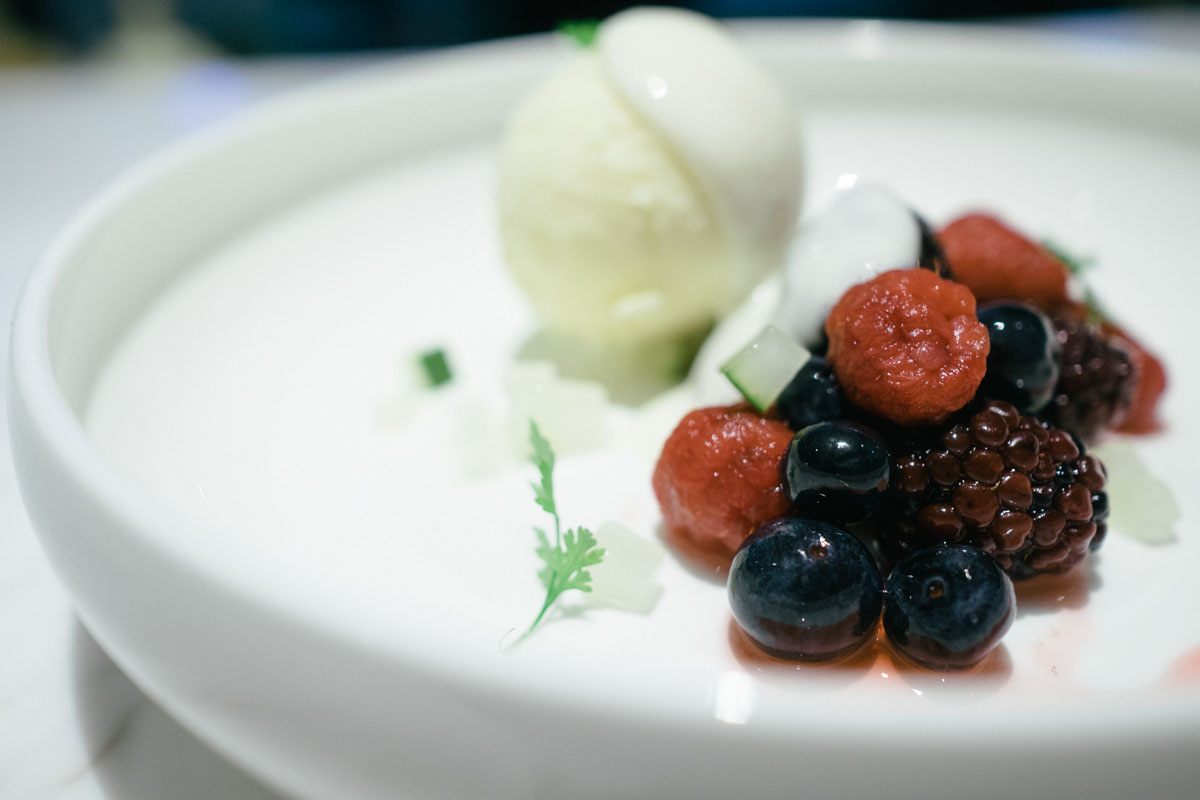 If you're looking for something light and refreshing, this has your name on it. Every ingredient presented itself as a slightly obvious albeit still cohesive pairing.
Another "Uncertain" mystery dish with green tea ice cream, ube puree, black sesame sponge cake and bamboo charcoal honeycomb. The ube puree was strong in its taste and super smooth and velvety. The bamboo charcoal was sweet and tasty as all the ingredients matched up nicely.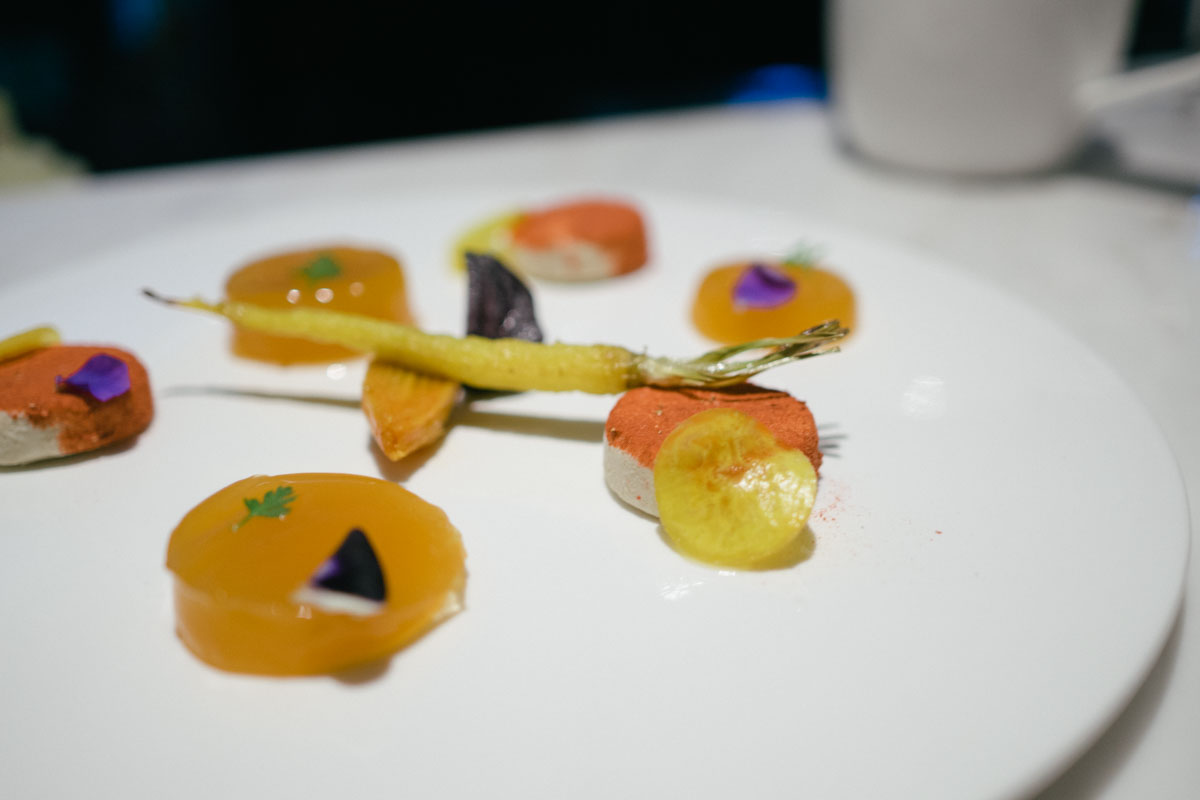 Foie Gras with apricot jelly, assorted veggies and foie gras mousse ($128 HKD or $16.50 USD).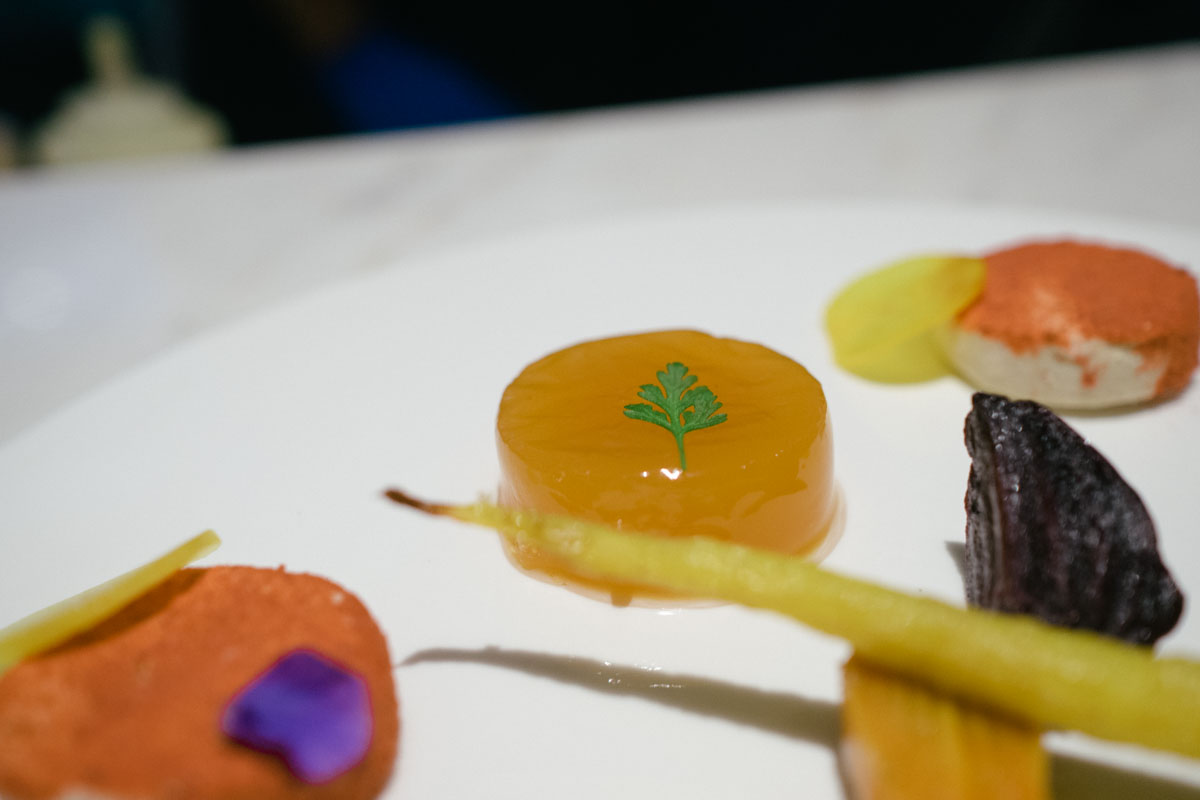 The foie gras was subtle and didn't overpower the flavors of the sweet root vegetable and citrus components.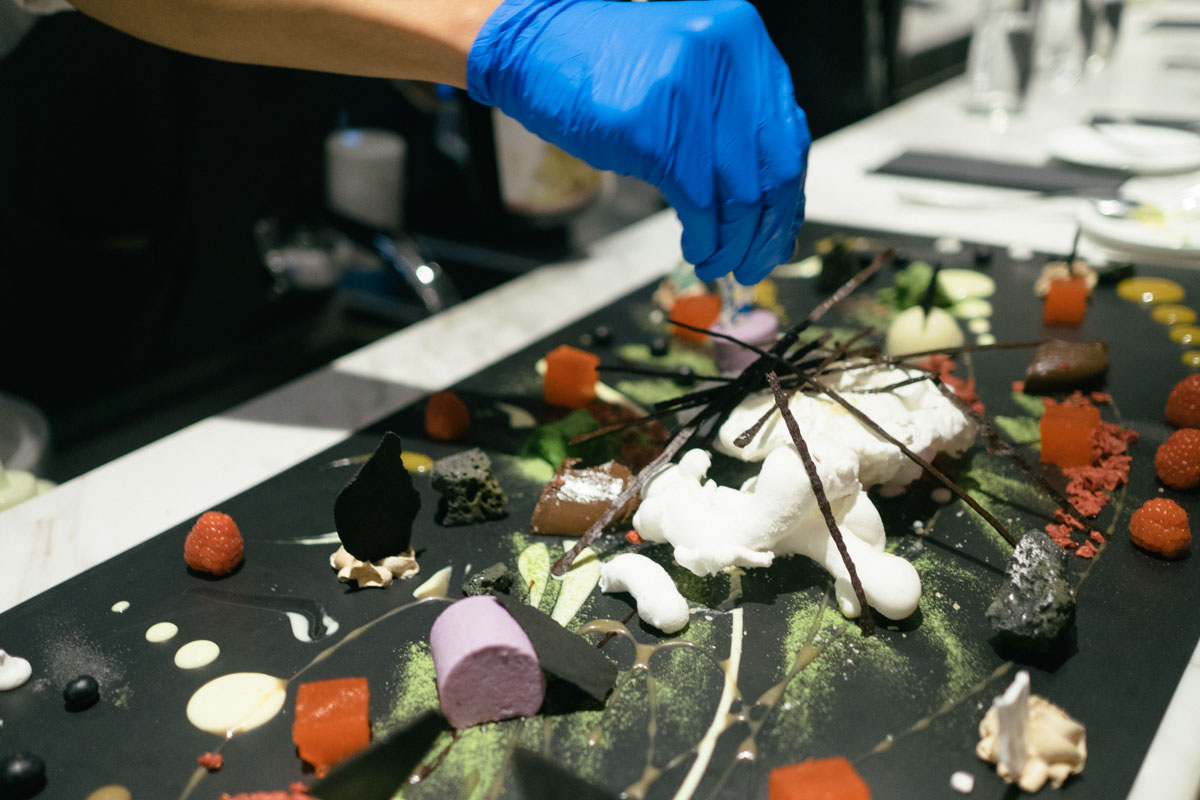 This was the "Improvisation" we got the second time! They used more autumn flavors with cinnamon cream and ube.

16/F The L.Square,459-461 Lockhart Road
Causeway Bay,Hong Kong, Hong Kong
p: +852 2956 1411
American, Asian, Dessert, Hong Kong, Hong Kong