The Lowdown
Restaurant Name: Sister Wah 華姐清湯腩
Cuisine: Guangdong / Hong Kong Noodles
Average Price per Person: $35 to $70 HKD or $4.50 to $10 USD
Location: Western District, Hong Kong (please refer to the map below for details)
Recommendations: Beef Brisket Dan Dan Noodles

Ratings (out of 5)
Taste: 3.5
Creativity/Authenticity: 3.5
Atmosphere: 2.5
Service: 2.5
Bang for Buck: 4
Crayscale !!!

Beef brisket noodles are an absolute must eat if you're visiting Hong Kong. This dish is pretty widespread and common amongst Chinese communities around the world usually found in your local Chinatown. Nonetheless, Hong Kong's brisket is still an undeniably important aspect of the local culture! If Cantonese-style beef brisket is foreign to you, it's essentially beef brisket stewed for a helluva long time using Chinese seasonings and spices. Unlike the barbecue kind, it's usually boiled extensively with flavor infused via the broth as opposed to any sort of rub. If you're fortunate enough, it becomes super tender falling apart in your mouth and locks in a ton of flavor. Traditionally, the noodles are egg noodles, however, these days you can pretty much choose any type of noodles you want.
There are a few spots in Hong Kong that have been around forever-eva making quite the name for themselves including the legendary Kau Kee. I still consider Kau Kee to be the most legit beef brisket spot, it's soooo effing good. Another beef brisket restaurant that's pretty popular amongst the locals is Sister Wah with a couple locations, one in the Western District and another in Tai Hang. I've only eaten at the Western District location. I'd have to say I was quite impressed by the overall cleanliness of the restaurant. Usually, these kinds of places are fairly grimy, but not the case at Sister Wah. The menu has a few variations of the regular beef brisket and slightly different than the OG places in Hong Kong including their specialty beef brisket dan dan noodles.
Dan dan noodles are a Sichuan dish made with hand pulled noodles submerged in a spicy soup consisting of chili oil, Sichuan pepper, minced pork and scallions often served with peanut butter or sesame paste. I've never had this style of beef brisket noodles before and I was really diggin' it. The rice noodles were tender with a lot of surface area for all that creamy flavorful peanut buttery soup. The beef was flavorful, but not quite tender enough. I prefer my beef brisket a little on the fattier side. That way, the beef gets tender and literally falls apart in your mouth. Sister Wah's beef was just a little too tough with fibers creeping in between my teeth. I'd still fux with it though.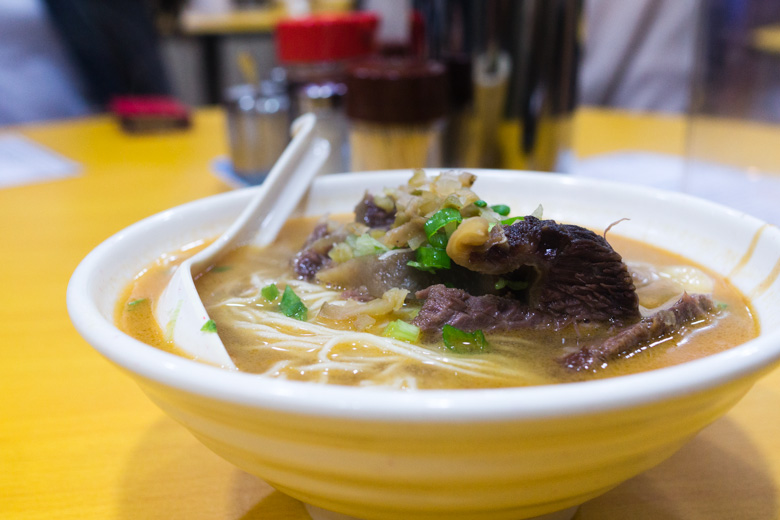 Beef Brisket Dan Dan Noodles ($30 HKD or $3.85 USD). This was my favorite!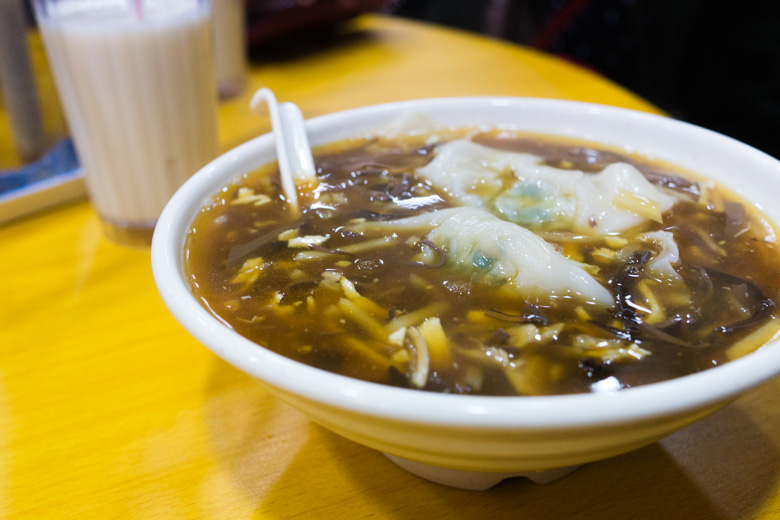 Dumplings in Hot and Sour Soup ($35 HKD or $4.50 USD). This was aiiite.. the dumplings were mad good though.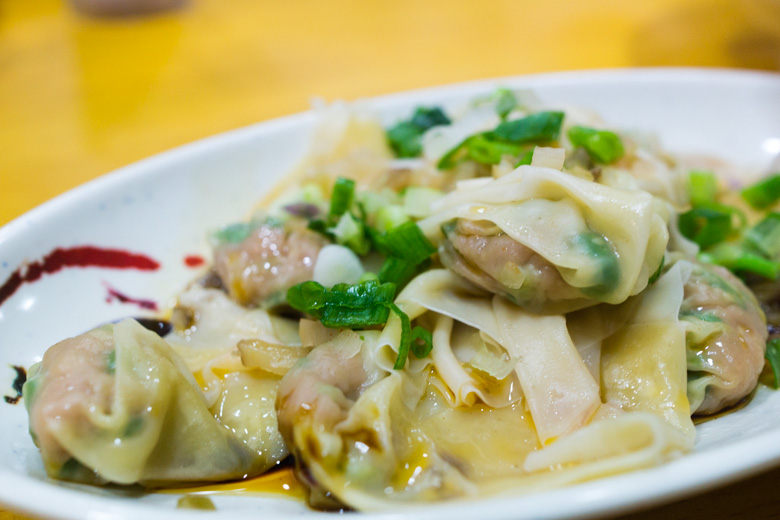 Spicy Wontons ($35 HKD or $4.50 USD). I loved these little pockets of meaty spicy deliciousness. They get cold fast though so make sure you eat them while they're hawwtt!
G/F, 305 Queen's Road West, Western District, Hong Kong
西環皇后大道西305號地下
p: +852.2151.1056
Asian, Chinese, Dinner, Hong Kong, Hong Kong, Lunch