Brazil Cray !!! List of Must-Eat Foods in Brazil – Part I Northeast Brazil
1
We were slightly overwhelmed by the food selection when we first arrived in Brazil. A plethora of cultures have had an influence on Brazilian cuisine including Portuguese, Dutch, Spanish, Moors, African and the Indigenous. We've eaten at typical Brazilian churrascarias, but that was pretty much the extent of our knowledge in Brazilian cuisine. Through our journey, traveling between São Paulo, Rio de Janeiro and Recife, we learned more and more about Brazilian food meal by meal, bite by bite. We also met some friends along the way that have shed some light on what we've been eating. Only exploring a small chunk of Brazil and only skimming the surface of what the country has to offer, here's a guide to the tastiest and most memorable Northeastern Brazilian dishes we had.
Queijo Coalho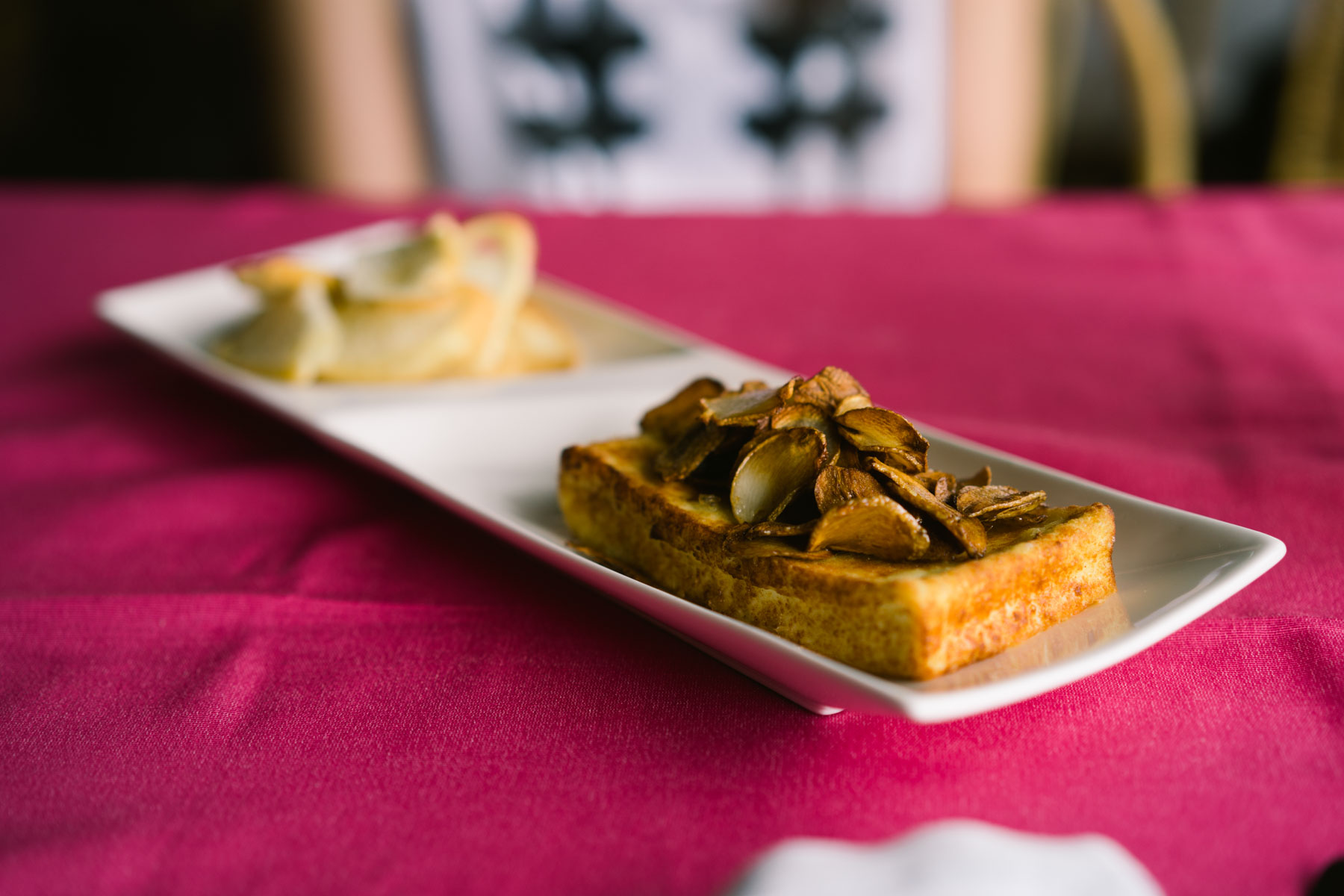 Queijo coalho is a firm yet light cheese produced in Northeastern Brazil. It's common to eat this cheese fried as an appetizer with fried garlic or other accompaniments. This particular cheese can withstand heat, so it holds it's shape when fried creating a crispy crust and an almost squeaky texture when eaten. It actually tastes similar to fried haloumi cheese.
Oficina do Sabor
Rua Amparo, 335 – Amparo
Olinda – PE
53020-190, Brazil
p: +55 81 3429-3331
Carne de Sol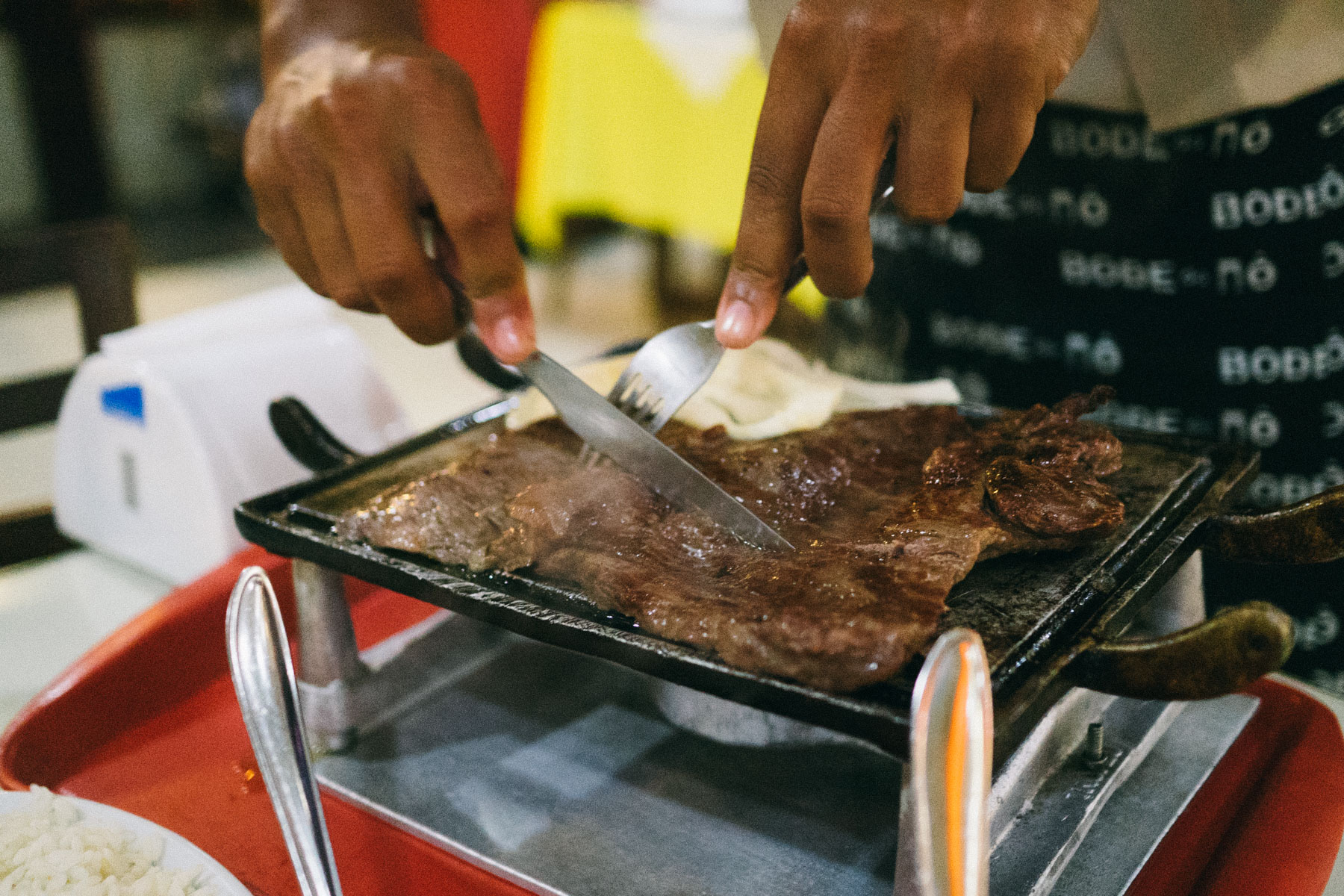 Carne de Sol is a "sun-dried" meat which literally translates to "meat of sun." This dish consists of beef that has been heavily salted and cured in the sun for one or two days. Carne de sol is usually served grilled, added in stews or shredded for a variety of dishes. I've even had it in a crepe which tasted fairly similar to salt beef from Brick Lane's Salt Beef Biegel in London! Charque is another form of salted cured meat similar to Carne de Sol, but is closer to a jerky.
Tio Pepe
Rua Almirante Tamandaré, 170 – Boa Viagem
Recife – PE
51030-090, Brazil
p: +55 81 3341-7153
Roast Goat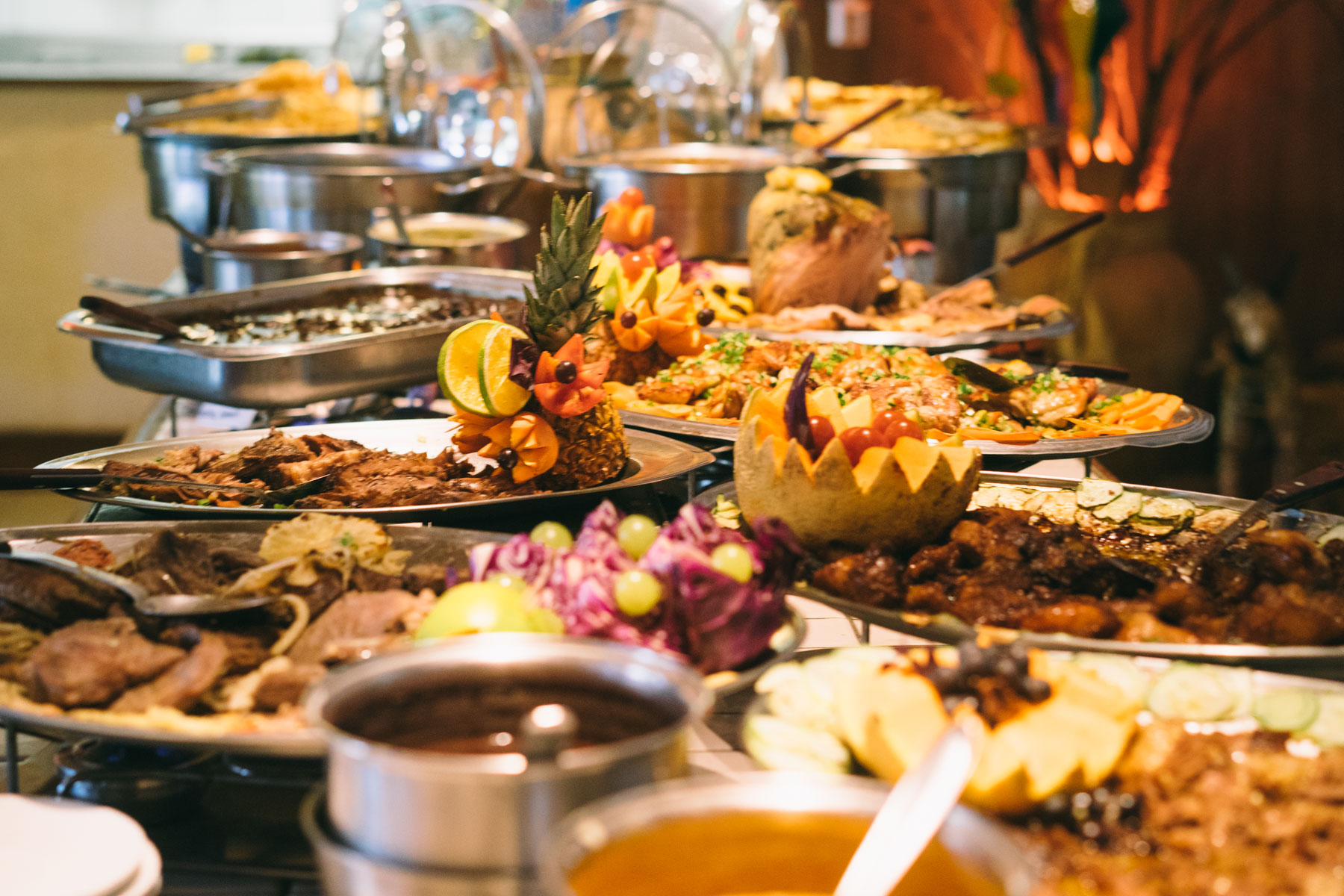 Northeastern cuisine incorporates a ton of goat meat usually grilled or stewed. We tried a few variations of goat meat and it was delicious. If you're not that big on goat, I'd recommend hitting up a Parraxaxá's. It's setup looks exactly like a buffet, except customers pay for the food consumed. Food is priced per kilogram as each customer is given a card with a barcode which is scanned after each plate has been weighed keeping track of the amount of food consumed.
Avenida Fernando Simões Barbosa, 1200 – Boa Viagem
Recife – PE
51021-060, Brazil
p: +55 81 3463-7874
Rabada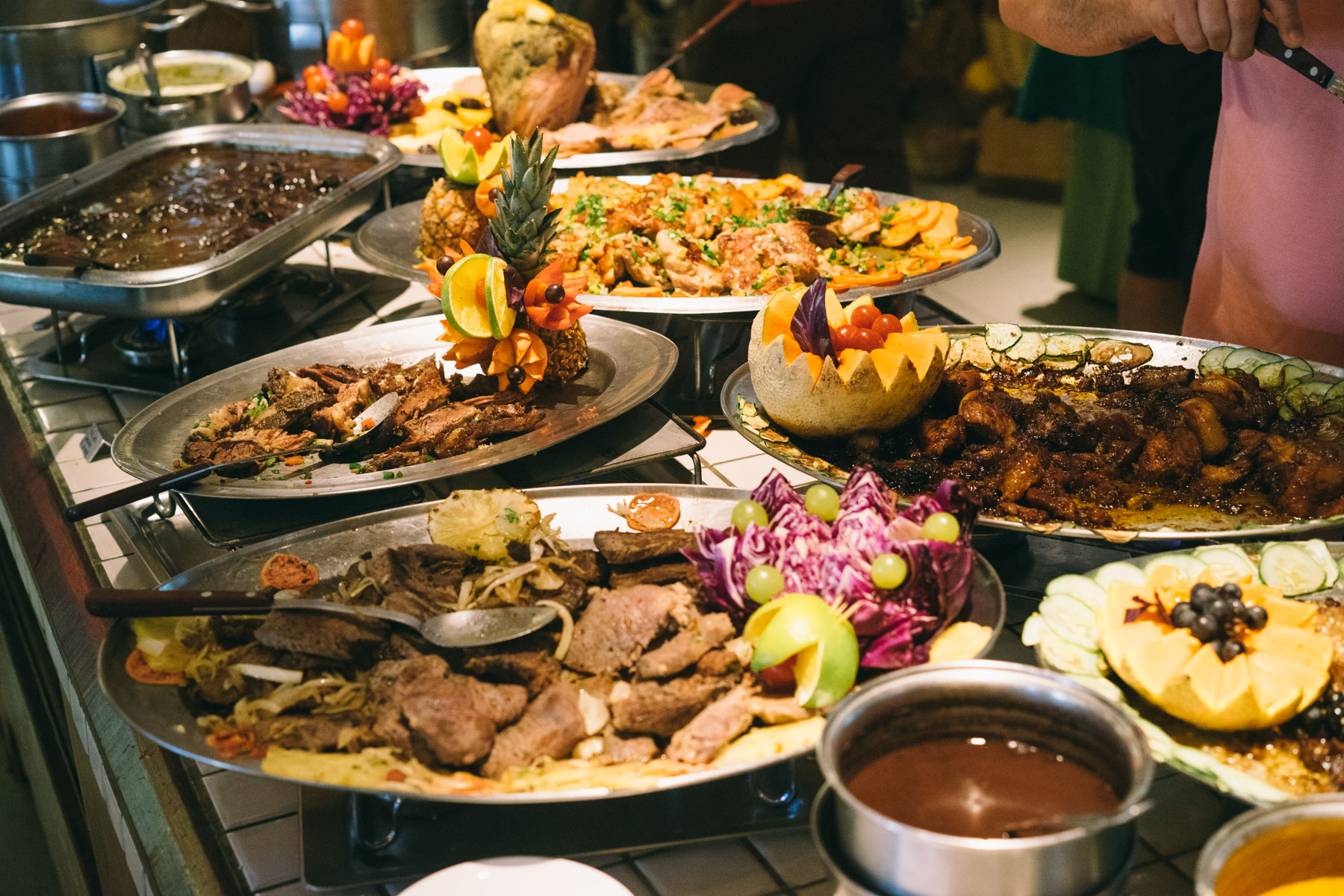 Another dish you can try at Parraxaxá is Rabada, which is an ox tail stew. We eat a lot of ox tail in Hong Kong, so this was actually one of my favorite meat dishes in Brazil. It's succulent, flavorful, and literally falls off the bone.
Avenida Fernando Simões Barbosa, 1200 – Boa Viagem
Recife – PE
51021-060, Brazil
p: +55 81 3463-7874
Jerimum Recheado com Camarão/Peixe ao Coco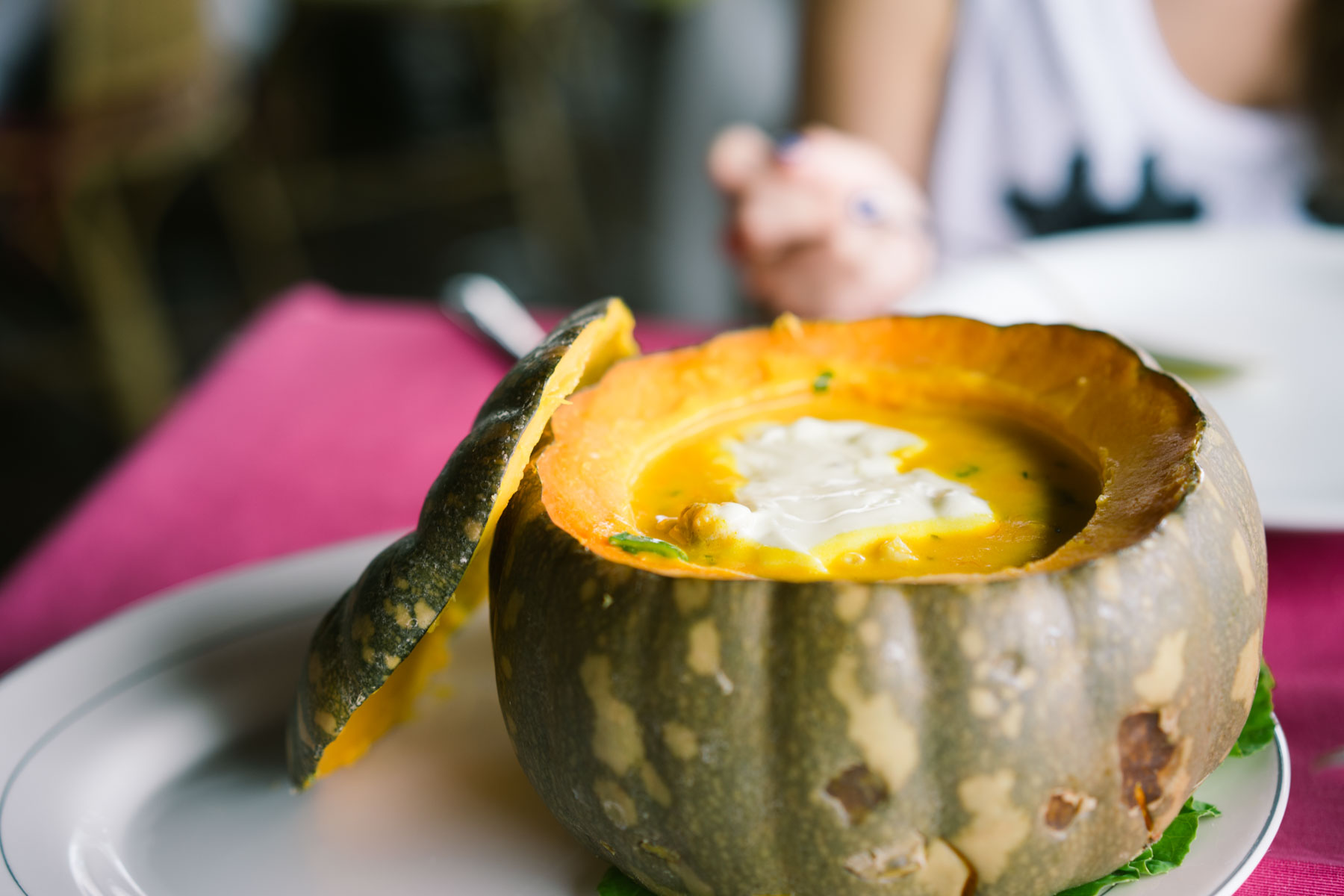 Jerimum recheado com camarão/peixe ao coco is an entire pumpkin stuffed with a seafood and coconut milk stew. There are a variety of different fillings and sauces to choose from. This dish was one of my favorite savory dishes we had in Brazil. The fish was tender and perfectly cooked submerged in a creamy coconut sauce. The pumpkin is cooked along with the stew so the sweet tender flesh can be eaten as well. I highly recommend trying this dish at Oficina do Sabor in Olinda. The view from this restaurant is amazing and the staff are super sweet.
Oficina do Sabor
Rua Amparo, 335 – Amparo
Olinda – PE
53020-190, Brazil
p: +55 81 3429-3331
Cartola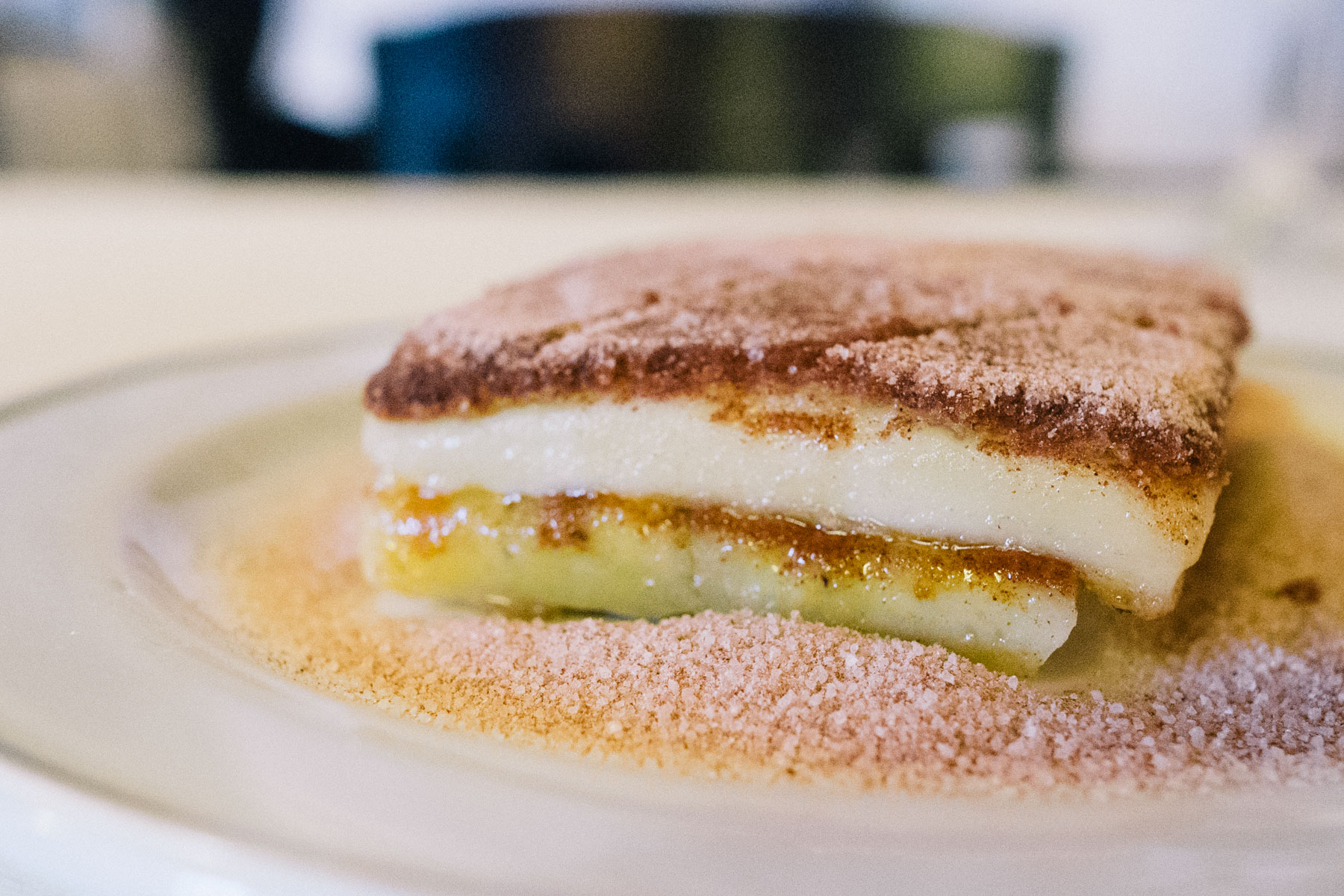 When in Recife, you must eat CARTOLA. It's the best thing ever and one of my favorite things we had in Brazil. Cartola is a Brazilian dessert made of caramelized bananas topped with a layer of mild cheese finished with a showering of granulated sugar and cinnamon. The layer of cheese might sound strange at first, but it's a mild Brazilian cheese called Queijo Coalho (the same cheese above). The combination is ridiculously delicious – sweet tender bananas wrapped a cheese with a crispy cinnamon-y crust! We had cartola at a few places, but the best one we had was from Restaurante Leite.
Restaurante Leite
Praça Joaquim Nabuco, 147 – Santo Antônio, Recife – PE, 50010-480, Brazil
p:+55 81 3224-7977
Moqueca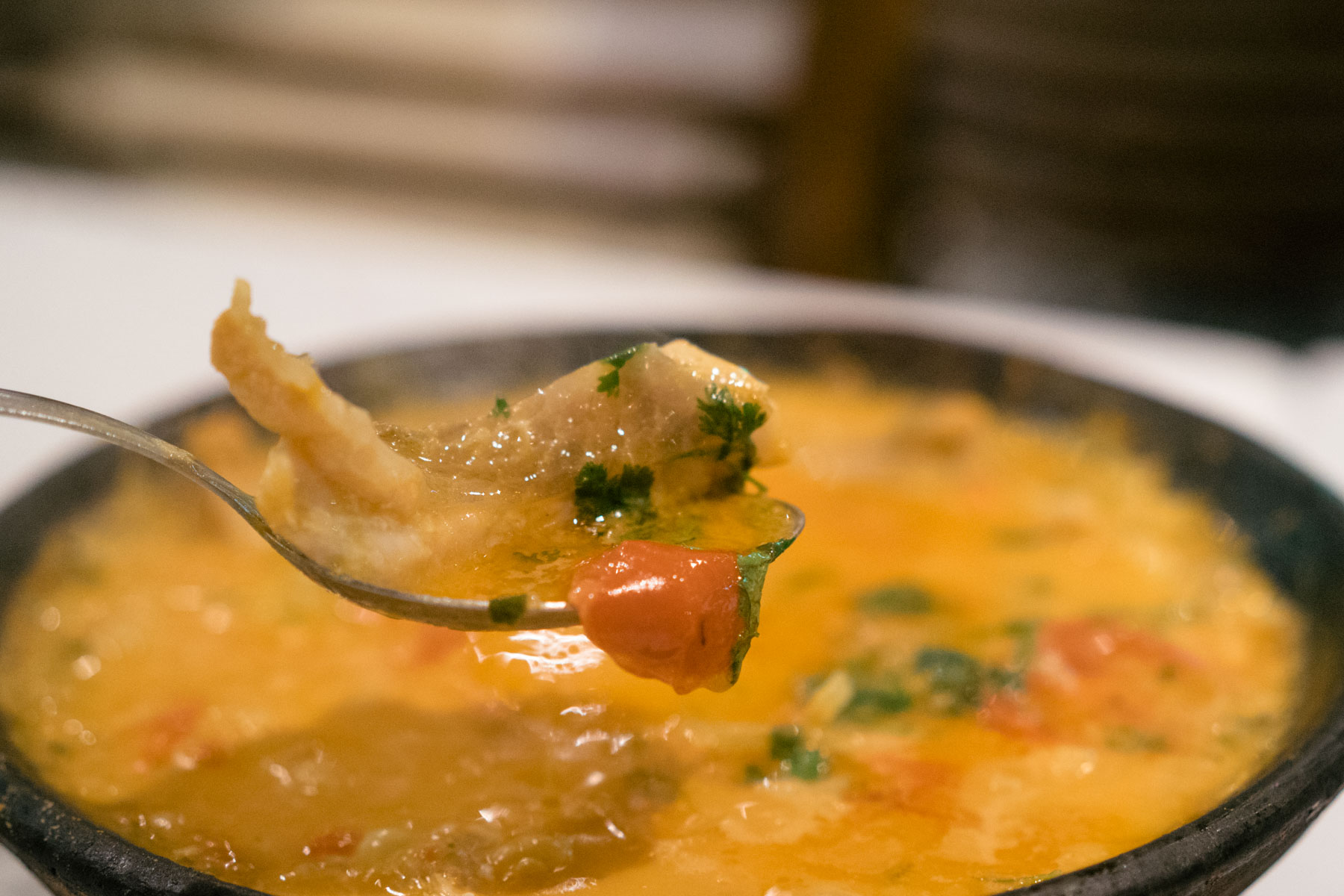 Moqueca originates from the state of Bahia and is a Brazilian fish stew consisting of coconut milk, tomatoes, garlic, onions, coriander and palm oil. We tried this dish at one of Recife's most popular seafood restaurants, Bargaço. You can choose between fish, shrimp, lobster or mixed seafood, but we decided to go for the fish. They pretty much throw in an entire fish per order, so don't try to take this dish down on your own.
Restauante Bargaço
Avenida Engenheiro Antônio de Goes, 62 – Pina
Recife – PE
51010-000, Brazil
p: +55 81 3465-1847
Bolo de Rolo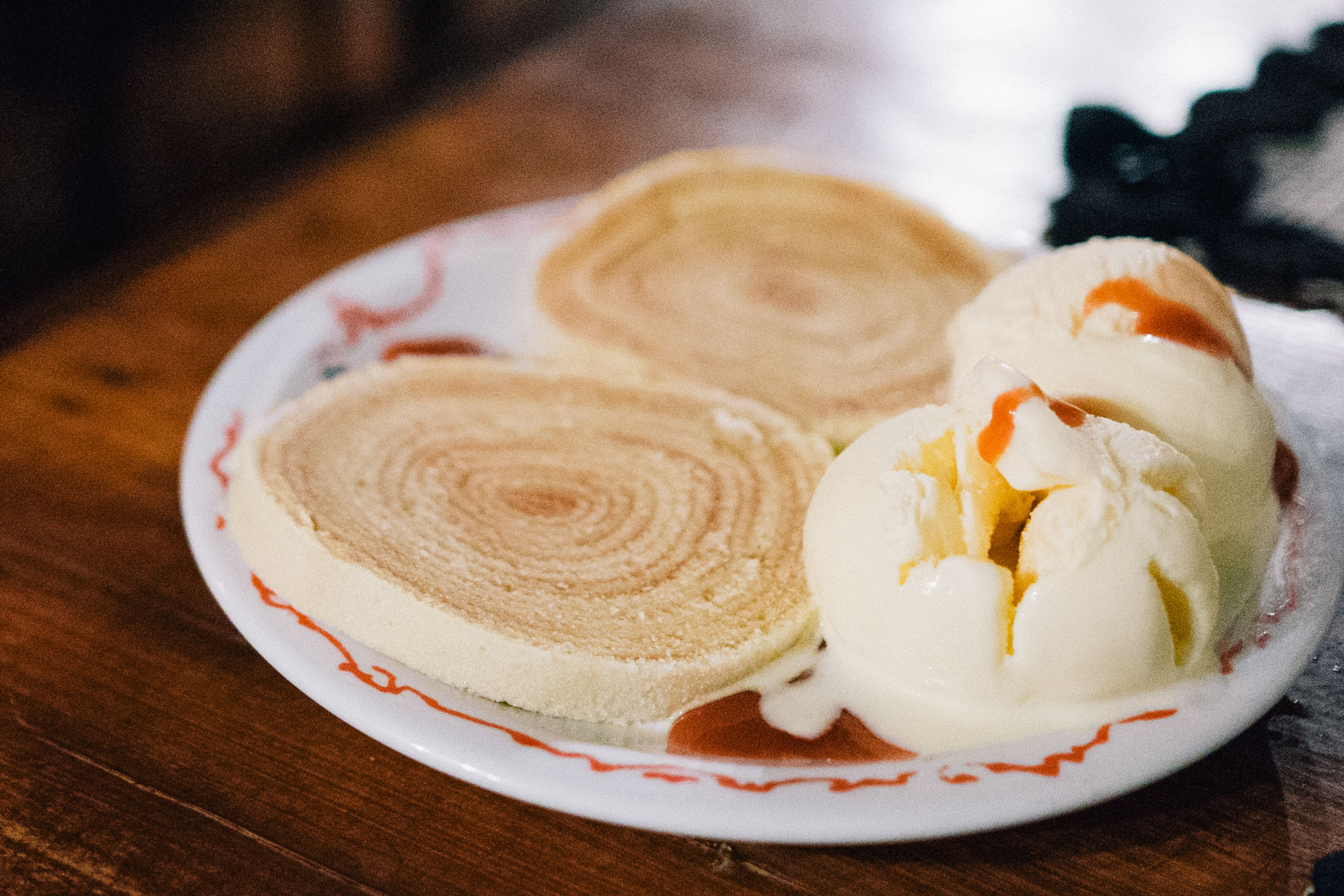 Bolo de Rolo is the bomb. It's a common Brazilian dessert found in the state of Pernambuco. This stuff is so frigging delicious! Layers of light fluffy cake with guava syrup. It's usually found as a whole roll cake, but we've also had it served in slices topped with two big balls of ice cream and some more guava syrup! Eugene used to hate guava, but after having this dessert, he's been on that guava tip.
Tio Pepe
Rua Almirante Tamandaré, 170 – Boa Viagem
Recife – PE
51030-090, Brazil
p: +55 81 3341-7153
Tapioca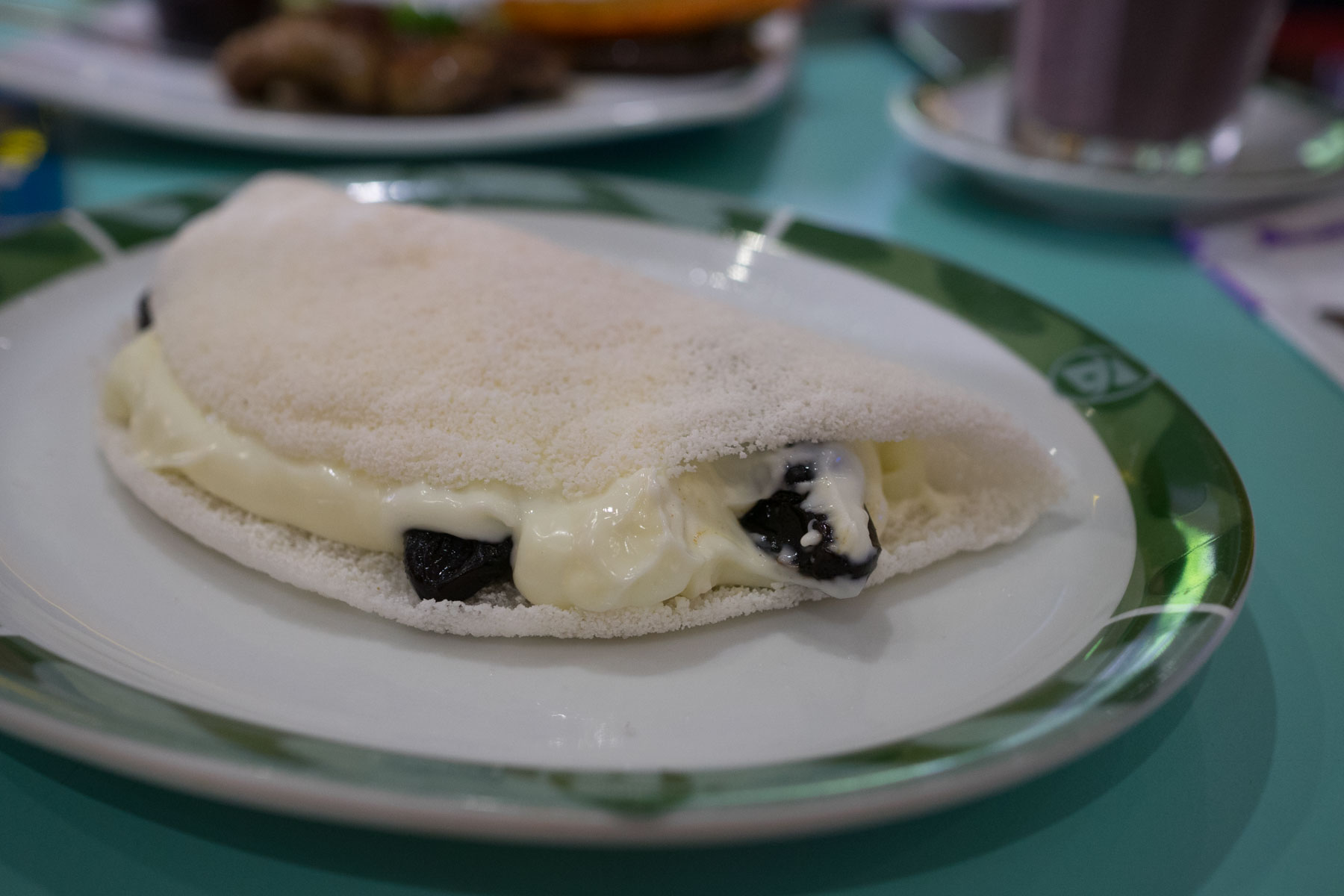 Tapioca is pretty common in Brazil and South America. There are many ways to eat tapioca, but my favorite was having Tapioca crepes for breakfast. Tapioca is sprinkled onto a heated pan and magically sticks together forming a pancake! Add a little butter and cheese and you have yourself a typical Brazilian breakfast. I tried one with condensed milk which was delicious too. Tapioca is sold by street vendors all over Recife or at breakfast cafes. The one pictured above is from Bibi in Rio de Janeiro.
BIBI
Rua Santa Clara, 36 – Copacabana
Rio de Janeiro, Brazil
p: +55 21 2255-5000

Buchada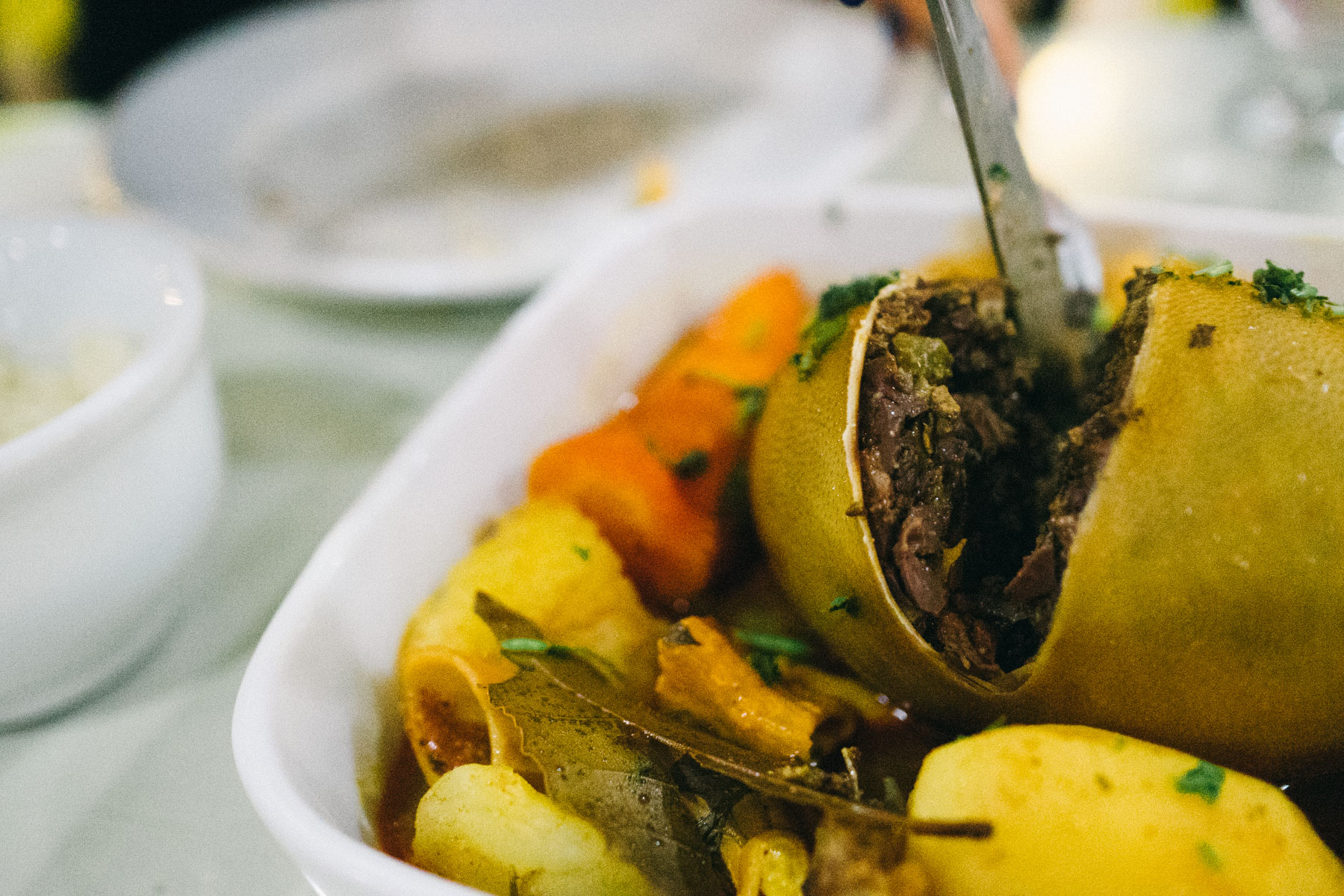 I saved this one for last for a reason haha. It's definitely not pretty to look at and creeped me out at first. To be honest, I knew I was ordering a goat tripe stew, I just didn't realize that the entire goat's stomach would be served whole, stuffed with offal then stitched back up. Buchada looks disgusting, but if you can get past it's appearance it actually tastes pretty decent. I'm honestly not huge into offal, but I thought it was pretty tasty. It's not something I'd eat on the regular though.
Bode do Nô
Rua São Miguel, 1401 – Afogados,
Recife – PE, 50770-720, Brazil
p: +55 81 3428-8889
Brazilian, Brunch, Dessert, Dinner, Lunch, Portuguese, Recife, Brasil, Rio de Janeiro, Brasil, Sao Paulo, Brasil, South American