The Lowdown
Restaurant Name: Bumbu Bali
Cuisine: Balinese / Indonesian
Average Price per Person: $15 to $20 USD
Location: Nusa Dua, Indonesia (please refer to the map below for details)
Recommendations: Kaki Kambing (braised lamb shank), Babi Guling (whole roasted pork), Sate Campur (sate platter) and Balung Nangka (braised pork ribs)

Ratings (out of 5)
Taste: 4
Creativity/Authenticity: 4
Atmosphere: 3.5
Service: 2
Bang for Buck: 3
Crayscale !!!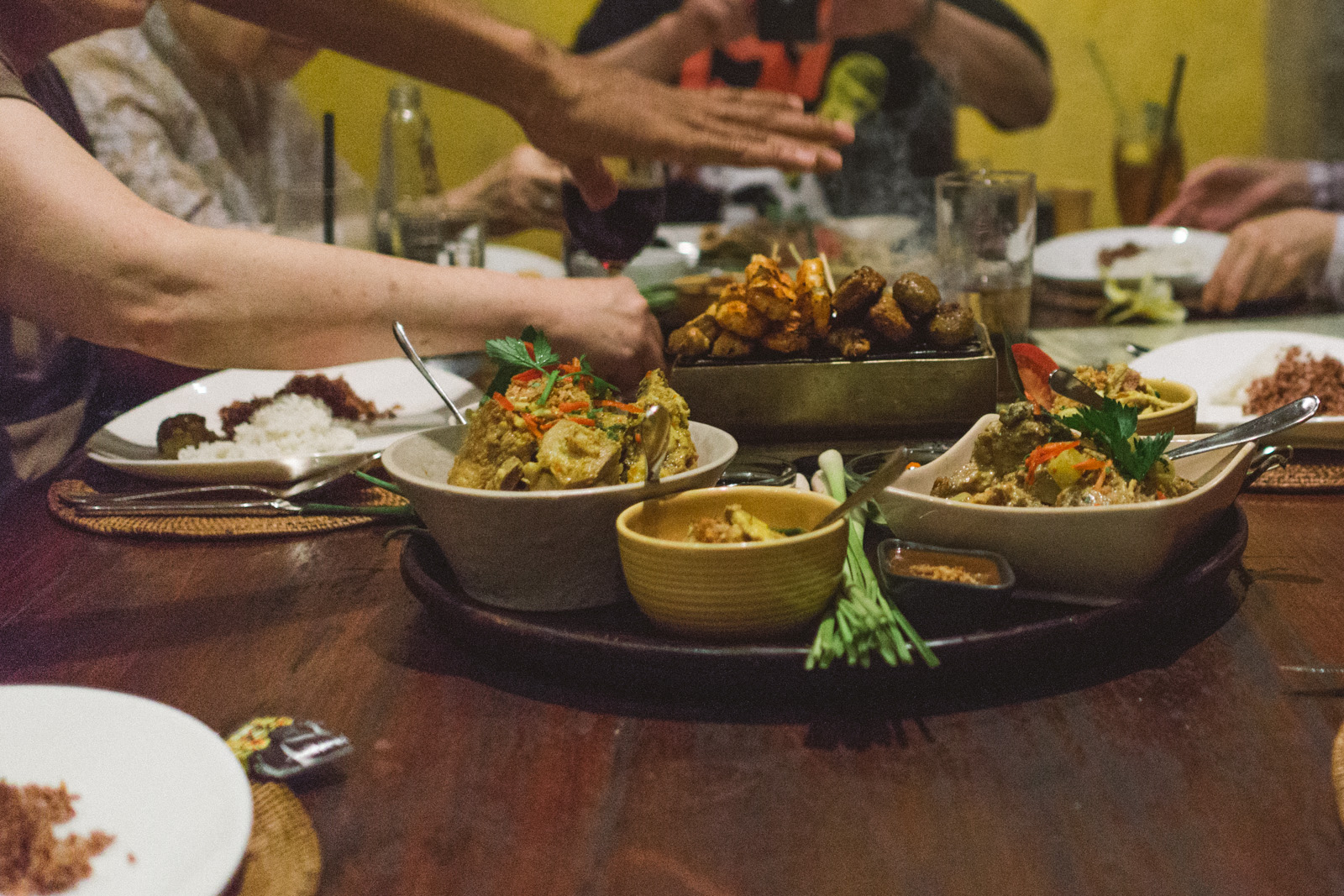 Bali is an amazing getaway whether you're down for some sightseeing, beach time, shopping, relaxing, partying or EATING! The food is bomb offering signature Balinese dishes including Babi Guling (roasted suckling pig) and Bebek Betutu (spice rubbed stuffed duck). One restaurant I highly recommend for a Balinese full meal deal is Bumbu Bali. This spot has all the Balinese essentials where you can taste a little bit of everything the island has to offer.
Eugene and I recently got hitched in Bali and our first meal with our friends and family was at Bumbu Bali. We emailed the restaurant and pre-ordered everything in advance for our group since we had to lock down that Babi Guling which is an entire roasted suckling pig !!! Bumbu Bali was super accommodating and helpful giving us suggestions on portion sizes as well as highlighting their signature dishes. So if you plan on coming here with a large group, I suggest contacting them in advance!
Bumbu Bali is located on the south eastern part of the island in Nusa Dua. The restaurant is suitable for both big and small groups giving off an exotic authentic Indonesian vibe. The food is served family style with a variety of small plates and a selection of larger meat dishes. This was an amazing first meal and a good way for our friends and family to get to know each other. The food was legit and an awesome first impression of Balinese food for our guests.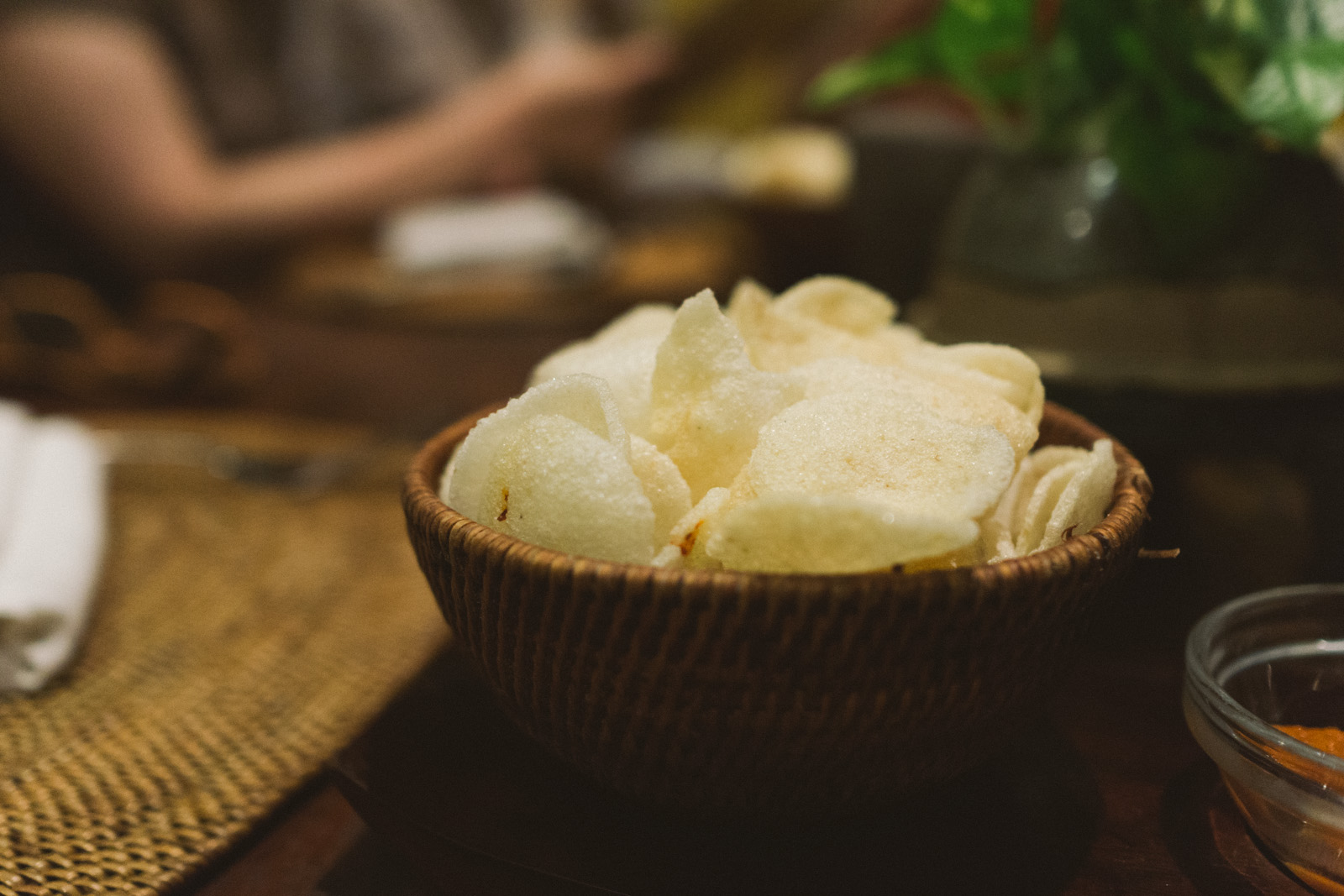 Shrimp chips to start off the meal. Love these crispy airy chips.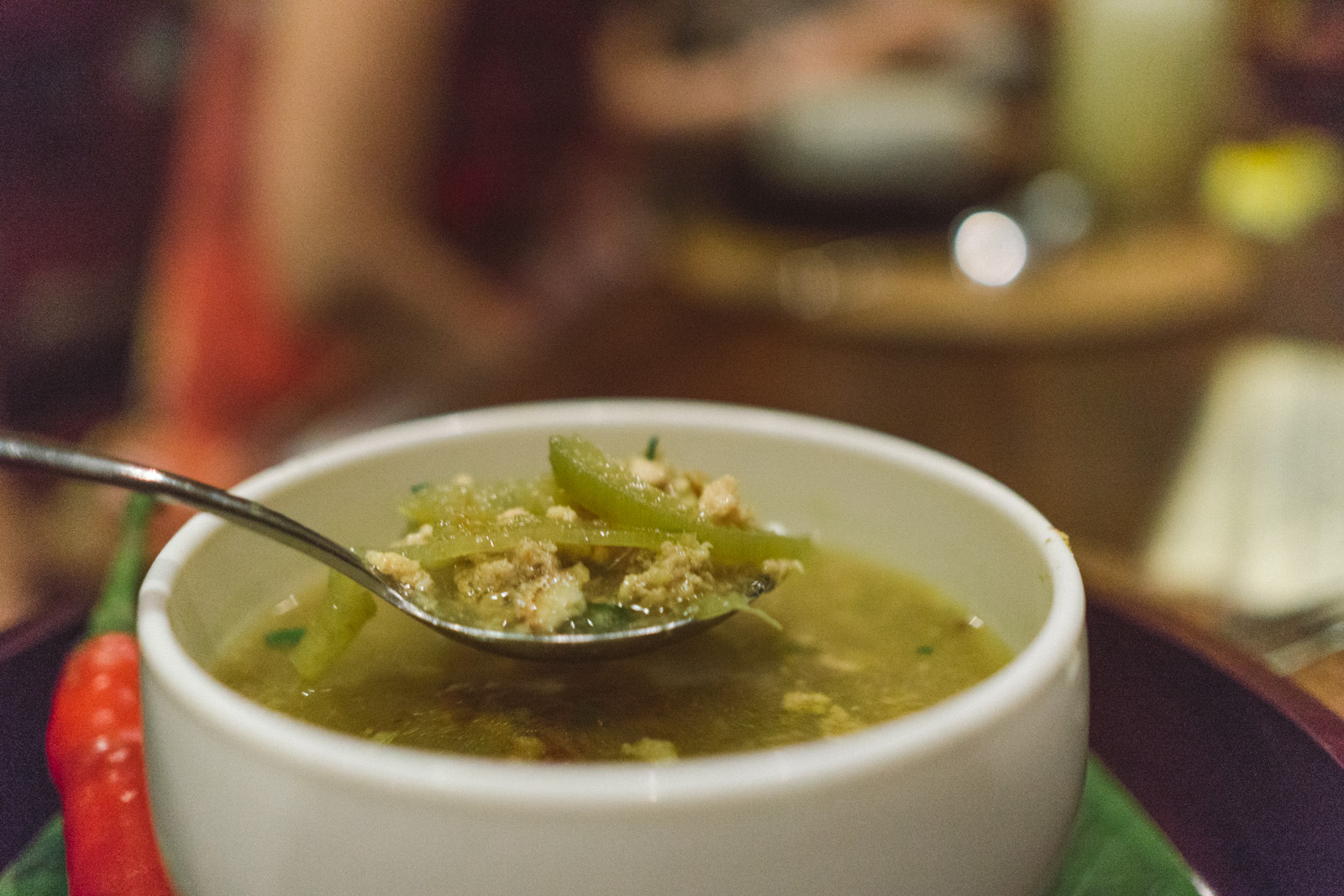 Jukut Ares – duck soup with banana stem (Rp 70,000 or $7 USD). The soup was flavorful with loads of ground duck meat.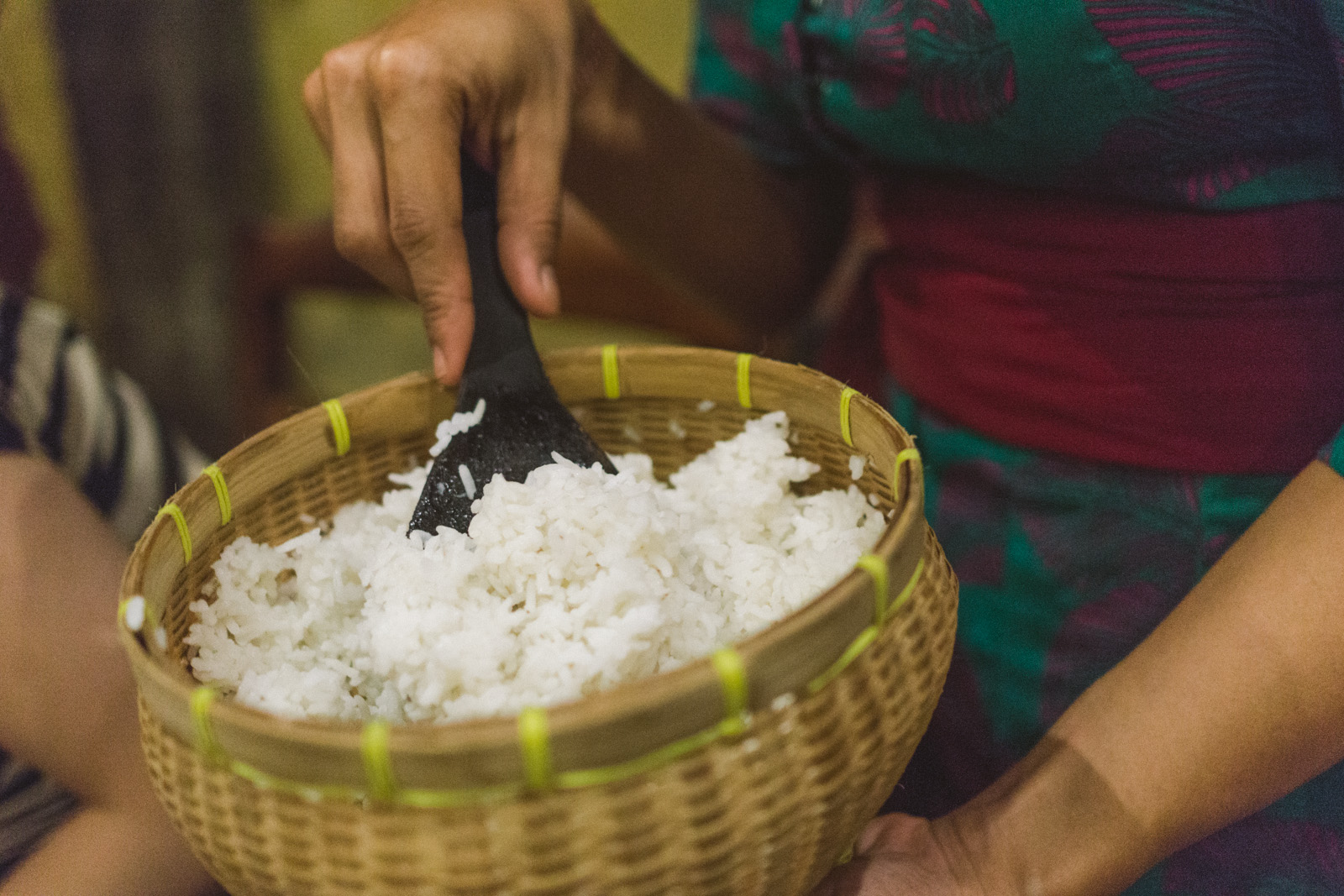 White rice or …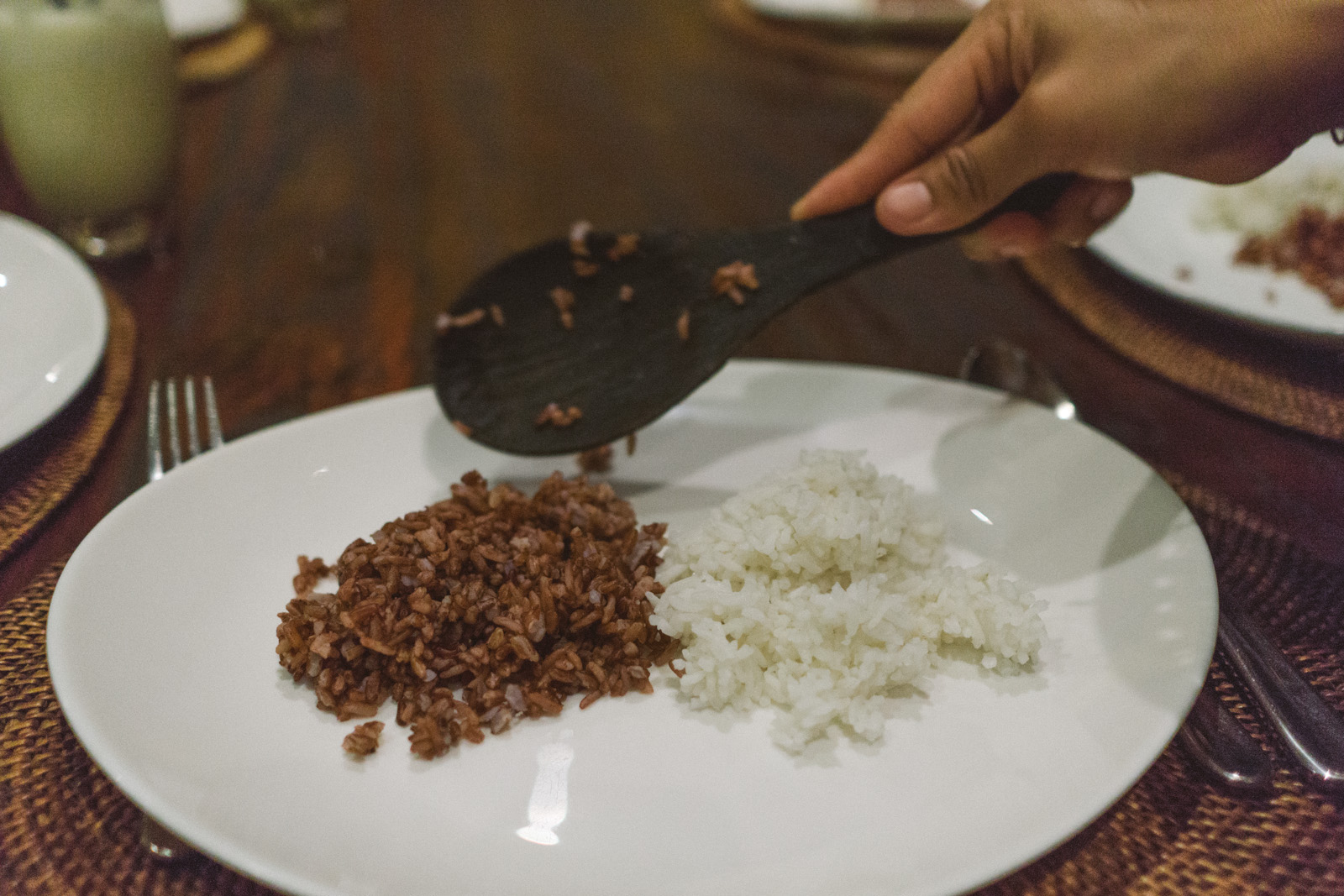 red rice!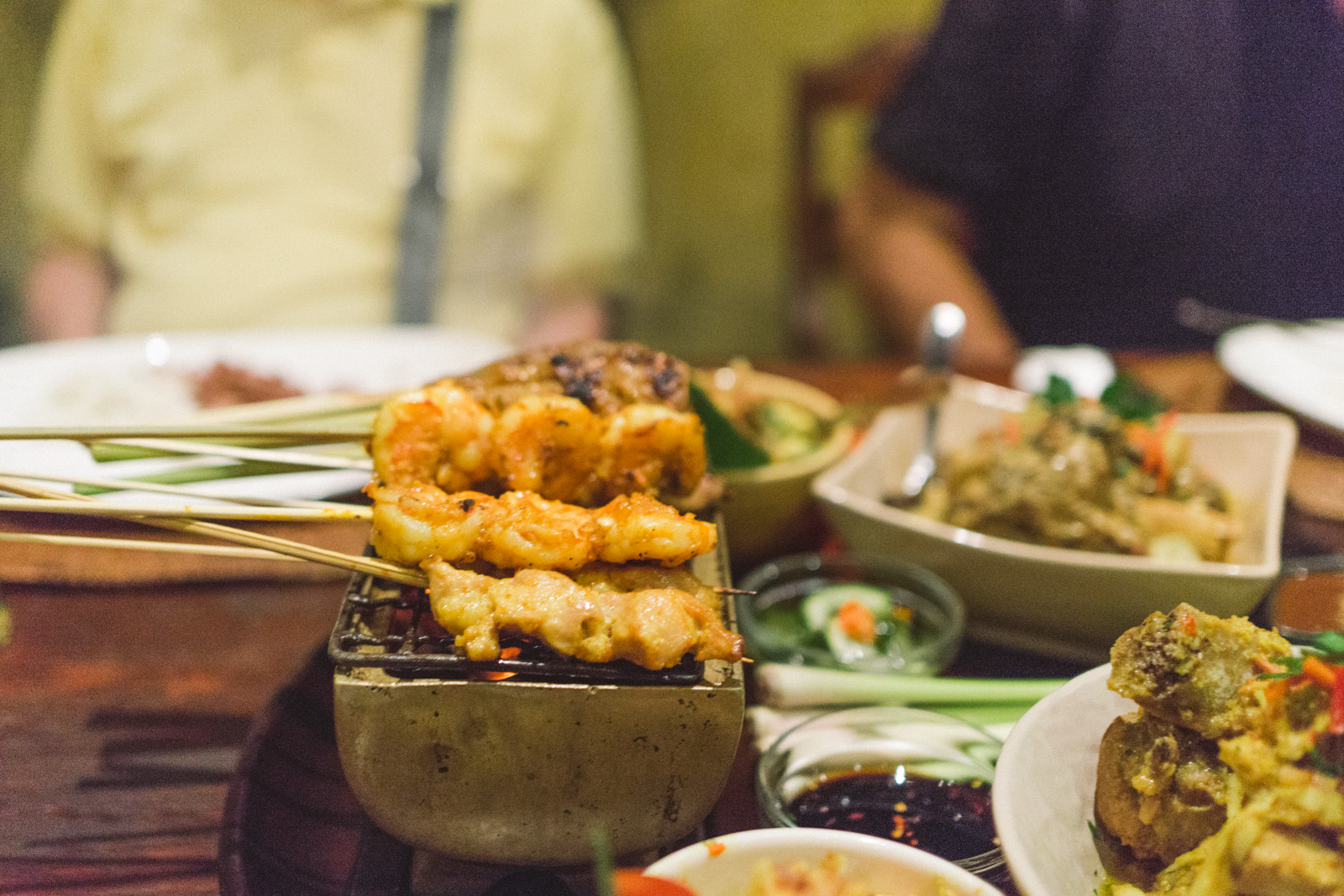 Sate Campur – platter of beef, chicken, pork, duck and seafood skewers (Rp 95,000 or $9.50 USD). I lurve sates! The pork, chicken and shrimp sates were my favorites.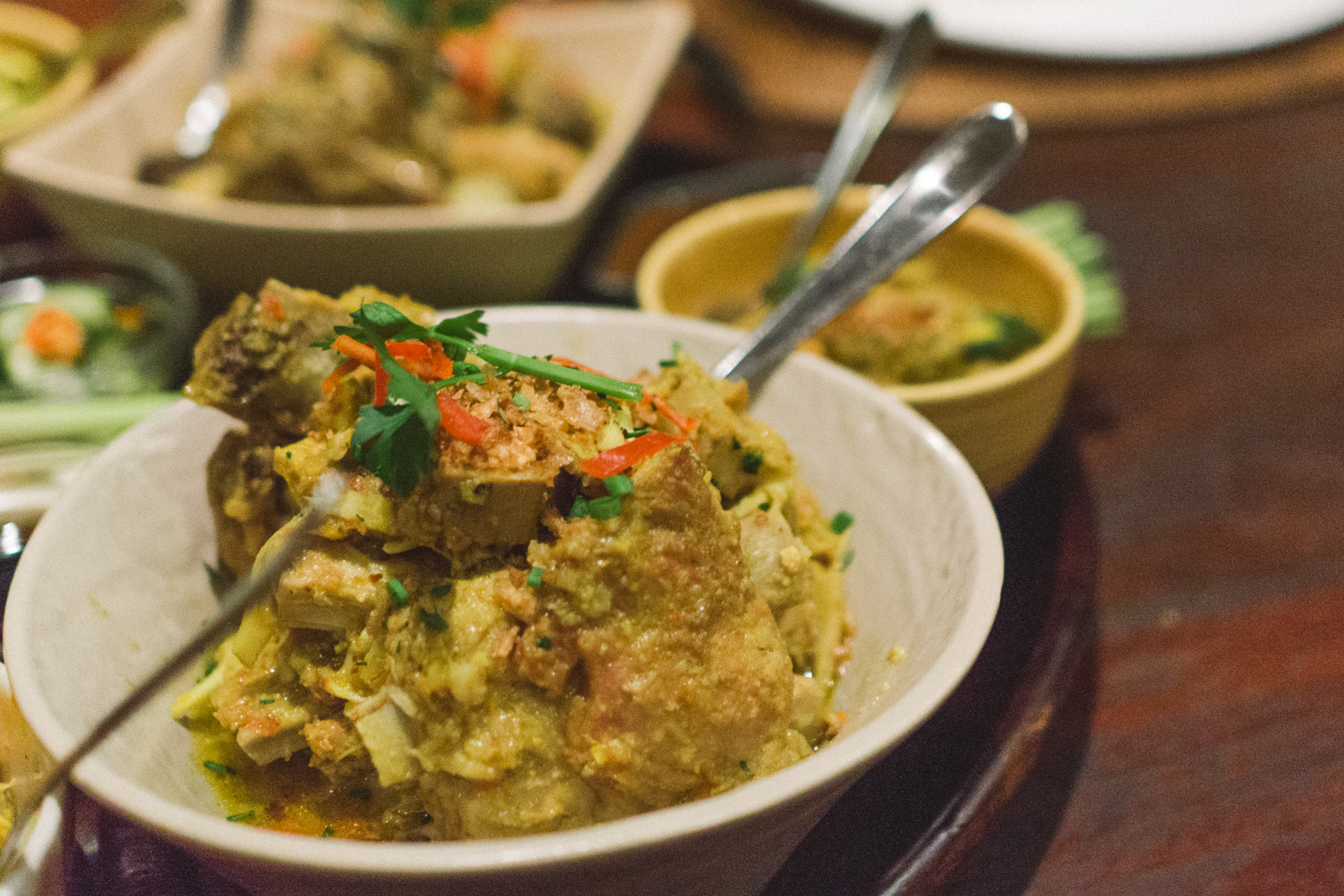 Balung Nangka – braised pork ribs with young jack fruit (Rp 97,500 or $9.75 USD). These ribs were mad tender, juicy and flavorful.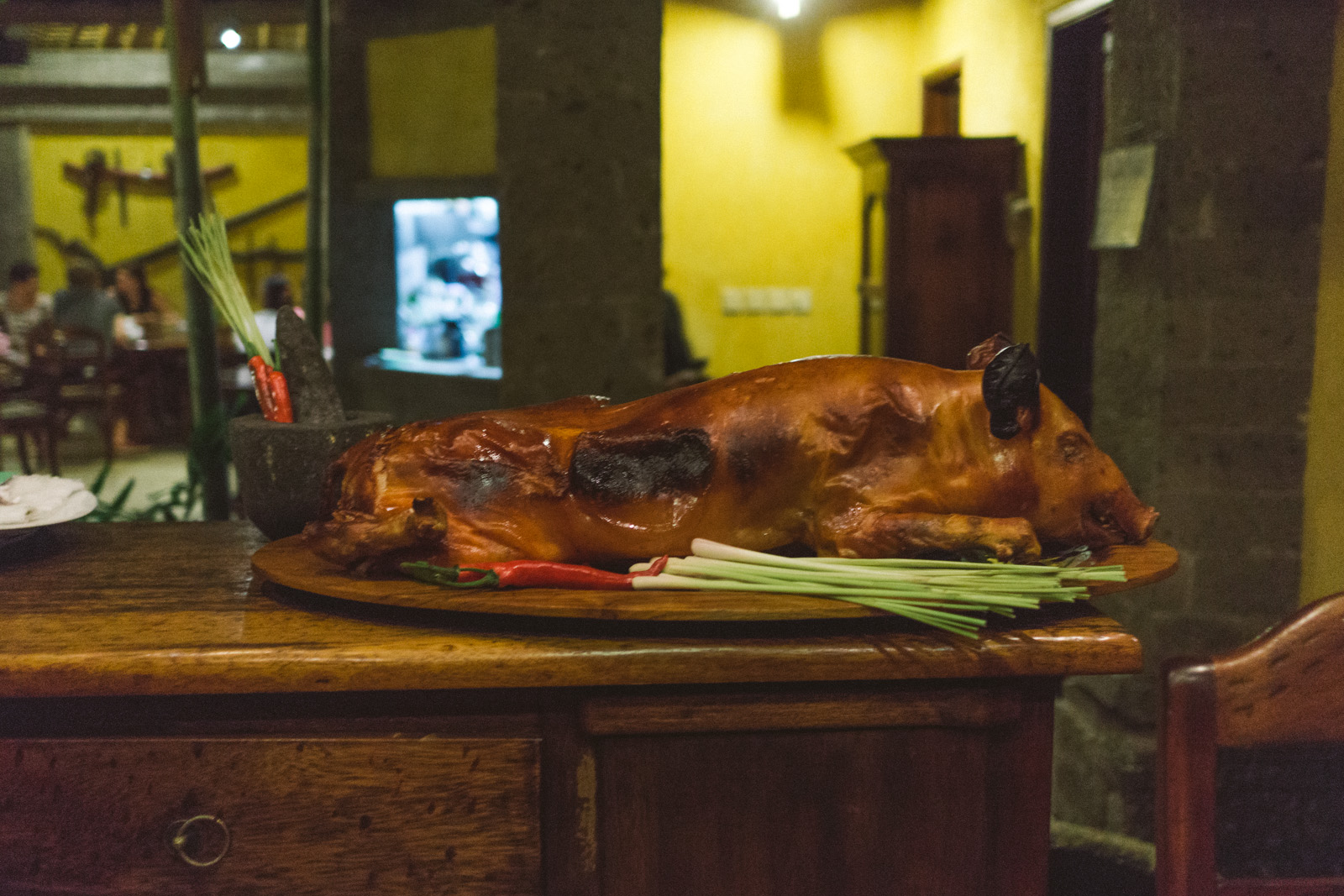 Babi Guling – whole roasted suckling pig (Rp 1,950,000 or $195 USD). This must be ordered at least 24 hours in advance.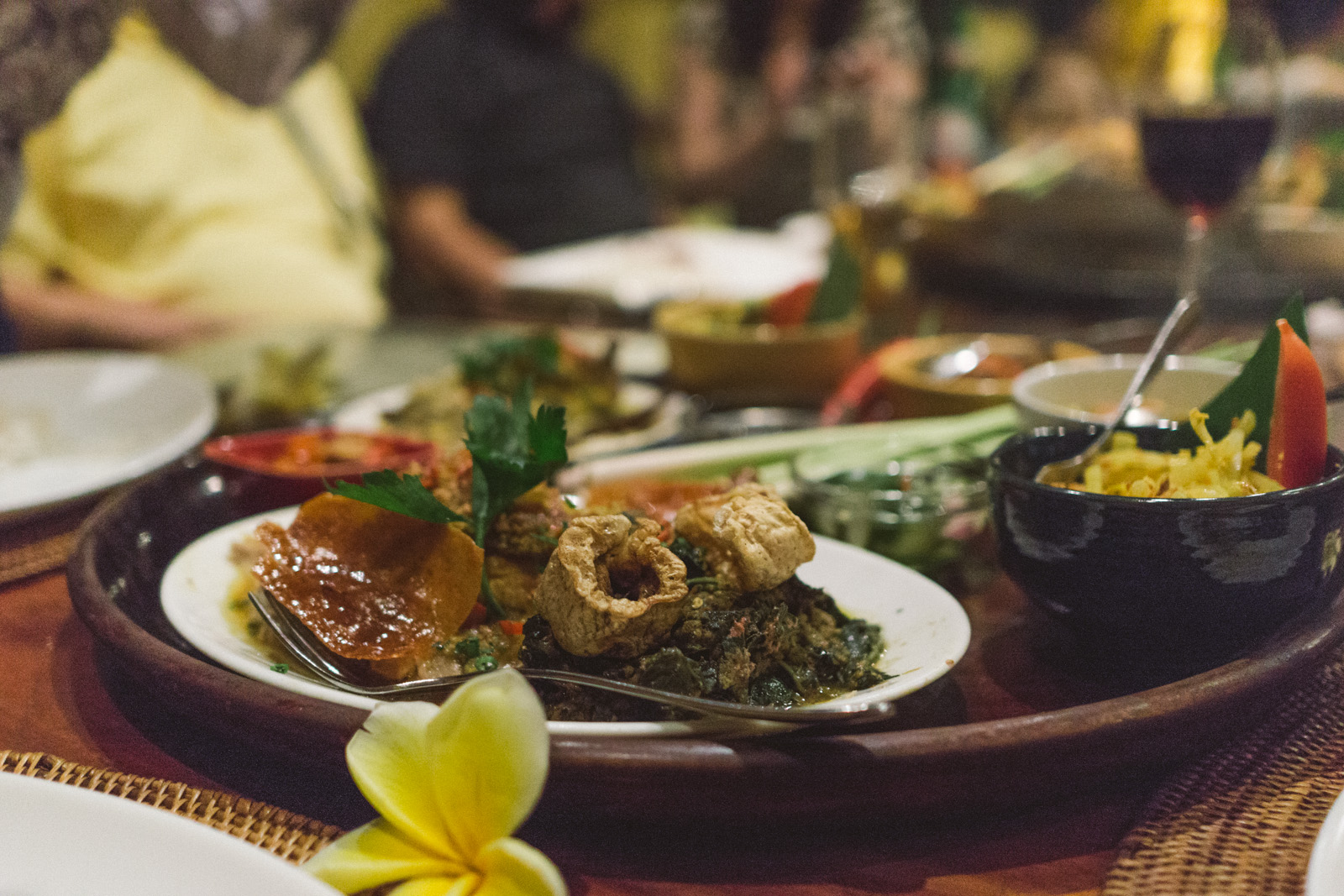 This pig was bad ass! The entire pig is spit roasted resulting in a crispy crunchy skin and juicy succulent pork meat. Babi Guling is #veryrare in other parts of Indonesia since a majority of Indonesians are Muslim, whereas peeps in Bali are predominantly Hindu.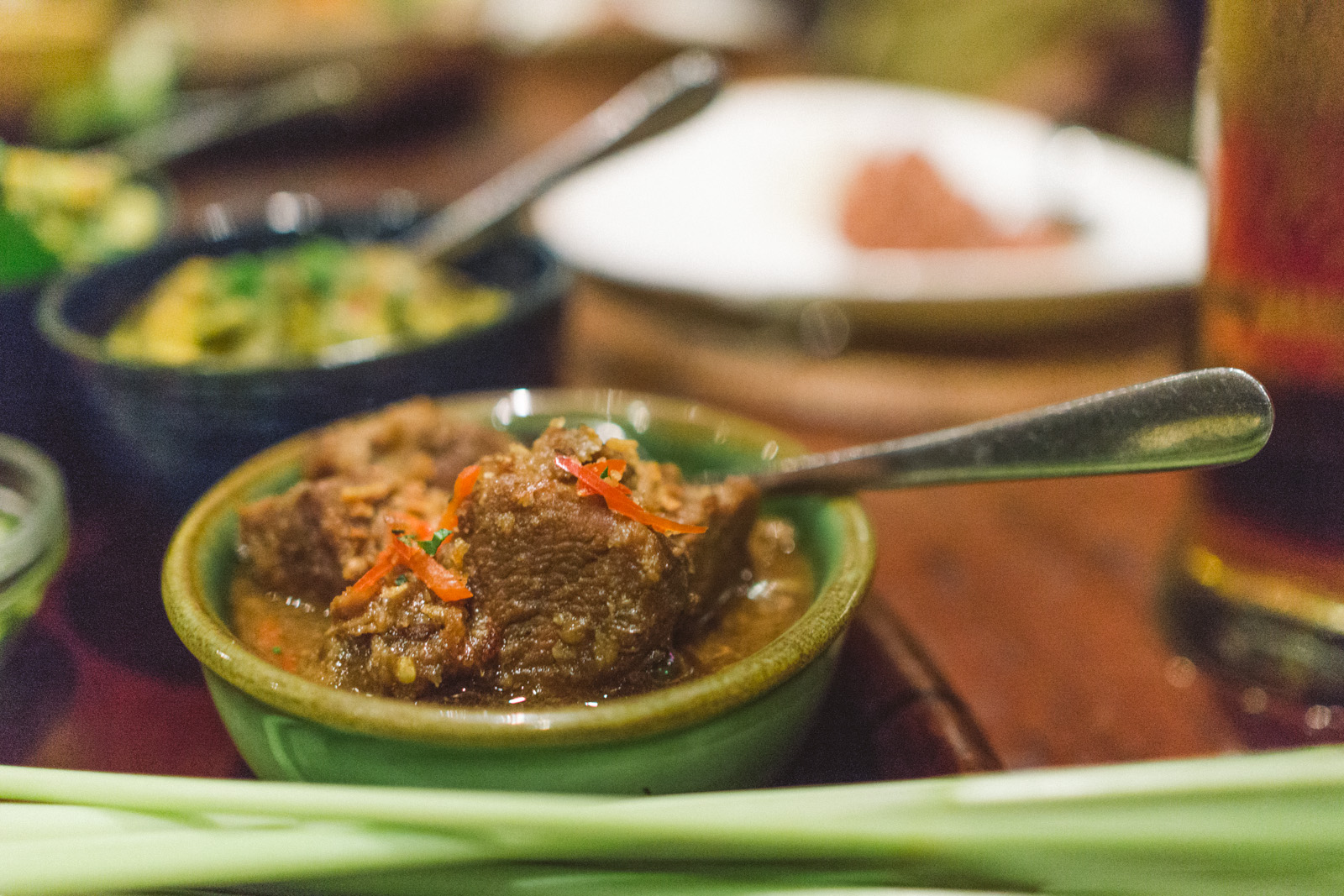 Pork in Sweet Soy Sauce – this dish came with the pig! This was another one of my favorite dishes of the night. The pork was sweet, succulent and hit the spot.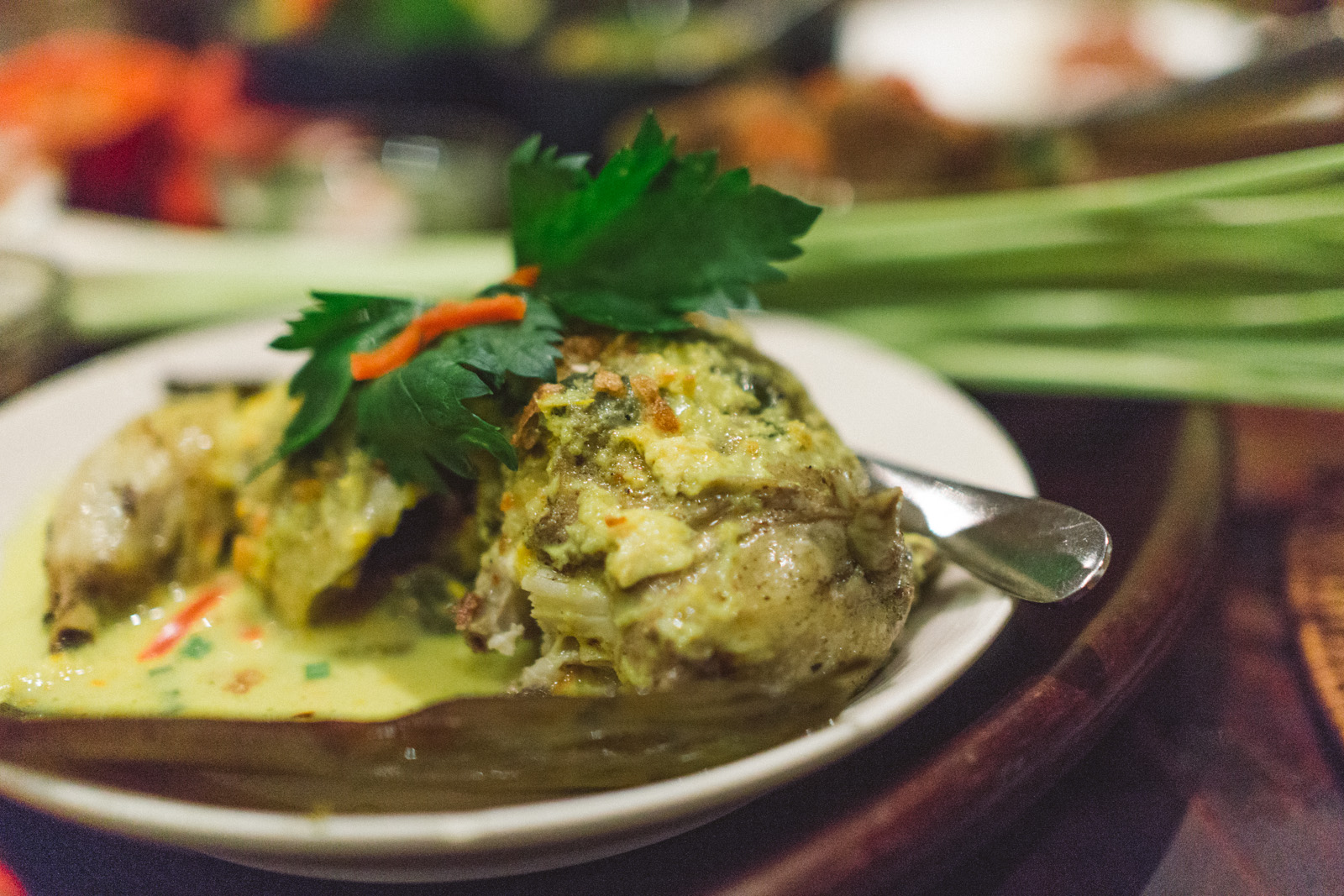 Ayam Betutu – whole roasted chicken (Rp 125,000 or $12.50 USD). The chicken was pretty tasty, but not a must order. Looking back, should have ordered the signature Balinese dish, Bebek Betutu (whole roasted duck) instead.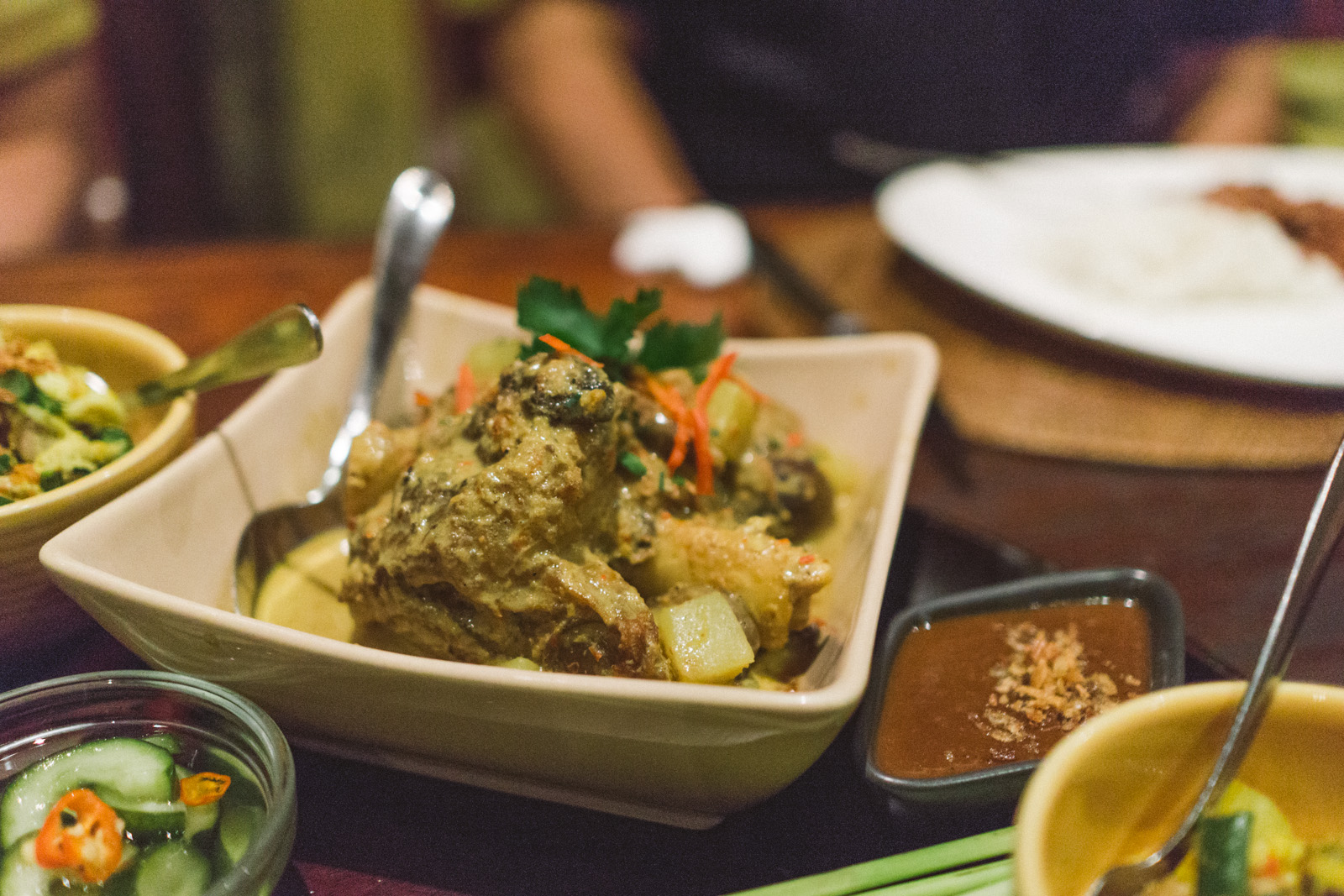 Kaki Kambing – braised lamb shank with tamarind (Rp 135,000 or $13.50 USD). KAKI KAMBING FTW! The lamb was definitely the winner for me. It was tender, succulent and fell apart effortlessly with a fork soaked in a delicious sweet tamarind sauce.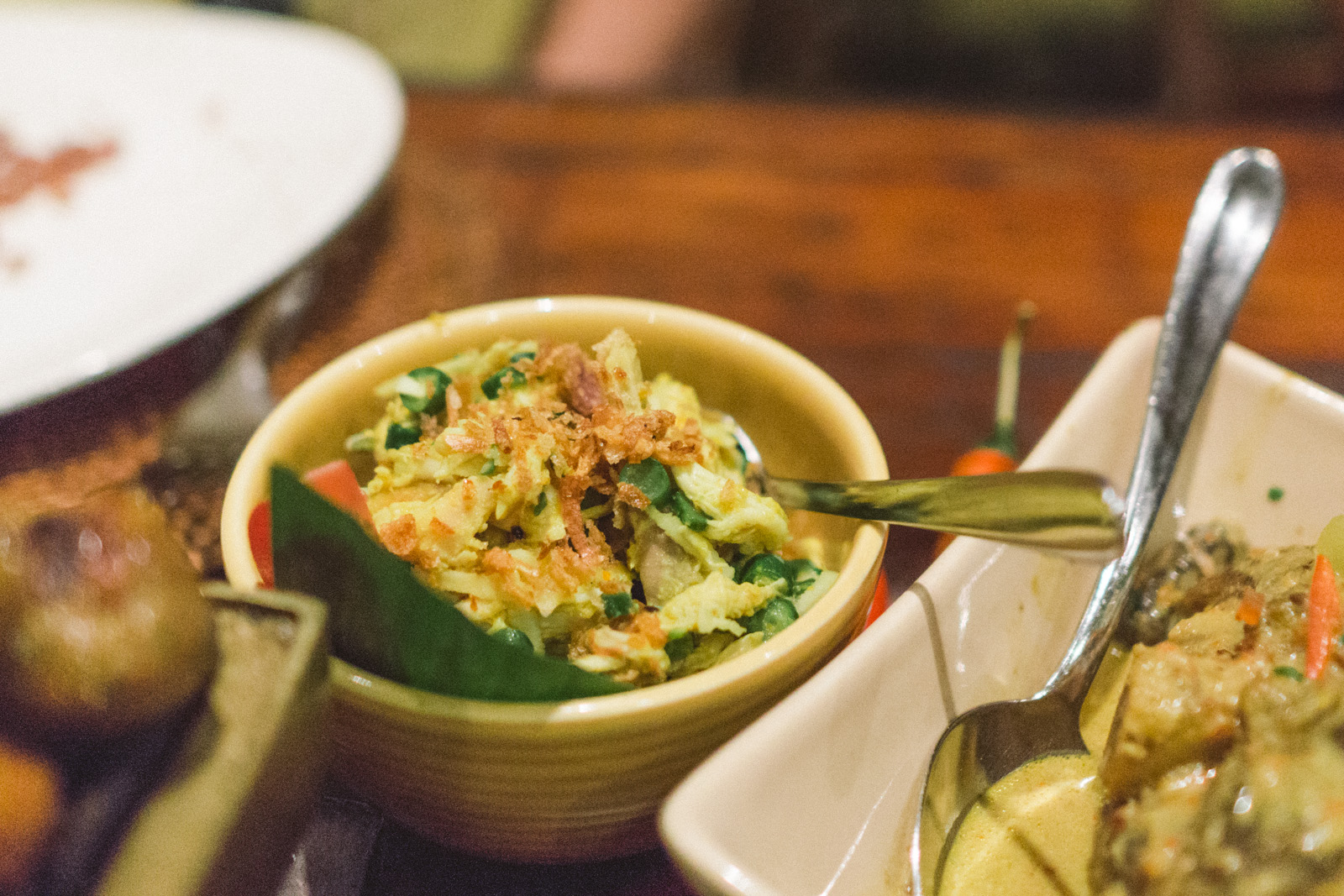 Jejeruk Ayam – shredded chicken and vegetable salad in coconut dressing (Rp 87,500 or $8.75 USD). The chicken was a little on the dry side, but the coconut dressing helped.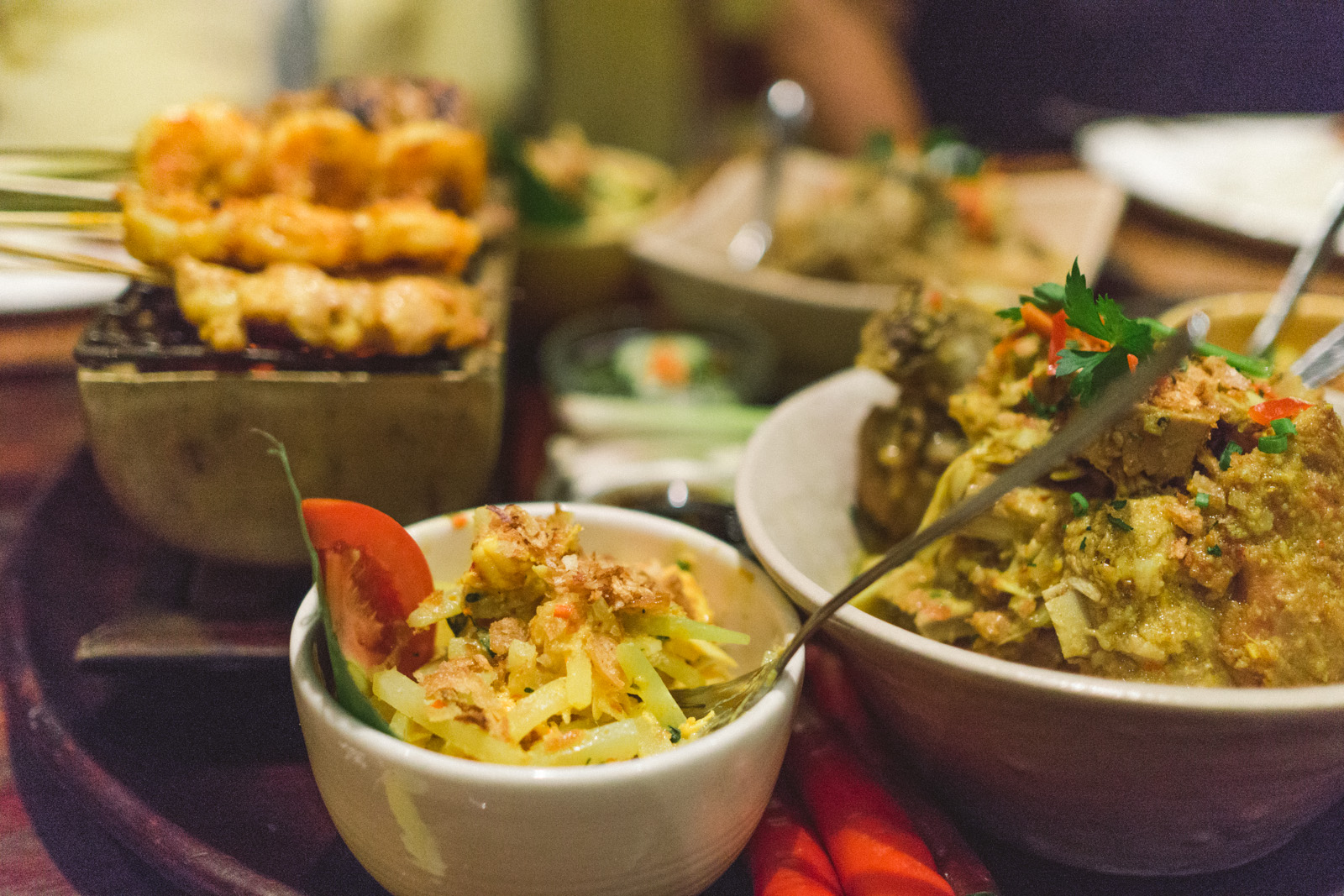 Lawar Udang – green papaya salad with prawn sates. The green papaya salad was my favorite of the appetizers. It was light and refreshing with a tangy kick.

View Larger Map
Bumbu Bali Restaurant and Cooking School
Jl. Pratama, Tanjung Benoa, Nusa Dua 80361,
Bali, Indonesia
p: +62.361.774502
e: info@balifoods.com
Asian, Bali, Indonesia, Balinese, Dinner, Indonesian, Lunch