Amsterdam Cray !!! Restaurant Fraîche
2
The Lowdown
Restaurant Name: Restaurant Fraîche
Cuisine: Modern American / European
Average Price per Person: €20 to 40 or $22 to 45 USD
Location: Amsterdam, Netherlands (see map below for details)
Recommendations: Set Dinner

Ratings (out of 5)
Taste: 4.5
Creativity/Authenticity: 4.5
Atmosphere: 4
Service: 4
Bang for Buck: 4

Crayscale !!!
I was warned ahead of time that the food in Amsterdam isn't too CRAY. We lucked out and had some friends take us to some legit spots, Restaurant Fraîche being one of them. We hit up Fraîche on two occasions, once for weekend brunch and the second time for dinner. The brunch menu focuses on American comfort food including fried chicken, cheese grits, pancakes and more. The dinner menu is more sophisticated and constantly changes based on seasonality.
Fraîche is located in the Jordaan of the Westerstraat, the restaurant's overall vibe is laidback focusing on modern comfort food and hospitality. Run by Co-Owners Chef Noah Tucker and Chef Anthony Joseph, the restaurant takes a simple approach to modern dining using fresh seasonal ingredients from local suppliers. Chef Noah brings his experience working in kitchens in New York and San Francisco while Chef Anthony keeps it real with his Dutch upbringing. The duo is extremely hands on, involved in every aspect of Fraîche including hand-picking fish, meat and vegetables from local farmers.
Although Fraîche's brunch is tasty, if you want the real deal, you have to go for dinner. We had an incredible 5-course meal, with one word in common – flavor. Every single dish was packed with intense flavors. I have dreams about the velvety chestnut ravioli and smoky BBQ ribs surrounded in a pool of heavy umami-flavored bacon dashi. Not only was the food delicious, the service was on point, which is apparently #veryrare in Amsterdam. Noah gave us detailed descriptions of each dish and you could hear the passion in his voice as he spoke.
Brunch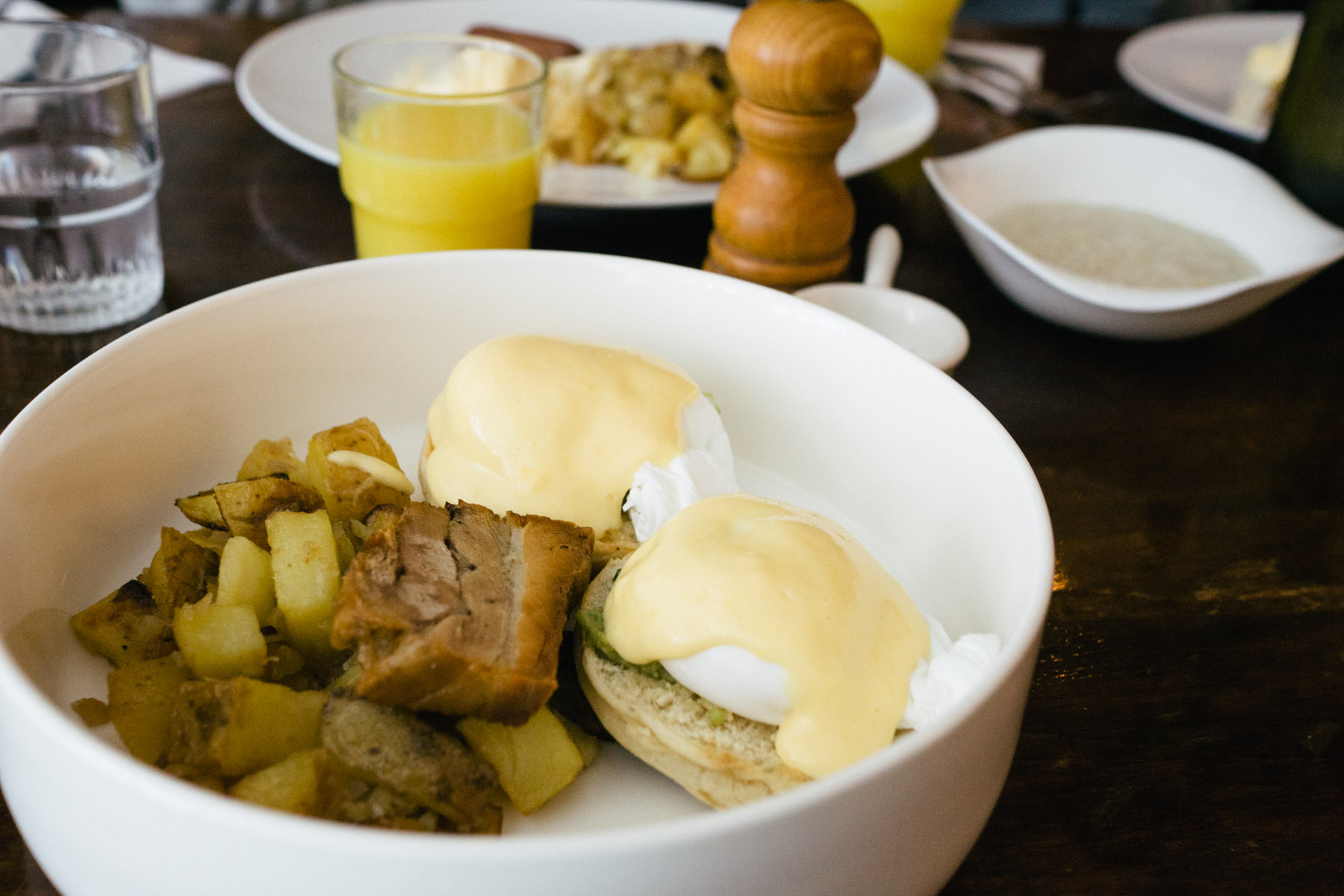 Guacamole & Bacon Benedict with home fries and hollandaise sauce (€17 or $20 USD). I only had a bite of this, but the eggs benedict definitely hit the spot, especially with the guacamole.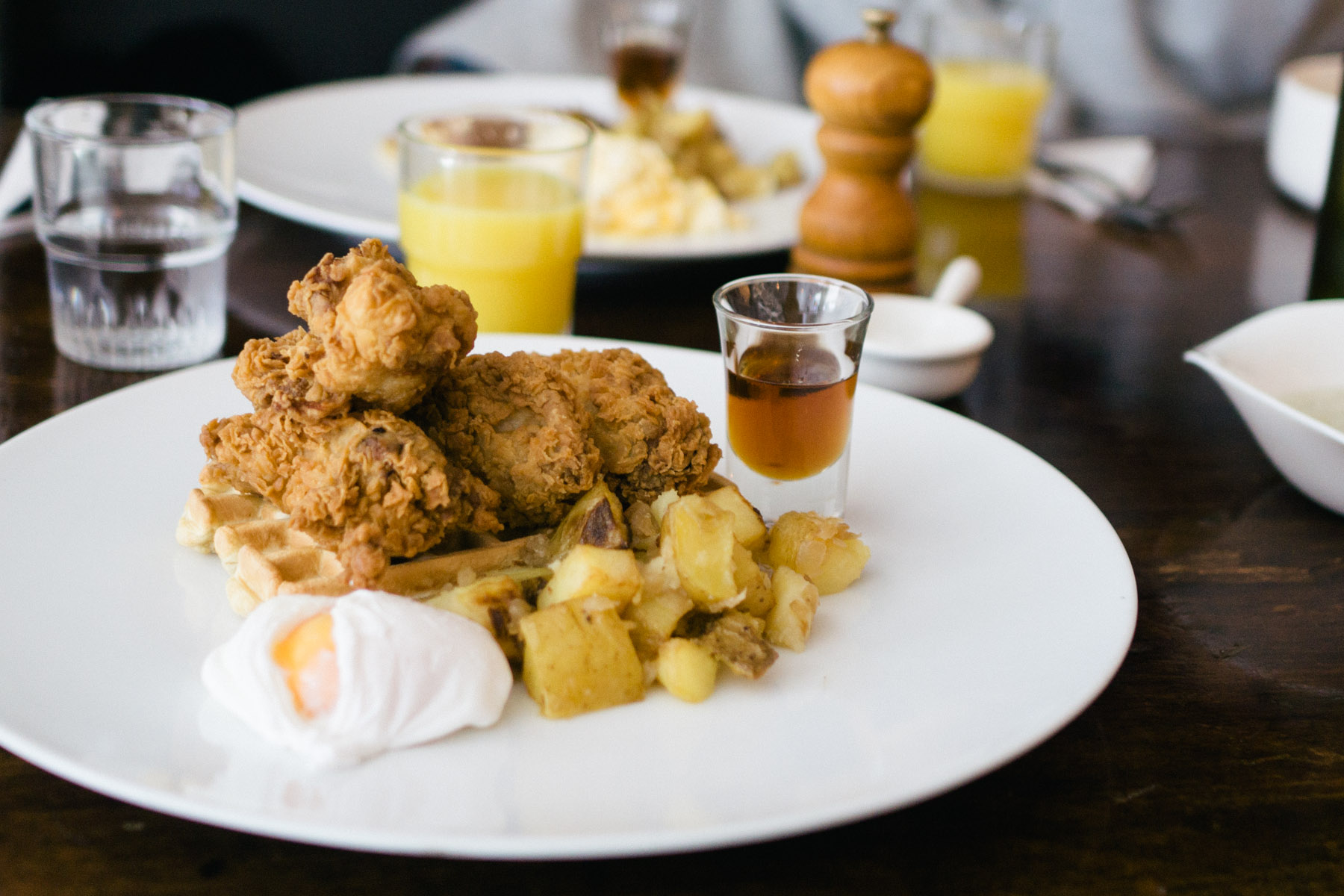 Fried Chicken & Waffles with home fries, a poached egg and maple syrup (€17 or $20 USD). The fried chicken was super crispy and juicy, but, the waffle was underwhelming and soggy. The poached egg was misplaced, but I ended up mopping up the yolk with the potatoes, chicken and waffles.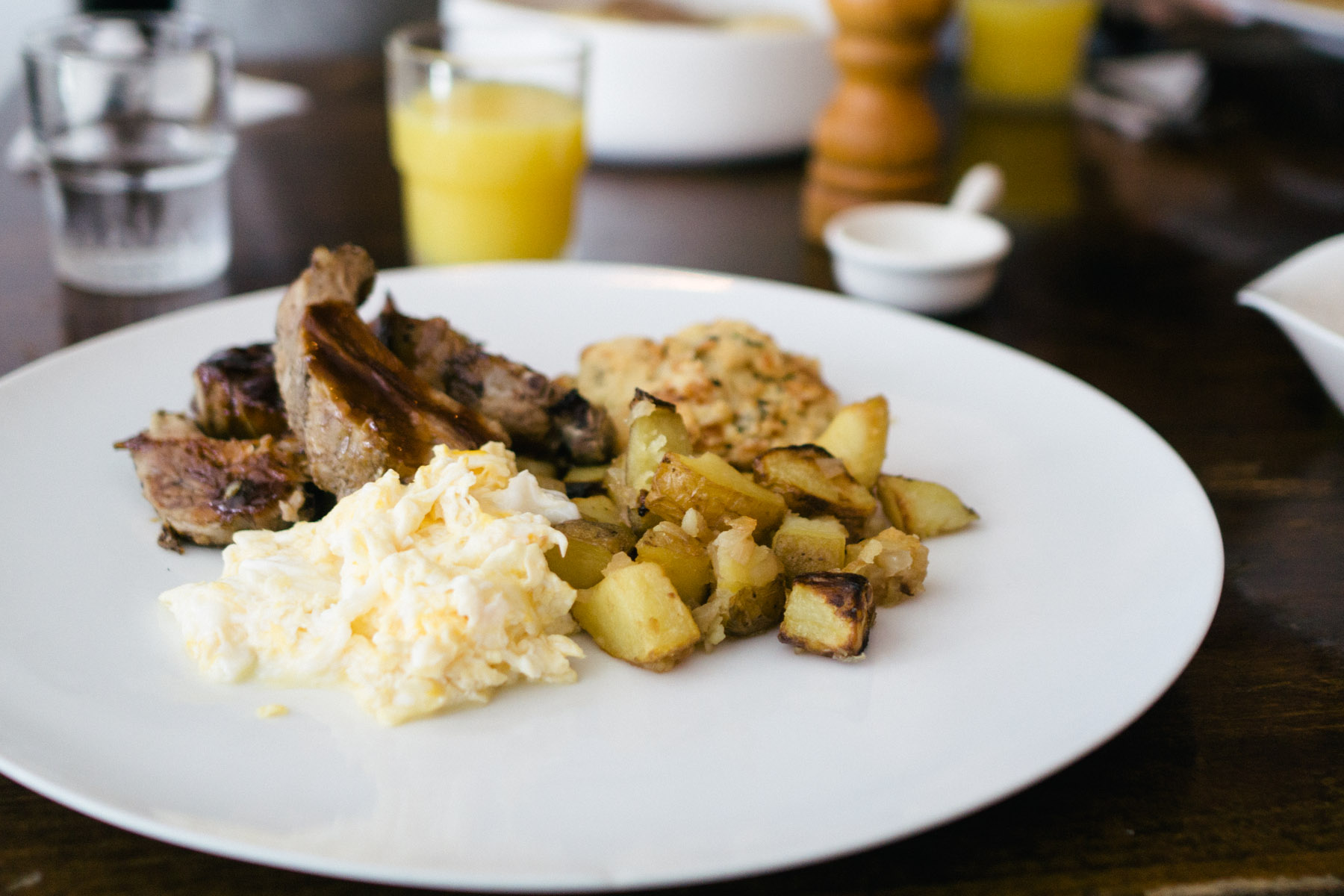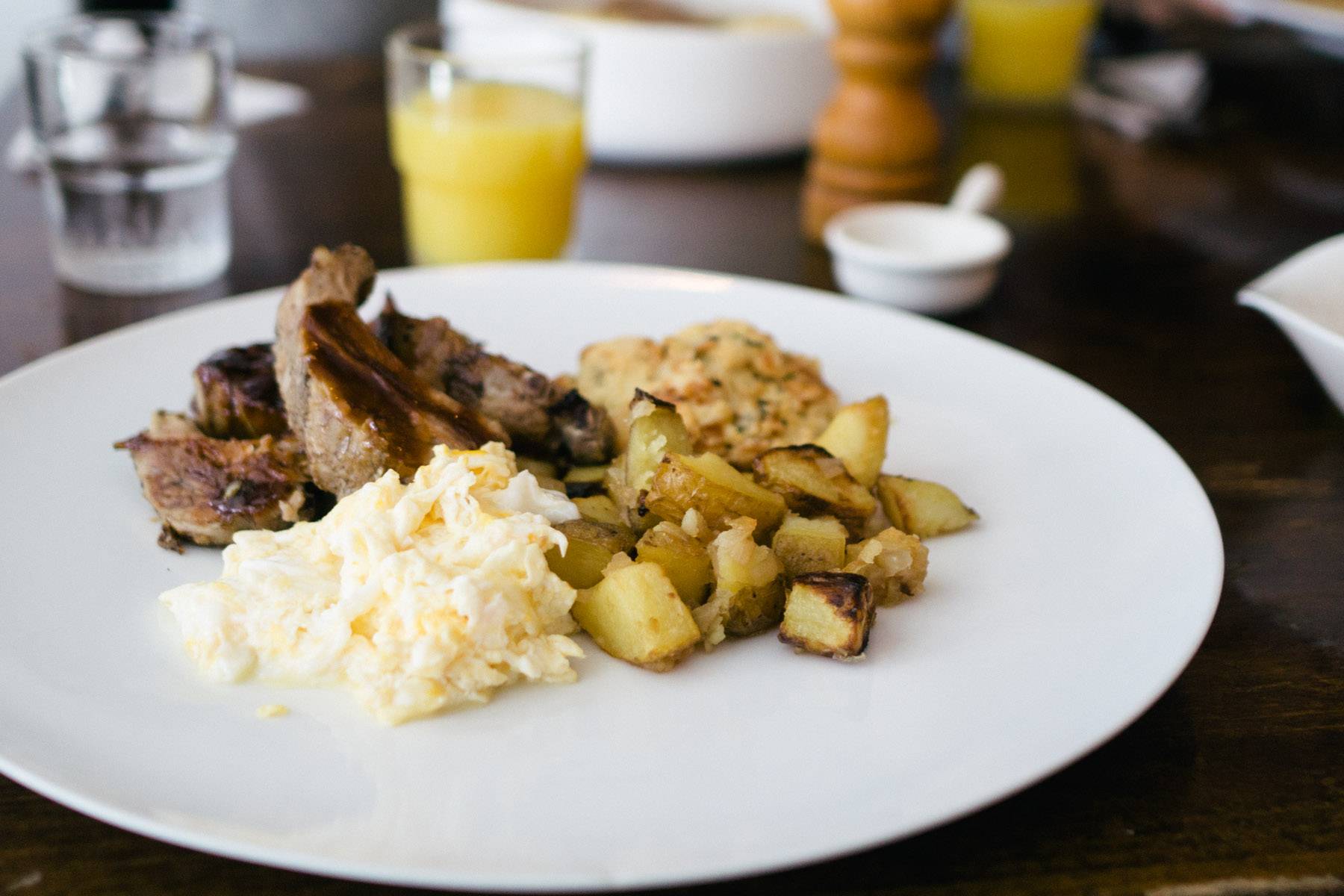 BBQ Baby Back Ribs with cheese eggs, home fries, and a cheddar biscuit (€17 or $20 USD). I had a tiny bit of the ribs and the ribs we had at dinner were 10 times better.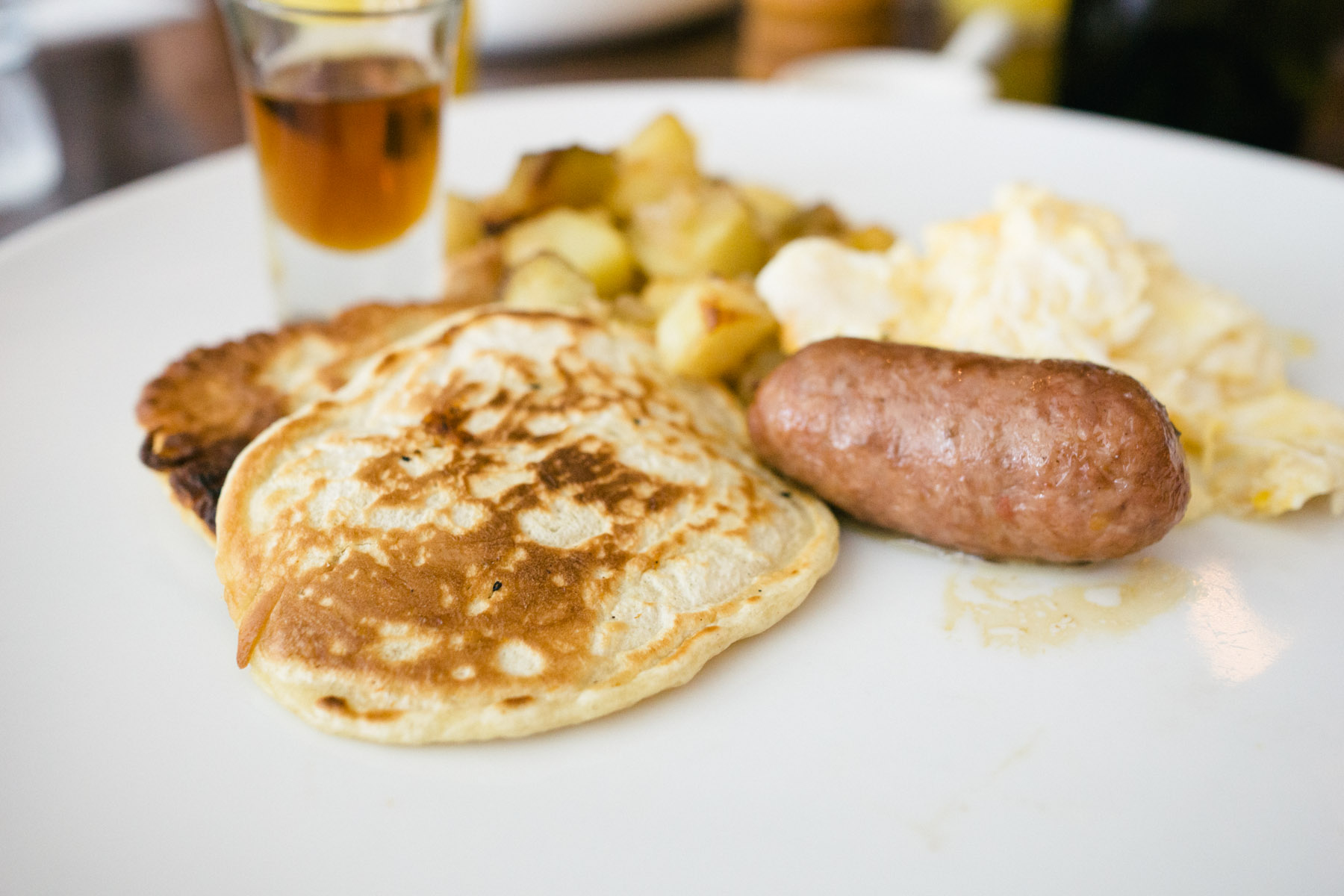 Fluffy pancakes, home fries, cheese eggs, crispy bacon and sausage link (€17 or $20 USD). This was pretty basic, the sausage was really nice though.
Dinner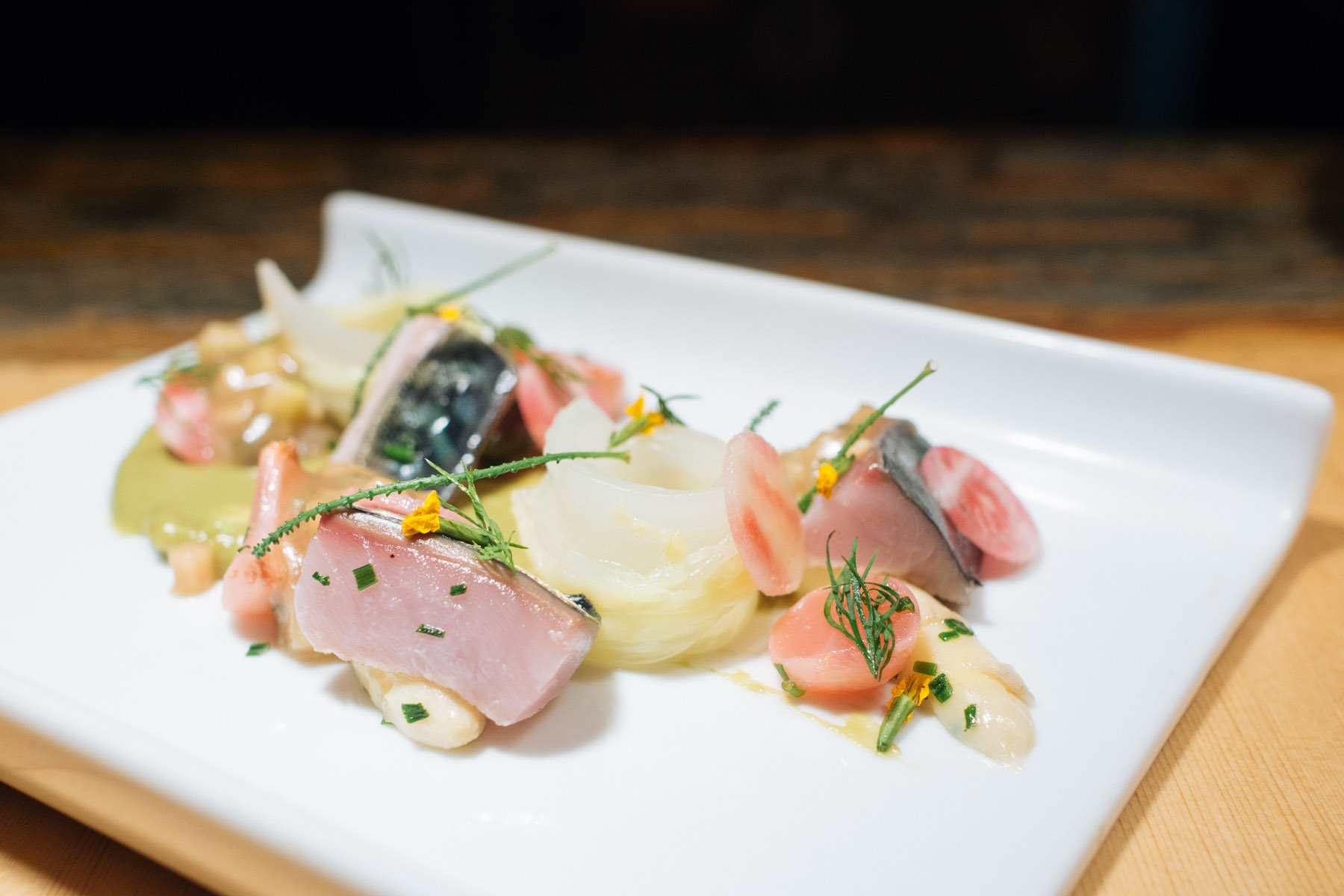 Mackerel with smoked avocado, radish, umeboshi, and violets. This dish was stunning consisting of bright colors and flavors. The mackerel was tender and freshly paired with creamy smoked avocado, crunchy radishes and umeboshi.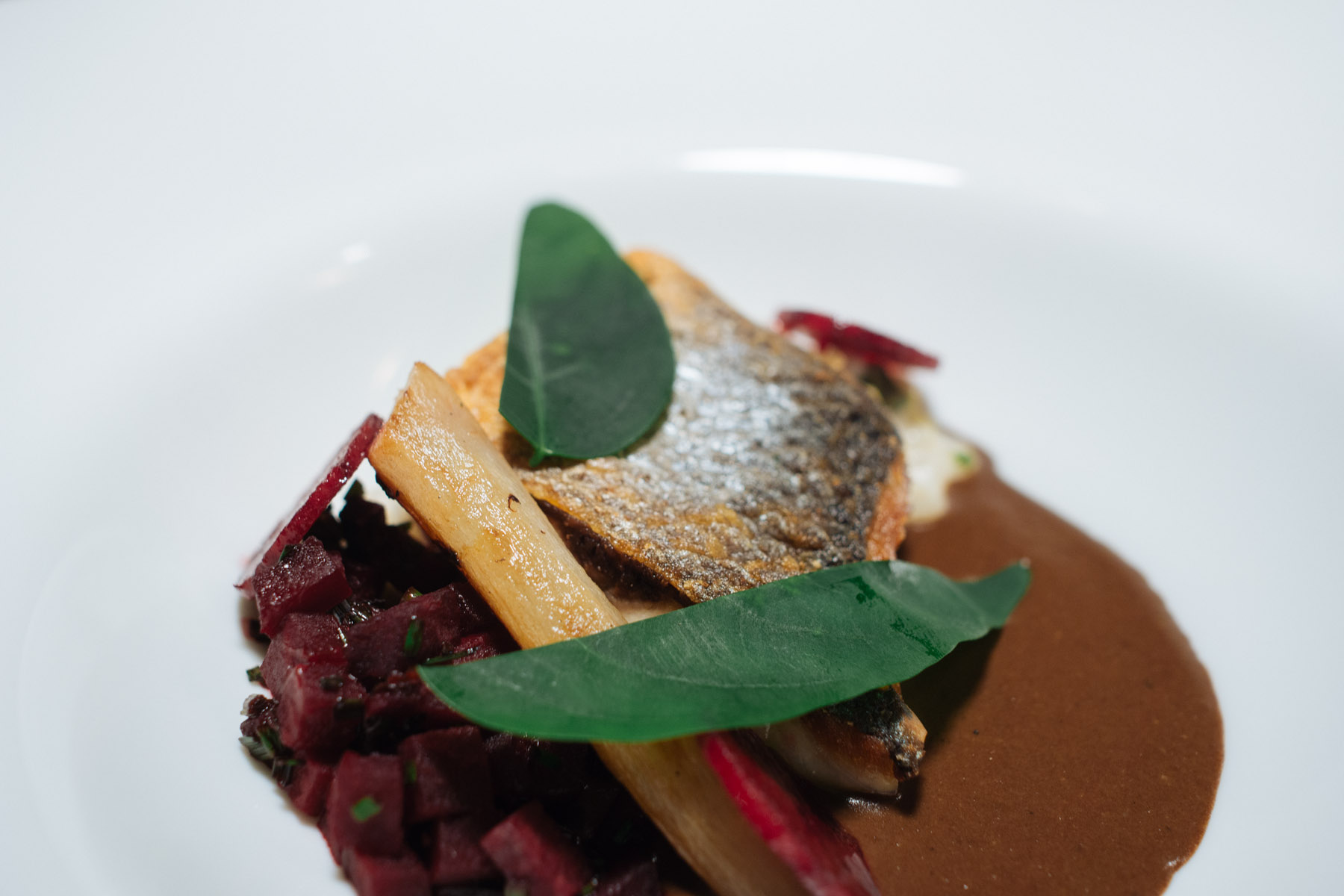 Wild bass with smoked beets and quinoa. The bass was perfectly cooked, moist with crispy skin paired with an amazing black garlic sauce. The beets and carrots were tender, adding a bit of sweetness.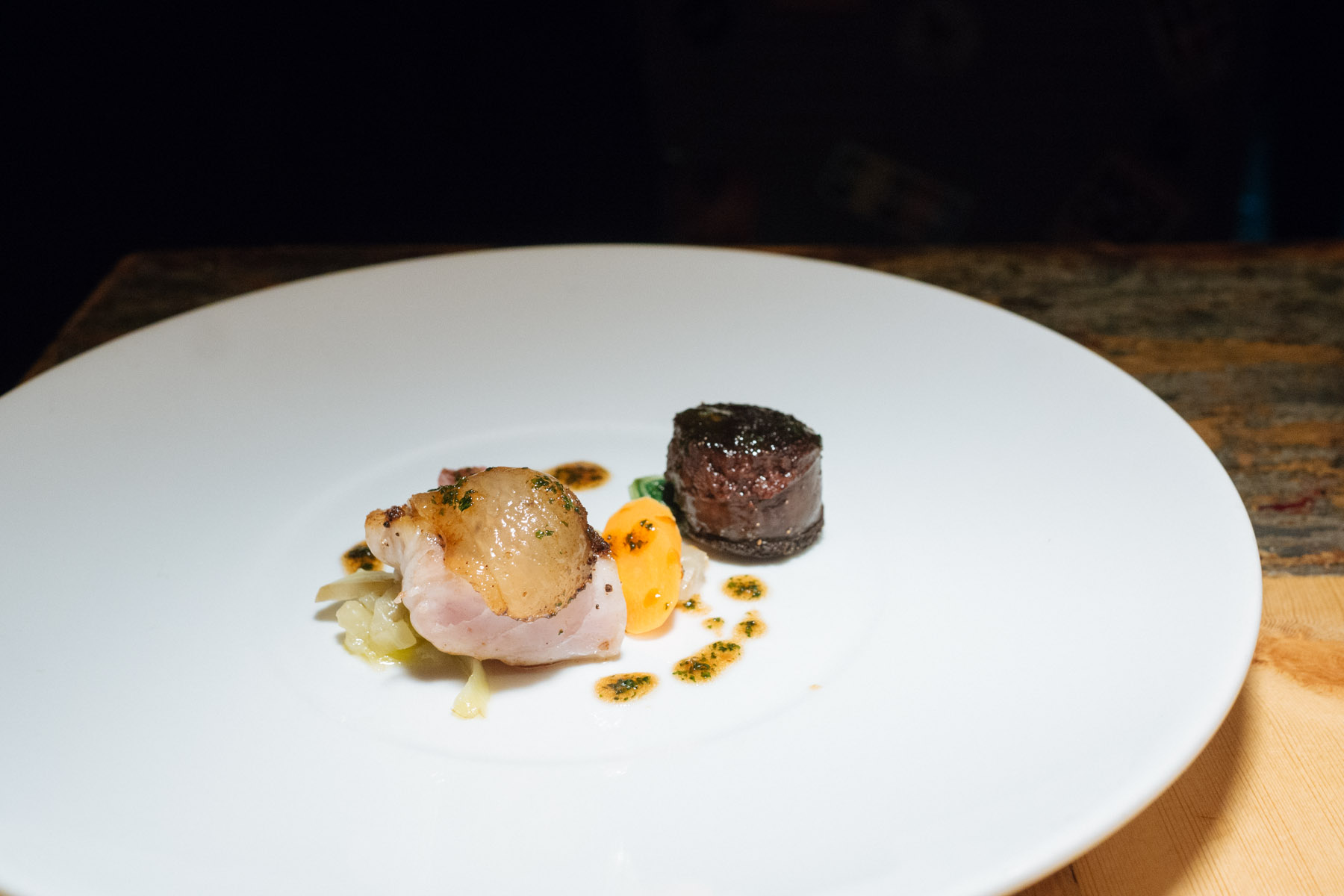 Blood sausage with lardo and pickled vegetables. Chinese blood sausages are one of my favorite childhood foods. This sausage reminded me of that, just not as salty and fatty. It was incredibly flavorful, moist and melted in my mouth.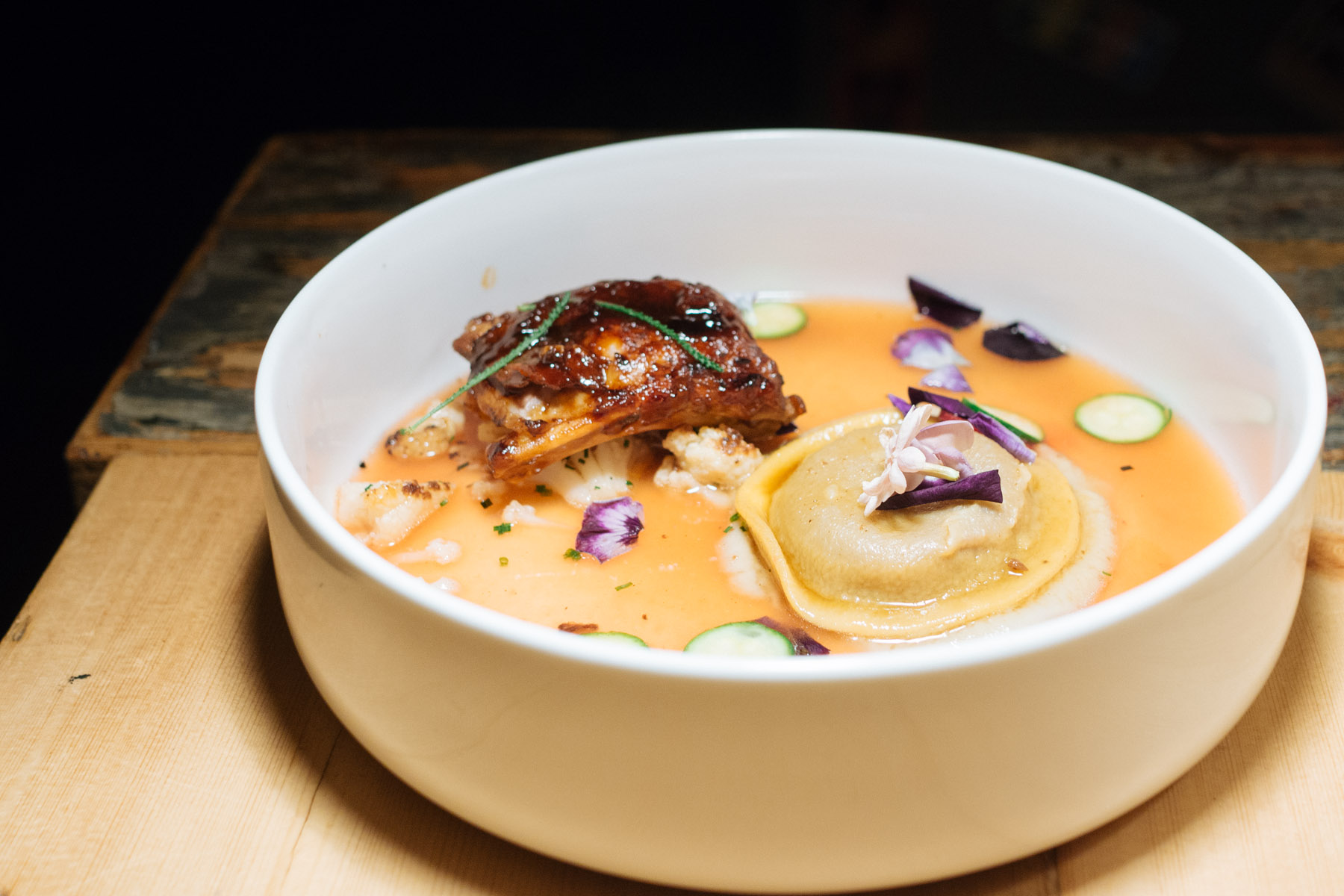 Chef Noah killed it with this one! This was my favorite dish, chestnut ravioli with BBQ ribs sitting in bacon dashi with cauliflower and Jerusalem artichoke purée, zucchini and beetroot. The ravioli was filled with a sweet velvety chestnut filling which tasted even better with the bacon dashi. The ribs were smoky, tender and succulent.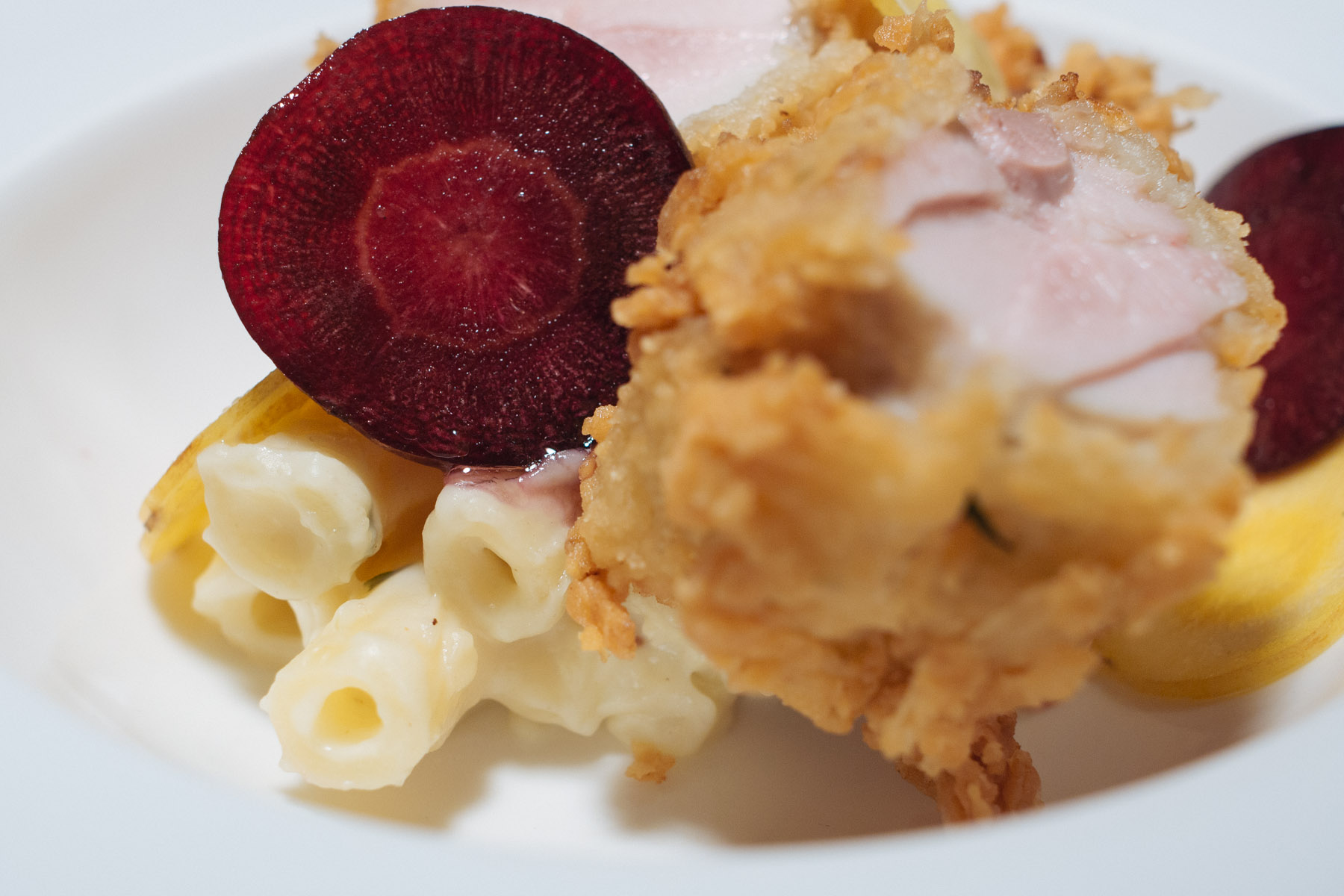 Fried chicken & "macaroni and cheese." The fried chicken we had at dinner was way better than the one we had at brunch. It was crispy and super juicy. The pasta is a play on mac n' cheese, but this stuff is way better!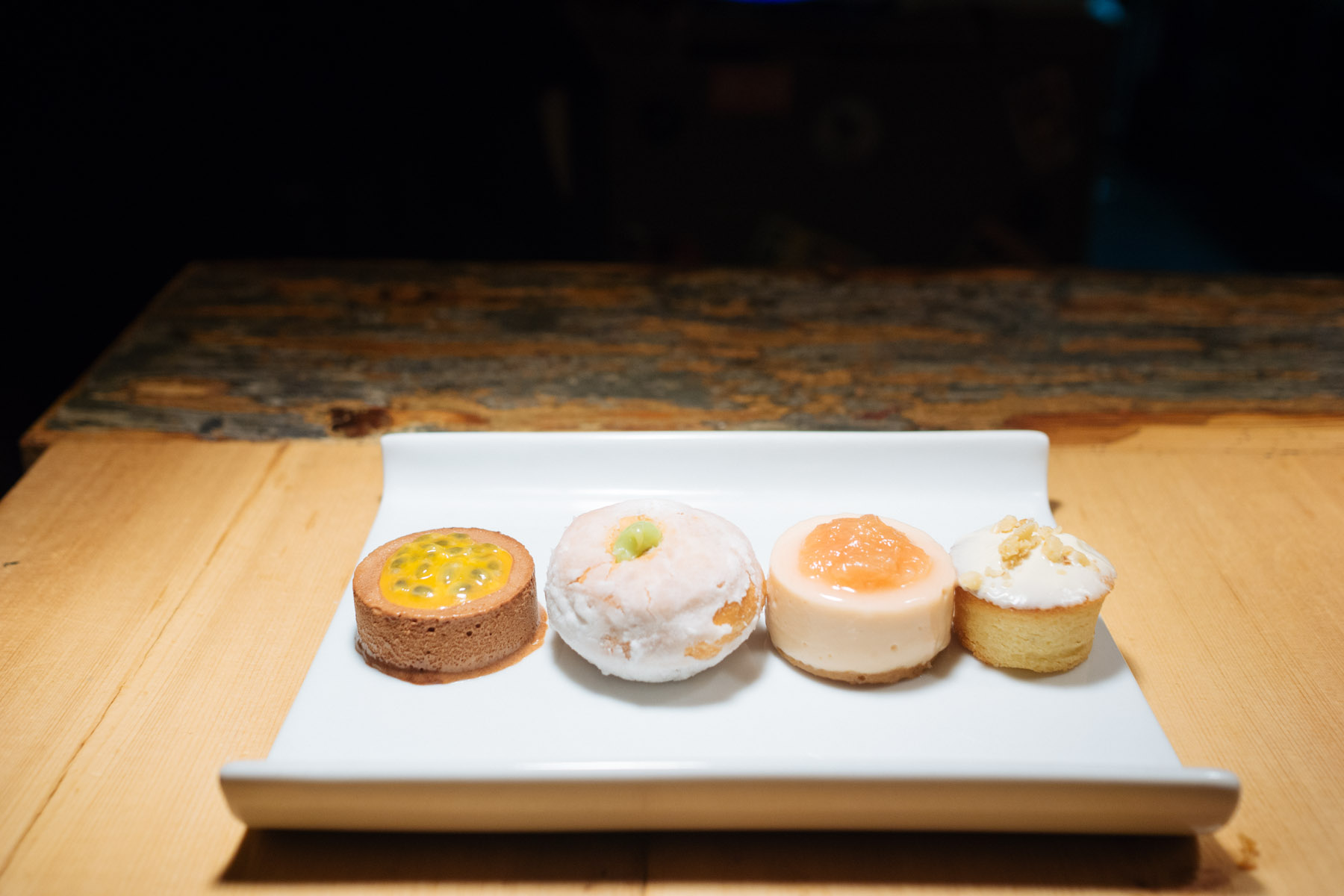 Dessert was intense! We each had a plate of desserts to ourselves. Starting from the left we have milk chocolate and passion fruit parfait, powdered donut with white chocolate and avocado filling, plum and rhubarb cheesecake and fragapan. The milk chocolate and passion fruit parfait was my favorite. It tasted like ice cream topped with fresh tart passion fruit. The avocado donut was on point as well stuffed with sweet buttery avocado filling. The frangapan tasted similar to a Dutch almond cookie that I happen to love.

11 Rose Mount
Prenton, Merseyside CH43 5SG
Fraiche11 Rose MountPrenton, Merseyside CH43 5SG
w: restaurantfraiche.com
p: +44 151 652 2914
American, Amsterdam, Netherlands, Asian, Dutch, European, North American, Uncategorized