The Lowdown
Restaurant Name: 民聲冰室 (I don't think this spot has  an English name)
Cuisine: Chinese Food
Average Price per Person: $60 to $120 HKD or $7.50 to $15 USD
Location: Tai Hang, Hong Kong (please refer to the map below for details)
Recommendations: Minced Pork with Salted Duck Egg Yolk, Stir-fried Clams, and "Saliva" Chicken

Ratings (out of 5)
Taste: 4
Creativity/Authenticity: 4
Atmosphere: 2
Service: 2.5
Bang for Buck: 4
Crayscale !!!

Eugene and I have been hitting up Tai Hang on the regular lately. We've eaten our way through most of Causeway Bay, so we usually navigate down south-east to the boroughs of Tai Hang/Tin Hau. During our last Tai Hang adventure, we went to this awesome little Dai Pai Dong that looked pretty bumpin' with tables pouring onto the sidewalk.
We had already eaten a 50 cm hot dog at J-Dog, so we didn't go to HAM on ordering like we normally do. We also couldn't read any of the menu considering it was all in Chinese. We pretty much just took a look around us and ordered what other people were ordering. We also asked the lady boss what's good and she recommended their signature dishes. I definitely want to go back though and try some of their other menu items!
Surprisingly the food was hella legit. One of their signature dishes is a mountain of minced pork topped with a huge salted duck egg yolk. This is a fairly common Chinese dish that I grew up eating, but it's usually steamed in a dish, packed tightly and clumped together. This was the first time I've ever had it prepared in a stack and it was the best I've ever had. Another one of their hot items is the "Saliva" Chicken. Sounds delicious right? It's actually just chicken served cold and marinated with soy sauce, sesame oil, chili oil and other Asian ingredients. It's tender, smooth and super flavorful. Their barbecued pork scrambled eggs are supposed to be mad good too, but we were SOL and they were sold out. I'll have to go back for another visit!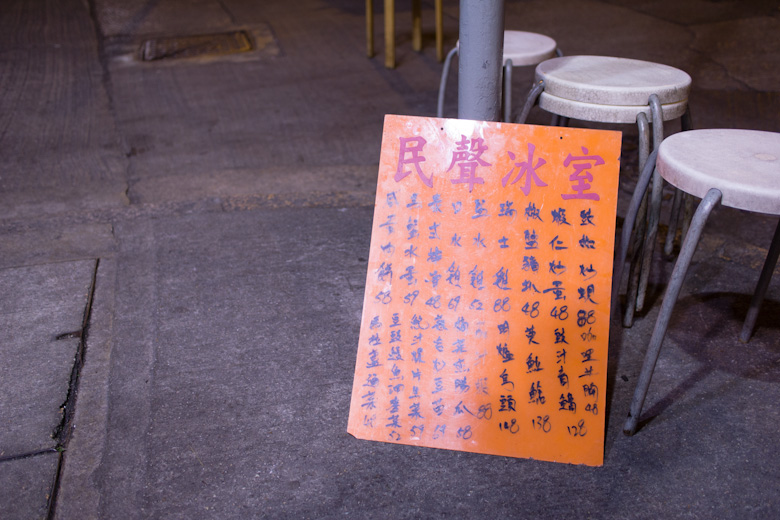 There are only 2 menus for the entire restaurant. One inside the restaurant on a white board and this one which is laid out on the street.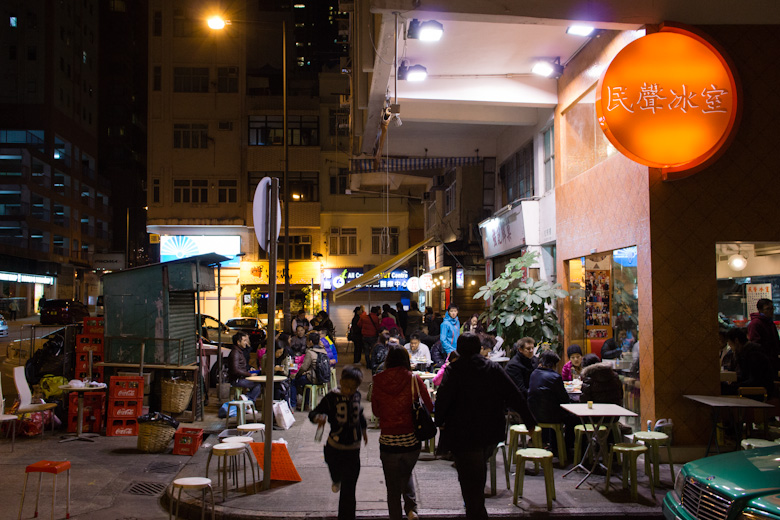 If you have trouble finding the restaurant (which really shouldn't happen), just look for a bunch of tables set up on the sidewalk, that big round orange sign with 4 Chinese characters on it and a line up of people waiting to get their eat on.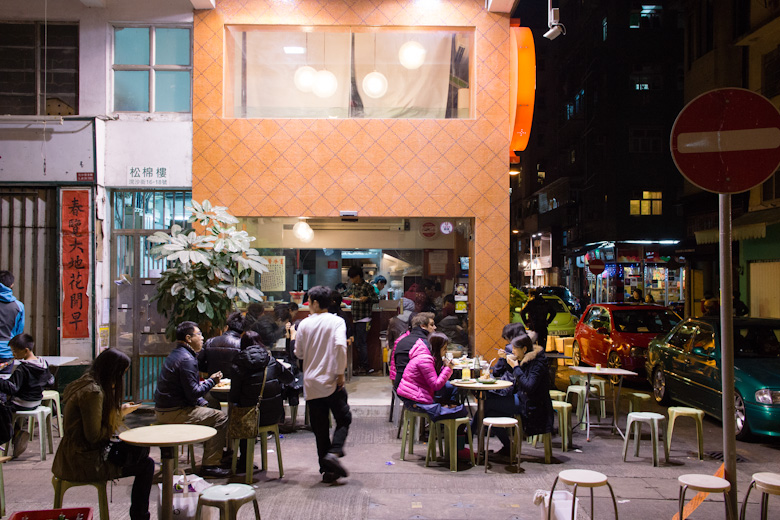 There is seating both inside and outside of the restaurant. I prefer sitting outside because it's more comfortable and I like that eating on the street kinda vibe.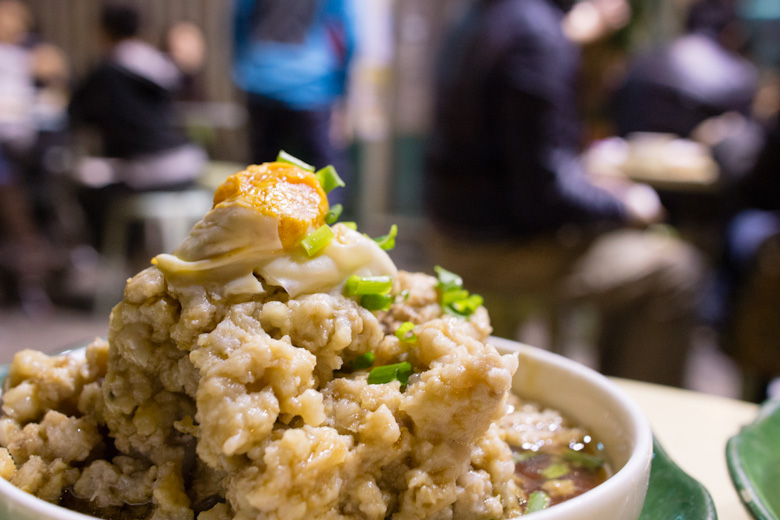 Minced Pork with Salted Duck Egg or 咸蛋肉餅 ($58 HKD or $7.50 USD). This is THE SHIIT right hurrrrr !!! I friggin' love this mound of super flavorful, moist and tender minced pork. I can never get enough of this meat.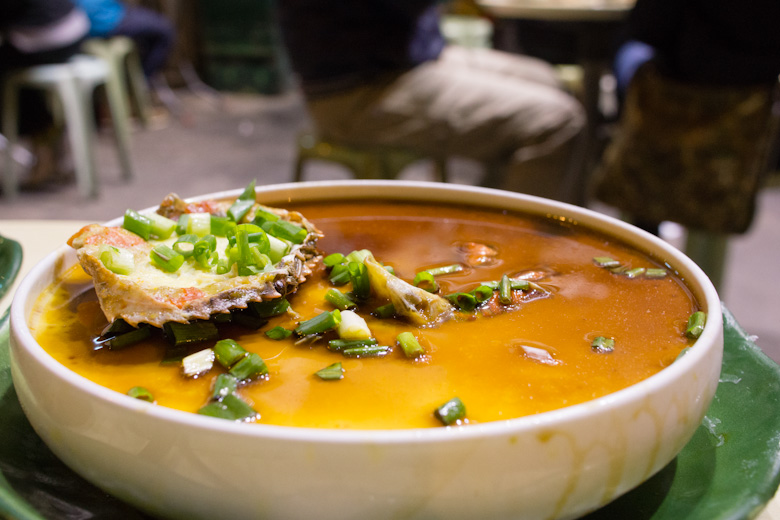 Steamed Eggs with Crab or 羔蟹水蛋($59 HKD or $7.50 USD).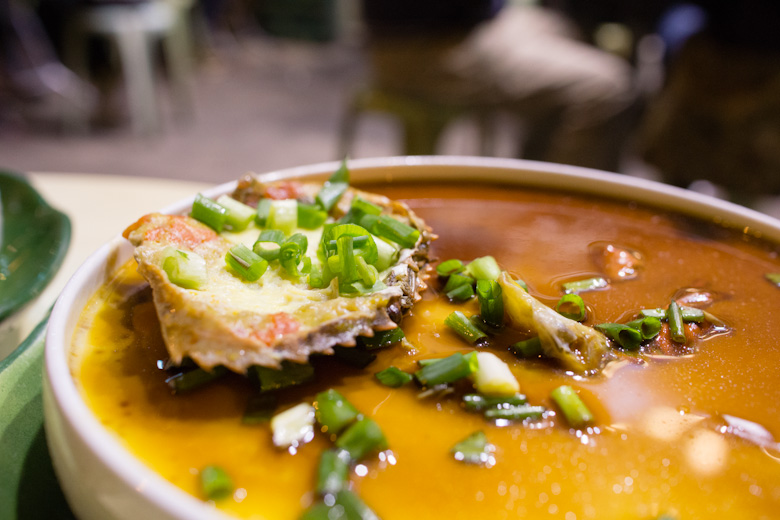 The steamed eggs with crab is a pretty popular dish here too. The eggs are a little overcooked and don't quite have the smooth and creamy texture I like. I also think the crab is unnecessary. It looks cool, but the crab legs are mad skinny so no one ends up eating them and the crab doesn't really add any flavor to the eggs.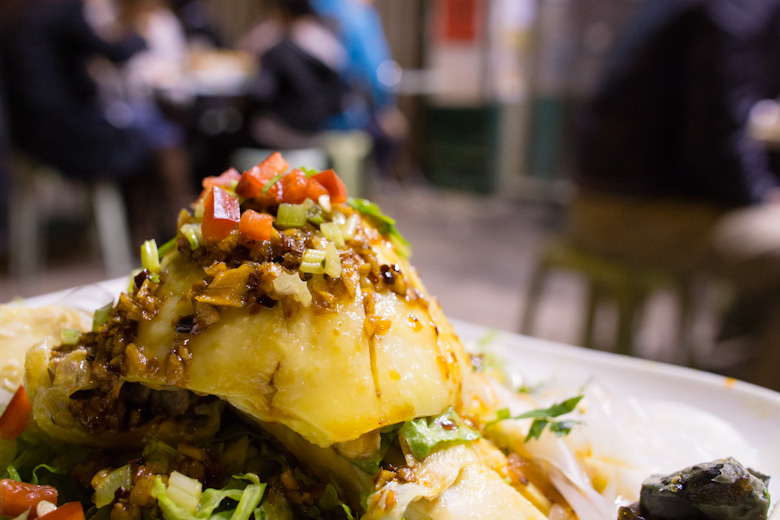 "Saliva" Chicken or 口水雞 ($69 HKD or $8.90 USD). The "Saliva" Chicken, is delicious! The chicken is moist, succulent and packed with flavor. The clear rice noodles underneath are tasty too especially when soaked in that sweet and spicy sauce.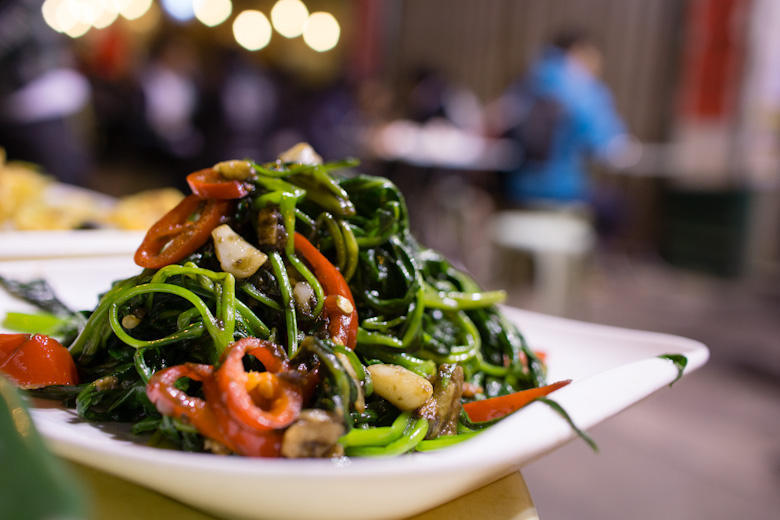 Malaysian Style Morning Glory or 馬拉盞通菜 ($48 HKD or $6.20 USD). The morning glory is mad flavorful and has a nice spicy kick to it. Yummm!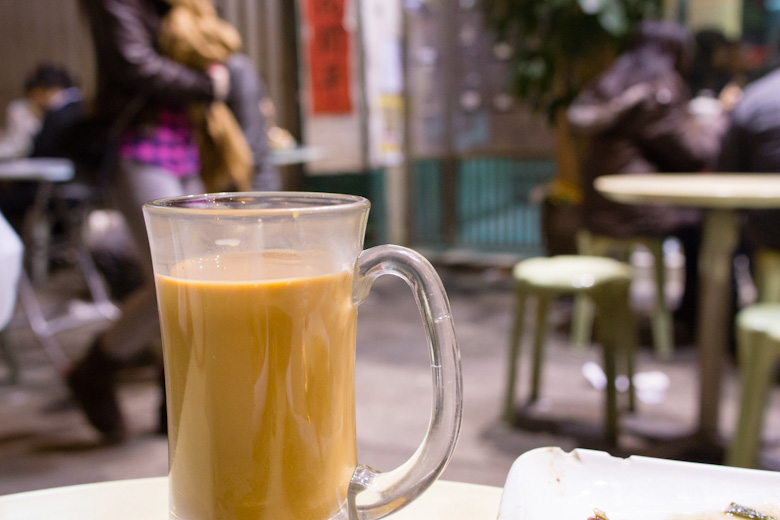 Milk Tea! Their milk tea is decent too. Not the best, but still good while sitting outside on a breezy night.
View Larger Map
G/F, 16 Wun Sha Street, Tai Hang
p: +852.2576.7272