The Lowdown
Restaurant Name: Arisu Korean Restaurant
Cuisine: Korean Food
Average Price per Person: $150 to $250 HKD or $20 to $32 USD
Location: Tsim Sha Tsui, Hong Kong (please refer to the map below for details)
Recommendations: Beef & Veggie Hot Pot, Braised Ox Ribs, Braised Spicy Ox Tail, Steamed Galbi Stuffed in a Pumpkin, and Korean Fried Chicken

Ratings (out of 5)
Taste: 4
Creativity/Authenticity: 4.5
Atmosphere: 3
Service: 3
Bang for Buck: 3.5
Crayscale !!!

Arisu is an authentic Korean restaurant that has recently been attracting a lot of attention lately perhaps thanks to an inclusion in the 2013 Hong Kong & Macau Michelin Guide (thanks CSON EATS for scoring a copy). Arisu is also a part of the Association of Korean Restaurants in Hong Kong and is considered one of the association's top restaurants #ohyoufancyhuh.
Arisu is located in Tsim Sha Tsui in a fairly large space with tables which allow for BBQ and Hot Pot, or in our case both! The menu is filled with pages on pages on pages of tasty legit Korean dishes including barbecue, braised meats, soups, noodles, rice, hot pot and more. If you're feelin' adventurous, there's also a lot of traditional fair including chicken feet and Sundae (if you're thinking ice cream with chocolate sauce and peanuts, no, not that kind of Sundae). Sundae is a Korean style Sausage made of boiling or steaming cow or pig's intestines (aka the OG legit way) stuffed with various fillings including noodles and pork blood. It's actually pretty tasty if you can get past poop shoots and congealed blood.
Some of my favorites are the beef with veggie hot pot, spicy ox tail, steamed galbi (shortrib) stuffed in a pumpkin, and that crispy Korean fried chicken! The hot pot comes packed with beef and veg soaked in a flavorful beef stock which gradually becomes more and more delicious as the pot slowly simmers. The ox tail is seriously crack. I can never stop eating it until every piece of ox tail disappears. The meat falls off the bone and is sweet with a nice spicy kick, flavorful and tender. The galbi is marinated, stuffed into a whole pumpkin and steamed. This helps the galbi seal in the flavor while the pumpkin soaks up all that stewed meaty delicousness released from the short rib. Yummmm!!! The chicken is mad good too with a crispy golden skin and succulent moist meat.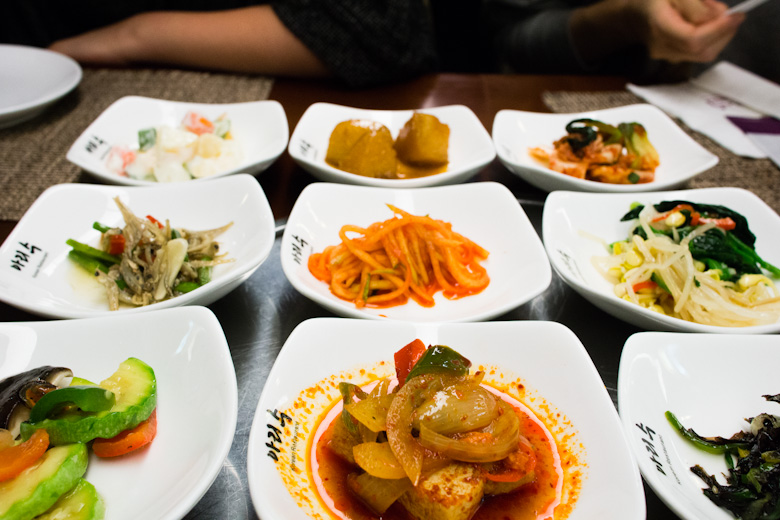 Soooo much banchan!!!!!!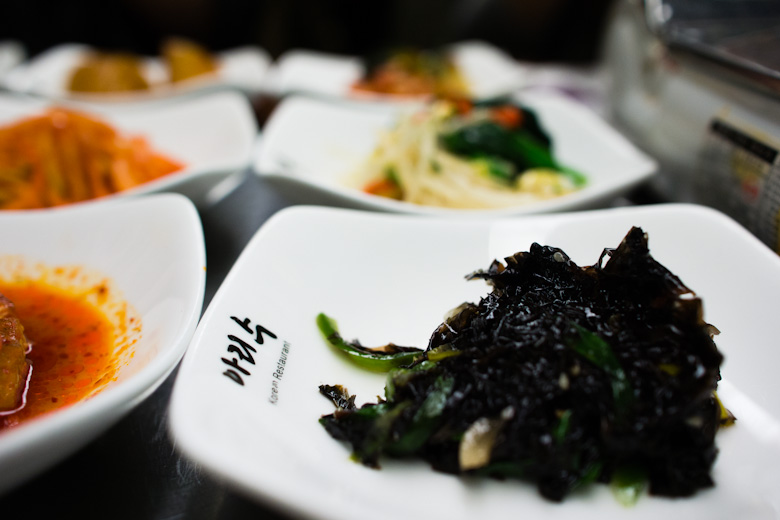 Miyeok muchim - seaweed with sweet vinegar and salt. My favorite of the 9!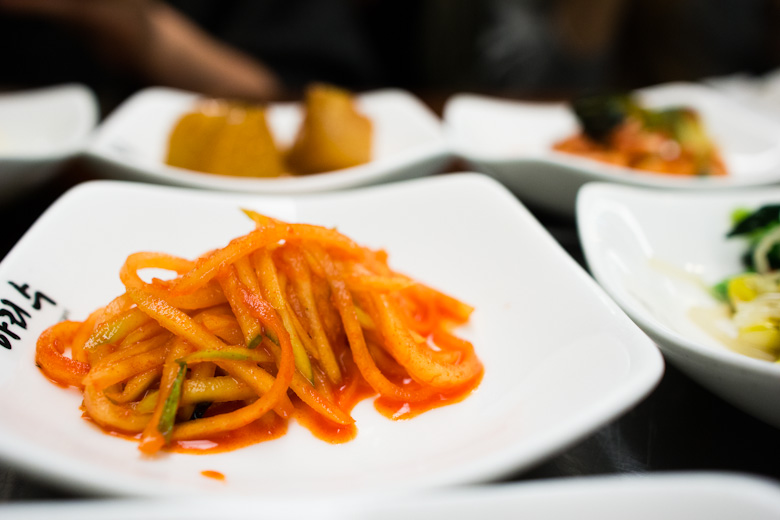 Musaengchae – similar to kimchi, made with strands of julienned white radish, vinegar, and chili sauce.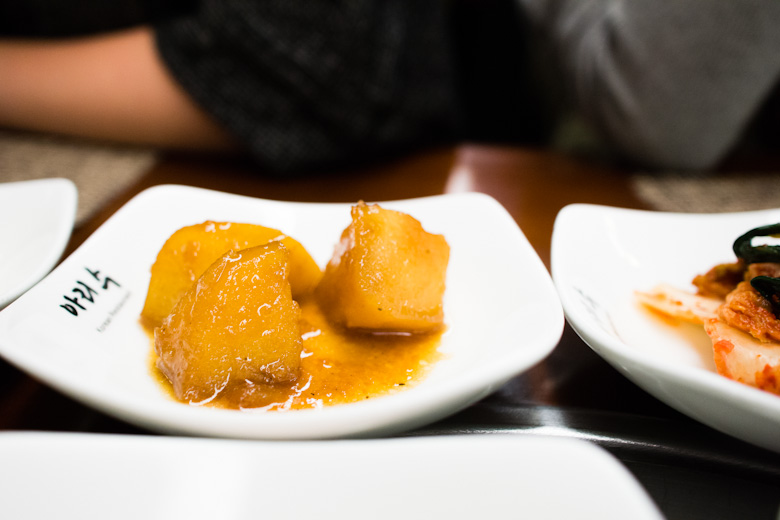 Gamja Jorim - Another one of my favorites! I love these tender sweet cubes of glazed potatoes.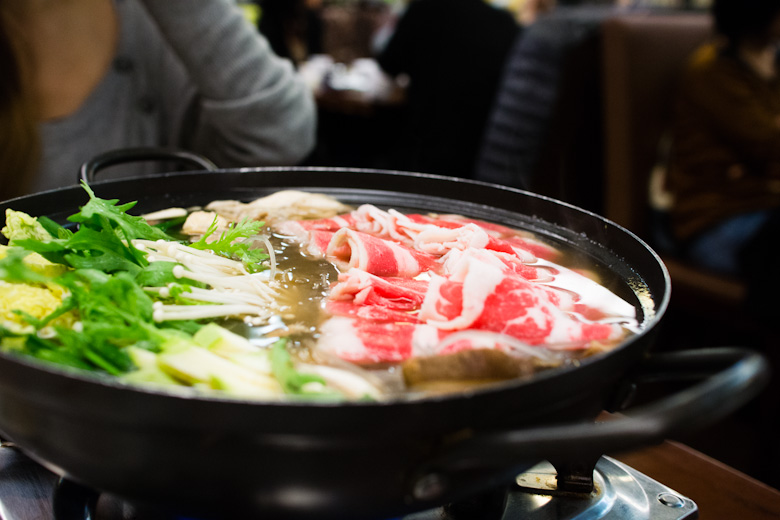 Beef and Veggie Hot Pot ($280 HKD or $35.90 USD).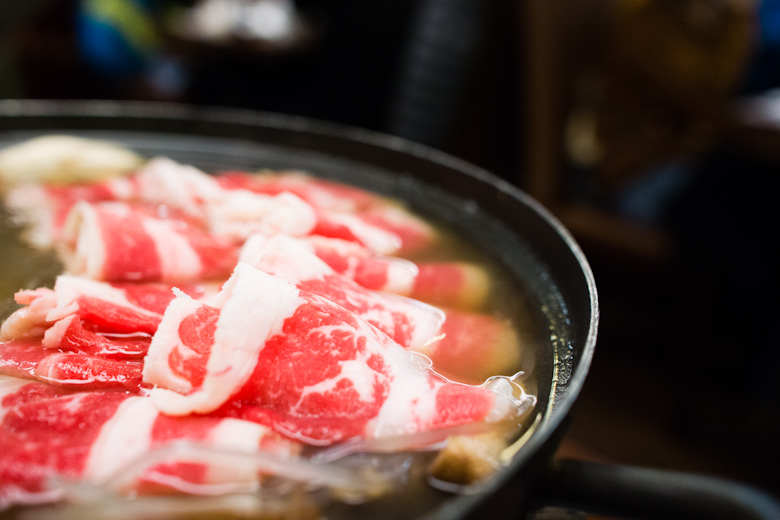 Packed with delicious strips of beef, healthy veggies …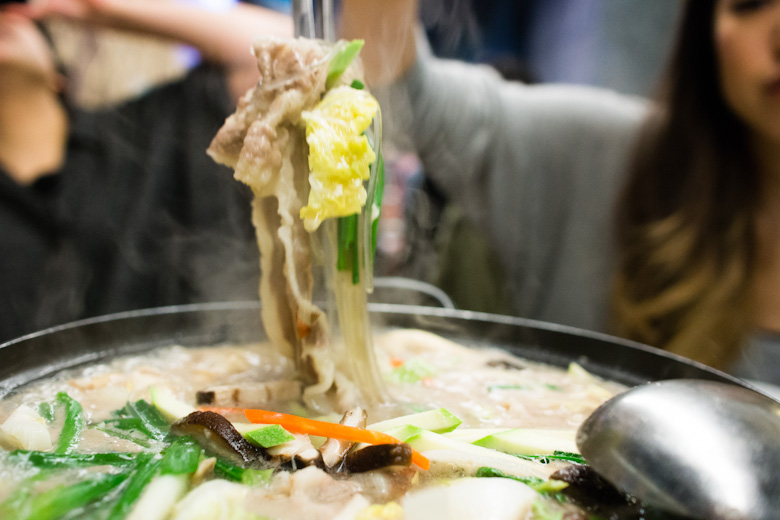 … and japchae!!!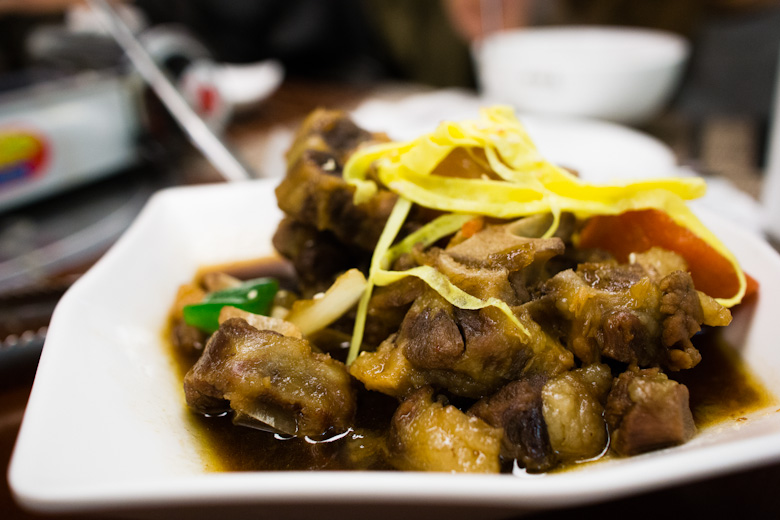 Braised Ox Ribs ($150 HKD or $19.25 USD).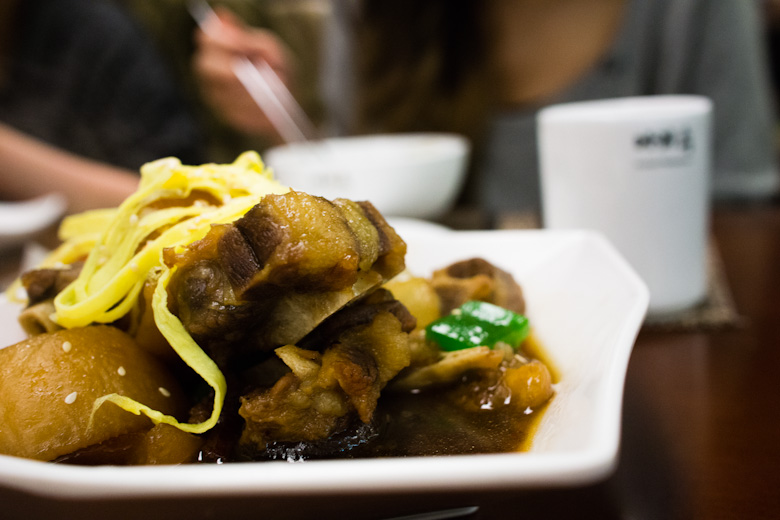 These ribs were mad flavorful, tender and succulent. The ox tail is unreal too!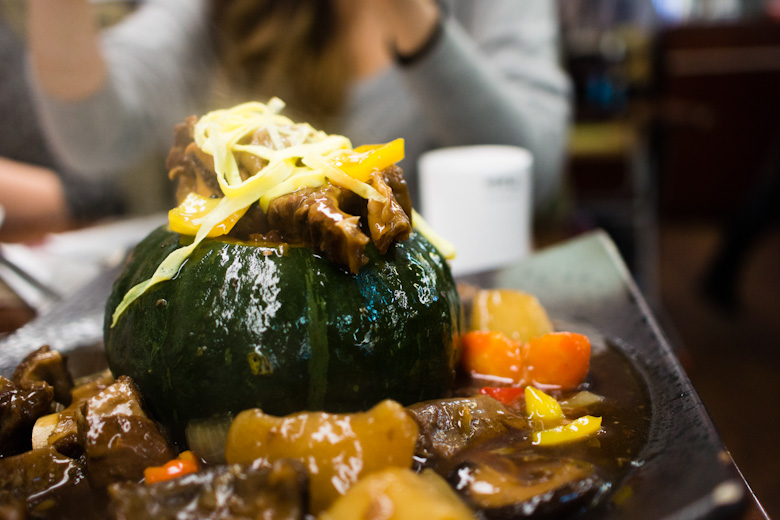 Galbi (short ribs) Stuffed Pumpkin ($250 HKD or $32 USD).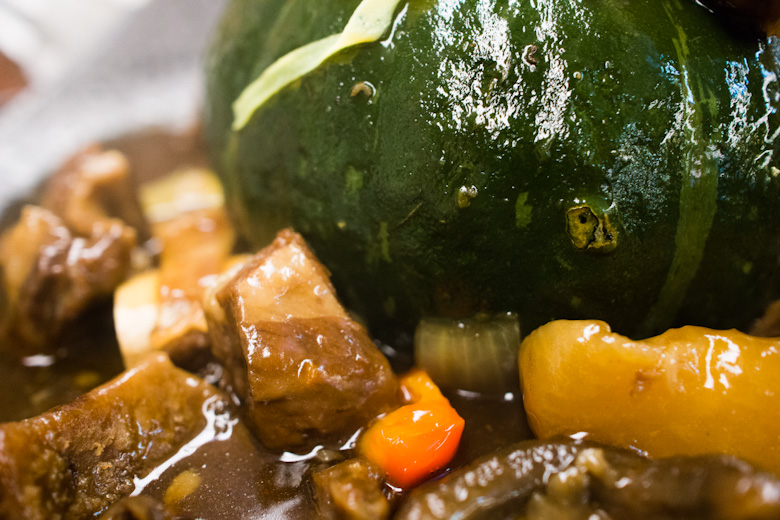 The galbi was effing-delicious and fell off the bone. Soooo good!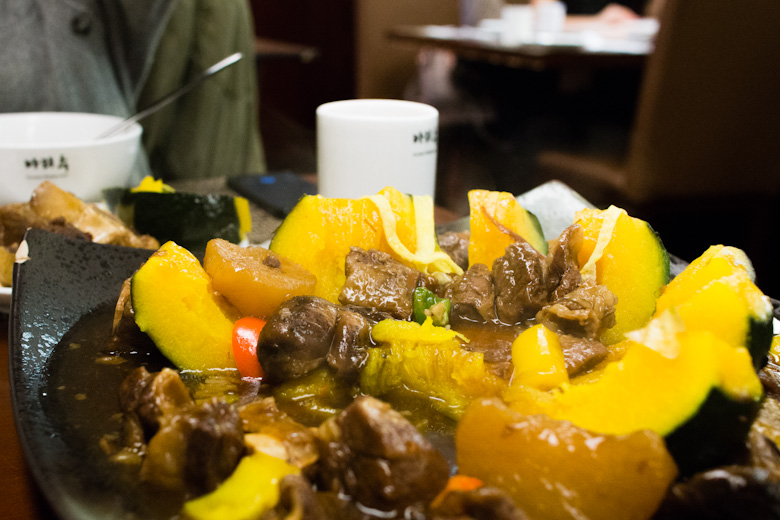 The pumpkin was sweet, perfectly cooked and soaked up all that delicious sauce.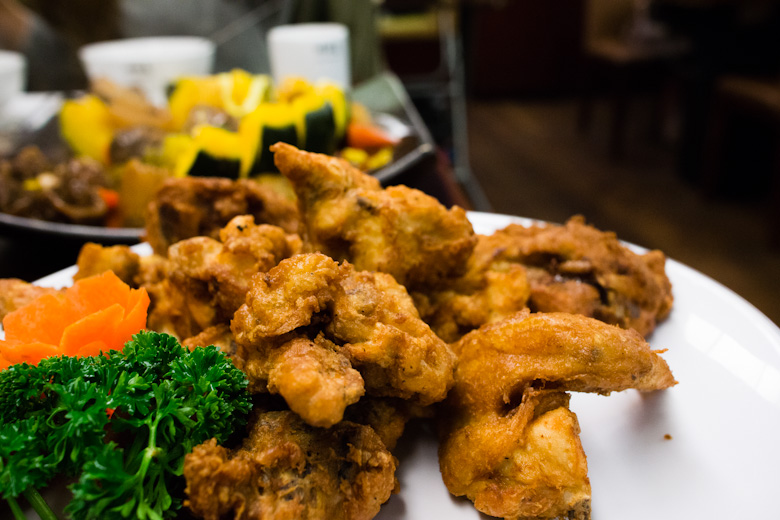 Deep Fried Chicken ($180 KD or $23 USD). So typically, Asians don't like to waste food. So instead of frying just the wings and drumsticks, Arisu fries the entire chicken. Nothing goes to waste. Arisu's chicken is super crispy, moist and juicy. Every piece has a slightly different texture, but they all taste equally delicious to me.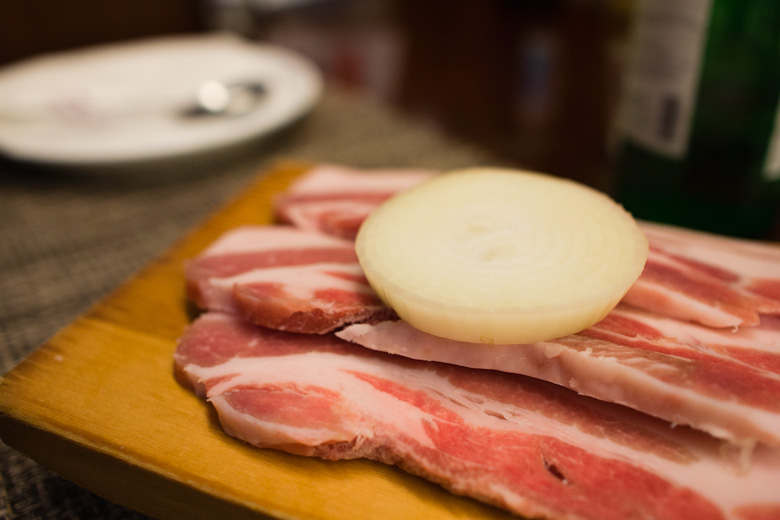 Sliced Pork Belly ($110 HKD or $14.10 USD).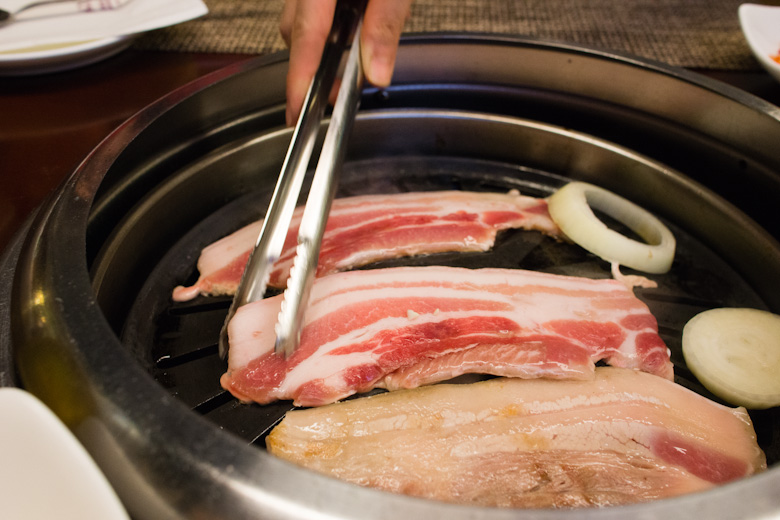 Pork belly and short ribs are 2 Korean BBQ essentials!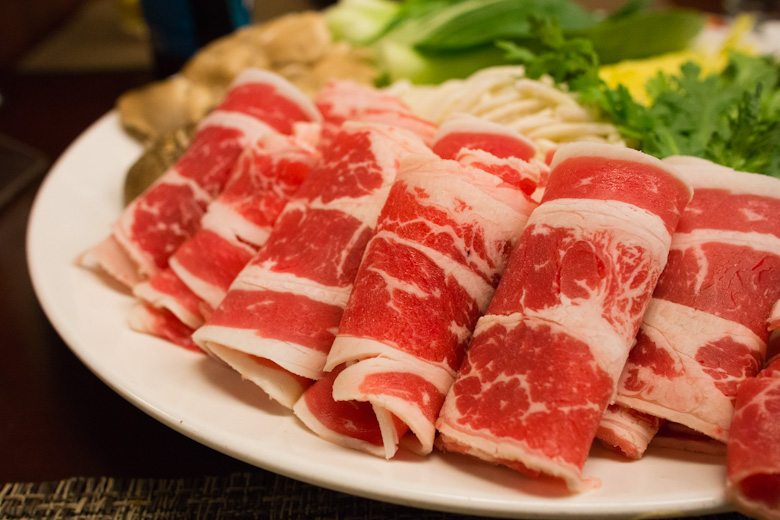 Beef and Noodle Hot Pot ($220 HKD or $28.20 USD).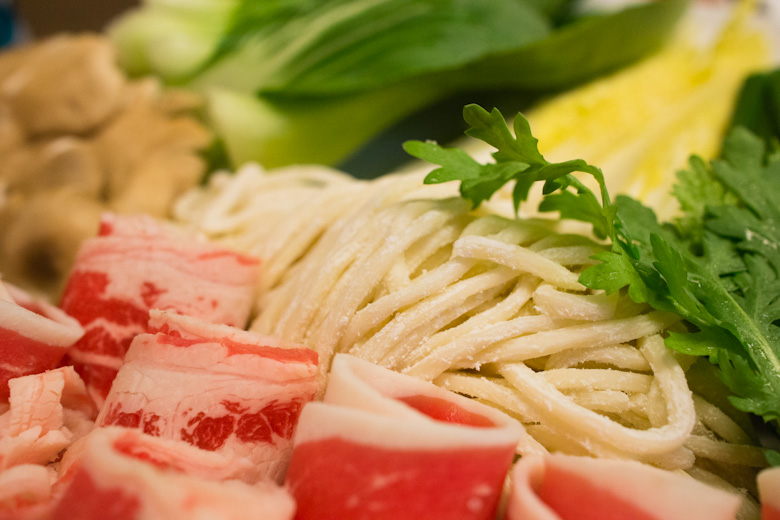 The Beef and Noodle Hot Pot is similar to the Beef and Vegetable Hot Pot. The only differences are the noodles are different and the cooking method. The noodles here are floury noodles instead of chapjae. I like both types of noodles which each have a unique consistency and texture. Also, the ingredients for the Beef and Noodle Hot Pot are served separately from the broth whereas the Beef and Veggie Hot Pot already has all the ingredients placed in the pot.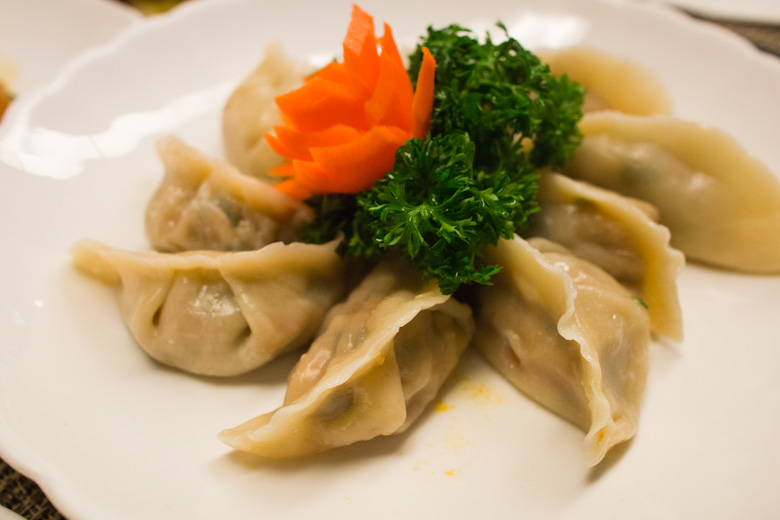 Pork and Kimchi Dumplings ($80 HKD or $10.25). These were tasty but pretty spicy!
View Larger Map
3/F, H8, 8 Hau Fook Street, Tsim Sha Tsui, Hong Kong
p: +852.2369.8008