The Lowdown
Restaurant Name: Grassroots Pantry
Cuisine: Vegan, Gluten Free, and Buddhist Friendly Food
Average Price per Person: $120 to $350 HKD or $15 to $45 USD
Location: Sai Ying Pun, Hong Kong (please refer to the map below for details)
Recommendations: Signature Mixed Mushroom & Asparagus Linguine, Kimchi Pancake, Lebanese Vegetable Kofta with Fattoush Salad, Potato Tofu Croquettes, and Coconut Brown Rice Pudding

Ratings (out of 5)
Taste: 4
Creativity/Authenticity: 5
Atmosphere: 4.5
Service: 4.5
Bang for Buck: 2.5
Crayscale !!!

Whether you're a vegan, pescetarians, gluten-sensitive, pro-organic, or on the hunt for good food, there's an awesome little restaurant called Grassroots Pantry with your name on it. Grassroots Pantry is all about serving fresh, nutritious, homemade, plant-based dishes. They are focused on utilizing unprocessed, local, sustainable and organic ingredients and educating customers about how important sustainable agriculture is.
Grassroots Pantry is hidden in the cracks of Sai Ying Pun in a humble little two story boutique café. I instantly fell in love with the place the second I stepped through the doors. My friend Jenn and I were freaking out about the gorgeous décor! The café gives off a super cozy, quaint and relaxed vibe with a welcoming porch covered in green plants and rustic glass windows. The interior is decked out with mismatched chairs, floral prints, whimsical wallpaper and stunning antique fixtures.
As if we weren't totally over this place already, our waitress busted out the amazing hand-crafted menus! Each page has a hand drawn illustration with little hand written descriptions and the main ingredients of each dish. At the bottom of each illustration are symbols indicating whether the dish was gluten-free, dairy-free, raw and Buddhist friendly.
At first, I was a little skeptical and wasn't sure if I'd enjoy an all vegan everything meal. I friggin' love my meat and eggs (usually a pass around these parts) are my favorite thing ever. However, after flipping through the menu and discovering what vegan food could be like, the doubts instantly disappeared. Grassroots Pantry offers a awesome selection of flavorful food including pumpkin curry, Lebanese kebabs  and a mushroom linguine all of which are comprised of fresh, nutritious, and quality ingredients. You could definitely taste the difference and feel the TLC put into each dish. Yummmm!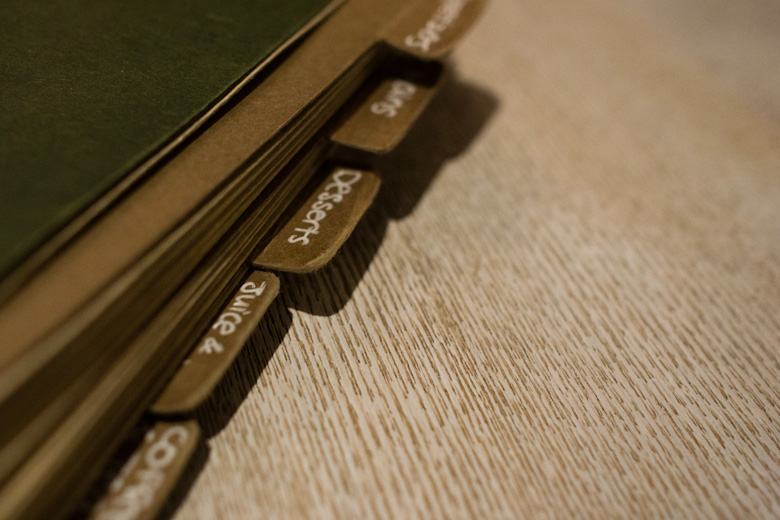 The cutest and only hand drawn / hand written menu I've ever seen!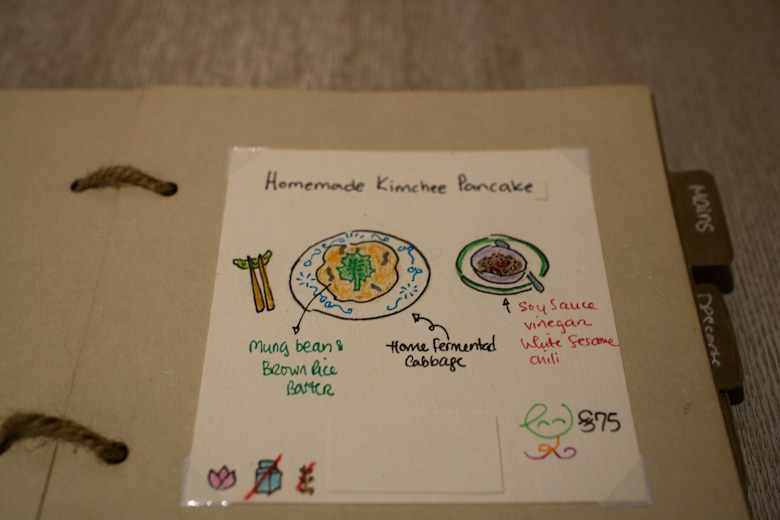 I love the details on every single page.
Instantly fell in love with this place as soon as I walked in and saw the amazing decor!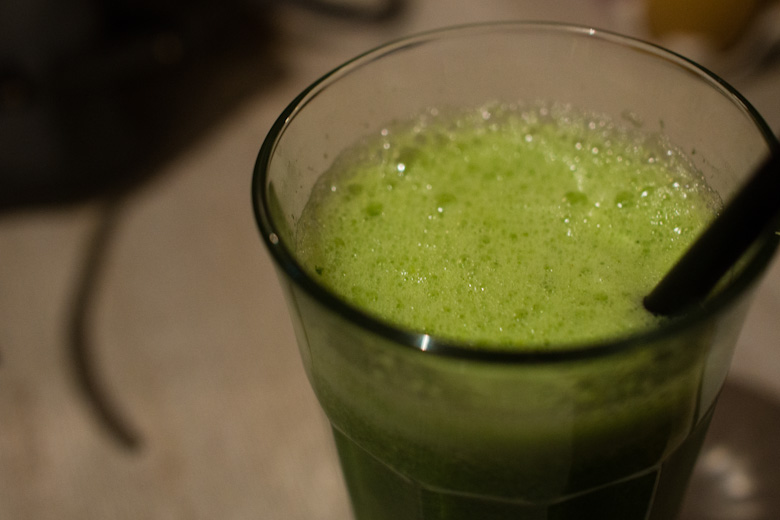 De-Bloater: apple, kale, celery, cucumber and lemon ($45 HKD or $5.75 USD). Started the meal off with a healthy drink. Yummm!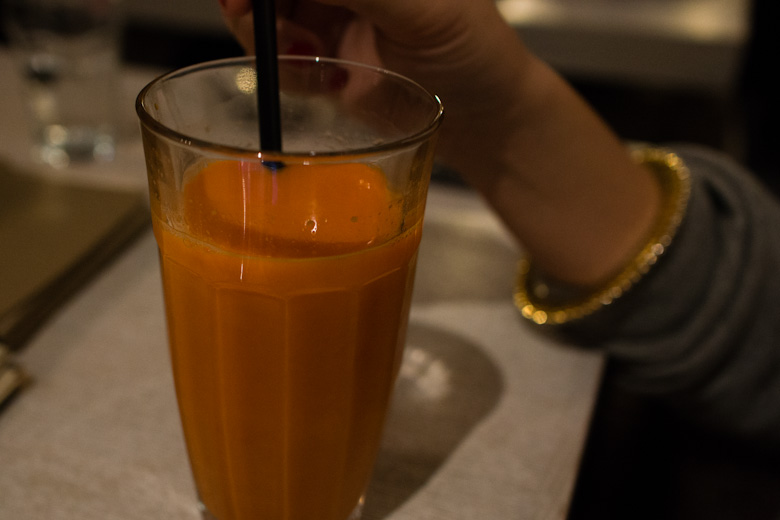 Jenn went with the Digestion Booster: carrot, lemon and ginger ($42 HKD or $5.40 USD). It was pretty good but has an extremely intense ginger flavor.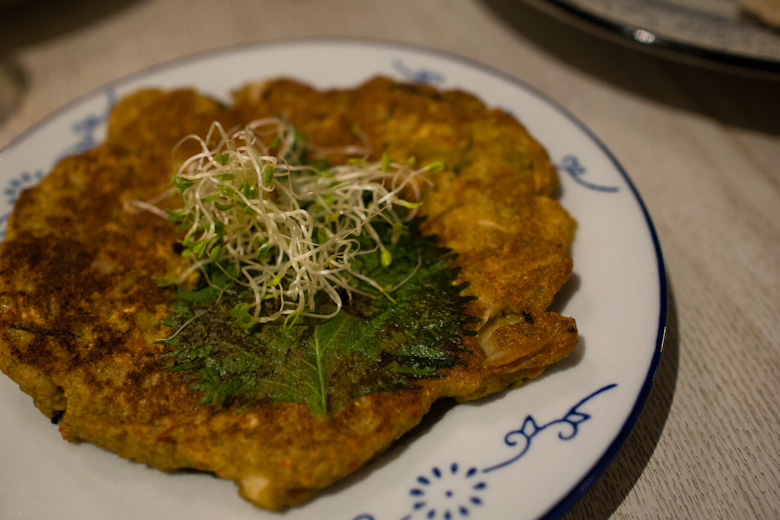 Homemade Kimchi Pancake with a dipping sauce made of soy sauce, vinegar, white sesame and chili. ($75 HKD or $9.60 USD). The pancake was completely gluten free made with a mung beans and brown rice batter. I personally would have preferred more kimchi in the pancake, but it was ok. This was tasty and a healthy alternative to greasy Korean pancakes.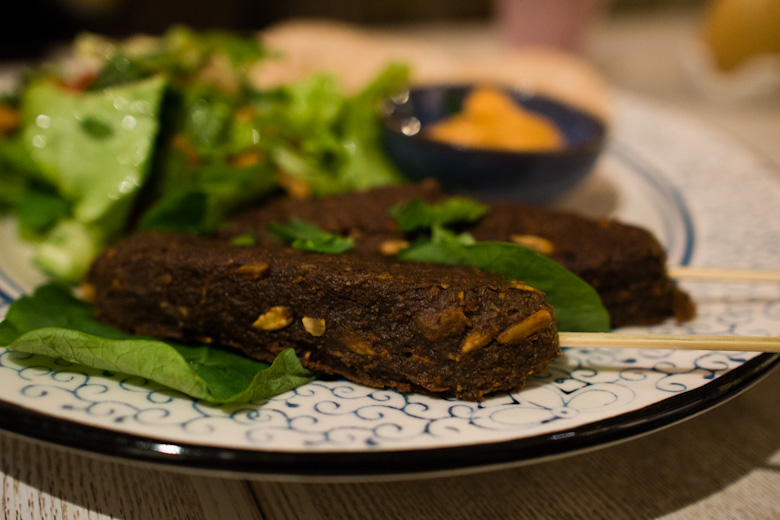 Lebanese Vegetable Kofta with Fattoush Salad ($102 HKD or $13.05 USD). Kofta is usually made with minced beef, lamb, mutton or chicken in the form of kebabs. There were made entirely of veggies, sun-dried tomatoes, sunflower seeds and spices! These koftas had a nice texture and were extremely flavorful. This was one of my favorite dishes at Grassroots Pantry.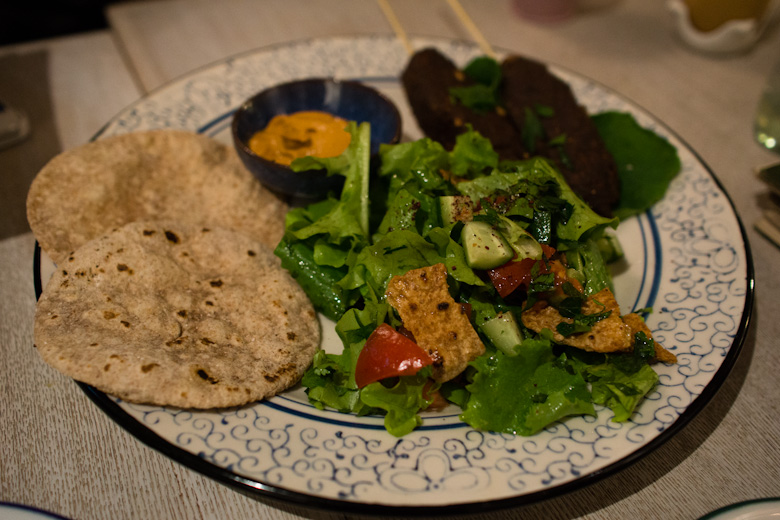 The koftas are served with a cashew chipotle dressing, fattoush salad and wholewheat chapati (gluten-free chapatis are also available).The cashew chipotle dressing was crack and tasted amazing with the koftas.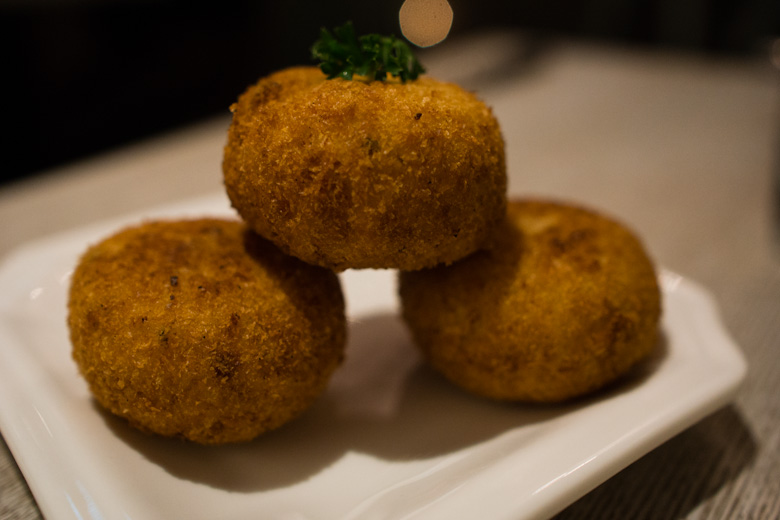 Potato Tofu Croquettes with homemade ketchup ($68 HKD or $8.70 USD). Loved the croquettes! They had a nice smooth creamy texture with a delicate crispy crust.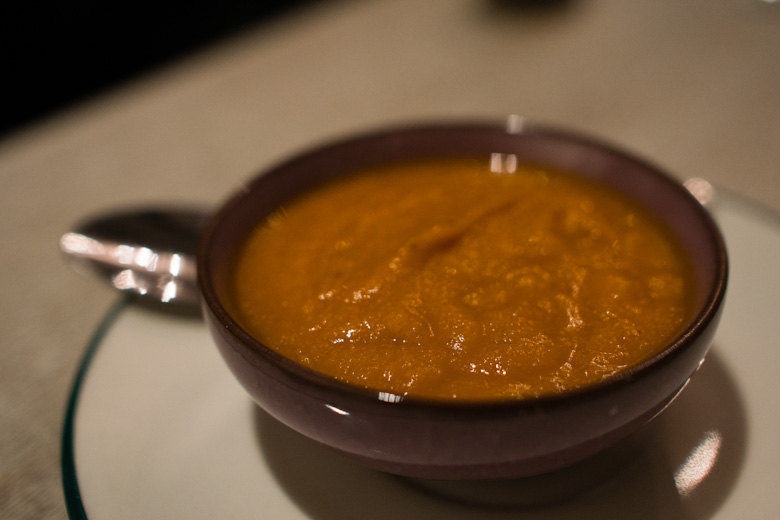 The ketchup was delicious and a much healthier alternative than that processed HFCS-ladened ish!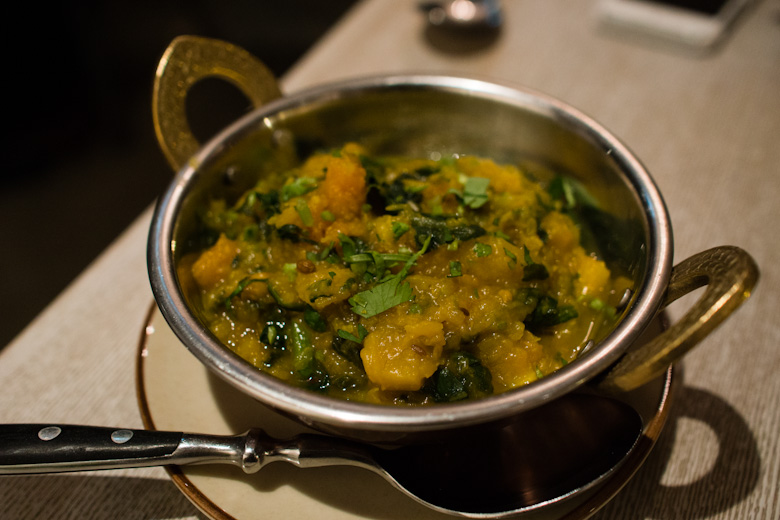 Pumpkin Curry with Brown Rice Pulao ($128 HKD or $16.40). This was the lightest and probably the healthiest curry I've ever eaten. The pumpkin sweet, tender and incredibly flavorful.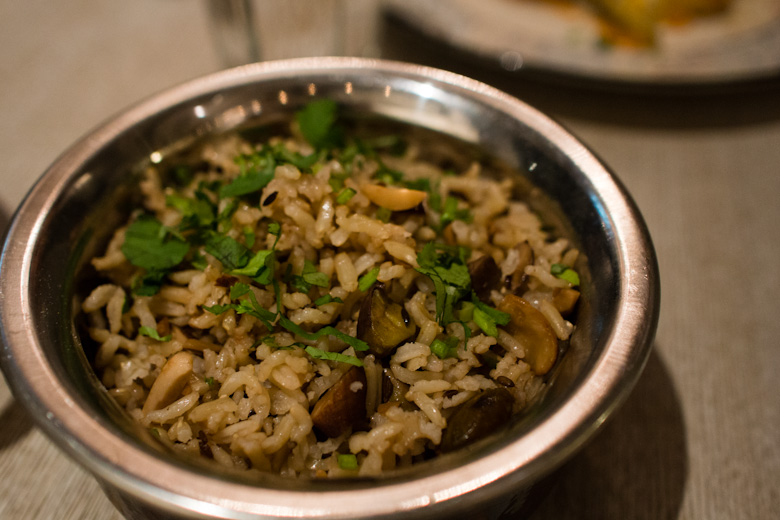 Brown Rice Pulao (came with the pumpkin curry). The rice was perfectly cooked and loved the bits of nuts and dried fruits.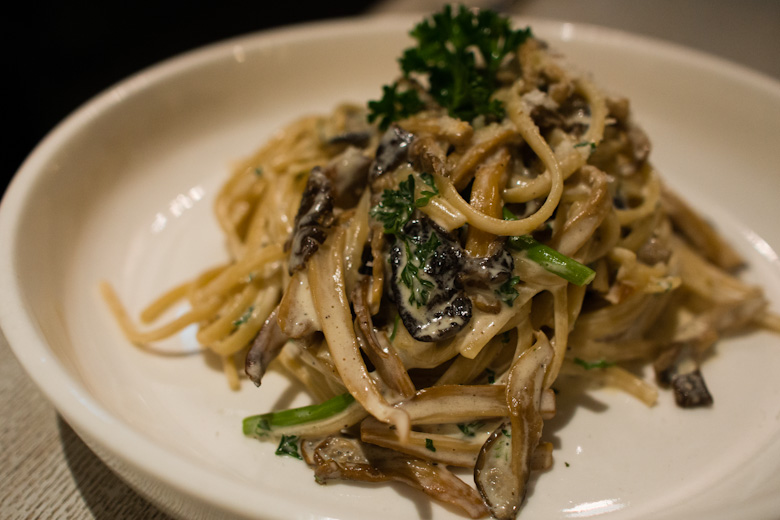 Signature Mixed Mushroom & Asparagus Linguine with White Truffle Oil ($169 HKD or $21.50 USD). So so so so good !!! This was my favorite dish of the night. The whole wheat linguine was perfectly al-dente and full of flavor.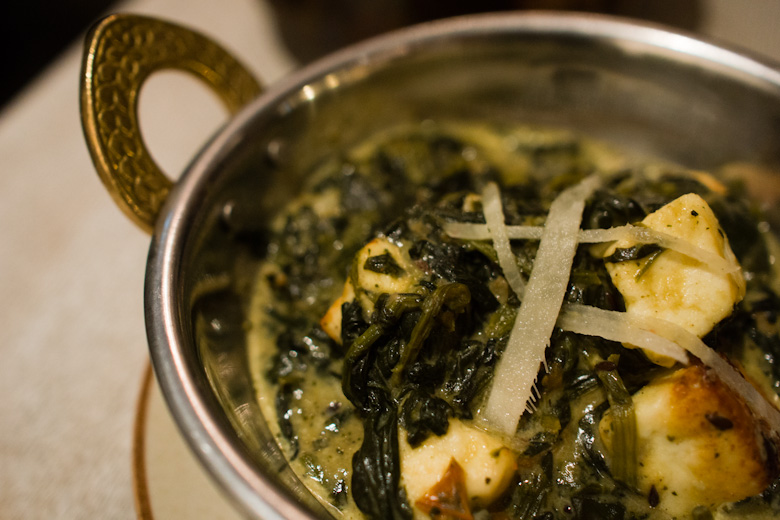 Palak Paneer (can't remember how much this was). This was maddddd good and super tasty with the whole-wheat chapati. I usually find Palak Panner pretty heavy and can only have a couple mouthfuls of it, but I could probably eat the entire bowl of this.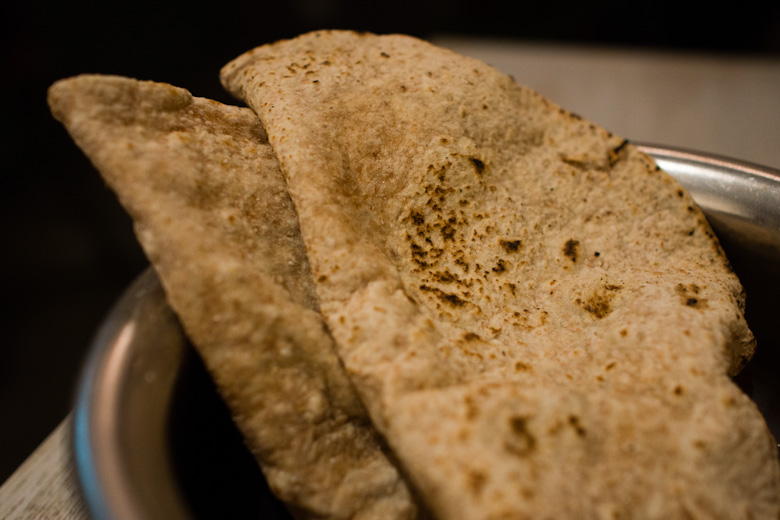 Fresh whole-wheat chapati!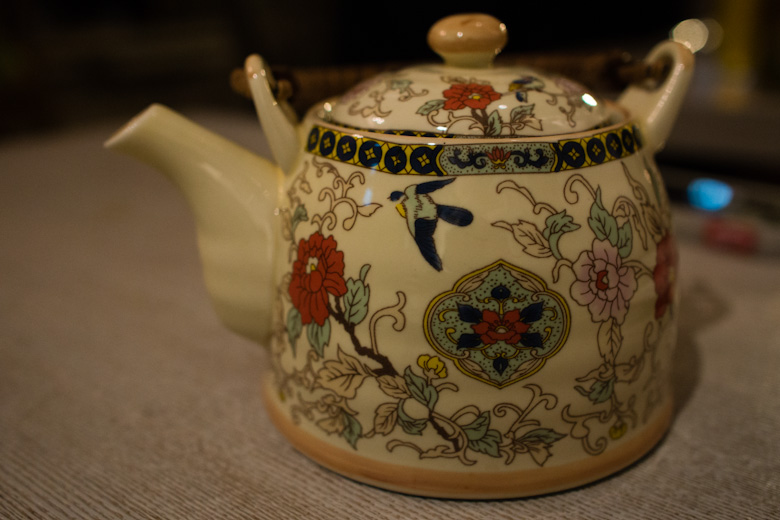 This gorgeous tea pot was filled with yummy Coconut Chai Green Tea.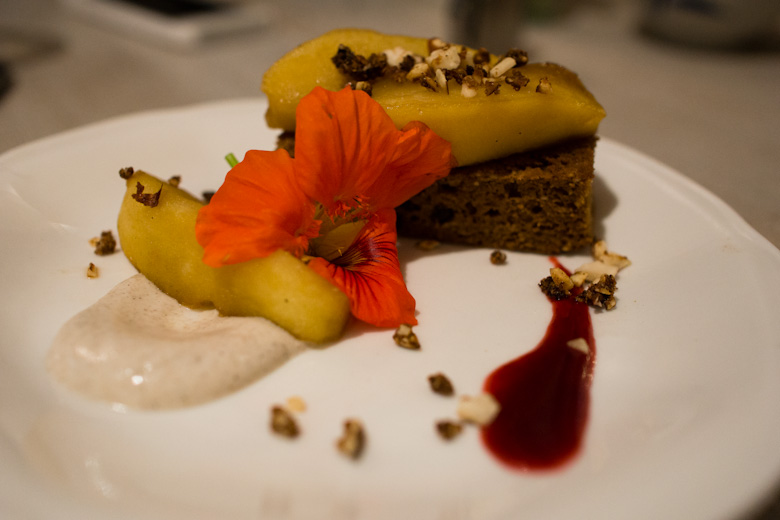 Caramelized Apples atop Vegan Gluten Free Almond Cake with Vanilla Cashew Cream and Cranberry Coulis!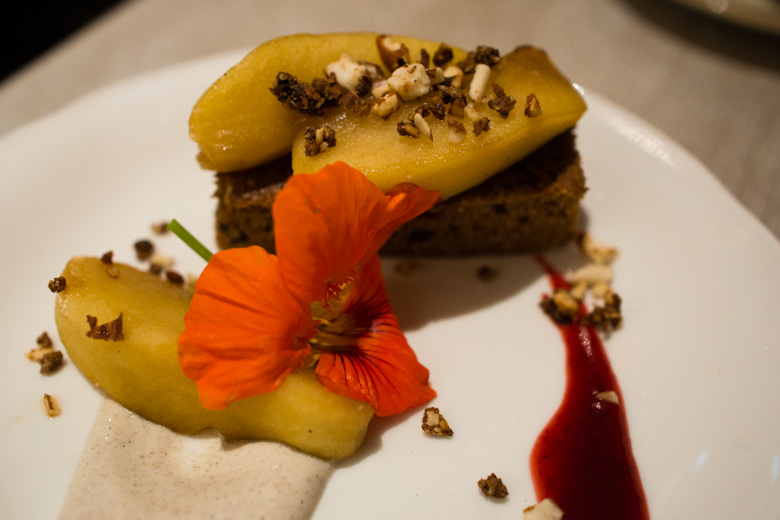 Who woulda thunk that dessert that tastes this good could be somewhat healthy! The cake was slightly dry but the naturally sweet and the tender apples with the vanilla cashew cream made up for it.
Coconut Brown Rice Pudding made with short grain brown rice, cinnamon, cardamom, coconut milk, pistachio and almonds ($48 HKD or $6.15 USD). I love rice pudding and I loved every ingredient in this particular rice pudding. I couldn't stop eating it. Absolutely amazing.
View Larger Map
12 Fuk Sau Lane, Hong Kong
p: +852.2873.3353
w: grassrootspantry.com‎