Every year, the CRAYest roster of chocolatiers set up shop in Harbour City for the mall's annual Chocolate Trail. From now until the 24th of February, Harbour City will be filled with over 25 participating chocolate shops and chocolate themed installations scattered throughout the mall. Harbour City went all out this year inviting the world-renowned Austrian pastry chef Gerhard Petzl, who hand crafted an incredible 17th century royal banquet table setting made entirely of chocolate. It's absolutely amazing! You seriously need to see this ish.
I would like to thank Harbour City for giving me the opportunity to eat my way through this amazing chocolate adventure, all the participants of Chocolate Trail for graciously sharing your tasty creations and Season Chan (CSON EATS) for personally guiding me through the journey! It was super fun and definitely worth checking out. It's not really an official tour or anything but Season took me through the paces.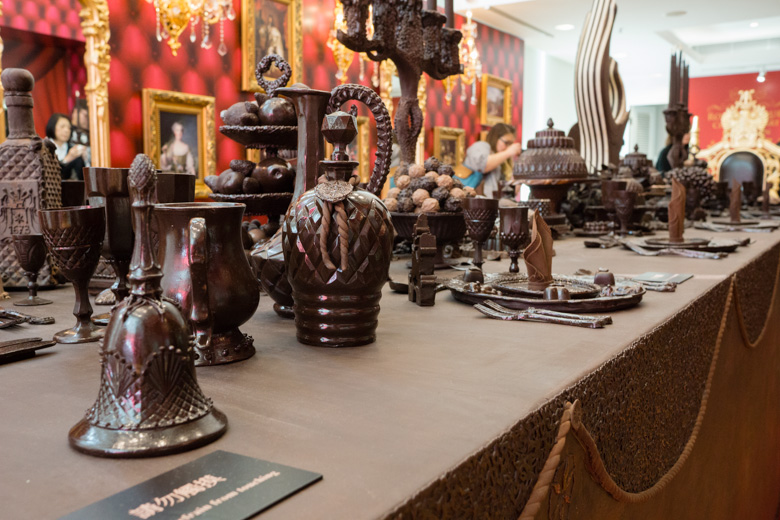 The incredible work of a true Chocolate bause, Austrian pastry chef Gerhard Petzl!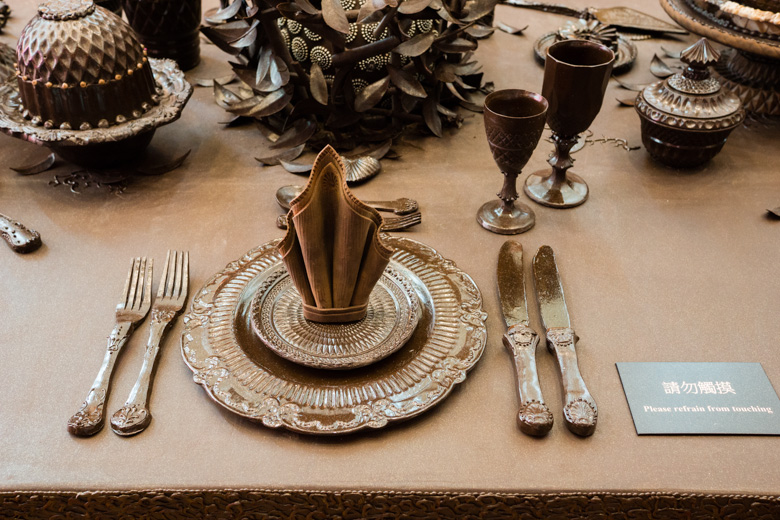 Place settings made entirely of chocolate!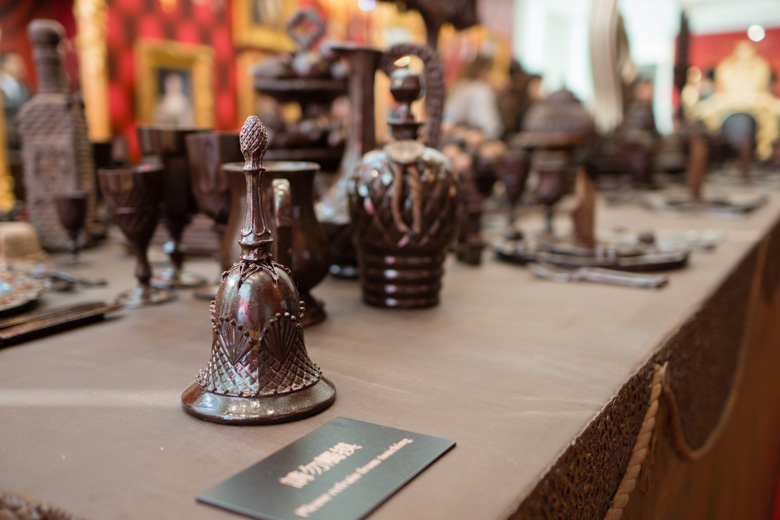 The room smelled absolutely incredible as you'd imagine with chocolate wafting through the air! Not gonna lie, I was tempted to take a nibble out of this.
Prestat (England)
We started the tour off at Prestat, set up in Harbour City's Ocean Terminal. Prestat is kinda a big deal in England. Their chocolates are fit for royalty, literally. These chocolates are sooo bougie that a Royal Warrant was granted to Prestat by Her Majesty The Queen, meaning that the Queen has given this stuff a royal stamp of approval. In other words, this shiit is LEGIT because the QUEEN says so.
Prestat's hand-made artisan truffles are their signature chocolates which come in different flavors including praline, sea salt, banoffee and champagne truffles! The English chocolate maker has also won an award for their tasty Salted Caramel Sea Salt Chocolate Bar with roasted almonds, sea salt, and milk chocolate. One of my favorites from Prestat are the Earl Grey Milk Chocolate Wafers! These round slivers of chocolate are dope with a intense earl grey flavor. Pop one in your mouth and let it slowly melt on your tongue.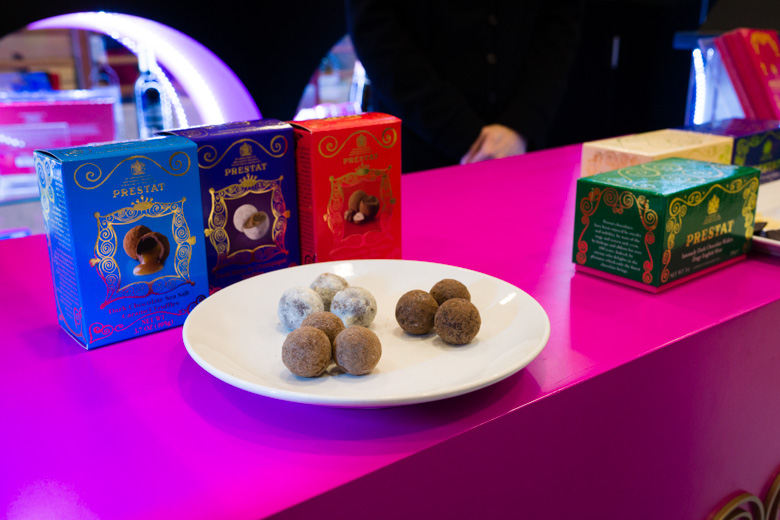 Dark Chocolate Sea Salt, Dark Chocolate Champagne and Milk Chocolate Hazelnut Praline Truffles! The Dark Chocolate Sea Salt was my favorite. It had a solid outer crust and creamy nutty center with just a hint of salt which tamed the caramel. I wasn't really feelin' the waxy texture of the Champagne truffles though.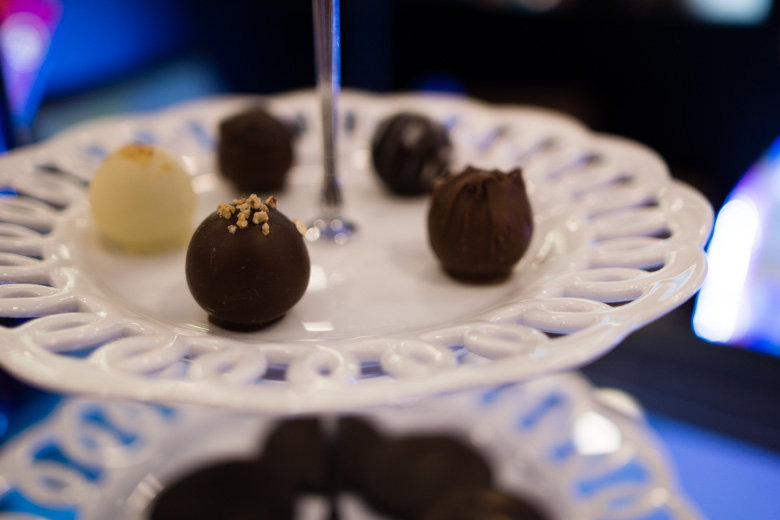 More truffles!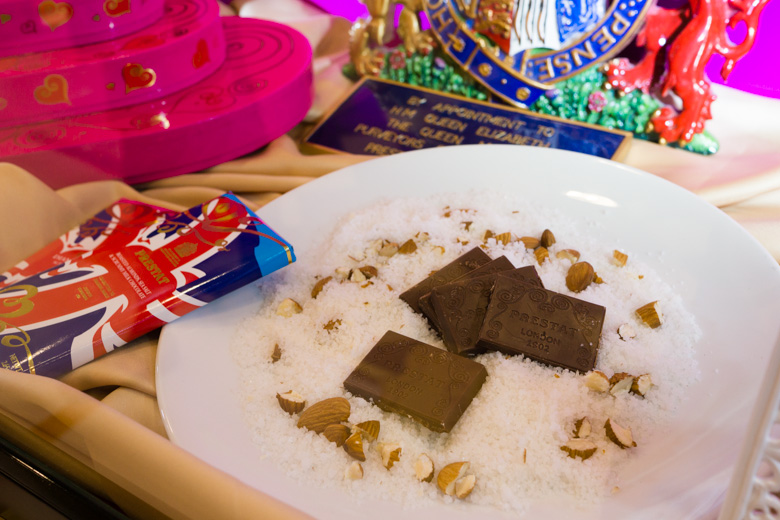 The award winning Salted Caramel Sea Salt Chocolate Bar.
Prestat
Ocean Terminal Ground Floor by KidX
w: prestat.co.uk
Baruzzo (Italy)
On to the the next one, an Italian Chocolate maker, Baruzzo! Baruzzo's chocolates are the most aesthetically unique and stand out from the rest. Each chocolate is stamped with a gorgeous design to identify the chocolate's flavor. Some of my favorites are Exotica marked by zebra print, Rosemary marked with stems of rosemary and Equador 70% dark chocolate printed with a detailed skull. Physical appearances aside, Baruzzo's chocolates are equally delicious on the inside as they are on the outside with a rich, smooth and creamy texture.
The Limoncello is another one of Baruzzo's popular items, a small bright yellow candy that bursts with sour lemon liqueur as soon as you bite into the hard outer crust. Personally, I'm not too keen on booze or fruity flavored fillings so this was kinda a miss for me. I preferred the Chili Bean, which is fairly similar to Smarties, with a candy coating wrapped around a ball of milk chocolate with a hint of chili pepper.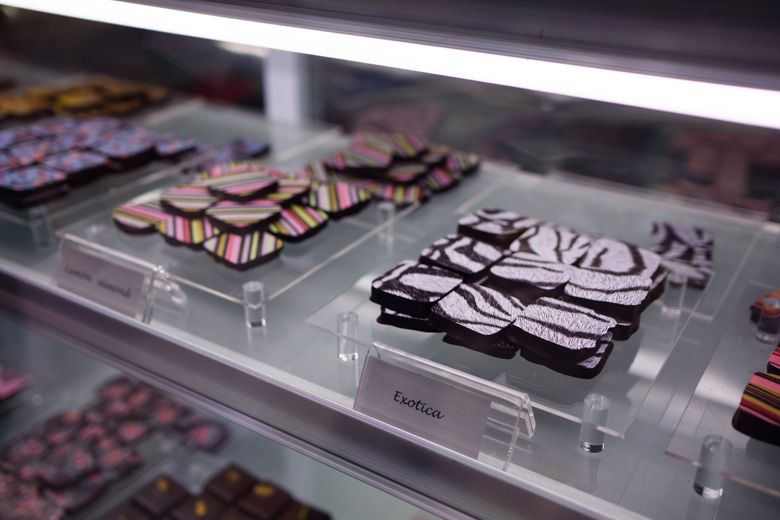 Exotica: passion fruit and mango chocolates stamped with zebra print.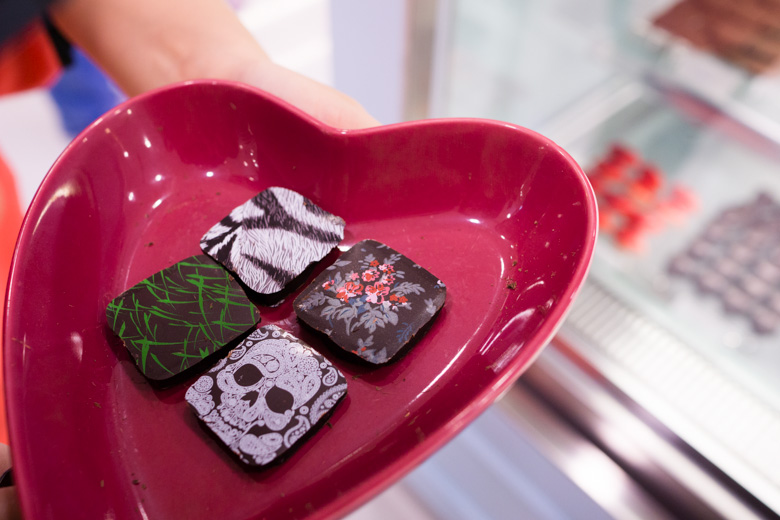 Exotica, Marigold, Rosemary, and Equador 70%(from top to bottom, left to right). Surprisingly, the rosemary was my favorite with a delicious woody nutty flavor and a balanced crunchy smooth texture.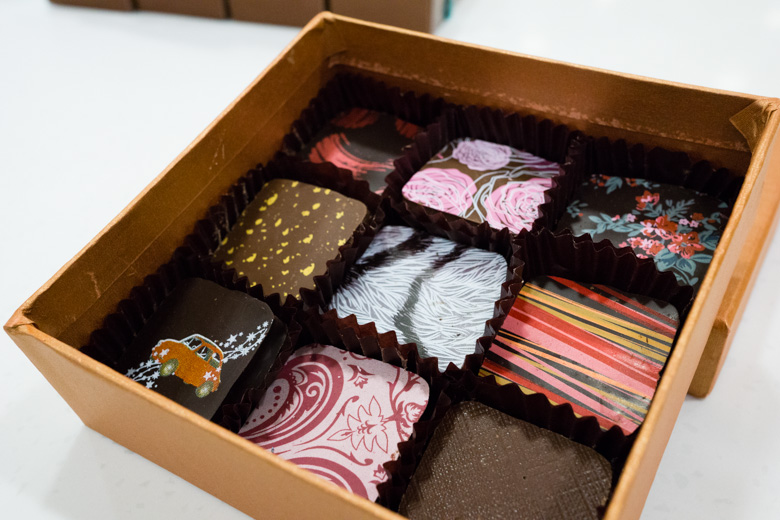 Baruzzo's chocolates were definitely the purdddiest!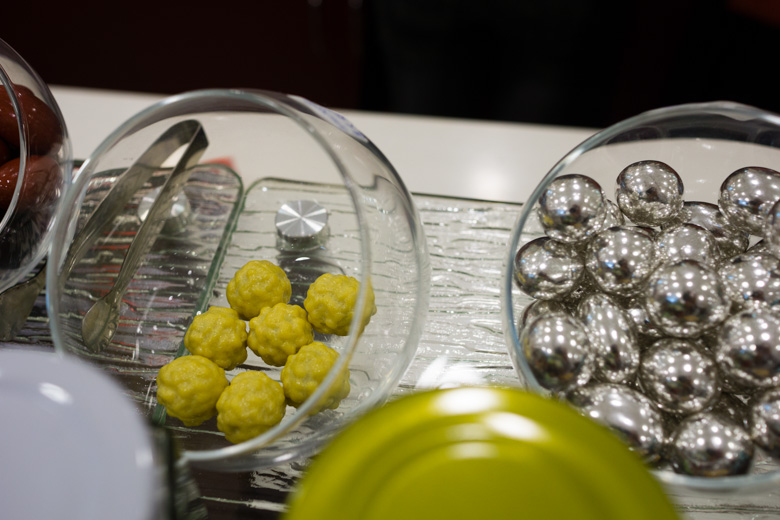 Limoncello on the left, but not sure what the silver balls are aside from the obvious guess of jaw breakers.
Baruzzo
Ocean Terminal Ground Floor by KidX
w: baruzzo.co.uk
VERO (Hong Kong)
Representing Hong Kong, VERO is a born and bred local chocolatier and patisserie. This was actually my first time tasting VERO's chocolates and I found myself extremely drawn to their Asian inspired chocolates. They had some really interesting chocolate combinations that I thought were clever being a Hong Kong-based company. One item that particularly stood out in my mind was the chocolate dipped haw flakes or Saan Zaa Beng (山楂片). Being raised in a Chinese household, there were never a shortage of haw flakes (based on the hawthorne berry) in my crib and this was also one of my childhood favorites! I wouldn't say these tasted amazing, but I just thought this was an interesting idea and brought back a sense of nostalgia.
VERO also has an awesome collection of chocolate bars called the "5″ Elements Collection which are five huge slabs of chocolate inspired by the five Chinese elements: gold, wood, fire, water, and earth. My favorites were the Water and Wood elements. The Wood Bar has an earthy and spicy flavor with a bold cinnamon kick and sweet creamy coconut milk. The Water has one of the most unique and interesting flavors of chocolate I've ever eaten consisting of dark chocolate, grains of sea salt and slivers of seaweed! YES, SEAWEED! Sounds hella weird, but it actually really works. I absolutely loved it.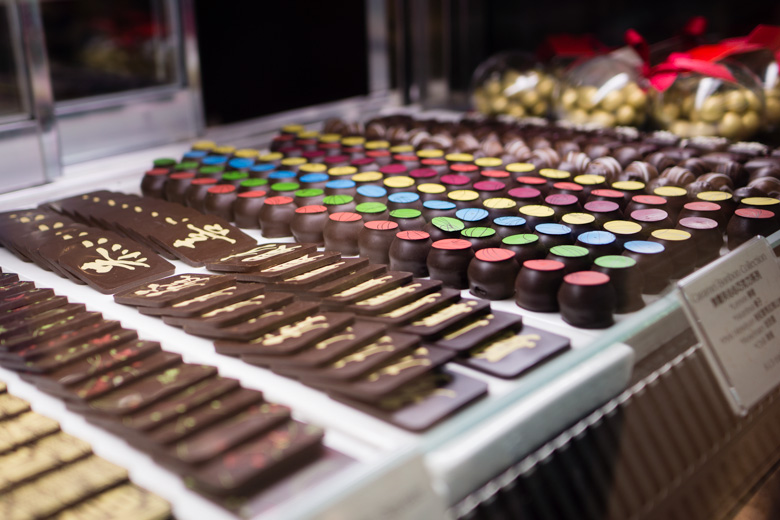 Vero's assortment of delicious chocolates and truffles!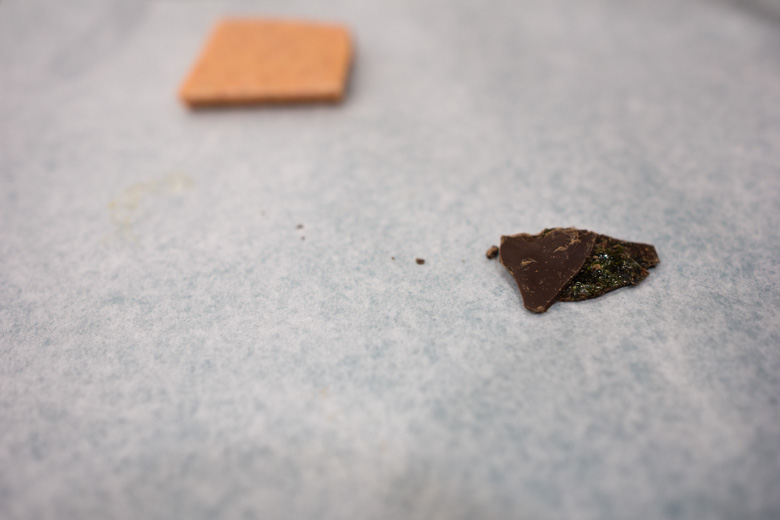 The Fire and Water elements of "5″ Elements Collection. The Fire Element (top left) is white chocolate with chili peppers. It was probably the most mild of all the chili chocolates I tried. You can see the little bits of seaweed incorporated into the Water Element chocolate (bottom right)! Sooo good!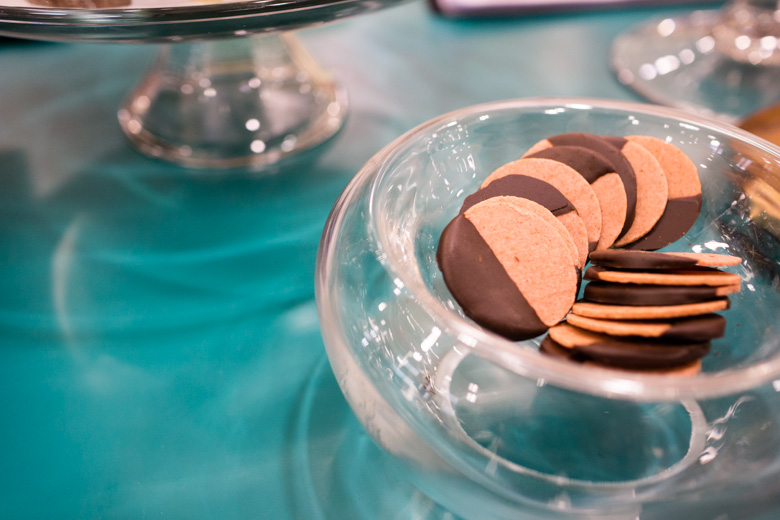 Haw Flakes or Saan Zaa Beng (山楂片) dipped in chocolate!
VERO
Ocean Terminal, Ground Floor by KidX
w: verochocolates.com
Jean-Paul Hévin Chocolatier (France)
I lurrveeee Jean-Paul Hévin's macarons, but this was my first time tasting his chocolates. I was most intrigued by the Chinese New Year "An Nouveau" chocolate, a festive Sichuan chili-peppered dark chocolate ganache. Sichuan food is mouth numbingly delicious and addictive, so I was curious to find out if this chocolate would have the same effect on me. As I bit into the chocolate and let it slowly dissolve in my mouth, I felt a sharp kick of Sichuan pepper which quickly dispersed leaving a smooth sweet chocolate aftertaste. It was better than I expected and I would definitely go for seconds.
The Valentine's Day edition chocolates were also tempting, I tried the "Bonbon Etincelle" which is a heart shaped milk chocolate with a coconut praliné and lemon compote centre. I enjoyed the combination of the sweet milky coconut with the acidic lemon kick.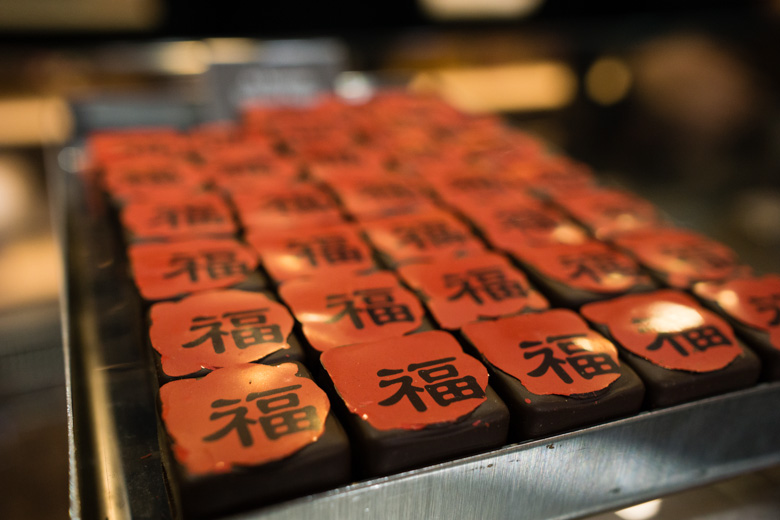 Chinese New Year "An Nouveau" chocolate, a Sichuan chili-peppered dark chocolate ganache.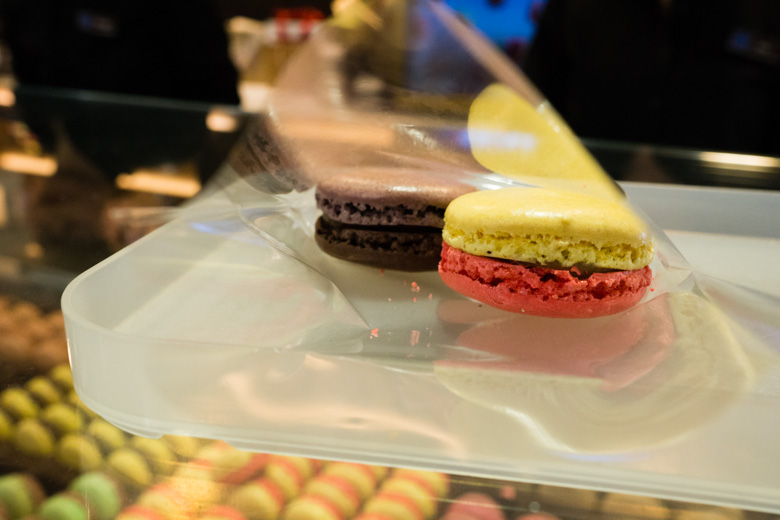 Fig and Mandarin Chestnut Macarons!
Jean-Paul Hévin Chocolatier
Ocean Center Store 212
p: +852.2735.3268
w: jphevin.com.hk
La Maison du Chocolat (France)
La Maison du Chocolat another big playa in the world of chocolate with shops internationally whipping up majorly delicious chocolates, eclairs, ice cream, macarons and cakes. J'adore Maison du Chocolat, so I was stoked to try some of their new seasonal chocolates. The Galanga Lemon, an almond praline with Galanga root and lemon zest which had a delicious bold ginger flavor and tangy lemon kick. The Zesty Litchi was another goodie, combining tart raspberry with sweet and fragrant lychee. My favorite of the ones I tasted was the Noir Epice, which combines spicy and earthy flavors of cinnamon and ginger all tied together with dark chocolate.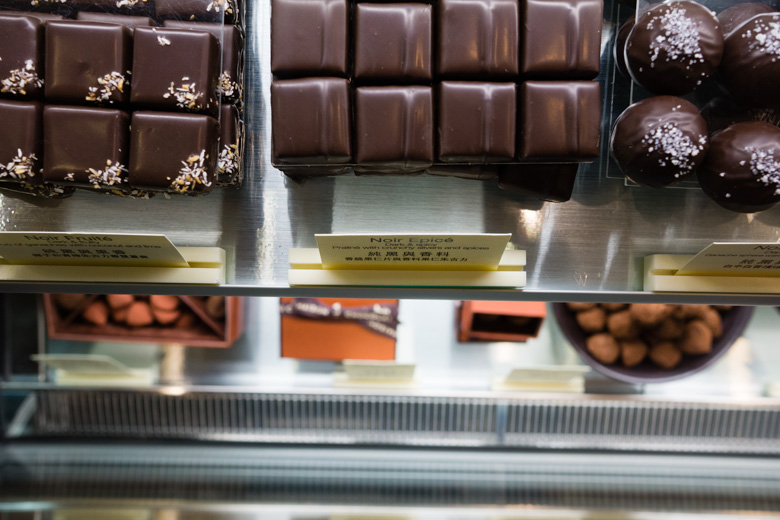 Noir Fruité with coconut and lime & Noir Epice with cinnamon and ginger.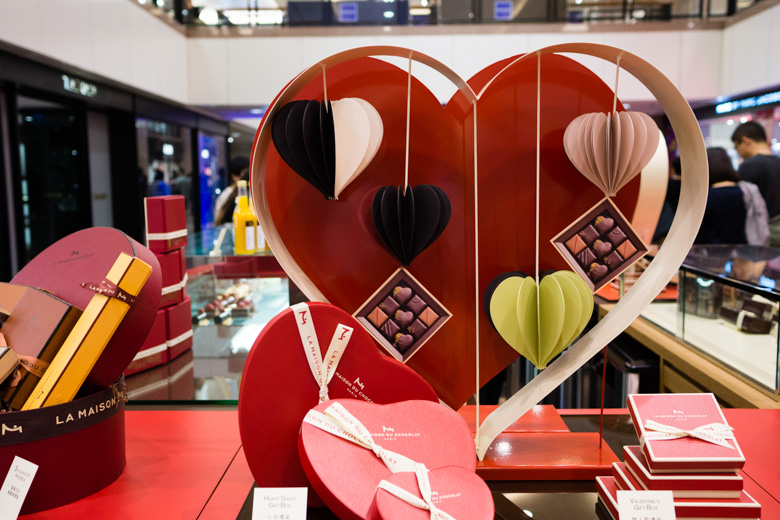 La Maison du Chocolat
Harbour City Ground Floor
w: lamaisonduchocolat.com
Venchi (Italy)
Another Italian chocolatier at Harbour City this year is Venchi with over 130 years of chocolate making experience. I was most interested in their sugar-free chocolates. I love dark chocolate, but I try to stay away from anything less than 70% cocoa for dietary reasons. I love milk chocolate, but I always feel like I'll need to go extra HAM at the gym the next day to burn off all that sugar. Which is why, Venchi's essentially guilt-free chocolate seems like the best idea ever! It tasted practically the same as regular chocolate too and I could barely taste the difference. Venchi's one of the few Chocolate Trail shops that serve ice cream too!
Venchi (Italy)
Harbour City Ground Floor
p: +852.3101.9981
w: venchi.com.hk
Chapon (France)
Chapon Chocolatier was one of the shops that I was most excited about to visit. Patrice Chapon, founder of Chapon, was previously an official ice cream maker at the Buckingham Palace. Since then, he's moved on to creating award winning and absolutely gorgeous boxes of chocolate. I really wanted to try the Coffret Opale which are pralines each hand-crafted and hand painted.
Another must try is Chapon's Smoked Salt Praline Dome. It is AMAZEBALLS! This was my favorite chocolate of the entire chocolate journey. The dome has a thin smoky outer layer wrapped around a hard crunchy caramel crust filled with a buttery pistachio, almond and hazelnut cream. SOOOO GOOOD!!!!!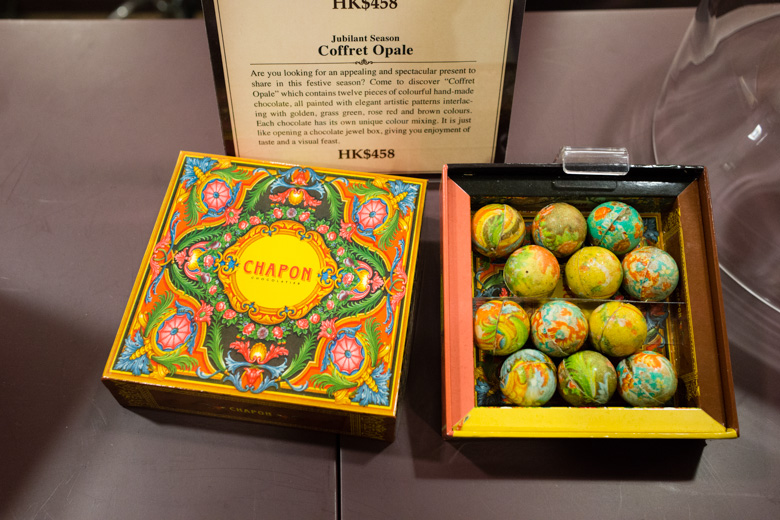 Coffret Opale pralines each hand-crafted and hand painted!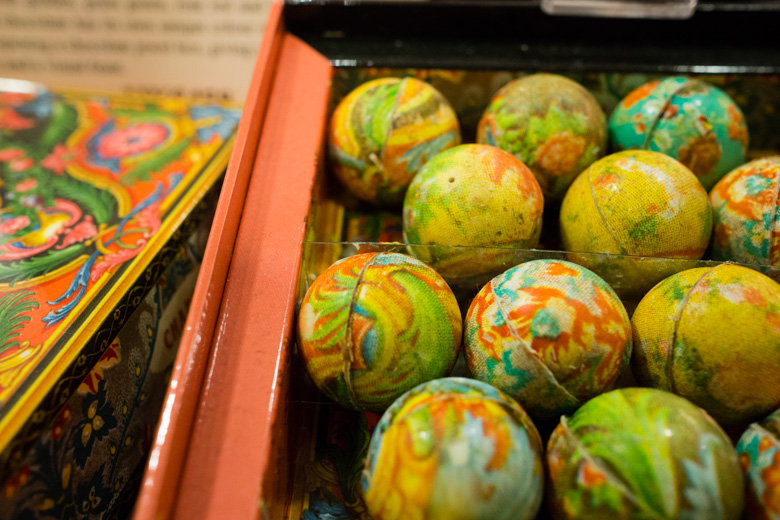 These gorgeous balls are often hard to come by #pause and sold out worldwide!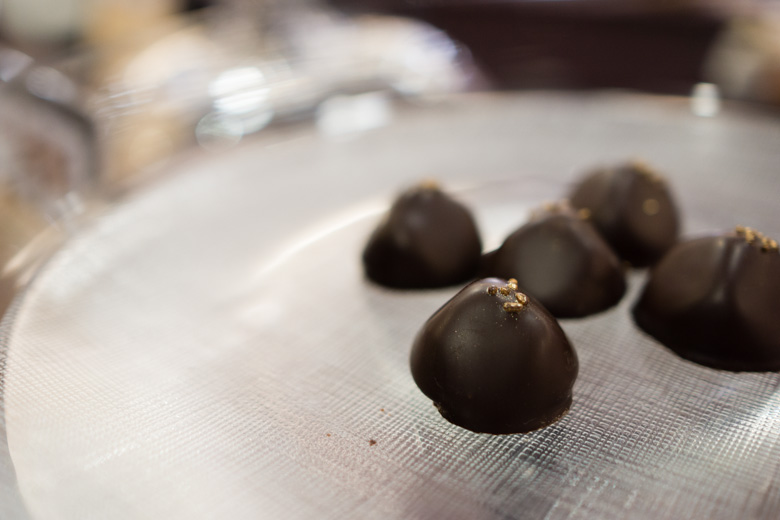 Smoked Salt Praline Dome
Chapon
Harbour City Grond Floor
w: chocolat-chapon.com
Fauchon (France)
Fauchon is another guest from France and is internationally recognized in 42 countries offering chocolate, macarons, tea, and more. I loved Fauchon's idea of numbering each chocolate from 0-9 as well as their vibrant and eye catching packaging. I tried the vanilla white chocolate with mascarpone bourbon (0), salted caramel (3), and pistachio marzipan (8). I personally thought they were all overwhelmingly sweet and could only have a nibble of each. Out of the 3, the pistachio was my favorite which had a nutty and smooth buttery texture.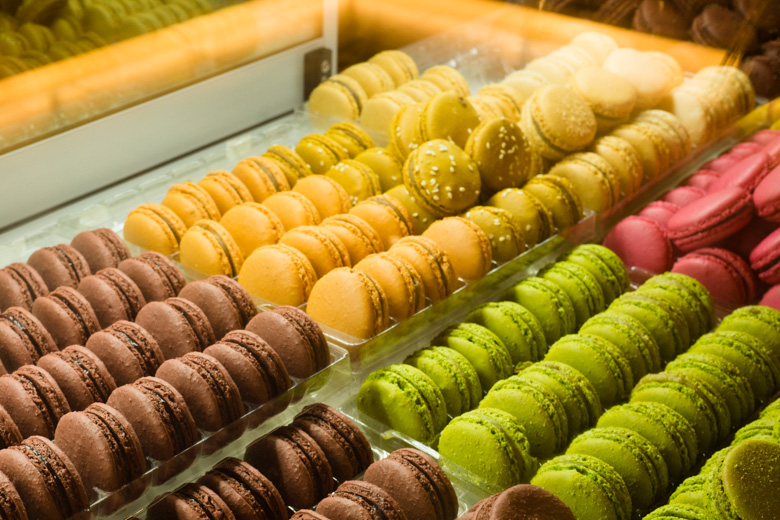 I was pretty stuffed, so I didn't try these macarons, but I love the use of sharp bright colors!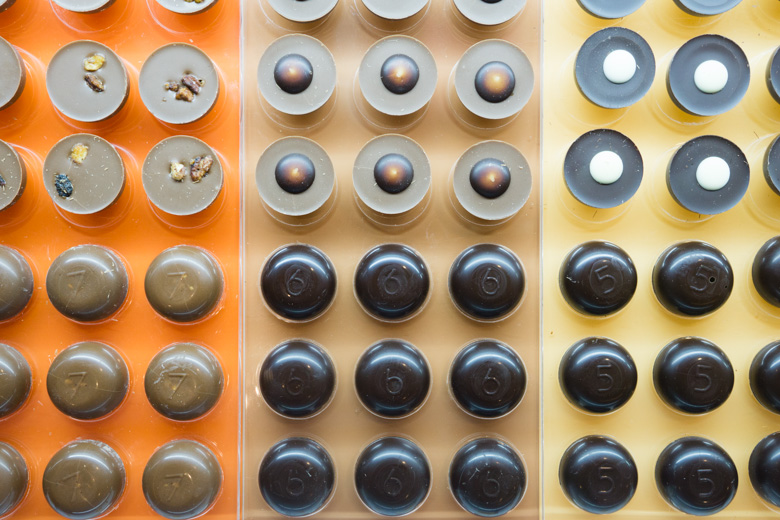 This makes tasting chocolates so much easier!
Fauchon
Harbour City Ground Floor
w: fauchon.com
Kapok
Kapok is a lifestyle retail store in Hong Kong which sells a little bit of everything from clothes to chocolate. Kapok has imported chocolates from all over the world including Belgium's Dolfin, America's Askinosie, Vietnam's Marou, France's Rannou Meivier, and Hong Kong's ChocoYOU.
The chocolates that grabbed my attention the most were ChocoYou's interesting concoctions including coconut curry flavored milk chocolate, chocolate bars with grains of pop rocks and what I'd like to think was a Trinidad James inspired ALL GOLD EVERYTHING chocolate bar! Who am I kidding, nobody really knows who James is.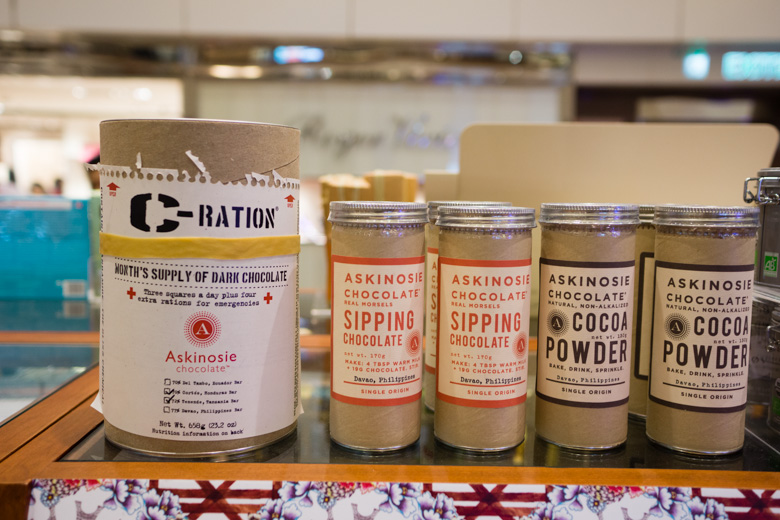 Askinosie'ssipping chocolate and cocoa powder!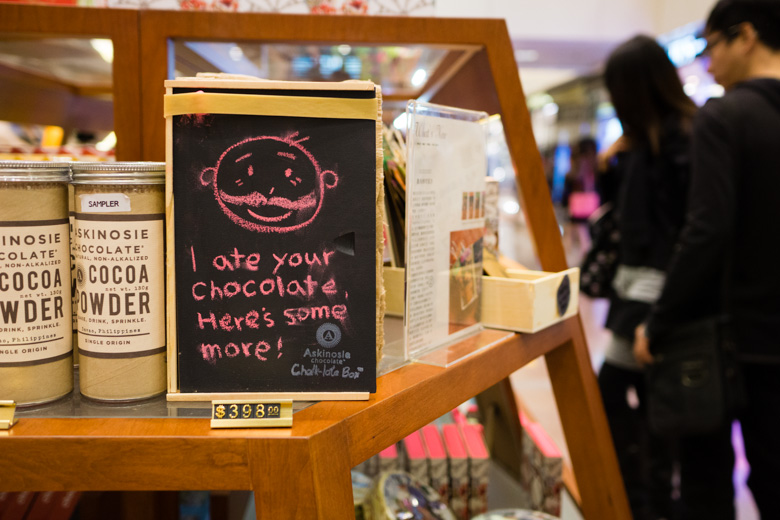 Askinosie's super cute packaging filled with delicious chocolates.
ChocoYOU's CRAY CRAY chocolate bars!
Kapok (Hong Kong)
Harbour City, Ground Floor
w: ka-pok.com
Thierry Mulhaupt (France)
Shown through his beautiful chocolates, Thierry Mulhaupt is an artist as well as a patissier. We were honestly pretty full at this point, so we decided to try the chocolate covered salted caramel macaron. This was my first chocolate covered macaron and I wish I had room in my belly for a second one. The filling was a tad too sweet and it was slightly cold but I'd still fux with it.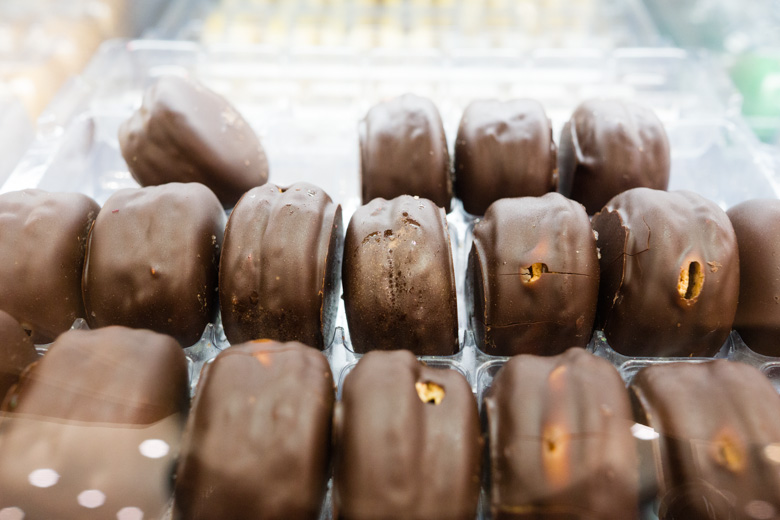 Thierry Mulhaupt
Gateway, 1st Floor
w: mulhaupt.fr
Christophe ROUSSEL (France)
Apparently, Christophe ROUSSEL provides chocolate for the famous Ladurée patisserie! I seriously could not stomach any more chocolate, but this ish has to be legit if they are Ladureé's supplier right? I had a little nibble of the 70% dark chocolate and loved it. Yummm!
Christophe ROUSSEL
Gateway 1st Floor
w: christophe-roussel.fr
That was pretty much the gist of our tour! There was no way we could eat anymore chocolate. I was already super hyper by the end of it and had a major sugar rush. Here are the rest of the Chocolate Trail partipants which we missed out on. Hopefully we'll have a chance to visit these kiosks next year!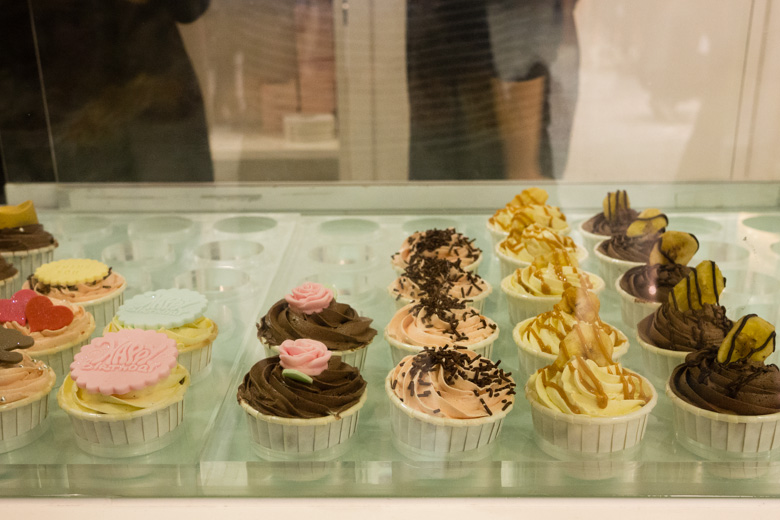 agnès b. DÉLICES (France)
Gateway Shop 2402K
p: +852.2956.1258

COVA Pasticceria & Confetteria (Italy)
Gateway Shop G220
p: +852.2907.3881
Debailleul (France)
Ocean Center Level 2 Shop K5
p: +852.2735.3800
GODIVA Chocolatier (Italy)
Gateway Shop 3321
p: +852.2175.5701
Ladurée (France)
Gateway Shop 3224
p: +852.2175.5028
Leonidas (Belgium)
Ocean Center Shop 312
Gateway Level 3
p: +852.2317.7448
Lane Crawford's Library Café
Ocean Center
p: +852.2118.4530
Movenpick (Switzerland)
Ocean Termial Level 3 LCX
Paul Lafayet (Hong Kong)
Gateway Shop 3001 (city'super)
ROYCE' (Japan)
Gateway Shop 3001 (city'super)
p: +852.2375.8222
La Madeleine de Proust (France)
Gateway 2nd Floor
Let Them Eat Cake (Hong Kong)
Gateway 3rd Floor
Lucullus (Hong Kong)
Ocean Terminal LG KidX
MiO MiKO Belgian Chocolate & Coffee (Belgium)
Gateway Level 3
View Larger Map
3 Canton Road
Tsim Sha Tsui, Hong Kong