The Lowdown
Restaurant Name: Kowloon Tang
Cuisine: Chinese Food
Average Price per Person: $400 to $600 HKD or $50 to $75 USD
Location: West Kowloon, Hong Kong (please refer to the map below for details)
Recommendations: Peking Duck, BBQ Pork, and Crispy Chicken

Ratings (out of 5)
Taste: 4
Creativity/Authenticity: 4.5
Atmosphere: 4
Service: 3.5
Bang for Buck: 3
Crayscale !!!

I laaaahhhhh Peking duck !!! It's possibly the best thing that my people introduced to the culinary world. I could probably eat a duck to myself, if I were just eating straight up duck #realtalk. If you have no clue what I'm going on about, Peking duck is pretty much a Sino duck taco! Traditionally (but also dependent on personal styles), slices of duck with crispy skin attached to just a wee bit of fat is served up on a platter alongside thin steamed pancakes, scallions, cucumber and hoisin sauce. The wrap is then assembled at the dining table by placing a slice of duck and condiments on the pancake and wrapping it all up.
I'm always down for Peking duck and word on the street is that Kowloon Tang's duck is the BEST. Kowloon Tang's duck is prepared 3 ways! First, crispy skin is served with a bowl of sugar. The duck is to meant to be eaten by dabbing the duck skin into the sugar creating a thin sugary coating. This was a first for me. I've never had Peking duck this way and I loved it! I couldn't get enough of this! It was delicious, sweet and literally melted in my mouth. Next, duck meat without skin was served with hoisin sauce. The duck meat was moist, tender and flavorful. The third style of Peking duck, was the tradish ish. Super good and I'd have to agree with the critics, potentially the best Peking duck ever!
Besides amazing Peking duck, Kowloon Tang has some legit Canto food including the roast chicken and BBQ pork. We pulled a newb mistake and didn't reserve any of their specialties in advance. We missed out on the BBQ pork but were lucky enough to score a duck since someone had bailed on their reservations, and cop the last chicken (well half of a chicken)! The atmosphere here is pretty chill and mellow, unlike other Chinese restaurants in Hong Kong. It's fairly quite and we lucked out again by scoring a private room with fairly attentive wait staff on the second floor. I will definitely be back for that duck. Soooo good!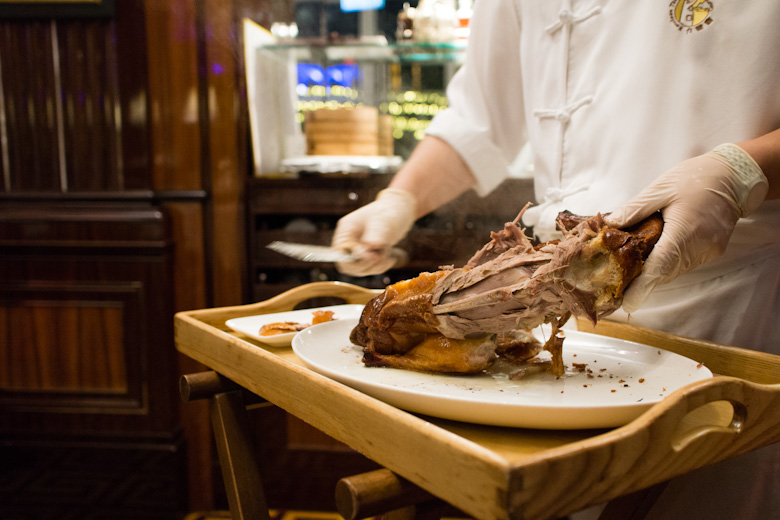 Table side Peking duck slicing action.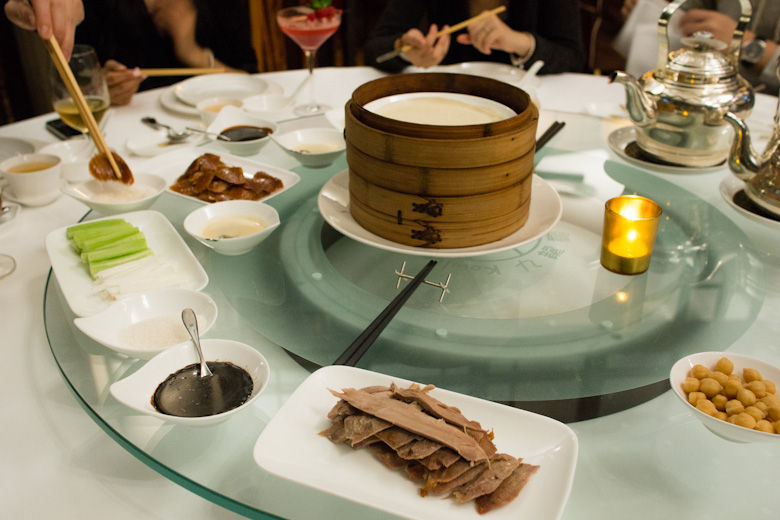 Kowloon Tang's Peking Duck is served 3 ways priced at $638 HKD or $82 USD.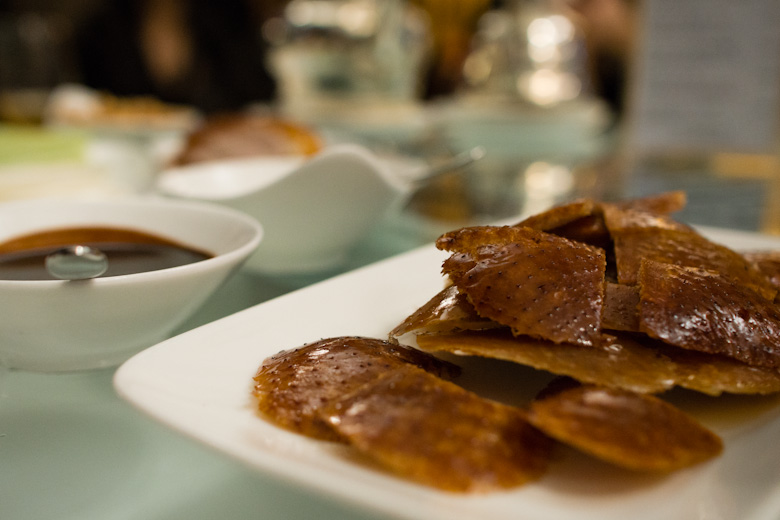 Peking Duck Dish #1: crispy duck skin served with a bowl of sugar. Coat the skin with a  thin layer of sugar and be amazed as the duck melts in your mouth. Effing incredible.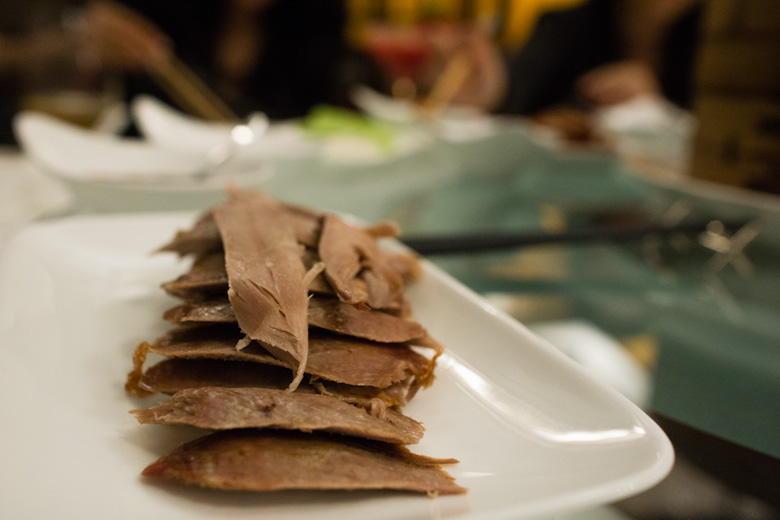 Peking Duck Dish #2: duck meat served with hoisin sauce. Delicious, but not as tasty as the other 2 Peking duck dishes.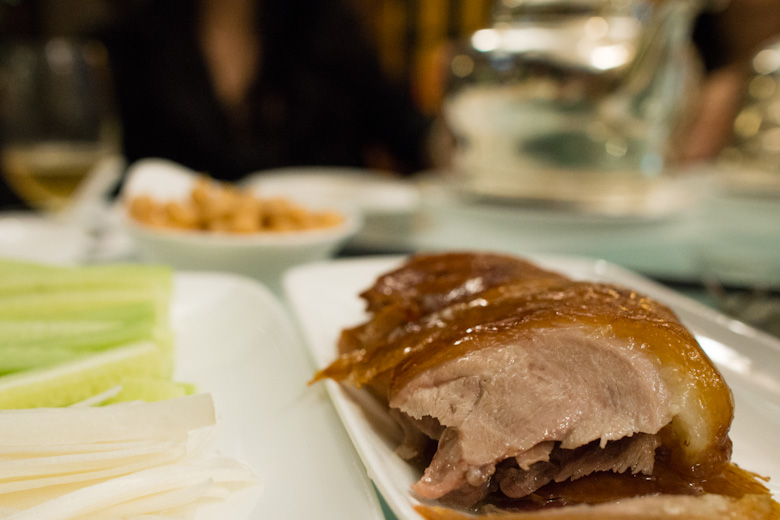 Peking Duck Dish #3: the OG way of eating Peking duck. This was mad good. The duck meat was tender and moist with just the right amount of duck fat and crispy duck skin. I could eat this all day, everyday.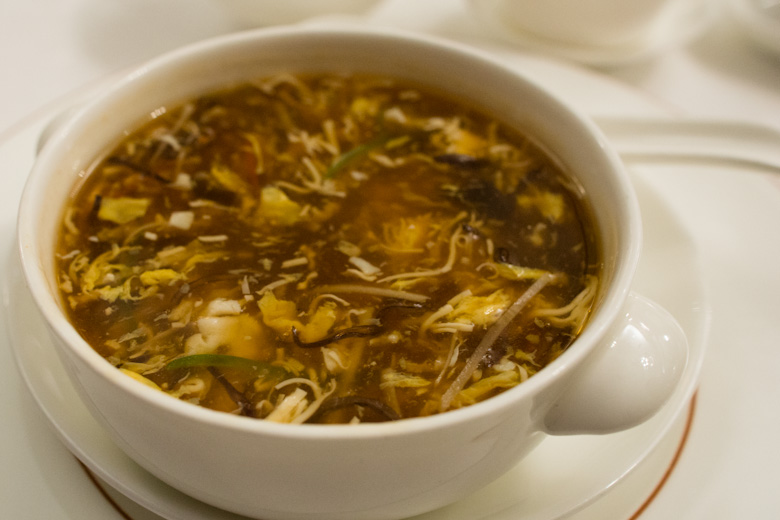 Hot and Sour Soup with Lobster ($128 HKD or $16.40 USD per person). This hot and sour soup was good, but not $16.40 USD per bowl good. It was pretty damn spicy, in a good way, but they could have been more generous on that lobster.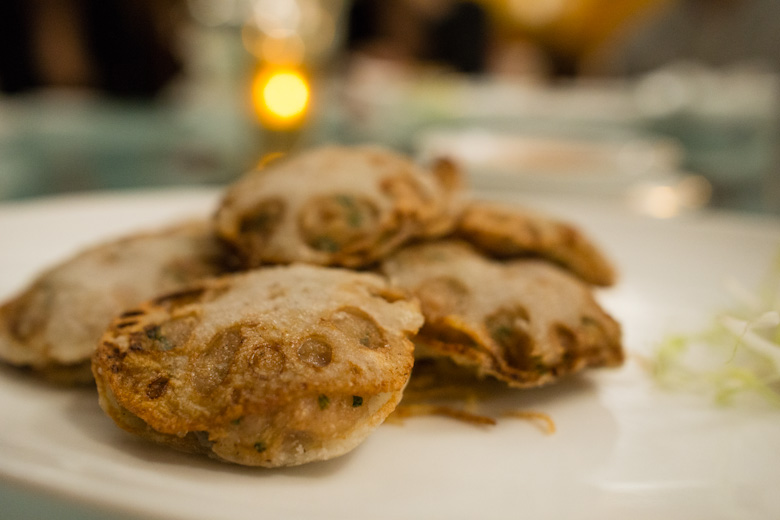 Pan-fried Lotus Root with Preserved Meat Patties ($168 HKD or $21.50 USD). These are essentially lotus root sandwiches stuffed with a salted meat filling. It had a crispy crunchy crust and flavorful meaty center. Yummmmm!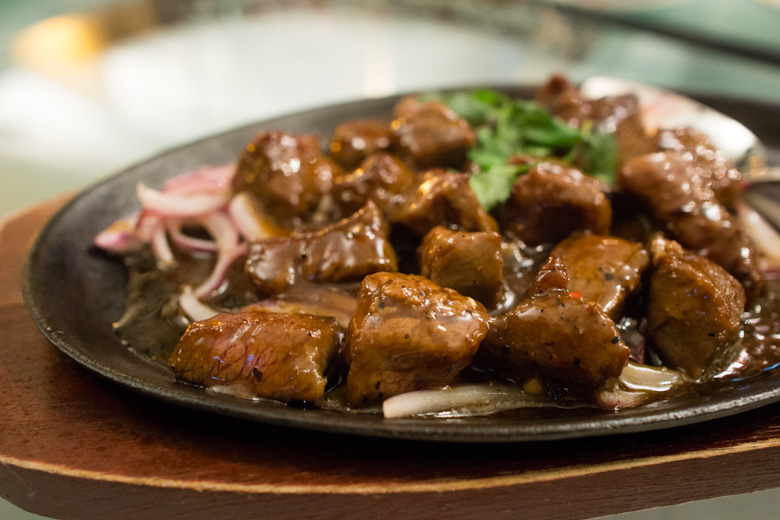 Sautéed Diced Beef Tenderloin with Black Pepper Sauce ($198 HKD or $25.40 USD). I've never really been into the way the Chinese prepare beef, hacked up, overcooked and suffocated in unnecessary sauce. This dish was aiiite, the beef was juicy and tender, but passable.
 Sautéed Prawns with Sesame and Thousand Island Sauce ($268 HKD or $34.50 USD). The prawns were plump with a crunchy crust and sweet thousand island glaze. I thought these were pretty tasty, but not a must order.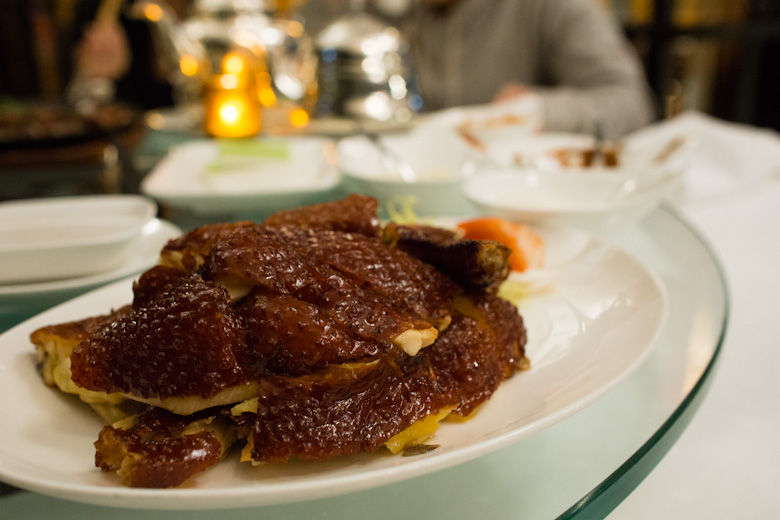 Kowloon Tang's Signature Crispy Chicken ($198 HKD or $25.50 USD for half). We totally lucked out and scored the last half of crispy chicken. This shiiz is a hot commodity, so you have to call in advance to put this ish on hold, seriously! This was probably one of the best chickens I've ever had, super moist, juicy, flavorful with the crispiest skin ever.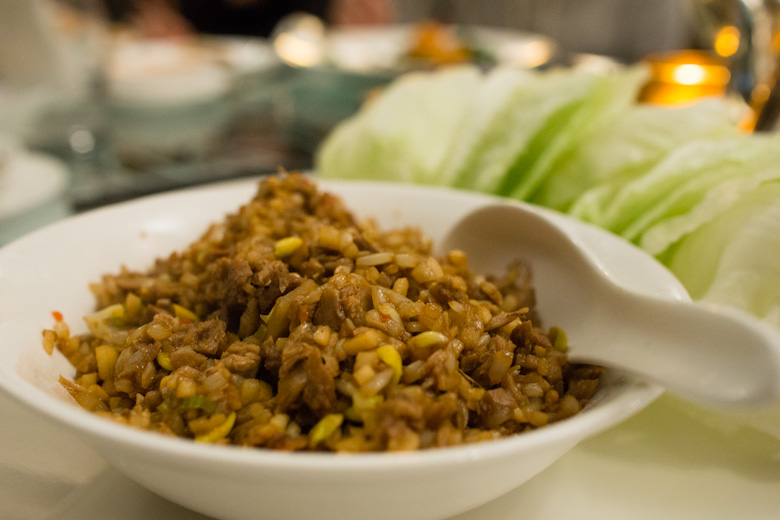 Minced duck meat with vegetables lettuce wraps. This comes with the Peking duck. I'm usually super full by the time this dish comes out, but I managed to get two of these in.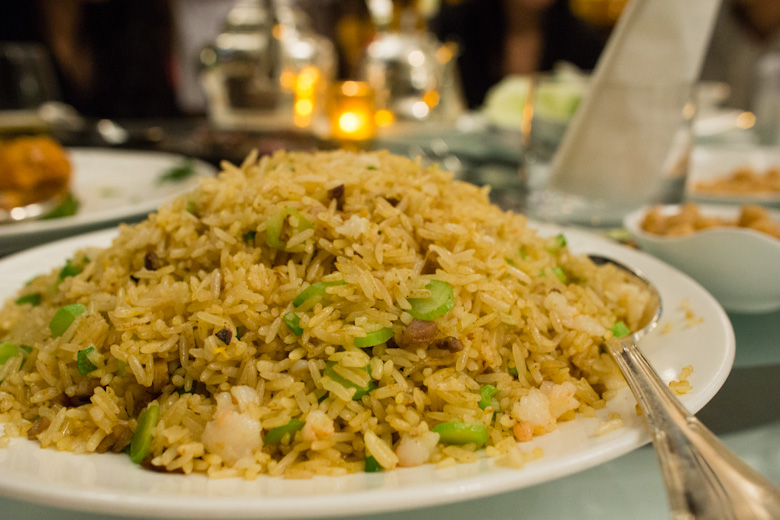 "Dai Pai Dong" Yeung Chow Fried Rice ($118 HKD or $15.12 USD).

View Larger Map
Shop R002-003, 3/F, Roof Deck, Elements, 1 Austin Road West, Tsim Sha Tsui, Hong Kong
p: +852.2811.9398 ‎
w: kowloontang.com