The Lowdown
Restaurant Name: Aberdeen Wholesale Fish Market
Cuisine: Chinese Food (Mainly Seafood)
Average Price per Person: $400 to $600 HKD or $50 to $75 USD
Location: Aberdeen, Hong Kong (please refer to the map below for details)
Recommendations: Salt & Pepper Abalone, Soy Sauce Stir Fried Shrimp, Seafood Soup, Salt & Pepper Squid, Ginger and Scallion Stir Fried Crab and French Toast

Ratings (out of 5)
Taste: 4.5
Creativity/Authenticity: 4.5
Atmosphere: 3
Service: 3.5
Bang for Buck: 3.5
Crayscale !!!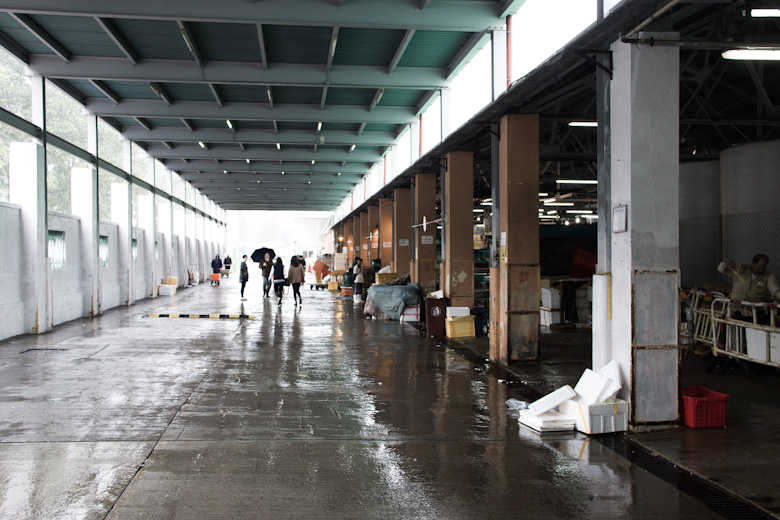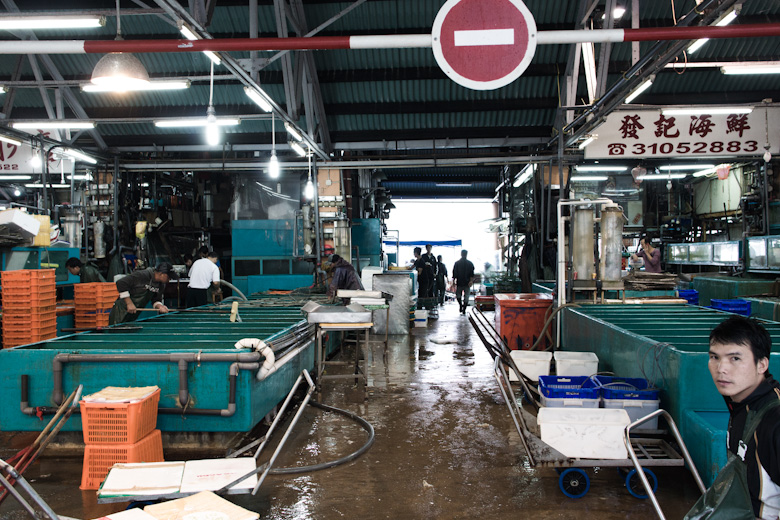 If you're in Hong Kong and feeling like leaving the confines of the usual food areas (albeit there are good places virtually everywhere in HK), you have to hit up the Aberdeen Wholesale Fish Market. It is effing incredible! I can't believe it took this long to discover this spot. Thank you SOOOO much Season Chan (aka CSON Eats) for the recommendation and organizing everything! Season helped secure a table at this restaurant by making rezzies almost 3 weeks in advance and pre-ordered so we could ensure the seafood was freshly purchased the day prior. Make sure you make reservations in advance because this restaurant does not take walk-ins and is only open from 5 am until 2 pm. The restaurant actually doubles as a canteen for workers at the fish market which is why it's open so friggin early. I didn't think I'd have an appetite for a seafood breakfast, but when the food hit the table, I couldn't stop eating until the plates were empty.
I've eaten at a plethora of seafood restaurants in Hong Kong, but Aberdeen Wholesale Fish Market FTW! If you're in town for a short time, eff the rest, just go to this one! The only thing is it's pretty far up on the coast of Aberdeen… it's sort of like a broke ass version of Tokyo's Tskuiji fish market in many ways but mostly cause of size. I had to get up hella early on a Saturday morning and took a 45 minute taxi ride, but it was worth it! I would definitely go again. Also, try to go with an entourage. We originally made reservations for 7 but ended up with only 4 peeps so we had to eat 7 people's worth of food and it ended up costing more per person. Ideally, try to roll with about 10-15 people. That way, you can order a variety of dishes and the average cost per person ends up being a lot less.
The restaurant is located within the fish market encompassing a fairly large space with a bunch of big round tables each seating a capacity of 15 people. If it's nice out and you get there early, you can check out the tanks. Definitely not as interesting as Tskuiji, but kinda cool I guess if it's your first time. Aesthetically the restaurant is pretty grimy giving off that legit local Hong Kong "yeet lau" vibe. The atmosphere is unpretentious focusing on what's important, straight up good food. The thing about that is you can get down and dirty, tearing seafood apart like a BAWSE with your mouth and bare hands without any judgment. No utensils necessary, just get right in there caveman style. The restaurant also offers other non-seafood dishes including rice, noodles and cha chaan teng style items. Make sure you end your meal with the French toast with condensed milk. It's the best French toast ever!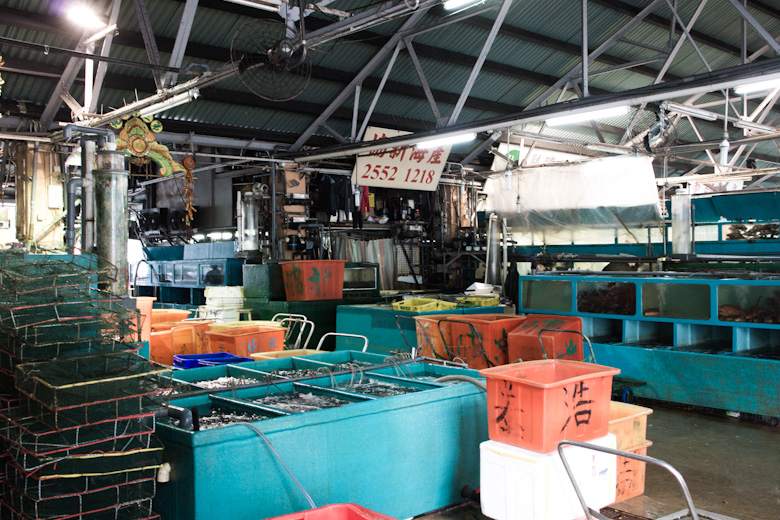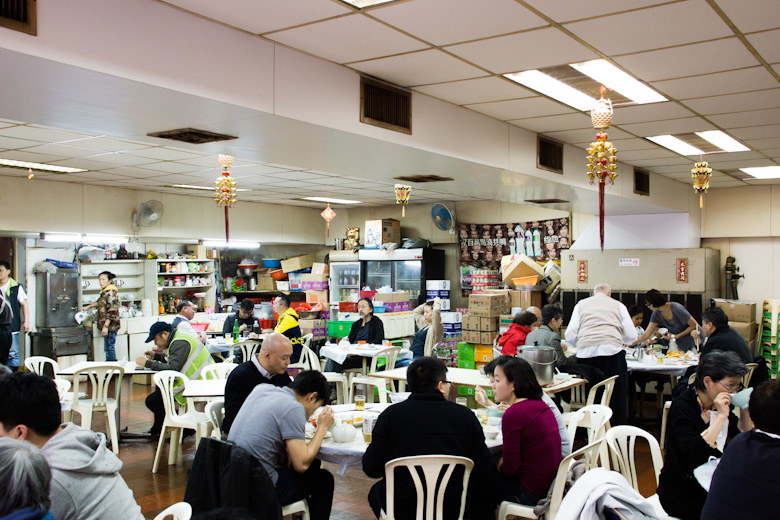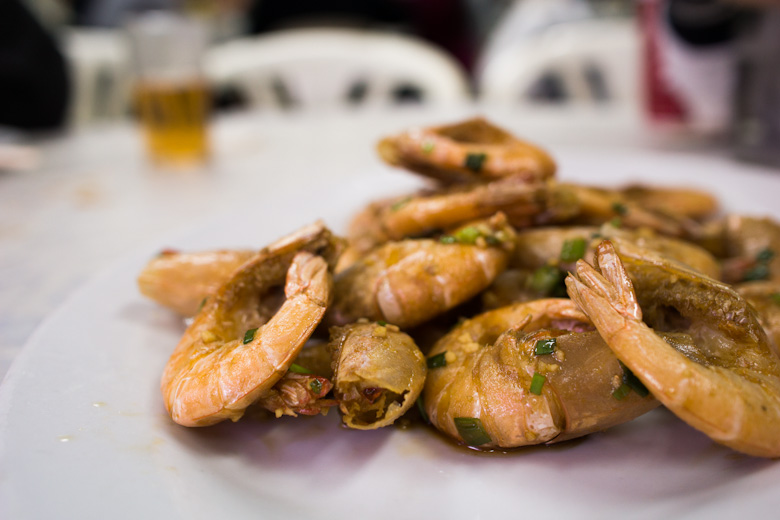 Soy Sauce Stir Fried Prawns!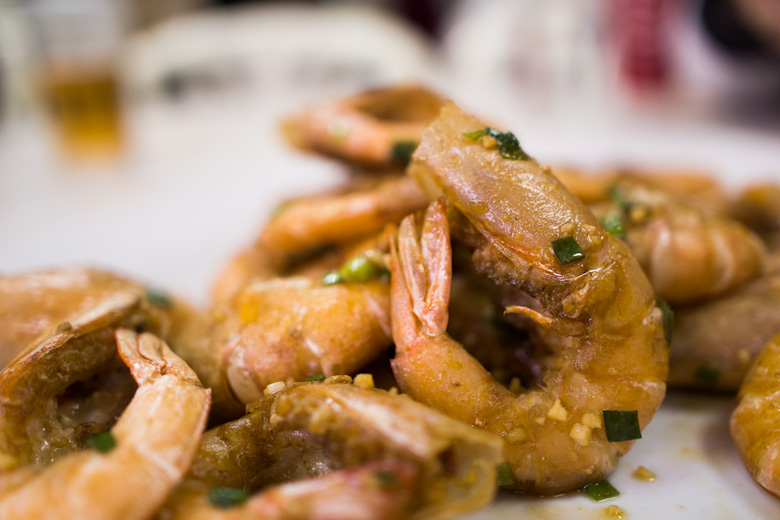 These prawns were mad plump, juicy and flavorful. I made sure to suck off all that delicious sauce before peeling off the shell. Such a good start to the meal!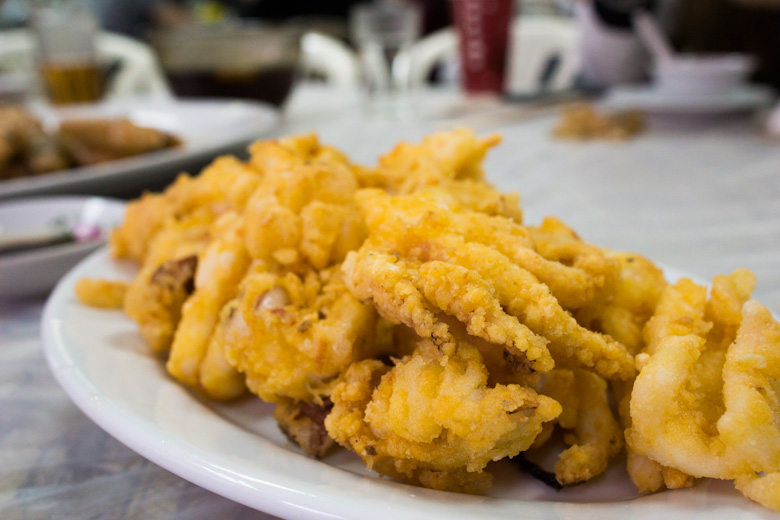 Salt & Pepper Squid: the squid was buttery with a delicious golden crust dusted with just the right amount of salt and pepper. This is seriously the best salt and pepper squid I've ever had (seems like I've been throwing that around quite a bit).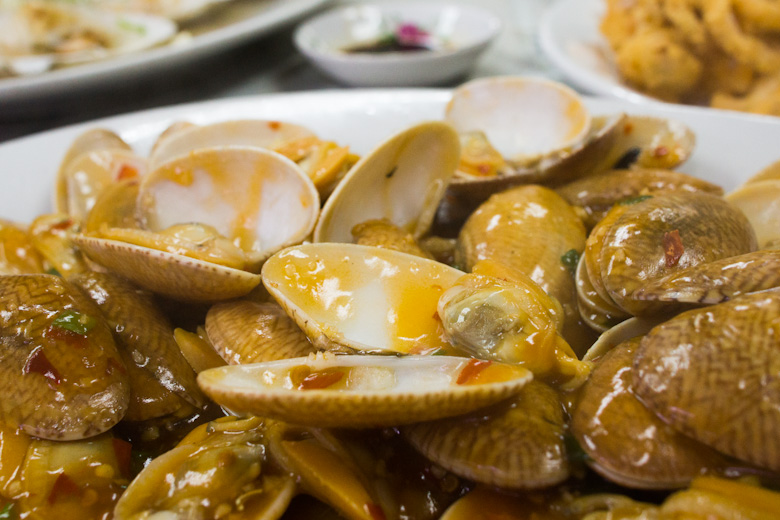 Stir Fried Clams with Black Bean and Chili Sauce.
I personally like razor clams, but we were SOL as we were told by the lady boss at the restaurant that razor clams are pretty rare this time of the year. These clams weren't too shabby. Kindly puny and not much meat though.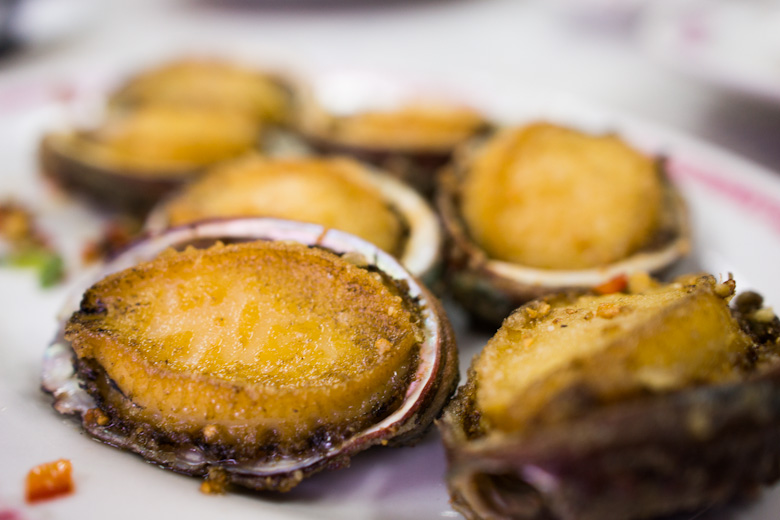 Salt & Pepper Abalone !!! I'm usually not big on Asian delicacies including abalone, but I had no clue that abalone could be prepared this way and taste this good. The abalone was my favorite dish. It had a soft and chewy texture with a nice crispy coating with just a little kick from the salt, pepper and chili flakes. The BEST abalone I've ever had!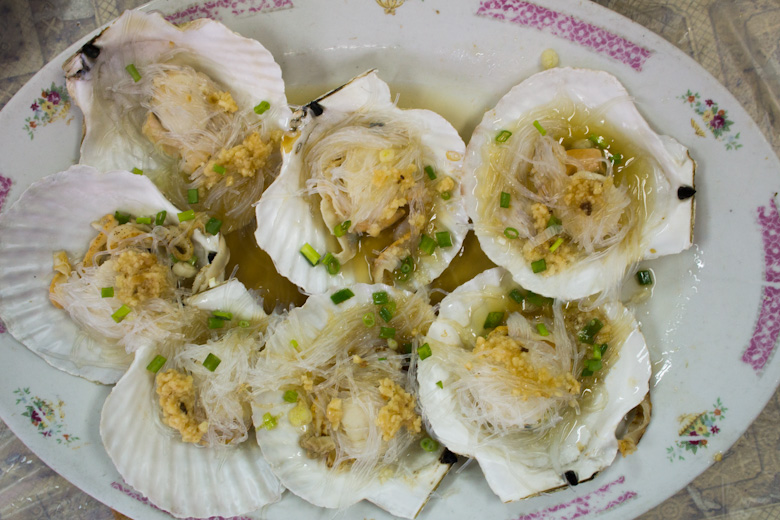 Steamed Scallops with Garlic and Vermicelli.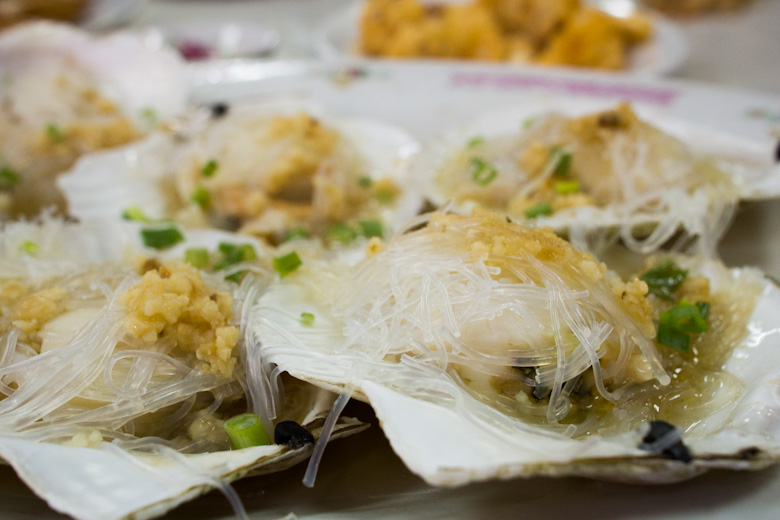 These were ok, but slightly overcooked and rubbery. Definitely not the best rendition of this dish I've had, the vermicelli was a bit hard cause of a lack of liquid.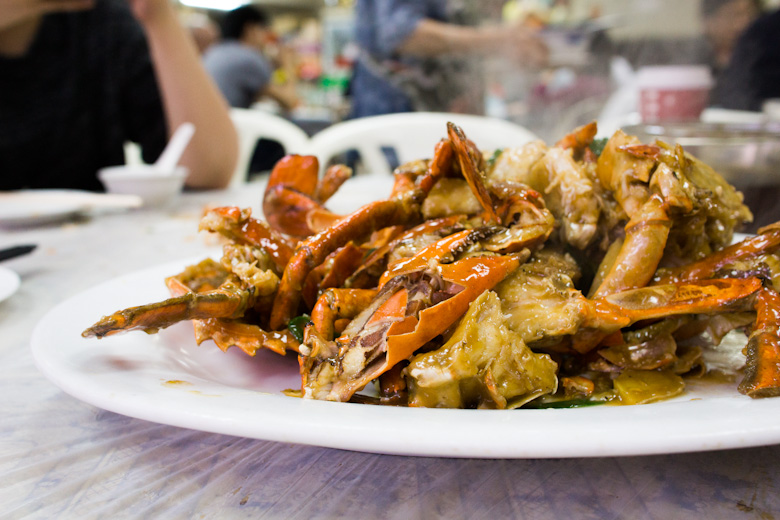 Ginger and Scallion Stir Fried Crab.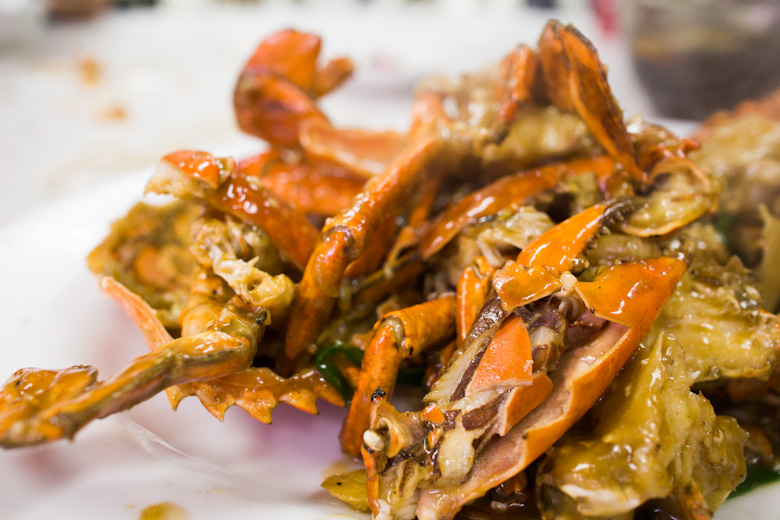 Eating crab can be such a bish at times which is probably why I tend to pass on crabs. I'm usually done after spending 10 minutes on eating 1 piece of crab. I started off with an easy piece, the claw. It was amazing! I spent the next 20 minutes eating nothing but sweet, creamy, and flavorful crab. Finger lickin' good!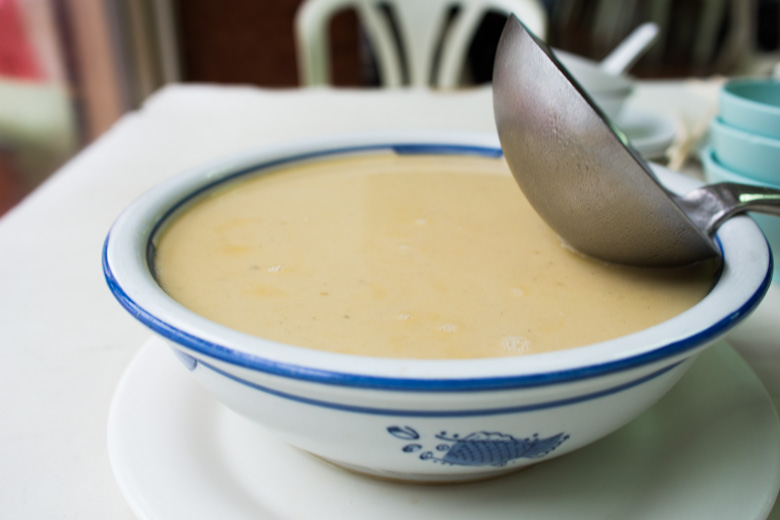 Seafood Soup: I love Chinese soups! This soup looks overly simple but it was friggin delicious – rich, smooth, velvety and full of flavor. I couldn't get enough of this and kept going back for more.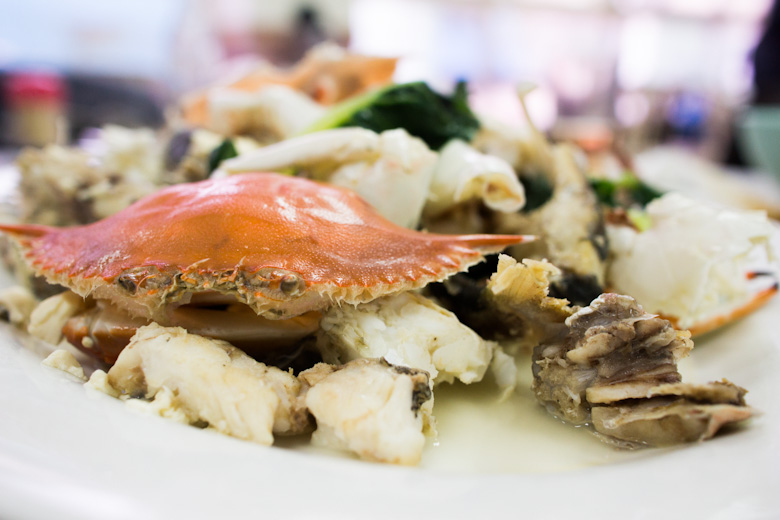 The soup consisted of mostly fish, crab and vegetables. The crab was sweet and tender. Yummmmayyyy.
Eugene, drinking soup like a bawse.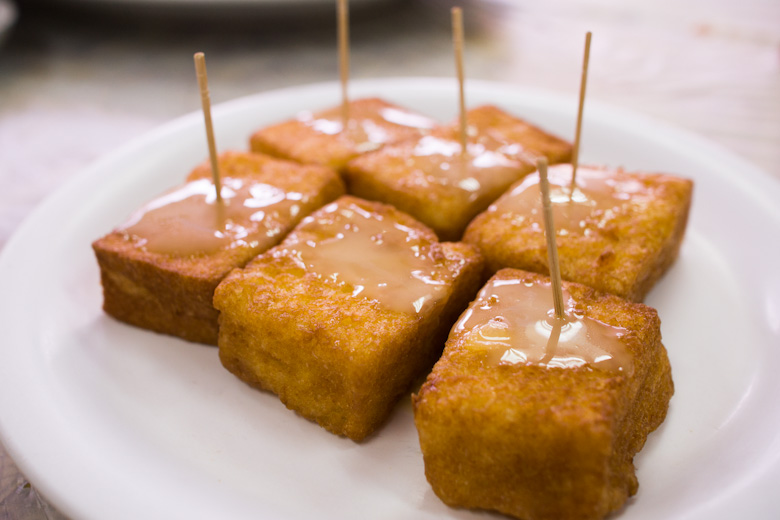 THE BEST FRENCH TOAST EVER!!!!!!!!! Soooo effing good. You're thinking why does a seafood restaurant have french toast? But to the restaurant, this is an important facet of the spot and one they pride themselves on. If I wasn't trying to be all healthy and ish, I probably woulda stuffed my face with an entire plate of these bad boys. Super fluffy with a light and crispy crust drizzled with sweet sticky condensed milk amazingness.

View Larger Map
102 Shek Pai Wan Road, Aberdeen, Hong Kong
+852.2552.7555