The Lowdown
Restaurant Name: Wai Wai 和居和居
Cuisine: Japanese
Average Price per Person: $250 to $450 HKD or $32 to $58 USD
Location: Causeway Bay, Hong Kong (please refer to the map below for details)
Recommendations: Grilled Cheese Mochi, Minced Chicken Meatball, Wai Wai Super Croquette, Chicken Wings Stuffed with Spicy Cod Roe and Grilled Squid Legs

Ratings (out of 5)
Taste: 3.5
Creativity/Authenticity: 4
Atmosphere: 2.5
Service: 2.5
Bang for Buck: 2.5
Crayscale !!!

I can't get enough of Japanese Kushiyaki. It's super tasty, easy to share and there's a always a whole lot of everything to choose from. It's also generally pretty healthy and virtually carb free! I recently spotted Wai Wai on @Little_meg_siu_meg's instagram feed. She seems to know where all the good spots in Hong Kong are and has mad food porn on her feed (thank you!).
Wai Wai is a small Japanese yakitori joint in Causeway Bay just past the under the bridge spicy crab joints. The restaurant occupies a long narrow space with no more than about 7 to 10 tables. We went on a Friday night and it wasn't too busy. Our reservations were at about 8 pm and we were seated right away. The menu is comprised with a selection of salads, small appetizers, kushiyaki (skewers), grilled dishes, fried dishes, stews, onigiri (rice balls), and noodles. We ordered a little bit of everything but mostly kushiyaki.
We started off with some small appetizers and moved onto the meaty good stuff. Wai Wai's food definitely hit the spot. Everything was pretty legit and dericious, but that Grilled Cheese Mochi FTW! It was unreal! Like a soft and chewy pillow exploding with gooey creamy cheesy goodness !!! The best cheese mochi I've ever had. The skewers were tasty too, but pretty standard. The croquette was another goodie. It was massive with a crispy golden crust stuffed with fluffy whipped potatoes. The chicken wings stuffed with spicy cod roe was another interesting dish and unlike any chicken wings I've ever had. NOMS!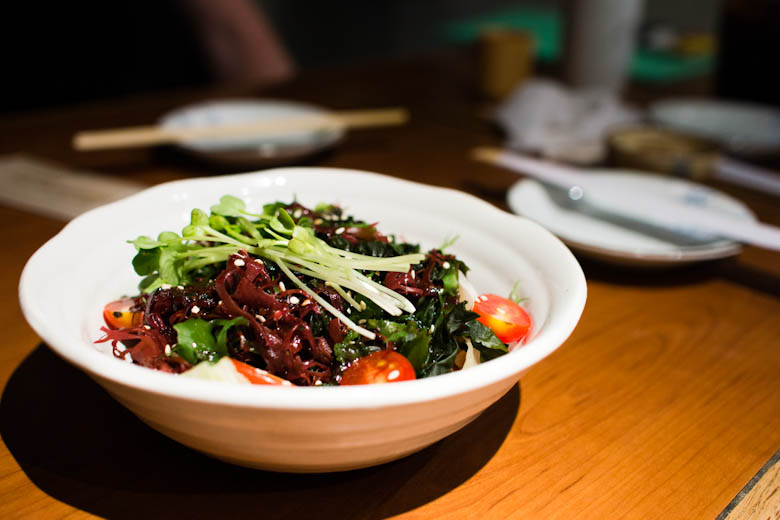 Seaweed Salad ($55 HKD or $7.10 USD). This was one of my favorite seaweed salads ever. It was light, refreshing, and loved the texture of the different types of seaweed dressed in a light vinaigrette.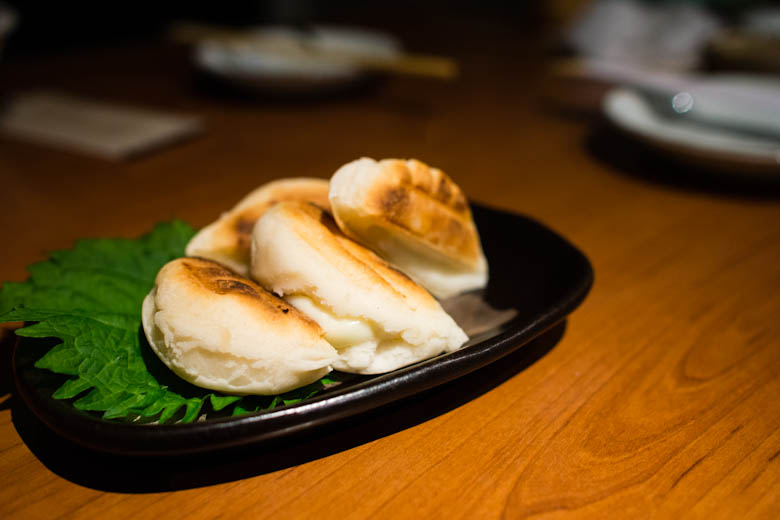 Grilled Cheese Mochi ($40 HKD or $5.15 uSD each). Soft mochi stuffed with mild melted cheese! This was the best thing we had all night. We put this ish on REEEEEEEEPEAT. It was sooooo good.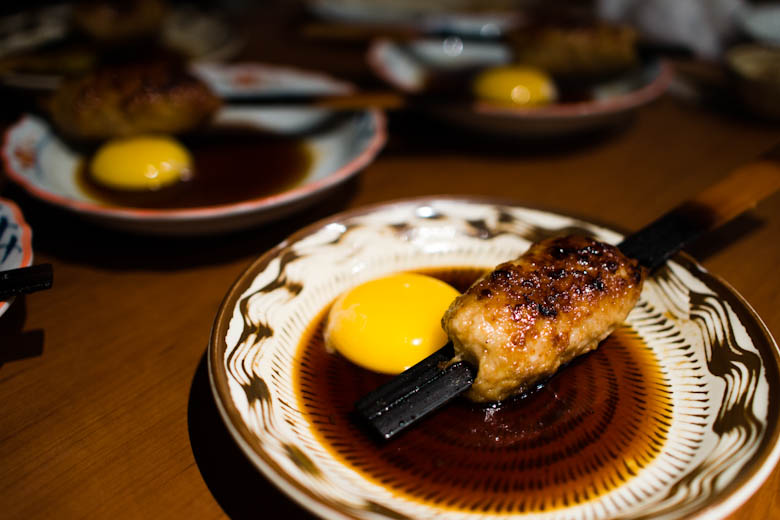 Minced Chicken Meatball with an egg yolk and soy sauce ($30 HKD or $3.85 USD per skewer). These were pretty tasty but slightly under seasoned and almost a little bland. The egg yolk and soy sauce made up for it though.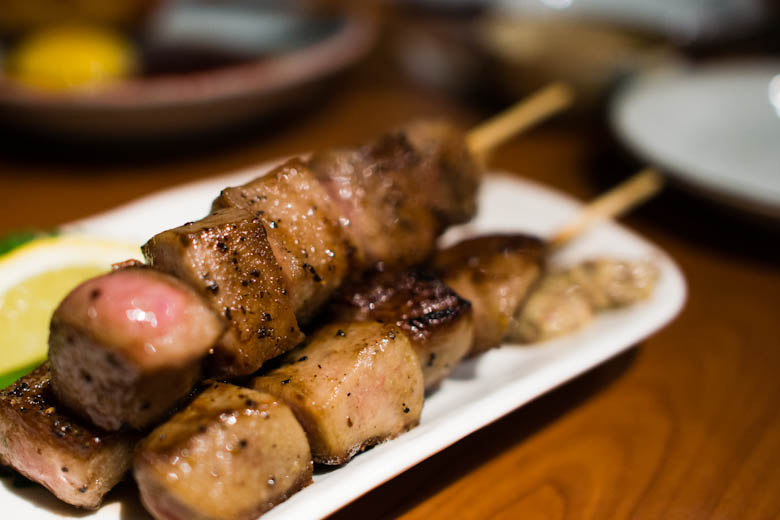 Grilled Ox Tongue ($90 HKD or $11 USD). The ox tongue was tender and well seasoned, but overpriced.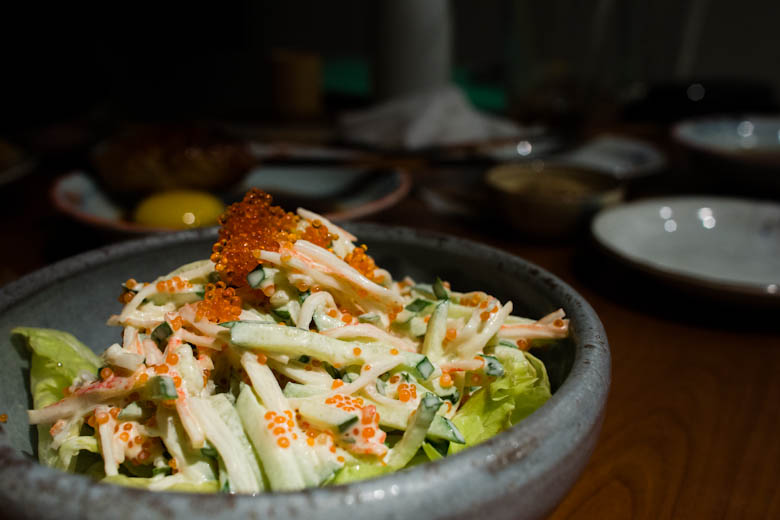 Crab Salad ($55 HKD or $7.10 USD). This was good, but not a must order. This always feels like a must-order, cause you want some veggies in there but it's always average to below average.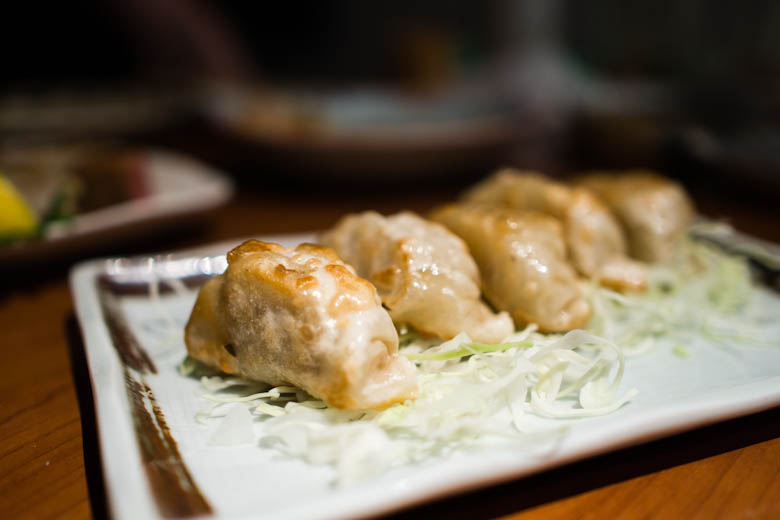 Pork Dumplings ($55 HKD or $7.10 USD). The gyoza were crispy on the outside stuffed with a juicy pork filling.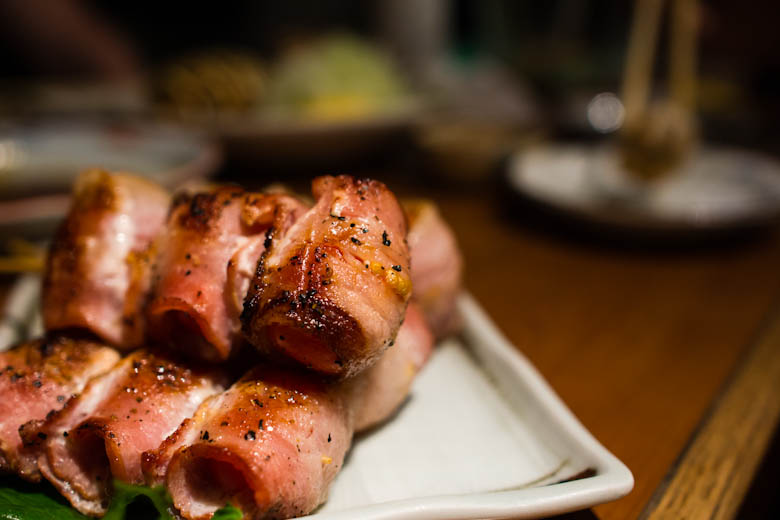 Bacon Wrapped Cherry Tomatoes ($25 HKD or $3.25 USD). I love bacon wrapped everything! These were dope but I like my bacon slightly crispier… China bacon?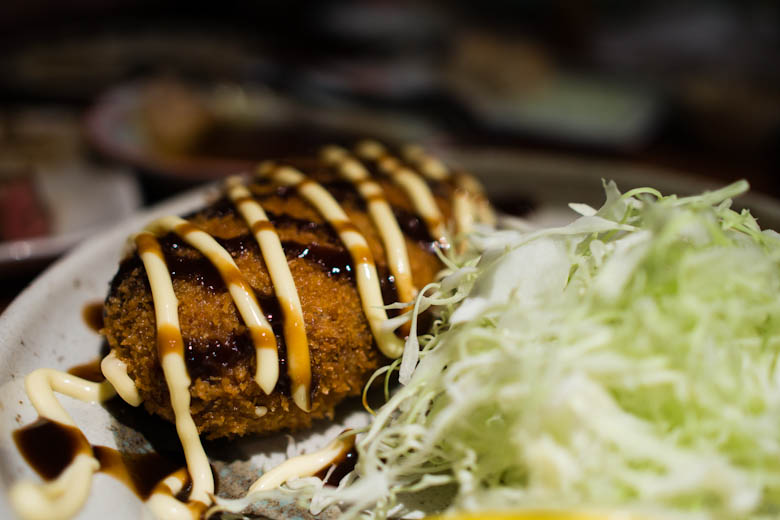 Wai Wai Super Croquette  ($80 HKD or $10.30 USD). Damnnnn son, this was the mother of all croquettes. Wai Wai ain't effing around. This thing is huge (that's what she said). It's super good, loaded with potatoey goodness with a golden crispy outer layer drizzled with mayonnaise and takoyaki sauce which is essentially a reduced Worcestershire sauce.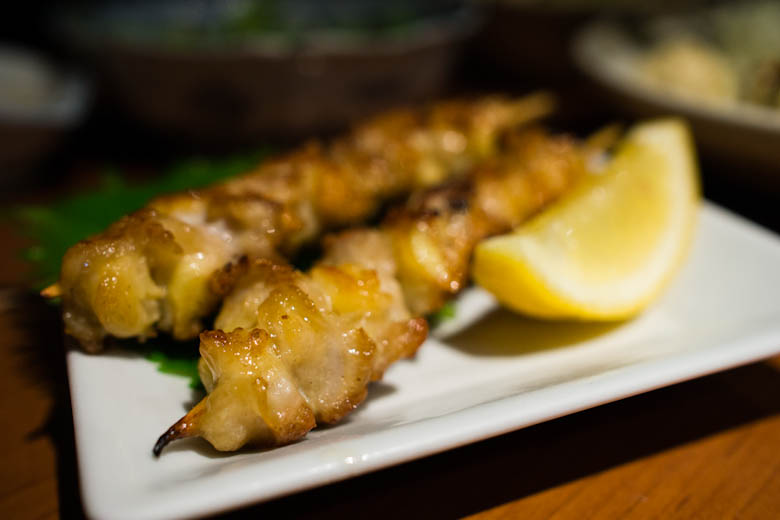 Chicken Soft Bone ($24 HKD or $3.25 USD). Some people ain't down with weird textures like the Chinese peeps are, but I'm starting to understand it. I hated chicken soft bone when I first moved here, but now I'm starting to develop a taste for it. These were pretty tasty and crunchy.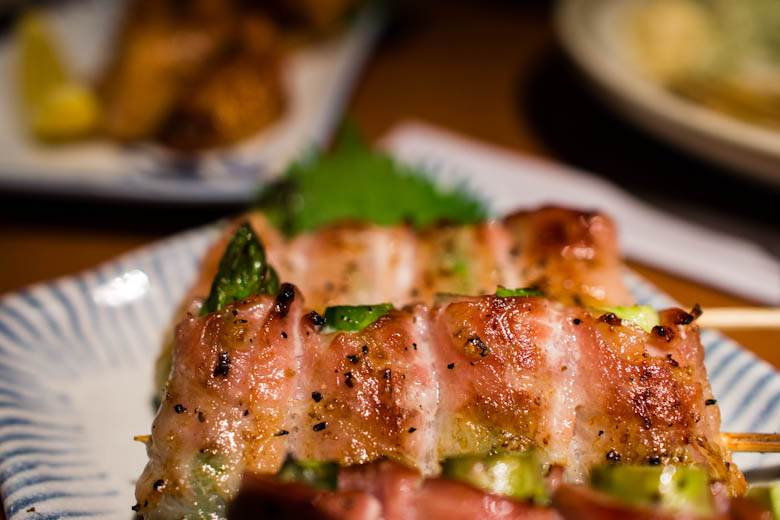 Bacon Wrapped Asparagus ($29 HKD or $3.75 USD). I order these every time we hit up a yakitori spot. You can't go wrong with bacon and asparagus. I ate so much my pee smelt -_-.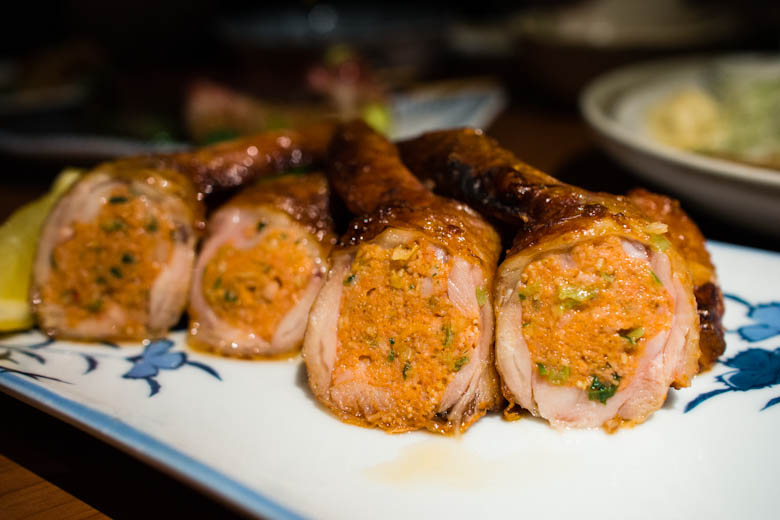 Chicken Wings Stuffed with Spicy Cod Roe ($55 HKD or $7.10 USD). Mmmm these were legit. These wangs had a crispy skin, moist chicken meat stuffed with tangy cod roe. So good!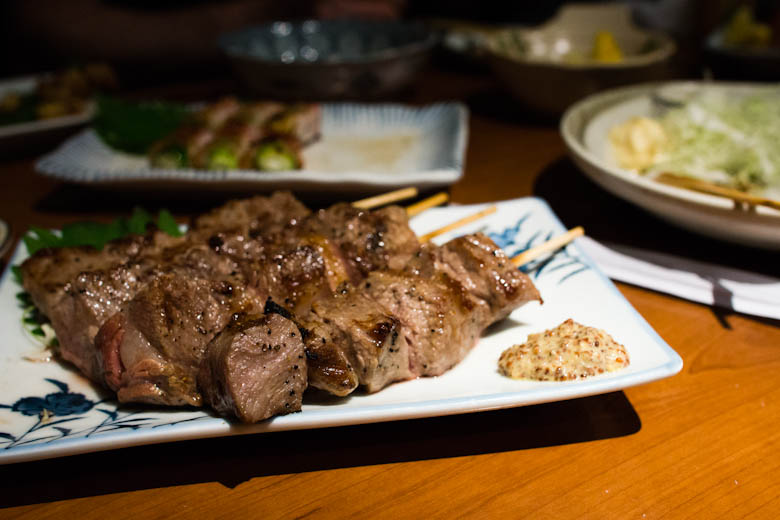 Beef Tenderloin ($60 HKD or $7.75 USD). These were mad good, well seasoned and succulent.
Grilled Squid Legs ($40 HKD or $5.15 USD). Mmmm with this proper soft/chewy bouncy texture… an element so difficult to describe in English haha.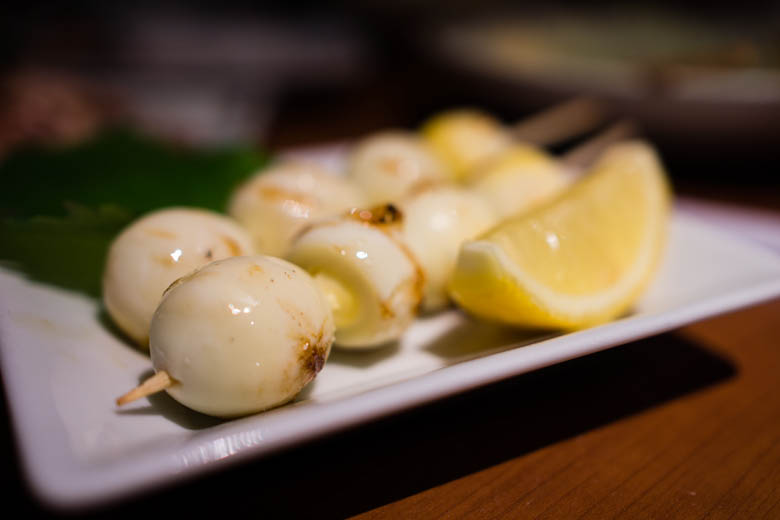 Quail eggs $22 HKD or $2.85 USD). The quail eggs were pretty standard, but another thing I find myself ordering every time I see it on the menu.
Wiener ($22 HKD or $2.85 USD). The Germans that we happened to be eating with were not happy when we ordered sausage, but these wieners are pretty dope! They're actually sausages served on a chicken bone!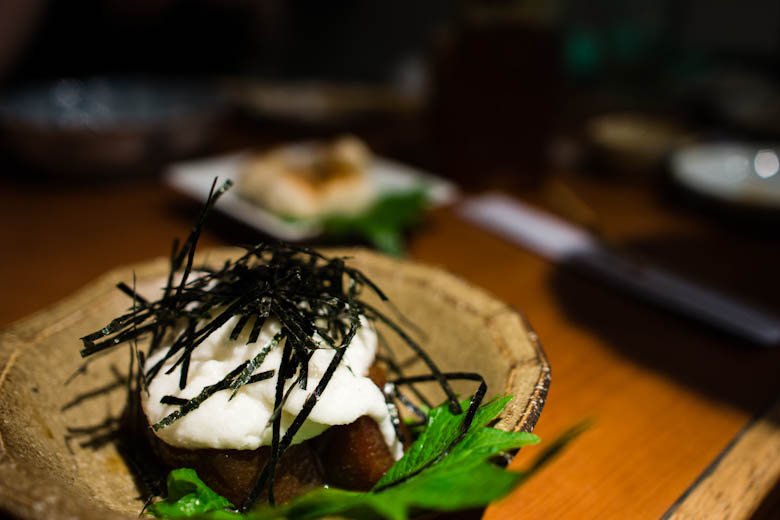 Tuna Chunks with Grated Yam ($120 HKD or $15.50 USD). The tuna was fresh but the yam paste had a weird, gummy texture and tasted pretty bland.
View Larger Map
Shop A, G/F, Winner Commercial Building, 401-403 Lockhart Road, Causeway Bay, Hong Kong
p: +852.2591.9505